Bringing the sun into your home isn't always easy, especially when you're limited by the size and number of windows in a room. Those who are blessed enough to have sunrooms attached to their homes certainly have the upper hand. If you can't quite put your finger on how to make the most of all that natural sunlight flowing through every window at just the right time of day, then there are a few things you can consider to really brighten things up a bit more.
Embracing White Throughout
You don't need to be a design junkie to know that white is bright, and it's one of the easiest ways you can bring more light into any room. Our first stunning sunroom design comes from a home makeover done by HGTV, where crisp white walls, ceilings, furniture, and a light fixture make up for the extremely large and far-reaching windows many other sunrooms tend to have to welcome more light inside. A pop of pink in some of the accessories adds a nice touch of color!
Even when it's overcast outside, this beautiful Scandinavian design from Vita Verandan has so much white incorporated into it, it would be almost impossible for it to look dull under any amount of natural lighting.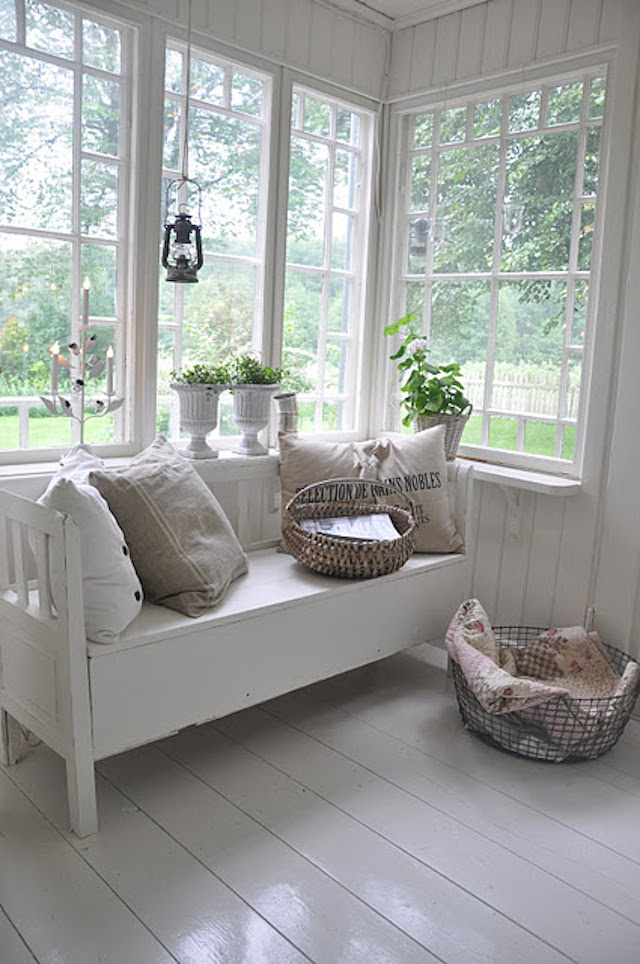 This romantic white sunroom from Home My Design isn't entirely white, but it sure does give off a vivid and luminous vibe, even under lower light conditions.
If you really want to go for that super fresh and clean white look, you can skip using any piece of colored furniture or accessories and aim for almost an entirely 100% white room, like this one featured on Homedit.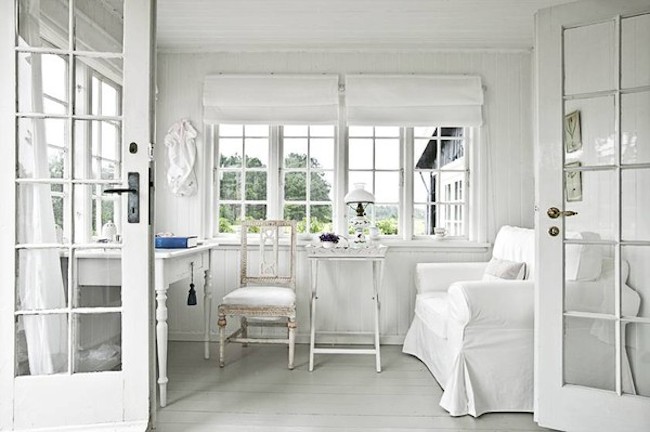 That Landscaping Though!
When it comes to sunrooms, it's all about bringing as much of the outdoors as possible inside. The position of the room relative to the yard is one thing to keep in mind, but that's not where it stops. How the room highlights the outdoors will impact how bright it looks and feels. Have a look at this sunroom, again featured on Homedit, that really puts a huge focus on the trees, gardens, and overall landscaping beyond the room itself.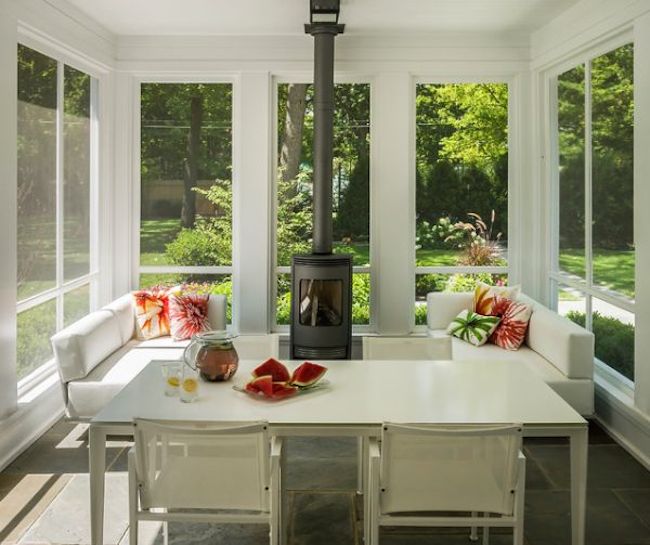 If you've got huge windows that take up almost all of the wall space, then you have all the more reason to really take care of what you're peering out to in the yard. This gorgeous room featured by interior designer Maryann Rizzo extends right out toward the beautiful green space for a naturally bright look indoors.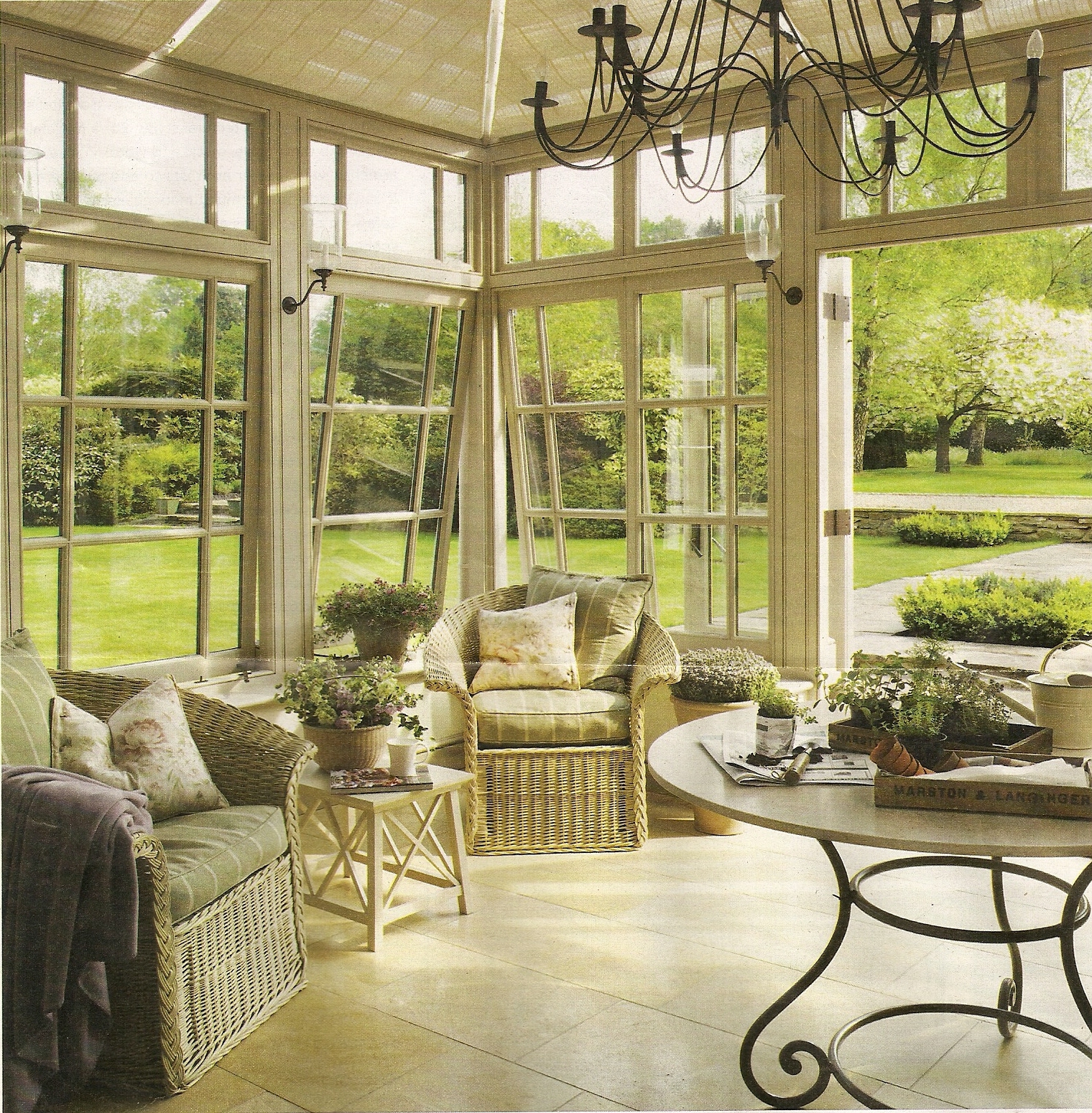 What better way to bring the tall trees indoors than by designing a sunroom with massively high ceilings?! This breathtaking room from Mark S. Dikes couldn't be any brighter or more gorgeous with those tall trees in full view from inside.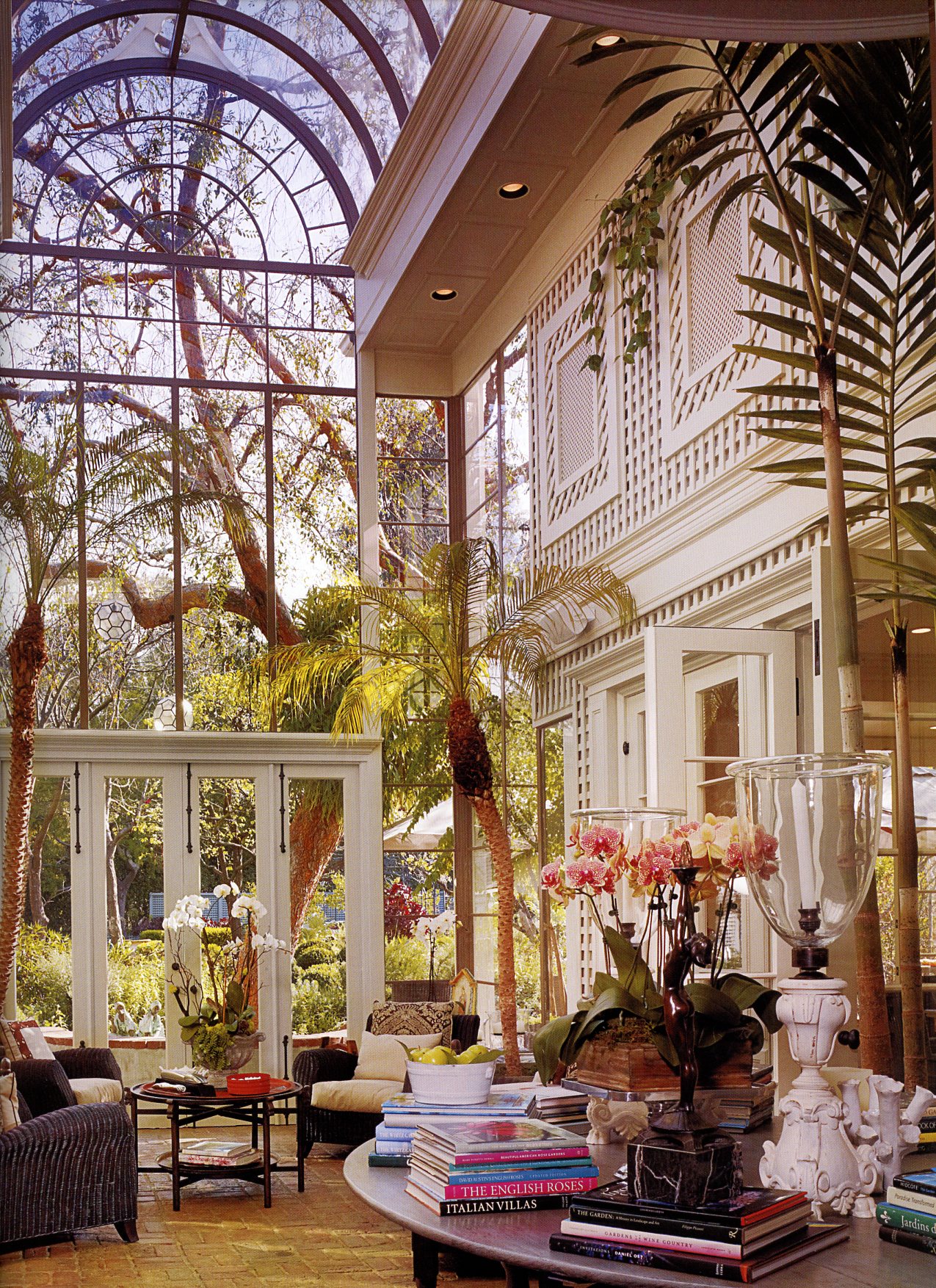 In this eclectic mission-style room found on Better Homes and Gardens, the design takes a step away from using a lot of white and instead goes for funky, personality-filled color that really complements the bright gardens and greenery right outside.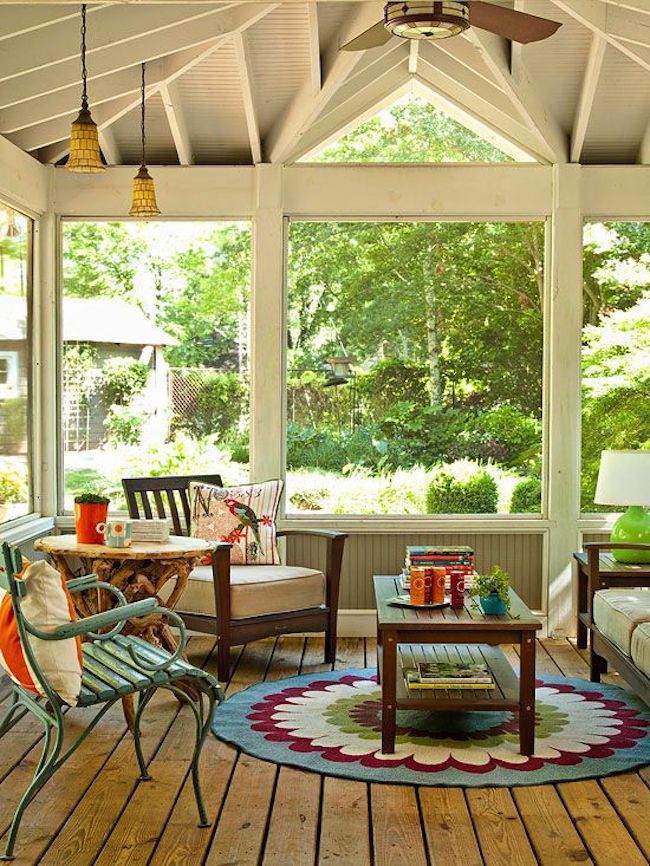 Skylights Galore
It's an obvious fact that the more windows you have in your sunroom, the more opportunity there is to capture sunlight. Why not take that right up to the ceiling, too? It's the open ceilings combined with lots of windows that really set sunrooms apart from every other room in the house. This traditional design found on Home Bunch pairs wood with several rows of large skylight windows to ensure it never looks too dark or dull.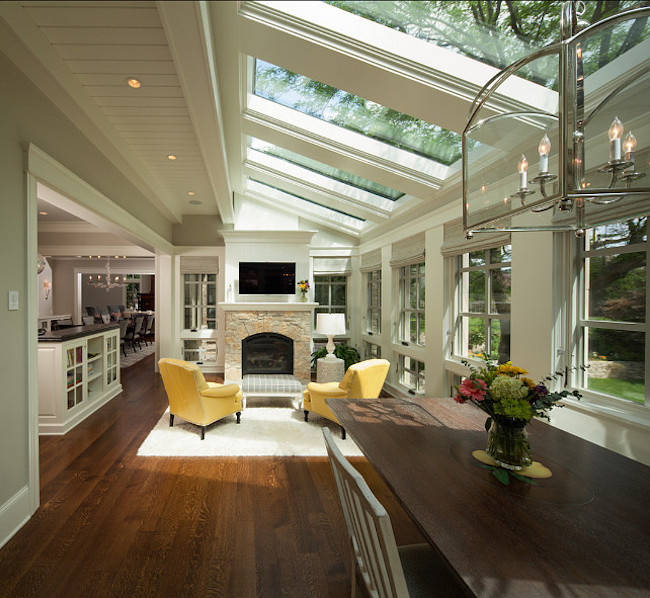 This adorable breakfast nook found on Home Bunch already has stunning vaulted ceilings and beams that create a bright effect, but with skylights incorporated into them as well, the natural brightness is taken to the next level.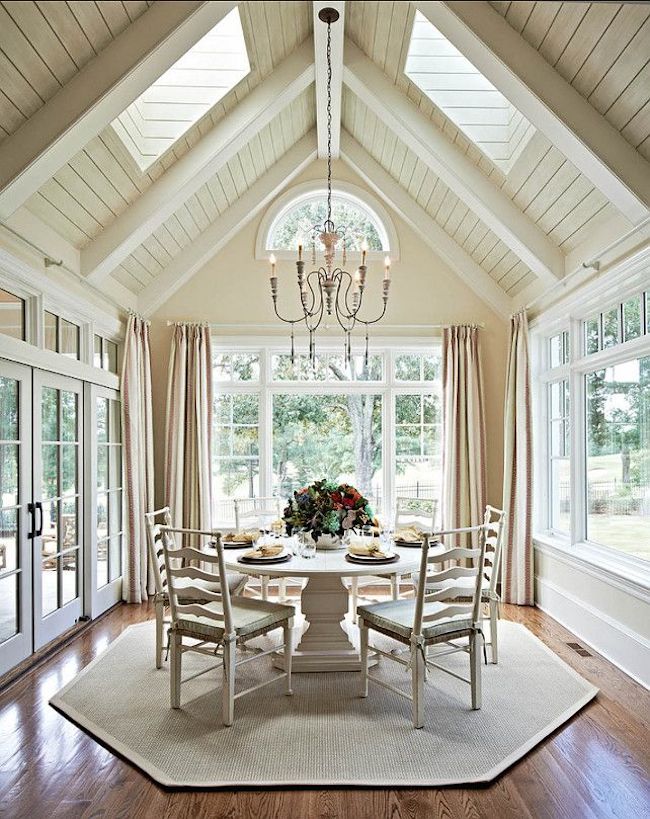 Think a sunroom has to be big? This design from Pin Home Ideas proves you can really open a small space up with enough windows and almost a simple skylight ceiling.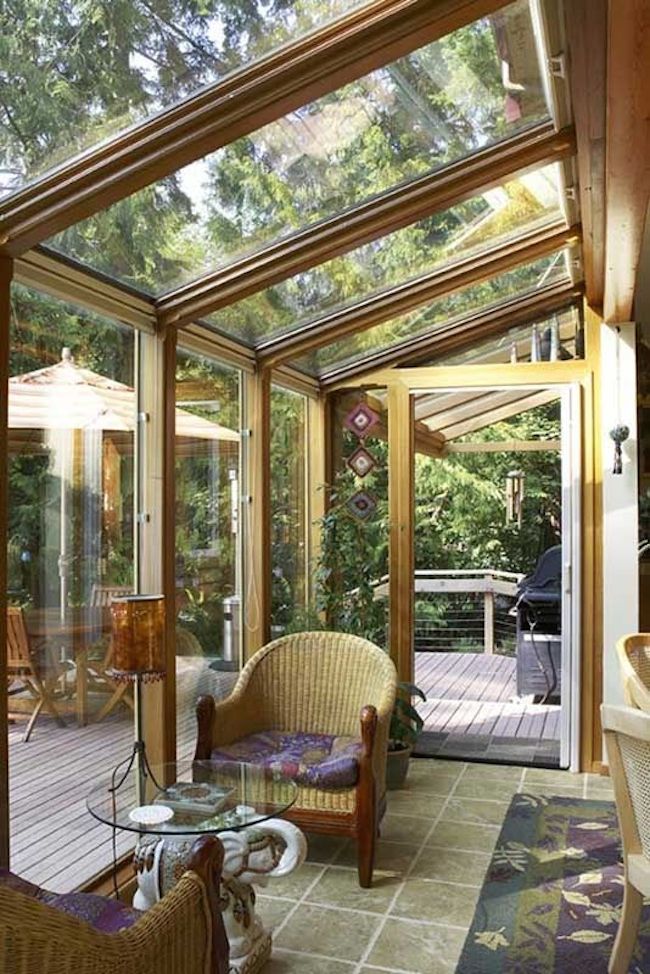 Check out this incredible sunroom from Dominique Décoratrice that combines skylights with greenery draped across them! Neat idea for a real garden or greenhouse-inspired look.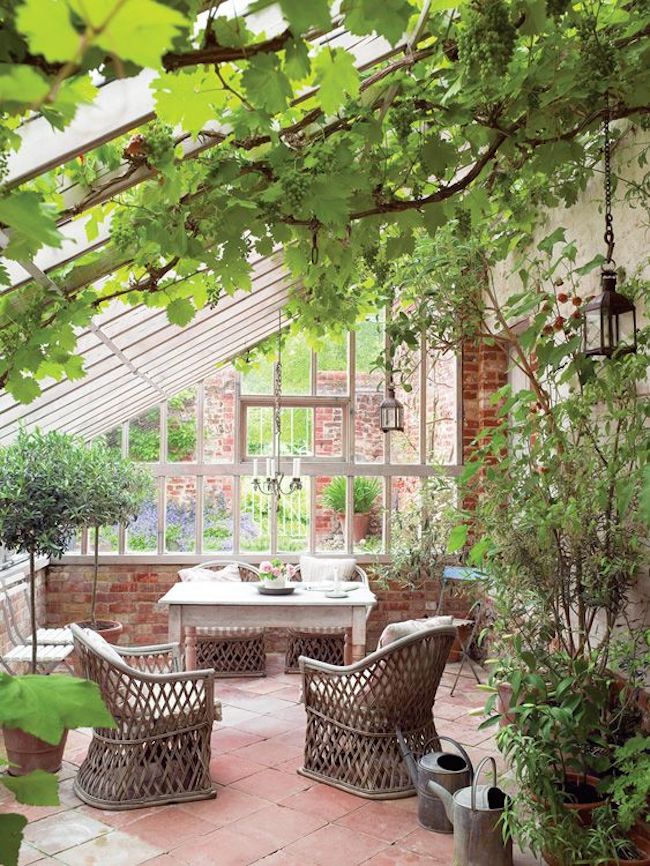 Blue Sky Ceilings
So, maybe you don't have the budget to completely revamp your sunroom in order to open up the ceiling to all that light. Instead, why not consider painting the ceiling blue, like the sky? This seems to be a popular trend for beach-inspired designs, or for others that just give off a light and airy feeling. This design from Jenna Suede incorporates a very light, baby blue ceiling with matching throw pillows to create that effect.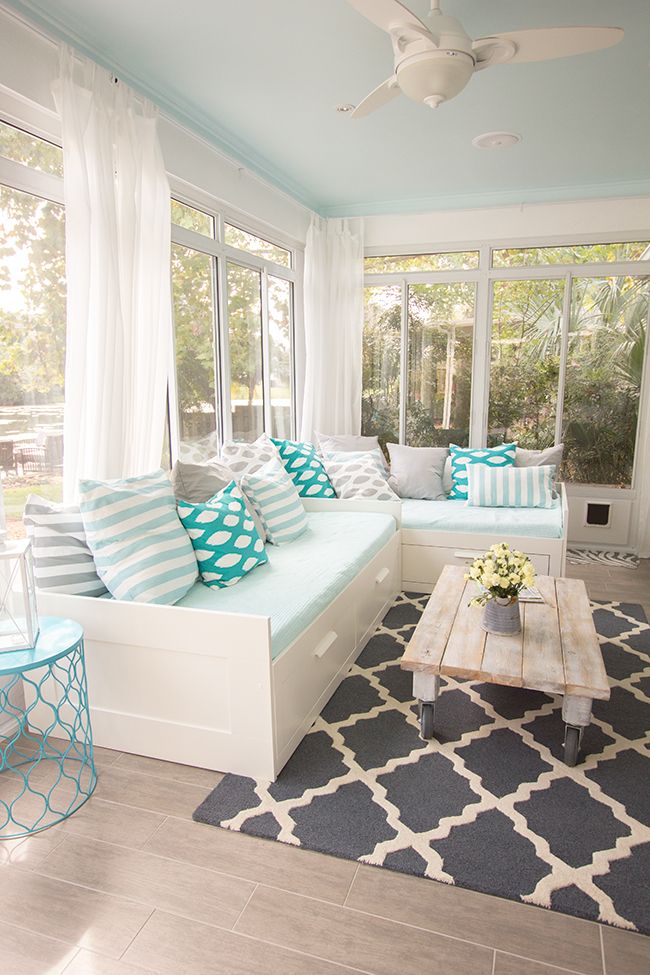 This next example, again from Home Bunch, adds a very slight touch of light blue — just subtle enough that it's not at all overpowering.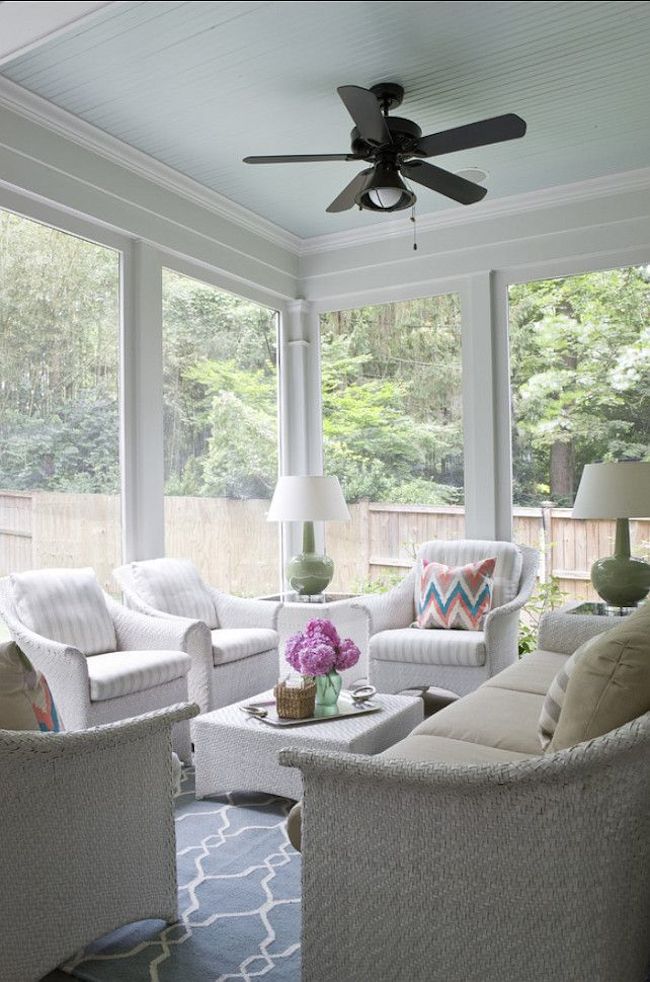 Finally, here's one last example of this incredibly simple way to bring more color and brightness into any sunroom from Sybarite — paired with lovely striped chair cushions and drapes.