In the days following Christmas it's been COLD in my neck of the woods. Who's with me here?! In the dead of winter, it's important to turn your home into a warm, inviting haven. While adding an extra throw to your couch or bed is an obvious design fix, things can get trickier when it comes to the powder room. Whether you're getting ready to start your day or winding down after many hours of work, the time you spend in the bathroom is often chilly rather than cozy. Anyone else have cold tile underfoot? Today's post spotlights 10 modern bathroom spaces that evoke a cozy feel. It CAN be done! Here's how…
Warm Accents
To create a sense of warmth in your bathroom, opt for warm-toned accents! The concept is pretty simple and can involve details that range from candles and mood lighting to sleek wooden paneling, as shown in the modern powder room below. [from Ann Sacks]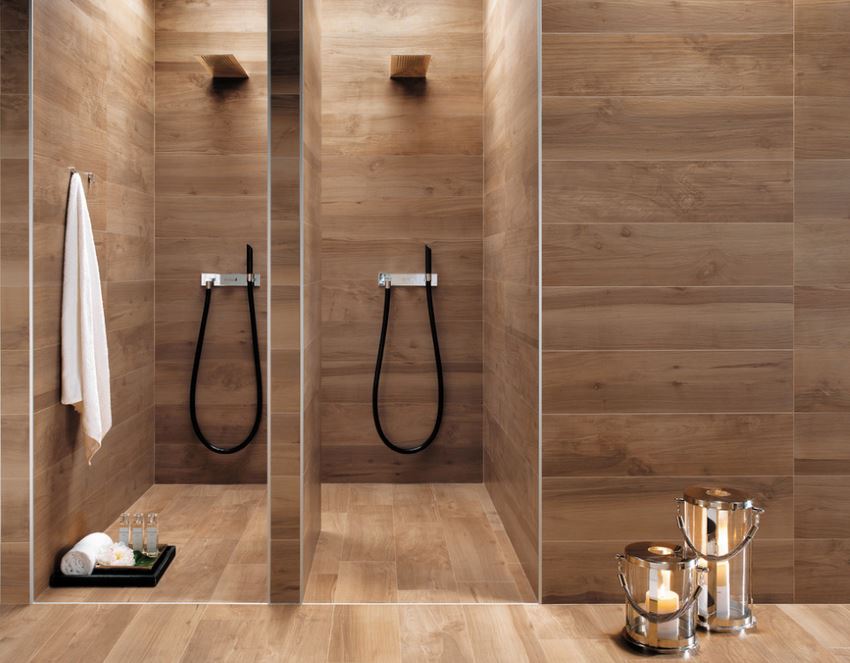 No time to add wooden paneling to your bathroom? Me either! A special touch such as a paint-dipped wooden stool can create a warm-toned, modern focal point. Add some fluffy towels, and you have a truly inviting vignette. [from Lonny]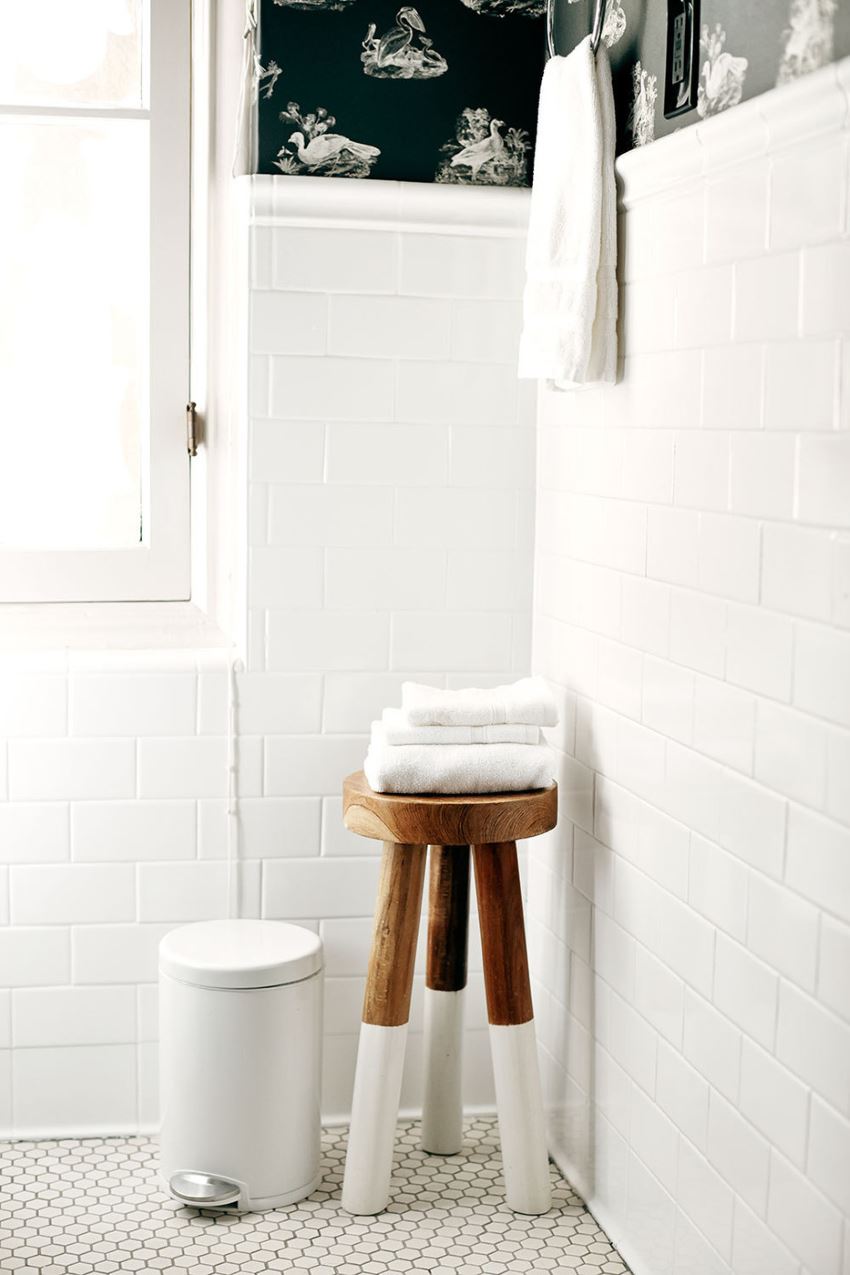 It's amazing how candles instantly create an intimate feel. When juxtaposed with the city skyline in this next spectacular space, the ultimate in chic cozy living is revealed. [from Nallau]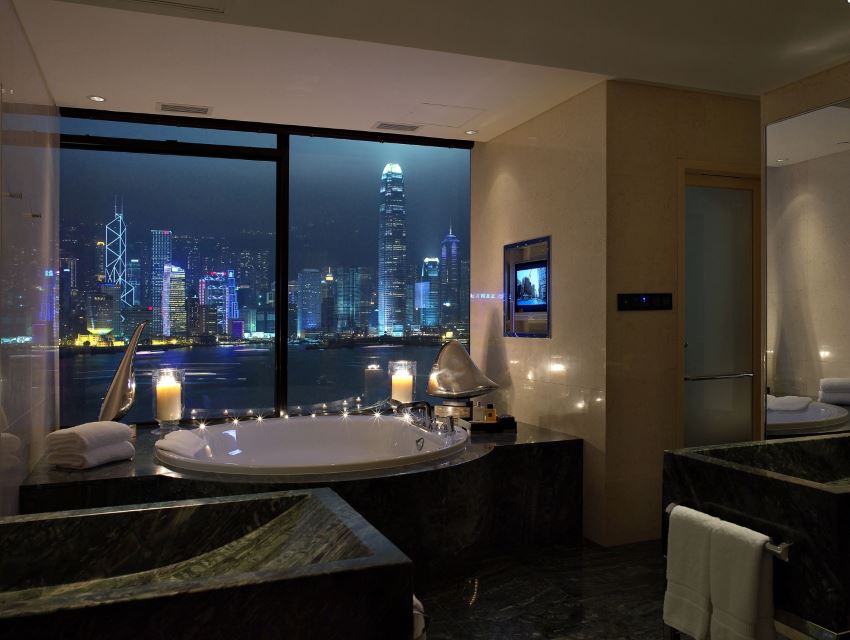 If you'd rather not fill your countertop or tub area with pillar candles, try a lean candle holder that can accommodate many votives or candles. Bonus points if it's made from an earthy material such as wood. [from Belzberg Architects]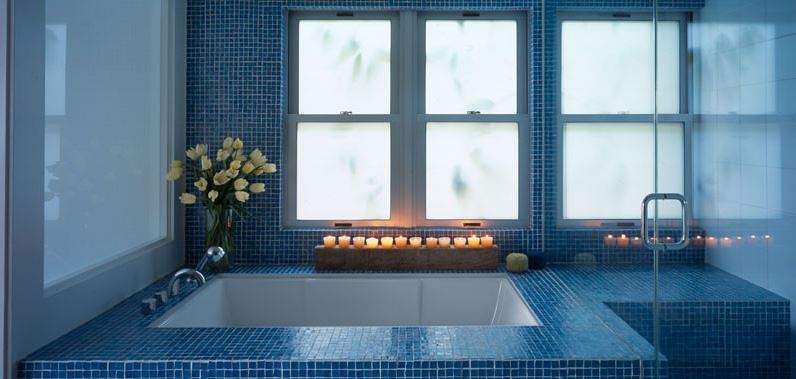 Soft Surfaces
There's nothing more inviting than a soft surface in a powder room on a winter morning. Protect your feet from the chill of tile with a textured rug. Sheepskin, fur and faux fur rugs are a hot design trend that can be used to your advantage in the bathroom! [from Oakley Home Builders]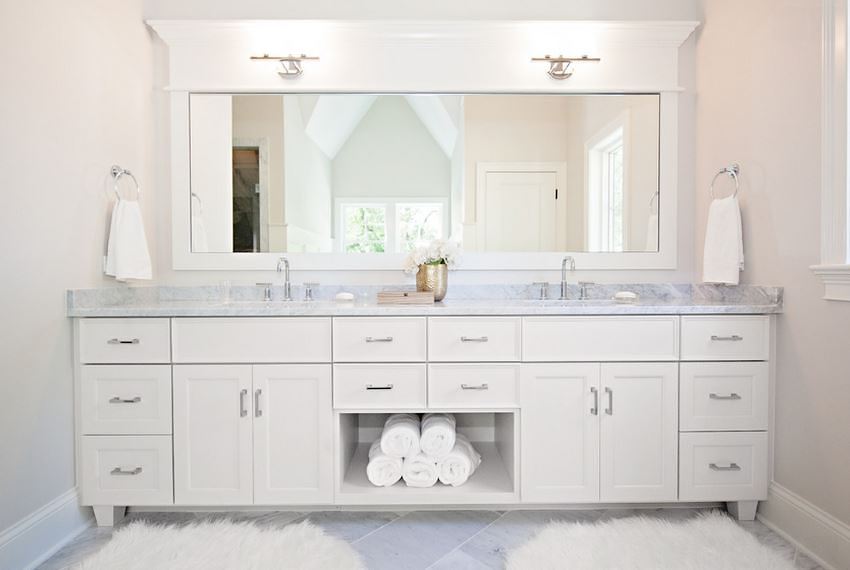 Another great option for adding softness to the powder room: a stool that can hold towels or provide extra seating on a cold morning. The tufted bench in the powder room below adds a cozy touch. [from Elevation Homes]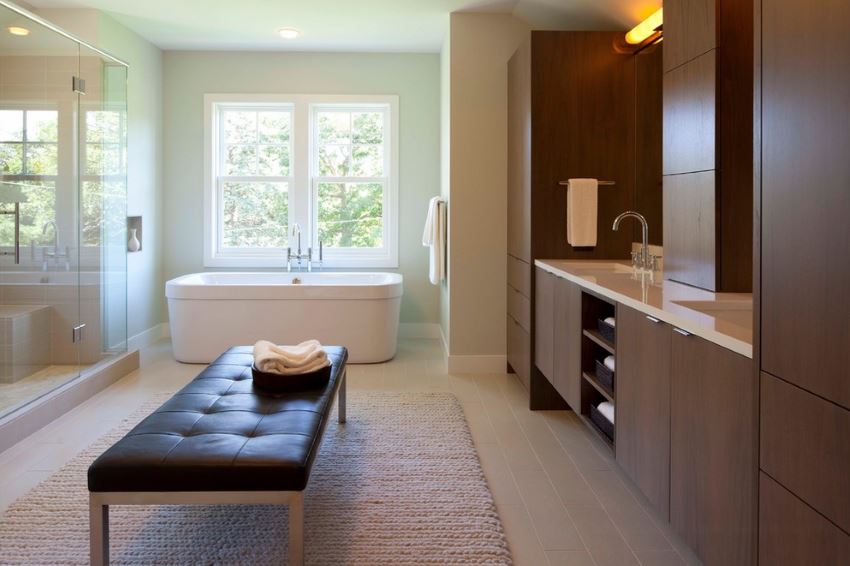 If you're looking for an easy way to dial up the cozy factor, simply display more towels in the winter! The sight of them will inspire warm thoughts of a snug post-shower dry-off! [from Popsugar]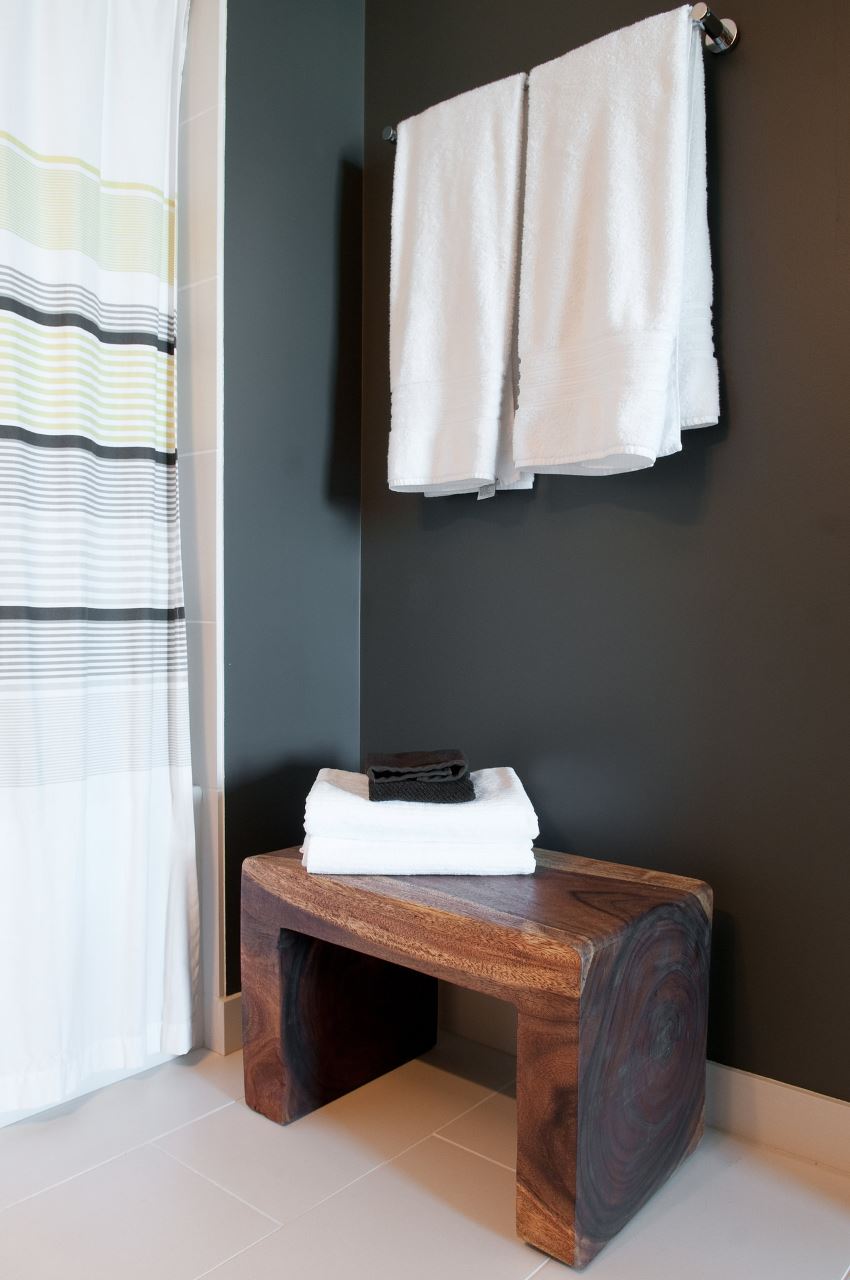 Texture, Texture, Texture
There's something about texture that creates a cozy feel! Good thing there are many ways to add texture to your space, from plants and baskets to earthy window treatments. This next space by Thom Filicia Inc. tastefully incorporates texture in a variety of ways. Can you spot them all?…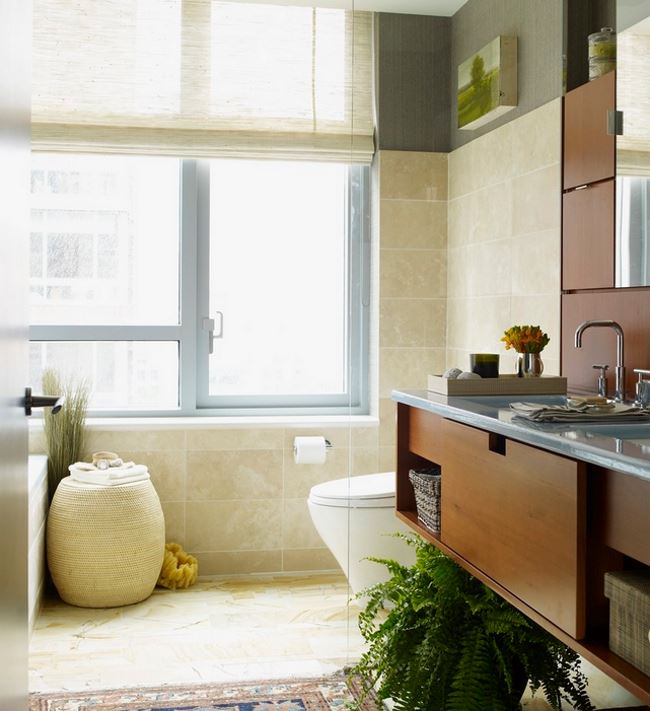 Don't forget the decadent power of textured bath items, such as sea sponges and loofahs. Even small statements can make a big impact, as seen in this Northern California treetop sanctuary from Staprans Design: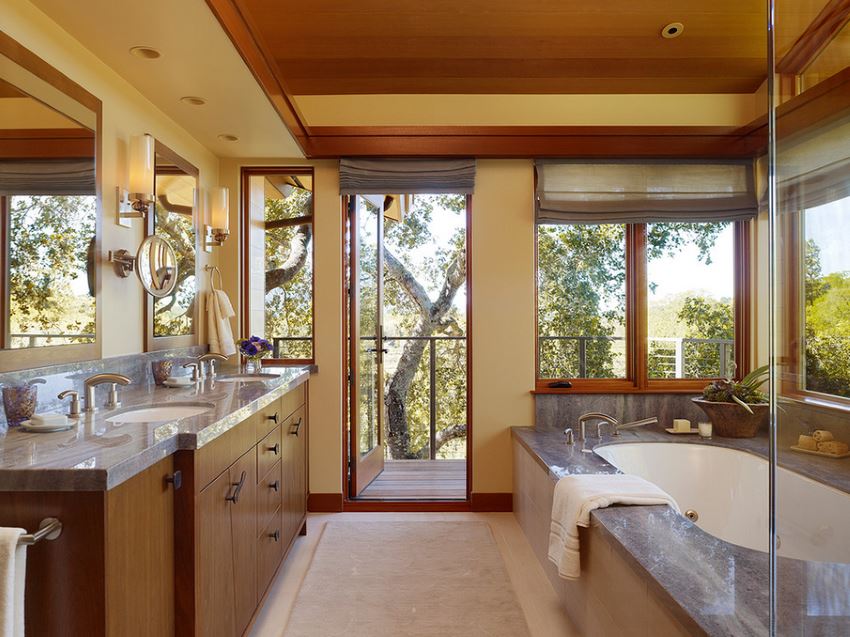 We end with a contemporary powder room that takes textured design to the next level, thanks to special surfaces that range from black granite to wood. The stunning space below from Soli Architectural Surfaces features design by Jason Pettinato Design Studio. [photo by Daniel Longmire]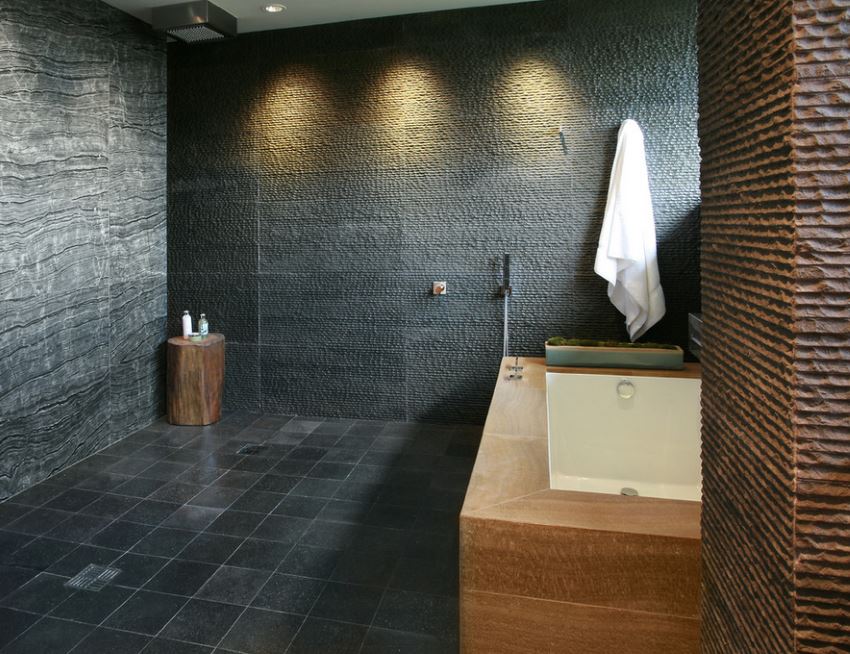 As we've seen, coziness is a conscious design decision, created through large-scale updates or the smallest of details. Regardless of your budget, there's a winter-perfect option for you!