I was pretty surprised by how much fun I had living off-grid in a yurt on the Big Island of Hawaii—it was much easier than I had expected, and also very freeing. Living off-grid doesn't mean doing without, it just means doing things differently (and with a much lower impact). You can have lights at night if you want them, and even WiFi, though they will be powered by solar panels and you will only have so much energy to use. When it's done, lights out.
Cabins disconnected from the power grid can still have running water, surround-sound music, stove-top cooking and other conveniences—or you can choose to have perfect quiet, solitude and no intrusions from the outside world, including technology. You're only limited by the size of your solar panels or other sustainable power source.
If you have dreamed of living off-grid, the cabins here prove you don't have to live in a trailer or a misshapen hut. There's plenty of inspiration for design-lovers in these cabins in the woods.
Newkirk Cabin
Scott Newkirk is an interior designer and stylist who lives in New York City; naturally his off-grid cabin is a gorgeous retreat, complete with both a flagstone patio and a deck for enjoying being outside as much as possible.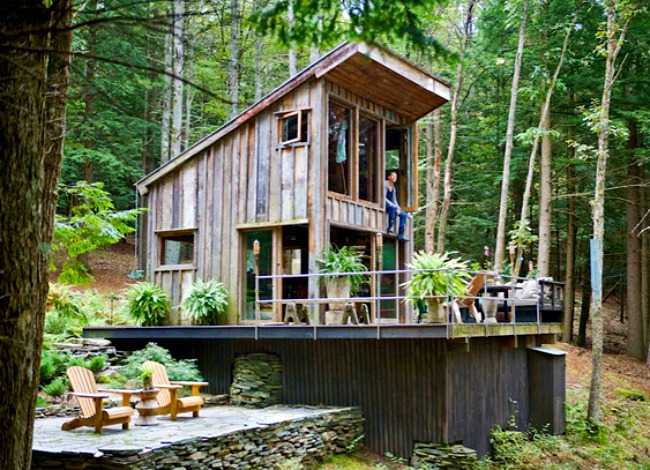 Multiple windows and indoor-outdoor living mean that fresh air, light, and the sounds of the forest are always available in generous supply to the guests who enjoy the cabin's woodsy delights.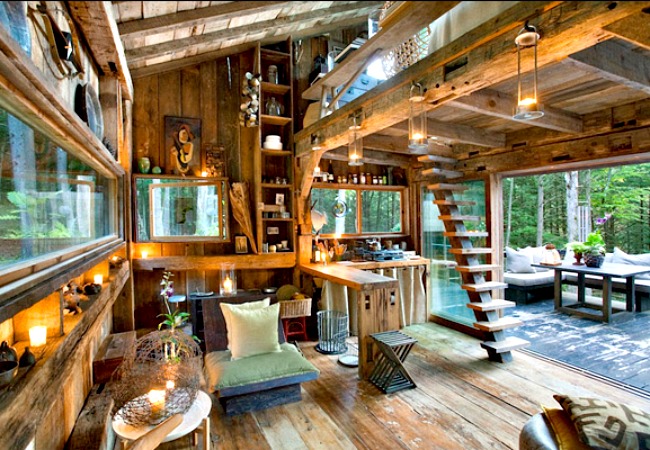 Who needs a jacuzzi tub when you've got a rushing stream behind your cabin?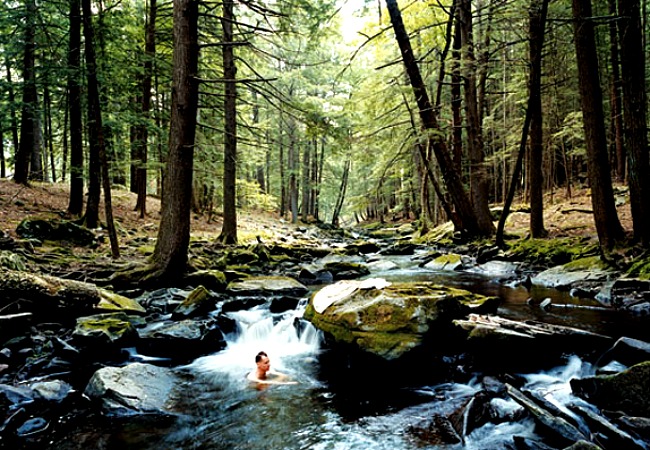 Chalk Hill Cabin
This 852-square-foot cabin looks larger than it is due to its striking modern design by Arkin Tilt Architects.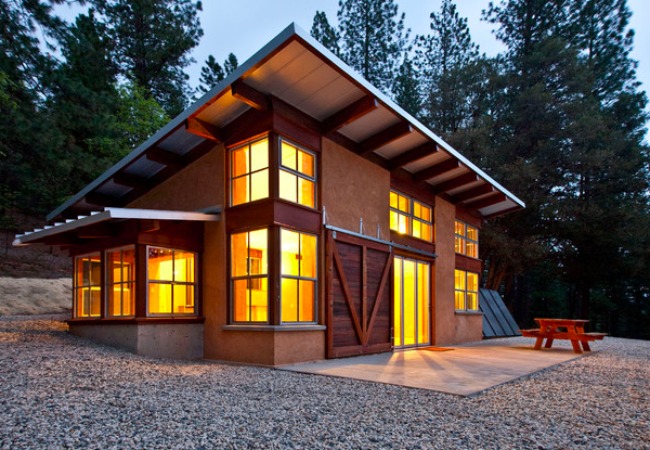 Check out the large solar array that gives this off-grid cabin plenty of power when the family needs it, and stores it when they don't.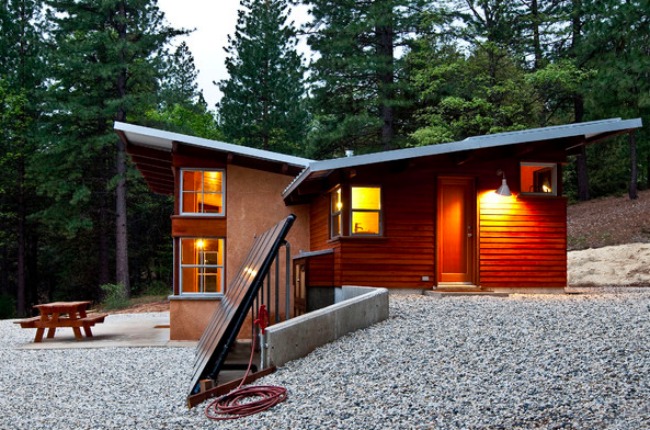 The interior keeps many of the classic elements of cabin style, including wood throughout, but includes modern touches like lots of glass for natural light and possible stargazing from inside!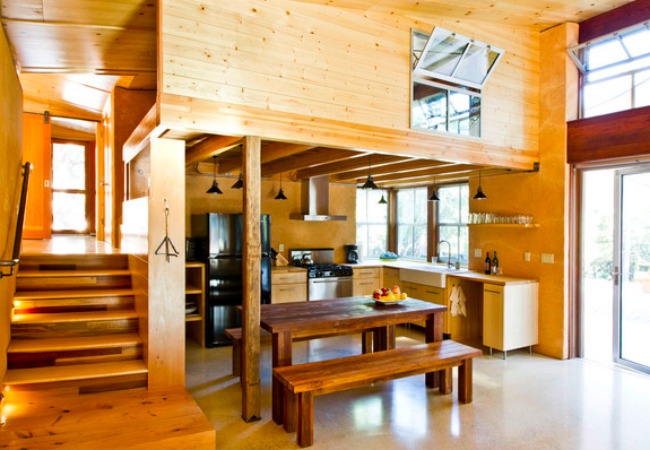 Flathead Lake Cabin
This cabin, designed by Andersson Wise Architects, is located on Flathead Lake in Montana.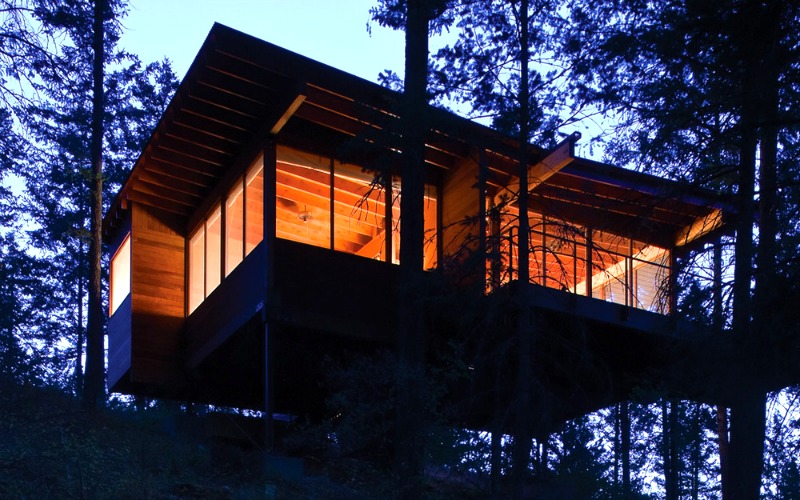 Situated on a steep cliff among Ponderosa pines, the cabin has a treehouse-like feel and airy views, like the one below, from several windows.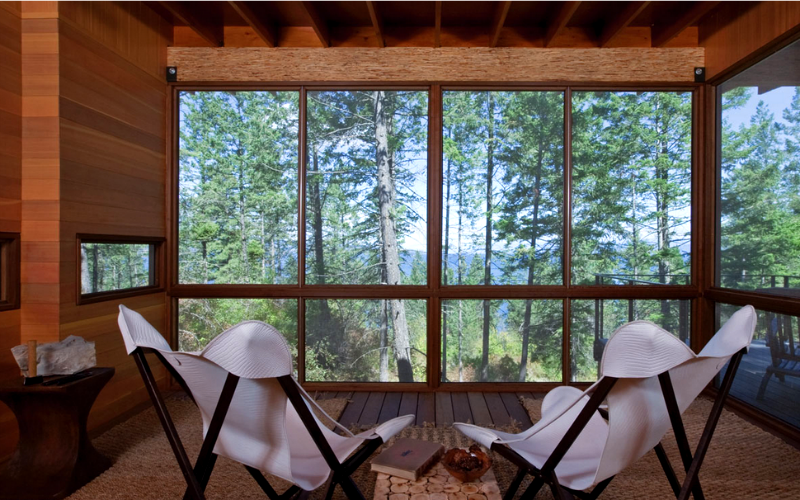 This cabin is a great example of how you can build a comfortable space on a steep area, with minimal impact on the surrounding land and animals who call the area home.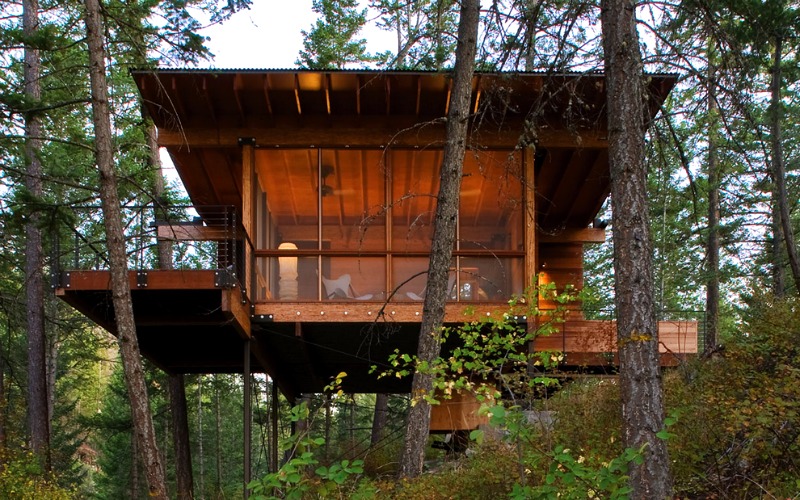 Do any of today's featured cabins inspire you to consider the off-grid lifestyle?