One of my New Year's resolutions for 2015 is to collaborate with others on creative projects. I've often believed that I do my best work alone, but the older I get, the more I realize that wonderful things happen when you join forces with people who inspire you. In fact, as I've written Decoist posts over the past month, I've noticed some amazing collaborations occurring in the world of design. Today I'm highlighting three that have inspired me, and they range in scale from a large retail collaboration project to a carefully curated design studio endeavor. Ready for a closer look?…
Alyson Fox and Ferm Living
We begin with the recent collaboration between artist Alyson Fox and ferm LIVING, a design studio and brand founded by Trine Andersen. The two joined forces for ferm LIVING's Spring/Summer 2015 collection, and given that I'm a huge fan of both, you can only imagine my excitement when I learned they'd teamed up! Below we see the geo-fabulous Cut Cushions: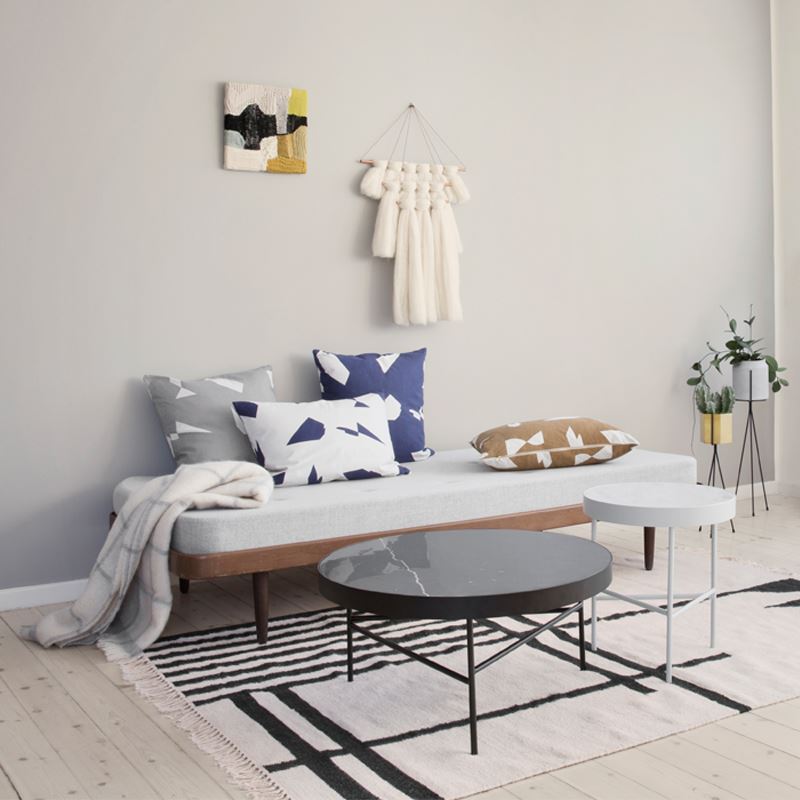 The Cut Bed Cover in Grey reveals the bold minimalism of Fox's patterns. It's no wonder her illustration work is featured at ferm LIVING, a design house that values modern, retro and Scandinavian motifs.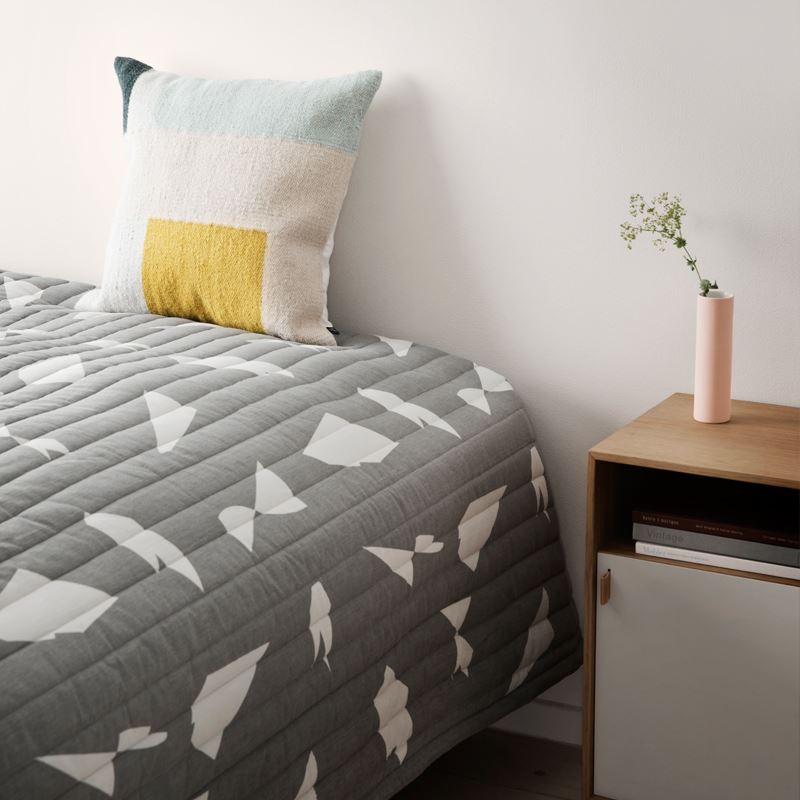 Next we see the Kelim Rug in Small, a hand made product with illustration by Alyson Fox. Since I'm a long-time fan of ferm LIVING's Kelim Rugs, it was interesting to see how Fox put her stamp on the concept. In a word: fabulous.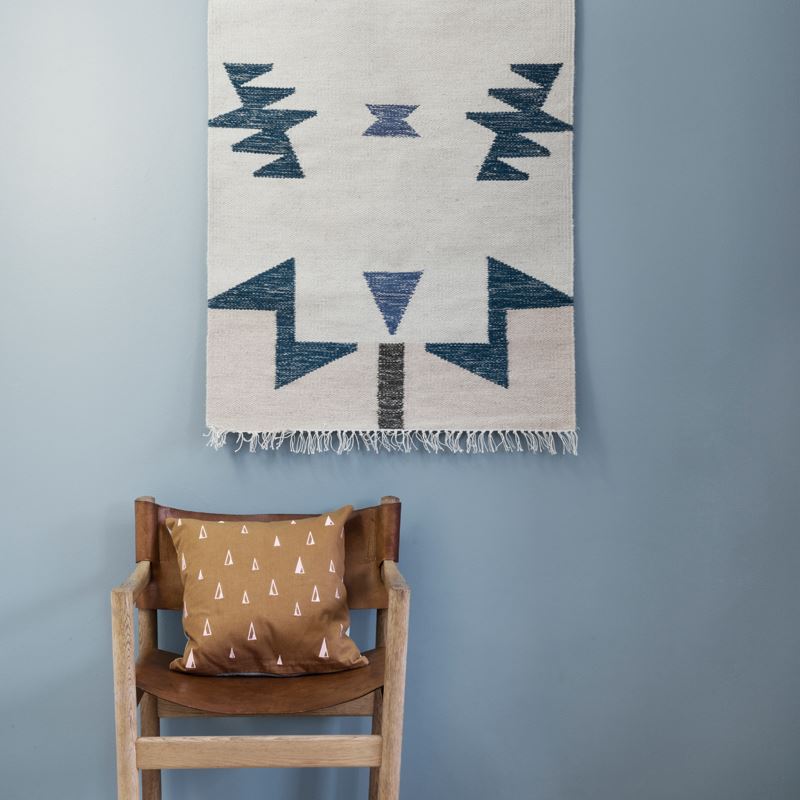 Fox's textile design abilities are further highlighted by the Cone Cushion, shown above in Curry and below in Rose. This cotton cushion is accented with triangle-motif embroidery details, which add texture and bold patterning: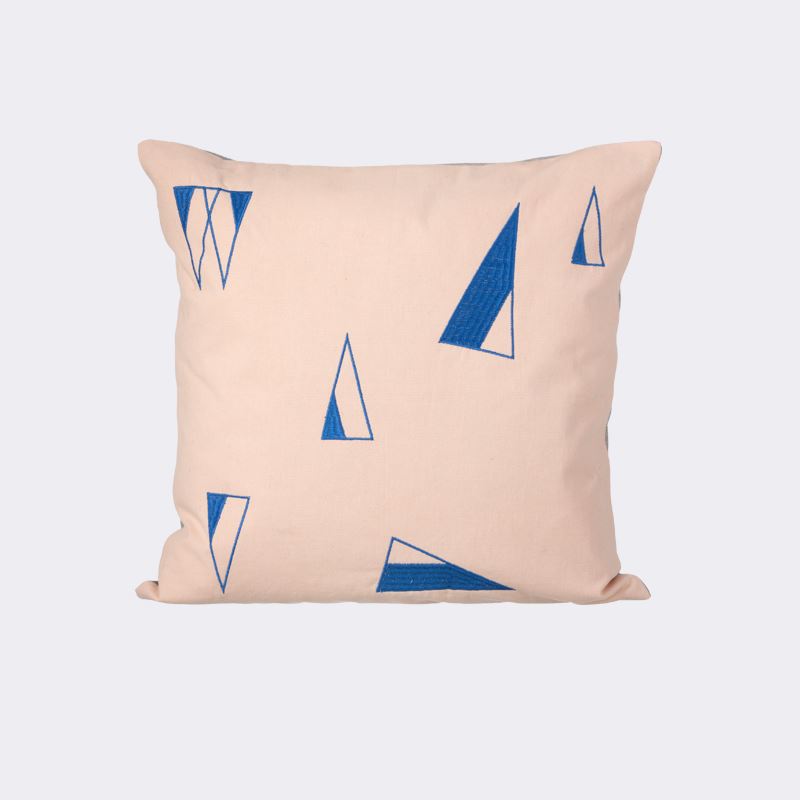 Below we see the Cone Quilted Blanket, as well as a range of other textiles designed by Fox, proving that her illustrations are ideal for kids and grown-ups alike.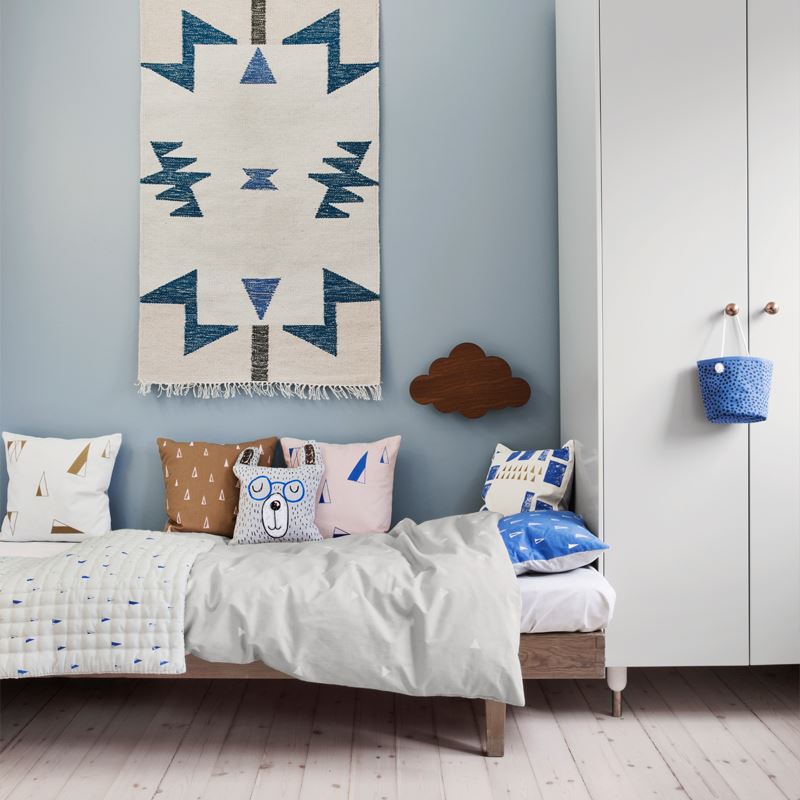 Alyson Fox and ferm LIVING are a match made in heaven. I'm already dreaming of future collaborations…
Kate Spade Saturday and West Elm
Next I'll highlight the collaboration between Kate Spade Saturday and West Elm, which recently debuted as part of West Elm's fresh batch of new arrivals. While browsing West Elm's offerings for spring, I was consistently drawn to item after item featuring bold colors and patterns. Only after clicking on them one by one did I realize that all my faves were part of the Kate Spade Saturday/West Elm collaboration. There's something about Kate Spade Saturday designs that evoke spontaneity and timeless style. Below we see a few highlights: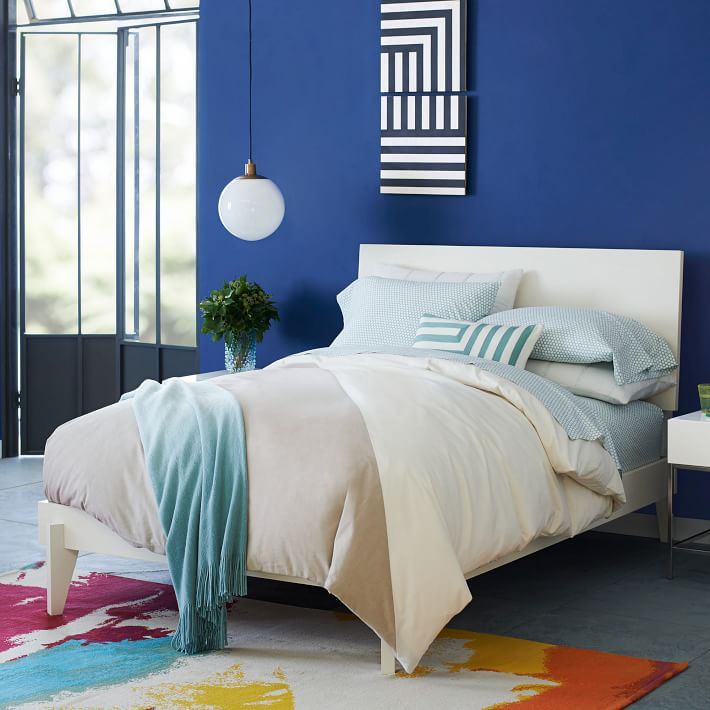 It's also fun to see West Elm hits like the Bentwood Slipper Chair covered in Kate Spade Saturday's Subway Tile Print. It was only a matter of time before grids found their way to midcentury-inspired furnishings!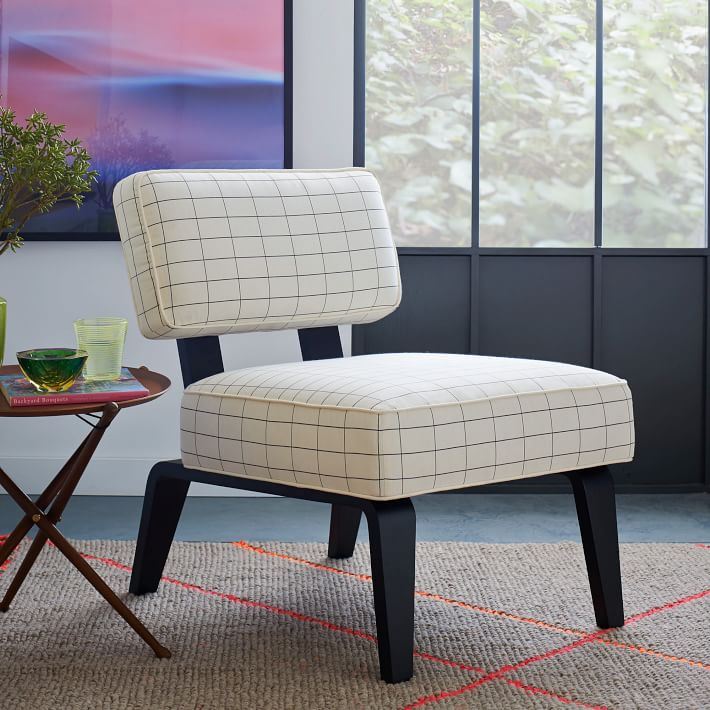 The geometric pattern of the Kate Spade Saturday Neon Diamond Wool Pouf consists of interlocking diamond-like forms crafted from 100% wool. An instant focal point that adds function and style to the room of your choice: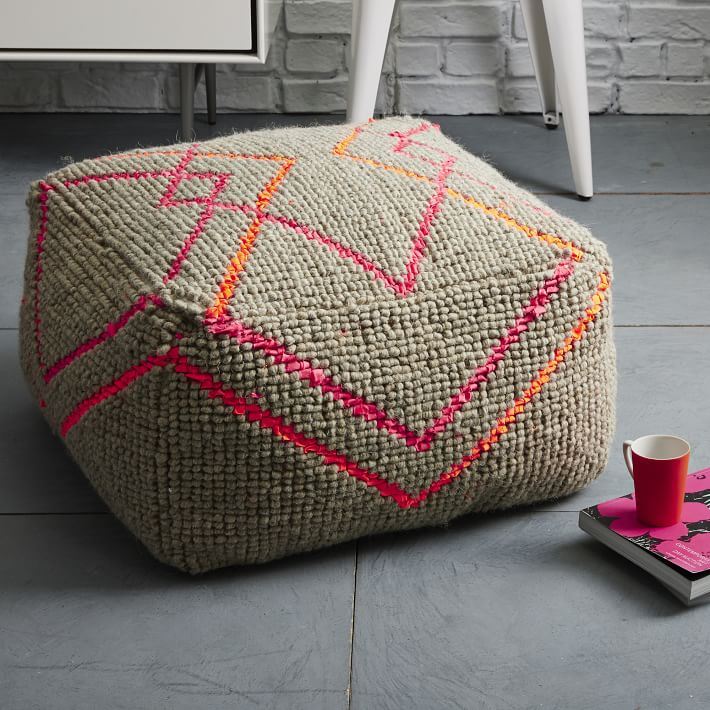 Two-toned patterns of the diagonal variety are one of today's top trends, making the Kate Spade Saturday Chambray Diagonal Duvet Cover + Shams a timely design find. Created from cotton chambray that's cut and sewn together, the look is trendy yet high end, thanks to quality craftsmanship.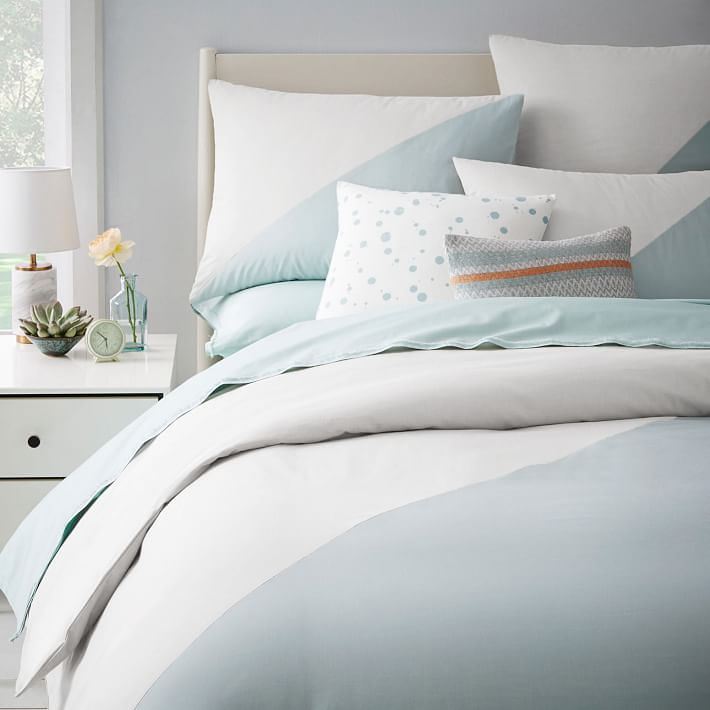 Many of Kate Spade Saturday's patterns for West Elm highlight colors such as yellow, blue and grey, as shown below by an assortment of pillows, including the Zigzag Pillow Covers with their bold stripes: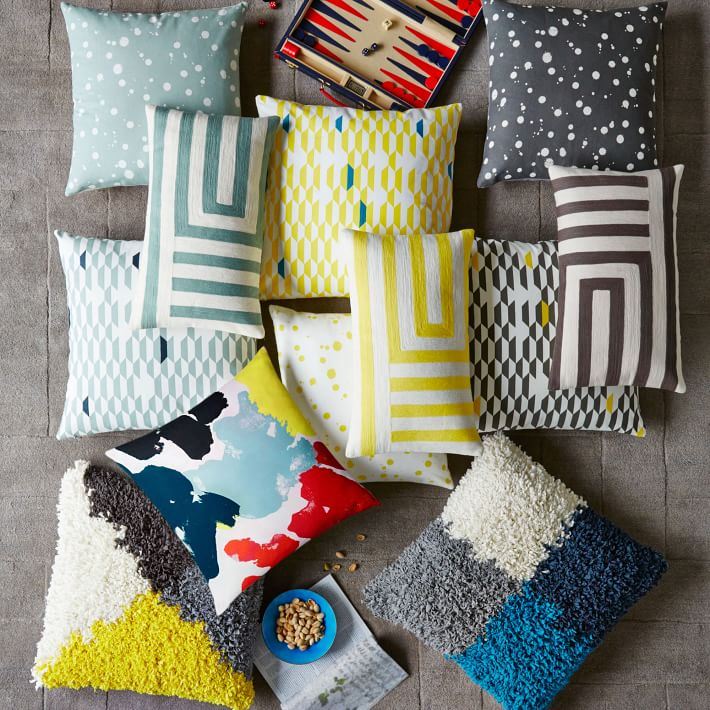 Retro meets modern style, thanks to the Globe Table Lamp, which channels New York City's subway entrance lamps, thanks to two orbs that produce diffused light. A blackened metal base completes the look.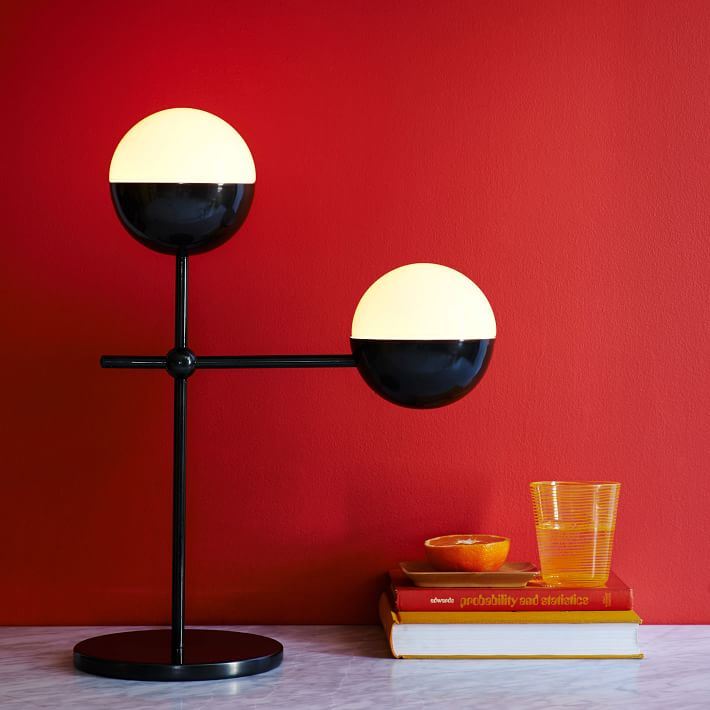 Also featured in the Kate Spade Saturday/West Elm collaboration is an array of designs filled with bright hues and patterns that evoke floral motifs. Below we see Abstract II, a canvas-wrapped wood frame covered in vibrant colors: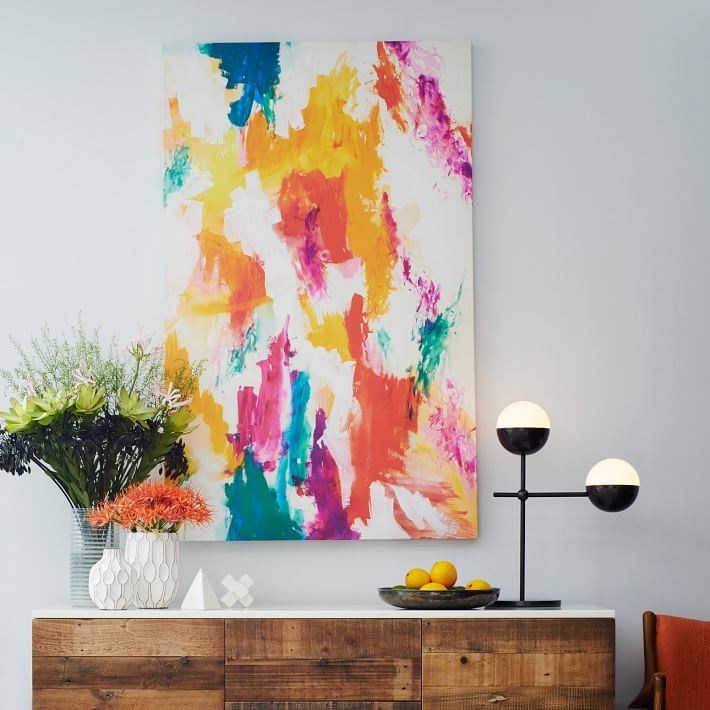 Even more Kate Spade Saturday finds are waiting to be discovered. Head on over to West Elm to see the full collaboration.
John Hogan and Ladies & Gentlemen Studio
Do you remember last week's post on still life inspiration for interior design? It was here that I first blogged about the work of Seattle-based glass artist John Hogan. He's collaborated with one of my favorite design studios: Ladies and Gentlemen Studio, founded by Dylan Davis and Jean Lee. Below we see SHAPE UP, a lighting series that celebrates geometric shapes and mixed materials.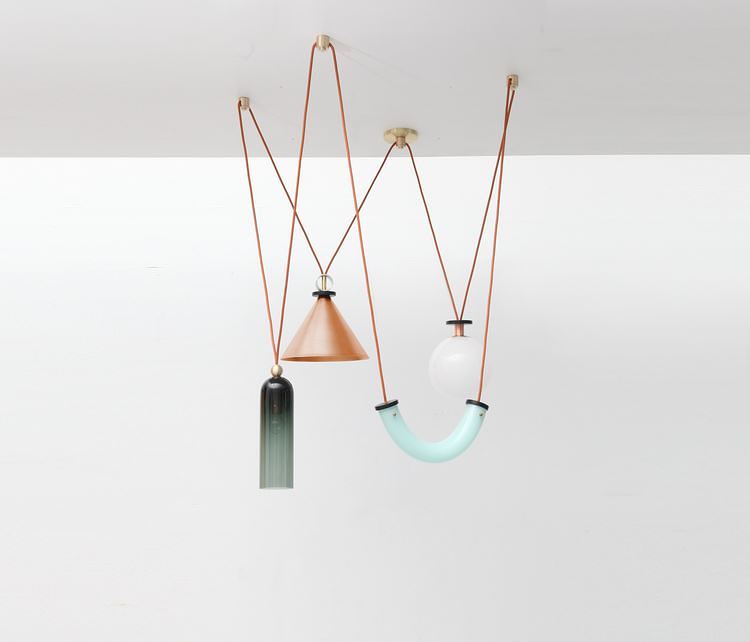 The glass lamp shades are crafted by John Hogan, and their abstract forms are connected to the lighting system via a network of cords. The result is a sculptural end product that is both functional and artistic: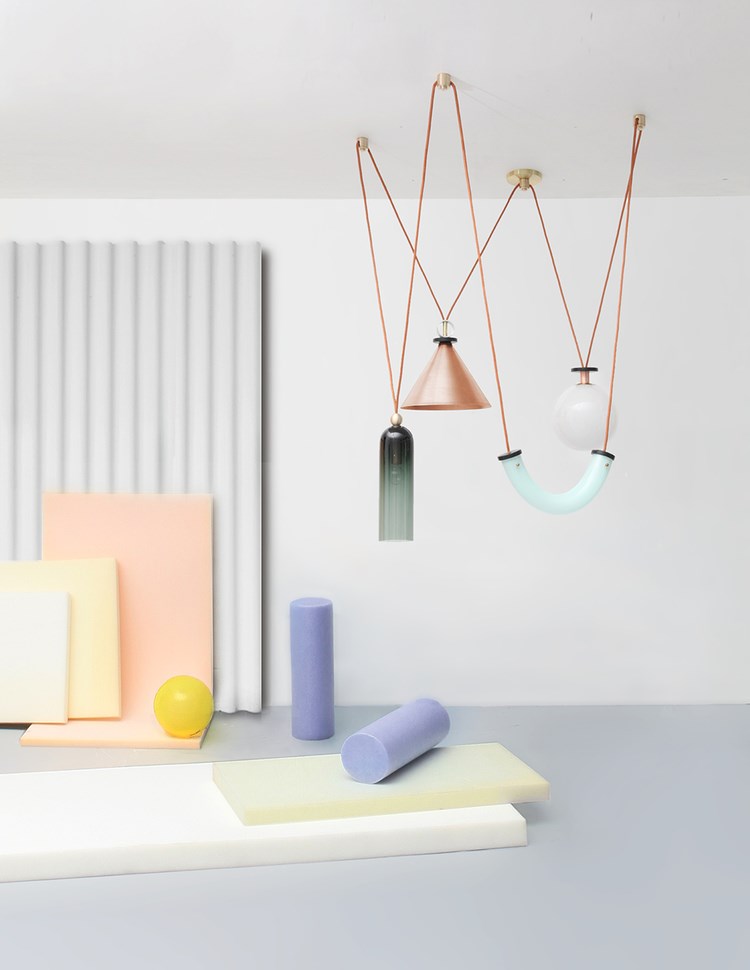 Next we have Atlas, a series of table lights created in another collaboration between L&G Studio and John Hogan. Each lamp's solid glass optical diffuser is a one-of-a-kind work hand-sculpted by Hogan himself.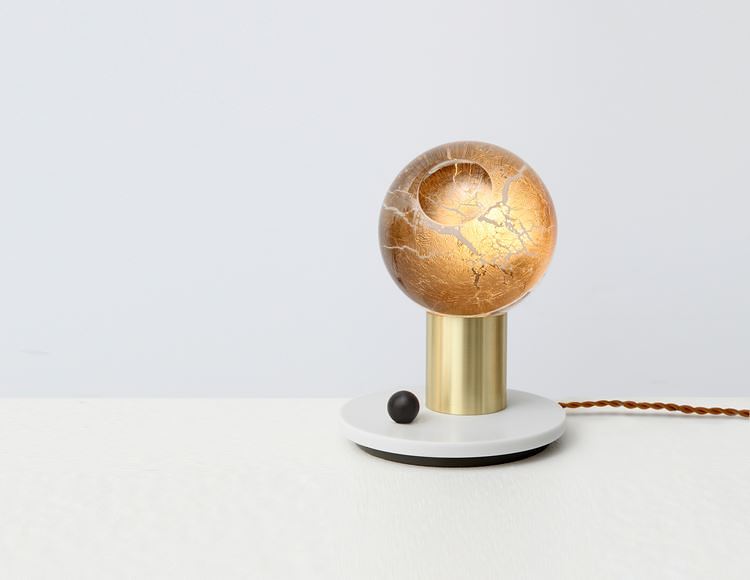 Since Hogan is committed to exploring the optical qualities of glass in his work, it's no surprise that his Atlas diffusers are enhanced by embedded layers of materials such as silver leaf, mirror and iridescent glass.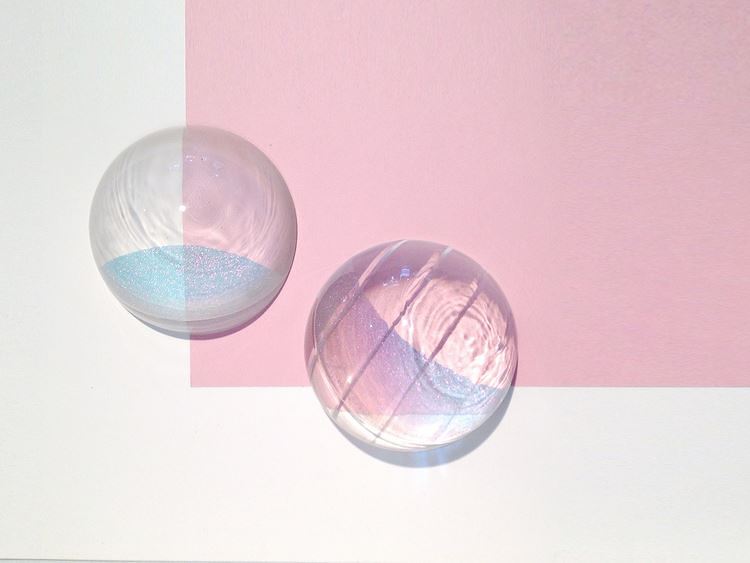 Add L&G Studio's commitment to impeccable design and interesting mixes of materials (note the use of copper, brass and corian below for the design of the bases), and you have a lighting series that's also a true work of art.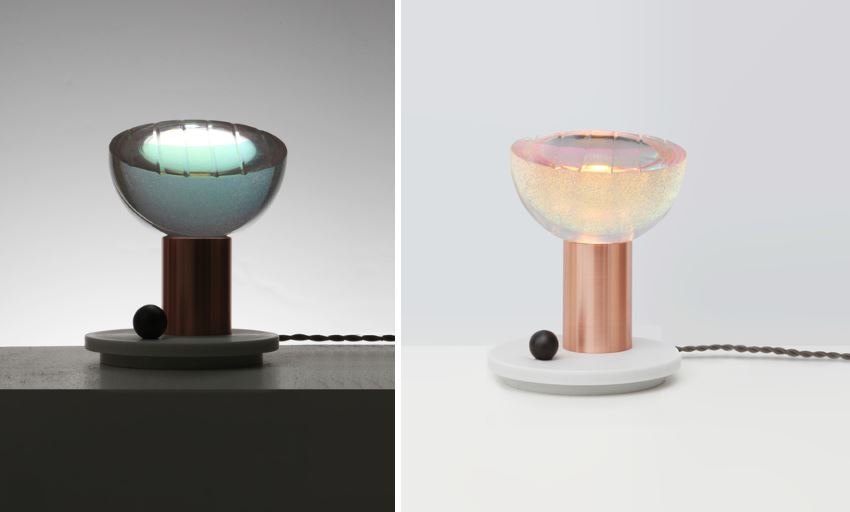 Inspired? I know I am! Whether your creative projects are big or small, consider collaborating with people who inspire you for your upcoming endeavors. The collaborations above have made me a believer in the process!