The spring collections are in! For a design-lover, there's nothing like visiting the website of your favorite retailer or boutique and seeing gorgeous images filled with new decor. And when it comes to spring design, there's an extra special feeling when uplifting colors and shiny new ideas are presented in the middle of a cold and dreary winter. Talk about the promise of bright days to come! Writing this post has put me in a design-forward mood. So much so that I found myself doing some online shopping in the process. Here are a few of my favorite new finds… [image from CB2]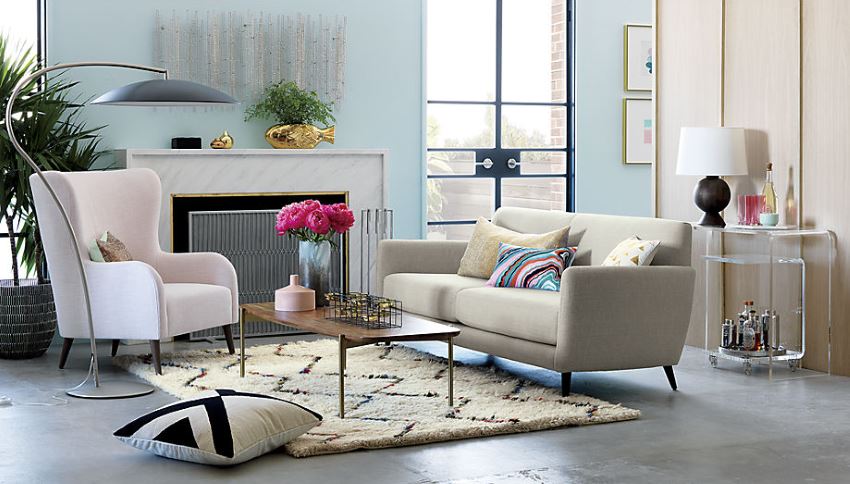 CB2
You may be wondering if this is a sponsored post, but in reality–no! I'm actually just obsessed with retailers like CB2 and can't help but celebrate their amazing designs. Their offerings are so deliciously modern and often very affordable. I'm like a kid at Christmas when I see their "new arrivals" announcement each season. Not to mention, CB2 beautifully photographs their merchandise–no wonder the items end up on so many blogs! Below is a collection of CB2's TPS Mint 3-Drawer Filing Cabinets.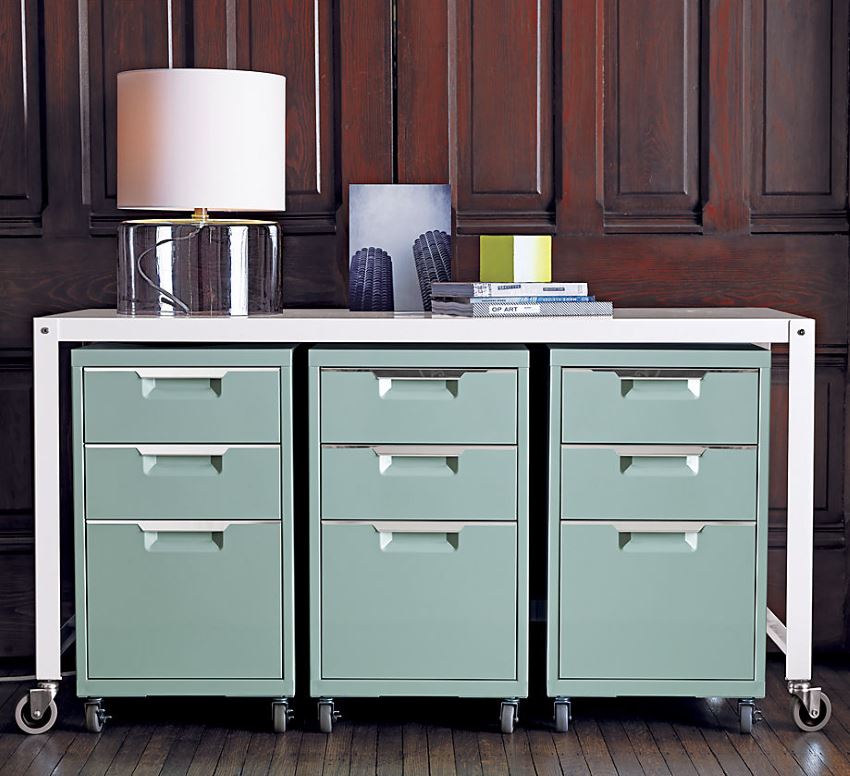 How eye-catching are these new pillow offerings?! I'm a big fan of the Marble Cascade Pillow, pictured near the bottom of the stairs: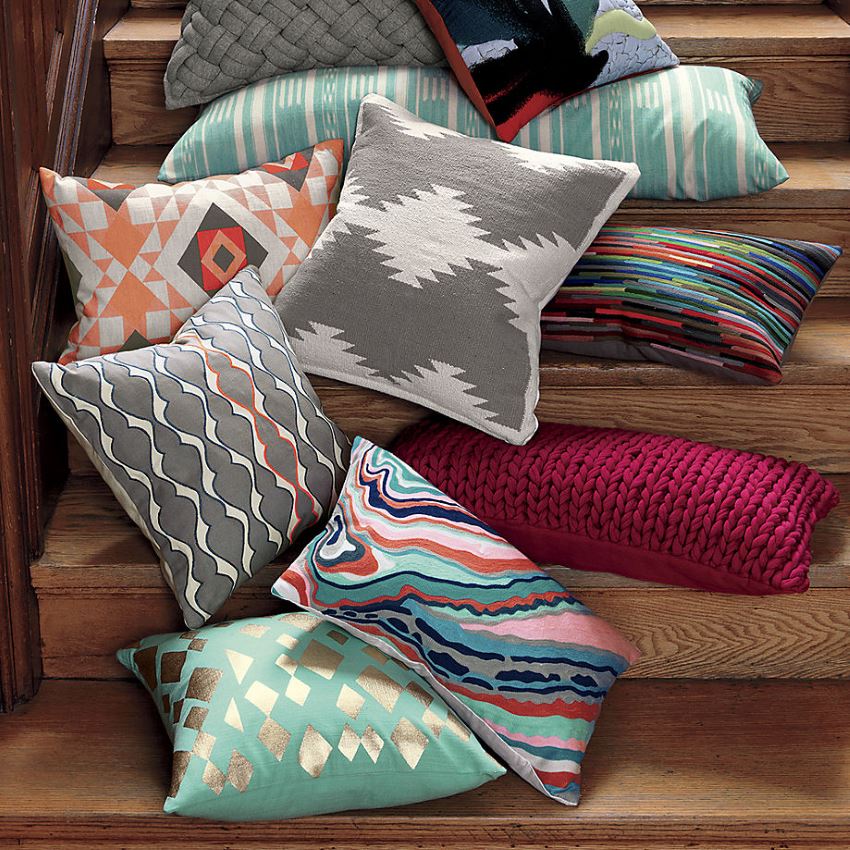 It looks like the design trend of simple forms and striking materials will continue well into 2015. Bring on the marble and wood! Below we see the Set of 3 Wood Shapes and the Stacked Marble Table Lamp: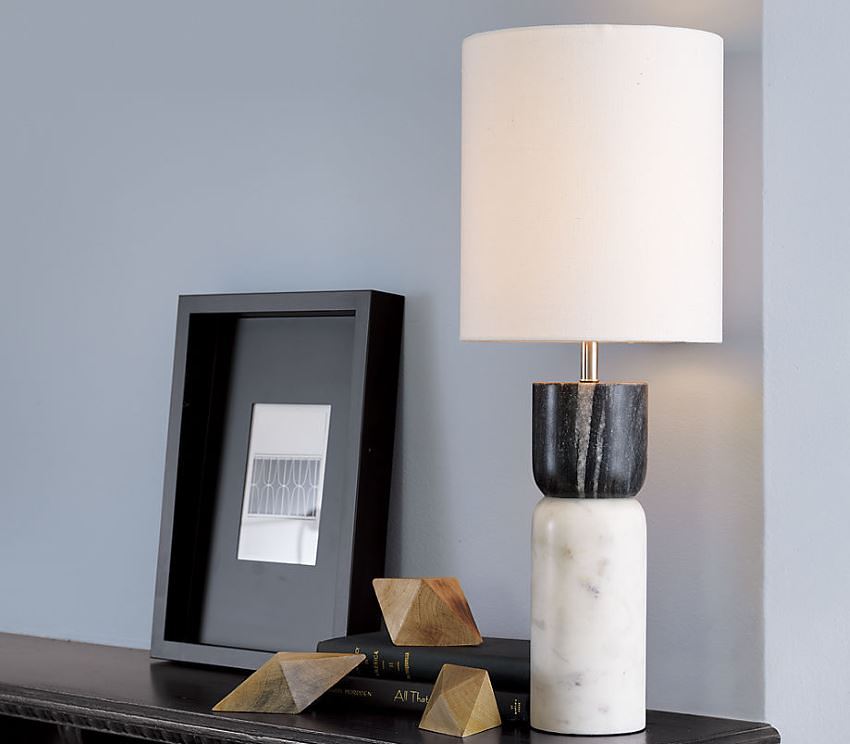 Confession: one look at these Hoth Candle Holders, and I knew I had to have them. Yes, while researching this post, I ordered two of them–this morning. But I can't feel too guilty about it, as they were only $5.95 apiece! They will be part of a special Valentine's Day photo shoot and post I'm planning for early next month. And they'll probably be used as vases rather than candle holders. Stay tuned!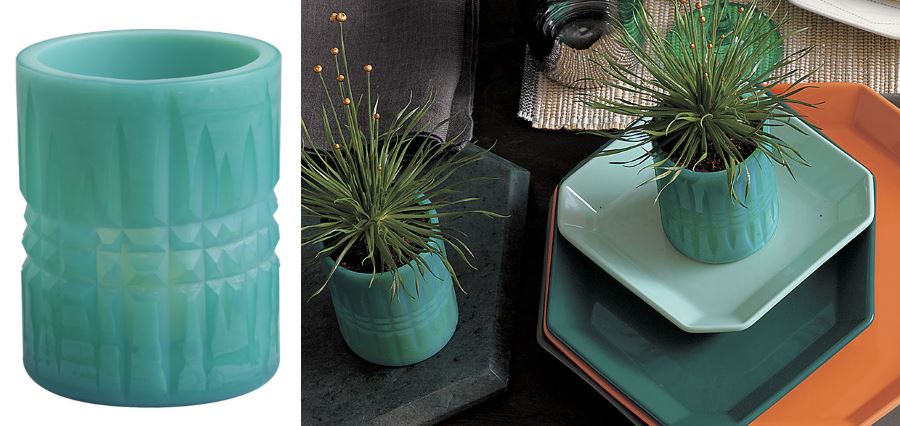 West Elm
I'm also very guilty of frequenting West Elm's website, and this season, it's filled with spectacularly designed finds by Kate Spade. In fact, the majority of the items that caught my eye were designed by Spade, which I discovered only after clicking on the images. It seems I'm a big fan of her work (which I already knew, since my flatware is Kate Spade)! Below we see the geo-fabulousness of the Kate Spade Saturday Chambray Diagonal Duvet Cover + Shams in Light Pool from West Elm: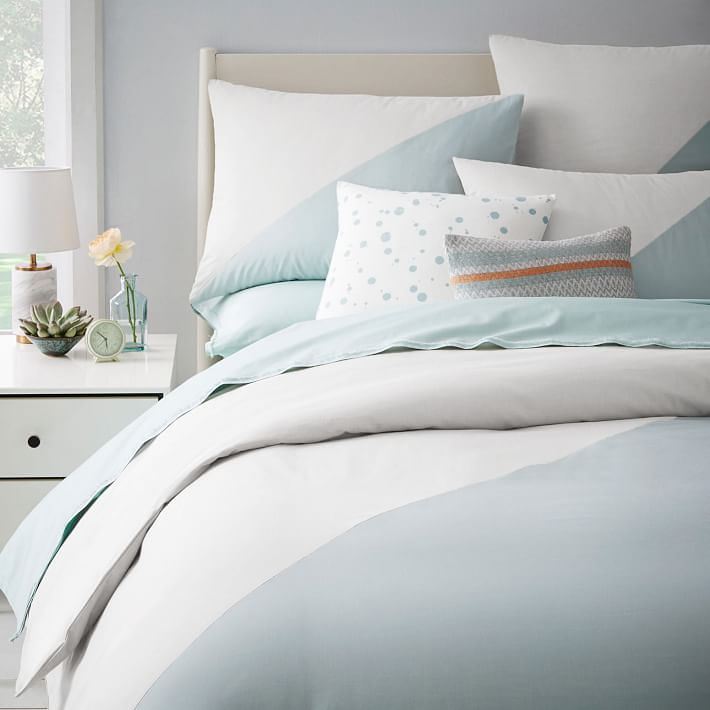 When a grid pattern meets the stunning form of a Midcentury-style chair, you have pure design magic. Say hello to the Bentwood Slipper Chair in the Kate Spade Saturday Subway Tile print: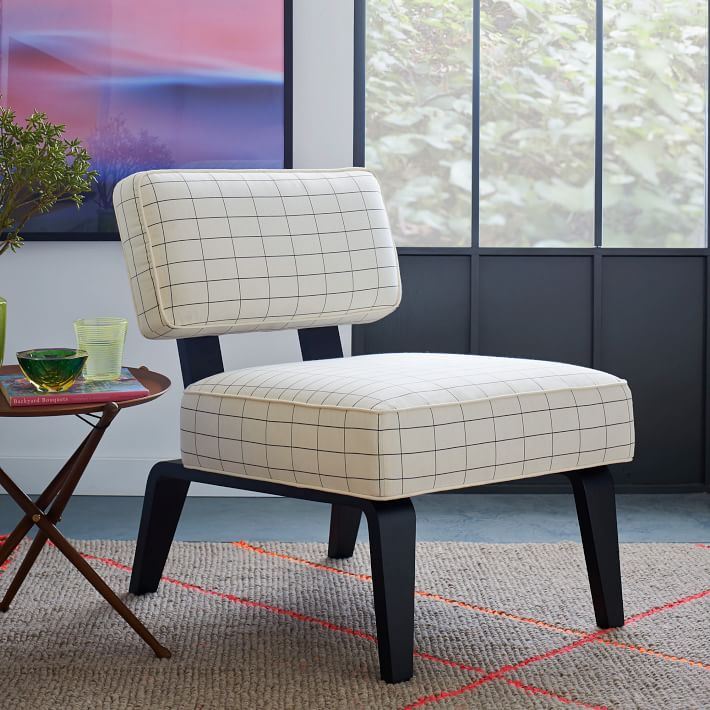 As you can tell, I always get a feel for the spring collections of my favorite retailers by immediately checking out their throw pillow designs. So many interesting colors and patterns! Below we see a collection of West Elm's finest, including striped pillows in the Kate Spade Saturday Zigzag pattern.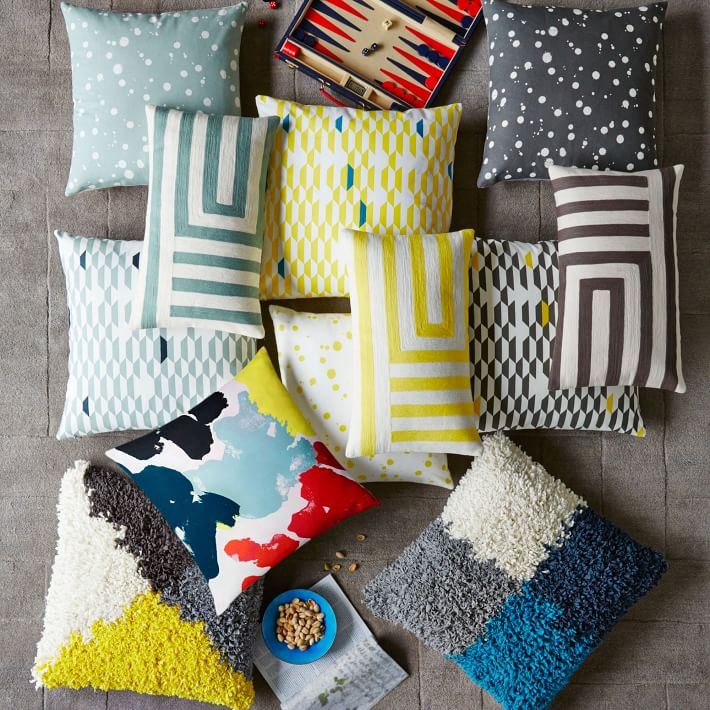 You may remember this Crisscross Wire Side Table from our recent post on setting design and decorating goals. While we originally showcased the table in white, today we spotlight the design in black, complete with a glass top and lacquered wire base. A touch '80s, don't you think?!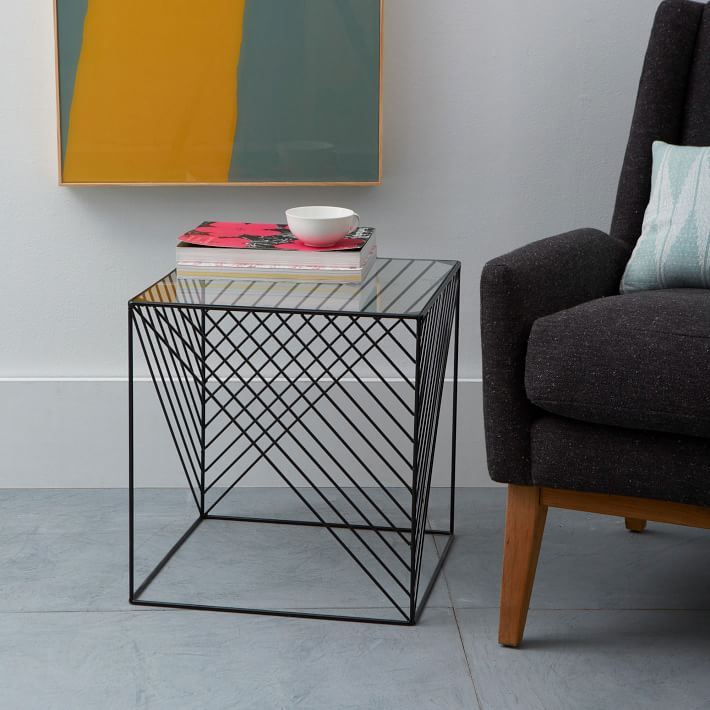 I collect silver-toned planters and vases, so when I saw these Metallic Planters, I definitely took notice. Add some succulents and place them against a backdrop of geo artwork, and you have a still life vignette in the making!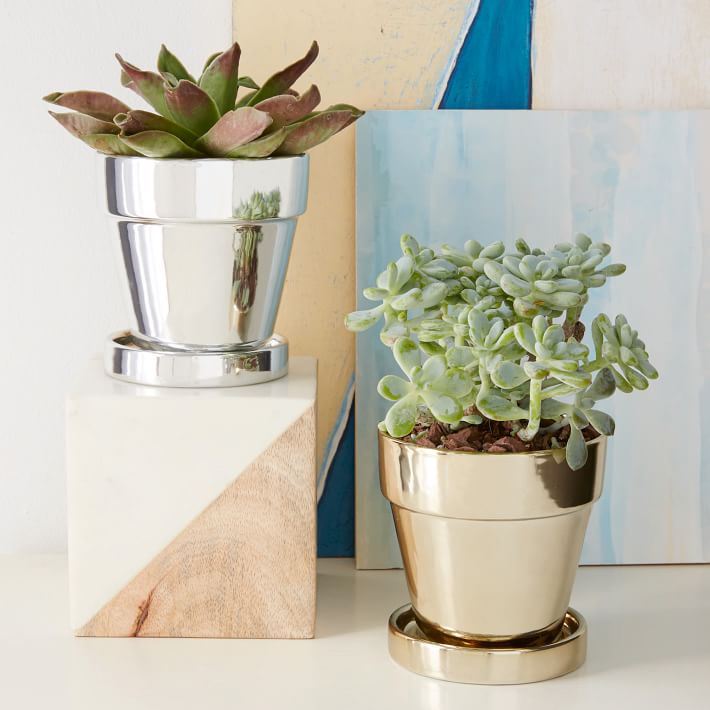 Crate & Barrel
Crate & Barrel has rolled out their spring collection, and the first item that caught my eye was the Aldo Dove Rug, shown below. Designed by Chris Mestdagh, this piece evokes the Midcentury feel of a concrete screen. Plus, the neutral grey tone is one of today's hottest hues!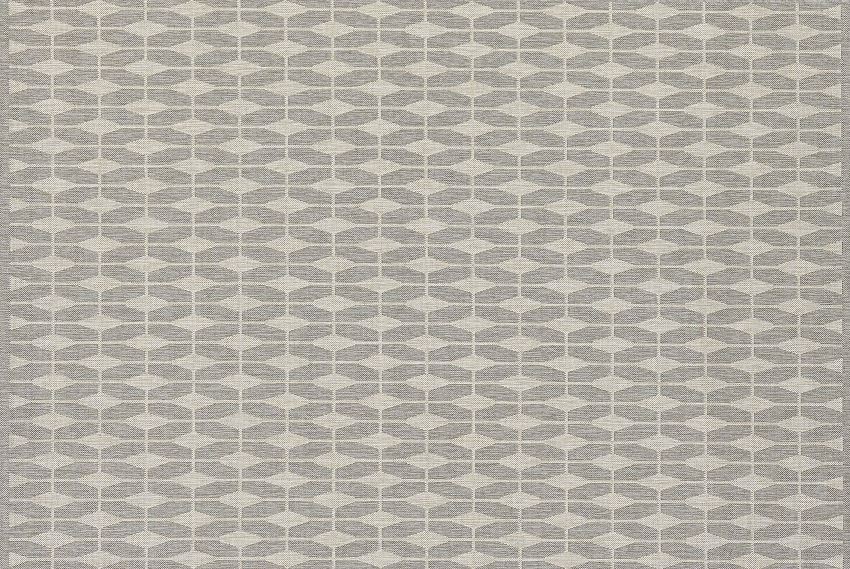 There's something so classic about sleek vases in turquoise. It's hard to choose which one of these glazed stoneware Perry Bud Vases to purchase. So why limit yourself to only one?…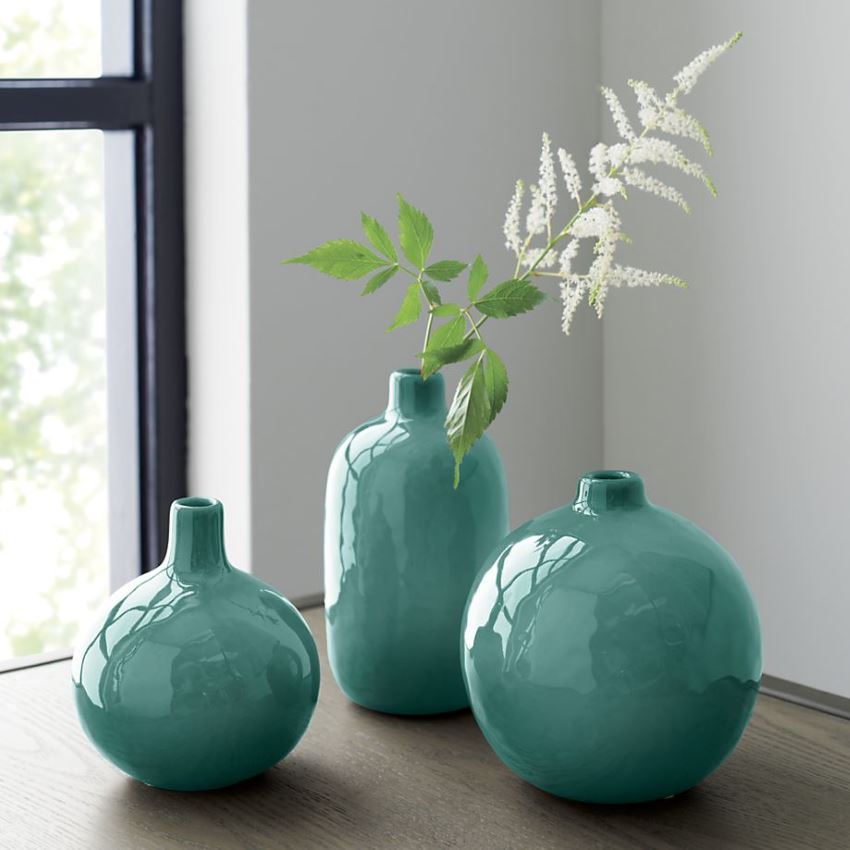 White embroidery separates each section of this Corbet 16″ Pillow, which features hand-drawn shapes in shades such as aqua, yellow and orange. This piece boasts a retro-meets-modern feel that's hard to resist.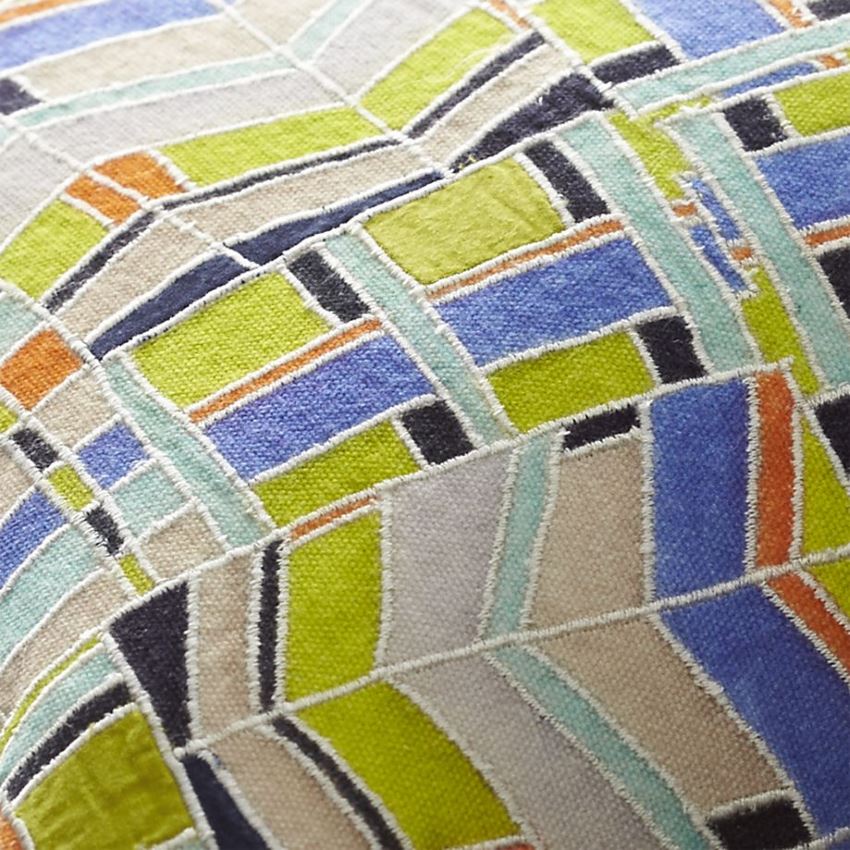 And speaking of pillows, I couldn't take my eyes off this Henesy 20″ x 13″ Pillow, especially since it's beautifully placed next to a coral pillow in a modern room featuring a fiddle-leaf fig. Yummy!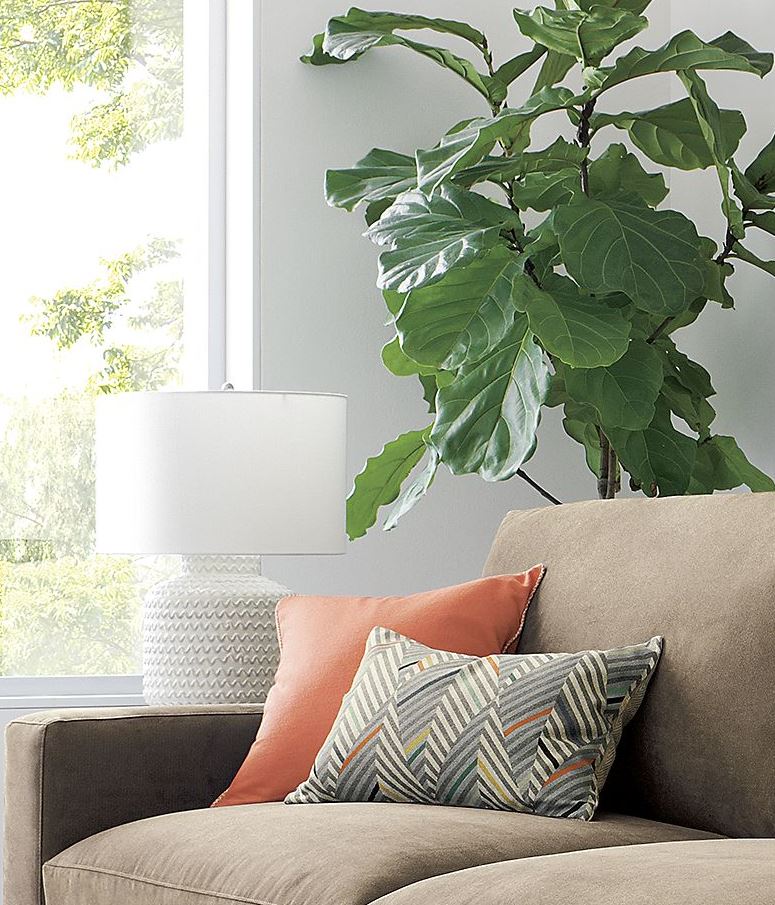 Darkroom
I'll end today's post with a trio of contemporary items from one of my favorite London shops, Darkroom. While no official "spring collection" has been launched, the new finds below are the perfect way to welcome a new look in the new year! Darkroom consistently features the work of talented artisans, and the pieces that follow are no exception. These ceramic vessels are by Sophie Southgate, and they give new meaning to the phrase "conversation piece."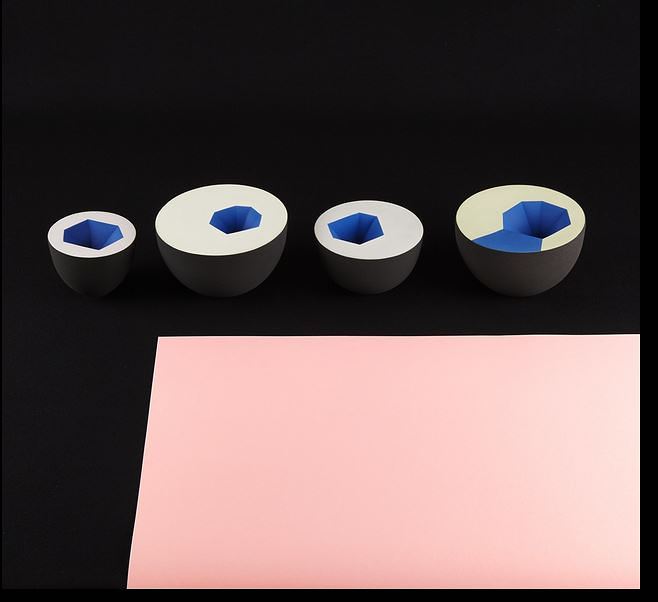 What better way to ease the winter chill than with a new throw?! Say hello to a collection of Zuzunaga blankets, complete with pixelated prints woven in superfine Italian merino wool: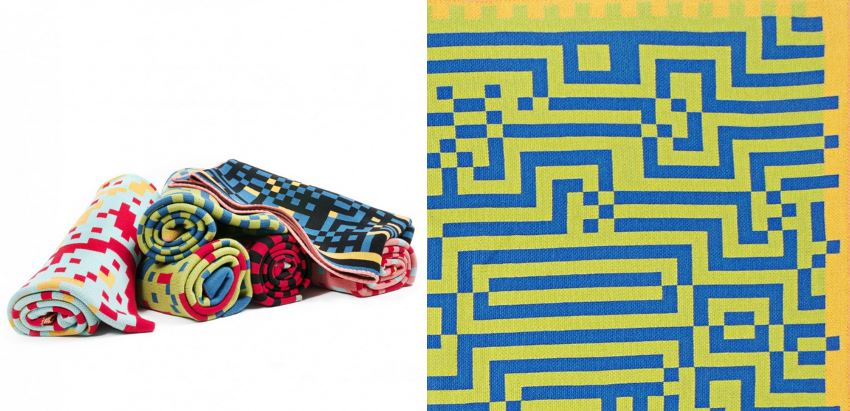 And I'm just itching to frame this Brushed Scarf by Susie Green, crafted of 100% silk. The contrast between the black and white brushstroke design and the colorful border is irresistible.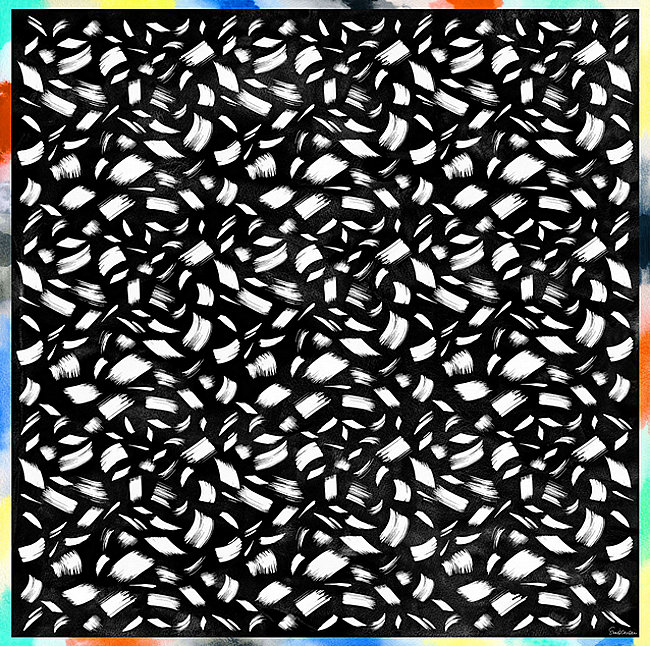 Do you welcome the new year with a peek at the latest in design and decor? Stay tuned for another fun post at the beginning of next week, where we'll take a look at how the spring collections showcase a few trends for the coming year. Happy 2015!