We at Decoist love highlighting the work of innovative studios changing the face of interior design. Today we shine the spotlight on Studio Toogood, which offers a full creative direction and interior design service. In fact, the studio's portfolio includes both two-dimensional work on the page and three-dimensional work in a vast array of interiors, covering territory that spans the real to the conceptual. From developing an interior to developing a brand, Studio Toogood puts its unique stamp on the art of design. Enjoy today's design studio profile as we focus on a range of intriguing interiors…
Super Natural
We begin with SUPER NATURAL, a project by Studio Toogood "dedicated to foraging, collecting and observing in the English countryside." In this 201o exhibition, sculptural and natural elements combined to create an enticing display: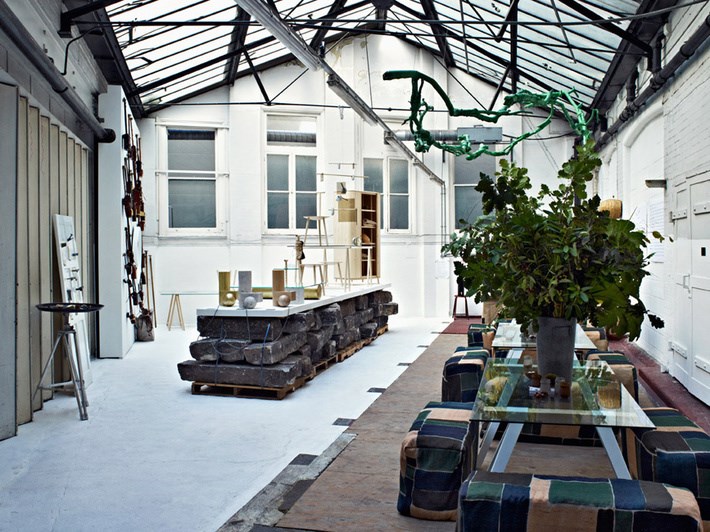 The installation of mushrooms near the entrance was picked by New Forest forager Mrs. Tee. Visitors were encouraged to study the mushrooms, thanks to an enticing layout, ample lighting and magnifying glasses: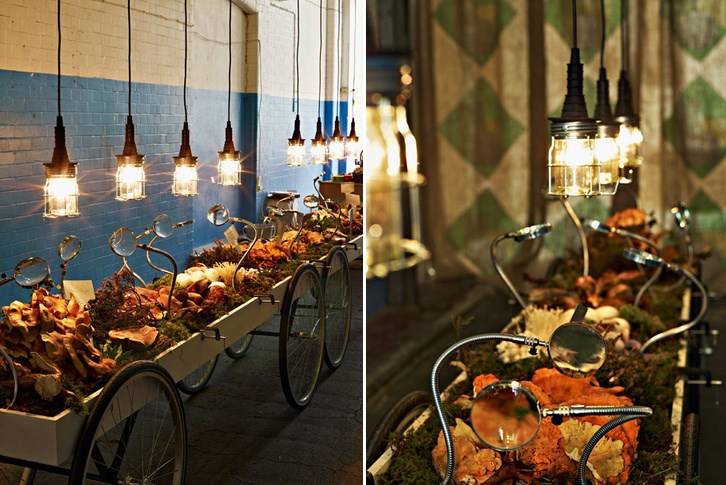 Furniture designed by Faye Toogood was on display in this cleverly crafted space. The title of her collection: Assemblage I.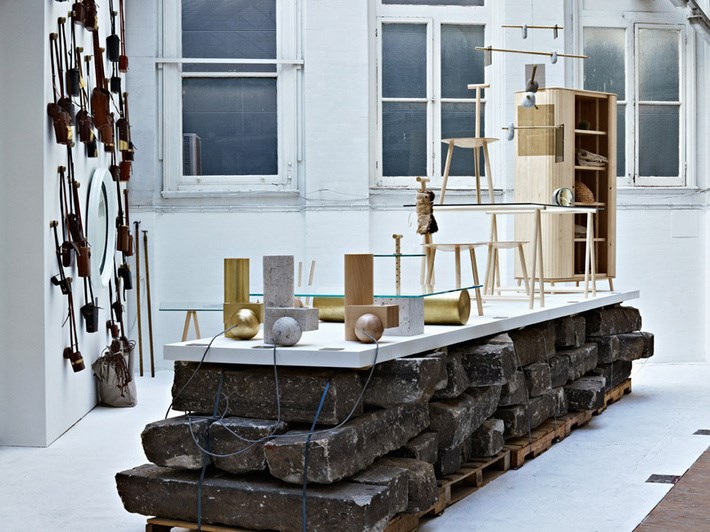 Also of interest was the Brambles Cafe by Arabeschi di Latte and La Fromagerie, where visitors could enjoy food made from wild seasonal ingredients. Not to mention, the scent of soft moss, wet lichen, tree bark and fallen leaves permeated the air of the exhibition. The fragrance was developed exclusively for the space by top French perfumer Francis Kurkdjian!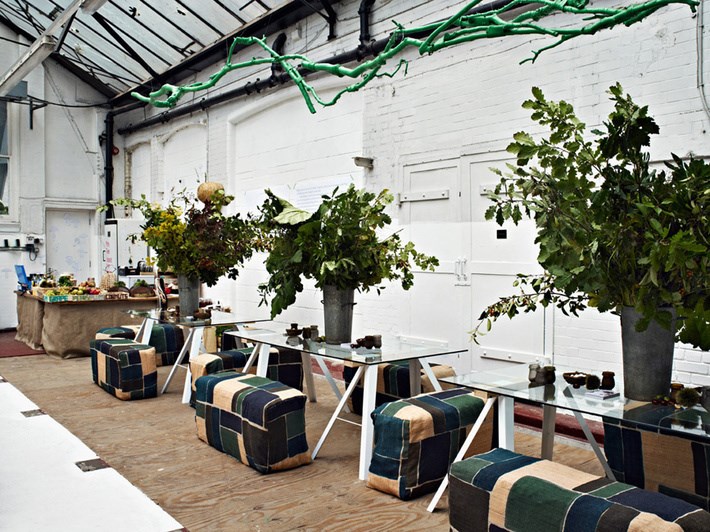 All photos above are by Tom Mannion
Mahani
Next we explore Mahani, Dubai's first concept store featuring a compelling interior designed by Studio Toogood. The goal: to artfully contrast the pervasive slick style of modern retail in the Emirates. The result: raw concrete walls and fittings, as well as a range of interesting materials: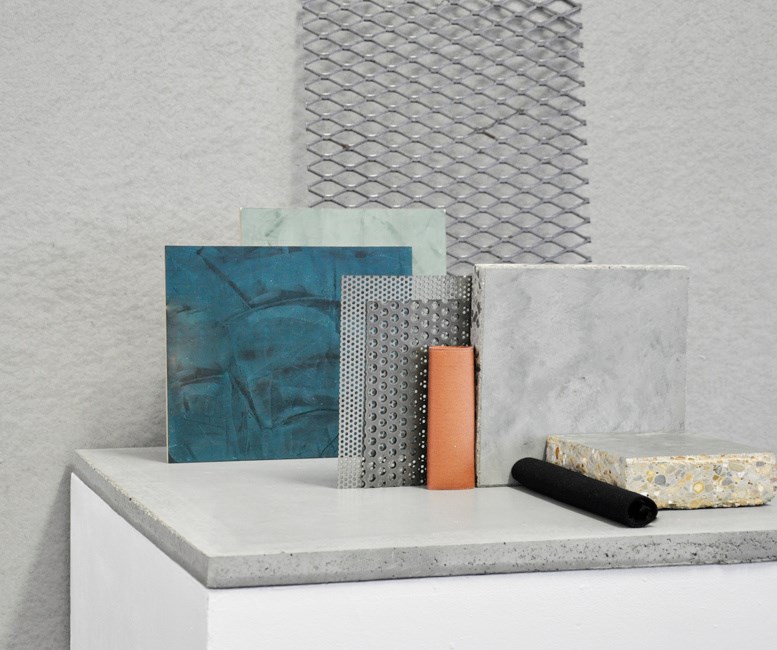 The raw elements of this Modernist-inspired retail space are balanced by a range of feminine touches, such as vivid drapes and satin upholstery. A catwalk provides an ideal stage for shows featuring the work of talented designers: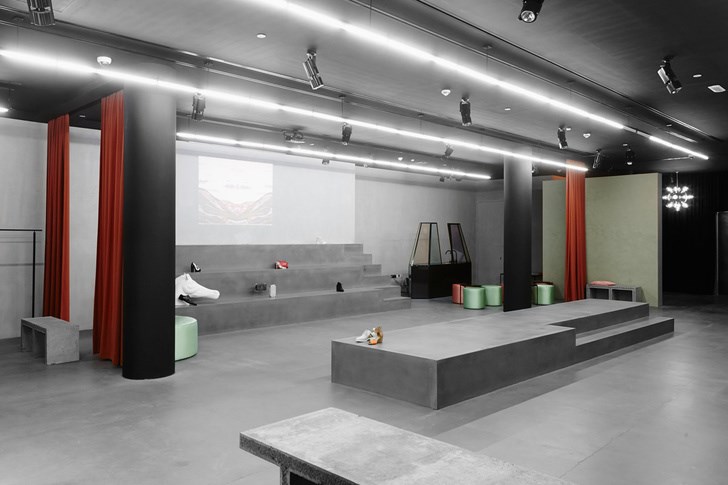 Below we see a contemporary focal point in the form of industrial lighting that channels both the modern and the retro: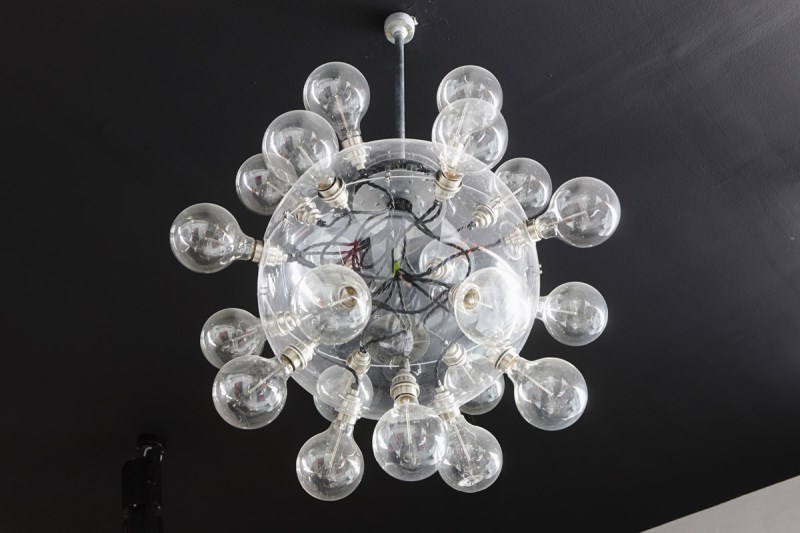 The space also features an in-store bakery that offers coffee, tea and sweet treats by food designers Arabeschi di Latte. Note the colorful drapery and seating options. Looks good enough to eat, doesn't it?!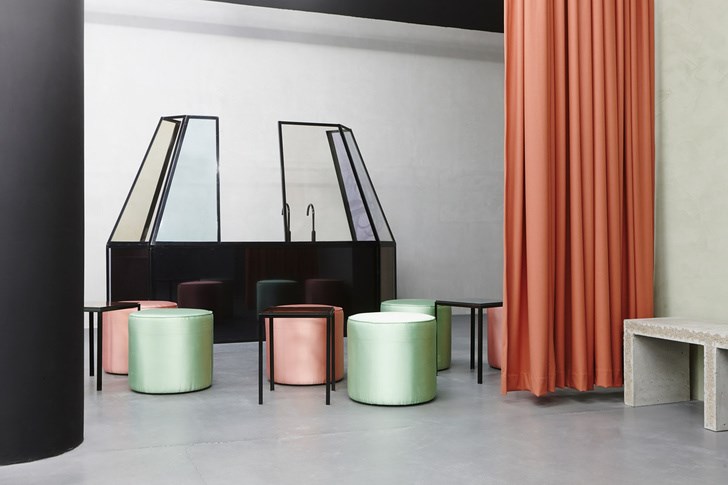 A jewelry display area adds sculptural and textural interest. From the anchoring concepts to the smallest of details, Mahani is a study in purposeful design.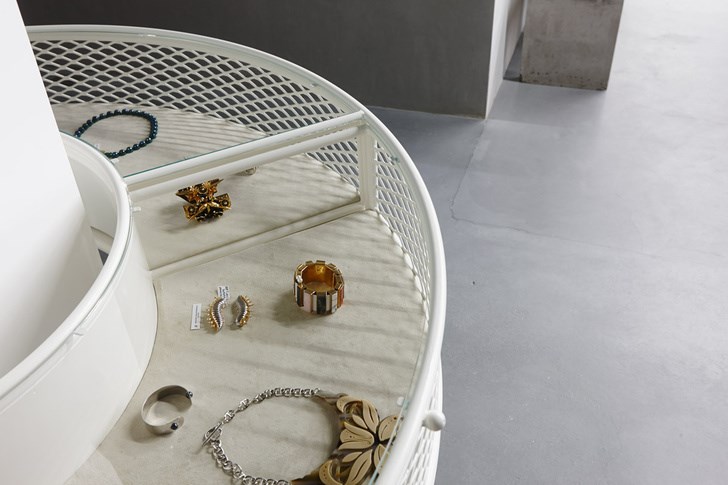 3.1 Philip Lim Pop-Up Shop
In 2013, Studio Toogood designed 3.1 Philip Lim's pop-up shop inside of London's Selfridge's. The look: steel, verdigris patinated copper, sculptural objects crafted from mixed materials, and a tapestry backdrop featuring a primal landscape: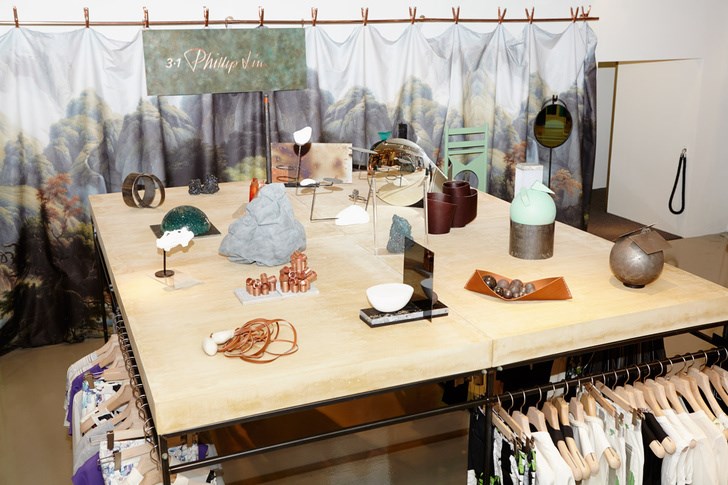 The design for this space was inspired by Milton's Paradise Lost. Below we zoom in on one of many scale models (maquettes) based on specific elements of Milton's work.
Reflecting the innovation and unique blend of materials that underlies Studio Toogood's signature style, this pop-up shop remained at Selfridges until November 2013: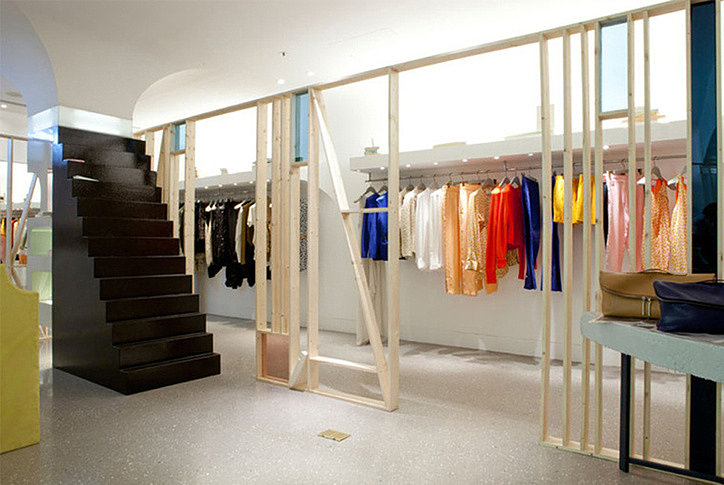 Browns Focus
We now take a tour of Browns Focus, described as "one of the world's leading destinations for newly discovered talent and emerging designers". One of the many elements that makes this space unique is the way it's divided over two floors. On the ground floor is a midnight-blue interior with a post-industrial feel, channeling the spirit of nightwear.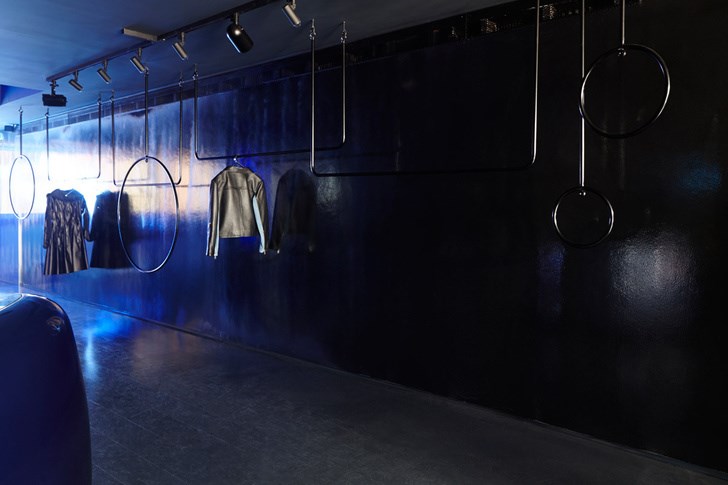 Geometric angles, black rubber, blue-tinted glass and a touch of neon are a few of the many standout features in this dramatically lit space.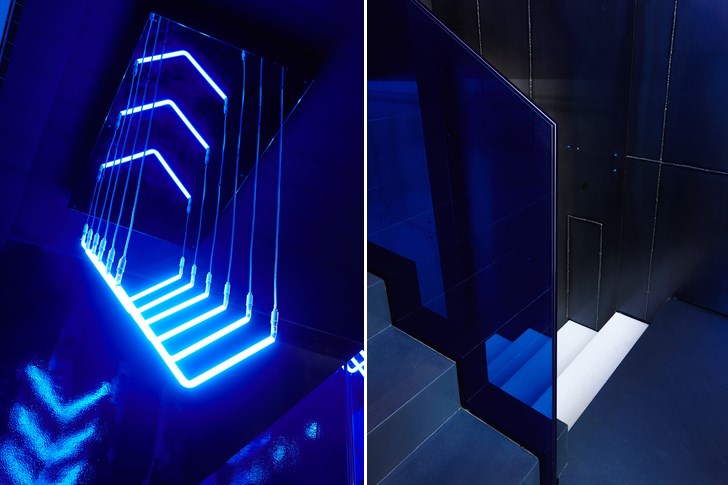 Providing a stark contrast, the basement is a gleaming shade of white, complete with rubber and mesh walls and a lacquered floor. Eye-catching focal points such as hand-made Moroccan Boucherouite rag rugs and display areas made from metal and rubberized timber offcuts are scattered throughout this bright space that represents daywear. Both floors of this design destination feature furnishings by Faye Toogood.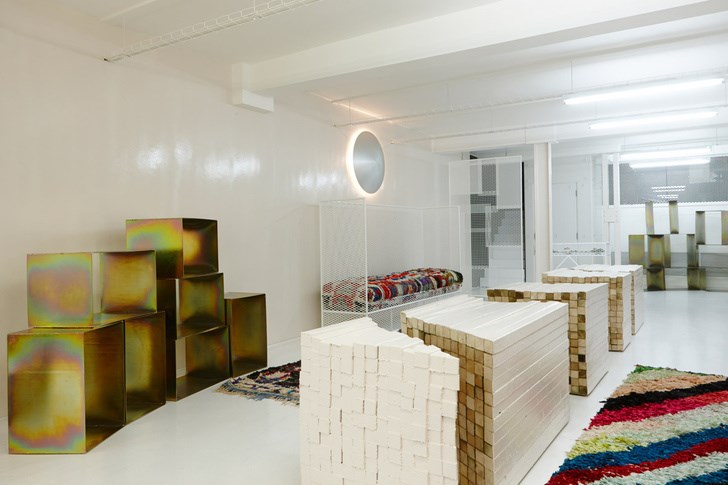 London Townhouse
After browsing so many creative spaces by Studio Toogood, let's take a look at a residence designed by the studio. Unexpected touches in the London townhouse below include an array of minerals specimens, as well as taxidermy of the zebra variety. Once again, furnishings by Faye Toogood are on display here, along with antique and vintage modernist pieces.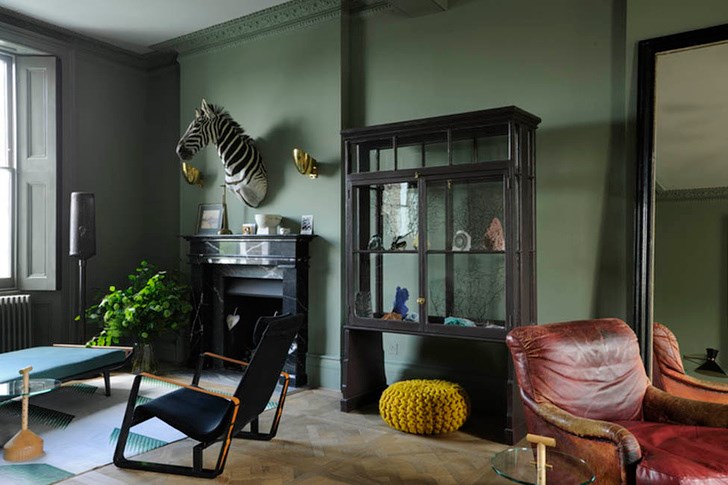 Plush and clean-lined touches combine in the bedroom in the form of a tufted chair and ottoman, spherical lighting and a contemporary rug. Emerald green and gold are eye-catching hues that form a striking combination.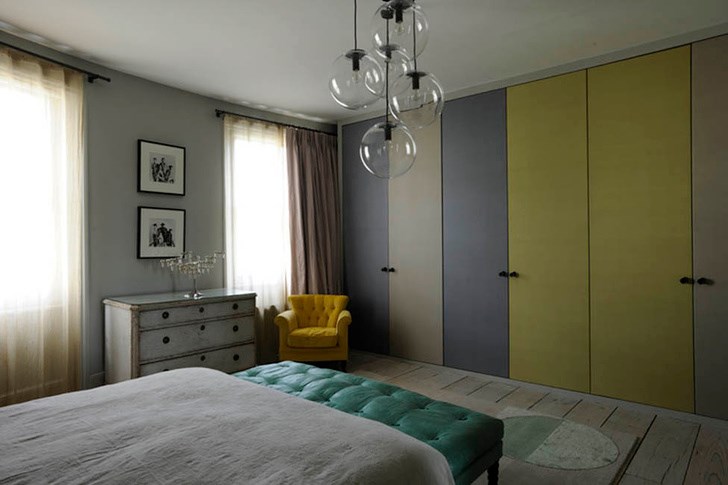 In the powder room, herringbone tile on the floor and walls is punctuated by colorful accent tiles that contrast the crisp white pattern. Marble and metal are other standouts, along with rich green window treatments. Whether residential or commercial, Studio Toogood spaces beckon a second look with their carefully curated details that are anything but expected.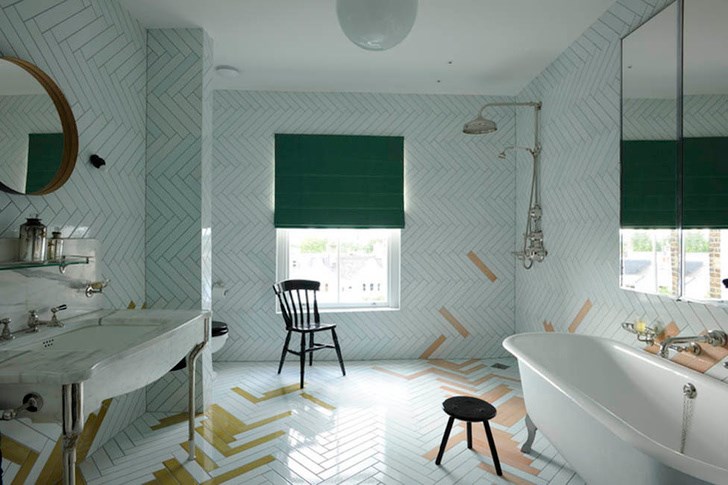 Thank you for joining us as we reveled in the multifaceted work of Studio Toogood. Stay tuned for future posts that profile today's top design studios…