Bamboo flooring is one of today's hottest trends, thanks to the eco-friendly properties of bamboo, as well as its durability and sleek look. Not to mention, bamboo can be more affordable than other environmentally friendly options such as Marmoleum, cork and certain hardwood flooring selections. Want to learn more? Today's post is for you!…
All About Bamboo
Let's start by taking a closer look at bamboo flooring and its properties. Bamboo is a member of the grass family, and it grows quickly, which is why so many people plant it as a natural fence/privacy screen in their modern outdoor spaces. [photo from Boxleaf Design]
Because of bamboo's rapid growth and the fact that cutting it doesn't kill the plant (the root systems remain intact), bamboo flooring is an eco-friendly, renewable favorite among those searching for environmentally responsible flooring alternatives. [from DLB Custom Home Design]
How is bamboo flooring made? Bamboo is cut into strips that are layered and adhered to one another to create panels. Planks are then cut from these panels. [from Urbanism Designs]
When it comes to the adhesive aspect of bamboo flooring construction, the strips can be stacked on top of each other (horizontal construction), turned on their side and placed next to one another (vertical construction) or compressed under pressure rather than glued (woven). [photo by Resolution: 4 Architecture]
Bamboo flooring is offered in finished, unfinished and dyed forms. Yes, it's possible to order bamboo flooring in shades such as grey! [from Terrat Elms Interior Design]
Many bamboo flooring options involve boards that can be clicked together–no gluing or nailing required! Subflooring, such as a cork underlayment, is often recommended. [from Cali Bamboo]
Because so many people seek safe, environmentally friendly flooring options these days, many bamboo flooring manufacturers are paying attention to concerns about off-gassing and other potentially toxic risks that many traditional flooring solutions pose. This means an increasingly large number of bamboo flooring options involve low-emission materials, making them a safer choice for family spaces. [from Marina Rubina, Architect]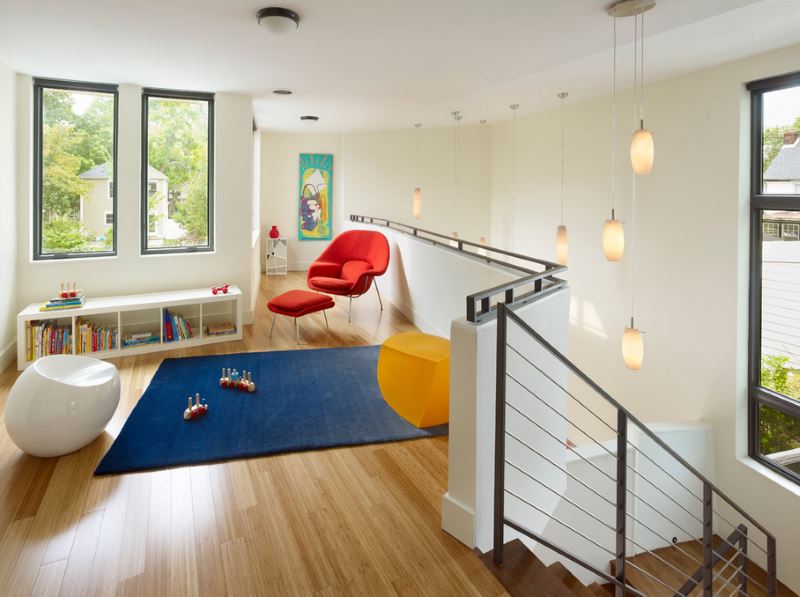 Regardless of a manufacturer's claims, always do your research to ensure that you're ordering a safe product. In fact, many people prefer to order formaldehyde-free, fair trade bamboo flooring from a trusted retailer. If you're specifically looking for eco-friendly options, bamboo is a step in the right direction, but "bamboo" isn't synonymous with "environmentally safe" and "nontoxic". Again, do your research! [from Green Goods]
Why go with bamboo? It's moisture-resistant, durable, easy to clean, relatively affordable and of course, great for people with allergies. Consider the dust and dander that carpet attracts, and a sturdy option that can easily be swept or mopped becomes all the more appealing. In the next section, we'll take a look at a range of bamboo flooring possibilities… [photo credit: Patrick Barta Photography, from Goforth Gill Architects]
Bamboo Flooring Options
Bamboo is considered to be a type of hardwood flooring, yet as we learned above, it's a grass rather than a wood. While bamboo flooring bears a resemblance to traditional hardwood floors, it also has a unique look of its own. Below we see strand woven bamboo in Winter Wheat and Summer Wheat from EcoTimber:
As you begin browsing bamboo flooring options, you'll notice a wider range of color possibilities than you may have imagined. [photo from Cali Bamboo]
Not only are a plethora of warm tones available (from the blonde and honey to the dark gold and espresso), there are a range of grays and pearls ready to put their unique stamp on your space. Below we see Vintage Pearl Wide Click Fossilized Bamboo Flooring from Cali Bamboo:
Not to mention, the look of the planks can range from traditional and polished to whitewashed and textured. For example, an earthy look is created by the Rustic Beachwood Fossilized® Bamboo Flooring from Cali Bamboo, shown below. Saw marks help achieve a textured feel:
In the next image, we see Strand Woven Bamboo Flooring from Bambooki. When adding bamboo flooring to your home, there are many elements to consider, including whether or not you want the flooring to match wooden planks in other parts of the home. On the other hand, you may want the bamboo to make a bold statement or stand out (in color or finish) from the flooring in other rooms of your abode. That's the beauty of bamboo–there's a solution for every approach!
We hope today's post has shed some light on the world of bamboo flooring. While we've linked to several specific bamboo flooring retailers, we encourage you to do your own research as you search for a non-toxic, environmentally friendly option for your home. [from Kitchen Studio: Kansas City]
Happy floor shopping!