If you caught my recent post on rubber flooring, you know that I'm on the hunt for stylish flooring options. In my home, what started out as carpet has proven to be a haven for pet dander and other allergens. Plus, high-traffic areas of our floor are seeing quite a bit of dirt buildup across the carpet. We have a chance to make a fresh start in one room, and while we'd love to go with the cheapest flooring we can find, this room might be a future nursery. We need a safe solution that's as stylish as it is non-toxic. Impossible? Hardly! My research has uncovered some interesting options. I'm sharing them with you today…
Bamboo Flooring
Let me start by saying that there are certain types of hardwood and carpeting options that are very eco-friendly. However, I wanted today's post to focus on some flooring alternatives that are gaining popularity. Like bamboo! Why go with bamboo? For one thing, bamboo flooring can be harder, more affordable and more moisture resistant than hardwood floors. [from Marina Rubina, Architect]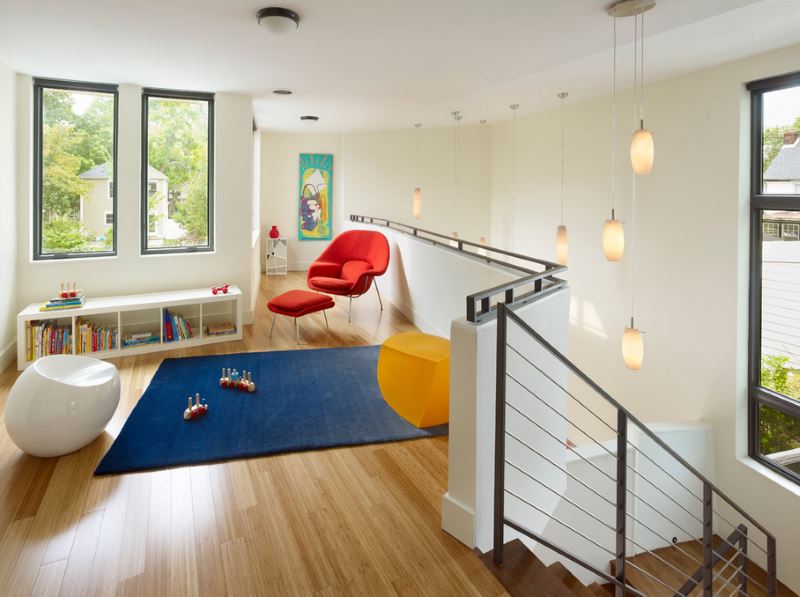 Not to mention, bamboo grows quickly, so it's definitely a renewable resource. Can we say eco-friendly?! Below we see Bamboo flooring by Teragren from Green Building Supply: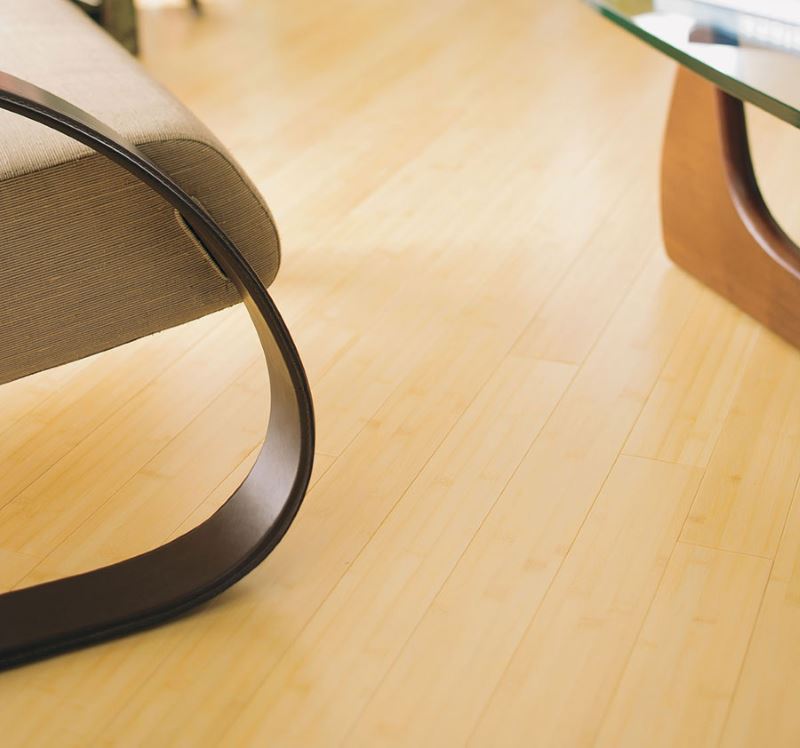 As shown above and below, bamboo has a distinct look, due to the appearance of long lines across the surface. Unique, right?! In the next image, we see Teragren Craftsman II by Green Building Supply: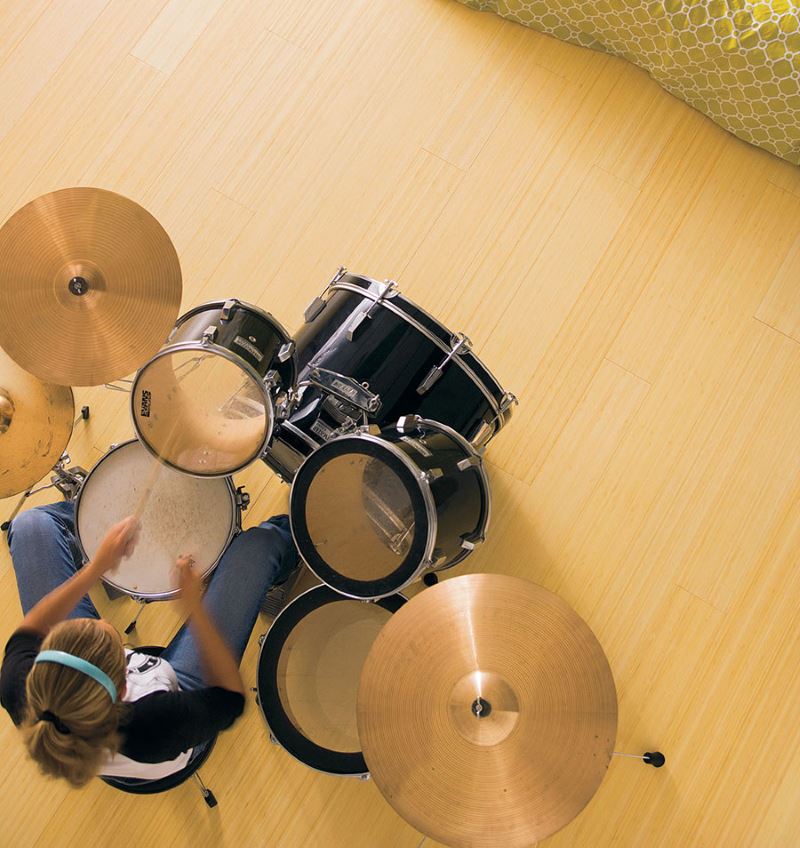 Bamboo flooring can be eco-friendly and non-toxic, but as with all flooring, the "green" quality depends on the manufacturer. Do not assume that any flooring is non-toxic just because it claims to be "natural" or "eco-friendly". Ask lots of questions, and seek materials that do not gas off or contain formaldehyde. [from DLB Custom Home Design, interiors by Kristy Johnston of Two Girls and a Design]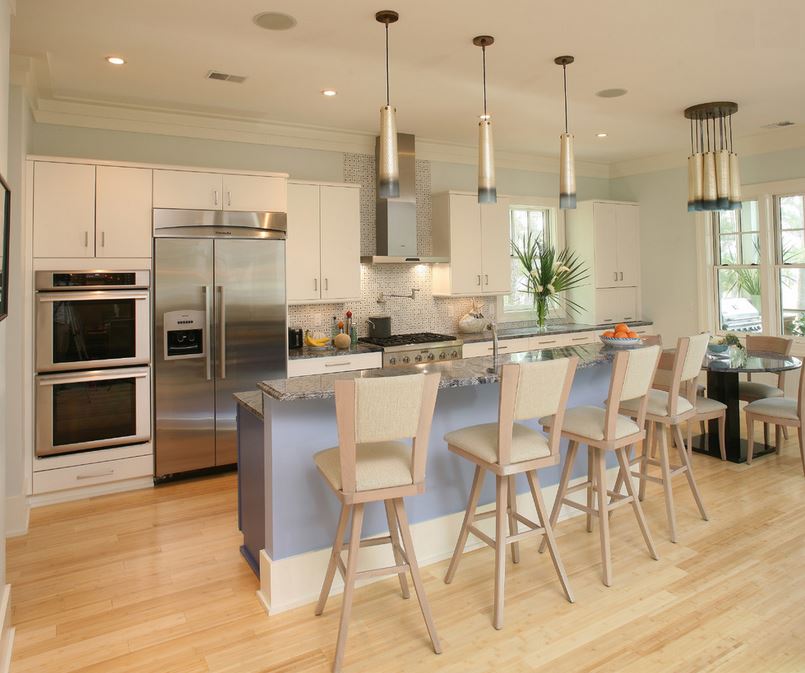 Not all bamboo flooring is gold-toned. However, sometimes the process of darkening the bamboo affects its hardness. If you seek dark bamboo, make sure you understand how the darkening process will impact the durability of your flooring. Some bamboo flooring can be stained, as shown below. [from Michael Abrams Limited]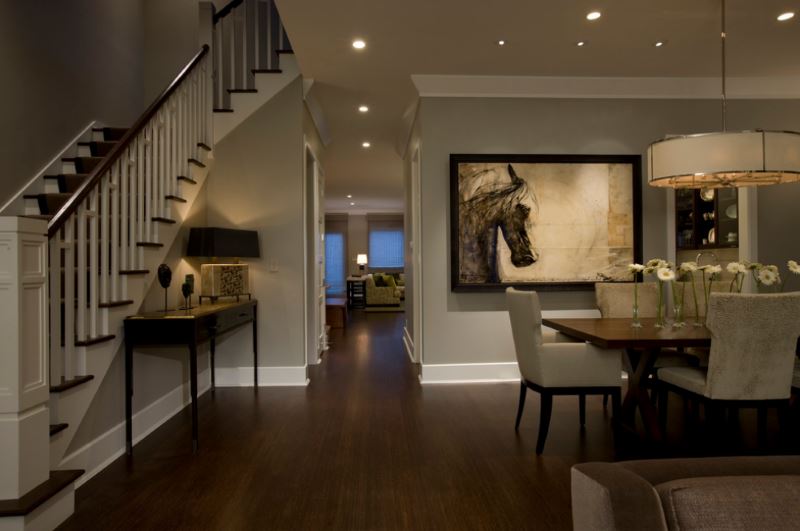 Cork Flooring
Let's talk about cork! It's cushioned, it's durable, and it's naturally antibacterial, as well as mold and mildew resistant. Not to mention, its shock-absorbent qualities make it ideal for little ones who take a tumble from time to time. [from Andrew Snow Photography via Houzz]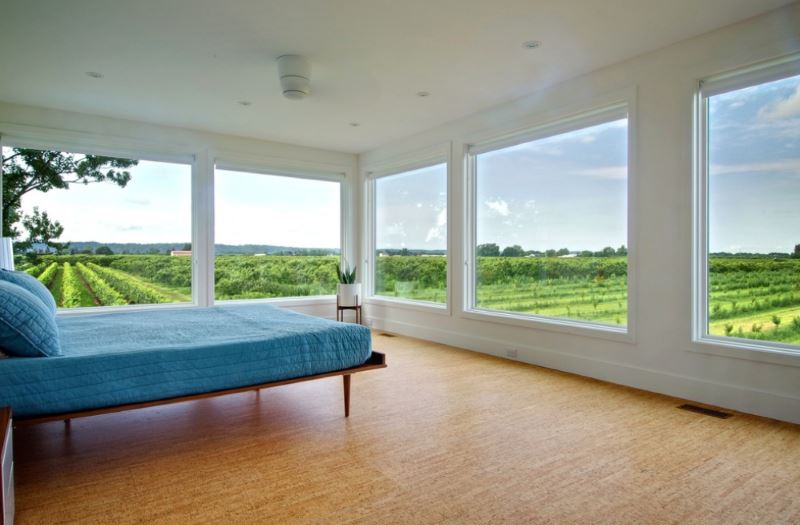 Some cork flooring looks a bit like corkboard, while other flooring has a plank-like appearance, as shown below. This flooring is available through Green Building Supply: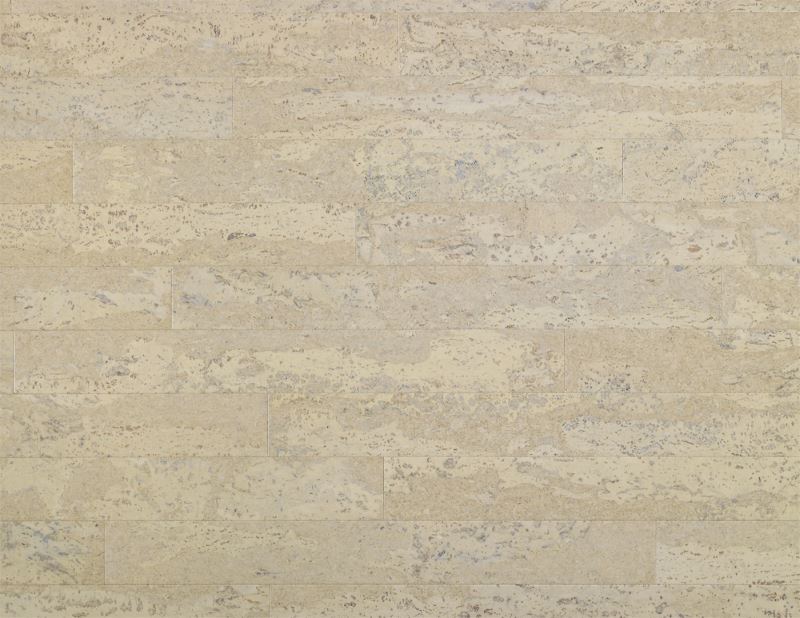 Cork flooring is durable in some ways, yet because of its consistency, it can dent under the weight of heavy furniture. It can also be light-sensitive, and due to its absorbency, cleaning spills quickly is a must. [from W.B. Builders]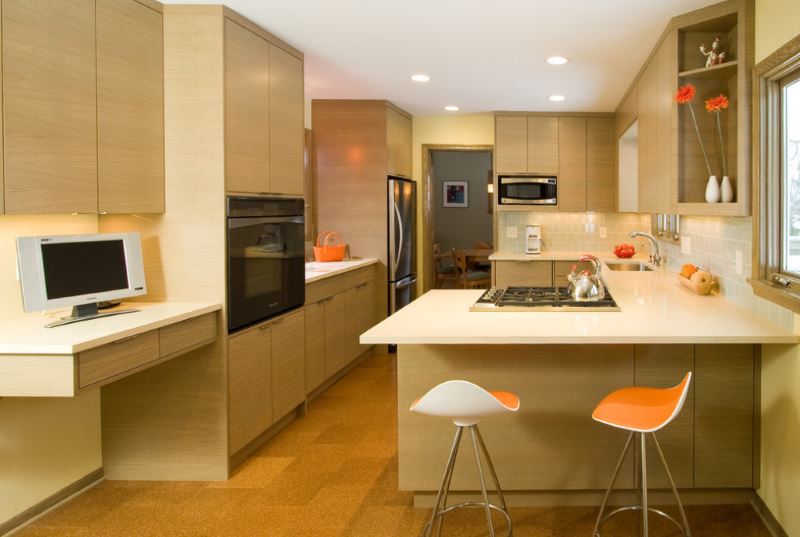 Sound like a lot of work? Let's consider the benefits. For example, cork flooring has the power to be a non-toxic choice, since it can be manufactured with no harmful adhesives and with no VOCs in its finish. [from Sticks + Stones Design Group]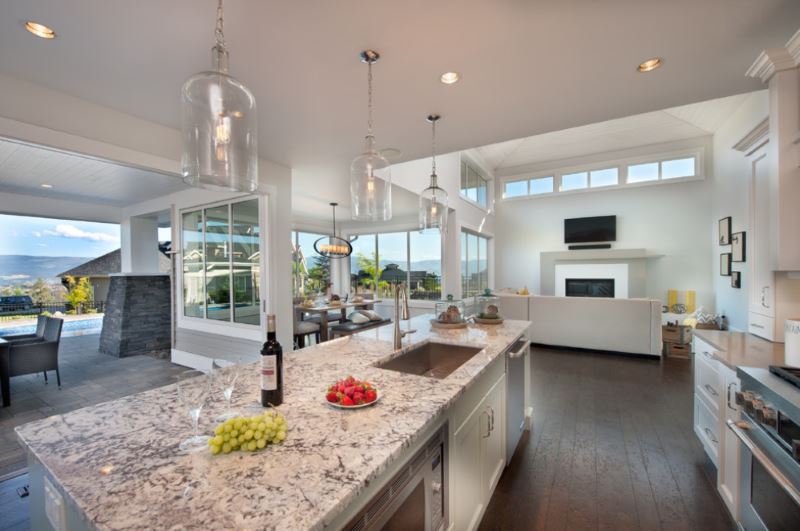 Again, research manufacturers before making a final choice. Cork is also a quiet option, as you won't hear clonking footsteps on the same level as flooring such as tile or hardwood. Below we see Natural Cork flooring, available through Green Building Supply: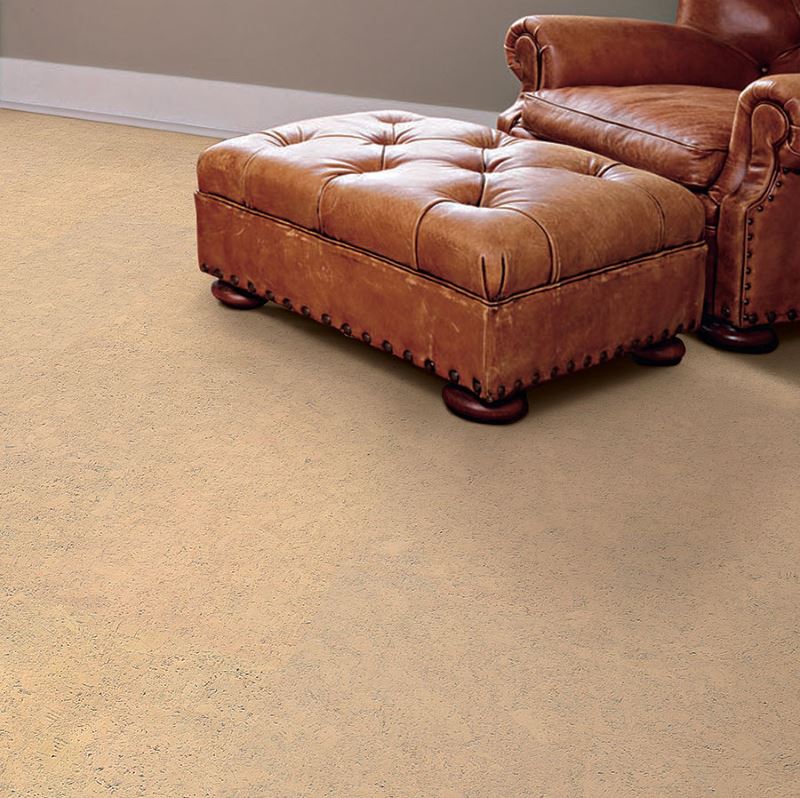 Cork is also environmentally friendly. It is harvested from the bark of the cork oak tree without harming the tree. Not to mention, cork flooring is often created from the waste produced by making wine stoppers. Love the color of this NaturalCORK flooring from Green Building Supply: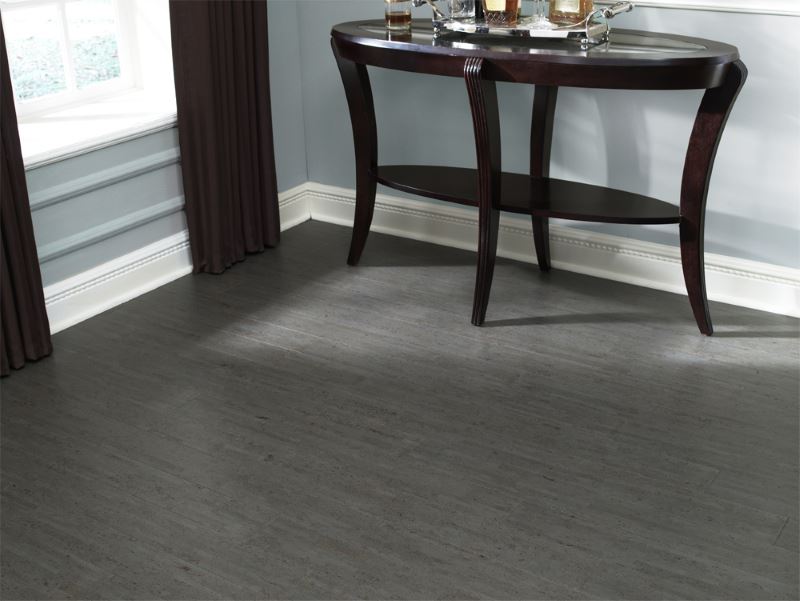 Linoleum Flooring
Linoleum–really?! Yes! This is not the linoleum of yesterday. In fact, the linoleum of yesterday sometimes had asbestos in the backing! A new wave of eco-friendly linoleum is making its way into modern homes, and it's becoming quite desirable. Surprised? Below we see a striped click-together linoleum floor making a bold statement in a white entryway. [photo by Lauren Gablehouse, from GreenWorks Building Supply]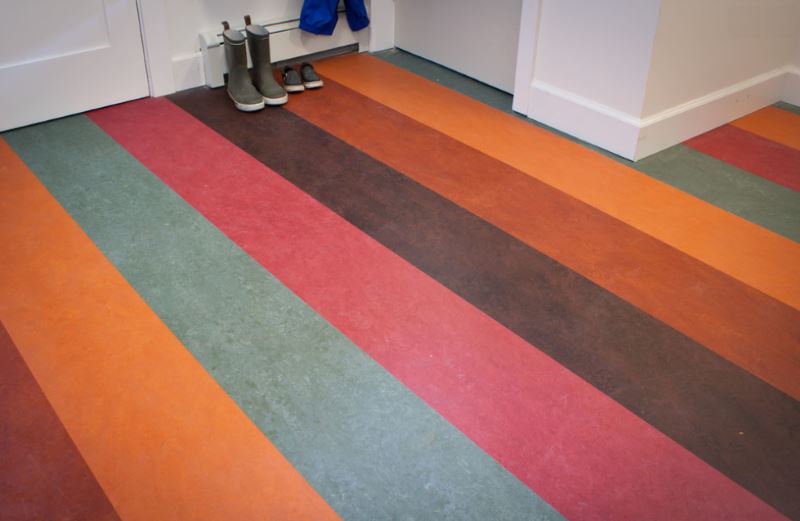 In fact, today's linoleum often has a marbled look that is quite striking. Marmoleum by Forbo is a highly sought after product that takes linoleum to a whole new level. Plus, it comes in a range of colors! Be aware that some people loosely use the word "linoleum" to describe flooring such as sheet vinyl, which is not eco-friendly (and not non-toxic in many cases). [from Eco-Friendly Flooring and Whitten Architects]

Real linoleum is made from all-natural materials such as linseed, limestone, wood flour and jute. Plus, it has natural antibacterial tendencies–win! There are so many possibilities here, including the option of interesting colors, as mentioned above. Here's a sampling of offerings from Eco Friendly Flooring: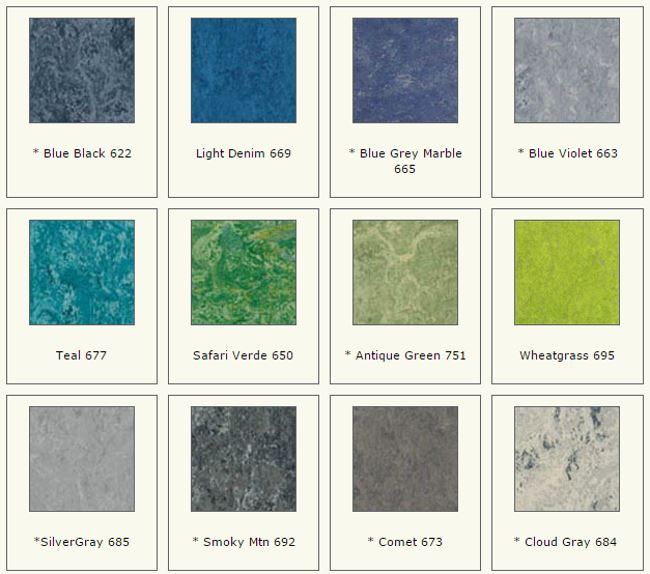 Marmoleum is available in sheeting, tile, and click-together panels, giving you the power to choose the best option for your home. Are there any "cons" to linoleum? Some say it has a tendency to dent and stain, so furniture pads and proper sealing are required. Also, acids can damage a linoleum floor, so if you frequently cook with acidic ingredients (hello lemon juice), this may not be the best choice for the kitchen. Below we see Rafting River sheet linoleum by Forbo. [via Brennan + Company Architects]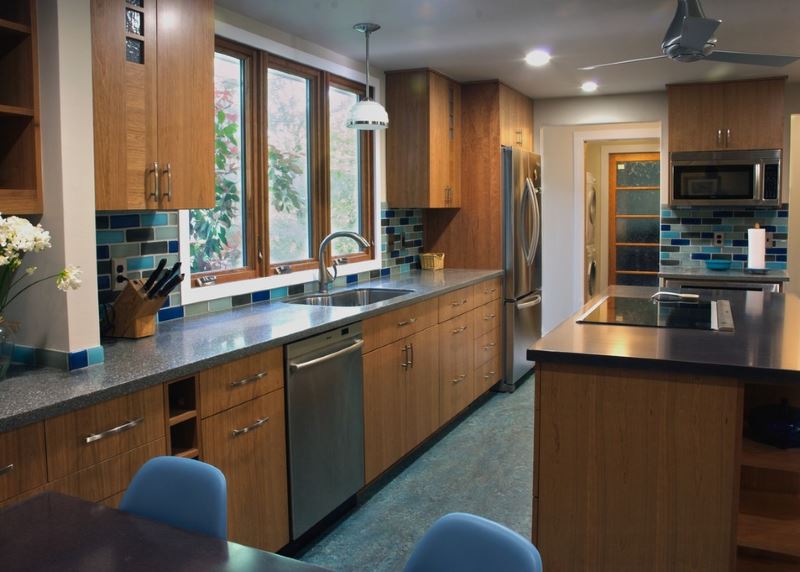 But it's hard to argue with flooring that has the look of desirable picks such as concrete and marble, as well as the benefits of natural materials! [from Live Work Play]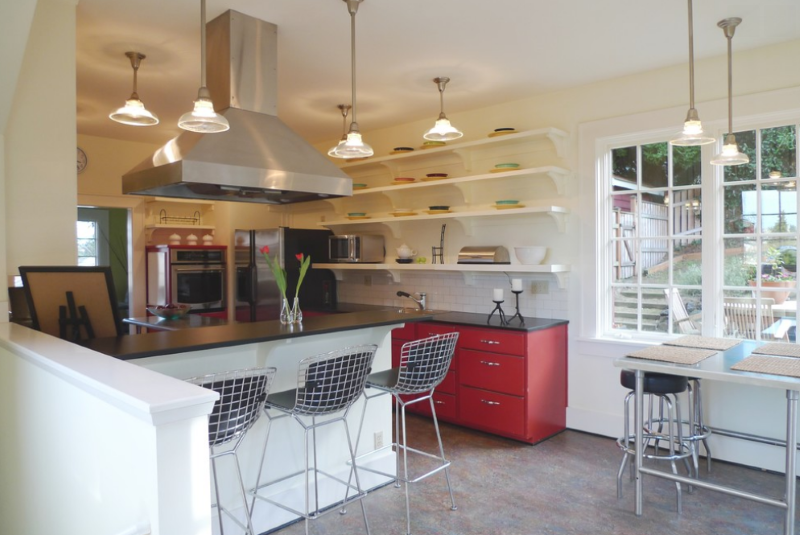 I have to admit, I'm still a bit undecided when it comes to the best non-toxic flooring for my own home. There are benefits and drawbacks to all of today's featured flooring options! What about you? Any faves? Remember to do your research and ask plenty of questions. Flooring is expensive. We all deserve to be happy with the end result!