Red is not always the first color we turn to in the living room or the bedroom, as many of us perceive it to be a touch too overwhelming. Decorating with red in an elegant, balanced fashion takes both skill and restraint. But when it comes to dining spaces, red is a perennial favorite in both homes and restaurants alike. A touch of red in the dining room is said to increase appetite and infuse the setting with liveliness. This is probably why most restaurants across the globe gladly embrace the sophisticated red and black look. But how can you incorporate a splash of red into your own dining room?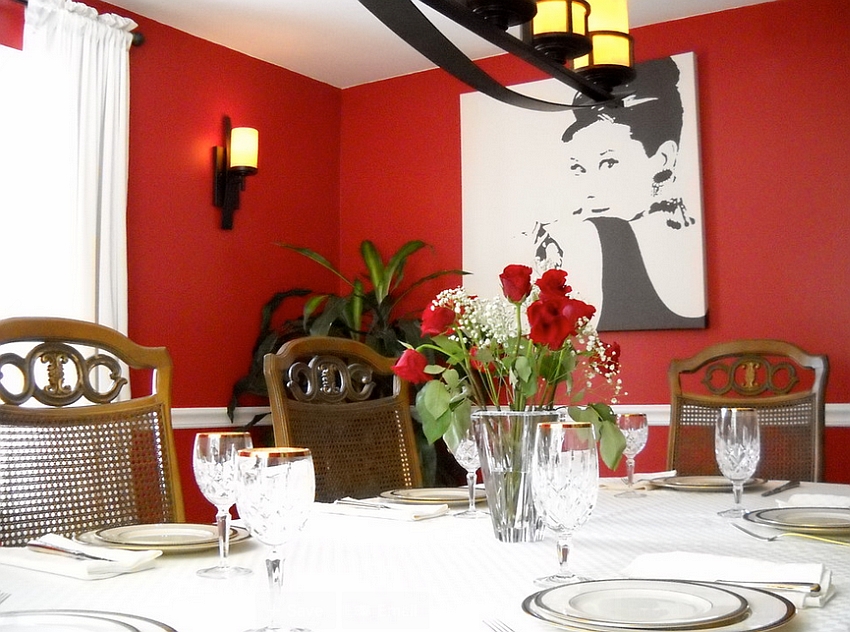 Many of us prefer to use red as an accent color in the dining room, and that is indeed an understandable choice. Yet, red dining rooms that are cleverly designed will serve you across seasons. A dining room with red can easily be transformed to fit into the festive style over the Holidays, and then there is always Valentine's Day to look forward to as well! Versatile in its own unique way, striking and exciting, here is how you can bring the flair of red into the dining room.
1. Paint It Red!
We start off with the obvious choice of painting the walls to bring in the zest of red. But, unlike in the case of the mellow yellow dining room, this is definitely harder than it sounds. A dining room with red walls generally looks beautiful when using styles such as traditional or Mediterranean. Most contemporary dining spaces will find it difficult to completely embrace red in such a dramatic and obvious fashion. Most often, smart white trims are a lovely way to bring in contrast and cut down on the impact of bold red walls in such spaces.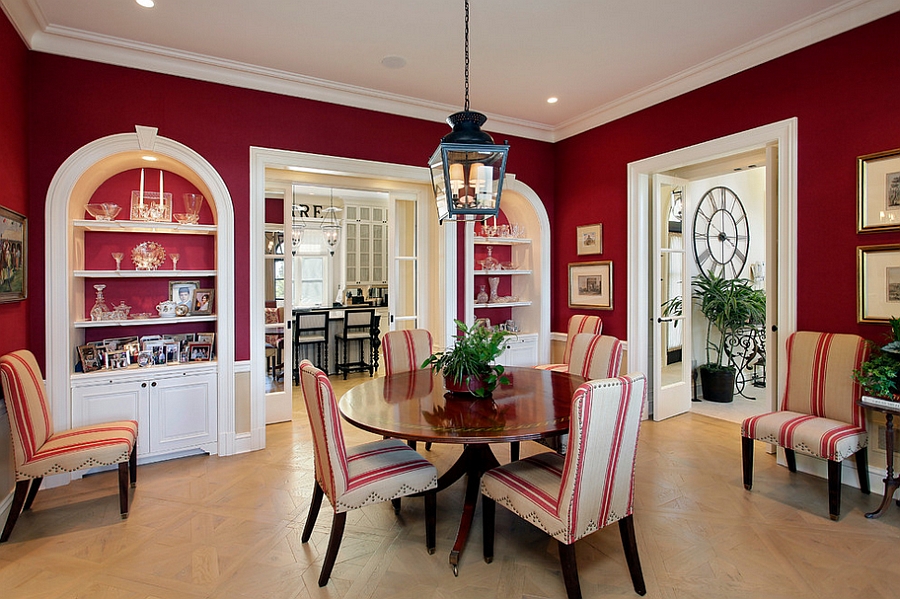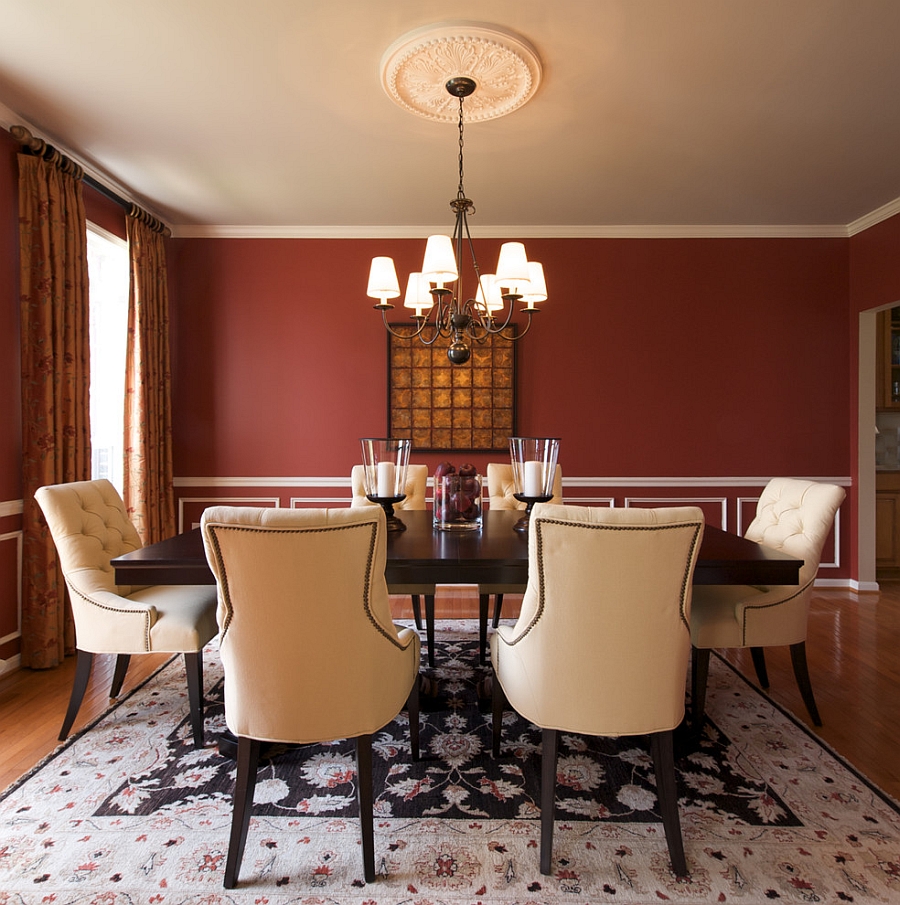 2. Turn Towards Smart Accents
Try out red in smaller doses in the dining room before deciding on whether you want to commit to the color in a more extensive manner. Even otherwise, accents are a great way to add bright and dominating colors such as red in stylish, modern dining rooms. Start off with attractive red vases, maybe a festive table runner that will serve you all year long, some cool red cutlery or even candle holders with a pinch of red. Expand by bringing in bolder additions such as red dining table chairs that steal the show without actually drenching the room in the hue.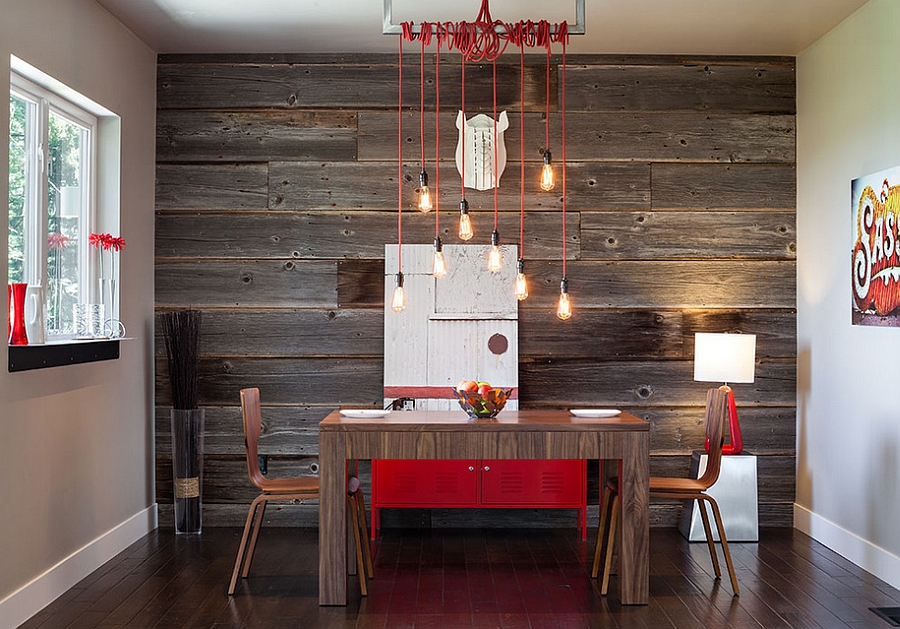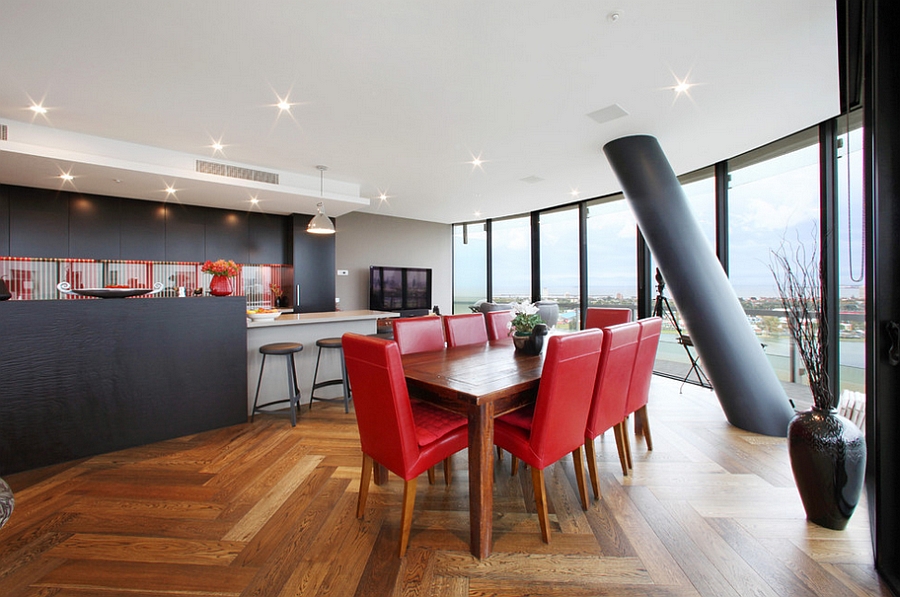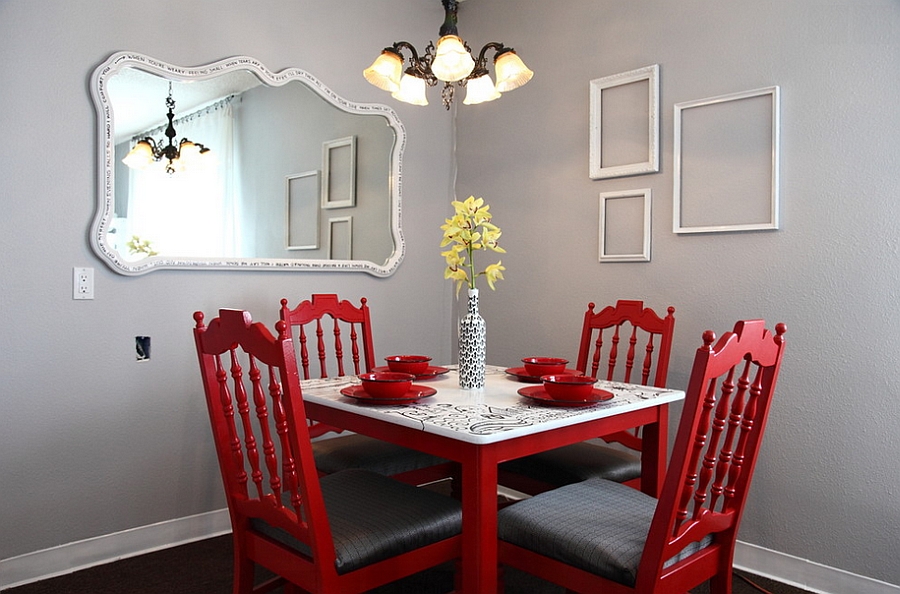 3. Pattern and Texture
Do not view red as just a color, but use it to usher in a different texture and pattern in the dining room. A textured accent wall in red surrounded by cool neutrals instantly grabs your attention and can revitalize a dull and boring dining space. Grasscloth wallcovering and wallpaper are making a grand comeback of sorts in 2015, and it will not hurt you to give this a shot by selecting a print in dashing red.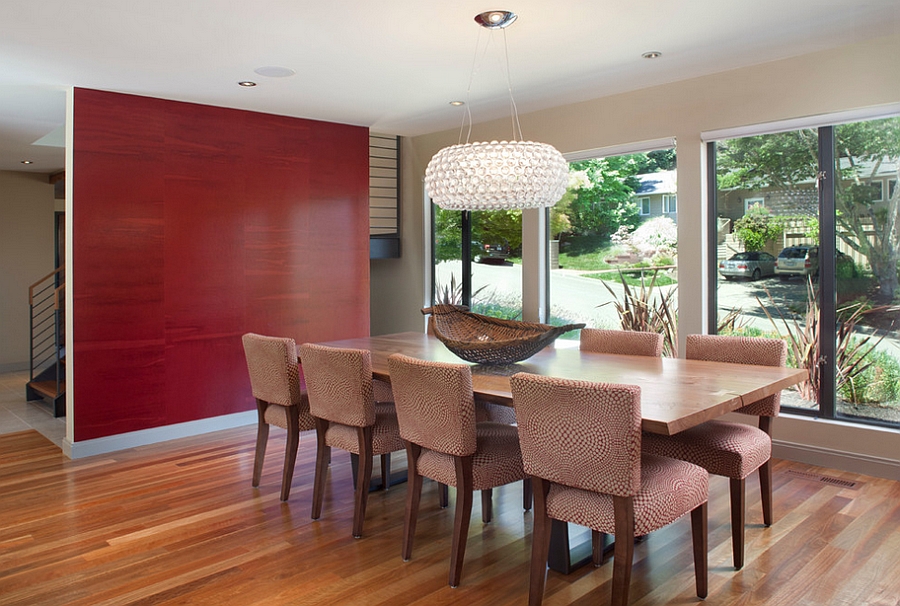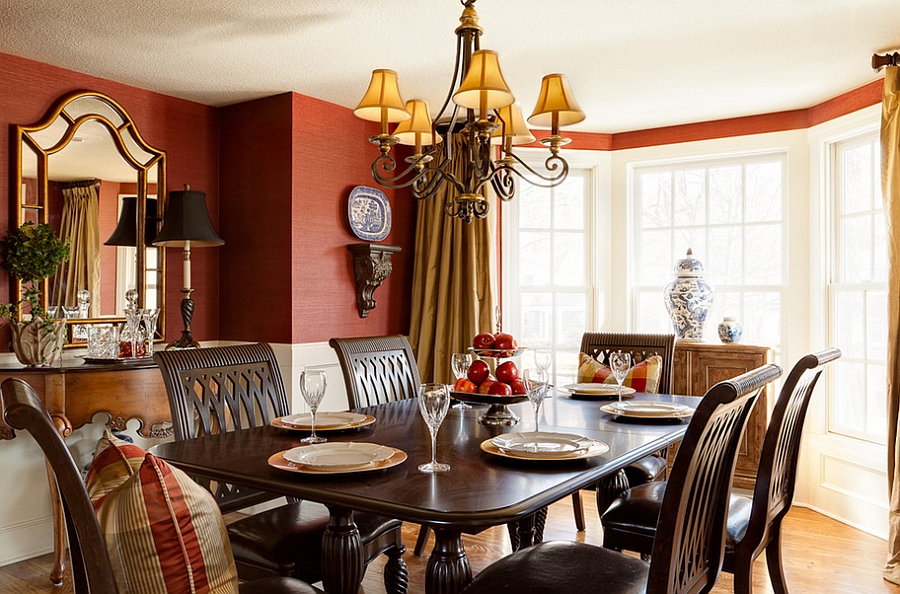 4. Creative and Classy
We know that the hardest part of working with red is trying to mix it up with the other contemporary style you already have going in your house. If you are not too keen on the conventional path of 'simple accents', pick a solution that is both simple and fun. The two dining rooms below utilize red while keeping their air of modernity perfectly intact. Maybe there is a forgotten little niche or an architectural feature in your dining space as well that could use the magic of red!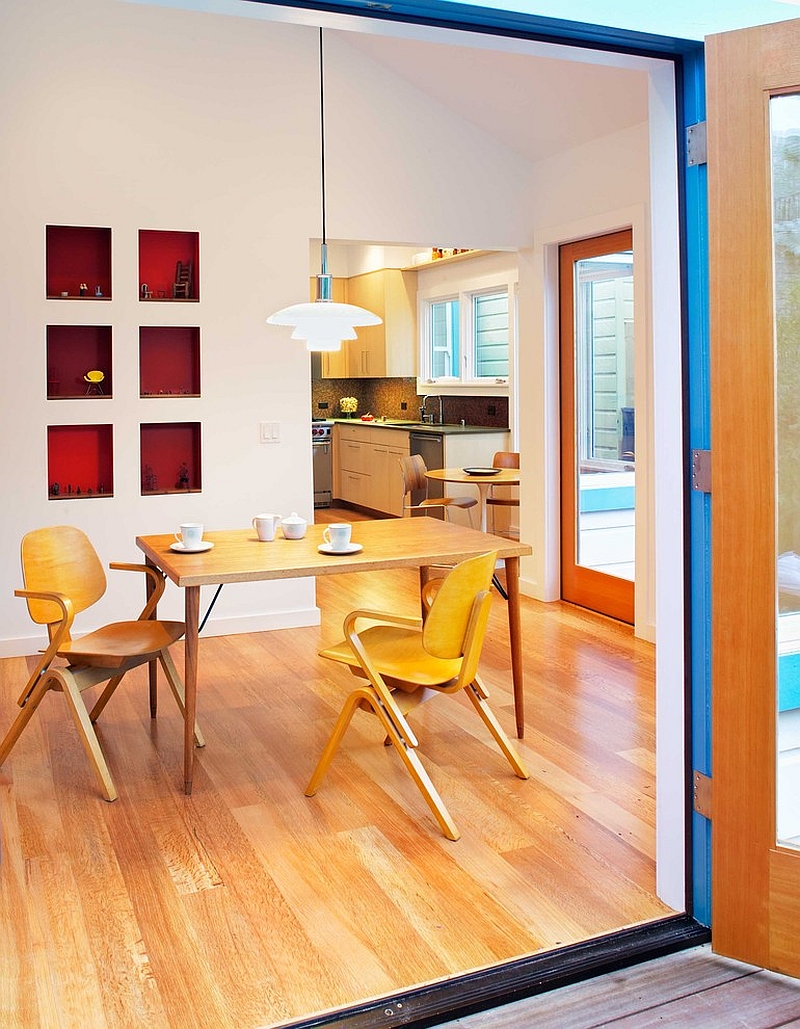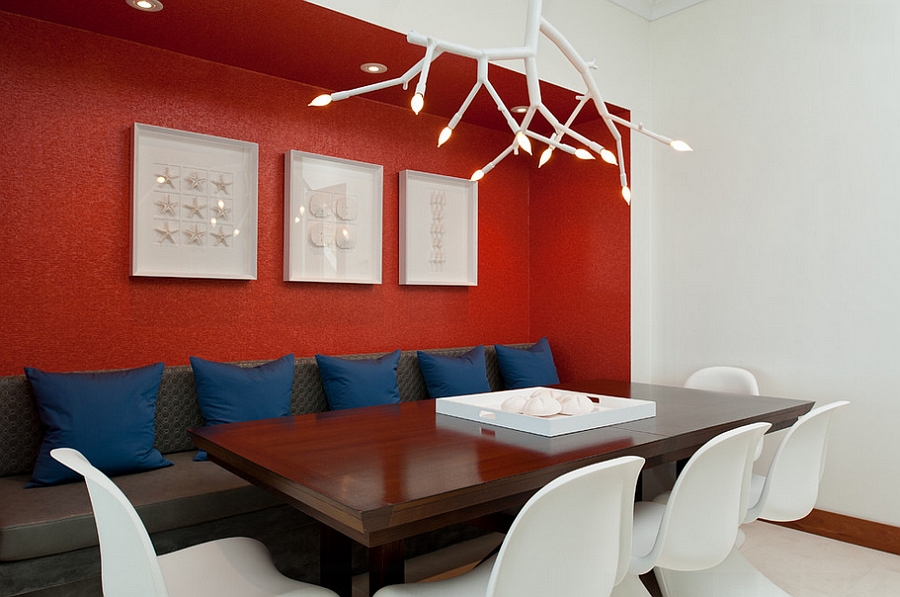 5. Drapes and More!
We always love how a simple change in drapes or the addition of a rug in bold color can alter the ambiance of a room without any serious makeovers. Use this to your advantage and add a splash of scarlet to the dining room to give it a more dreamy air as you approach Valentine's Day. Gorgeous red drapes in silken velvet have an aura of their own and are absolutely perfect for setting the stage for a memorable, romantic dinner on any evening of your choice. Throw in a plush rug with matching shades of red and you have a picture-perfect dining room indeed!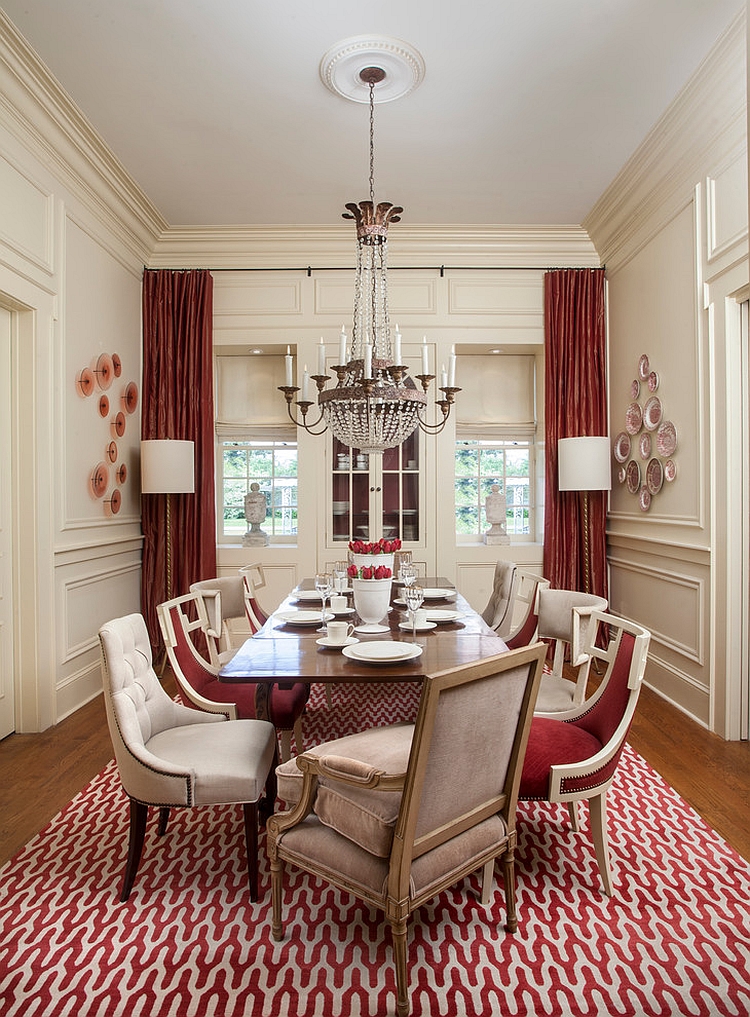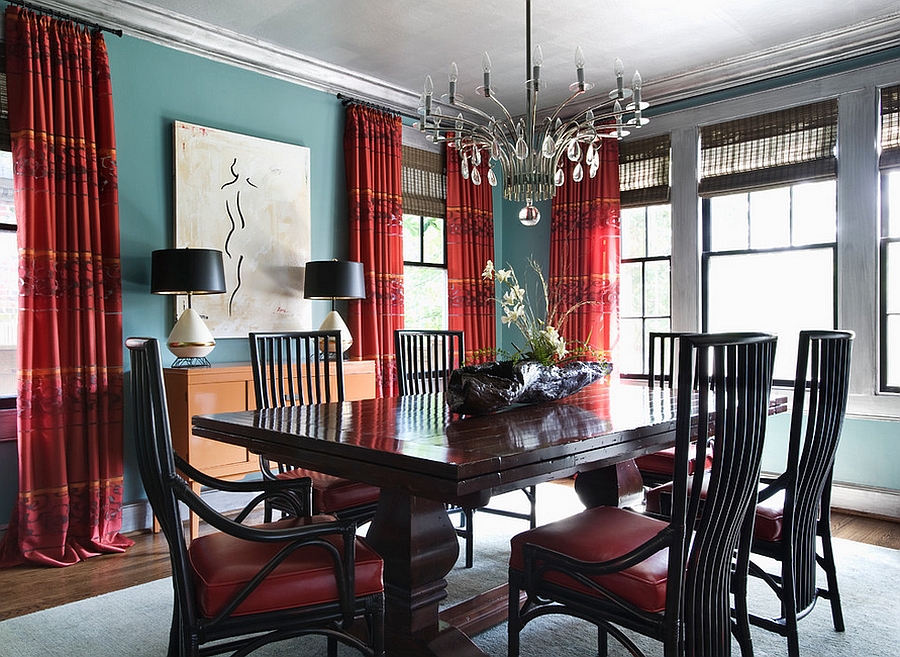 6. Create a Colorful Mix
We always encourage our readers to mix up colors, styles and trends to suit their own personal taste and choices. (In a coordinated manner, of course!) A couple of colors that you can try along with red in the dining room are golden yellow and black. Both of them complement red perfectly in styles that vary from minimal and modern to traditional and Asian. For those who are brave enough to try out a more eclectic approach, think of colors such as turquoise and green to give the dining room a unique and eye-popping appeal.