Anyone else having a tough time with the winter weather this year?! Kate here, and long stretches of frigid temperatures have forced me to bring all of my potted plants into the garage, leaving a barren yard for me to look out on from the living room couch. Add gray skies overhead, and I'm finding it hard to keep my creative inspiration alive, especially since one of my favorite pastimes (for work and for fun) is completing and photographing DIY outdoor projects.
With spring just weeks away, now is the perfect time to start planning some new projects for my yard and patio. Are you doing the same? I have a hunch that searching for some sunny outdoor inspiration will help keep the winter blues at bay. Would you care to join me?…
Outdoor Color
Let's start with color. If you've read my post on outdoor color schemes, you already know I'm very taken with the idea of adding bright punches of color to the yard. This can come in many forms, including an outdoor wall. While I don't have a wall to paint, I do have a trellis that I can embellish with outdoor vinyl (as a backdrop). The trellis is currently backed by gray vinyl, but I'm planning something a bit more bold for spring!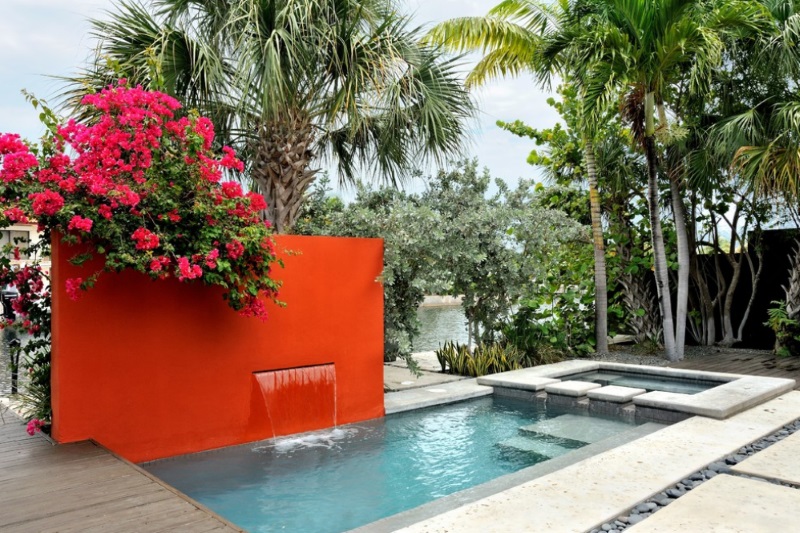 Adding colorful plants is another strategy. Crepe mytle trees are a wonderful choice, or you can fill a planter or two with seasonal blooms that add just the right pop of color. [from David Morello Garden Enterprises]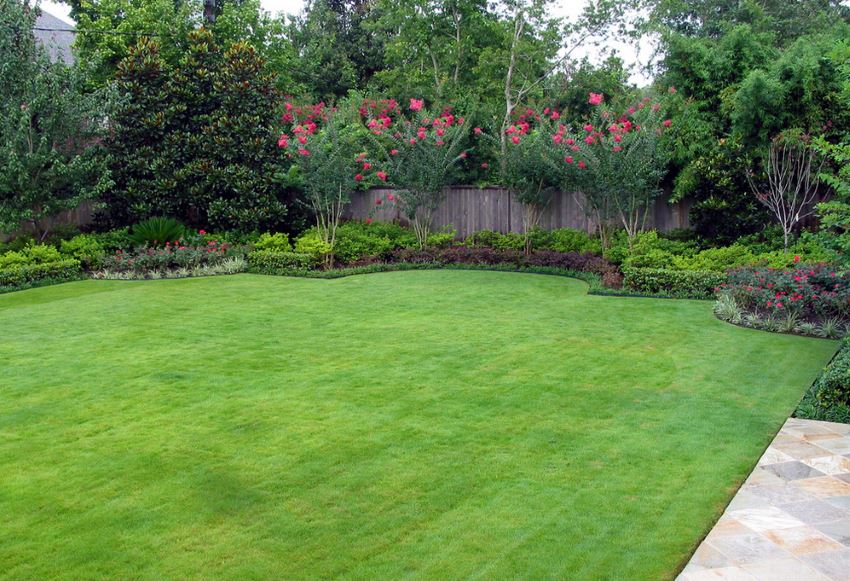 Purchasing radiant outdoor furniture or recovering your current outdoor chairs can give your yard a fresh update. My chairs are currently covered by gray fabric, and this spring I'm giving them a little makeover. I promise to post the pics! [from Axis Mundi]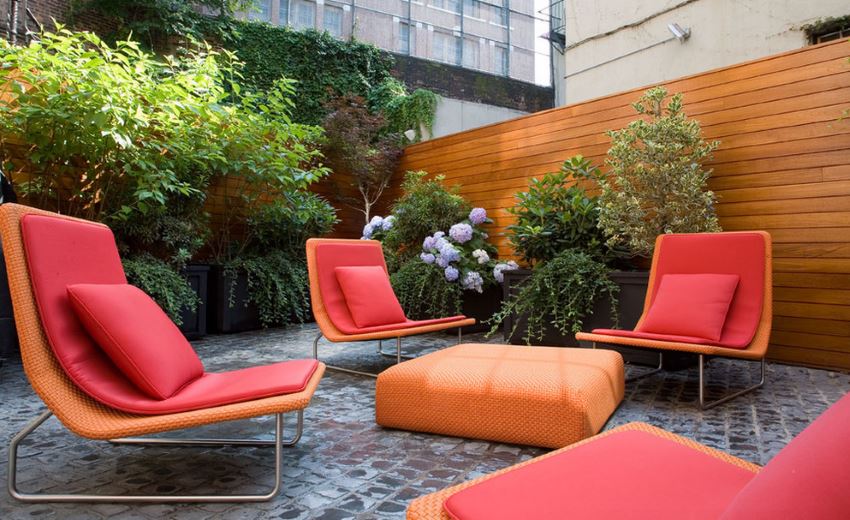 If your seating isn't covered in fabric, try repainting the chairs for a new look. This is the perfect way to give your outdoor dining space a facelift! [photo by Robert Trachtenberg, from Garden Architecture]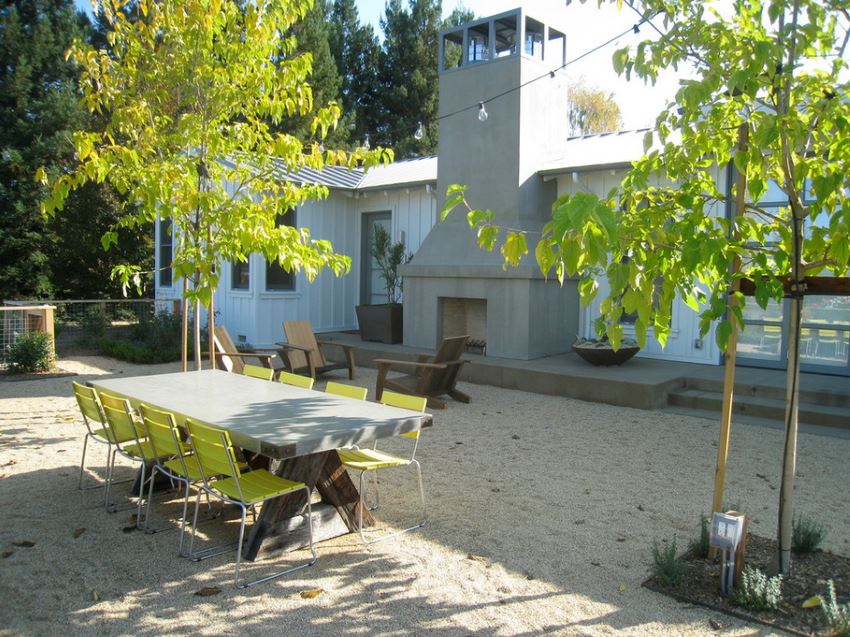 Landscaping with Plants
Adding new plants to the yard can change the look of your landscaping, and I plant on making some changes in my backyard this spring. There are several different looks that I'm very drawn to, and one of them is a clean-lined, manicured approach. [landscaping by Secret Gardens, outdoor seating by Dedon]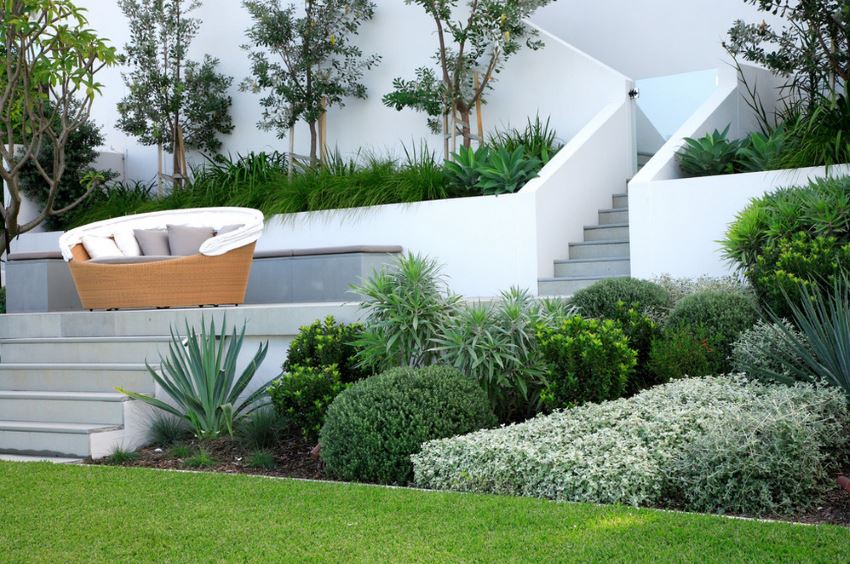 The problem is that my yard already has some amazing outdoor plants with more of a "wild" than a manicured look (they were there well before we moved into the house). I'm not a big fan of uprooting plants that are thriving, so my yard will need to maintain some of its free-flowing style. I've got plenty of vines in the space, and I'd love to cultivate them (and possible add some new ones). This vine-filled patio has given me lots of inspiration! [from Leslie Glazier]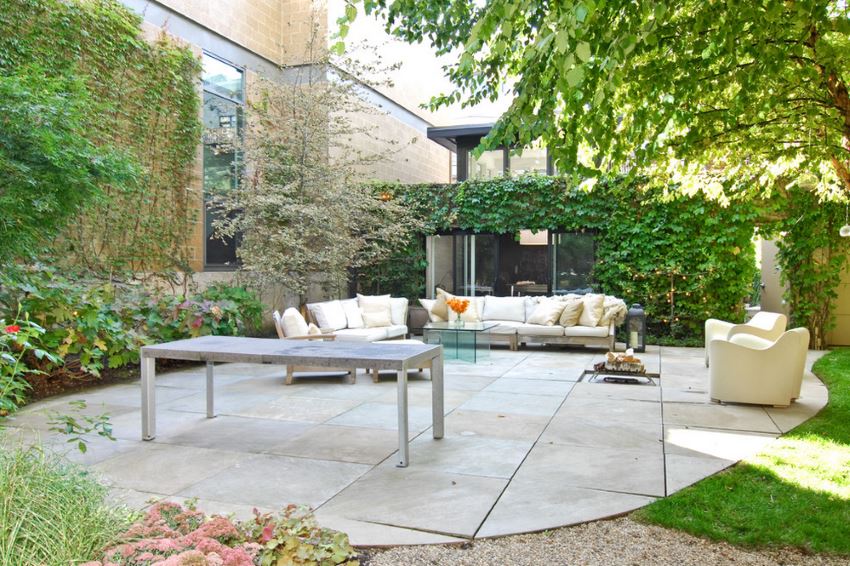 Anyone else a fan of potted trees? They have an enchanting look that can add charm to outdoor spaces of various styles. I love the way they softly enhance the modern flair of Austin's Hotel San Jose, shown below: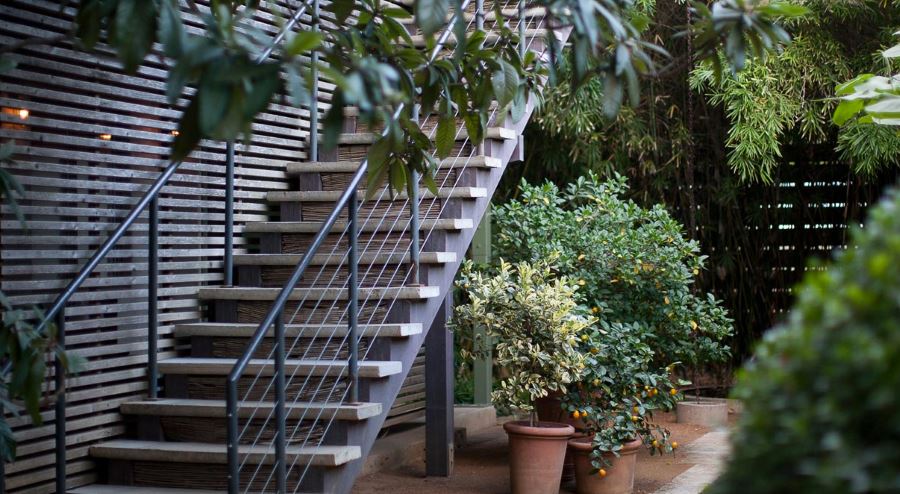 This is the year I just might add horsetail reeds to my garden! They bring height and contemporary style to the yard, and I'm finally ready to take the plunge! [from Paintbox Garden]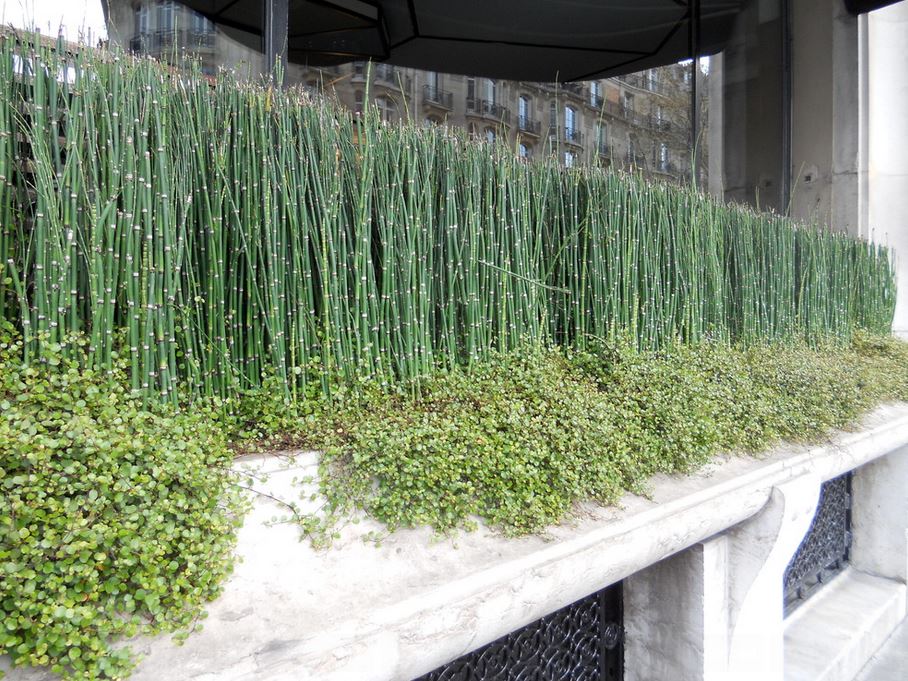 A Shade-Filled Haven
While some of my outdoor space is covered in shade, much of it bakes in the sun, especially during the summer months. I'm considering adding some extra shade, and the pictures below have given me a range of ideas. The breezy covered lounge area in the next image features outdoor furniture from Dedon: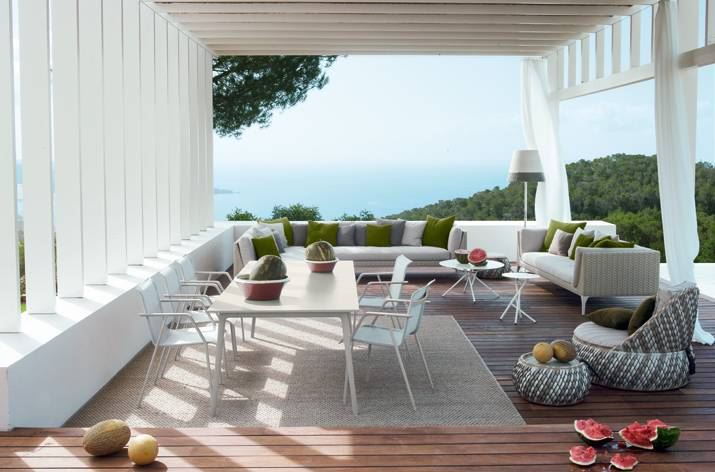 Umbrellas are the perfect solution for additional shade. What are your favorite colors for outdoor umbrellas? Neutrals are very tempting, while vivid hues can add tropical flair. Then again, white is always chic… [photo by Tara Bussema via Houzz]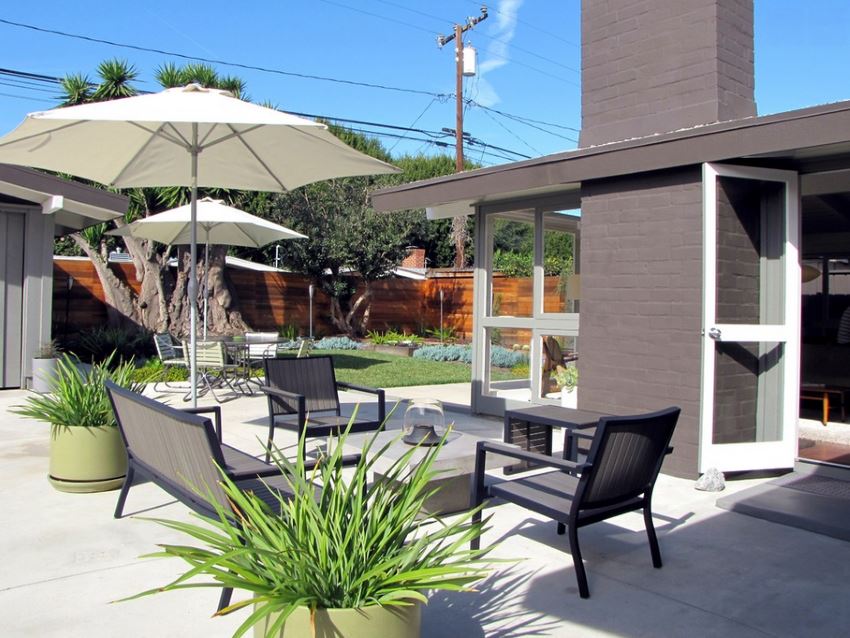 Vines and trees can also have a cooling effect on the yard, both functionally and visually. I think I feel cooler already just viewing the lush haven below! Speaking of havens, shade can inspire a sense of calm in your outdoor space, especially on a hotter than usual day. [from Garden Architecture]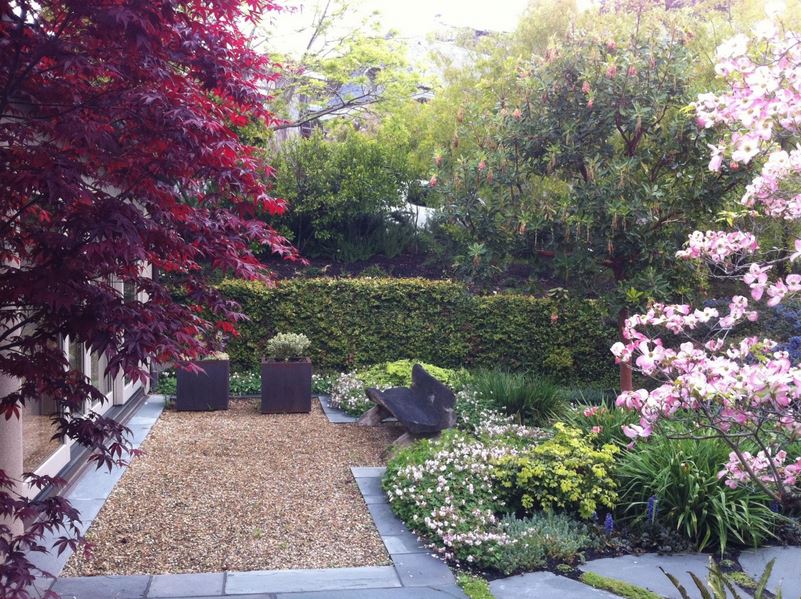 Don't overlook small outdoor areas and their potential to serve as meditation nooks. Is there an outdoor space that you've neglected because it's a little bit small or out of the way? I have a couple of spaces that just might make the perfect resting spots with a little TLC. This Mediterranean-style San Francisco patio has given me a few ideas to ponder. [photography by Hoi Ning Wong]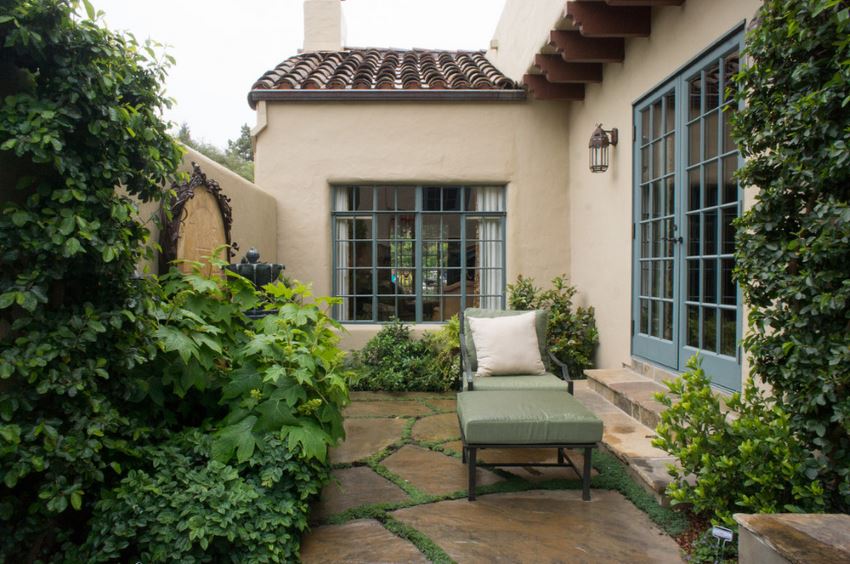 Nighttime Lighting
I'll end today's post with a few pointers for adding lighting to your outdoor space once the sun goes down. Late spring and early summer evenings are perfect times of the year to enjoy a drink on the patio, but don't sit in the dark! Try spotlighting a small tree or large plant as a focal point, as shown in the image below. from Lewis Aquatech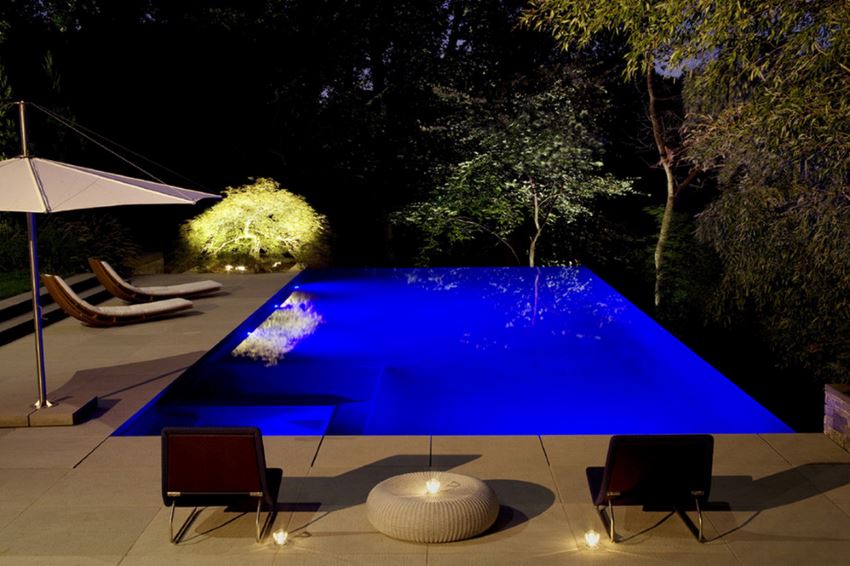 I'm very taken with the outdoor lighting below from Dedon. The spherical lamps definitely caught my eye. I just might need one for my outdoor table, especially on those evenings when I'm writing on the patio!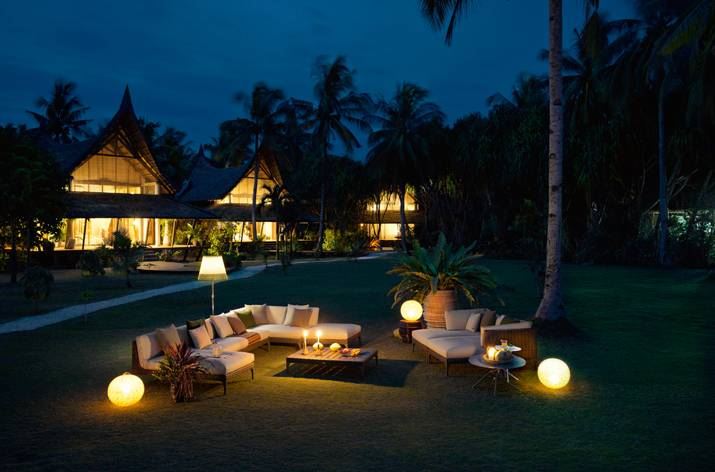 Finally, don't underestimate the power of a glass candle holder. The outdoor lounge at Austin's Hotel San Jose is one of my favorite spaces of all time, and the red glass candleholders have a lot to do with that! They become glowing red orbs once the sun sets. Instant mood lighting!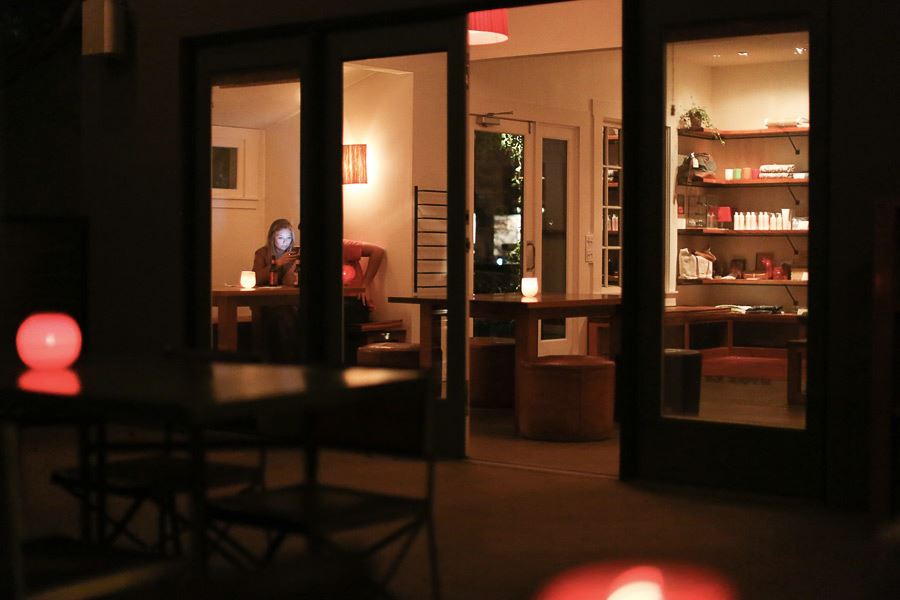 After dreaming up some fabulous spring projects with the help of the images above, I already feel the winter blues start to lift. I can't wait for that first warm evening of spring, when I'm overlooking my newly updated yard after completing a few DIY projects. Can't wait to share the results with you right here on Decoist! I hope today's brainstorming post was helpful to you as well. Here's to the approaching spring!