Located in the picturesque little city of Pontresina, Switzerland, Engadina Modern is a gorgeous blend of sophisticated minimalism, ironic decorative motifs and cozy, inviting warmth. The apartment draws its inspiration from the Engadine-style houses of the region and makes the most of the captivating alpine views and moderate weather outside. The living area of the refined apartment welcomes you with its green-colored rough Serpentine stone, a striking fireplace surrounded by rough burnished brass, and plush couches in white and purple. Imposing forest views outside become an integral part of the interior as large windows turn the majestic peaks into a breathtaking backdrop for various rooms.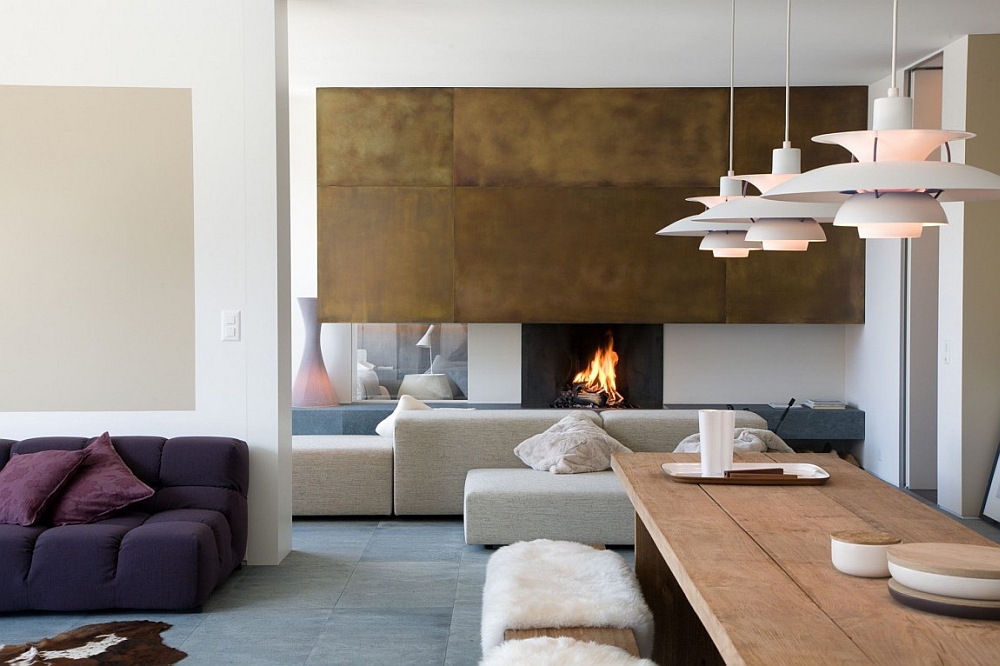 The fabulous apartment was designed by Carlo Donati Studio, and every effort was made to replicate the colors and textures found outside the apartment in the interior as well. A rough oak dining table and dark ebony wood accents in the kitchen are combined with white Corian countertops and plush woolen textures to capture the canopy and snow-covered peaks outside. Apart from wooden features, purple is used to usher in a hint of glamour, while sliding glass doors and partitions ensure that one room flows into the next.
Lighting additions are another highlight in the apartment that grab your attention instantly. A custom-made elk antler chandelier in the bedroom and smart PH lights above the dining area add to the overall classy atmosphere. Patterned wallpaper walls and sleek units complete this urbane home that offers an elegant window into the beauty of the Canton of Graubünden!