A major problem that many growing families encounter is the lack of space in the living room. This might not necessarily mean that there isn't enough foot room. It is often about finding an adequate amount of space for different activities that each family member is involved in. While one of them is busy flicking through 'what else is on TV', others could be flipping through the pages of a magazine. It may be time to think about an additional living space that will serve the varied needs of your family. And an attic collecting dust and cobwebs just might play host to this sparkling new room after a smart makeover!
Classy and Creative
This is one of our favorite attic living rooms, as it not only accommodates an entire apartment, but also opens up the attic of the building to the views outside. The amazing bird's-eye view of San Francisco leaves you spellbound, while the floor-to-ceiling glass windows and doors bring in ample natural light. With a gorgeous balcony outside and comfy seating indoors, this attic living space is indeed a showstopper!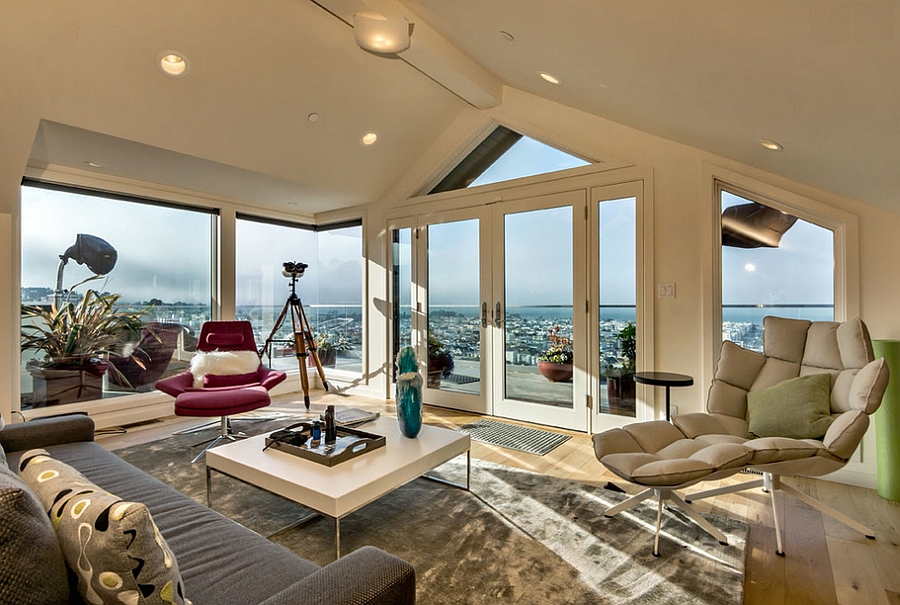 Here is a great example of home the style you choose can define the overall appeal of your attic living area. This attic might not be blessed with plenty of space, but the use of cool Scandinavian style gives it a cheerful, airy visual appeal. Everything is minimal and understated, and the fireplace brings a dash of color to the setting. Additions like the iconic Nesso Lamp give the room an unmistakable Midcentury vibe.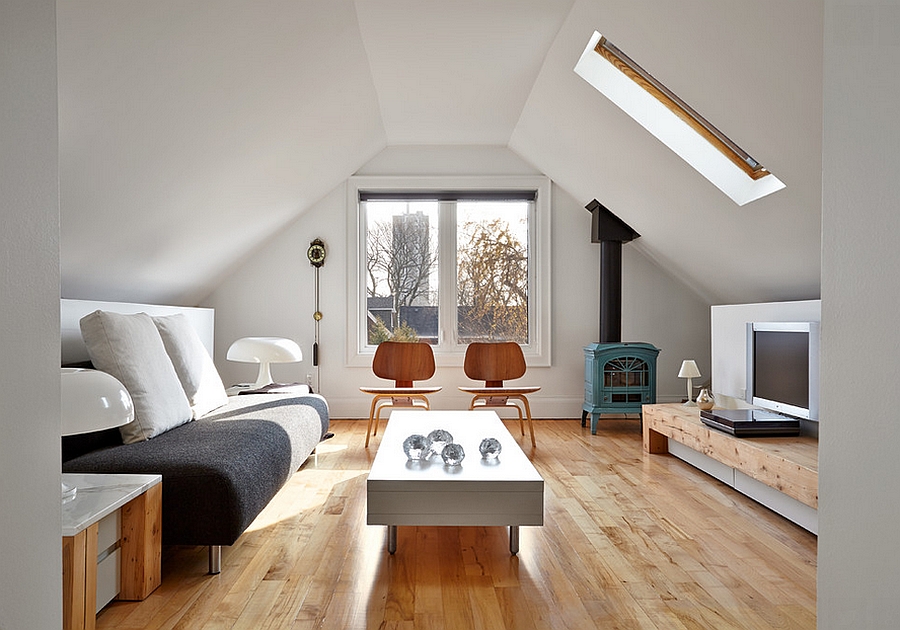 Who said that you can't have an elaborate living area in the attic, complete with an entertainment unit and even a cozy fireplace? The television becomes the focal point of this attic living space, along with the sleek, contemporary fireplace. Skylights usher in natural ventilation, while the plush rug and the seating options bring in chic textural contrast.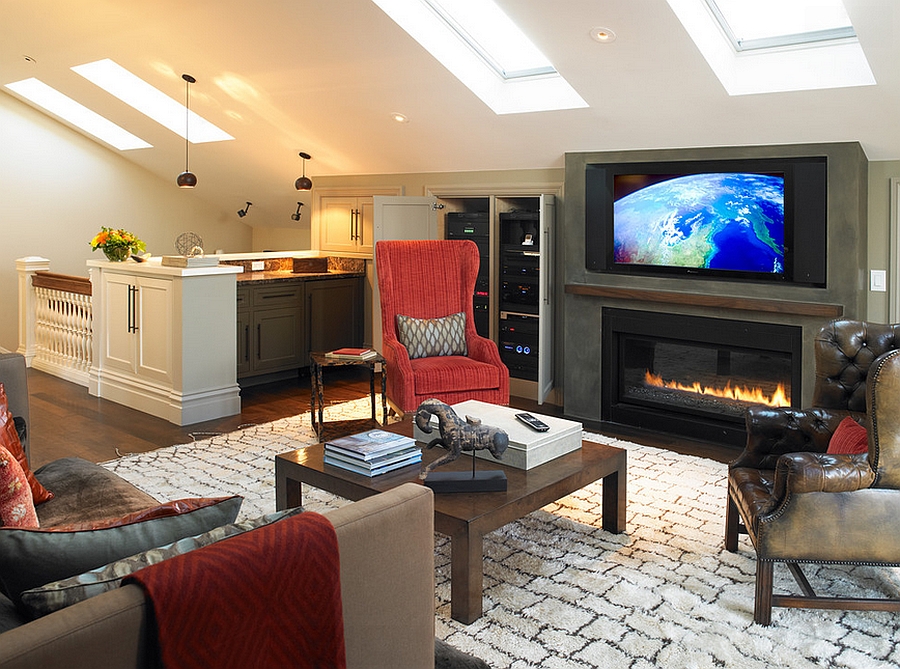 It is not just the modern homes that can put the attic to use. In fact, old structures that have been ingeniously renovated can play host to even more enchanting attic living rooms. This classic barn was transformed into a gorgeous home while keeping some of the features like the wooden trusses and the stone walls intact. Using these elements to its advantage, this attic space creates a cozy retreat right at home!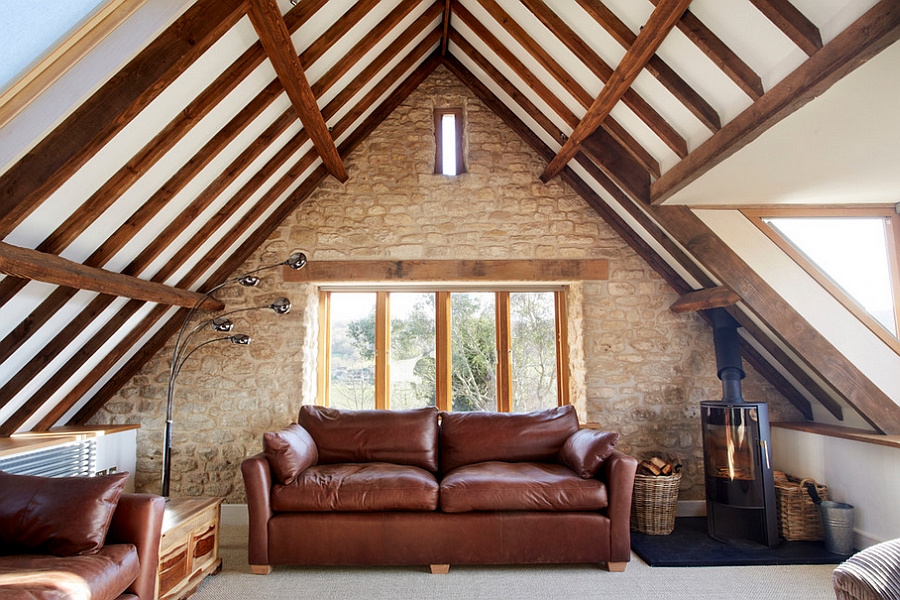 Space-Conscious Designs
Even small attics can be converted into snug living spaces by choosing the right style and colors. The windows and skylights in this attic define its overall appeal and enliven it with a flood of natural light. By choosing a simple, white backdrop and a single accent hue in blue, the room really grabs your attention, and the uncluttered approach to decorating elevates the focal point.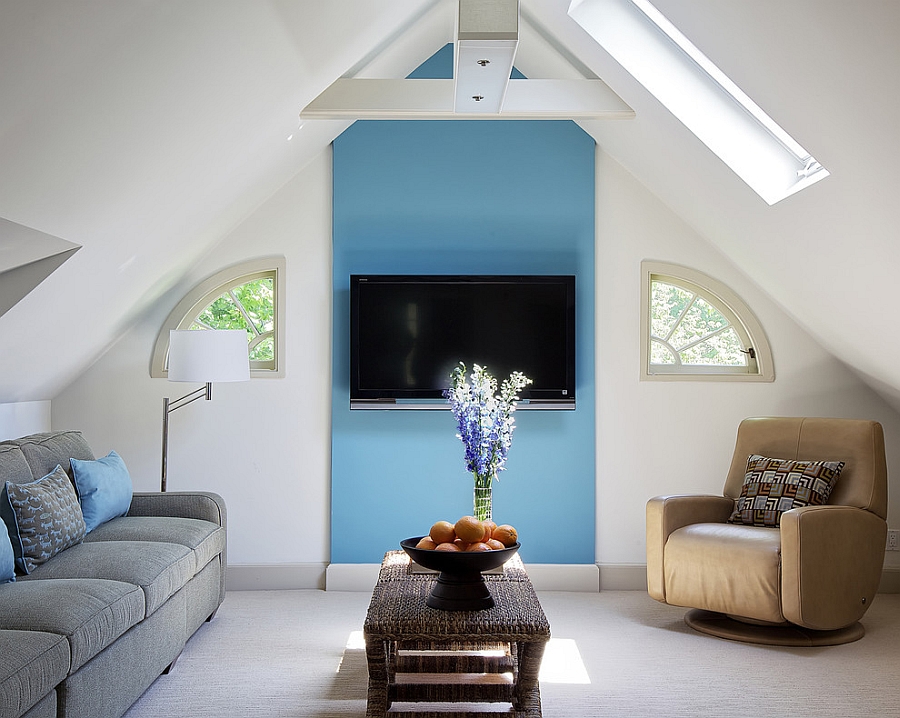 Tiny attics make for cozier living spaces than large ones, and if you are looking to shape a secluded winter retreat right at home, then this is the perfect spot. The attic here has very little vertical space, yet a cool bookshelf and a couch are all you need to turn it into a living area. Throw in a colorful rug, and you have a beautiful getaway with a lovely view.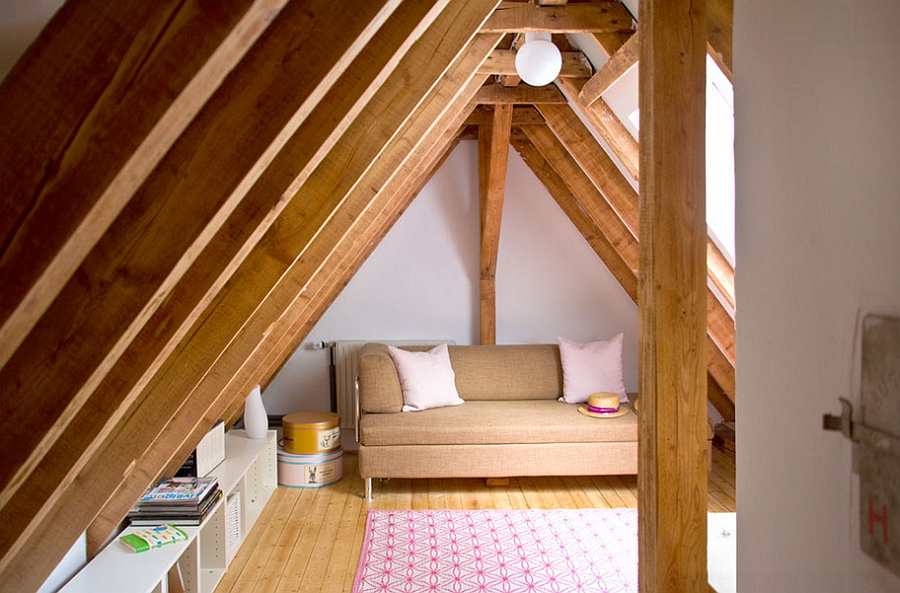 It is not the amount of space that is available that matters, but how you put it to use. The couch here can easily host an entire family, and the wall-mounted television ensures that you do not waste any foot room with unnecessary entertainment units. For those struggling to settle on a television channel in their current living room, this offers a good alternative on a football weekend!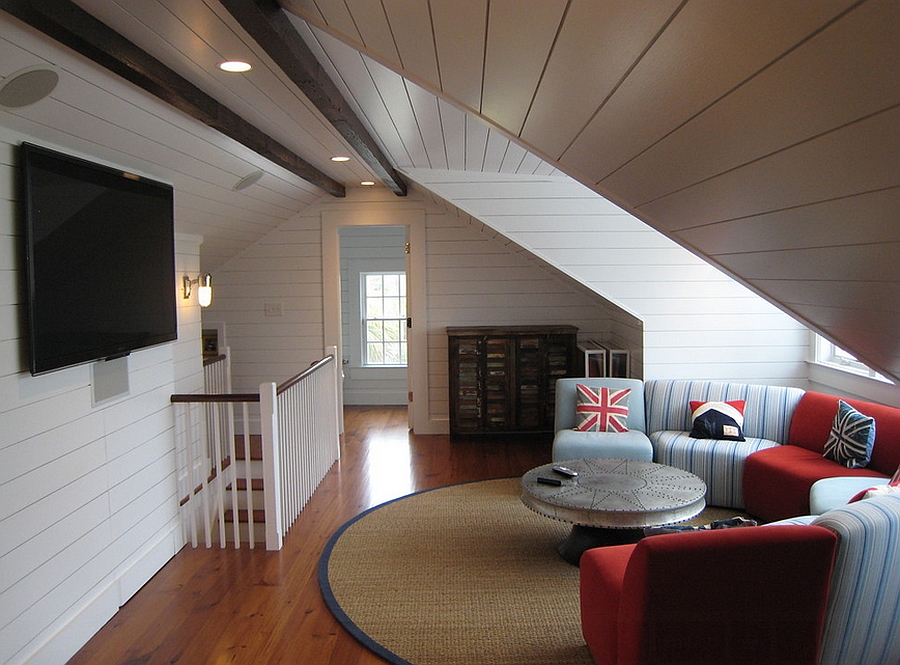 A Hidden Escape!
We have previously featured some stylish attic bedrooms and fun game rooms, but an attic living space can also be put to multiple uses. Those having a hard time concentrating on their favorite page-turner this holiday season can use this space to get away from the noise and the activity. The smart choice of a bookshelf here puts the available square footage to good use and works around the problem of a lack of vertical space.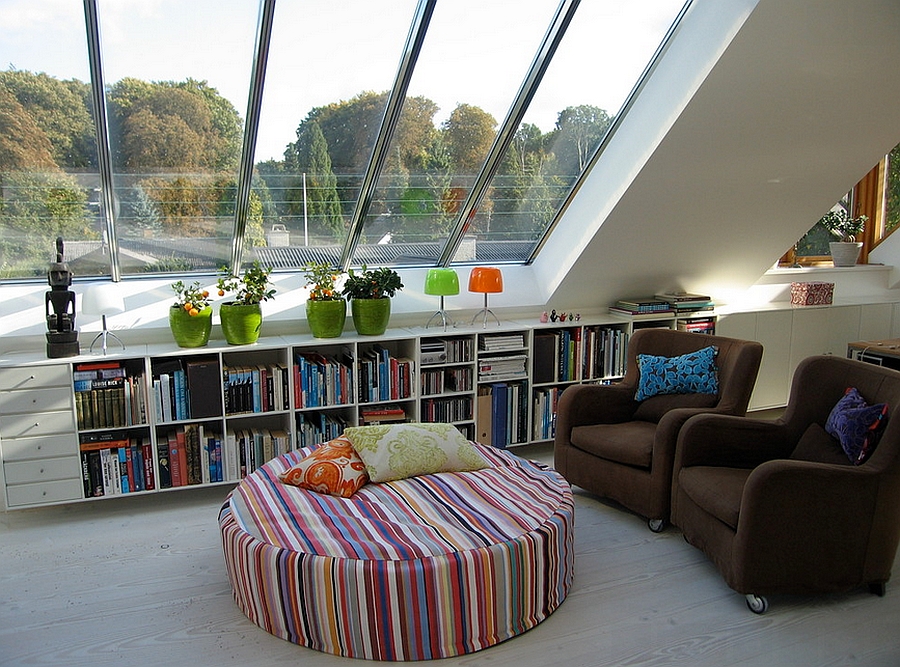 This is a perfect example of how symmetry can elevate the appeal of the small attic room. The twin table lamps in orange, the placement of the stools and even the chandelier in the context of the backdrop play a major role in defining the ambiance of the room. Repeating an accent color in more than one place and using visual symmetry can greatly enhance the appeal of such small spaces.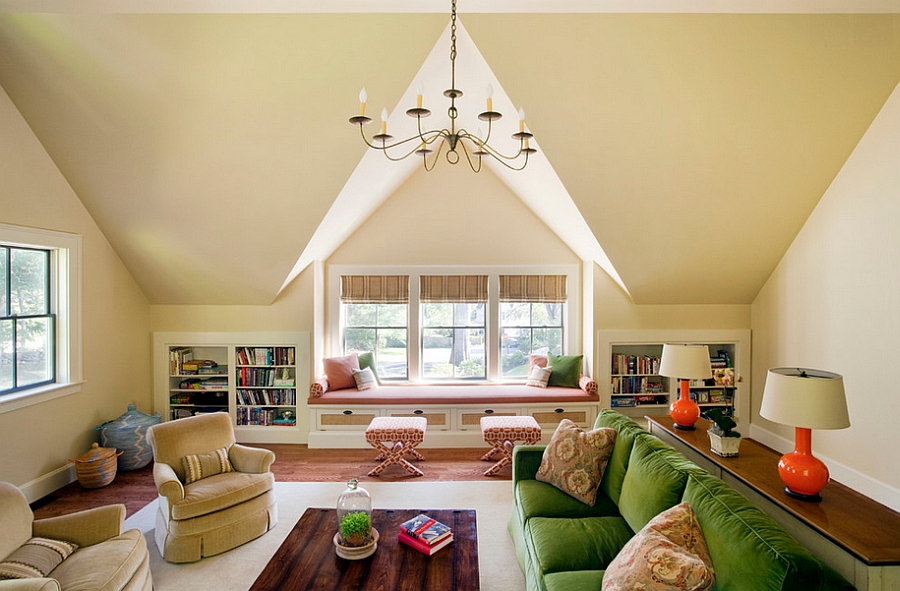 Finally, we have a large attic that has enough space for a dedicated second kitchen, a pool table and a fabulous living area. A window seat in the attic is also a great choice and gives you an additional seating option when you invite guests over for a game night. Remember, though, that you will need to take the necessary permits and check the building code requirements before giving your attic that much needed makeover this holiday season.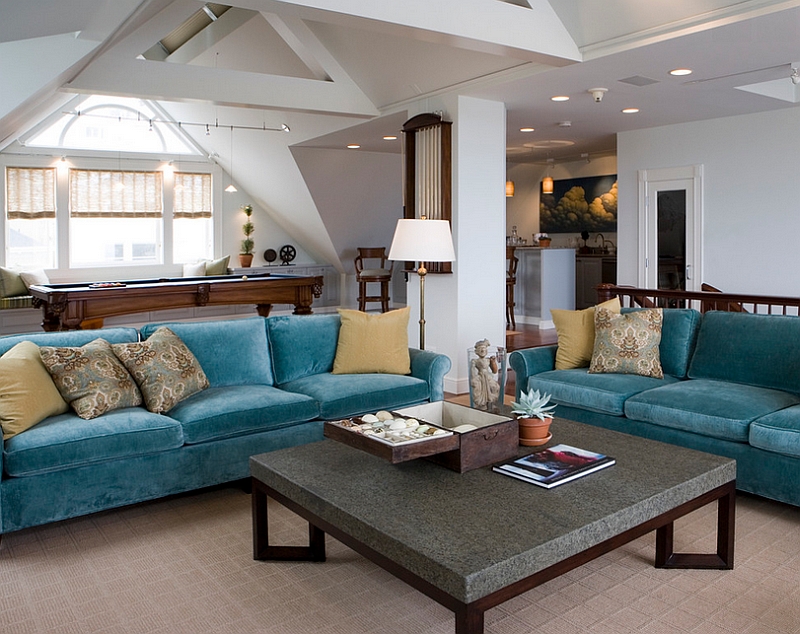 Solving your space conundrums and giving you an additional stylish hangout, attic living rooms can transform your lifestyle. Then there is the added benefit of wonderful views that your normal living room would find hard to match. So, why not put this neglected space to use?