It's that time, folks…time to start planning your Halloween party! Even if you're not hosting an official fete, you may be on the hunt for festive decoration and food ideas to welcome the Halloween season. Kate here, and today I've rounded up a few of my favorites, grouped into three main party concept ideas. Below you will find the latest in design-fabulous style, from the brand new to the tried and true. Enjoy!
A Dose of Classic Style
Let's start with some classic Halloween fun. Because there's something about the combination of black, white and orange (plus a few spooky details) that never goes out of style! Add an updated twist by covering your table in cheesecloth and topping it with pumpkins in muted tones. The Halloween party ideas below from Design Love Fest are rich with organic-meets-creepy style, thanks to subdued accents punctuated with vibrant signature cocktails based on quotes from your favorite scary movies!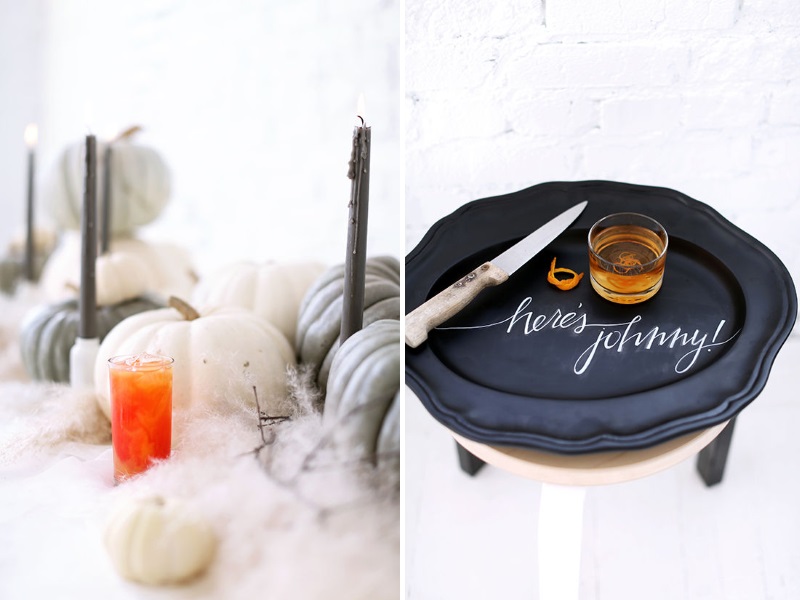 There's nothing like getting lost in the woods during the Halloween season! That's why this Into the Woods Halloween party from Camille Styles is delightfully spooky. With a gin cocktail inspired by foraged berries and fresh herbs, and quirky centerpieces created by stashing foliage in glass containers, you've got a unique take on Halloween style: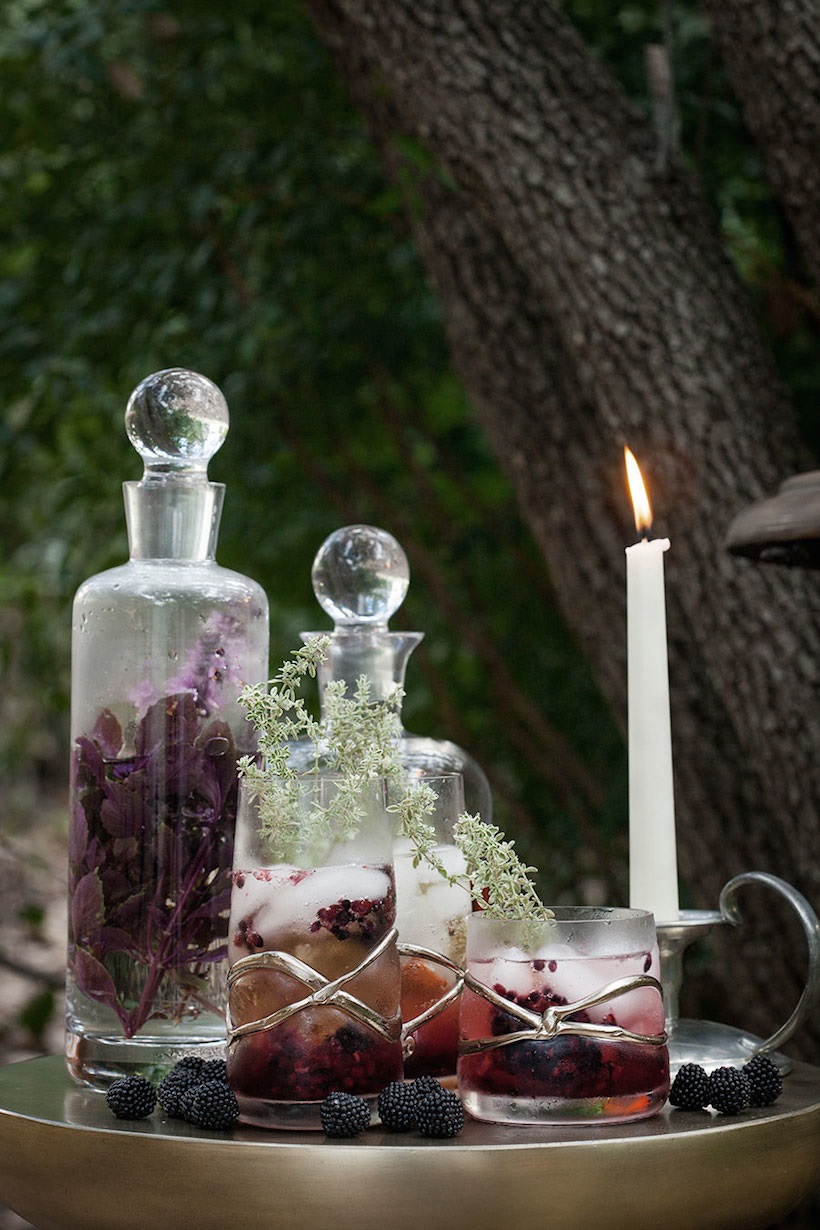 Give your classic decorations a vintage twist with this marquee-style Lighted Boo Sign from HalloweenCostumes.com. Shop the entire look, which includes creepy accents and signature touches that will help you deck the mantel this Halloween.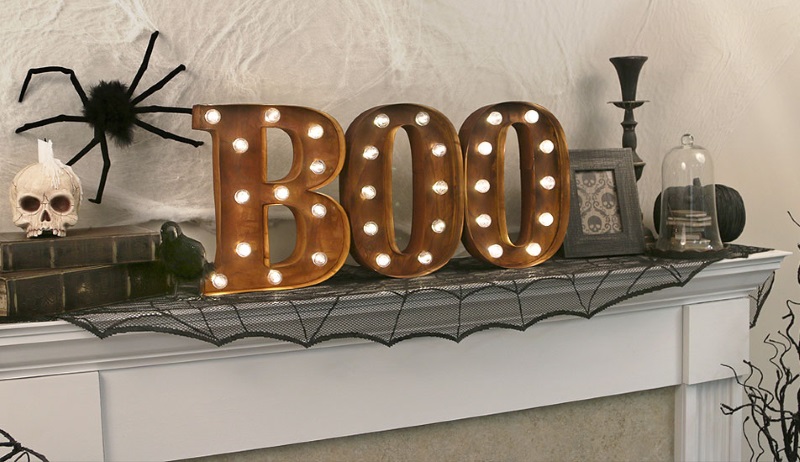 Sometimes it's the little things that make the biggest impact! Not only are these Pom Pom Bat Cupcake Toppers from Oh Happy Day easy to make, they'll add a classically cute accent to your Halloween party dessert:

A Dash of Humor
There's something undeniably upbeat about Halloween! Maybe it's the fact that this holiday is all about the thrill of getting spooked, the novelty of dressing in costume, and the tasty goodness of collecting treats. Why not incorporate a sense of carefree humor into your decor?! This Skeleton Croquet Scene from HalloweenCostumes.com showcases a variety of decorations that can't help but make you smile. Individual items include fun finds such as Bones the Hungry Hound Skeleton Dog!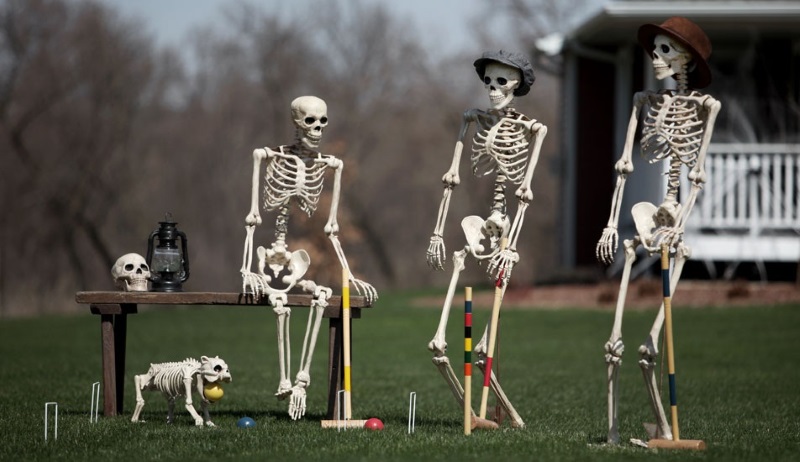 Instead of carving a pumpkin, try carving an unexpected piece of produce, such as an apple, a pepper or a pineapple. A delightful way to decorate a children's party, especially if flameless candles are involved in the illumination! The masterpiece below comes to us from A Subtle Revelry: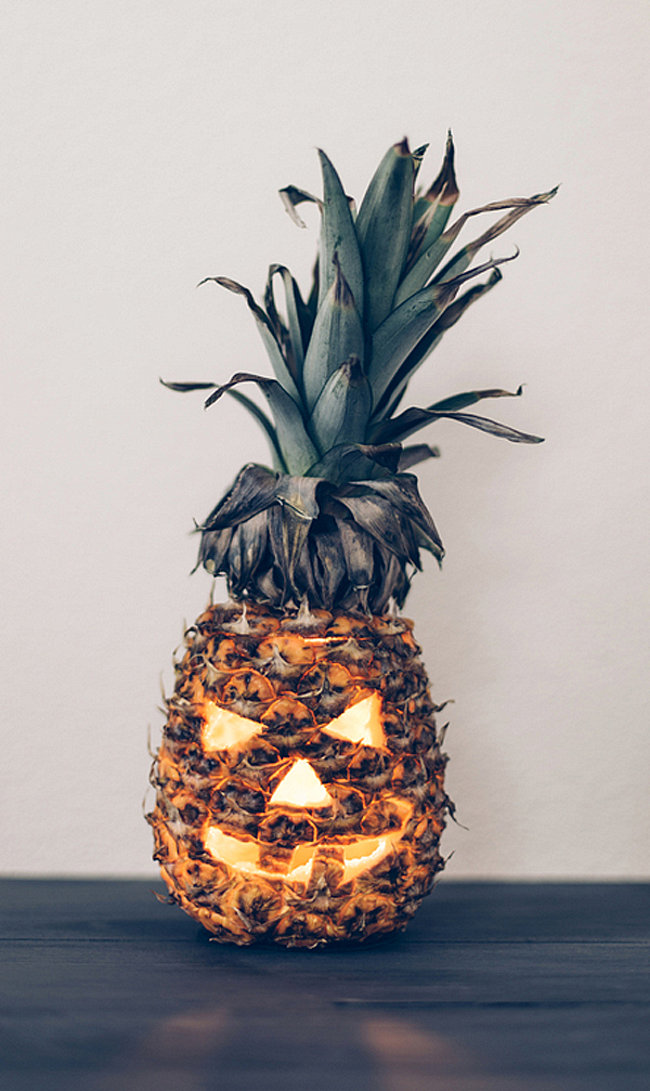 It's hard to imagine a Halloween party dessert more kid-friendly than these monster donuts from A Subtle Revelry, complete with vampire teeth and candy eyeballs! The're super easy to prepare, especially if you follow the instructions in the post.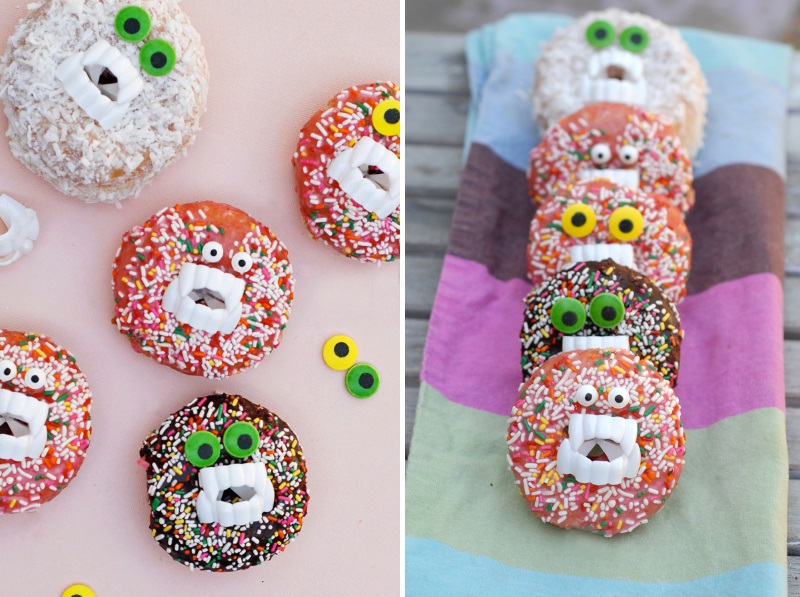 For a trio of tasty party treats, check out this collection of Halloween milkshake ideas from A Beautiful Mess, including the ghost milkshakes seen below. Created by painting spooky faces with melted chocolate on the inside of your glasses, these delicious drinks are the perfect way to top off a festive night: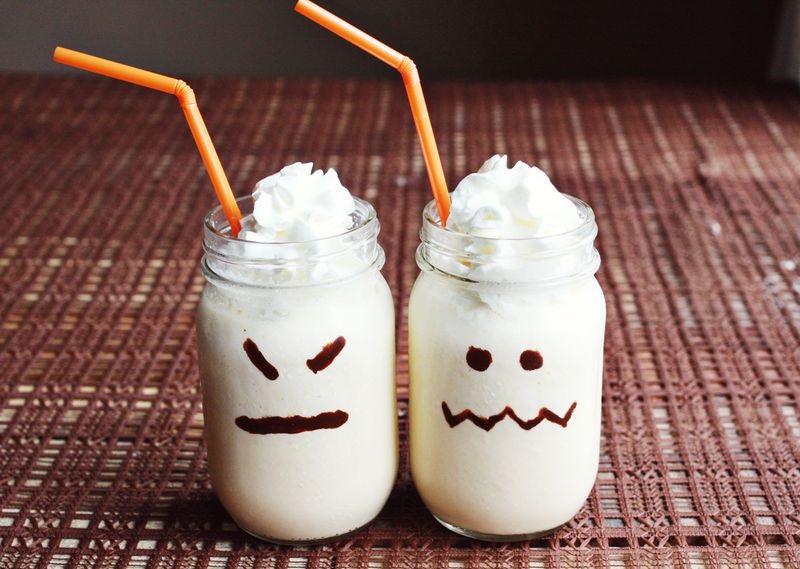 A Touch of Geo
Looking for a modern way to celebrate Halloween? Why not add a touch of geo style?! One of my favorite current trends, this look favors simplicity of form over ornate frills. Halloween is the perfect time to introduce geo style into the mix, especially if you're looking for a different take on the year's scariest season. Below we see a photo shoot from my blog Mirror80. Featuring napkins and a melamine bowl from Target, as well as a triangular mirror from CB2, this vignette is especially festive when topped with white baby boo pumpkins!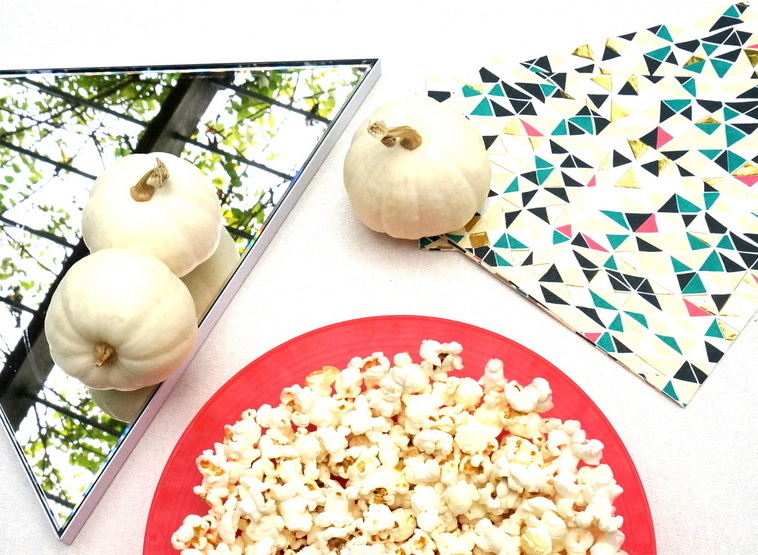 Another great way to add an element of geo style to your Halloween party: punctuate your table with a geometric runner. The tabletop spread below comes from A Beautiful Mess, complete with free printables that will assist you in topping your cupcakes and decorating your drink bottles.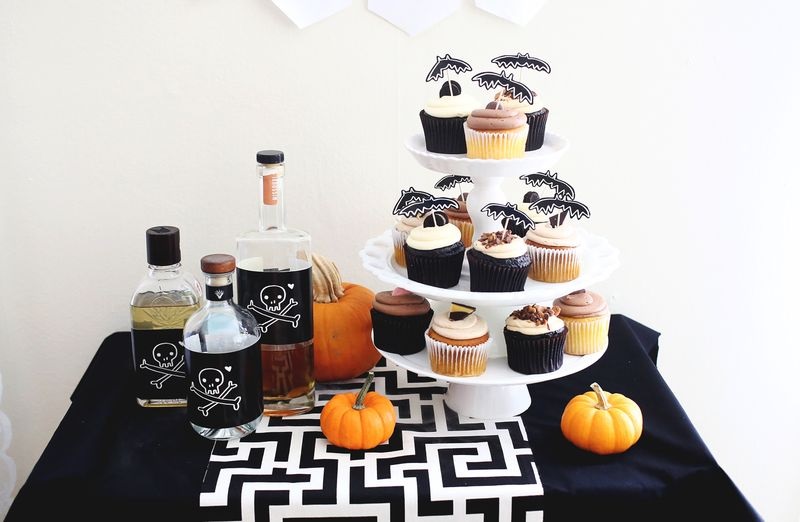 Two-tone pumpkins are a unique way to introduce a modern hint of geo style. These glittered, dipped and painted pumpkins from Eli Vibe were created with the help of painter's tape and some glitter: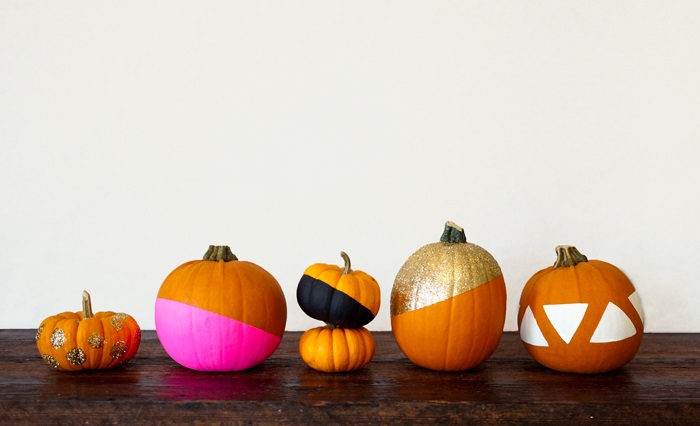 For a geo-meets-spooky look, try decorating black candlesticks with gold washi tape. This project was designed by Jenny Batt of Hank & Hunt. For a full tutorial, head on over to Julep.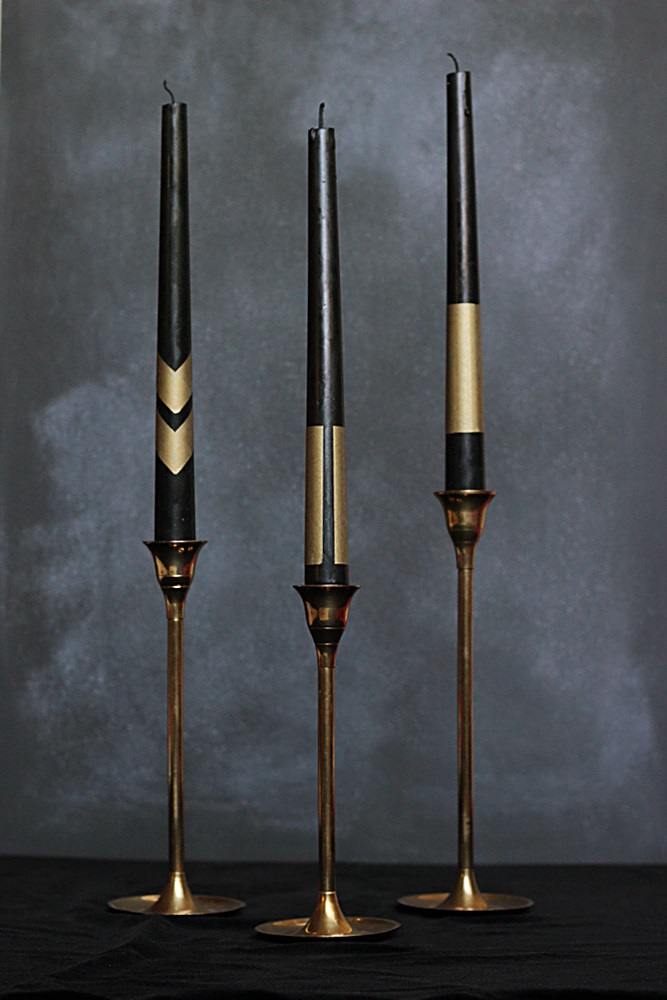 When it comes to planning your Halloween party, do you prefer a classic look, a silly vibe or a geo feel? Happy entertaining!