Do you enjoy throwing parties or cooking for friends and family? Whether you're planning a large gathering or a small dinner party for your nearest and dearest, today I'm sharing my favorite sources of inspiration for entertaining. Kate here, and when it comes to spending time with the people I care about, nothing makes me happier than inviting them to dine at my table. I love creating a beautiful tabletop, and below you will find 10 festive party table ideas from my favorite lifestyle blogs, wedding blogs and retailers. Enjoy!
Blog Inspiration
Do you get inspired by entertainers who write? There are so many amazing design and DIY blogs that consistently feature unique tabletop creations. This summer, I've noticed a trend toward earthy, relaxed table settings with unforgettable style. One of my favorites: this breezy indigo tabletop, created by Callie Jenschke of Native Designs. Featured in Camille Styles' new series At the Table, this vignette showcases tropical centerpieces and touches of blue and white: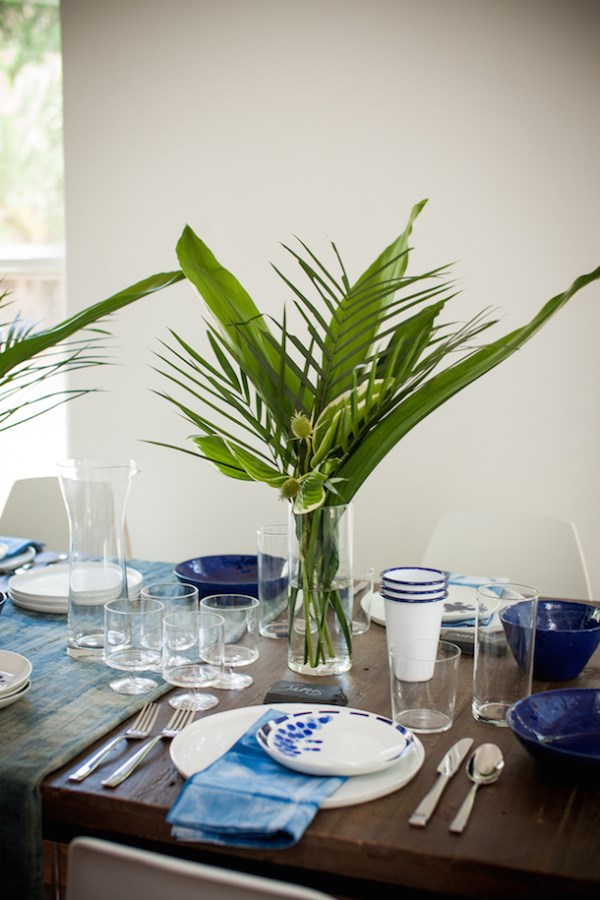 I can't stop rereading this Backyard Dinner Party post featured at Design Love Fest, shown in the image below. The earthy tones on the table are contrasted by floral arrangements featuring pinks and oranges. An air plant graces each place setting–what a hostess gift! And there's nothing like the backdrop of flowering vines. When your surroundings are this stunning, there's no need to be over the top when it comes to your table. Simple and fresh does the trick!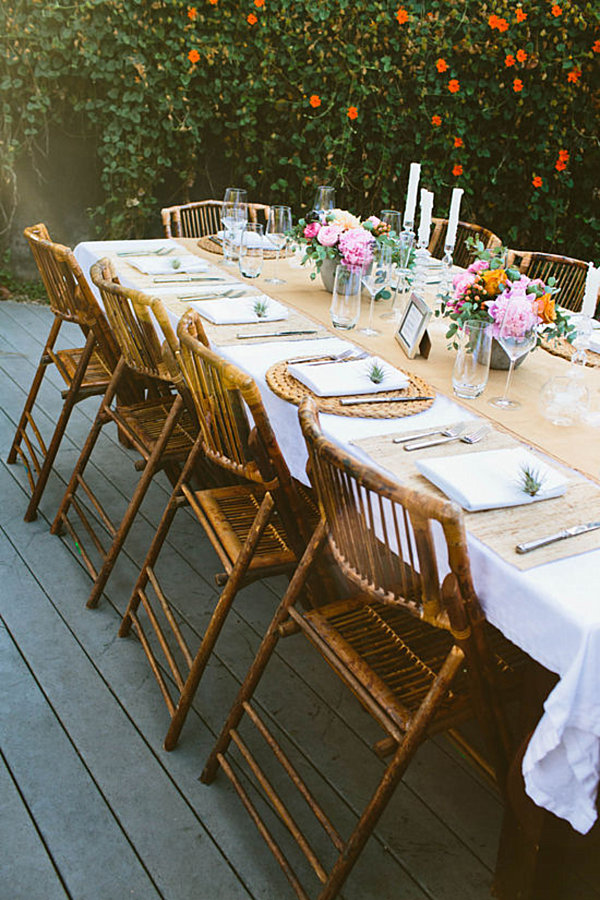 One of my personal favorite tabletop decor strategies: letting the food take center stage! And that's the exact entertaining philosophy shared by Conni Jeperson in her Rustic Dinner Party Styling Tips post for West Elm. The down-to-earth feel, the use of parchment paper on wood cutting boards, and the gorgeous presentation of fresh foods are three reasons to love this look: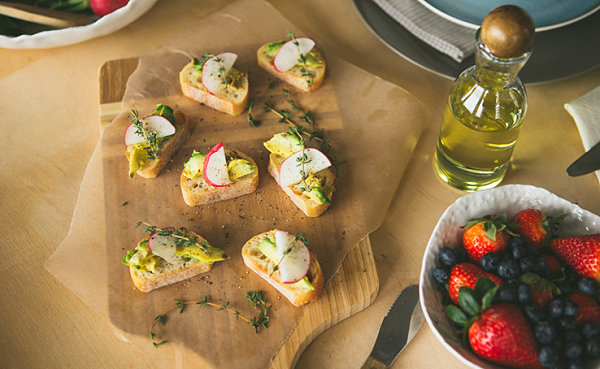 There are definitely times when a tablecloth is in order. But finding the tablecloth of your dreams is no easy feat. Not only can these coverings be expensive, the unique ones can be hard to track down. If you're interested in making your own, this White Tablecloth Makeover from A Beautiful Mess will inspire you with its fearless use of dye and paint. Aren't the polka dots perfect for a dessert party?!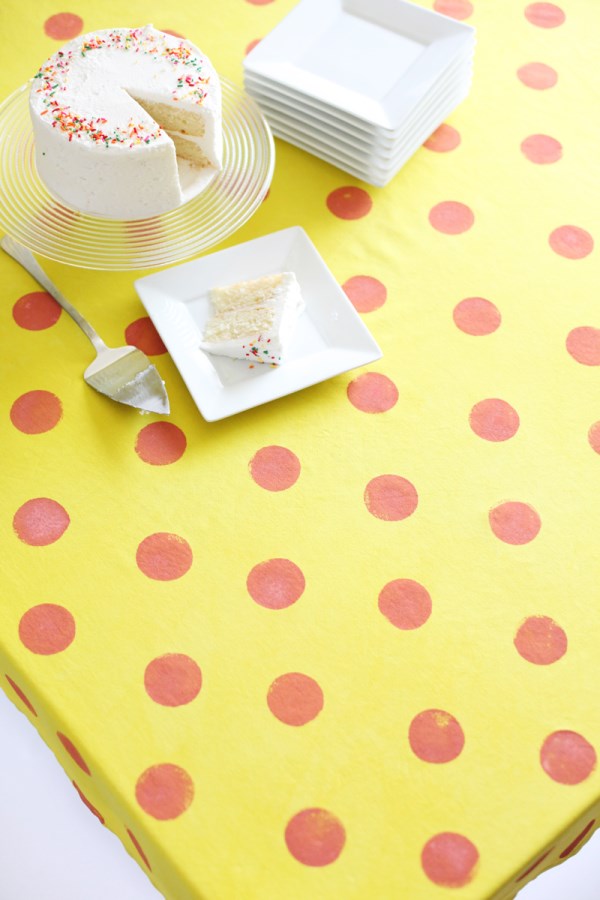 Let the Wedding Be Your Guide
I don't know about you, but I absolutely love reading wedding blogs for tabletop inspiration! I find it especially interesting when surprising DIY touches are incorporated into formal events. No wonder this Modern Handmade Palm Springs Wedding featured at Green Wedding Shoes caught my attention. The DIY table runner below can be created with kraft paper and geometric stamps. Line it with lush, colorful fresh flowers for an upscale touch! [photos by Katie Pritchard]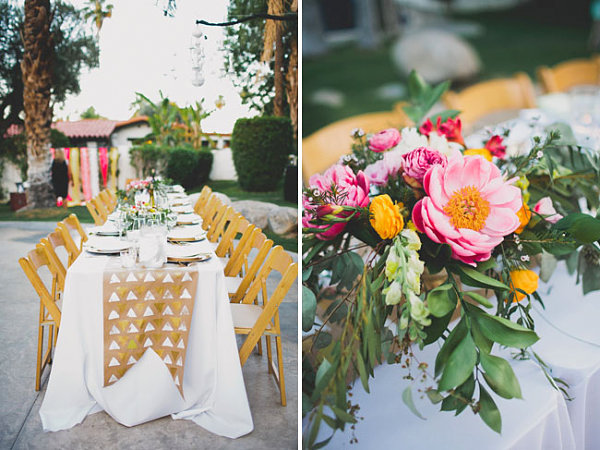 This Glitter Unicorn Wedding featured at Green Wedding Shoes is filled with unexpected details! I'm drawn to the gold geometric vases filled with rainbow-inspired flowers. The white glittering tablecloth on each table provides a fresh canvas that sparkles for the event. Aqua napkins anchor the spread, and gold flatware beautifully complements the centerpiece. [by Kelly Braman Photography]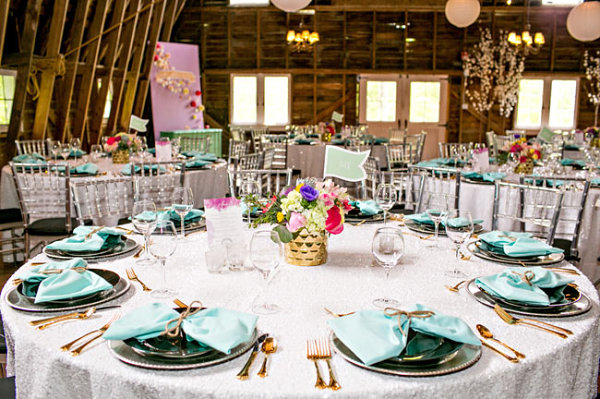 This Zion National Park Wedding featured at Ruffled also showcases a colorful approach to tabletop design. At each spot we see a hand-lettered place card created from a Pantone postcard! These color cards also formed the DIY backdrop that served as the centerpiece of this event. Warm-hued ranunculus grouped by like color and displayed in mason jars intensify the radiant theme. [photos by AK Studio Design]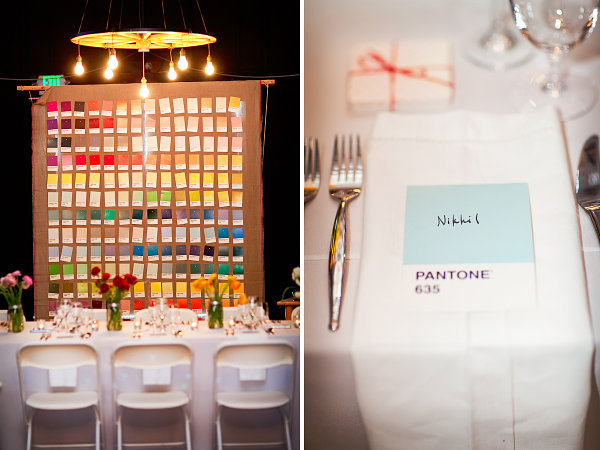 Retail Style
My final featured source for tabletop inspiration: retail photography. You know–those photo shoots that highlight tabletop decor, presenting beautiful spreads of linens, centerpieces and the latest in modern merchandise. Aren't the succulents on the table below the perfect focal point for a contemporary dinner party? You can find the striped placemats and the blue and yellow Oval Dinnerware at CB2.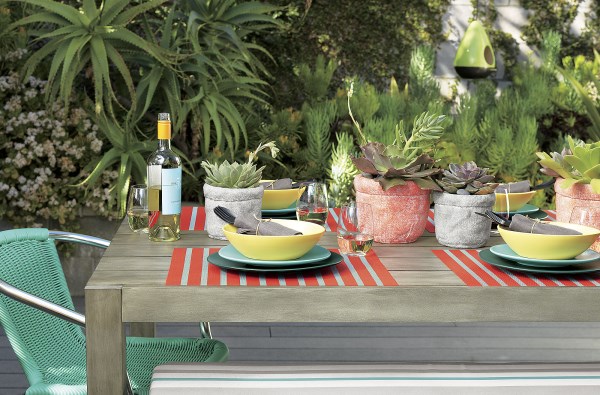 You can't go wrong with stripes! And when you're combining them with modern black and white serving pieces, there's certainly room to get colorful. Which is why I'm a fan of the bold pink stripes showcased on the Pipeline Tablecloth from CB2, shown below: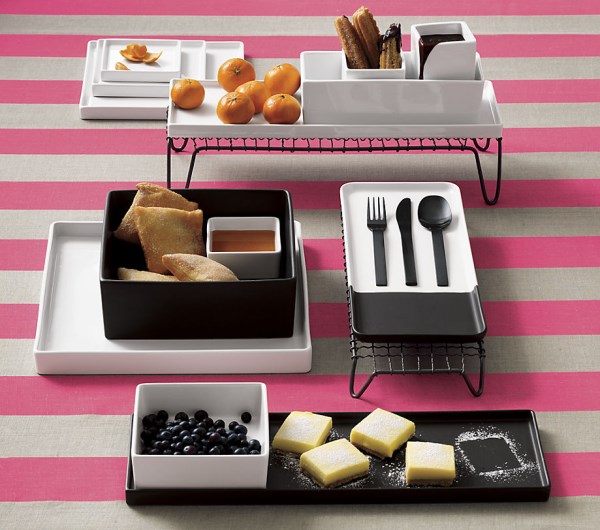 I couldn't end today's post without a little bit of retro luxe inspiration from Jonathan Adler. Our last image features Nixon dinnerware, along with an assortment of colorful vases that remind us to have fun with our party tables…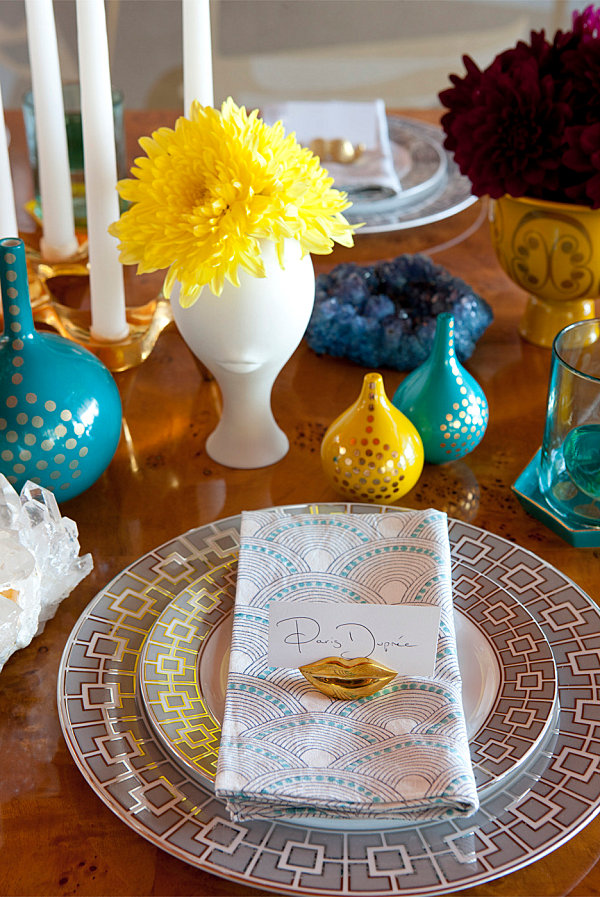 Speaking of fun, there's nothing I enjoy more than looking for design inspiration in a variety of places, from the well-known to the unexpected. Don't forget to check out my recent post on what modern still life photography can teach us about interior design!