Remember the sparkling and serene dentist's office that we showcased just a few days ago? Well, it is definitely not a one-off case where doctors and surgeons are turning towards design and architecture to create truly amazing and inimitable office spaces. Conjured up and crafted by Iglo Architects and located on the 12th floor of the Fulya Terrace building in Istanbul is this stylish plastic surgery clinic that exudes an almost space-age vibe! The architects turned what was a normal 250-square-meter flat with four rooms into a captivating and impressive clinic that appealed to the clientele while reflecting the style and personality of the surgeons!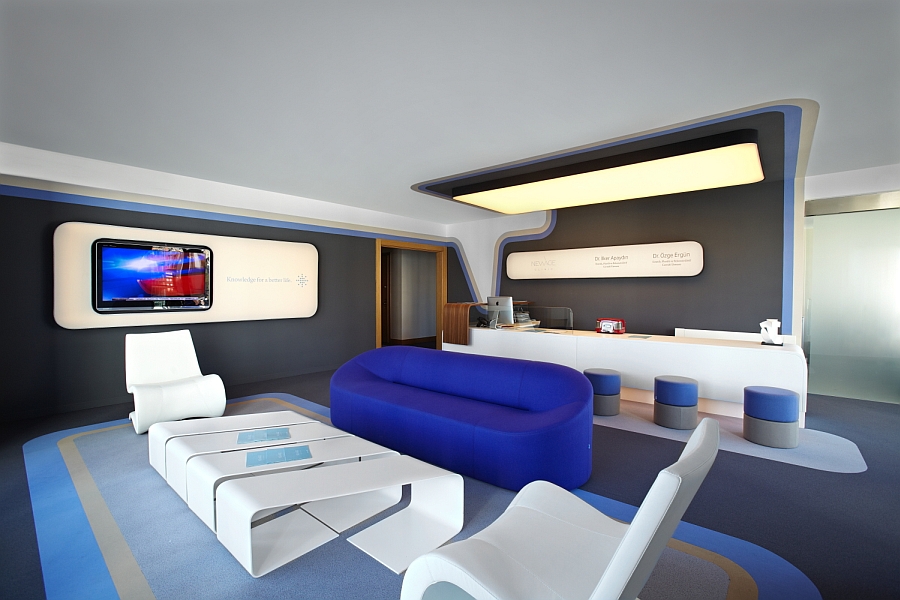 The duo of plastic surgeons at the New Age Clinic wanted a stylish, sophisticated and creative space that moved away from the mundane. For this, the architects turned to 'dark grey' as the surprise element in the design. With blue and white being natural choices for a modern clinic, the use of dark grey as the backdrop truly gave the interior an exquisite, refined appeal. With grey being such a trendy hue, it also made complete sense to go with this hot new neutral. No major renovations were undertaken structurally, while a custom-crafted 5-meter-long desk was added by Iglo to the lobby.
The fluid form of design and the blue and white lines were inspired by heartbeat, and this dynamic theme also influenced the unique shape of the decor and its trendy contours. No suspended ceilings were used to demarcate spaces, but smart LED lighting and natural illumination bring out the best in this snazzy, urbane Istanbul clinic.