The first thing that comes to mind when we think of Switzerland is the picture-perfect holidays and the snowy Alps. Overlooking the town of Weinfelden and offering unabated views of the distant mountains of Switzerland and Austria is this beautiful house clad in wood. While the street façade of the Weinfelden House offers ample privacy, the rear of the residence opens up to offer captivating views of the surrounding landscape. Designed by K_M Architektur, the floating design of the house gives it an inimitable silhouette while the scenic backdrop adds to its visual appeal.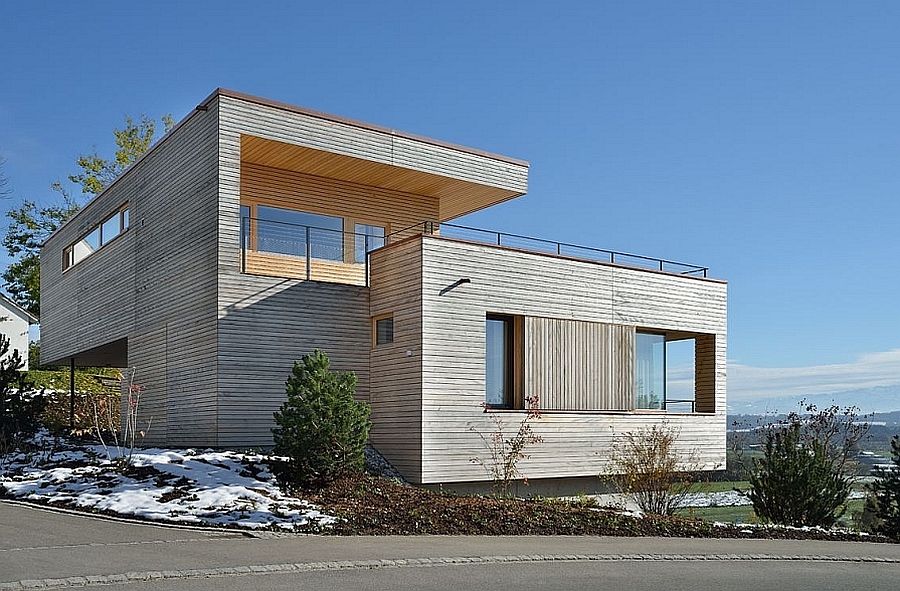 The interior of the house showcases a wonderful balance between glass, concrete and wood to ensure that there is ample textural contrast. While the expansive use of wood in light tones gives the home an inviting and cozy vibe, extensive floor-to-ceiling glass doors and windows ensure that the living area extends into the long balcony outside. The ground floor contains the living room, the dining area and the kitchen, along with two bedrooms for the kids. The top level houses the master suite along with the gorgeous rooftop garden.
The ingenious gas stove addition in the living room also doubles as a smart divider between the living and dining spaces, and the solar hot-water-system and geo-thermal heating give the home a hint of sustainability. The use of natural pine wood obtained locally and other eco-friendly materials used in shaping the Weinfelden House also helped in cutting down the carbon footprint of this elegant contemporary home set in an idyllic landscape.