A hint of spring is in the air. So why not put a little bit of spring into the yard?! Today we spotlight six exciting gardening ideas that will give your outdoor space a fresh, new look. From cutting-edge design to the latest in garden and patio furnishings, we've got you covered…
Not much space outdoors? Don't sweat it! A large yard is not required to achieve an amazing garden. In fact, some of today's gardening tips can be incorporated into your indoor space, giving it a hint of fresh greenery and spring charm. Let the images below inspire you and even spark some new ideas of your own.
Hang It
Our first gardening idea works well indoors as well as out. It's a hanging garden! Imagine stepping outside and walking into a wonderland where it appears to be raining plants. Only these plants never touch the ground. Suspend them from trees, but make sure roots and soil are securely bound or contained. [from The Hamilton Spectator via Kathy Renwald]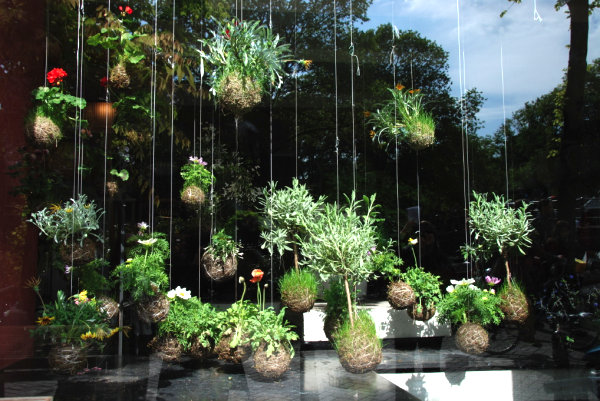 Check out these ceramic Sky Planters from Boskke. Perfect for indoors or out, they allow you to suspend plants in an upside-down, fashion, creating a truly unique display that can enhance your patio or screened-in porch. Or any room in your home, for that matter: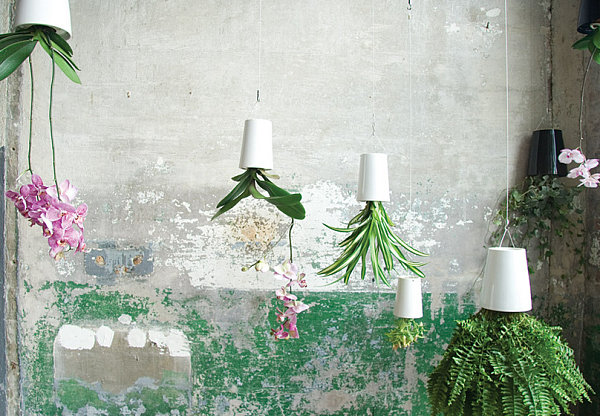 Stripe It
Why not add interest to your garden by creating a series of eye-catching stripes? In the contemporary San Francisco yard below, sections of gravel alternate with strips of grass, resulting in a crisp look that is truly unforgettable. And the layout cuts down on your mowing duties, as well! [from TRG Architects]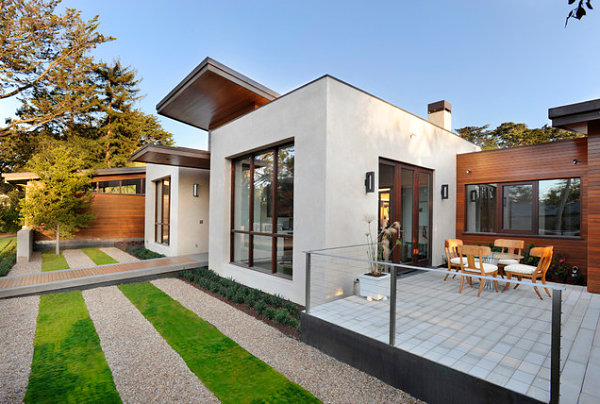 There are many ways to create stripes. In the Sydney, Australia yard below, we see a lined pathway in which stepping stones alternate with pebbles, grassy rounds border each rectangular stone, and a strip of green plants follows the path in a vertical fashion. [from Expressions Landscape – Design]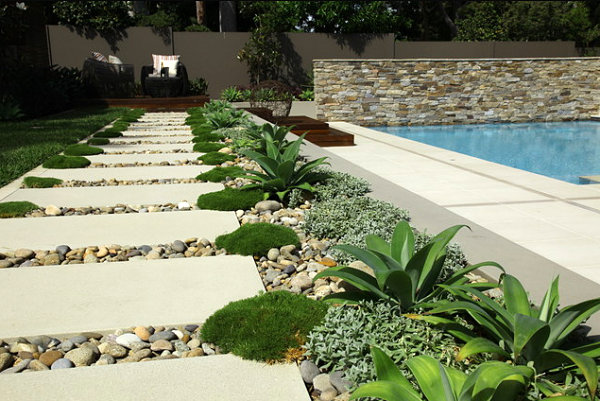 Mix It
Our next tip is hardly a new one, but it can sure make your garden look as good as new! Reeds and silver falls dichondra rest in a pool of gravel, creating a display that is layered without seeming cluttered. [from Big Red Sun]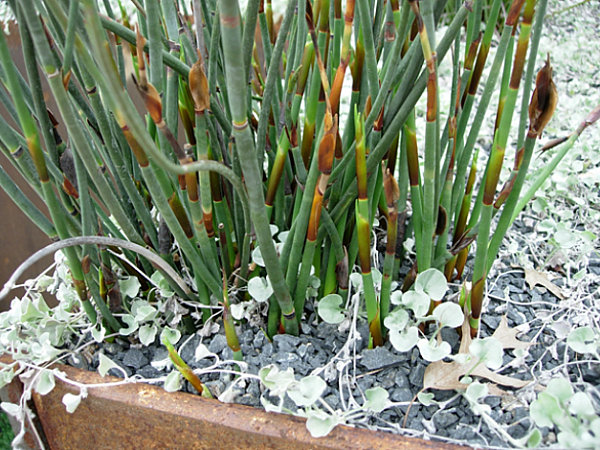 Mixing it up can also involve a mix of colors and textures. And we're loving the subtle juxtaposition of plants in a variety of green hues in this yard designed by Big Red Sun. A minty green ground cover is the perfect counterpart to kelly green shrubs and smooth emerald green grass: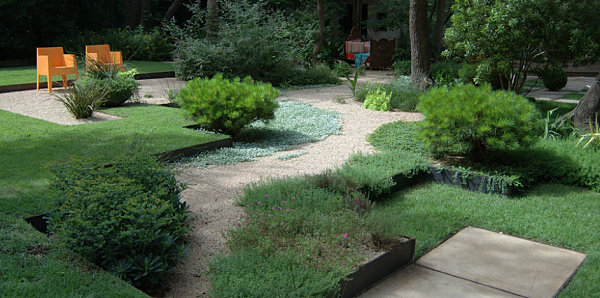 Deck It
It's time to hit the deck! Don't think that this area is too wooden to house plant life. Dress up your deck with a series of extra large planters. Fill them with eclectic grasses, succulents and ground covers, but don't forget that a planter containing one type of greenery can be as stunning as a planter filled with several. We're particularly drawn to the square planter below. Check out that low green grass! [from Big Red Sun]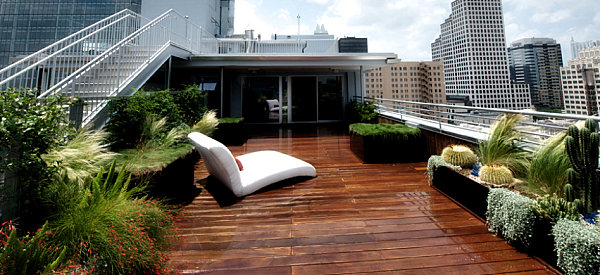 Decide on a look for your deck, then let your plant life follow suit. This penthouse deck features ultra modern furniture. Manicured grass, a potted dracaena and a window planter filled with tall grass nicely enhance the style of this outdoor space. [photo by Alessia Corti via Paseoner]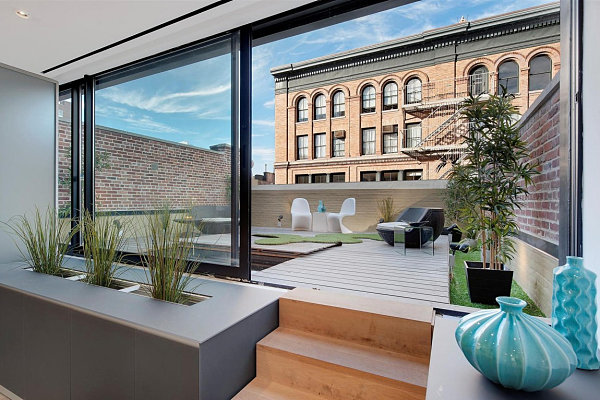 Furnish It
Your garden furniture is like the icing on a plant-filled cake! Add some style in one of nature's most vibrant tones with the Crocheted Apple Outdoor Pouf from Crate & Barrel. This special seating option consists of a polystyrene bead fill surrounded by a polypropylene yarn cover with a zipper: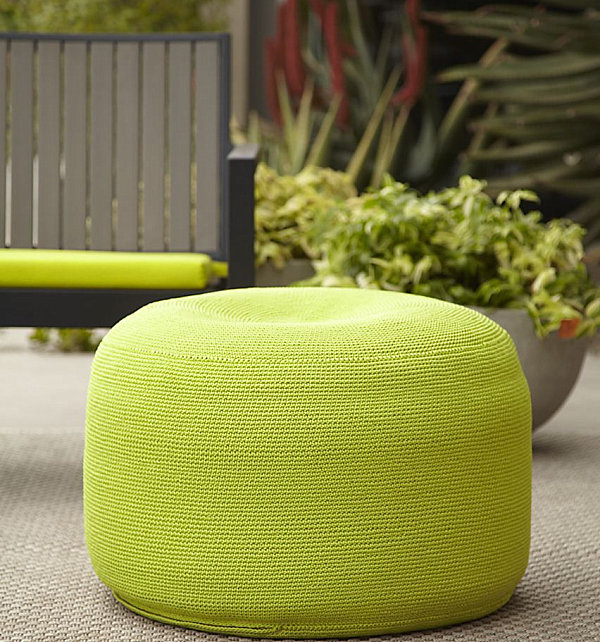 Don't forget to add some furniture for nature's creatures! Brand-new from Crate & Barrel, The Kamala Birdbath Bowl with Stand is made of ceramic with a turquoise glaze interior and a black matte finish: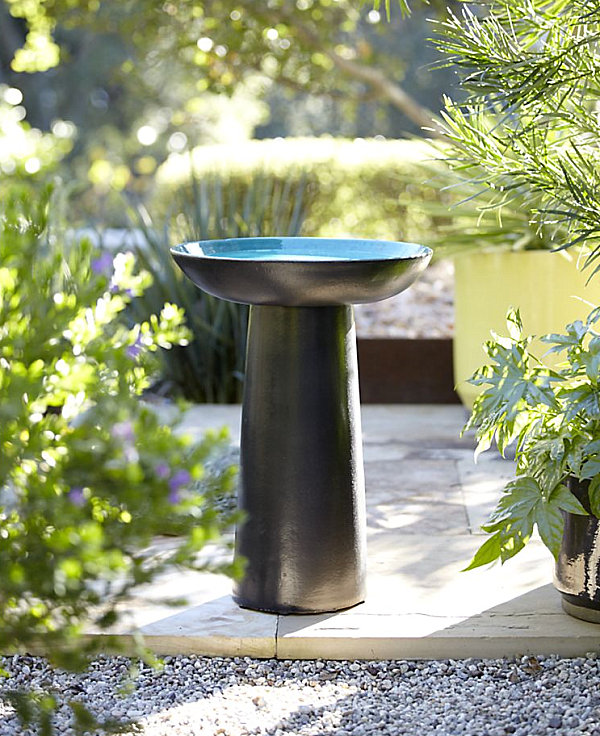 Section It Off
We end our spring gardening extravaganza with a divisive idea: how about dividing your yard or garden into sections with the help of some creative landscaping? Below we see a bluestone-edged pool that serves as a focal point to a yard featuring grass, stepping stones and other concrete areas that add interest. [from The Garden Route Company]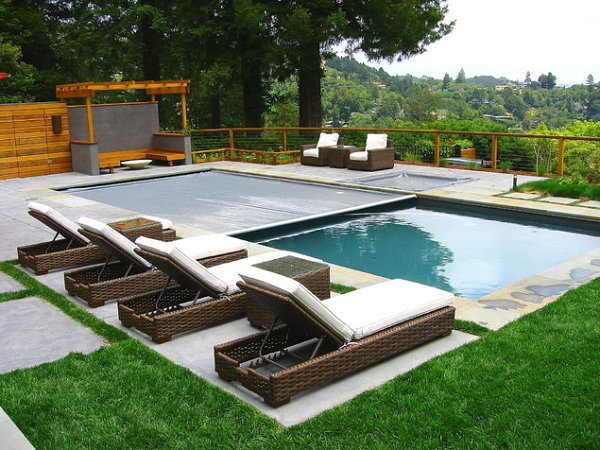 This creative space cleverly utilizes gravel, grass and stepping stones to create a grid-like spread where gravel meets stone, stone meets grass, and the lines between all zones beautifully blur… [from Big Red Sun]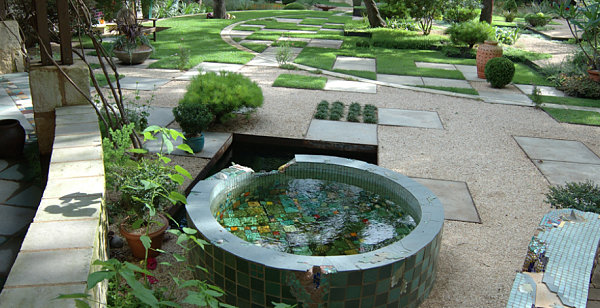 When designing a gardening space, costs can quickly add up. But don't get discouraged! DIY projects such as cinder block planter walls make a big modern statement on a budget. Not to mention, a can of paint can jazz up tired and worn gardening pots that need some new life. Happy spring, and happy gardening in 2013!