If you read our recent post on stylish summer sale items, you know that retailers are clearing out their summer stock to make room for fall's bounty. And by that, we mean the bounty of amazing decor finds for the new season! Yes, it's still July, but that hasn't stopped our favorite retailers from revealing their fall collections, or at the very least, stocking the first installment. What have we learned from these new offerings? Plenty about the top fall trends to keep an eye on. Read on for our favorites…
Mixed Materials
Have you taken note of the current celebration of natural materials, such as metal, stone and glass? Retailers are gladly embracing this "mixed materials" approach. For example, these Win-Win Candleholders from CB2 create the illusion of metal with metallic paint. The contrast between the cement and the shiny finish is stunning: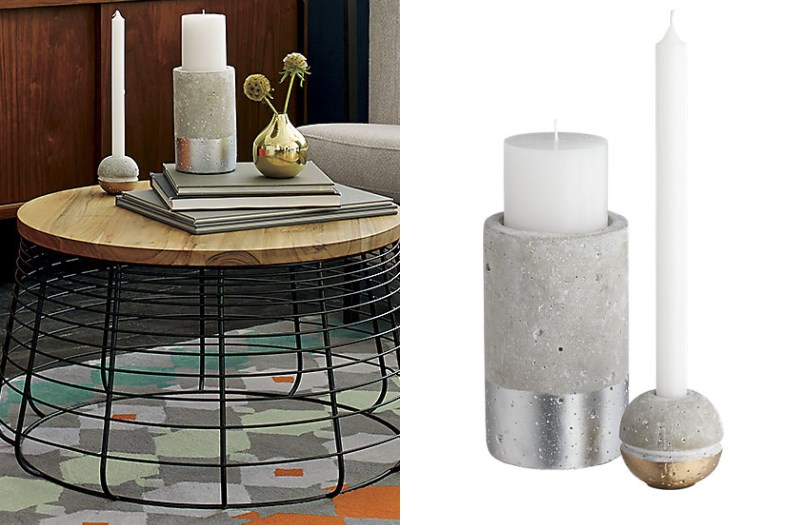 The mixed materials approach isn't limited to accessories. The world of furniture has embraced this strategy as well. Below we see the Waldorf Side Table from West Elm, which features an angular geometric base: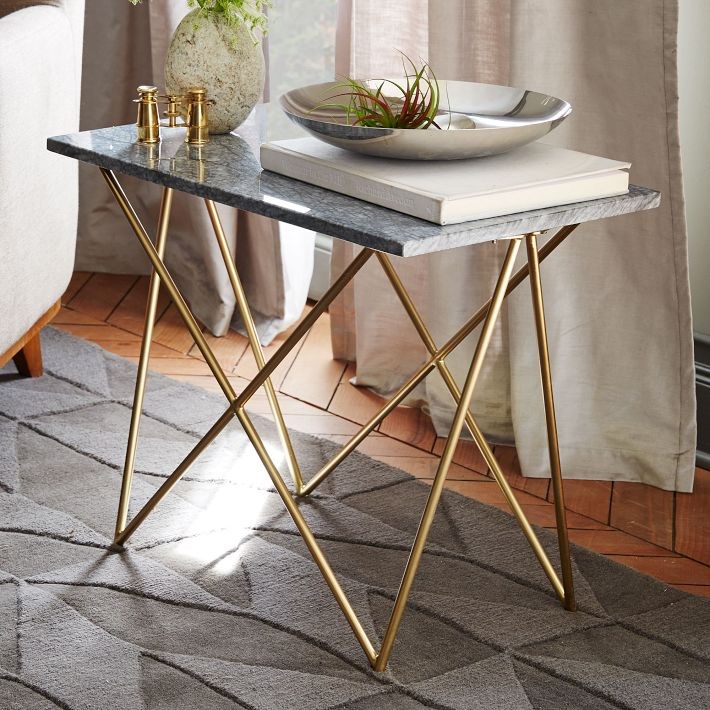 Next we have the Sediment Side Table from CB2, crafted of mango wood and Torrento marble. The clean lines of the piece let the materials themselves take center stage.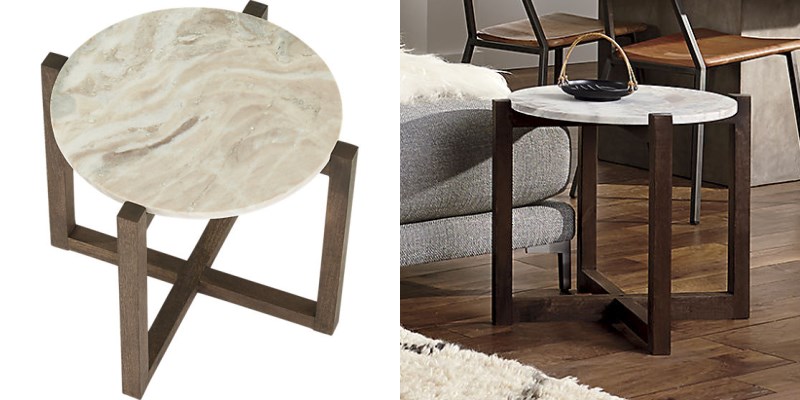 Compact Lighting
Small lighting is one of this season's most sizzling items! Expect this trend to stick around for awhile, making fall a great time to find your dream pendant or sconce. These Bell Flush Mount Lamps from CB2 feature domed shades that are anything but bulky. Choose from white with a brass-painted interior or black with a white interior.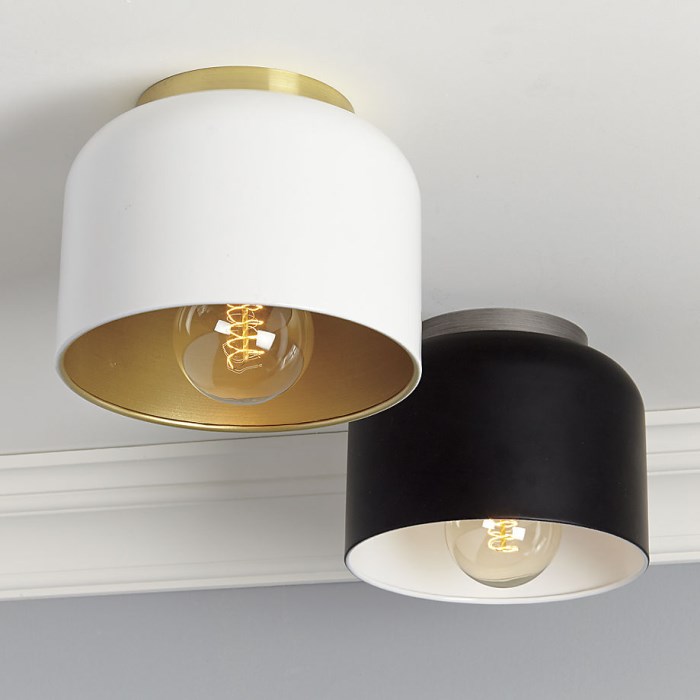 We've made no secret of our love for onefortythree… This design studio has helped inspire a full-fledged compact lighting craze, thanks to colorful, sleek selections like the Color Pendant Lamp below:
Slender pendant lights are all the rage, as you can display them alone for a minimalist effect or hang them in a group for a creative cluster. These Candlestick Pendants from CB2 are based on the classic candlestick, and the combination of ornate detail and chic simplicity is quite alluring!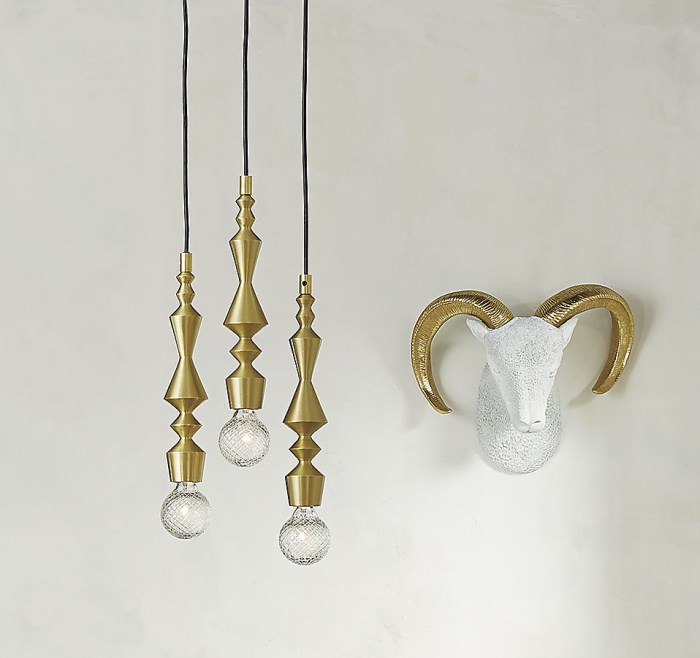 Geo Forms
Geometry isn't going anywhere, folks! Sculptural decor is here to stay for awhile, and this fall we can celebrate it in full force. These Double Arc Geo Brass Bookends have a polished look, thanks to their brass finish: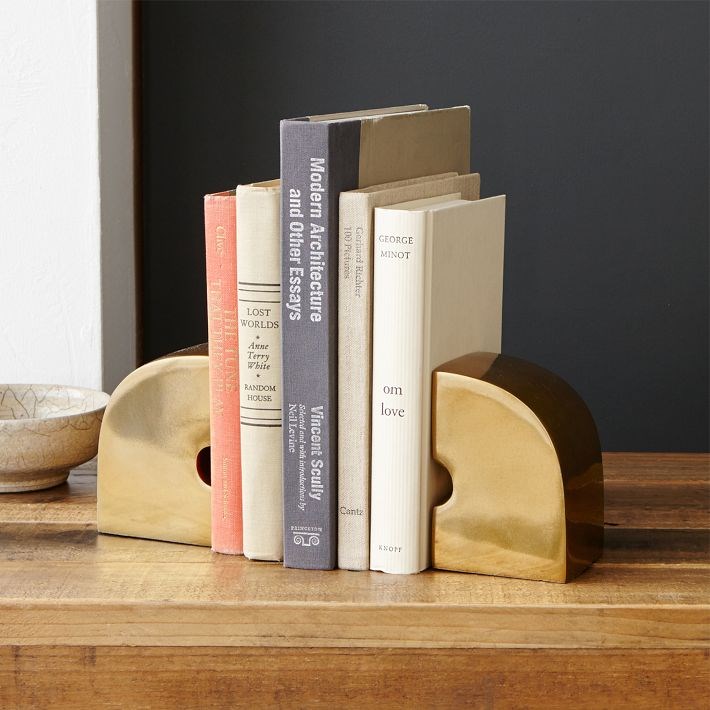 A pioneer in geo forms, ferm LIVING offers a wide array of sculptural finds. If their current collection is this fabulous, we can't wait to see what they unleash for fall!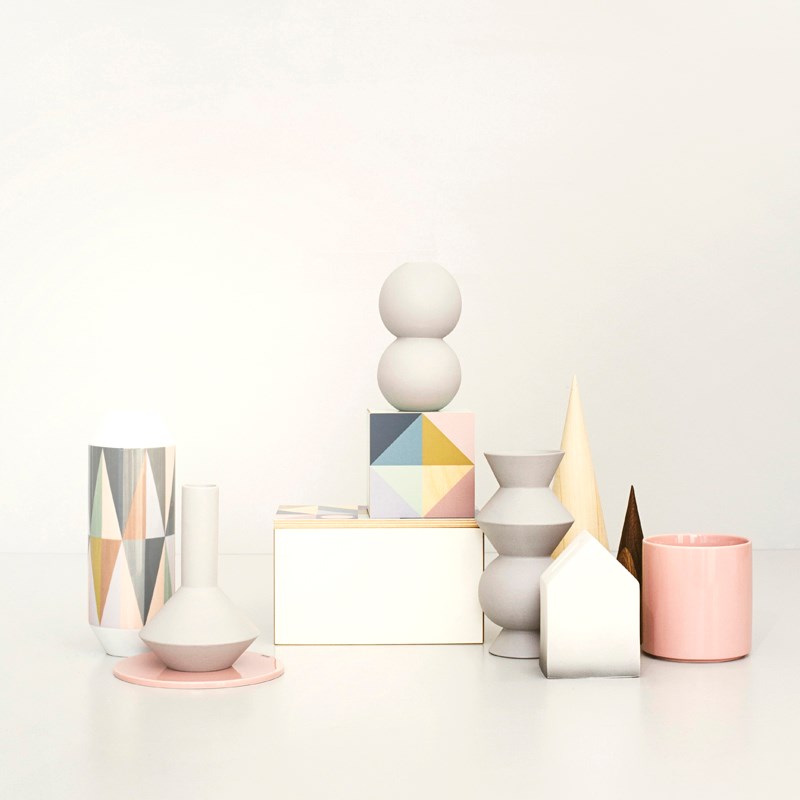 The hexagon is one of today's hottest geo forms. This Honeycomb Wall Shelf from The Land of Nod groups three of them for a bold interplay of shape and color: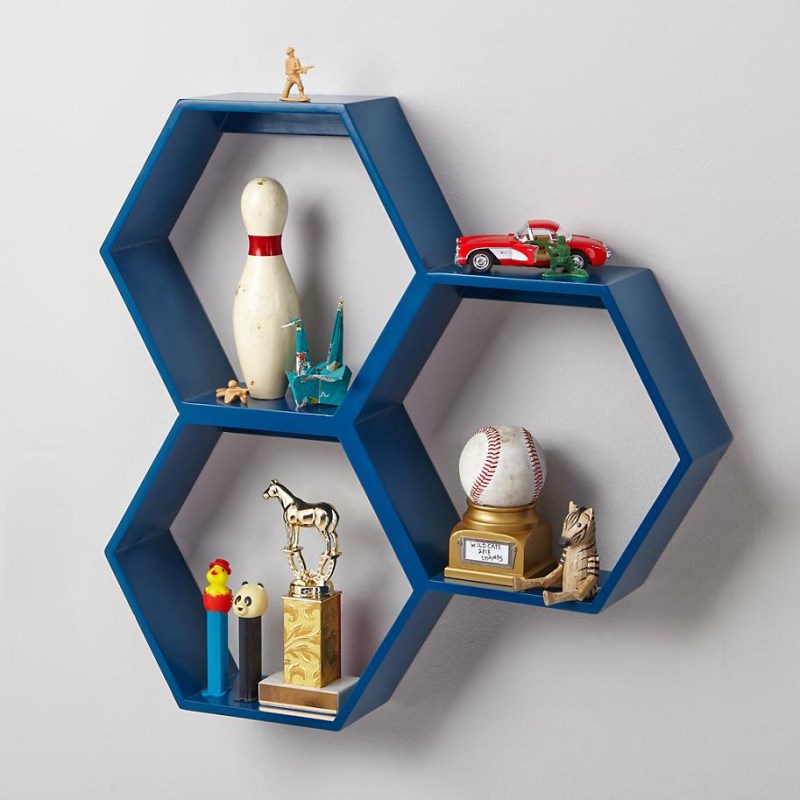 Diagonal Lines
From slanted wood to enlarged chevron patterns featuring large sloping sections, these days it's all about the diagonal. This Black Stripe Cushion from ferm LIVING is a sure sign of diagonal fever!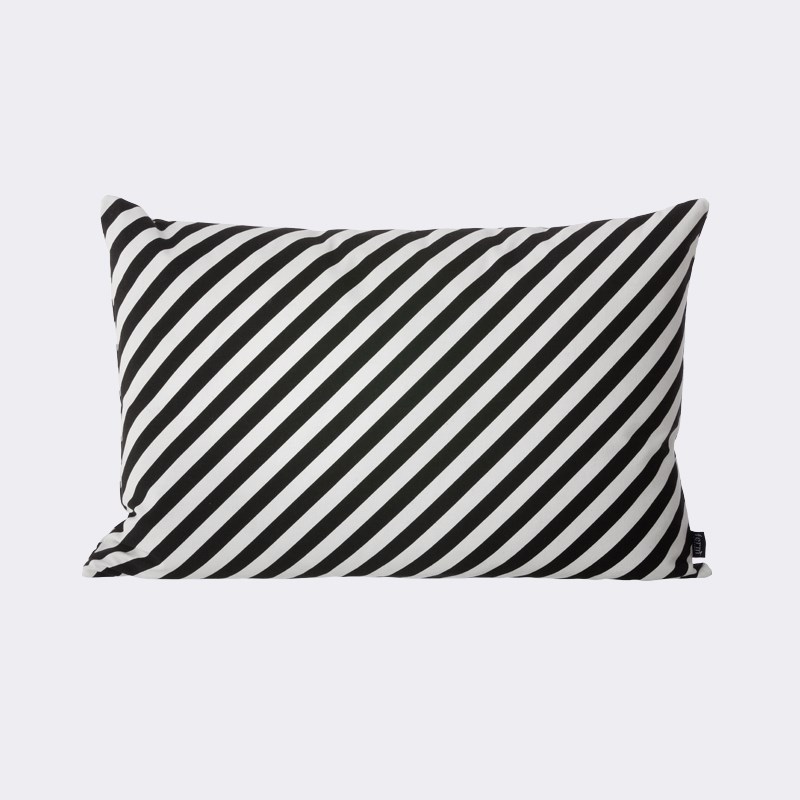 This Ruffled + Ruched Quilt + Shams in Peach Rose from West Elm bring diagonal lines to the bedding realm. If peachy hues aren't for you, take note that this design is available in a variety of colors.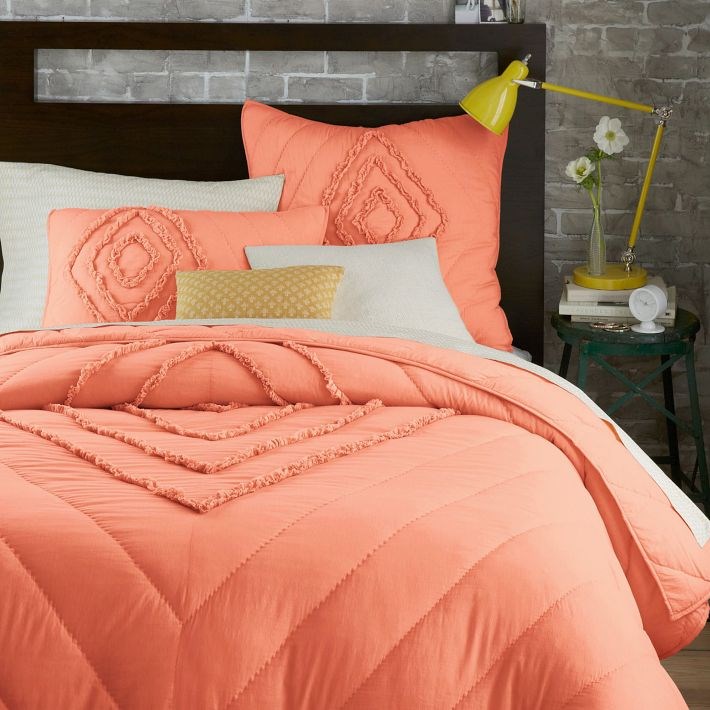 Diagonal stripes are alive and well in this Tailored Rug from The Land of Nod. So is teal green, a color to be on the lookout for this fall:
Brush Strokes
Have you noticed the growing popularity of abstract designs of the soft-edged variety? It's as if someone took a paintbrush and covered the canvas (or the pillow) in carefree strokes. The colors vary, but the look is modern and creative. Below we see the Flash Mob 16″ Pillow from CB2 (the pillow at the far right):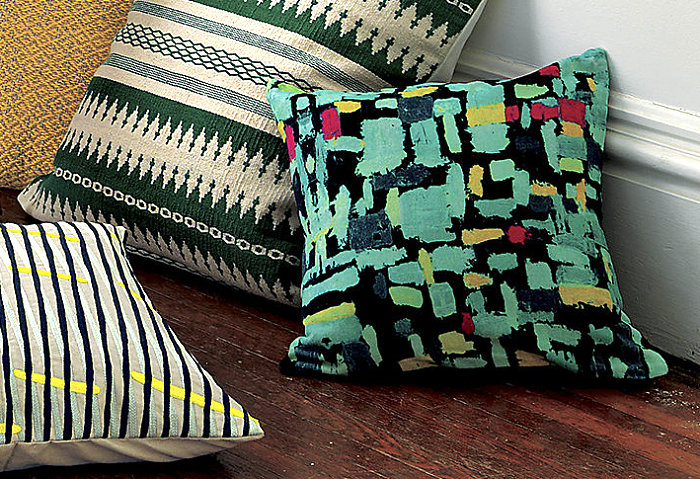 Color blocking combines with soft edges in the Steven Alan Abstract Crewel Pillow Cover in Rose Bisque from West Elm. Modern art meets the latest in interior design: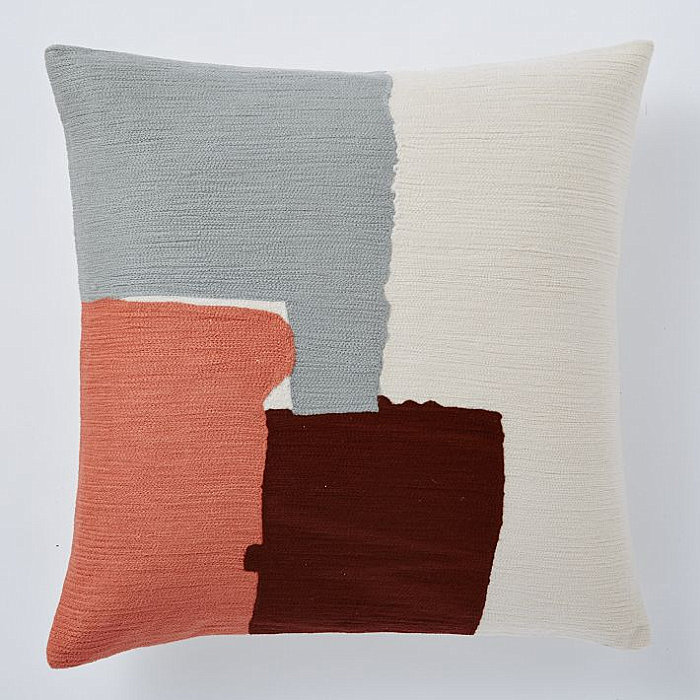 This Washed Chevron artwork by Minted for West Elm epitomizes brush stroke style: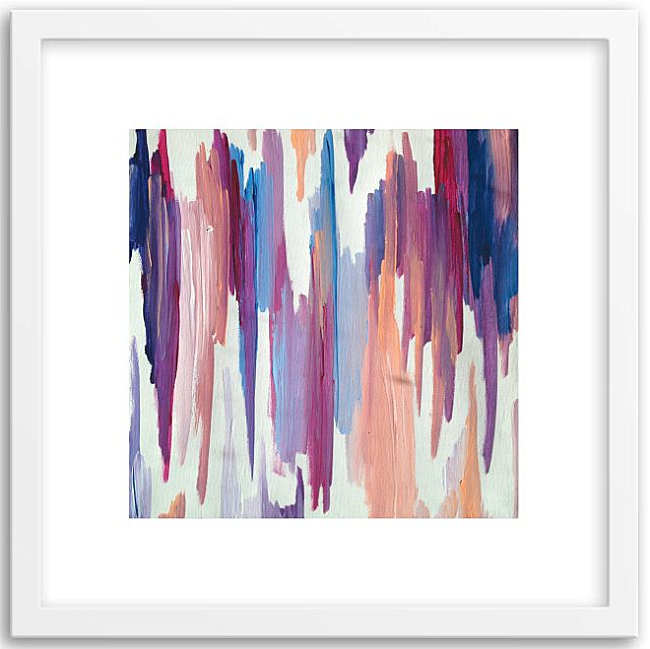 Creature Features
Gone are the days when birds were the fairest of them all. Don't get us wrong–birds will always be in style. But these days other creatures are in the spotlight, from dogs and cats to safari animals. These Rhino Bookends from The Land of Nod are kid-friendly and fabulous.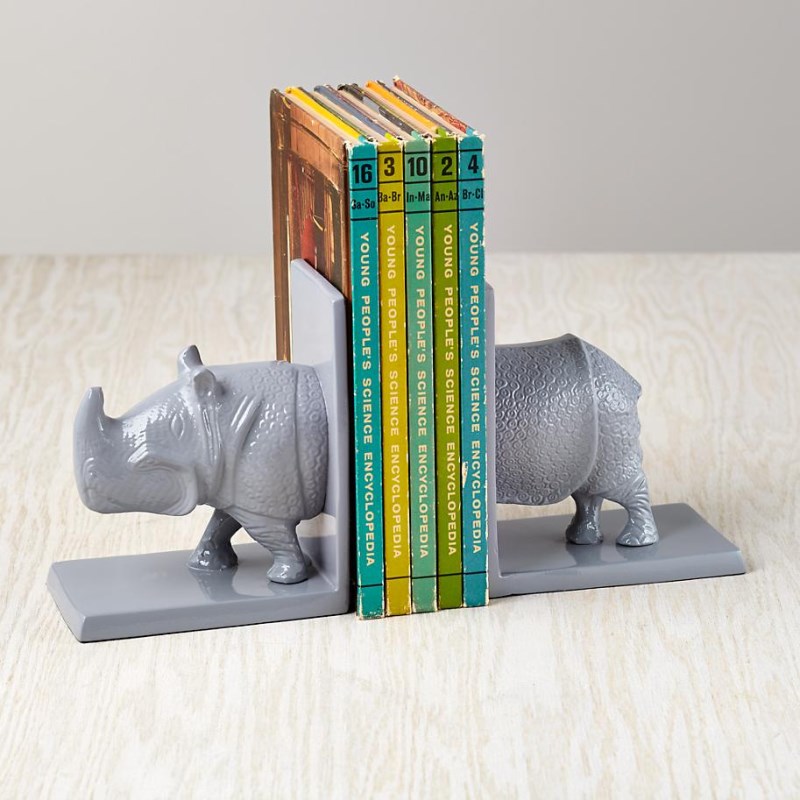 Jonathan Adler makes everything chic! We love his use of brass and unconventional animals when it comes to shiny decor. Below we see the Brass Dachshund Ring Bowl, along with a trio of other creature finds.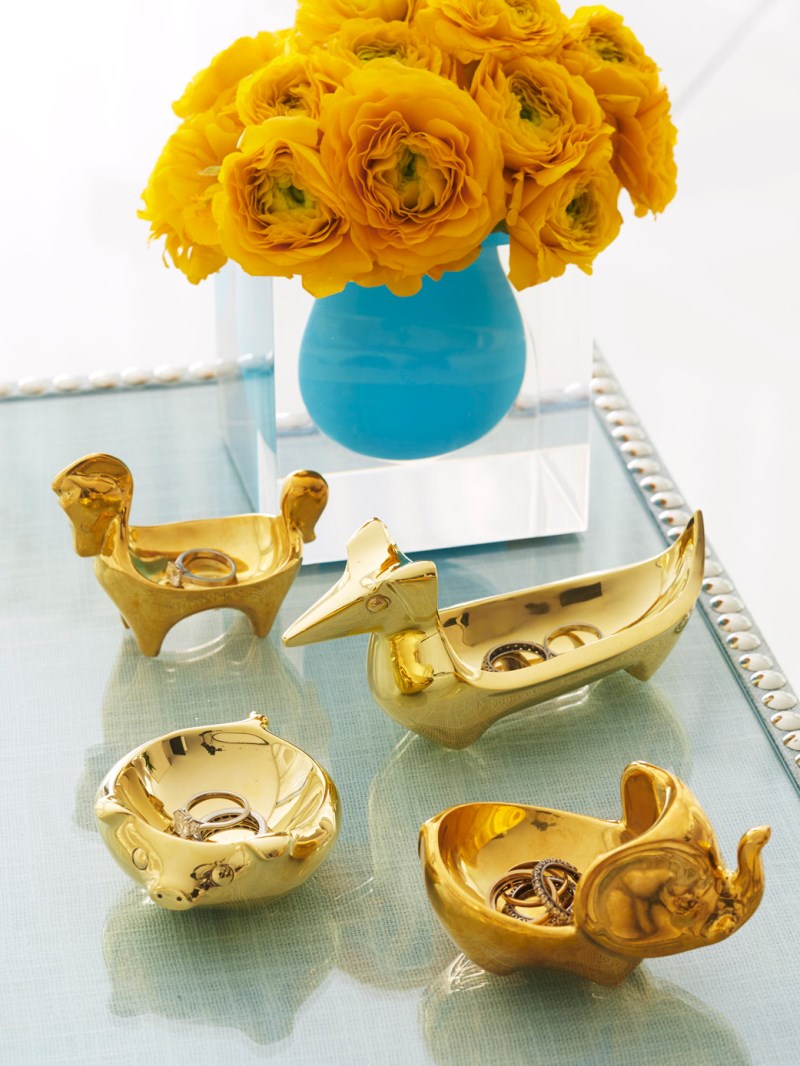 As fall approaches, be on the lookout for the trends above, from mixed materials to an array of quirky animal decor finds. Don't feel the need to exclusively embrace one style. For example, the precision of geo forms can be contrasted with the relaxed feel of brush strokes for an interesting interplay of motifs. We'll continue to profile the top decor finds for fall as the balmy heat of summer turns to the invigorating breeze of autumn!