There's nothing I love more than finding ways to create a relaxing vibe at home. And there's no place that can facilitate a spa-style feel quite like the powder room. Fresh greenery, decadent soaps and artful vignettes are a few of my bathroom staples, and switching things up for summer is my current obsession. Today I'm spotlighting 10 powder rooms that are swimming in summer style. But don't expect to find anchors, ropes and sailboats. The summer bathroom style featured below is a bit more subtle. And tropical! In fact, it just might be enticing enough to outlast the current season…
A Touch of the Ocean
I've always wanted a water feature in my backyard! A pond, a waterfall, or a fountain would be nice. While I may have to wait a bit longer before I make that dream a reality, I can always enjoy the soothing sound of the shower in my powder room. Water is healing and rejuvenating, so why not enhance bath or shower time with reminders of the ocean's beauty? Let's daydream a bit, shall we? My inspiration for today's post: this Mexico City patio, featuring a Jacuzzi. [from Ike Kligerman Barkley]
If there's not a palm tree a foot away or an ocean view from your tub, why not go with a touch of aqua and some extra shower heads? The powder room below designed by Jennifer Post features painted turquoise panels. [photo by Ken Hayden]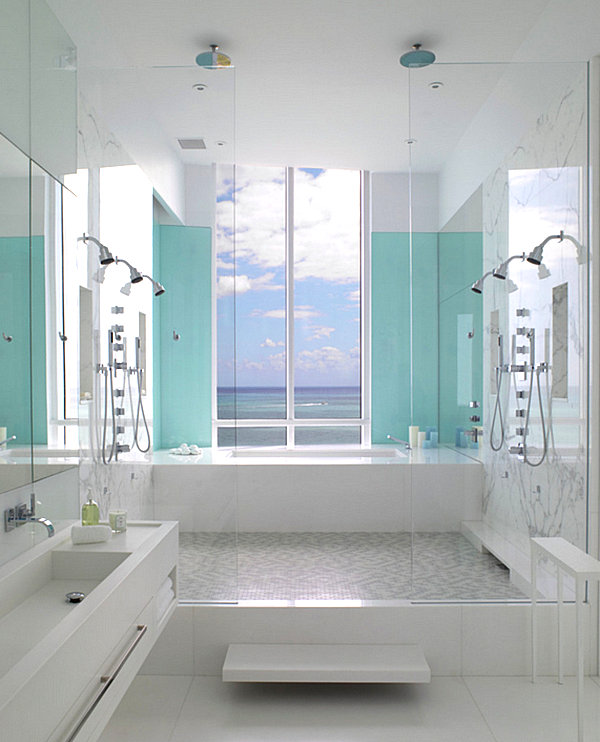 You can always bring in a rug that evokes the magic of the sea. My personal favorite is this Ocean rug from Angela Adams. It's like something out of a fairy tale: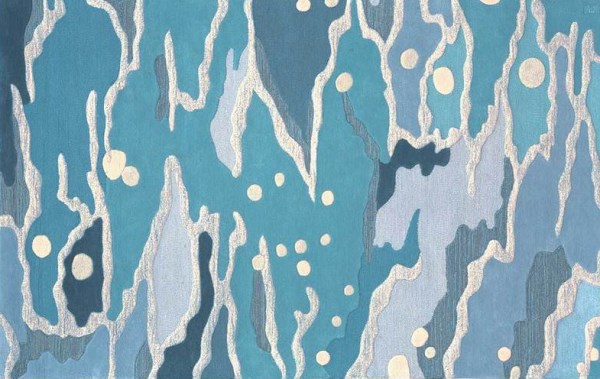 Have you considered adding some refreshing tile? The icy shade of the modern tile below is accentuated by vivid orange towels and bath products. [photo by Margot Hartford via Gast Architects]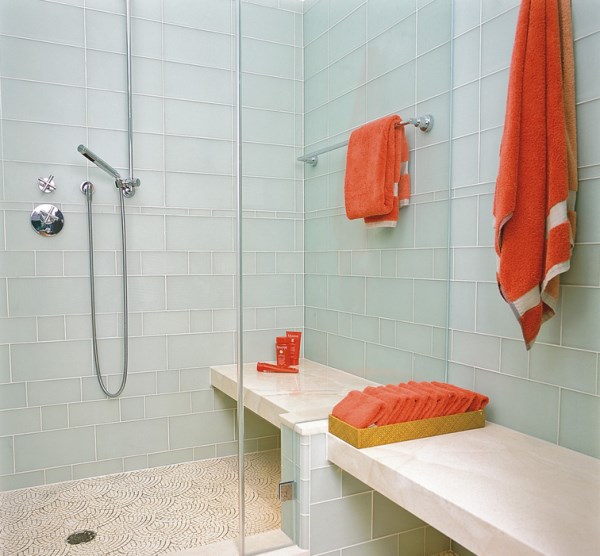 Tropical Greenery
Our next dreamy image is this plant- and tile-filled bathroom in the beach house of Adrianna Lopez. Ocean blue meets vivid green in this breezy space. [from Granada Tile]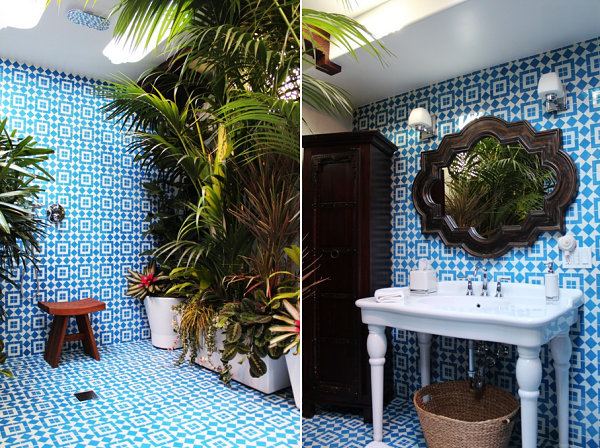 What if you surrounded your tub with plants? If your bathroom can't house a tree (oh, how I wish mine could), consider an array of potted tropical plants. I suspect that adding them to your bathing area will instantly lower your blood pressure! [from Eduarda Correa]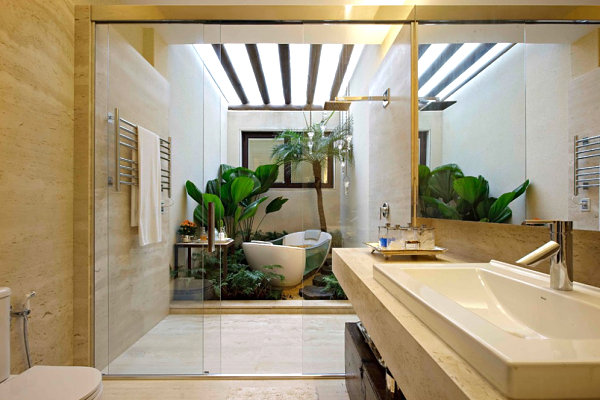 At the very least, try placing some tropical leaves in a vase by the sink. My personal favorite: monstera, shown below! This lovely pic was featured in a previous Decoist post on tropical centerpieces. [from Cookie + Kate]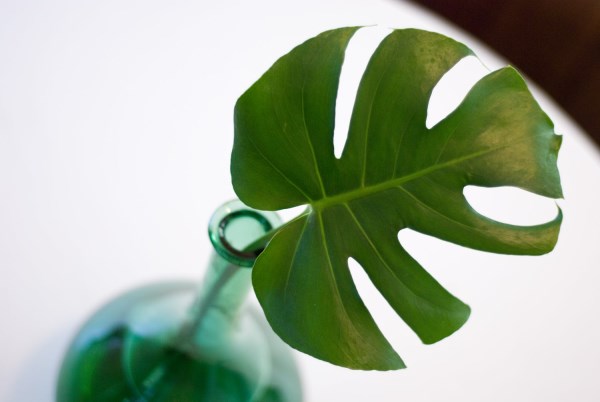 Resort-Inspired Style
What if your bathroom showcased oodles of beachy resort style? Our dreamy image of choice: this powder room with a view. A few tranquil details such as candles, rolled washcloths and potted grasses create a peaceful haven. [from Associated Design Co]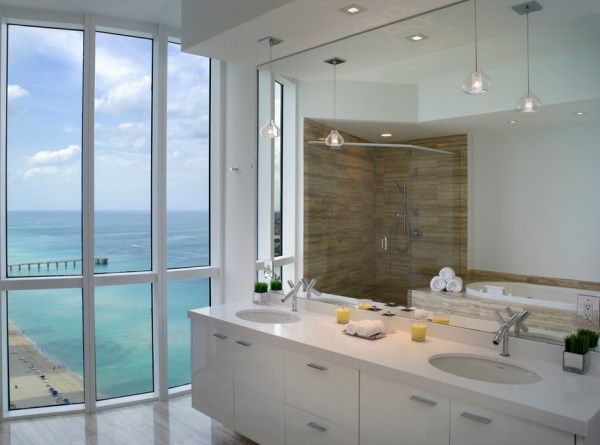 Sea sponges and specialty soaps can also create a relaxed feel, especially if you actually use them. A little tip: purchase some extra soaps for display, but make sure you rotate them into use when you once again add to your collection. Bath products are meant to be enjoyed! [from Housetohome]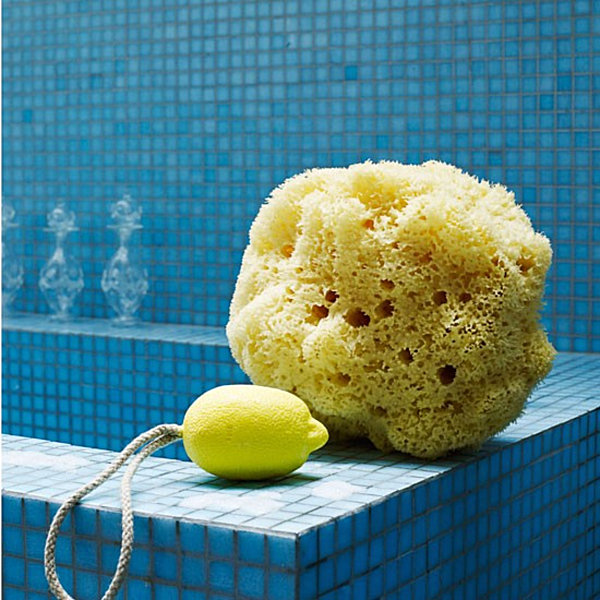 Storing grooming products behind closed doors is great for unsightly items with loud labels. But grouping beautifully packaged lotions, soaps and bath gels in earthy baskets creates a decadent feel rather than a cluttered one. Make your powder room as enticing as a hotel spa! [from Eduarda Correa]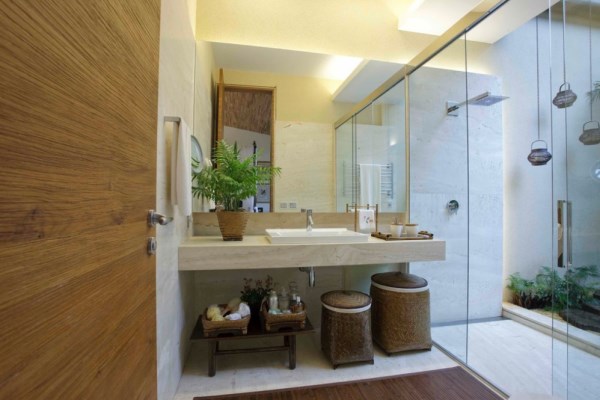 Are you dreaming of summer relaxation? Me too. Can't wait to get started on my powder room makeover!