Greetings, Decoist Readers! It's been awhile since we've profiled the latest in modern nursery design. And there's a LOT to celebrate! New collections, new colors and new patterns are helping to create a series of ever-evolving trends. For example, while flag banners and wall decals aren't as visible as they were a few years ago, fruit motifs are still very much in style. Curious about other developments? Read on for all the details…
Modern Nursery Style
Let's get started by exploring a few of today's top modern nursery styles. Gone are the days of matchy-matchy nurseries where a clear theme reigns and everything fits like a perfectly coordinated puzzle. What's replacing this fading concept? An eclectic mix of interesting pieces that reflect design preferences and interesting trends. Unexpected details can add child-friendly flair. Below we see the Carousel Crib in Kelly Green from The Land of Nod, available in a variety of colors. This vivid green hue is the perfect fit for a space bathed in neutrals.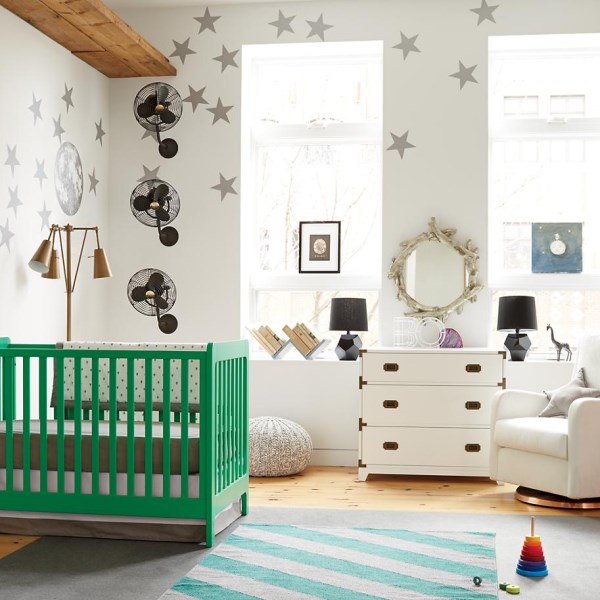 Ombre drawers, pendant lighting, a patterned rug and a table with a neon base are all points of interest in this next featured nursery from The Land of Nod. The Elemental Crib in White, Modern Cube Lamps and Chromatic 3-Drawer Dresser in Pink add function and style to the space: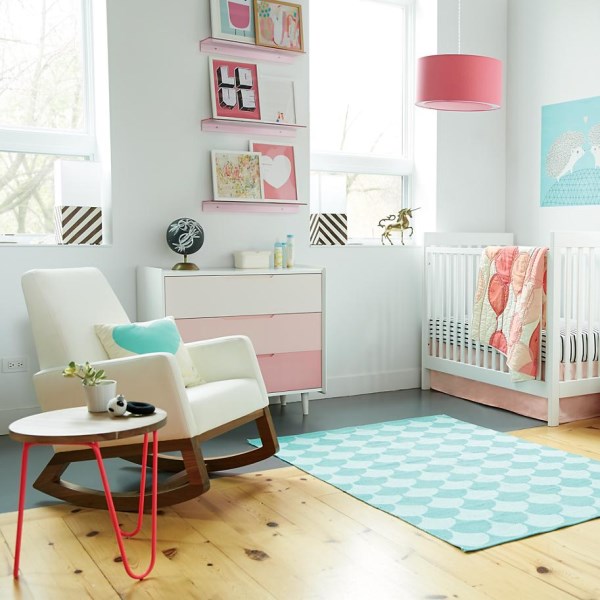 Many modern nurseries feature a mix of textiles. Yes, a variety of patterns can live together in harmony, especially when anchored by classic pieces like the Brimfield Crib from The Land of Nod, shown below: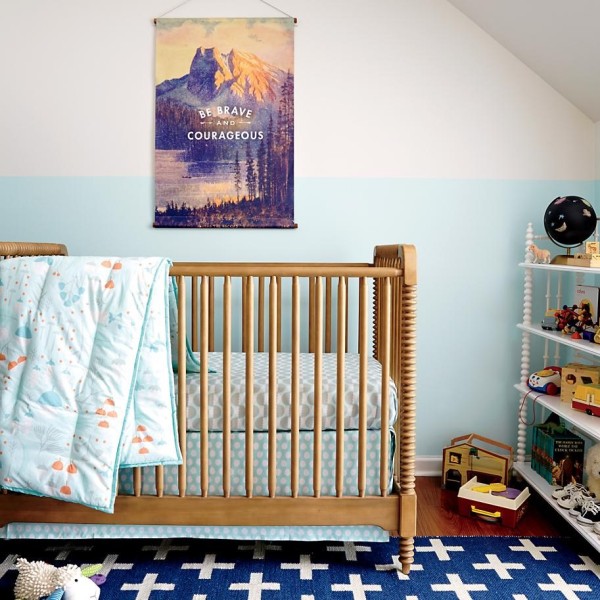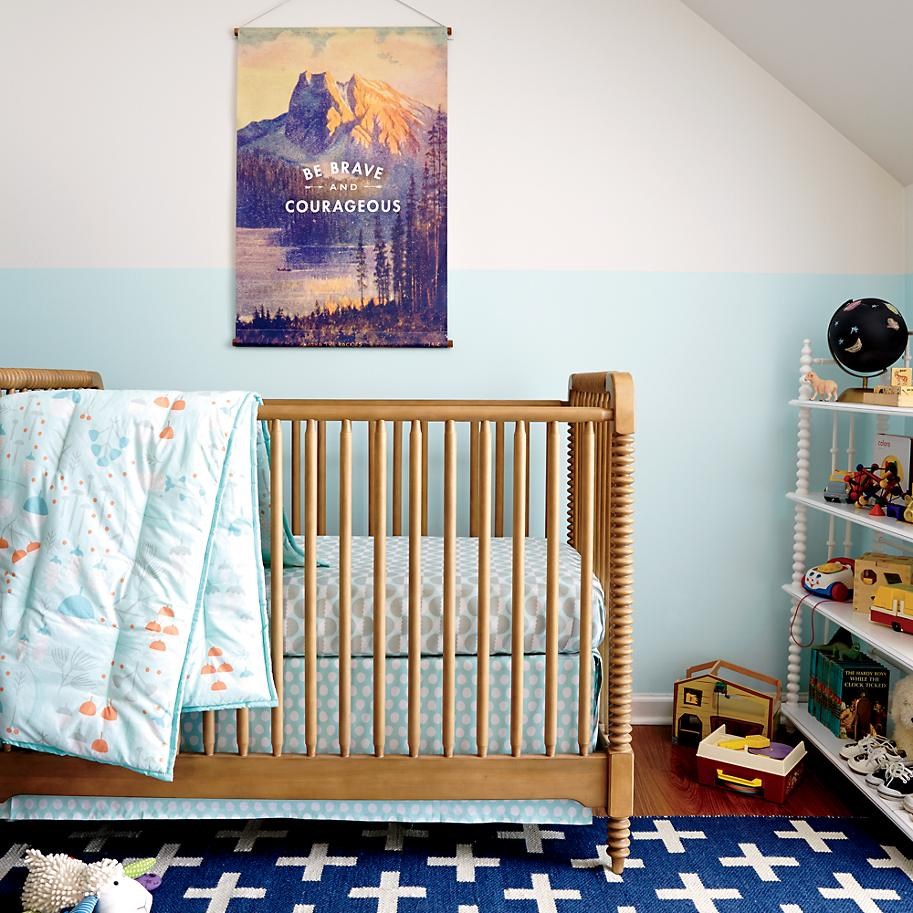 Stripes, prints and timeless patterns can all seamlessly blend for a rich, lived-in feel that reflects the personality of the family (and the baby)! Many design enthusiasts feel that it's more natural to mix and match rather than make sure everything is a perfect fit. Why coordinate drapes with the crib sheet when you can introduce a variety of patterns? [from Lonny]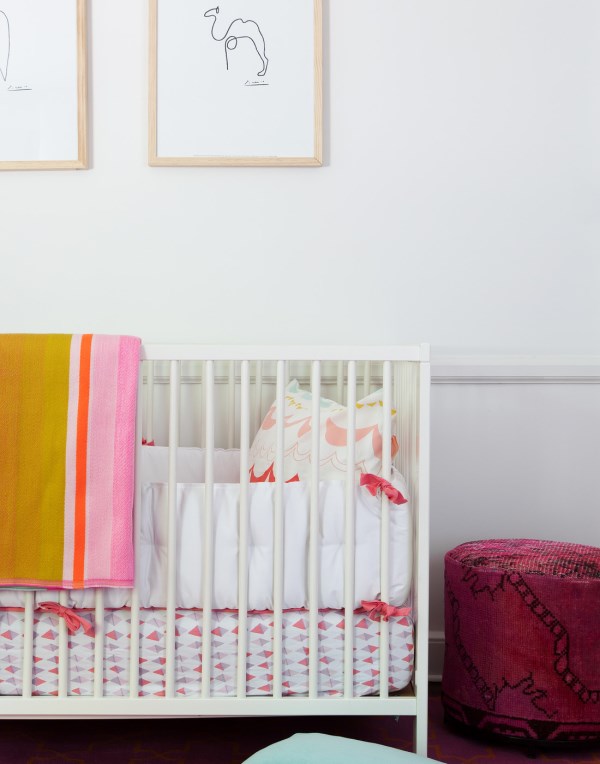 Are you in love with a certain decade? Are you a fan of Mid-century style? You can always include iconic pieces from your favorite era in your stylish nursery. [from Lonny]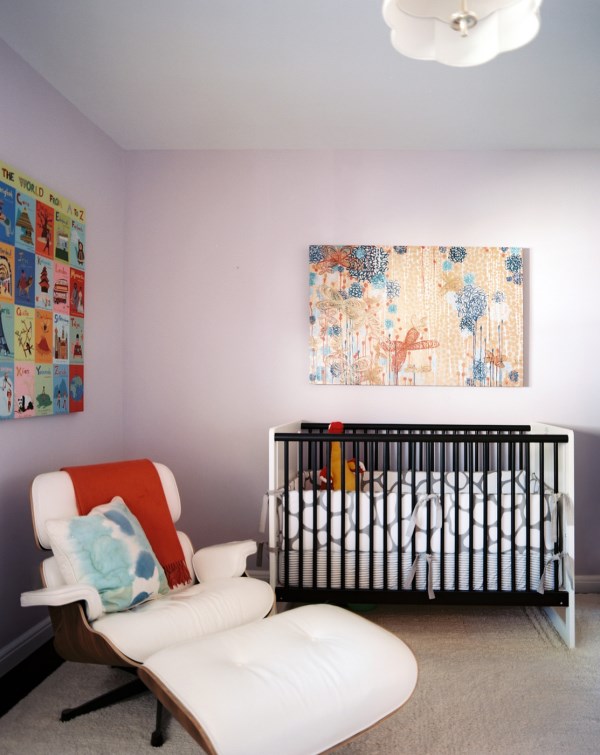 Don't hesitate to layer white on white for a contemporary look. Add a few pops of color on pillows, small furniture and mobiles, and you're set. The nursery below is modern and child-friendly. [from ZeroEnergy Design]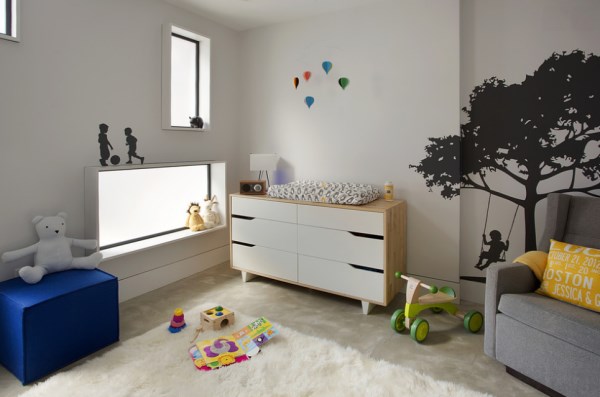 Another current approach to nursery decor: creating a room that fits with the personality of your home, and then adding an array of child-appropriate details. For example, the space below features earthy accents and neutral tones, but there's no doubt that it's a baby-friendly room. [from Lonny]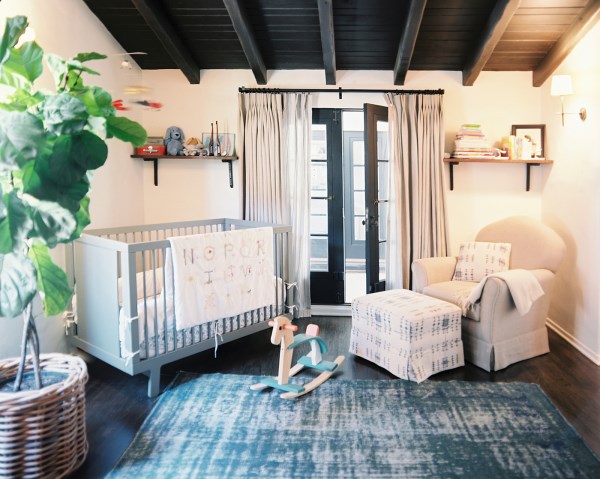 Nursery Bedding Ideas
Are you getting the sense that modern nurseries are filled with interesting details rather than perfectly coordinated colors and patterns?! With that said, it never hurts to have your pick of matching bedding items. You can always pick out a piece or two, then mix them with key items in solid hues. When it comes to nursery design, these days it's all about fruit. And it's hard to find anything more delicious than this Farmer's Market Baby Bedding from The Land of Nod. From a quilt with printed strawberries to a fitted crib sheet available in three fruit-themed prints, this bedding designed by Erin Jang is fresh and festive: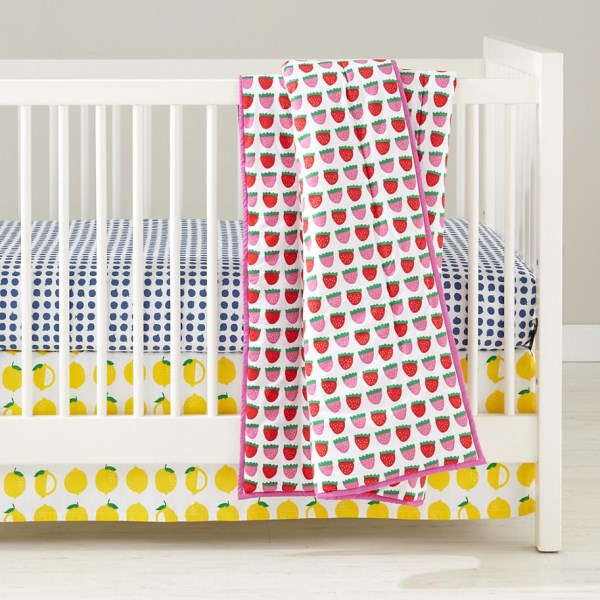 Dessert motifs are one of today's most popular trends. Bring on the sprinkles! Channeling a bit of the '80s, this Sundae Best Crib Bedding from The Land of Nod features sprinkle sheets, an ice cream quilt and a multi-patterned crib skirt. Designed by Joy Cho of Oh Joy!, it's a "sweet" choice for your modern nursery.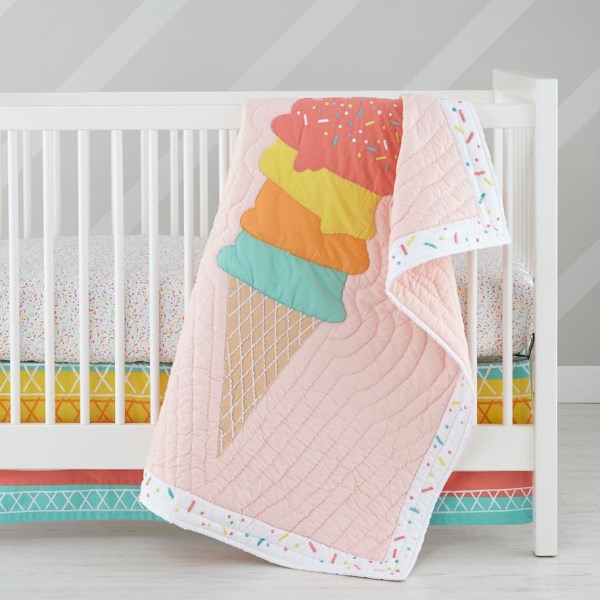 There's nothing like the wonder of the universe. That's why this Galaxy Nursery Bedding Collection from DwellStudio is so enticing (yet subtle). Stars create a whimsical nursery statement, and the soothing palette is calming and classic.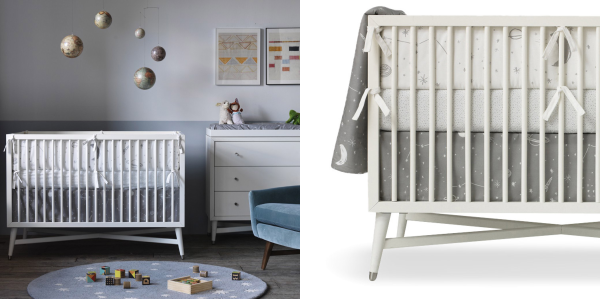 Simple yet colorful, this Skyline Nursery Bedding Collection from DwellStudio represents another popular trend: vivid outlines and repetitive patterns, much like we saw with the fruit-themed bedding above!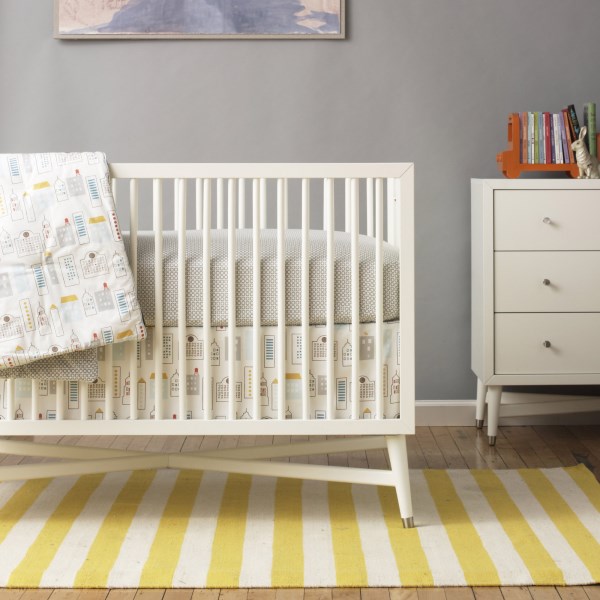 Modern Nursery Furniture and Decor
We end with a collection of furniture and decor items that help give the modern nursery personality and style. For crib ideas, see the images in the first section of the post. In addition to cribs, dressers are nursery favorites. A dresser is the perfect place to store clothing and display decor and other useful items. Not to mention, the top of a dresser can also double as a changing table! Below we see the clean-lined Mid-Century French White Dresser from DwellStudio: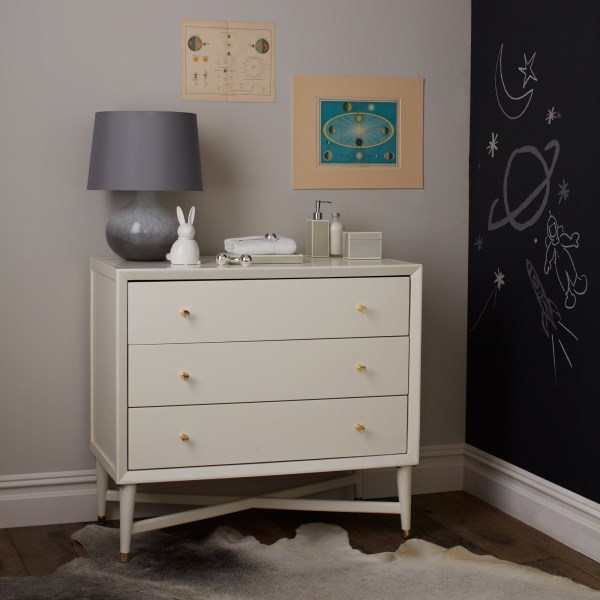 But if you DO opt for a free-standing changing table, there are some fabulous options at the ready, including the GULLIVER changing table from IKEA. We're loving the built-in shelving that can store a range of necessities for Baby.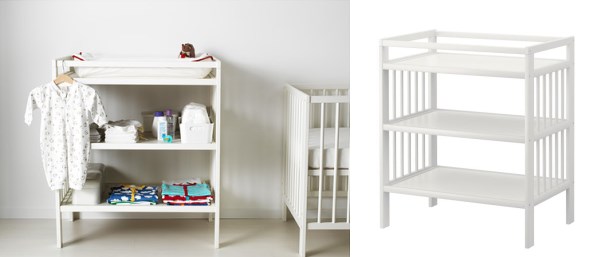 Will your nursery have a rocker or glider? You'll likely want a side table for stashing key items and toys. Look a little closer at the nursery below, and you'll see the Blake Raffia Side Table in Natural from Serena & Lily, complete with a beachy-meets-modern look and a Parsons-style frame. A lacquer finish adds shine, and two levels provide plenty of room for display options.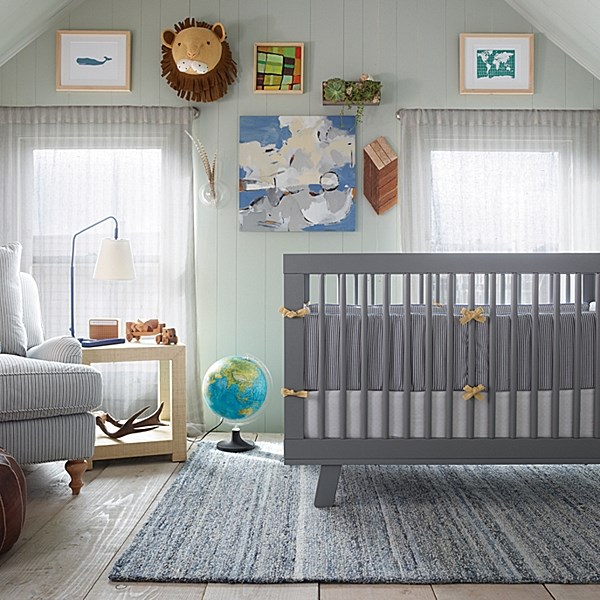 Many design enthusiasts enjoy selecting a stylish rug to complete the nursery experience. A rug is a great way to add color and pattern, as shown by this classically stylish Draper Stripe Brick Red Rug from DwellStudio: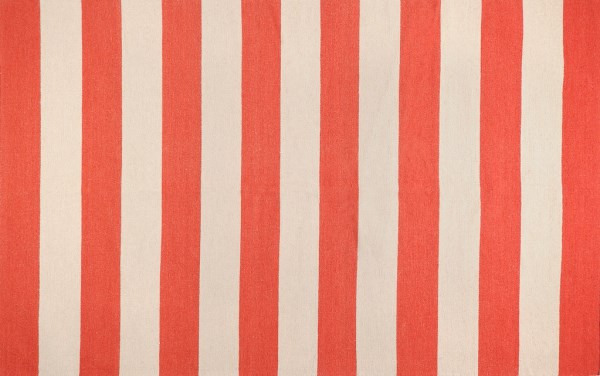 Introducing a trendy pattern can also spice up a modern nursery. This Feather Rug in Corsica and Emerald from Serena & Lily puts an updated twist on the beloved herringbone and chevron patterns that have captivated the design world in recent years.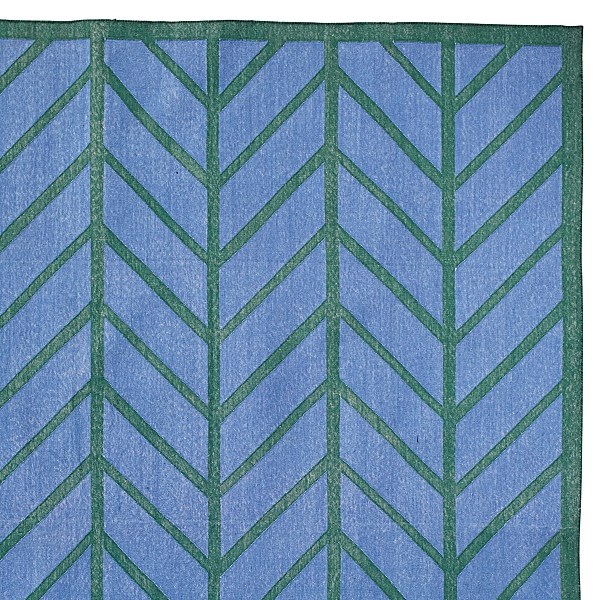 Don't forget a colorful mobile! This geo selection from Niche Interiors was purchased at the MoMA Store. Doesn't it add an edgy dash of color?!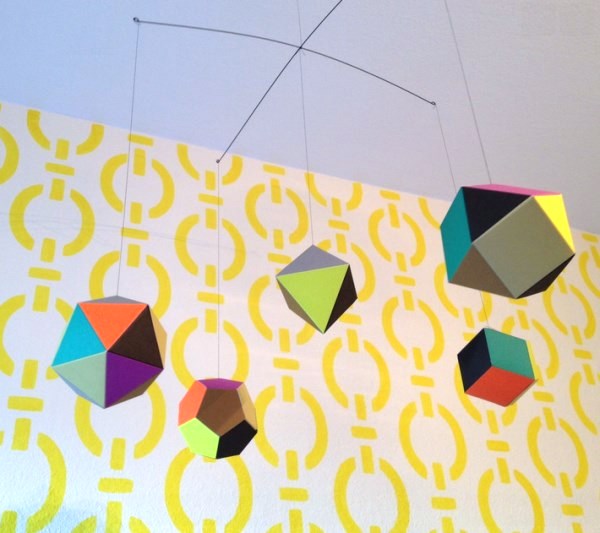 When it comes to decorating your modern nursery, don't worry about making sure that your space is perfectly in style or on trend. Take a look at what's out there, and then celebrate what you love. Piece together an interesting collection of items that speak to you, and make sure the room addresses all of Baby's needs. Happy Decorating!