When it comes to decorating possibilities for the modern nursery, many user-friendly options await you! What could be easier than peel-and-stick decals that can be applied and removed without doing any damage to the wall underneath? A perfect solution for renters, wall decals can transform a room into a magical wonderland with a few pieces of vinyl.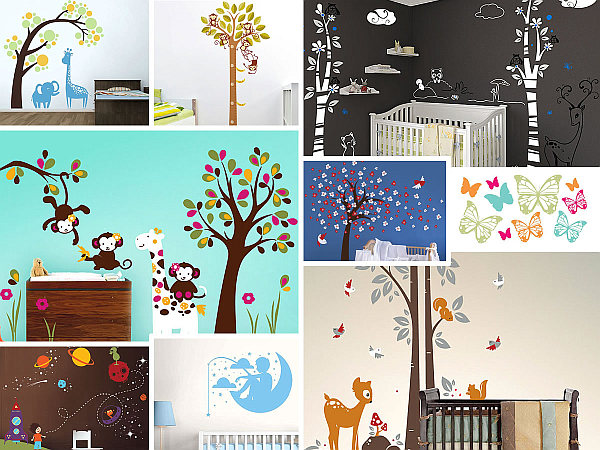 Today's featured decals are organized by their popularity in boys' and girls' rooms. But don't be quick to stereotype–who's to say that baby girls can't enjoy blue elephant decals or airplane motifs? Furthermore, a bird-filled tree decal can be just as appropriate for a boys' nursery as it can for the room of a baby girl. Don't take the categories below too literally. Be creative, and find ways to incorporate your desired motif into the nursery of your dreams!
Nursery Wall Decals for Boys' and Girls' Rooms
We begin with a set of decals that are perfect for boys' and girls' rooms alike. The White Safari Animal Decals pop against painted walls. You will see many ultra-colorful selections in today's post. This decal set gets draws strength from it's simplicity. Because sometimes limiting design to one color is the best way to celebrate shape and form! [from Pottery Barn Kids]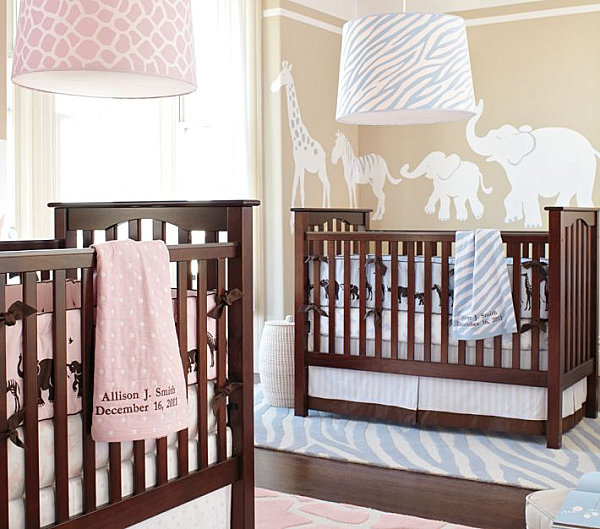 We now travel to the jungle to view the Banana Loving Monkeys in a Tree Growth Chart, a decal set from Dali Decals. Not only is the chart useful, the stylized design instantly sets a playful, fun tone!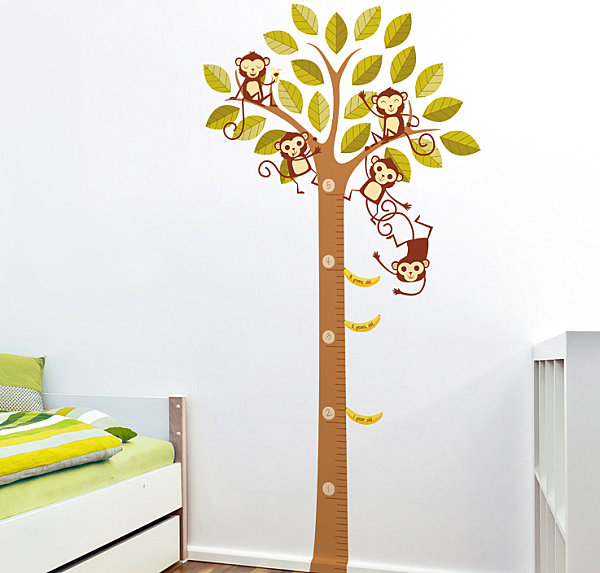 Ready to be transported through the universe? Outer Space Wall Decals from EvgieNev will get the job done! These matte vinyl decals add a whimsical element to the nursery. As you might imagine, they really pop against vibrant walls, much as stars shine against the dark sky at night!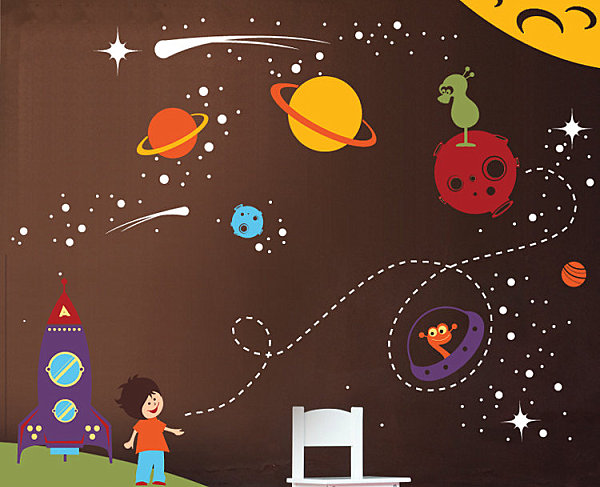 Sometimes there's pure magic in the most basic of designs. Like this set of 6 Big Fluffy Cloud wall decals. And don't think the walls have to be blue for these sticky statements to work their magic! There's something dreamy about a sky of white puffy clouds. Why not bring them into the nursery? [from Dali Decals]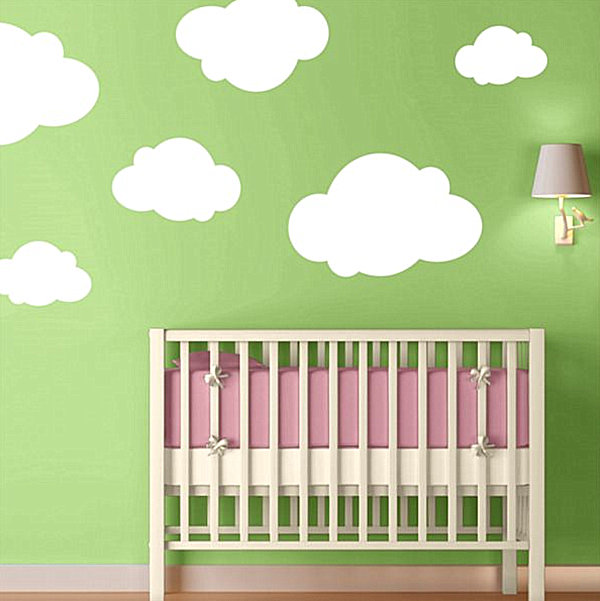 It's all about the forest with the Woodland Animals Scene nursery wall decals, complete with owls, a deer, a fox, and yes, a raccoon. Throw in some foliage and a few artistic clouds, and you have a wall mural effect. Note how these decals veer into sophisticated territory, thanks to a dark wall color that allows the white forms to pop. [from EvgieNev]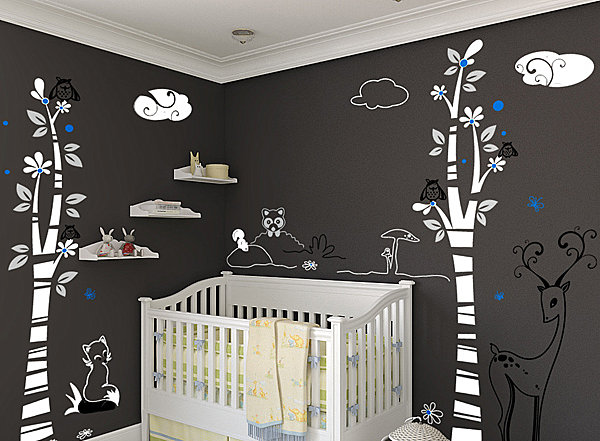 The Squirrels on the Tree with Bambi Baby Deer and Birds decals below are a wonderful combination of retro charm and indie style. Blue, red and gold combine to create an irresistible blend of muted primary colors. Throw in an equally irresistible mix of creatures, and the result is enchanting. [from EgvieNev]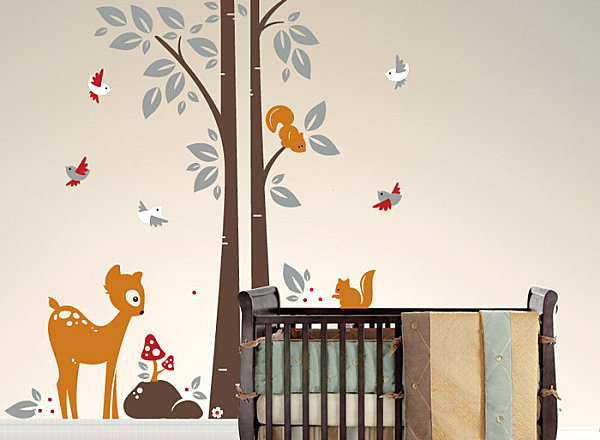 Nursery Wall Decals for Boys' Rooms
Ready for some decal designs that would be right at home in a baby boy's room? How about Boy Fishing on the Moon – Stars & Clouds, which would not only work for Baby, but could transition nicely into the toddler years and beyond. Plus, it's simply magical! [from Dali Decals]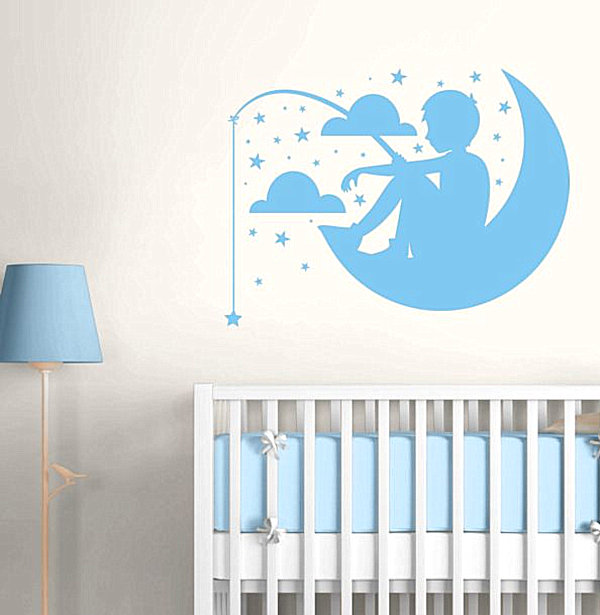 We return to the land of creatures, this time of the safari nature. Animals under a Leaning Tree combines the retro geometry of dots with playful animal friends that are sure to bring a smile to the face of your little one. [from Dali Decals]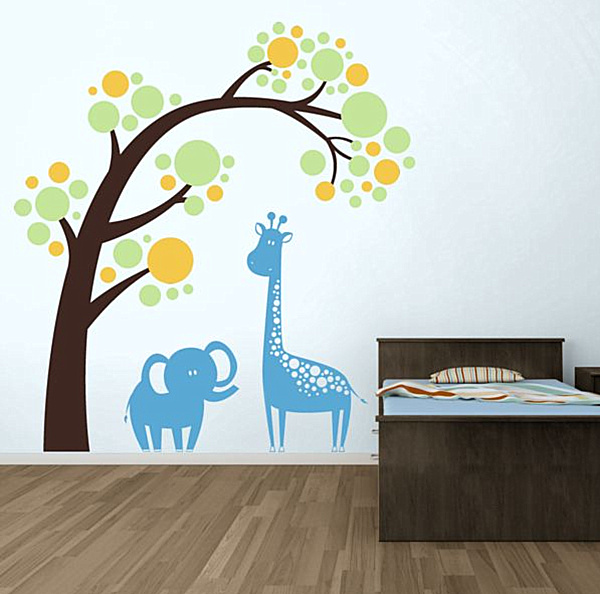 A whole herd of elephants stars in the next vignette, thanks to the Branson Elephant Decal from Pottery Barn Kids. A crafty look is achieved by stitch-like borders. A homemade effect is the result, which makes this selection a clever departure from many of today's ultra-bright contemporary decals.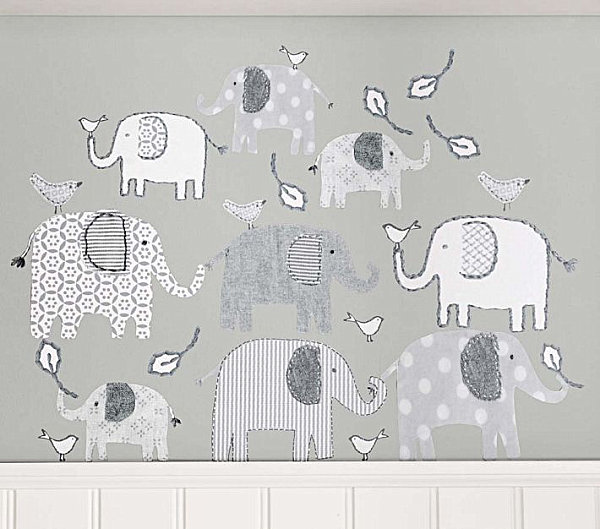 A little trend alert: elephants and birds are all the rage. Especially when little birds are balanced on the backs of elephants! We see this motif on poster art, T-shirts, and now decals. We think you'll agree that the Elephant Pair & Little Birdie Wall Decal below is nothing less than adorable. [from The Boys Depot]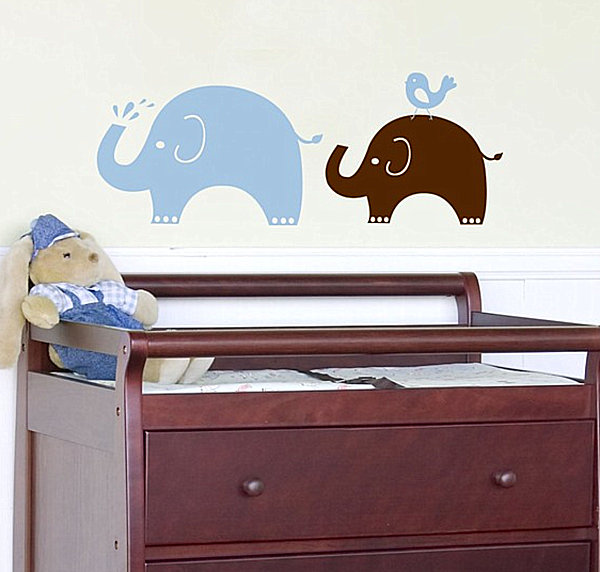 Ready to get personal? The Airplane Wall Decal with Personalized Banner allows you to personalize the design with your child's name, thus personalizing the nursery! [from The Boys Depot]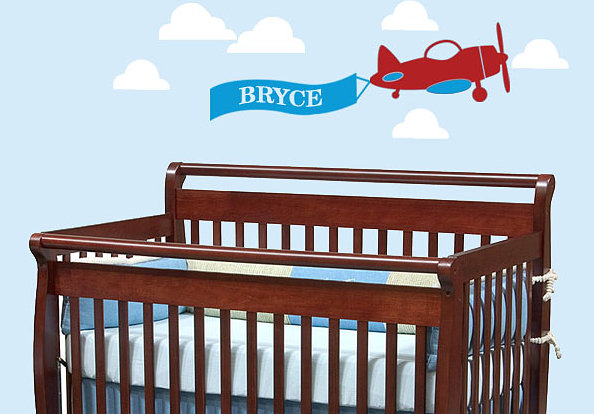 We wrap up our boys' nursery decals with the All Aboard! Fabric Train Wall Decal from The Boys Depot. Little puffs of steam bring this design to life, as does the largest puff, which is the perfect place for your child's name. Locomotive charm is hard to resist, especially when displayed so artfully.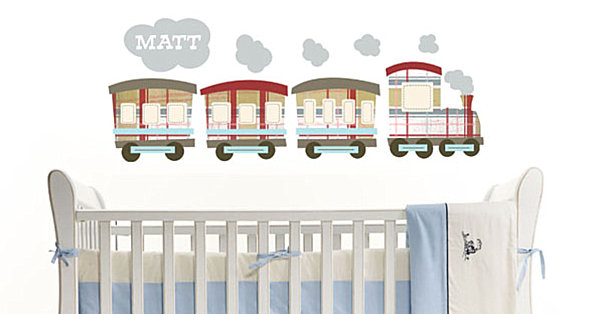 Nursery Wall Decals for Girls' Rooms
The decals below are girly and fun, so get ready for some lovely statements in vivid shades. A little shine is never a bad thing, and the Glitter Butterflies Vinyl Wall Decal Set from Bed Bath & Beyond ensures that delicate yet bright design is brought to the nursery.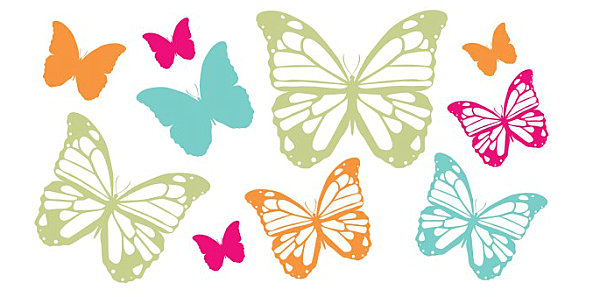 For a decal that includes a delightful tree and a handy growth chart, check out the Beautiful Blossoming Tree Growth Chart decal, shown below. Butterflies, flowers and a deer that's cute enough to star in its own cartoon are a few of the many design highlights. [from Dali Decals]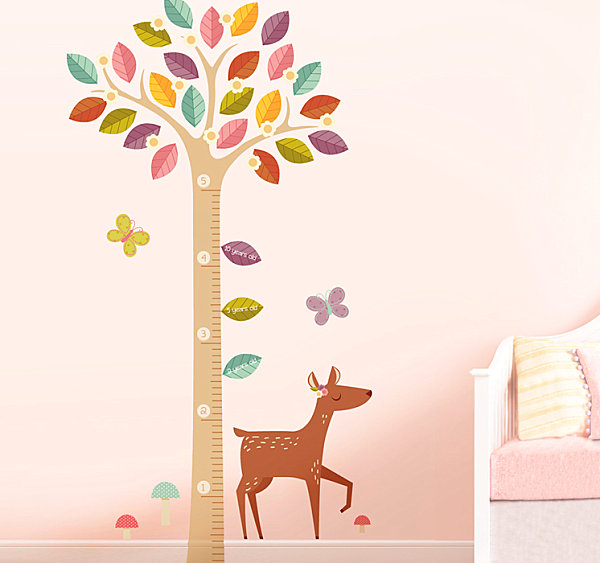 The Cherry Blossoms Tree wall decal ensures that it's always springtime in the nursery. Delicate blooms dangle from branches and float through the air, all the while little birds fly around this floral tree with outstretched branches. Ready for a beautiful daydream? This decal is a step in the right direction! [from EvgieNev]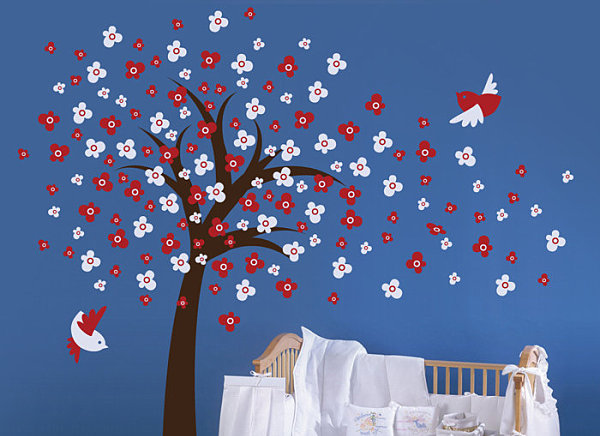 For a touch of style that makes a statement without overpowering the wall, check out the Penelope Bird Decal, shown below. Little birdies in shades of pink line the branch in this design. But don't forget about that one yellow bird that brings a dose of sunny style to the nursery! [from Pottery Barn Kids]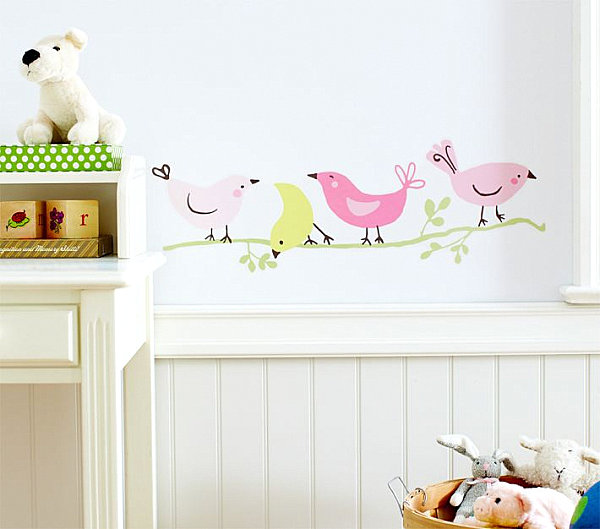 It's hard to say what we love more–the bright colors and precious arrangement of each element in the Tree with Monkeys and Giraffe decals pictured in the next image, or the way they truly stand out against the aqua wall to which they adhere! [from EvgieNev]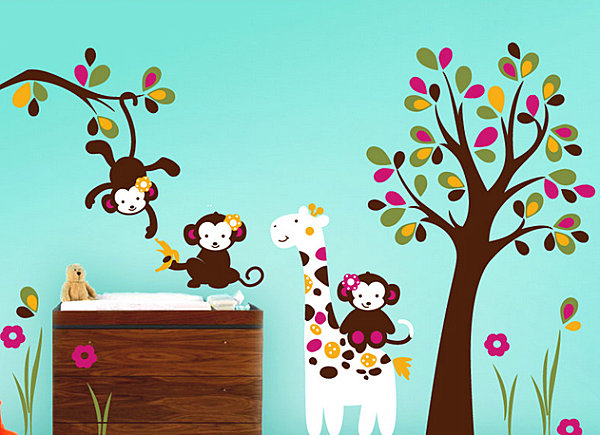 Need a decal that can work with white walls? Introduce some woodland creatures to your nursery, courtesy of the RoomMates Scroll Tree Peel & Stick Mega Pack Wall Decals shown below. This decal set combines solids, dots and other patterns to create a sense of texture. [from Bed Bath & Beyond]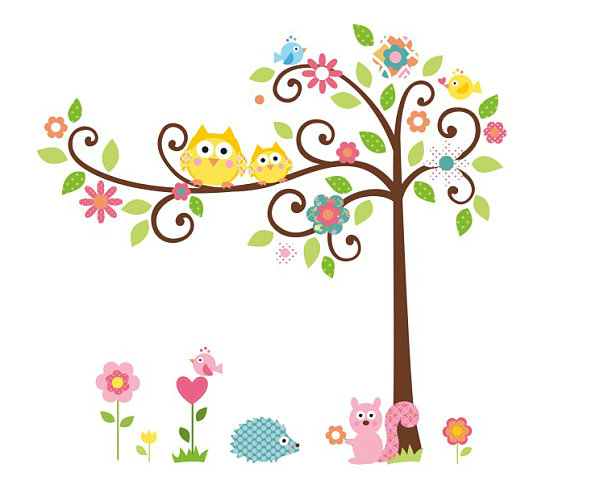 We couldn't end this blog post without featuring a personalized decal for girls! Yes, it's the Personalized Bird Decal from Pottery Barn Kids, which is just the right size for one bold accent that gets the job done without covering the entire space. Simply sweet, don't you think?!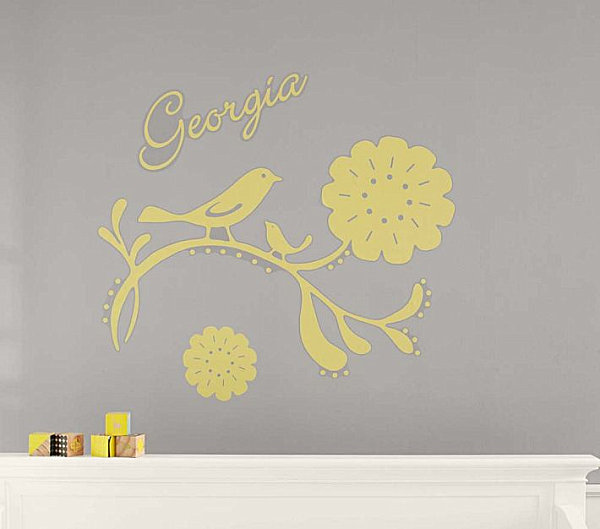 Did one of the decals above grab your attention?! Animals are definitely one of the most popular nursery themes for both boys and girls. From owls to safari friends, creature motifs are on the rise. Don't forget the fun of planes, trains and automobiles, as well as other-worldly scenes such as space vignettes. Tell us about your favorite nursery motifs and wall decals…