With the 4th of July just a little over two weeks away, it's time to talk decorations! Have you started decking the walls in red, white and blue? While you might assume that traditional is always the way to go when it comes to the 4th, there as many options as there are tastes and preferences. What style do you like best? Check out the outdoor, indoor and party table 4th of July decor ideas that follow, and then tell us about your favorites by leaving a comment at the end of the post…
Outdoor 4th of July Decor
When it comes to outdoor decor for the 4th, it's hard to resist the vintage appeal of banners. This Fourth of July Burlap Party Banner from Pottery Barn has a modern edge, thanks to the clean lines created by triangular flags: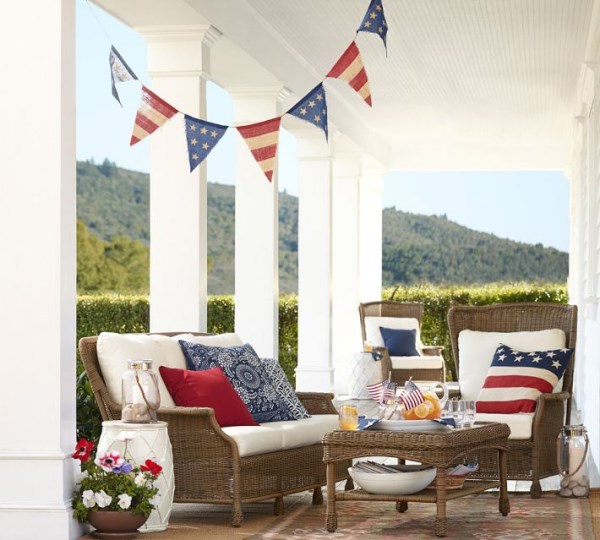 Cloth and ribbons can make a powerful statement, and a charming one at that! Use the railing of your choice as an anchor for this timeless decoration idea. [from Coconut Head Survival Guide]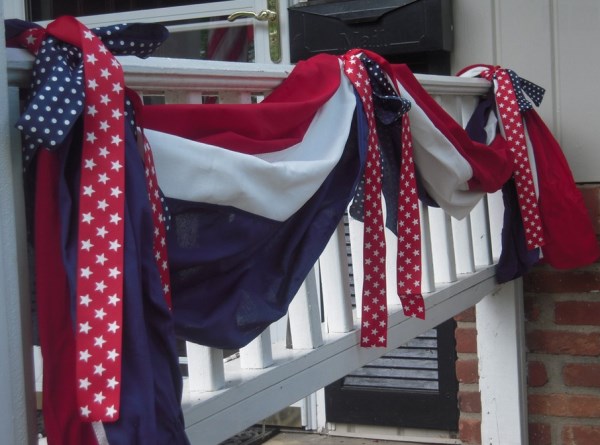 Nothing channels classic Americana like a column-mounted flag and a draping banner that accentuates your fence or front porch railing. Red, white and blue with an old school twist! [from Georgia Front Porch]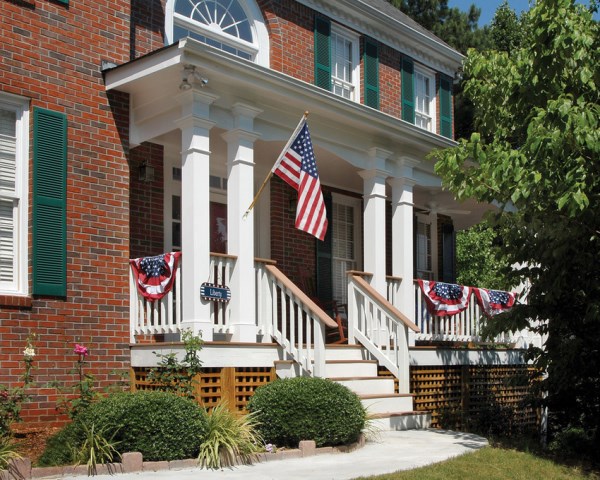 Banners and flags can also be draped from the ceiling. This symmetrical display has a clean look, as well as a vintage feel. [from Christian Gladu Design]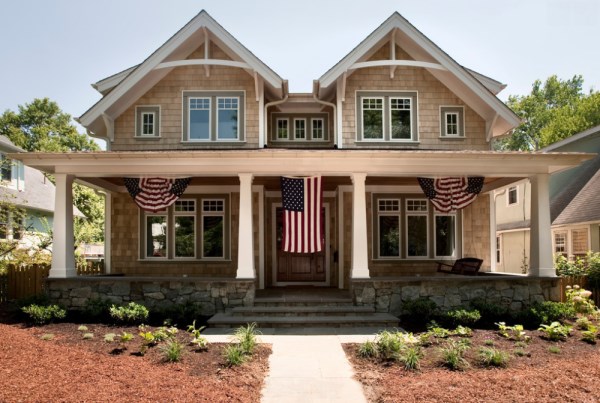 Few retailers embrace the spirit of this holiday quite like Crate & Barrel. Below we see the modern Fireworks Doormat, which captures the true spirit of summer holiday weekends.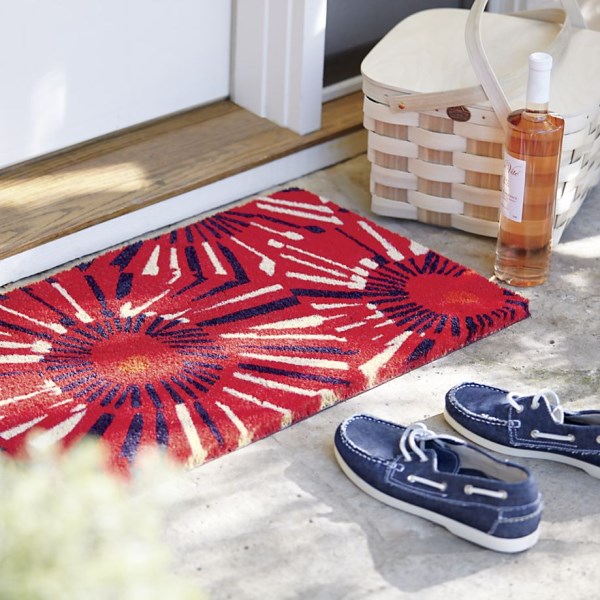 These Patriotic String Lights from Crate & Barrel will light up the night along with your sparklers! Hang them above your party table on the porch, deck or patio, and you have instant festivity.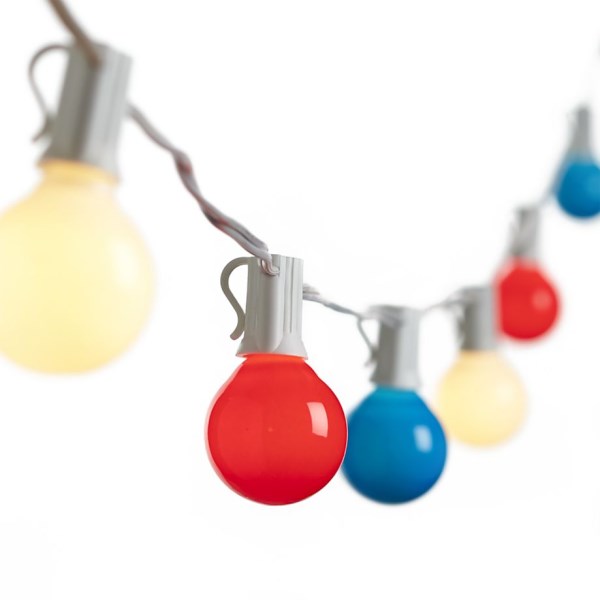 4th of July Decorations for Your Interior
We now move inside with a series of decorations that will add a patriotic touch to the room of your choice. This Painted American Flag from Pottery Barn is weathered to create an antique feel, as well as an earthy look that's perfect for relaxed spaces. As you can see from the image below, the flag can be displayed indoors or outside.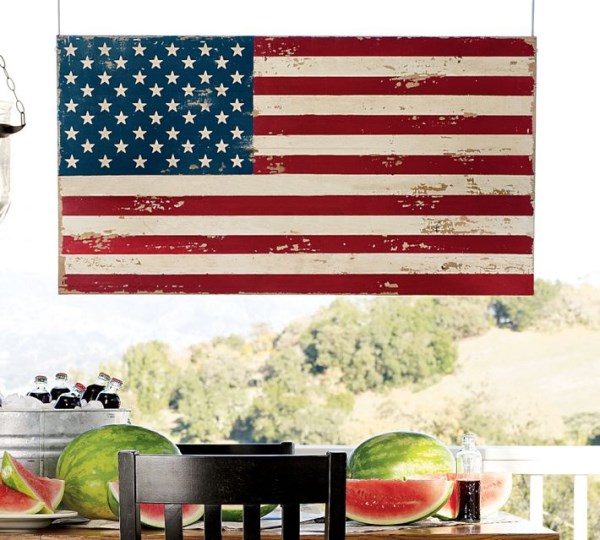 For another special touch that works for interiors and exteriors alike, check out these Burlap Stars from Pottery Barn. Each piece consists of a burlap frame covered in jute fabric. The perfect backdrop to your party spread: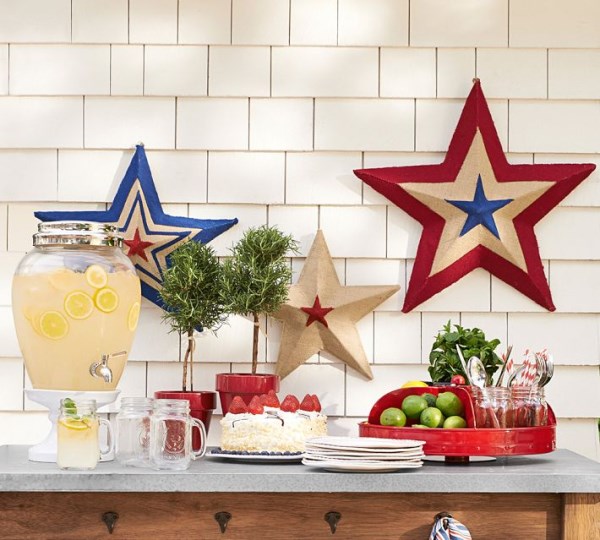 Sometimes simplicity is key. This classic-meets-modern look is created by a flag hanging on the studio wall of makeup artist Bobbi Brown. Industrial lighting in the foreground makes a bold statement.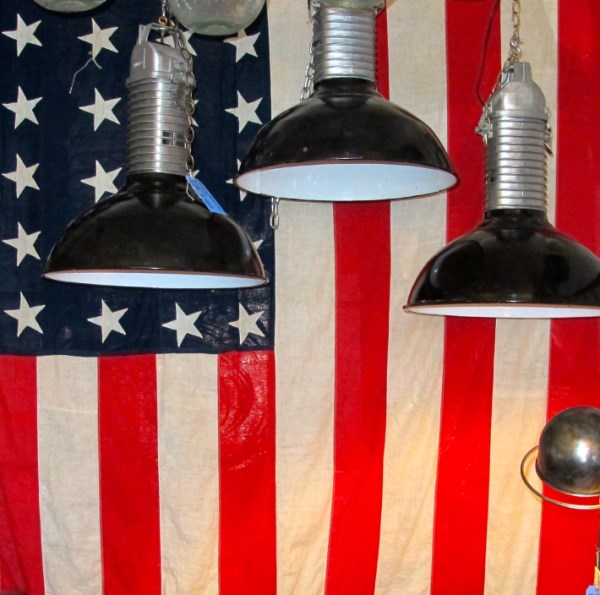 We love this decoration idea so much, this is our second time to feature it! For a full tutorial on how to craft your own Red, White and Blue Patriotic Wall Decor, head on over to Celebrations. Striped rosettes = modern holiday fun!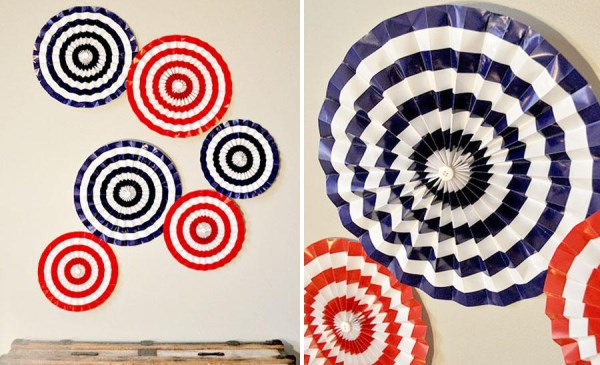 Need a little something to spice up your indoor seating? Give your sofa or armchair an early American look with this American Flag Lumbar Pillow Cover from Pottery Barn: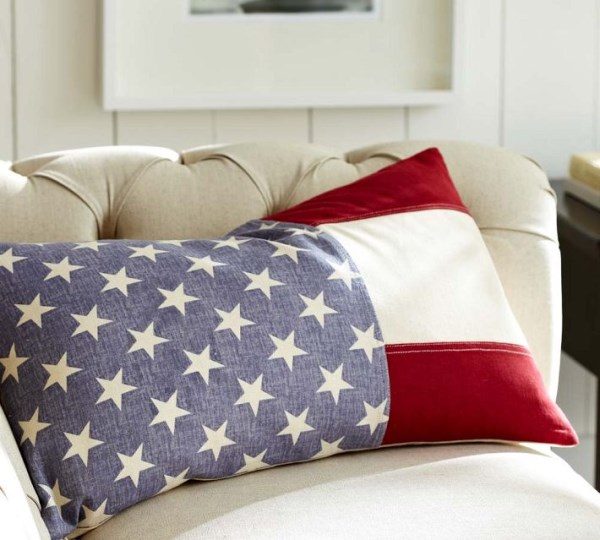 4th of July Party Table Ideas
Hosting a party or gathering this 4th of July? We end today's post with a series of festive party table ideas, such as the red, white and blue setting below from Crate & Barrel. Floral-motif melamine plates lend an unexpected touch to this holiday table, while geometric pillows coupled with red-rimmed glassware provide additional touches that can be enjoyed year-round.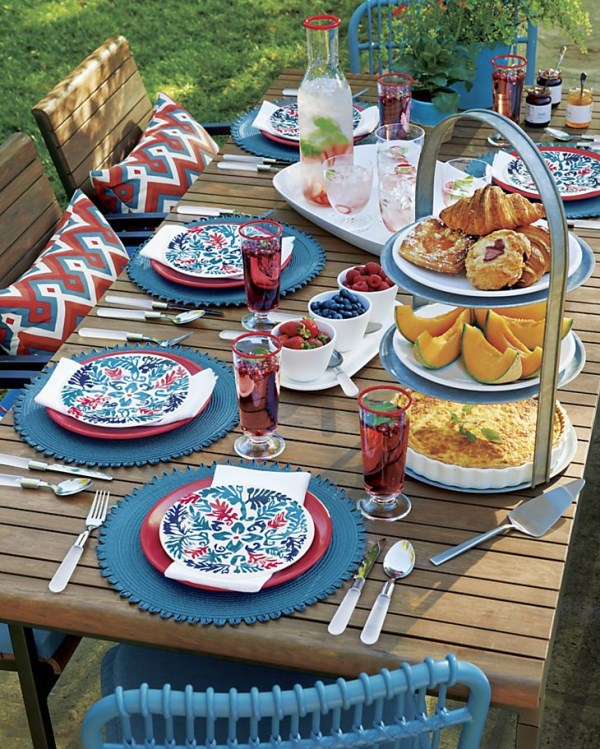 A classic table never disappoints. Tableware in red, white and blue can easily be embellished with paper stars and a scattering of flag-themed accents. There is power in solid colors! [from iVillage.com]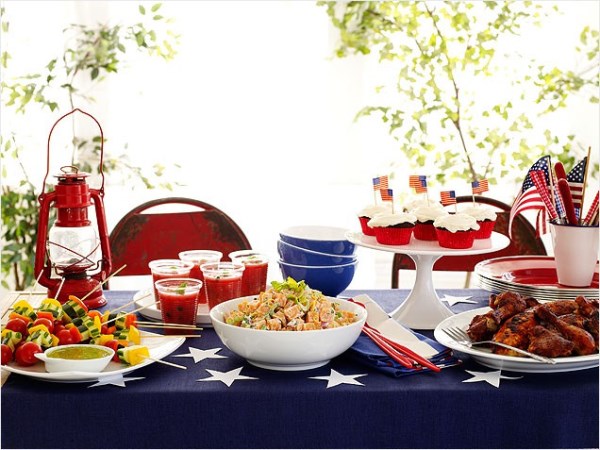 It's hard not to love the vintage look of classic Coca-Cola glass bottles in a tub of ice. This vignette is ideal for your tabletop or your favorite picnic blanket. [from Fashion Utah]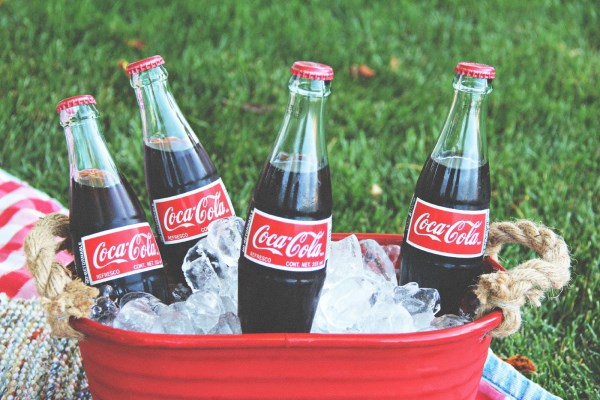 Another classic touch for the 4th of July table: metal serveware. This Galvanized Pedestal Server from Crate & Barrel is the perfect backdrop to a berry festive dessert!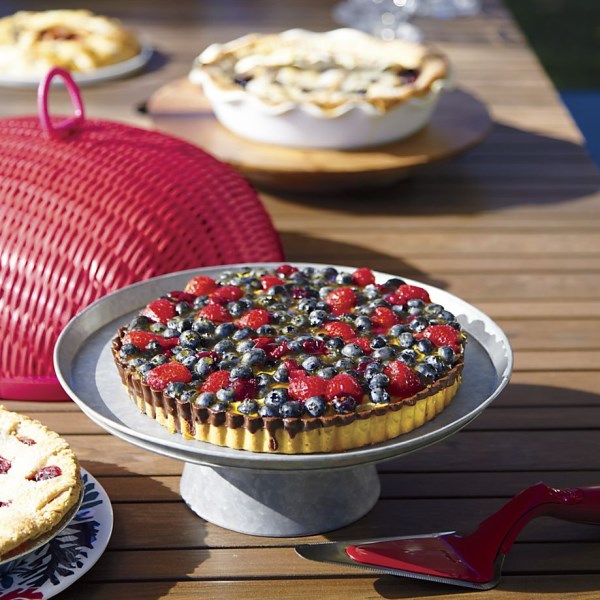 Another favorite we just had to feature one more time? These Donut Hole Breakfast Skewers from ValSoCal! Because they're decadent. Because they're easy to make. And because nobody ever talks about 4th of July breakfast treats! [via A Beautiful Mess]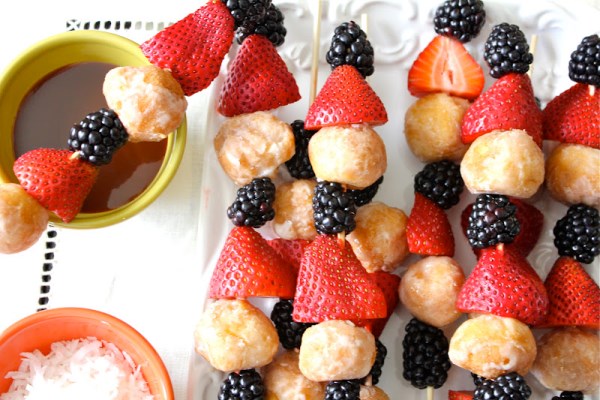 Our next featured image reminds us that it's OK to veer away from a strict red, white and blue palette. In fact, nothing stands out against a blue tablecloth quite like orange. And these peach margaritas from Camille Styles will definitely be the talk of the party: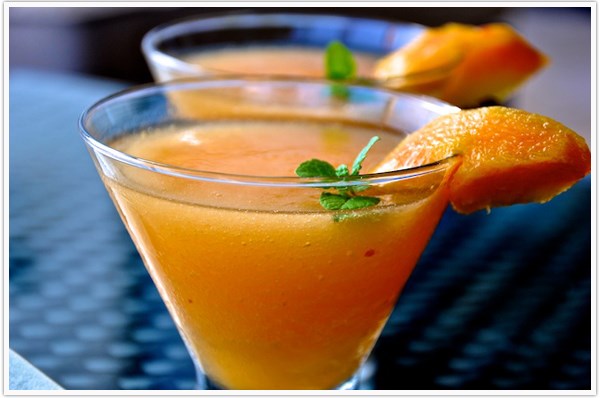 Here's one final image that will inspire a dash of retro style at your holiday gathering. What could be more refreshing, filling or festive than milkshakes topped with whipped cream and accompanied by red and white striped Paper Shake Straws? [from Crate & Barrel]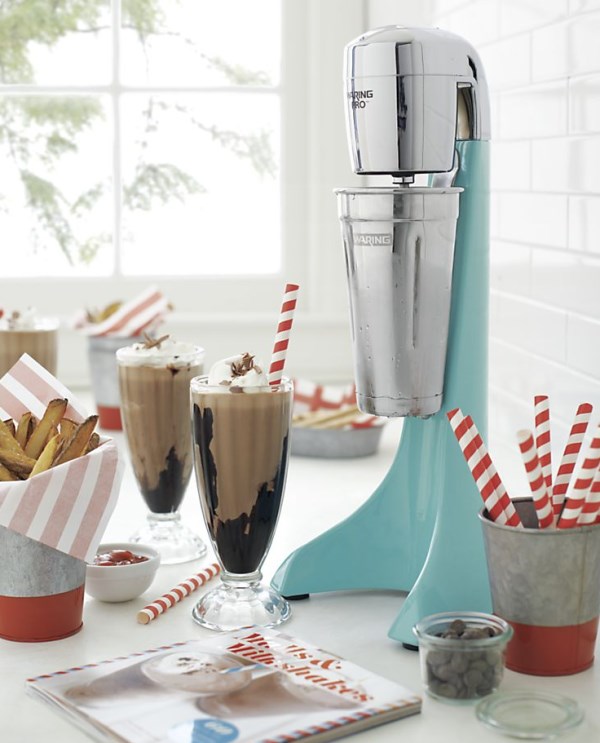 Did any of today's 4th of July ideas make a big impression on you? Tell us about your favorite looks by leaving a comment below…