Getting ready for the 4th of July? There's still time to make this summer celebration a festive one! Today we've gathered a slew of fun and easy 4th of July party decorations that will add style and pizzazz to your gathering. From DIY endeavors that can be done at home to patriotic decor ideas, we've got you covered…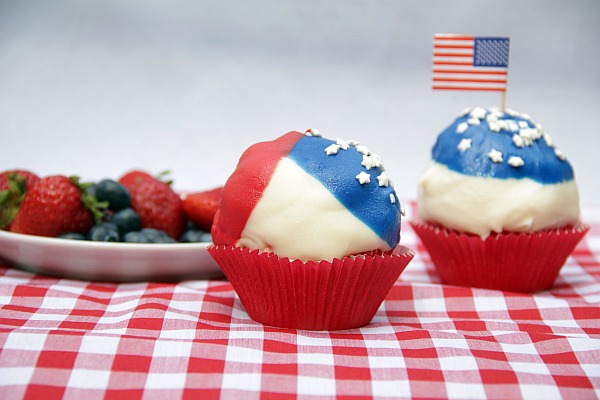 As you browse the selections below, keep in mind that some of the best decorations involve combining items in 4th of July colors. In other words, there's no hard and fast rule that says you have to stick with items that showcase red, white and blue all at once. For example, go with red and white striped toothpick flags to top your cupcakes, and enjoy the perks of blue and white gingham baking cups. You can open up your options by being flexible with the color combos!
4th of July Party Decor
American flags will always be classic 4th of July statements. In addition, an array of trends and embellishments are growing more and more popular each year, especially the round variety. From rosettes to pinwheels, there's nothing like the vintage look of decorations that combine stars, stripes and circles. Check out these Red, White and Blue Patriotic Wall Decorations made from wrapping paper! If you like what you see, you can view the full DIY at Celebrations.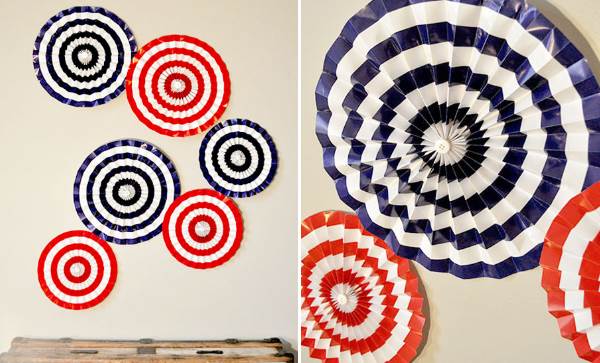 For a similar look minus the stripes, you can always go with solid colors. Suspend rosettes in red, white and blue with string, and you've set the stage for a happy 4th! [from Celebrations]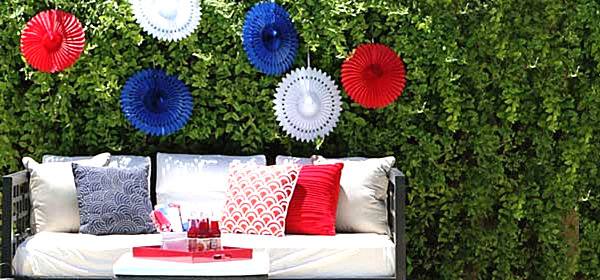 Then there are the banners… And boy are there many options! We're fans of this Red, White and Blue Pennant Flag Banner from Etsy shop Little Polka Dot. It has a bold look that is both vintage and modern at the same time. [via Tatertots & Jello]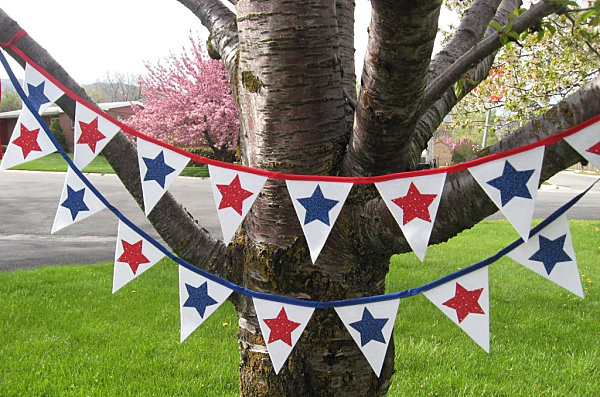 Speaking of vintage, nothing says retro like polka dots! That's why this Blue Polka Dot Flag Banner from Cakegirls is the perfect way to add old-fashioned fun to your fete. Crafted of stiff paper, each strand is 70 inches long and features 9 triangles: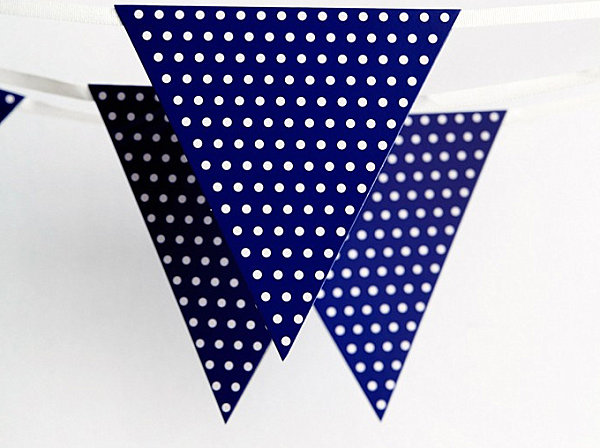 For a dose of fiesta style for your Independence Day, check out this 4th of July Fiesta Garland DIY from Oh Happy Day! It's offers a unique twist on the classic 4th of July decor, and it shakes things up by throwing some pink into the mix…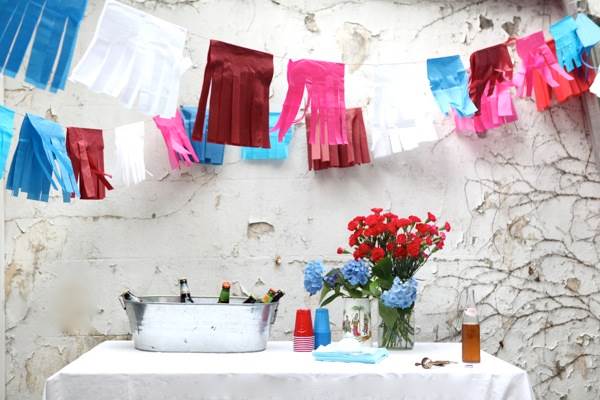 Don't you love the ornate detail of these 4th of July Paper Stars? Don't worry–there's a guide to help you craft these dazzling decorations. Check out the printable template at The Elli Blog…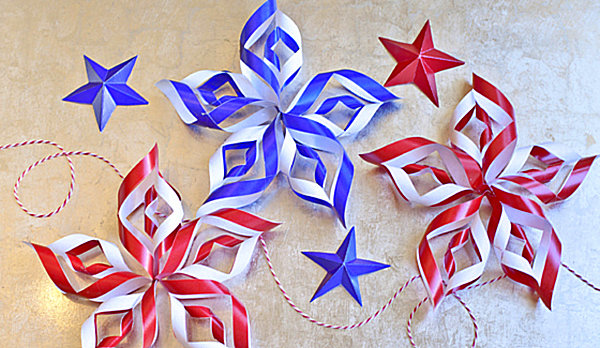 While we're on the topic of printable kits, this one offers a variety of decor options for only $8. It's the USA Mega Party Kit from MG Party Impressions, designed by Lindsay's Stamp Stuff. Striped rosettes and starry accents take center stage, providing a vintage take on the 4th.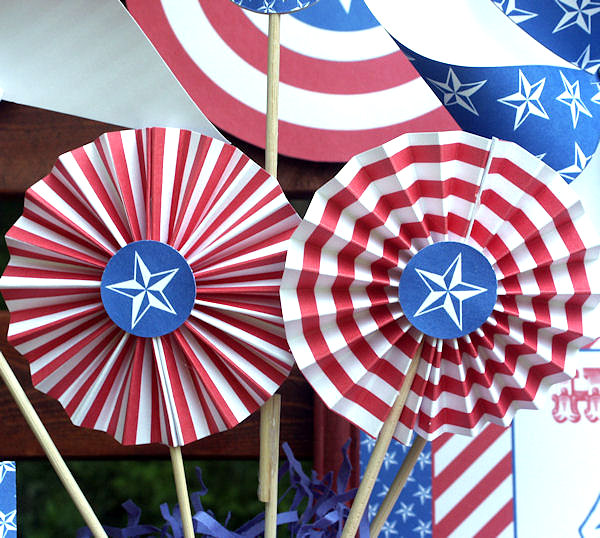 Who says all of your party decor has to be holiday-specific? There's no harm in showcasing red and white stripes. And blue and white stripes. These striped pillows from Pottery Barn can stay out all summer! Below we see them featured on the Chesapeake Sectional Set: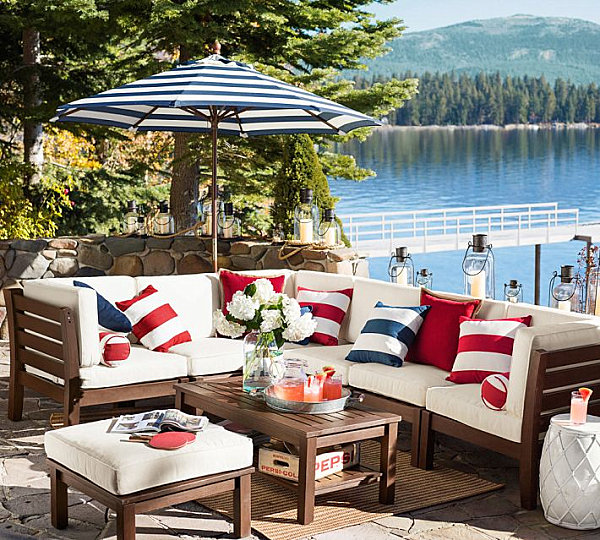 4th of July Food Embellishments
We now move onto party decor that embellishes the realm of food and drink. Because making your food a part of the decor is a great way to maximize your 4th of July statement! The old fashioned "Celebrate" sign below comes from a Vintage-Style Fourth of July Party by Lia Griffith, featured at Hostess with the Mostess. And it's hard to get more classic than watermelon, especially when it's cut into festive stars!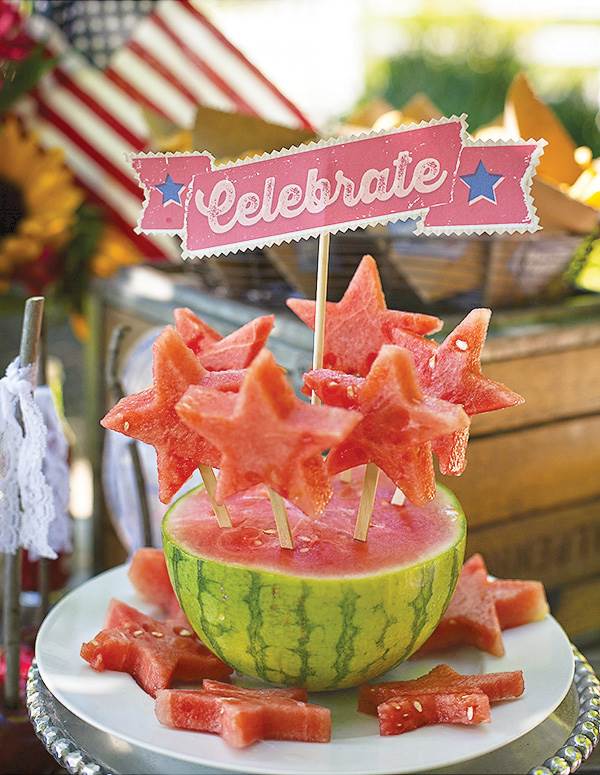 Get patriotic with these Watercolor Straw Flags, which can be yours with the help of a printable template and a little DIY energy. They add a detailed yet clean look to your 4th of July drinks. Check out all the fun at Oh Happy Day: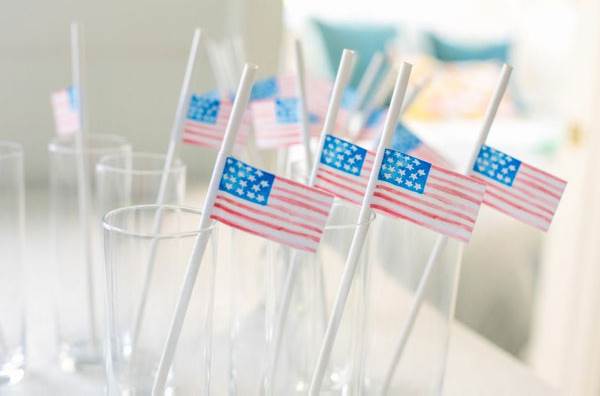 Want to stock up on party supplies you can use well past the 4th? These earthenware Rhodes Drink Dispenser Stands from Pottery Barn are sturdy and stylish. Combine colors to create an Independence Day spread, then continue to enjoy these pieces well beyond the summer months…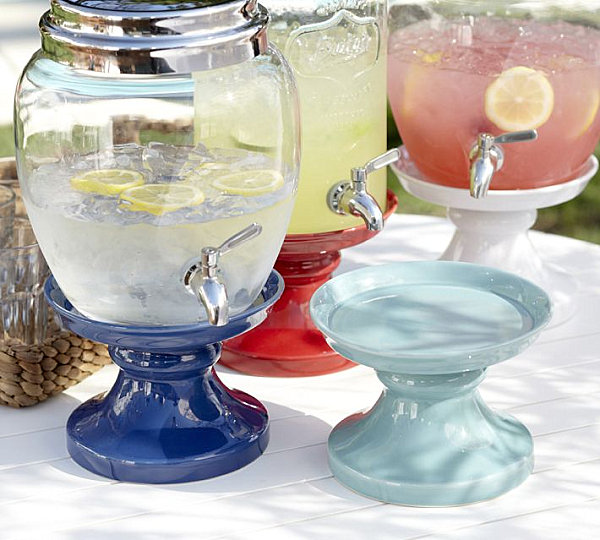 For a sweet way to present dessert, check out this Ice Cream Cone & Waffle Bowl Set from Pottery Barn. We love the way it recreates the patterning of sweet treat receptacles, but we also admire the way these pieces are presented in the picture below. Once again, we see the Rhodes Drink Dispenser Stand, but this time it's used to hold dessert! And what's not to love about the red and white striped cone wrappers also showcased in the image?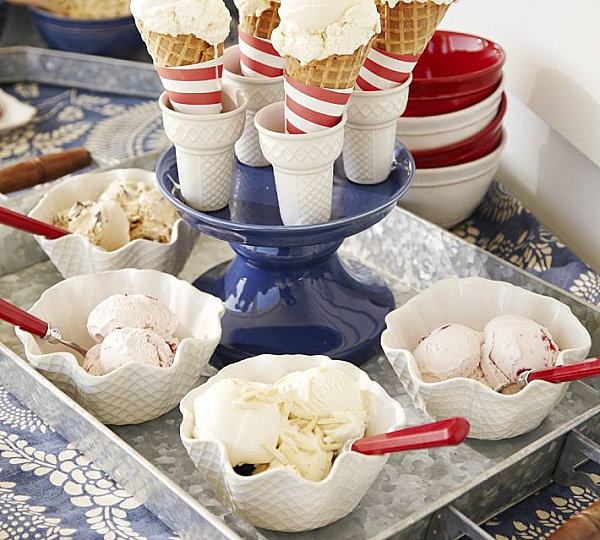 Top off your cupcakes, pastries and sandwiches with these Red Striped Toothpick Flags from Cakegirls. They come in a set of 24 for your convenience. Got leftovers? No problem! The striped flags will continue to add nautical style to your table well past the 4th!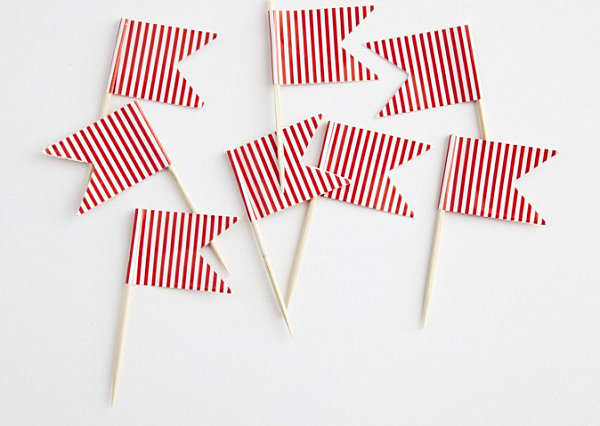 There's nothing like the shimmering glow of sparklers after the sun sets… These paper straw and tinsel sparkler toppers by Suzanne from Fanciful Events evoke all of the glittering festivity. And how fabulous is that red rock candy?! More details at Hostess with the Mostess…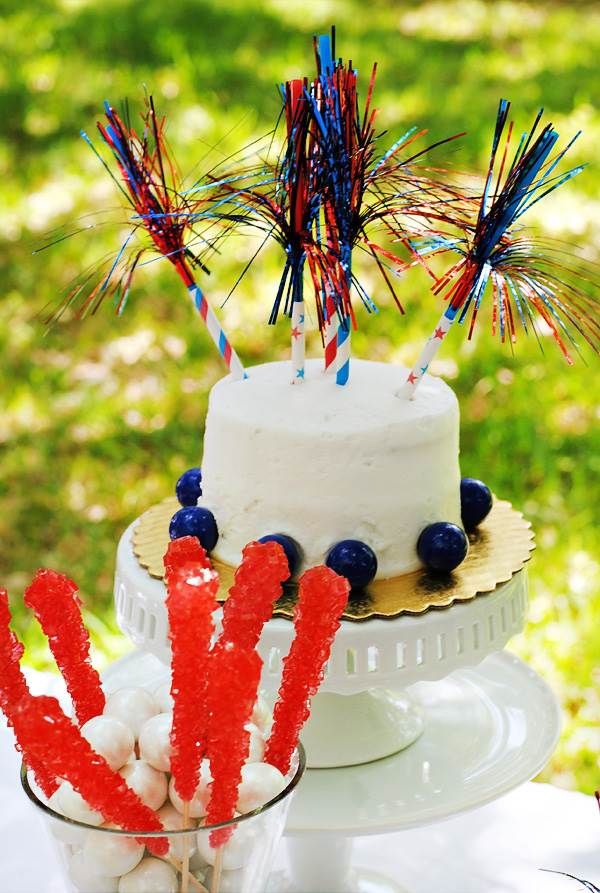 Speaking of sparklers, we have another set of dessert decorations for your patriotic enjoyment. These Fourth of July Sparkler Toppers can be created using Christmas tinsel garland, and boy do they shine when combined with prize ribbon toppers! The DIY fun can be found at It's Raining Jellybeans: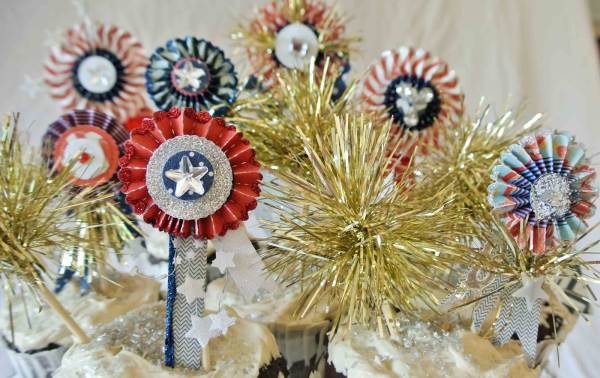 Sometimes the party decorations can be as simple as throwing a bit of berry goodness into the mix. That's right–strawberries, raspberries, blackberries and blueberries are the perfect fruity 4th of July treats. Add them to a vanilla sponge cake with vanilla syrup and mascarpone cream, and you have true culinary magic! [from Amelia via Call Me Cupcake]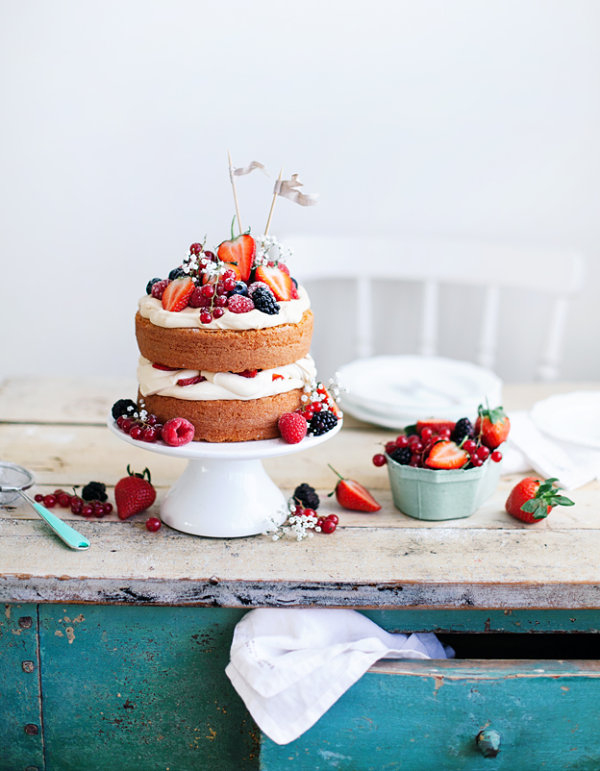 Speaking of treats, is your mouth watering yet? After viewing this tray of Donut Hole Breakfast Skewers from Val So Cal, you're sure to crave a taste… Especially since this dessert is enhanced with salted caramel sauce, chocolate sauce and coconut! Let these skewered goodies stand out against a white serving platter or tray, and you have an instant party centerpiece. [via A Beautiful Mess]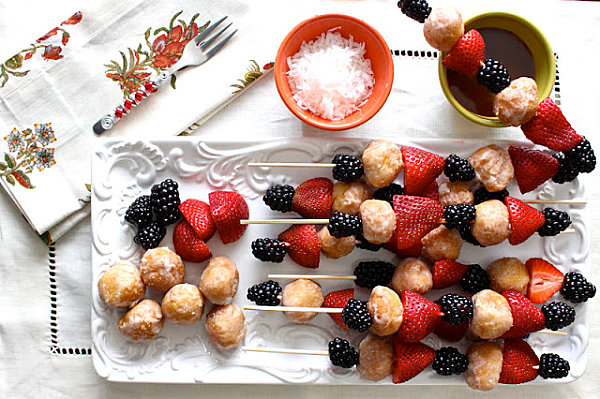 Whatever you bake, wrap it in red, white and blue with these Gingham Check Blue Baking Cups and Red and White Striped Baking Cups from Cakegirls. The perfect example of decorations that aren't specifically 4th of July-themed but make the ideal Independence Day statement!

And now the best part of the day…the fireworks! Make sure the party leading up to this moment is filled with memorable moments. [from A Beautiful Mess]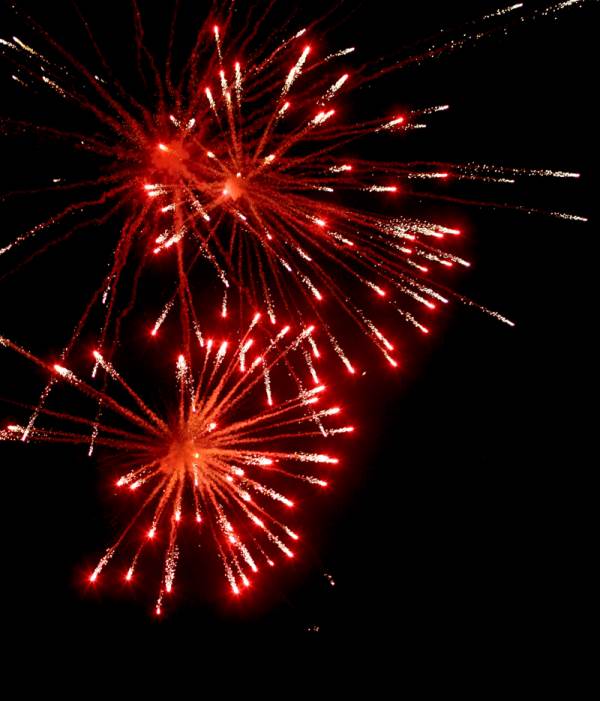 Did this post introduce you to a 4th of July party decoration that you can't live without? Tell us about your favorites by leaving a comment below…