With summer on the way, our thoughts often turn to vacation. When you travel, do you return with a desire to bring the vacation vibe home? Often it's all too easy to get back into the swing of things, and we forget about those carefree days of relaxation and rejuvenation. What if we made a commitment to infuse our homes with reminders of restful days? What if home were not just a haven, but also a personal retreat that surrounded us with soothing vignettes, as well as special touches that restored our energy and sparked creativity? Read on for helpful tips and suggestions…
Start with the Outdoors
When you imagine a personal retreat of your own, does it involve an outdoor lounging spot? Create your own restful nook on a patio, balcony or porch with the help of butterfly chairs. [from Lonny]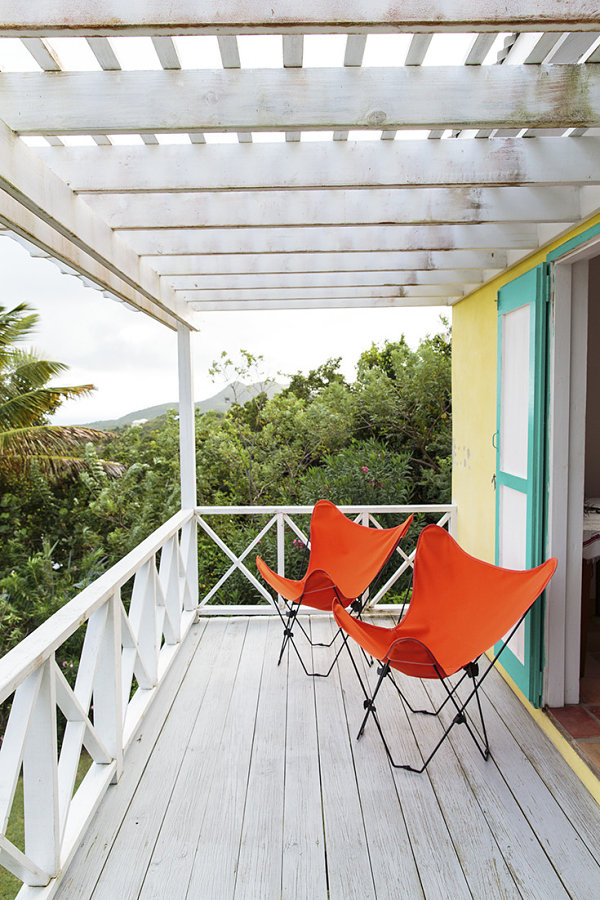 Using plants to help establish an inviting tone as you enter your home can make a big difference, setting the stage for restful moments of contemplation. Tropical greenery can't help but evoke a laid-back approach to life. [from Lonny]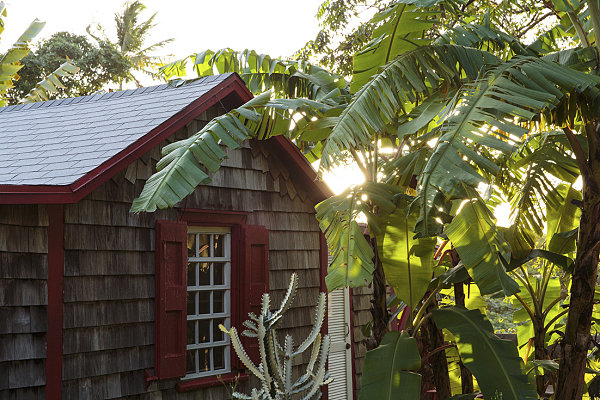 If you live in a part of the world where tropical plants don't thrive, keep in mind that any thoughtful arrangement of plants (including potted ones) can help you create your very own secret garden at home. [from Lonny]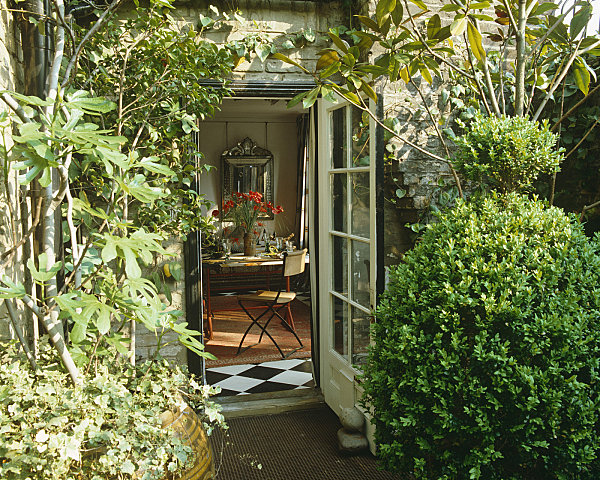 This pergola curtain DIY from A Beautiful Mess reminds us that a little bit of privacy and shelter from the sun can create a resort-style feel in your own backyard.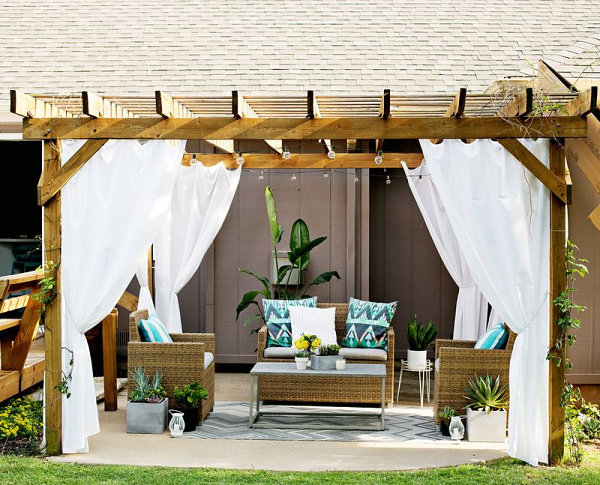 No matter where you live, there's bound to be a peak season–that time of the year (or two) when spending time outside is comfortable and rejuvenating. Create an outdoor dining space where you can enjoy a nourishing meal in the fresh air. [from CB2]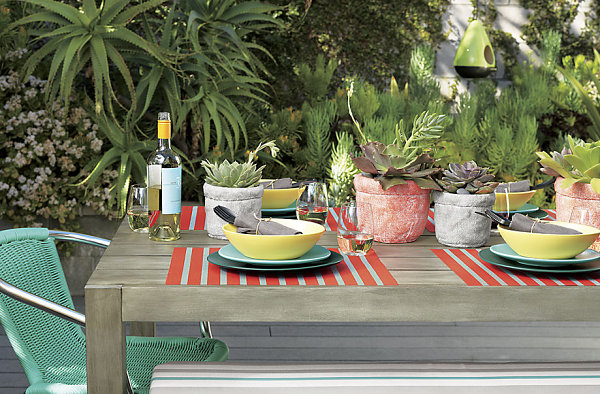 Bringing the Outdoors In
One surefire way to create your own personal retreat at home: imagine your dream setting, then introduce elements of that place (real or imagined) into your home. For example, if you imagine a private outdoor spa, bring a few hints of the outdoors into your powder room, such as greenery and pebbles. [from Ketchum Photography via H3K Design]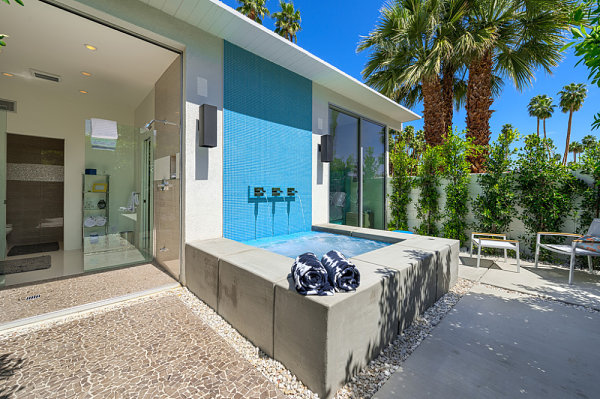 If a living area with a view lowers your blood pressure, surround your indoor seating with stunning artwork that creates an expansive feel. [from CB2]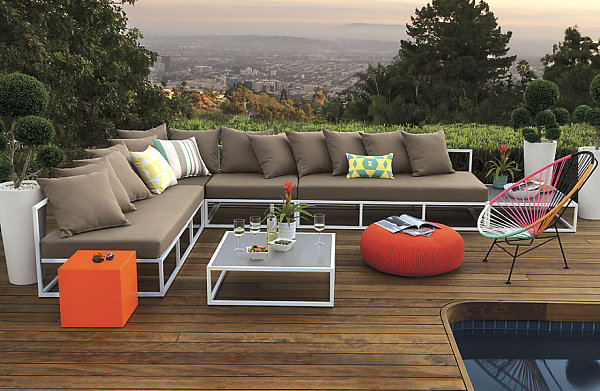 Do you wish you had an outdoor kitchen area for preparing food? [from West Elm]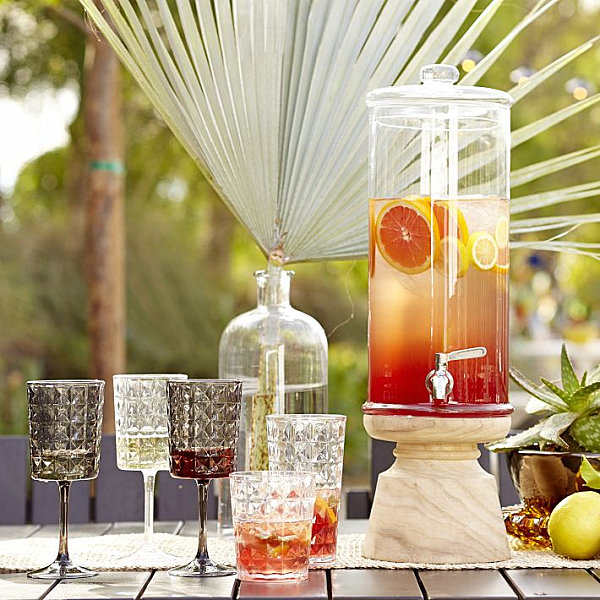 Try bringing the outdoors to your kitchen by embellishing your counters with fresh fruit and produce. [from Christy Allen Designs]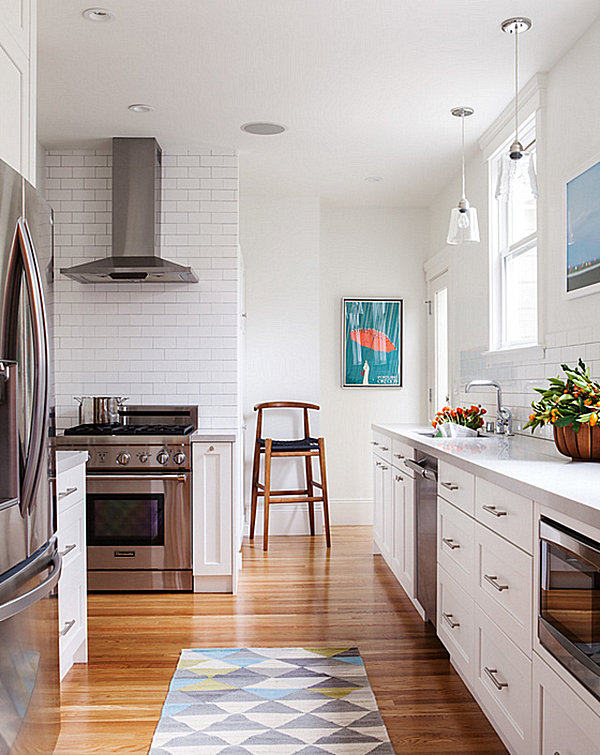 By bringing the outdoors inside, you can enjoy a connection with nature on a daily basis, regardless of the temperature and the weather.
Your Own Private Spa
We've established the fact that a connection with nature helps create a personal retreat at home. Another strategy that fosters instant relaxation? Bringing spa style home. And there's no better place to create a spa retreat than the powder room! Begin by adding some seating to your bathroom. Below we see the Barcelona Daybed by Mies van de Rohe. If you don't have room for a large seating statement, try incorporating a vanity stool. [photography by Beth Singer via EuroCraft Interiors]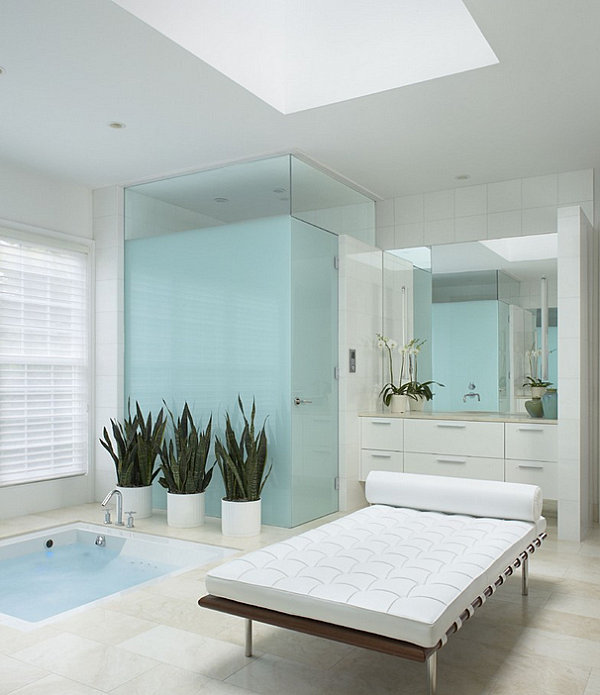 A large tropical floral arrangement evokes the feel of a Hawaiian resort. Don't be afraid of height and drama! [from Six Walls]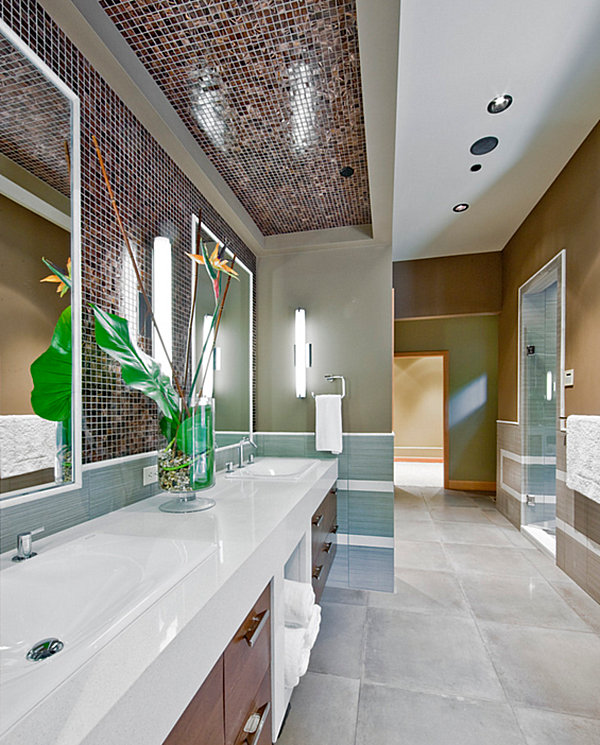 The powder room below reminds us of the calming effect of a beautiful view. While you may not have a verdant garden right outside the bathroom window, you can always add some visually apealing details, such as potted topiaries. Place them within view so you can enjoy them as you lounge in your tub! [from Nigel Lewis Design]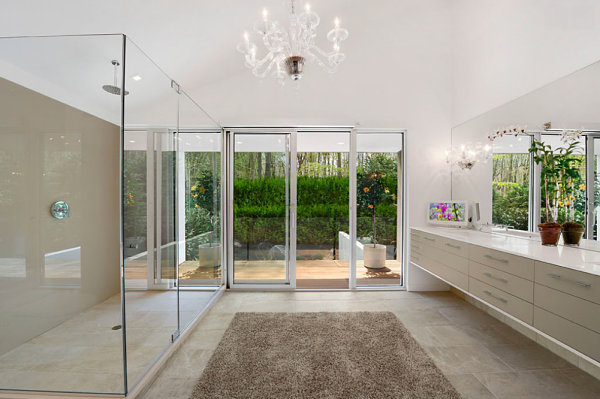 Remember that clutter is the antithesis of relaxation. A counter covered in grooming products does not foster a sense of peace and calm. Create a space with a clean look that inspires an appreciation for uncluttered living and simple pleasures. [from Michael Hsu Office Of Architecture]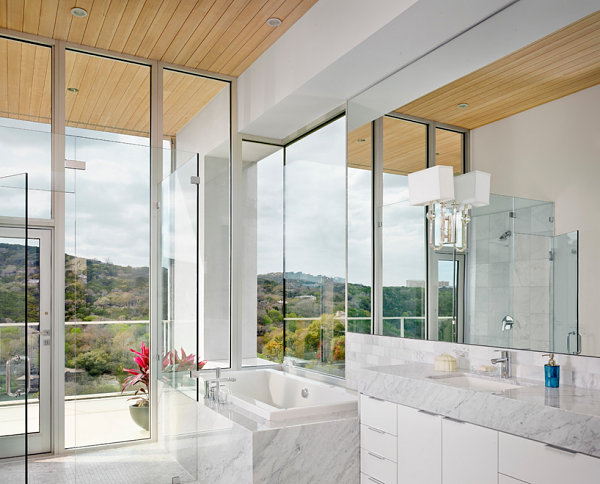 A Resort-Style Bedroom
We end with a collection of bedrooms that inspire resort-style relaxation. For starters, tropical hues never fail to disappoint. The mismatched lamps below add another level of vibrancy. [from Lonny]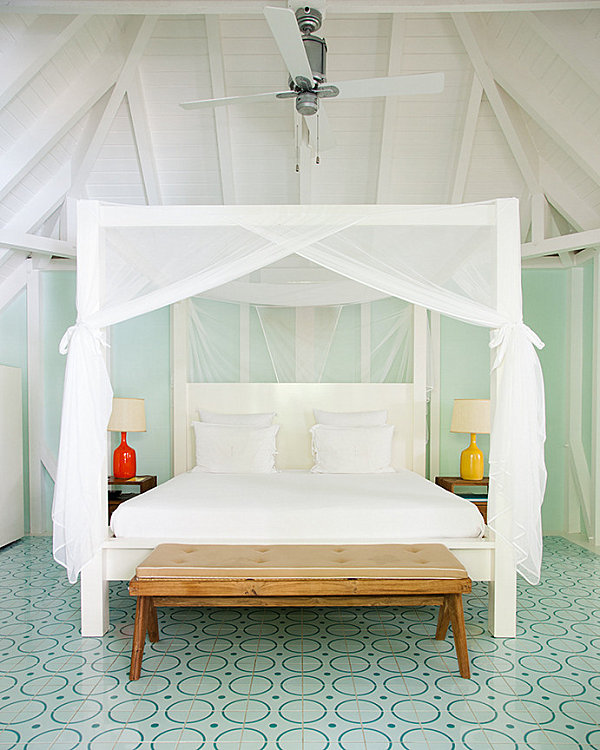 What's your favorite color? Why not paint your bedroom (or at least one accent wall) that very hue?! Don't be afraid of rich tones, such as teal. Honoring your color preference will create a sense of happiness and decadence in your bedroom retreat. [from West Elm]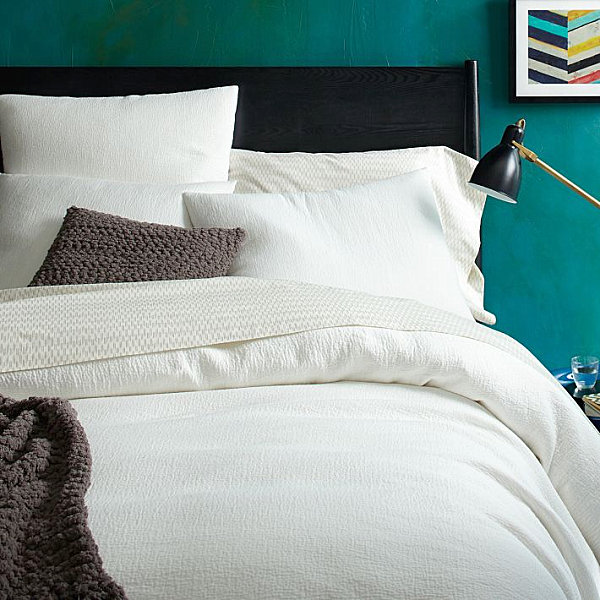 Don't forget the importance of details such as mood lighting and comfy pillows. Both features personalize your sleeping space and help set a chill vibe. [from Custom Furniture World]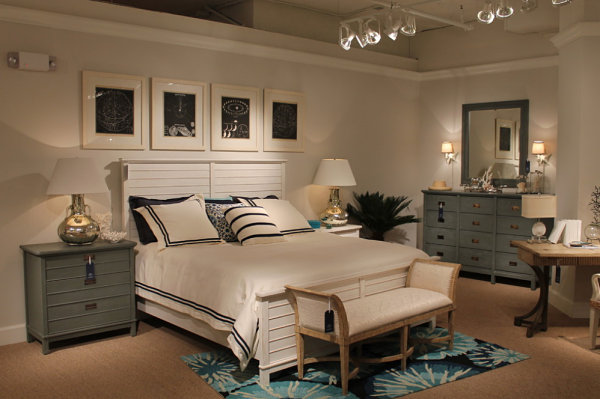 Are there images that help you set a relaxing tone? Why not select a new collection of artwork to help you on your journey of peaceful contemplation? Create a gallery wall featuring your very favorite pieces. [from Design Love Fest]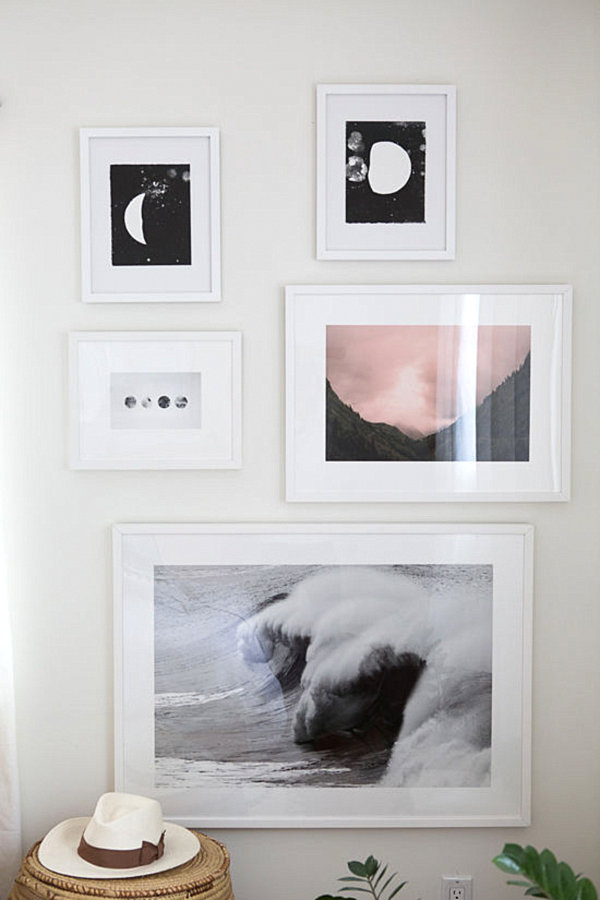 We hope today's post has armed you with a slew of ideas for making your home a personal retreat. Life is busy. Life presents its share of difficulties and challenges. Your home is a place for restoring, refreshing and regrouping. Make it count!