It's been a long day, and all you want to do is relax. If only you could get away, head to the spa or pass the hours at a luxury resort. But what if you could bring some of this hotel-style rejuvenation to your own home?! Today we spotlight bathrooms that ooze tranquility. Sure, we all wish we had a glamorous powder room that overlooked the ocean. But maybe you can channel some of that glamor with a few updates or simple additions…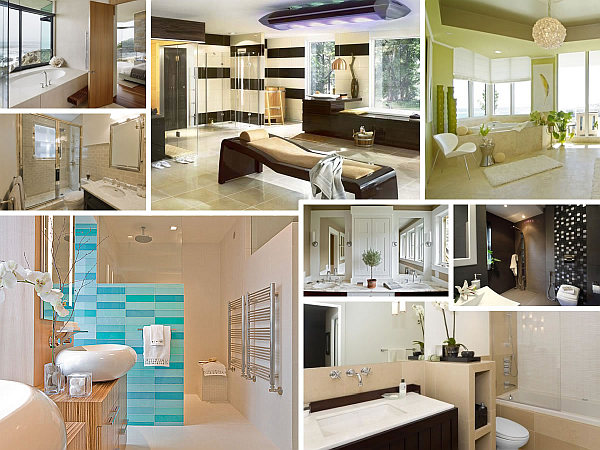 It might be as easy as getting a new set of fluffy towels, placing some bath products on a glossy tray or displaying a seashell to remind you of a day at the beach. What relaxes and rejuvenates you? Below you'll find a few ideas that just might put you in vacation mode if you let them!
Clean and Crisp
Clean, crisp and simple. There's something calming about a clutter-free space. Many designers use white as their color of choice for the bathroom. Not only does it create an airy feeling, it lets you know the space is spotless. Plus, it's so darn chic! Below we see a gleaming contemporary powder room by Griffin Enright Architects. [photo by Tim Street-Porter Photography, from Houzz]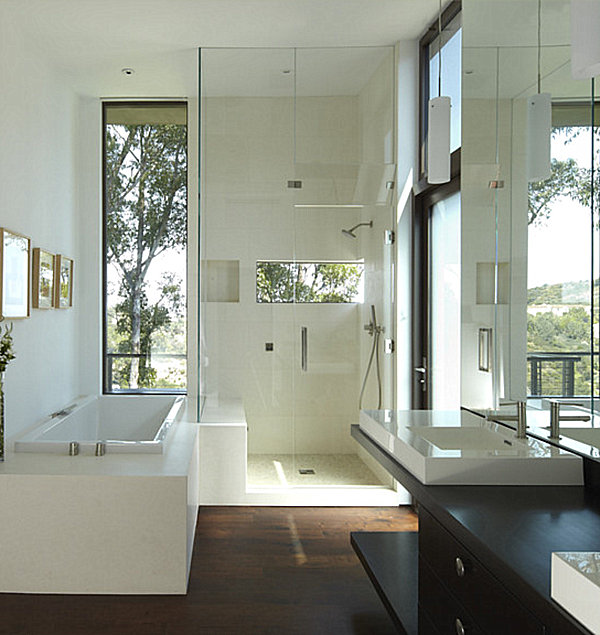 Though the next image features a small bathroom, the combination of mirrors, glass and white tile add a spacious feeling. And there's nothing more tranquil than a flawless, glossy room! [photo by Brandon Barre, from the Toronto Interior Design Group via Houzz]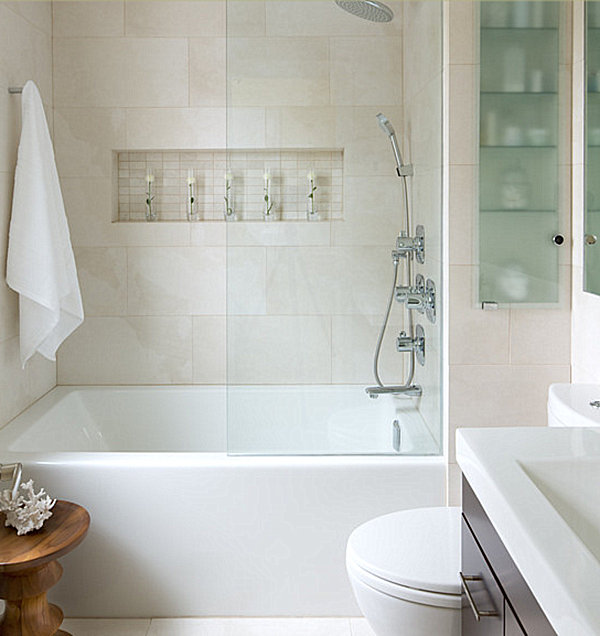 White evokes a sense of purity and peace. Choosing light building materials can enhance the soothing vibe. For example, marble counter tops add bright elegance to the San Francisco bathroom below. [from Gast Architects via Houzz]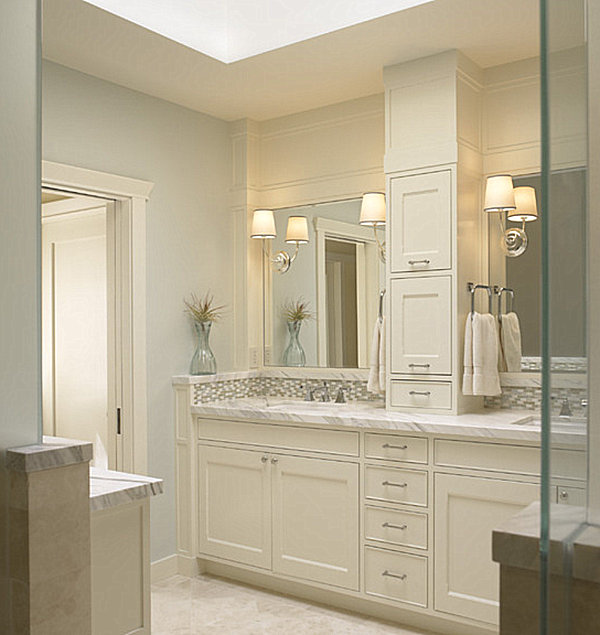 If an all-white space seems a bit too gleaming, try adding variety with bold geometric flooring. Not only does it help define the space, it adds a calming yet striking Hollywood Regency-style luxuriousness. [photo by Clay Bowman, from Venetian Stone Gallery via Houzz]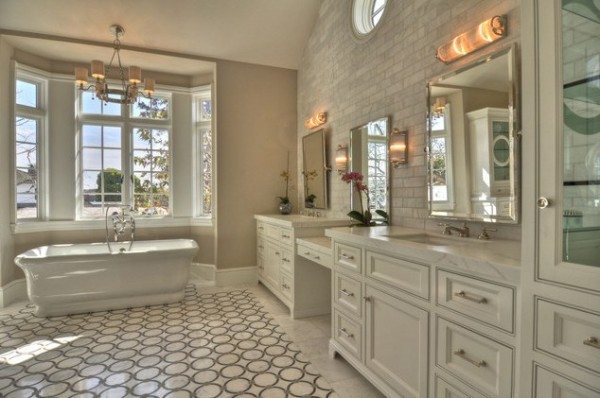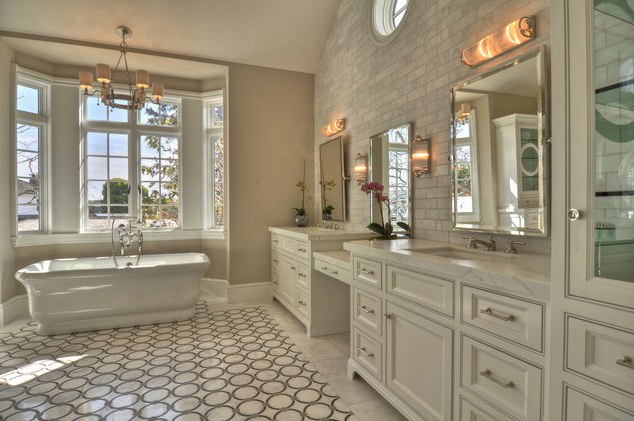 You can also accentuate a white space with wooden details, as shown in the room below. Floating vanities and soft lighting are other relaxing features that elevate this interior to resort status! [interior design by Robyn Scott Interiors via Houzz]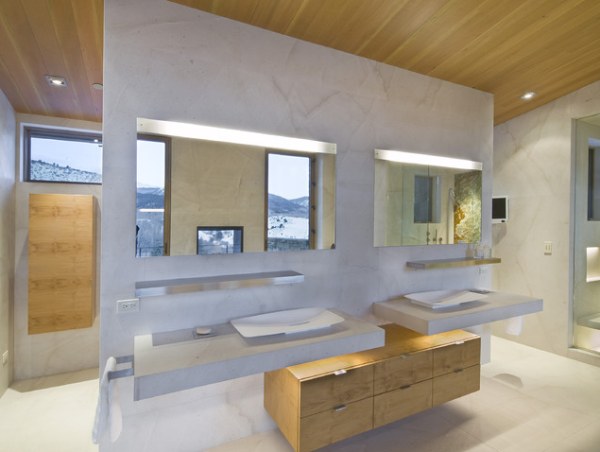 A Touch of the Sea
Want to feel like you're on vacation? Evoke the ocean in your powder room! Sure, you may not have a seaside view out your window, but you can bring the ocean inside with colors, textures and artwork. Like the mosaic of flowing waves showcased in the bathroom below! [by Artsaics via Houzz]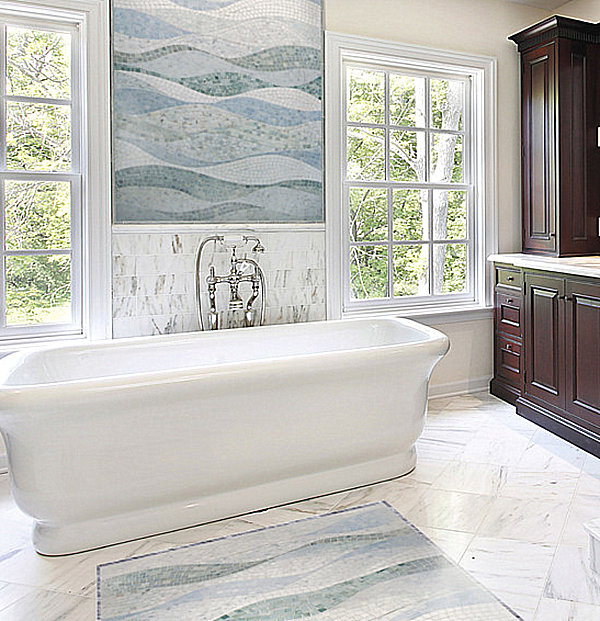 Or go blue! Fish scales, waves, ripples… The tile in the next featured space is turquoise like the most beautiful of oceans. [from Camilla Molders Design via Houzz]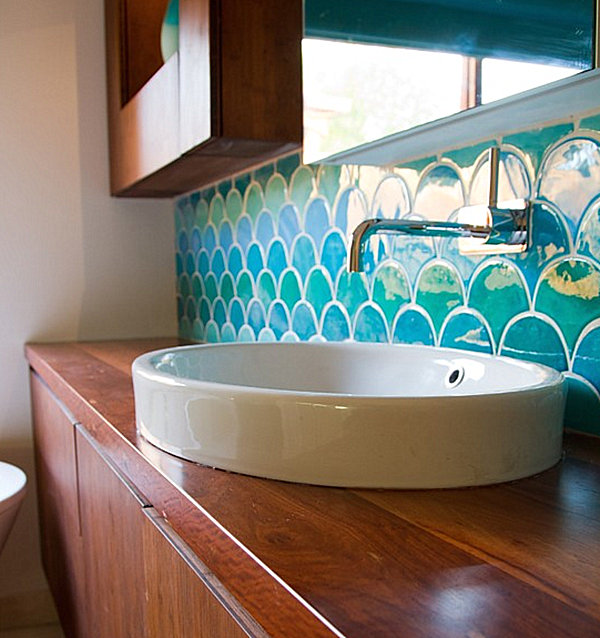 Sometimes the greatest sources of inspiration are actual hotel bathrooms! If you want your space look like a resort, it doesn't hurt to go to the source. Oceanic details shown below: a tropical bloom, a sea sponge, and bottles featuring a wave-like pattern. All it takes are a few touches! [from Kiwi Collection]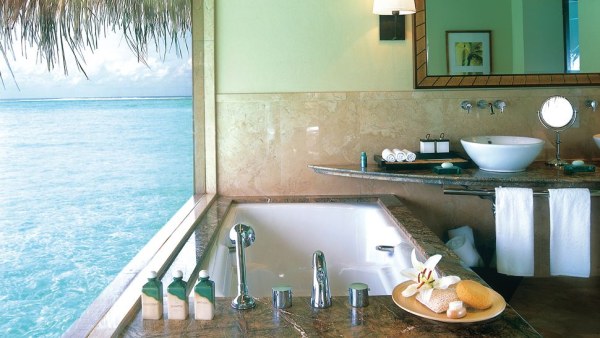 Speaking of simple touches, try a touch of coral. In the Ocean Suite Bathroom from the St. Regis Saadiyat Island Resort hotel in Abu Dabi, white coral rests on a shelf adjacent to the counter. Not to mention, many retailers today feature "coral" items crafted of resin and other eco-friendly materials, making the ocean's riches accessible to consumers without disturbing natural habitats.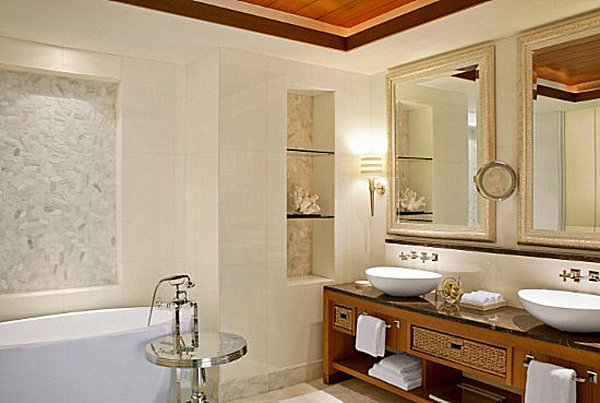 Sometimes less is more. Once again, we see a single coral formation that makes a big statement by bringing the sea inside. [from Fulcrum Structural Engineering via Houzz]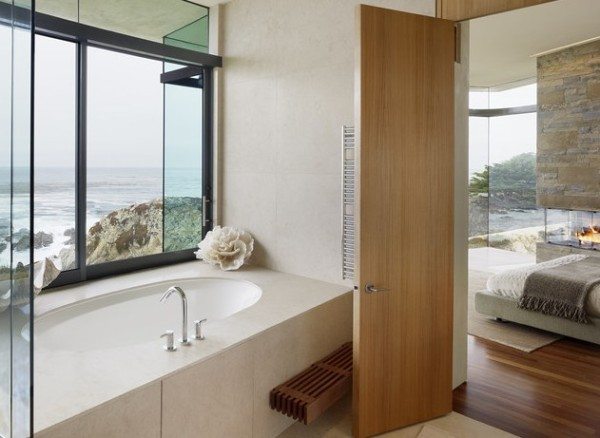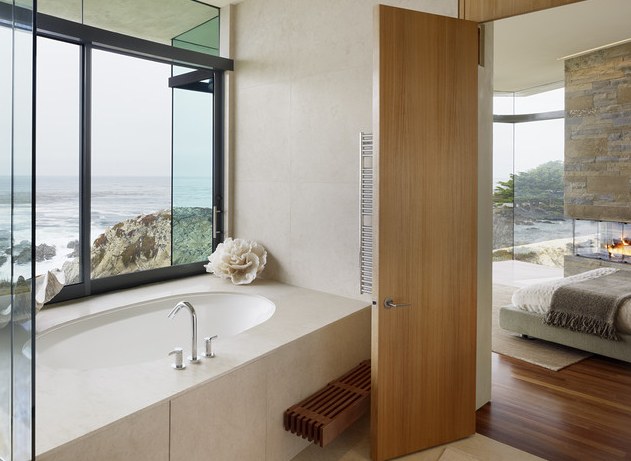 A Sense of Luxury
How do you add luxury to your bathroom? Quality materials and an abundance of conveniences are two ways to make your space stand out. Some embellishments will also do the trick! Take the space below. Not only are there gleaming blue tiles, modern blooms add flair. Plush towels and cotton balls are welcoming, a reminder that freshening up can be fun! [image by Michael J. Lee Photography, from Light Positive via Houzz]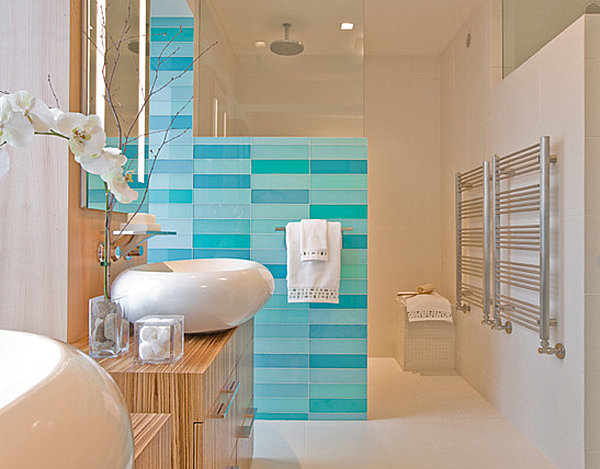 While the next featured powder room is hardly over the top, a classy display of bath products on a shiny tray makes it known that there's room for indulgence in this contemporary space. [from Studio Marler Cabinetry via Houzz]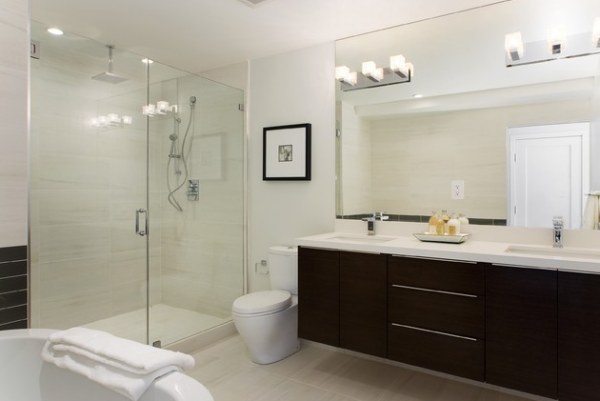 Another sure-fire way to add luxury? Rich fixtures, like the gold-toned hardware below! [Elizabeth Brosnan Hourihan Interiors via Houzz]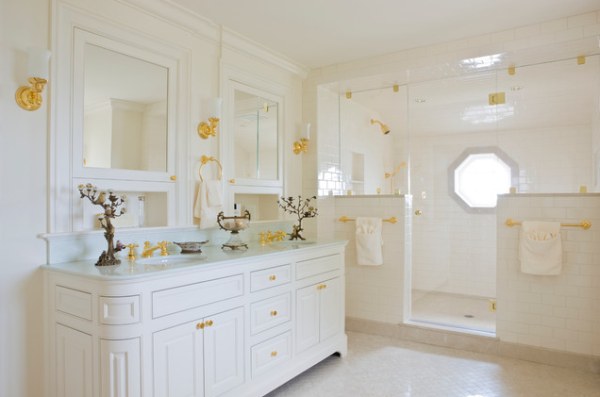 Details don't have to be golden to be elegant. The steel gray palette in the next image is enhanced by shiny silver-toned metal accents. Not to mention, modern elements like subway tile are embellished with sleek amenities like cotton balls in a cylindrical display jar. [from Linda Yowell Architects via Houzz]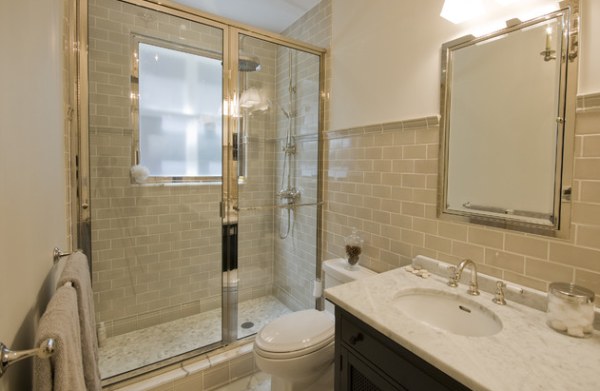 Sometimes the best way to add luxury is to include items you wouldn't typically find in a bathroom–the extras! Like comfy seating, as shown below. [from KT Plumbing]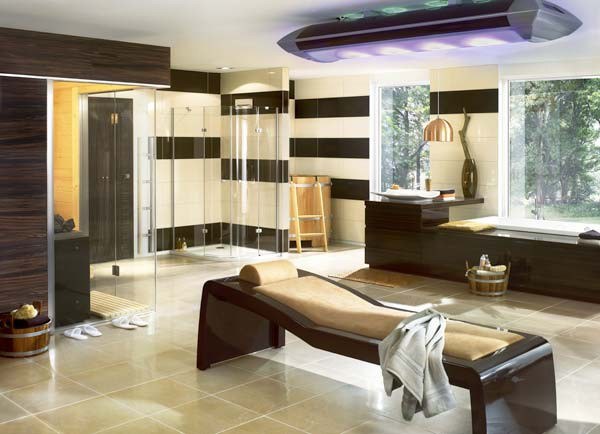 Rejuvenating Greenery
Breathe life into your space with nature's signature color. Green is vibrant, but gentle shades can be soothing. In the Miami bathroom bellow, lime green is the color of choice. In case this verdant shade didn't conjure images of plant life on its own, greenery and blooms have been added to the interior for an extra flourish. [from NXG Studio via Houzz]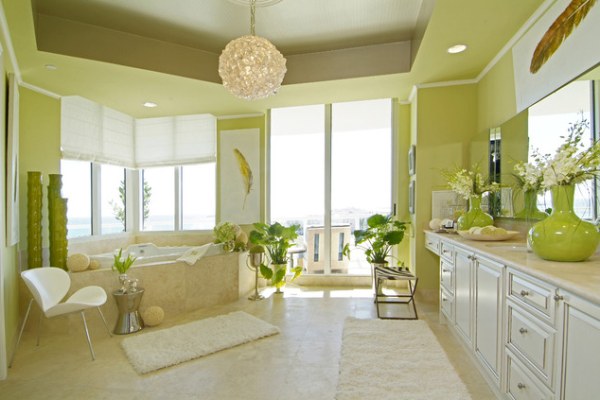 You don't have to saturate your space with green to add a natural element. Sometimes one key statement does the trip. Can you say "topiary"? [photo by Rob Karosis Photography, from Smith & Vansant Architects via Houzz]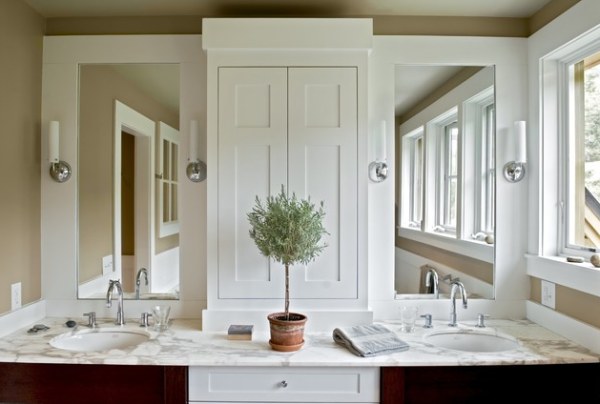 Below, an orchid is the focal point of a modern bathroom. Blooms are invigorating, and sometimes all it takes is a single statement. [from Rossington Architecture via Houzz]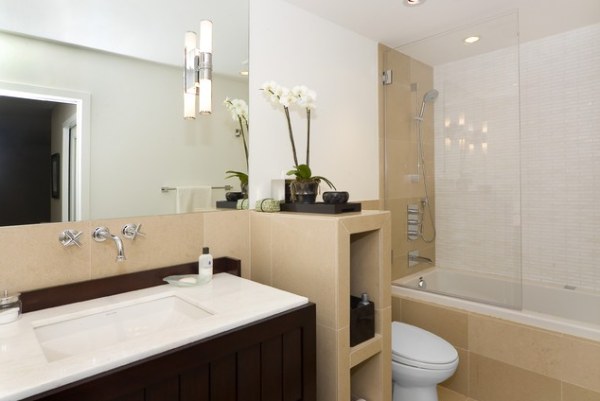 The dark interior below is enhanced by a tropical lily and a windowsill plant. In fact, it's hard to imagine the space without them! [from Savio & Rupa via Houzz]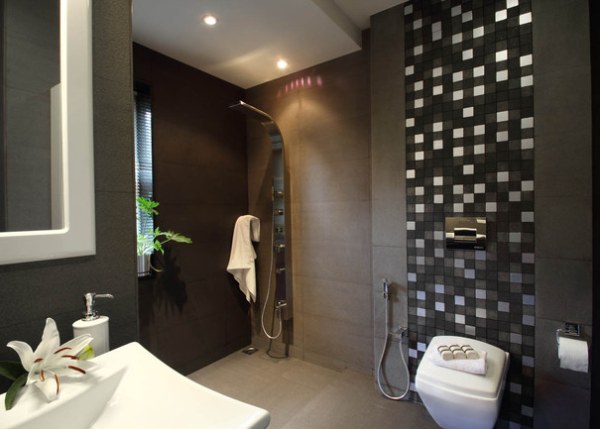 We couldn't help but end with a bang! Our final irresistible image features hanging moss air plants draped over lighting fixtures. An idea by French designer Patrick Nadeau, this should not be tried as a DIY project without consulting a professional. But it's a great ode to air plants and a reminder that they work well as bathroom decor! [from MacPherson Architecture]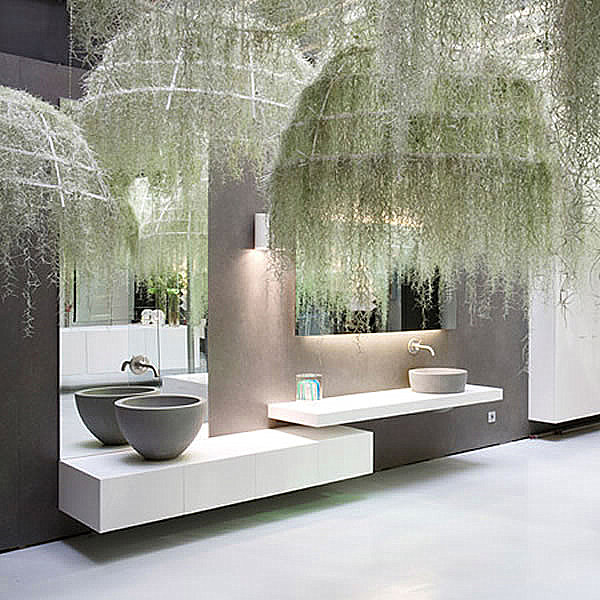 Many of the images above are from Houzz, a great reminder that pictures can be inspiring. When deciding how to upgrade your bathroom, consider your budget and the details of your space. If you're pleased with the walls and flooring, a few accessories and a quick fixture upgrade may be all you need to evoke the calm of a getaway. If you're looking to remodel, collect images of that speak to you and note the common denominators. For example, does subway tile show up in multiple images? Perhaps you're a fan of modern faucets. However you choose to make a statement, don't lose sight of your ultimate goal: to soothe the soul!