Can you believe that Easter is just a few days away?! I love decorating for holidays, but I have to admit–I haven't even started getting ready for Easter. My family and I exchange treats at this time, and I still have no idea what I'm going to buy or make for their gifts. It's clear that this girl needs to get with the program!
In case you are also in search of inspiration for this very special holiday, I've rounded up a collection of unique Easter decorating ideas that celebrate creativity and thoughtful design. From home decor to party ideas, the images that follow are sure to get the ball rolling. Enjoy!
Easter Decor
Let's start with home decor! Blogger Mandi Johnson created this Spring Easter Egg Display in a rich shade of turquoise because she wanted something a bit brighter than the pastels that often dominate Easter. Steel wire, copper spray paint, dyed eggs and gold leaf paint are a few of the supplies you'll need to complete this craft. Side note: check out the gorgeous trees with Easter egg ornaments in the background–so vintage! You can find all the details at A Beautiful Mess: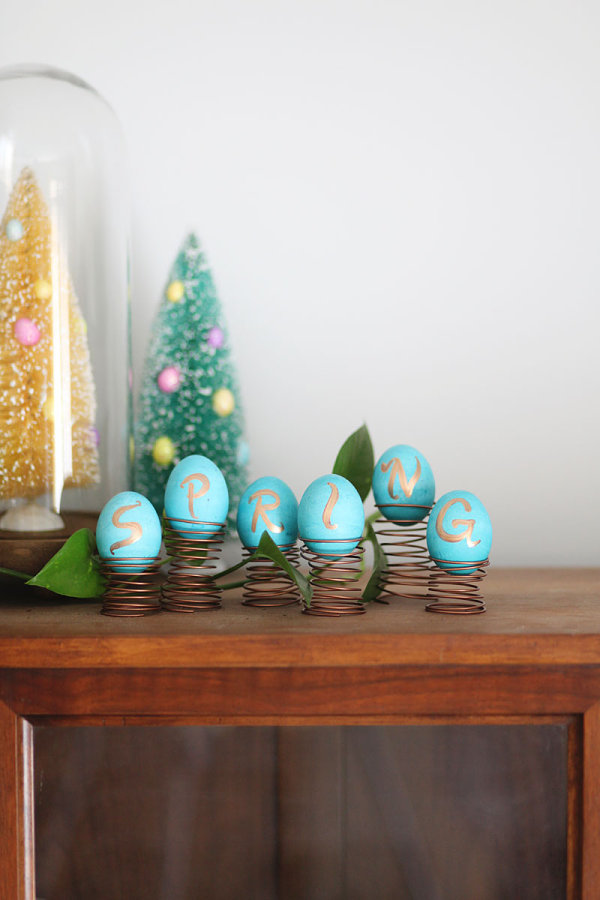 Do you ever get holiday inspiration from wedding blogs? I sure do! And there's a lot to admire over at Ruffled, where centerpieces and table settings in Easter-fabulous shades have my head spinning with vibrant decor ideas…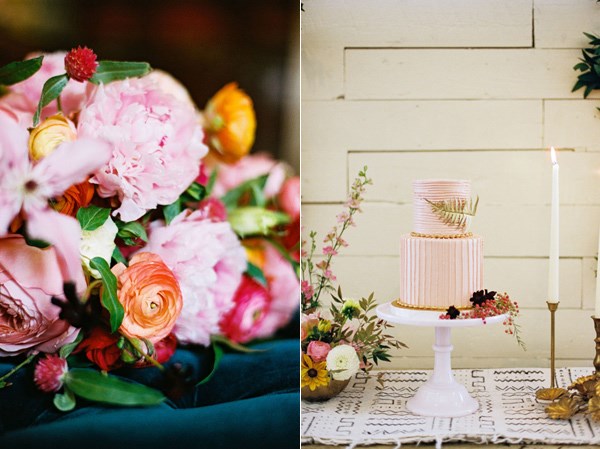 Dyed eggs can crack, and while hard boiling them prevents the yolk from pouring out, you'll still have a mess on your hands if your little one drops the Easter basket. Which is why these Embroidered Felt Easter Eggs are the perfect answer to your kid-friendly Easter decor dilemma. By forming wool roving into eggs, then embellishing them with embroidery thread, you can create a gorgeous spread in the colors of your choice. More details at Camille Styles!
This low-maintenance egg decor idea can easily be achieved with some paint and the tip of an eraser! Use brown eggs and skip the dyeing process for a super easy way to make a beautiful statement. For more on these Polkadot Painted Easter Eggs, head on over to A Subtle Revelry: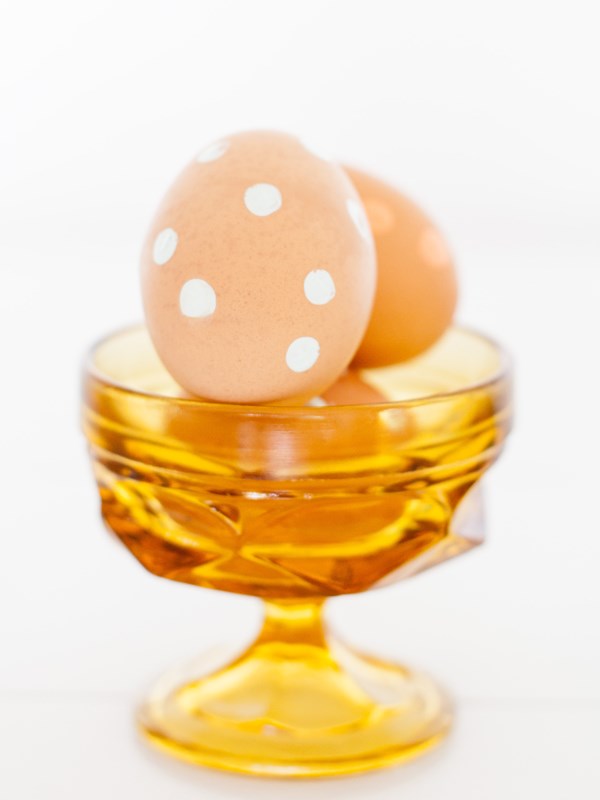 You know that Easter grass you always buy at the store? Wouldn't it be nice to change things up a bit? I was thrilled to come across a post titled "DIY Easter Nesting Three Ways" from Oh Happy Day. It filled my head with clever ways to put a personal touch on your Easter grass and create some photo-worthy decor, as shown below: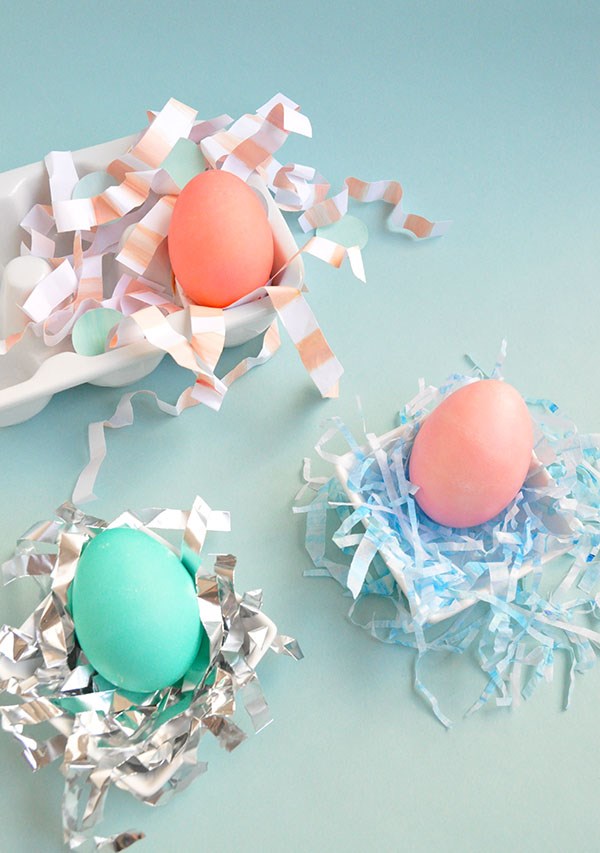 Easter Decor for Your Party or Gathering
Are you gathering with friends and family this Easter? It's a special day, often spent with the ones you love. Add a festive touch with these Metallic Brush Stroke Balloons from Design Love Fest. Helium balloons take on a gilded look with the help of metallic paint and some creative brush strokes. Aren't the color combinations stunning?!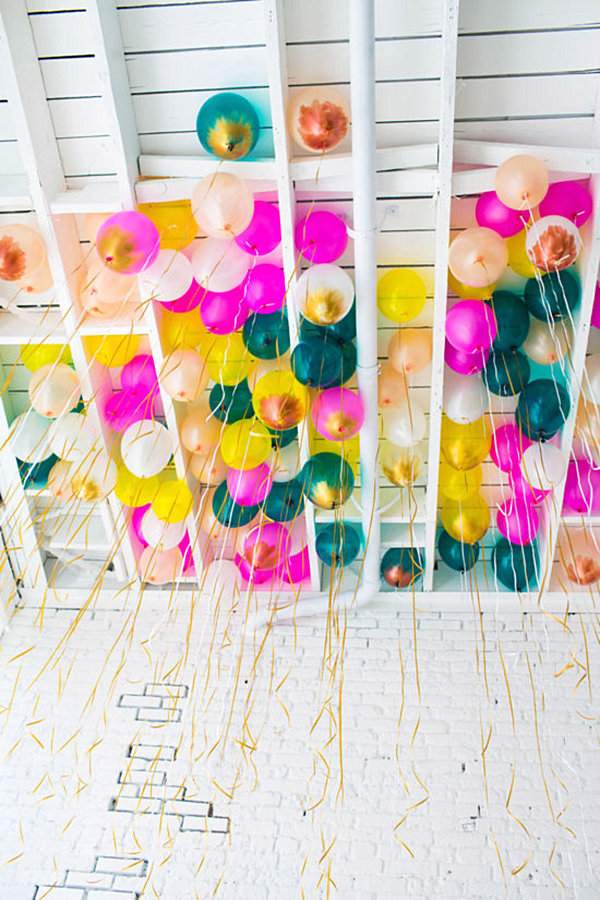 Simple, sweet and elegant, these Egg-Holder Place Cards will definitely dress up your Easter table. Print out the template, embellish the design with watercolor paint, and enlist the help of a paper towel tube to create some unforgettable rings that will direct your guests to their spots while holding a dyed egg at each place. Check out all the details at Camille Styles: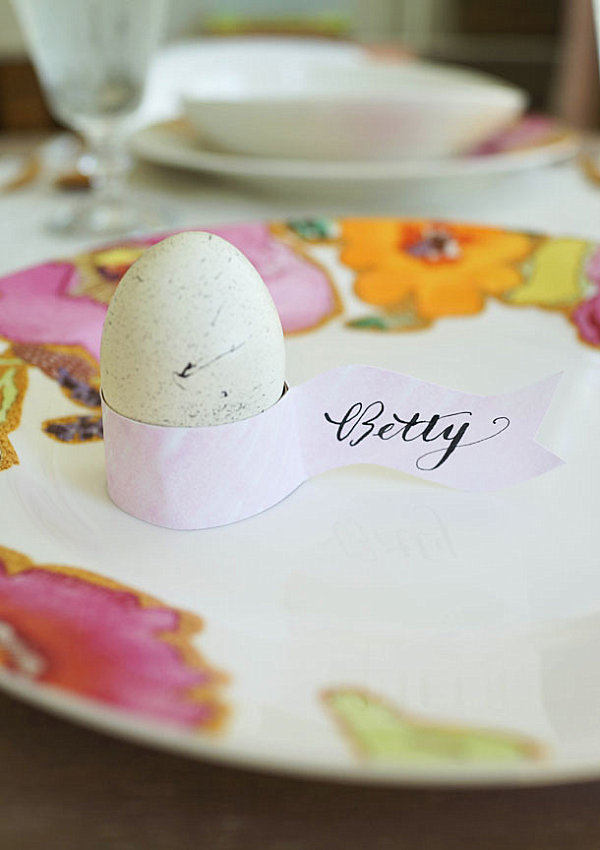 When I first saw these Peeps Bunny Place Card Holders from A Beautiful Mess, I thought they were the real marshmallow treats! But they're actually crafted from polymer clay and embellished with the help of Mod Podge and flocking powder, among other handy supplies. Pretty clever, don't you think?!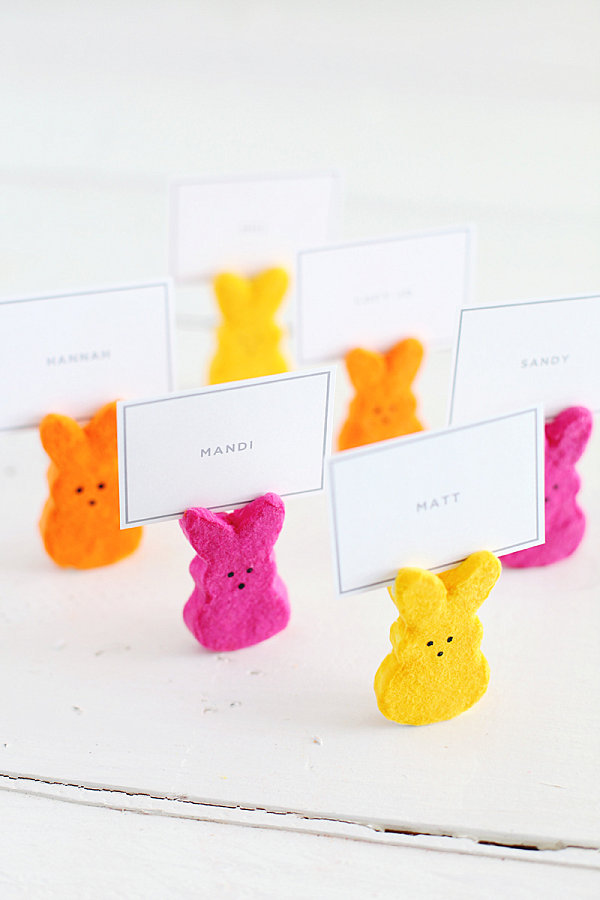 If children will join you at your Easter table, don't hesitate to make their spots extra special. Embellish their chairs with bows, and tie a wooden toy to the back of each seat for an added decoration that doubles as a gift. [from Lonny]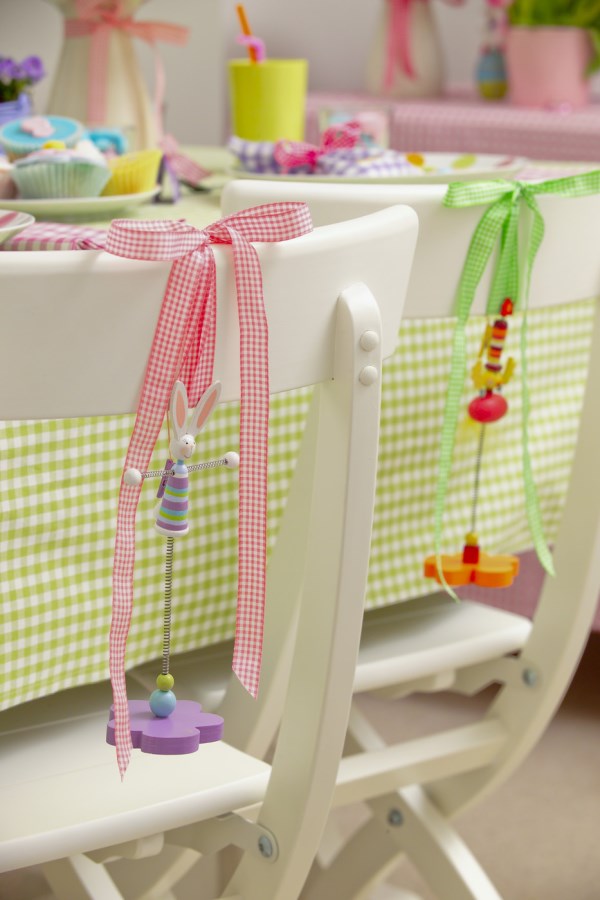 Incorporating colorful egg cups and painted eggs into the design is another way to add a vibrant dose of color while putting a child-friendly stamp on your gathering. [from Lonny]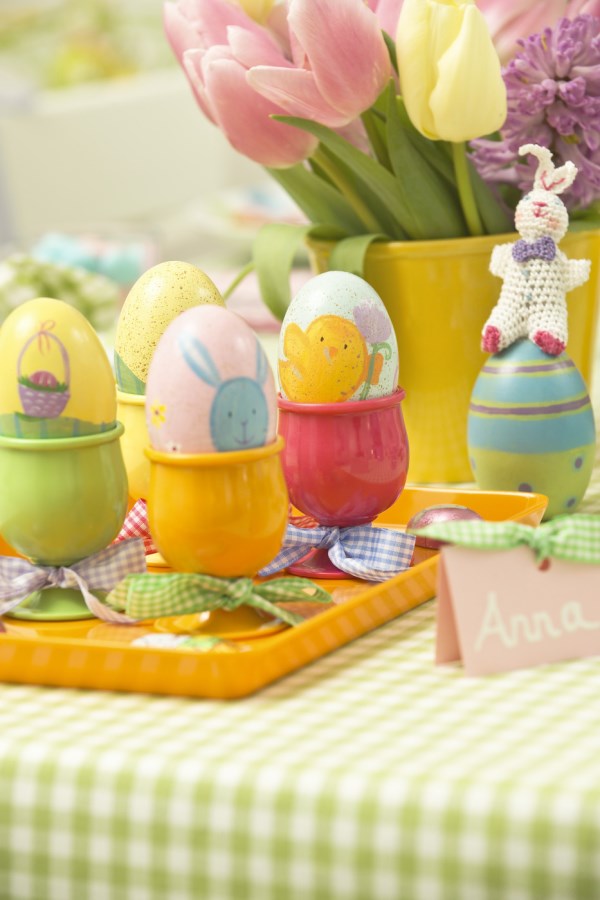 You don't have to spend a fortune to set a special table. This Painterly Cake Stand DIY from Hank & Hunt shows you how to embellish a clear serving piece with the design of your choice. Decorating the underside of the surface ensures that the food never comes in contact with the paint: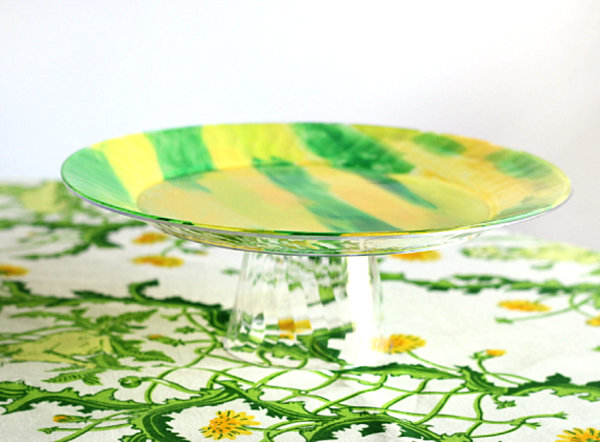 Have you seen the Oh Joy! for Target Collection? These beautifully designed festive supplies are flying off the shelves. I bought a pack of plates similar to the ones below to use at one of my summer parties. Because I knew they wouldn't be in stores for long. Never have paper party goods been so elegant! Even if you set your table with china for Easter, consider these fun plates for the dessert. [from Oh Joy!]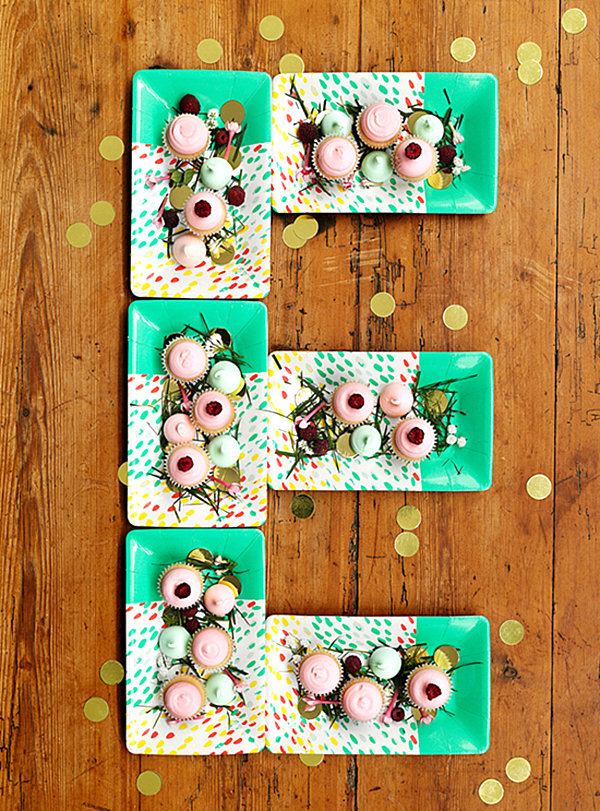 Below we see a few more selections from the Oh Joy! for Target collection, which are sure to spark some colorful table setting ideas for Easter. I love the use of salmon and mint, two of spring's hottest colors. [photo by Oh Joy]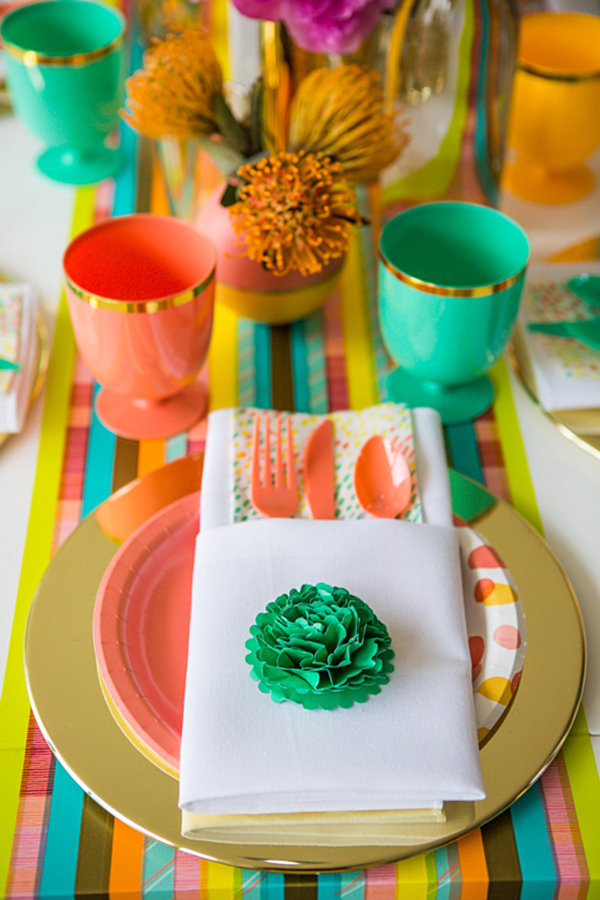 What to serve for Easter? While you're free to plan the delicious dinner or brunch of your choice, I like to keep it simple with easy-to-prepare items such as frittata. The star of my parties and gatherings: the dessert! And with the current donut craze that's sweeping the blogosphere, it's clear that even store-bought sweets can be beautifully embellished with the right frosting and sprinkles! [from Maki Strunk via Oh Happy Day]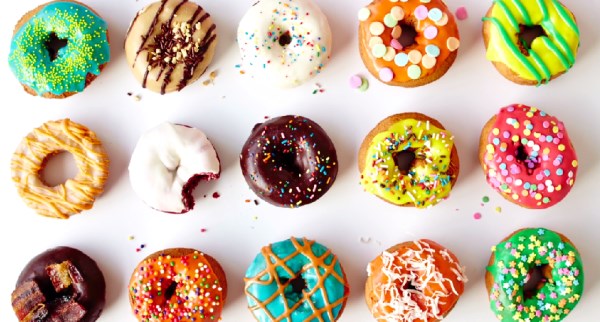 How cute are these Mason Jar Bunny Coconut Layer Cakes?! The not-so-secret ingredient that gives these sweets a designer twist: paper bunny ears. Check out the recipe at A Subtle Revelry.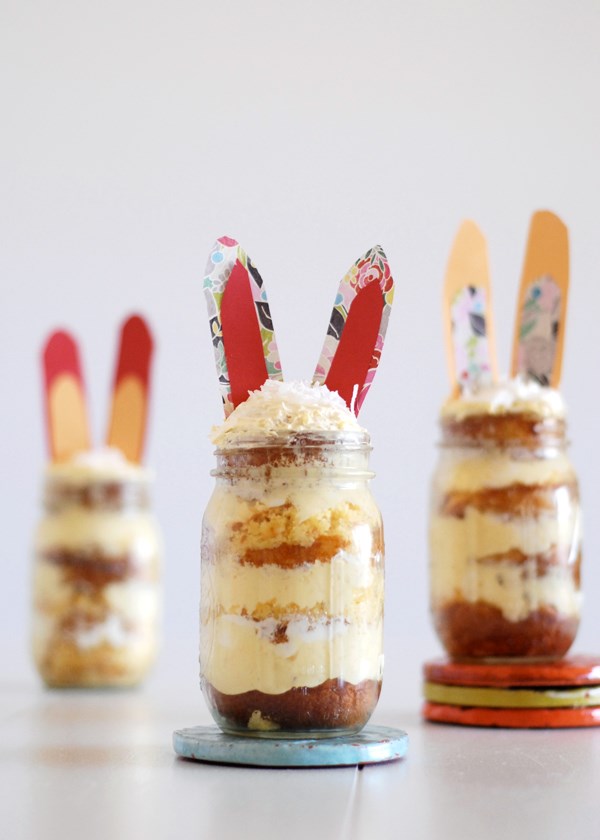 I love food that doubles as decor. If your food is gorgeous enough to be photographed, shouldn't it take center stage on your table? Plus, you don't have to store consumable decor, which means fewer plastic bins in your closet! Below we see Easter Meringue Kisses from Say Yes. It's amazing what a little food coloring can do!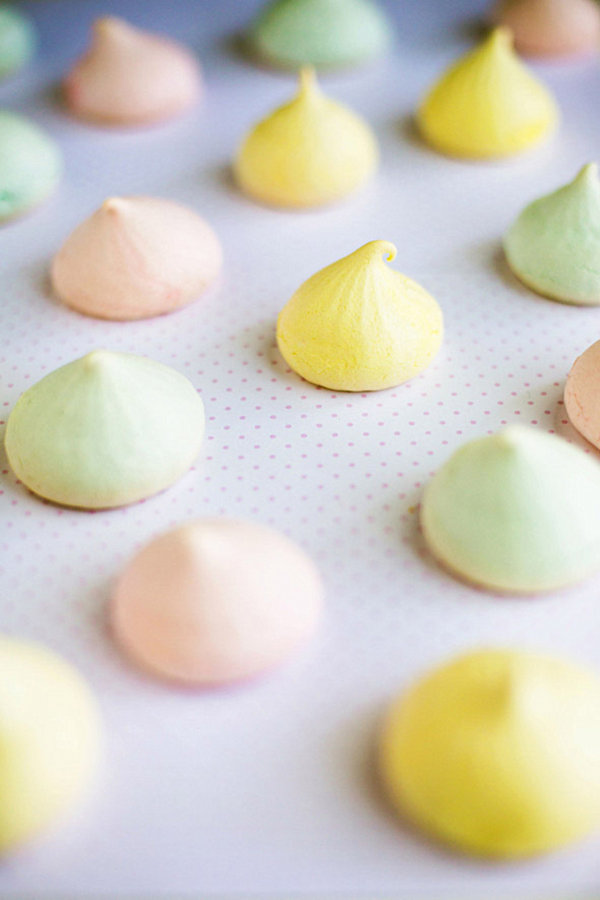 End the meal with a delicious cup of coffee for the grown-ups. Top it off with whipped cream, sugar sprinkles and geometric stirrers crafted from skewers and washi tape. Below we see a pic from a pastel party photo shoot I featured at my retro blog Mirror80. Instead of coffee, offer the kids hot chocolate. They'll love the sprinkles!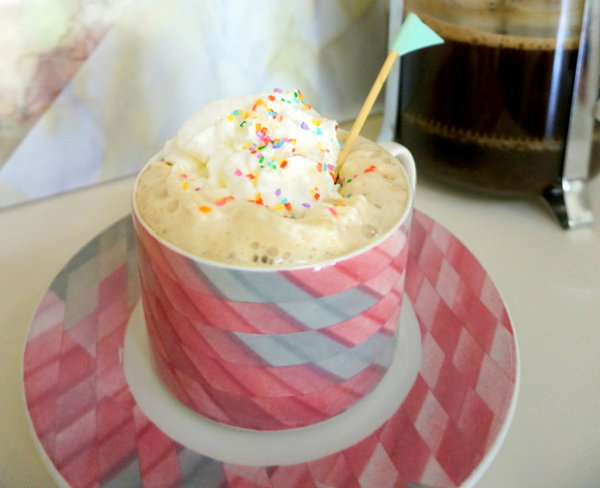 I hope today's post has given you a few festive ideas for your Easter holiday. I now have some fun ideas for homemade gifts that my family can enjoy, especially if dyed eggs and DIY Easter grass are involved. Happy Easter from all of us at Decoist!