Planning any spring parties this season? Why not!? With the gorgeous weather and fresh start that spring brings, there's plenty to celebrate! For one thing, a new range of blossoms and produce are in season. Not to mention, if you've done some spring cleaning or recently updated your decor, it's time to show off your home.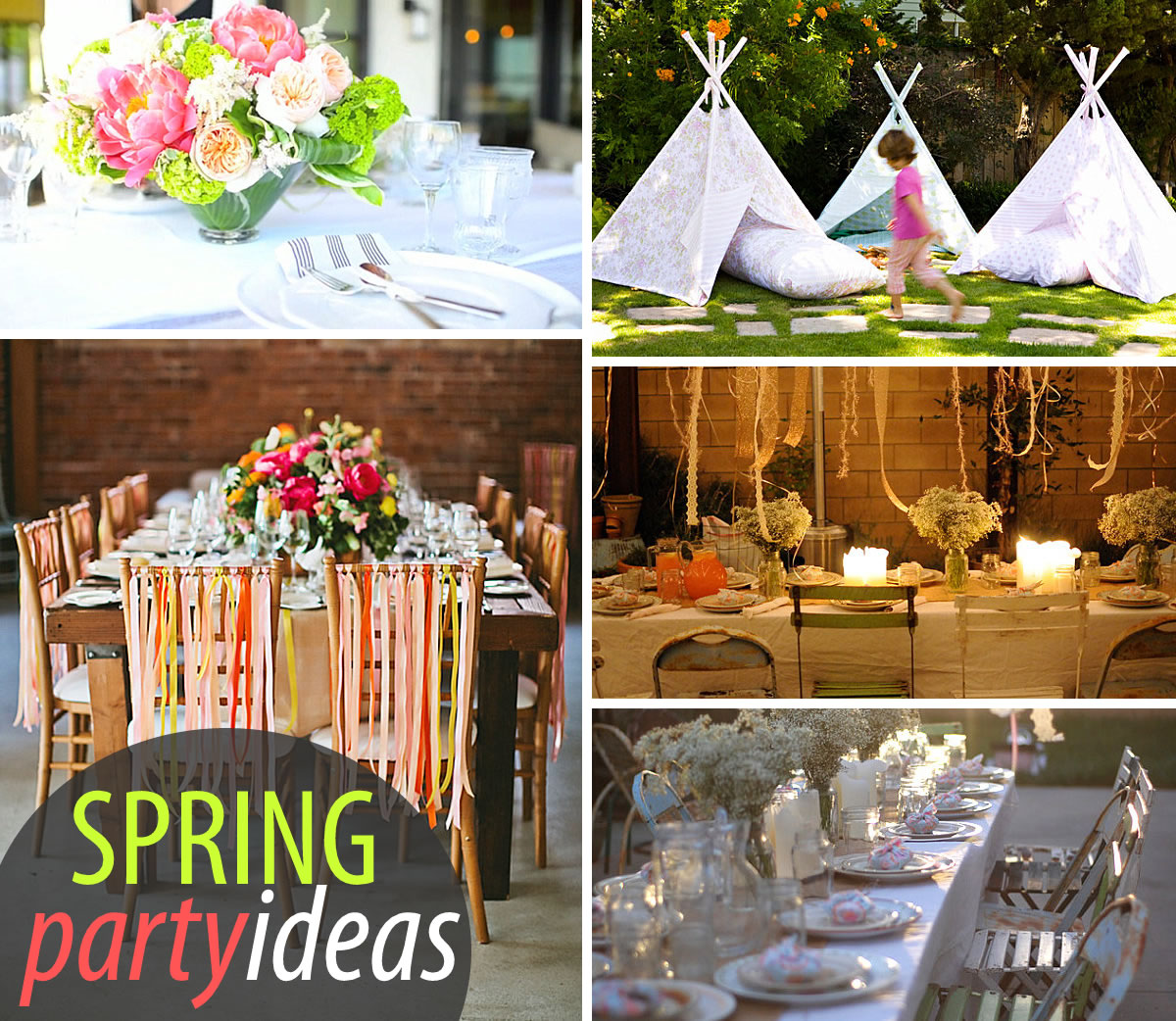 Today we feature 20 spring party ideas with the power to add color and style to your next event. From tabletop suggestions to those special touches that bring a party to life, we've got you covered. Whether you're entertaining indoors, moving it outdoors or hosting a kid-friendly gathering, you'll be sure to find some inspiration from the gorgeous images below!
Spring Party Basics
We start with party basics that will set the tone whether you're indoors or out. Begin by selecting a striking color scheme. We're loving the berry tones of the charming table setting below, complete with fresh lilacs and what appears to be be blueberry lemonade. [from Dreamy Whites]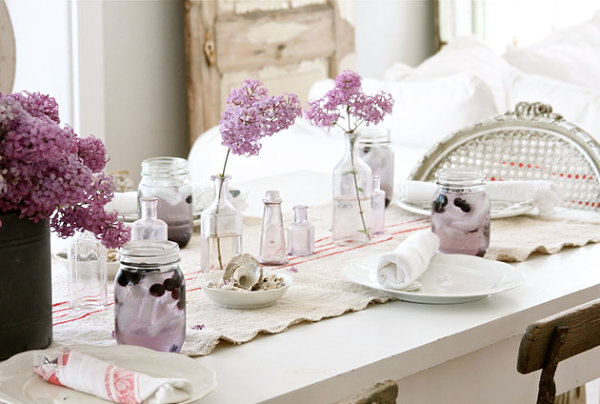 Throw in an unexpected touch, like these ribbon-decorated chairs from a spring dinner party featured at Somewhere Splendid. Note how these colorful streamers help reinforce the hues of the centerpiece while adding a festive element to the decor: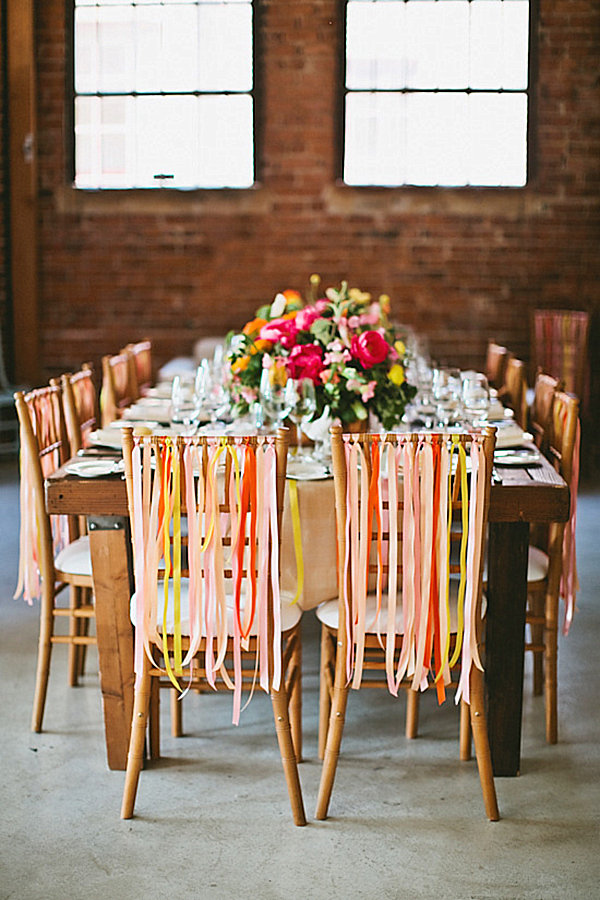 You can't go wrong with a decadent centerpiece, especially when the rest of the table setting is equally decadent. Note how votive candles add another layer of interest to the party vignette in the next image. [from Somewhere Splendid]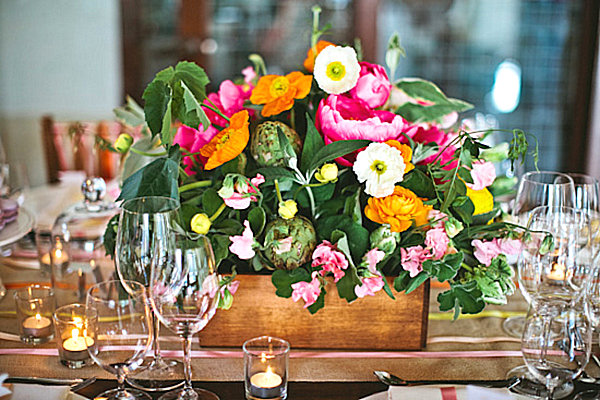 Since spring is a time of the year that we love to head outdoors, don't be afraid to incorporate several natural elements into your party decor. Set an earthy tone with a tree stump as a pedestal, and use natural yet vibrant shades from sources like peach flowers and plenty of greenery. Below we see a table from a peach and teal wedding featured at Ruffled.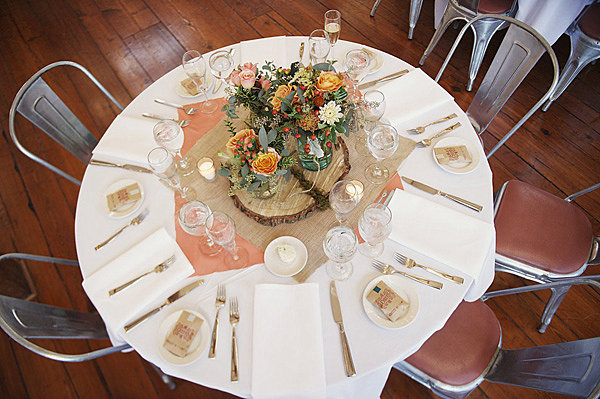 Pay special attention to seating. Will guests be eating together all at once, or will dining be more informal, with some guests seated in chairs and others standing? This New York porch shows the power of one long table, especially when styles are mixed and matched. Notice the rustic yet modern look of this arrangement, thanks to a long wooden table paired with metal chairs. [by Crisp Architects]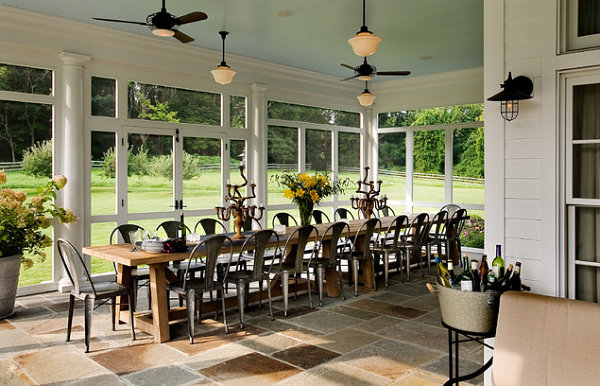 Don't forget to say thanks! Don't hesitate to send each guest home with a favor that celebrates the season. For example, these charming vases are repurposed jars. Personalize them with a note of thanks, then use them as party decor that guests can take with them! [from Once Wed]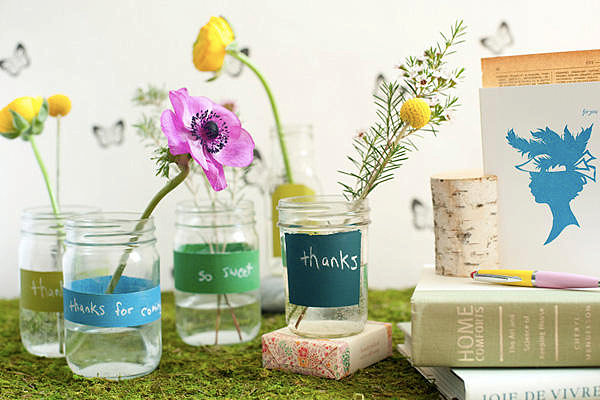 Outdoor Spring Party Ideas
Time to head outdoors! Is there a more appropriate way to celebrate the new season than by enjoying the gorgeous weather? We think not! Set a beautiful outdoor table with blossoms, candles, and of course, something pretty at each place setting. For more party-fabulous information, check out Cakies. [photo by Rubyellen Bratcher via Cakies]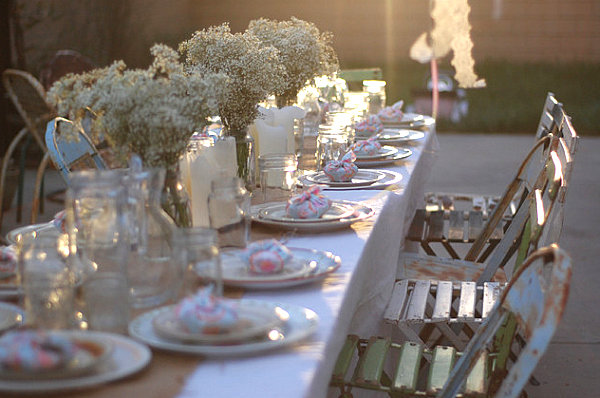 Another unique idea from the same event? Create a ribbon chandelier that streams down to table below, like shooting stars that glisten in the twilight…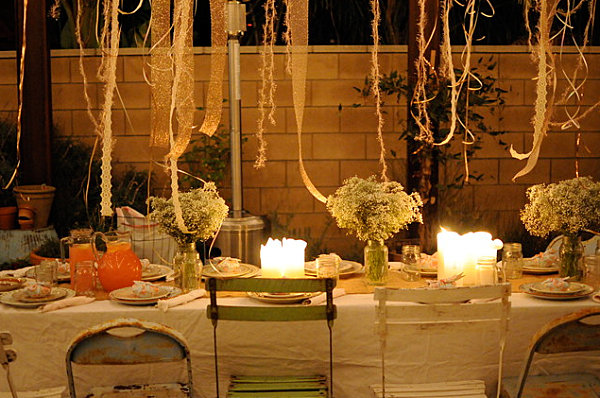 Select a gorgeous centerpiece that mirrors nature's vibrant colors. After all, spring is the season of new blooms! Below we see a beautiful bouquet from a "Made for Each Other" bachelorette party featured at Camille Styles. Be sure to watch the party video, as it's packed with wonderful ideas for outdoor entertaining: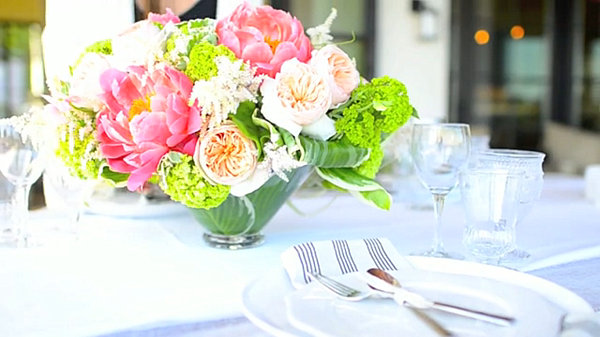 In another shot from the same event, we see collected glassware that is cleverly combined, complete with an assortment of rosy drinks. This image reminds us that mixing and matching pieces is one creative way to add diversity to your party decor. [from Camille Styles]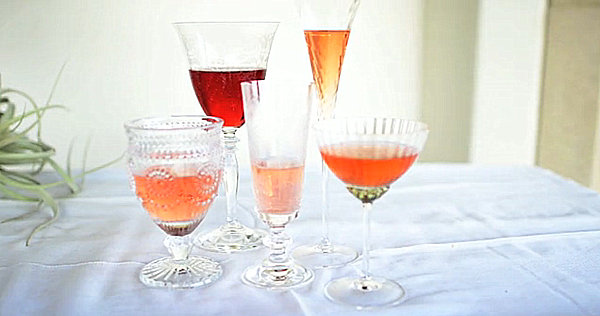 In the next image, we can't help but notice the allure of a delicious cheese plate, complete with berries, grapes, nuts, honey and other goodies that create a delicious array of complementary flavors. [from Camille Styles]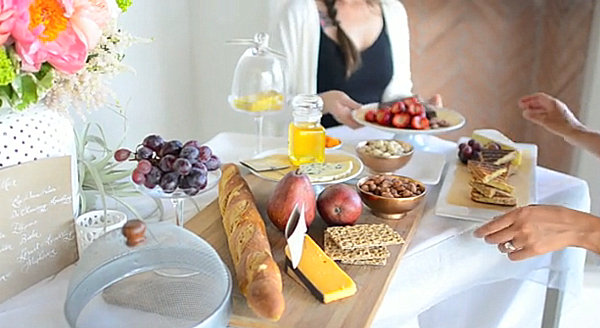 In a setting that rivals New York City's once-famous restaurant Tavern on the Green, a cluster of hanging lanterns adds a touch of whimsy and elegance to an outdoor gathering. Use the lanterns to create a charming effect by accenting them with colorful floral decor and plenty of fresh blooms. [from Jary Ralston via Houzz]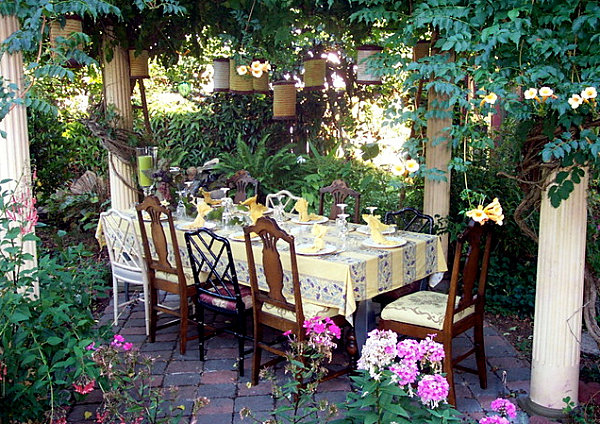 Speaking of elegance, this San Francisco patio illustrates the undeniable sophistication that a tent can bring to a party setting. No matter how big or small, a tent immediately creates an upscale feel, especially when a crystal chandelier is involved, as shown below! [from Alex Amend Photography]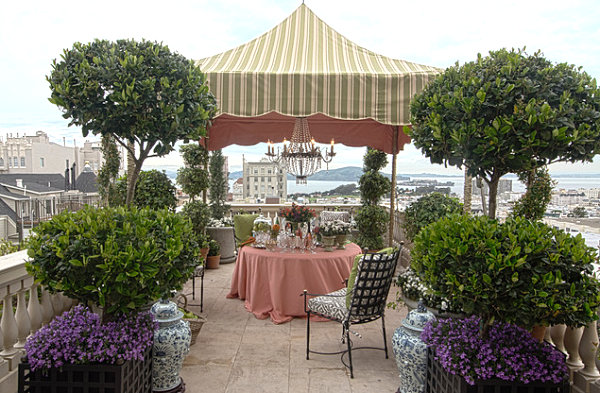 Shine the light on your party decor! In this next space created by Lucid Interior Design, strategic lighting accentuates the different elements of a glamorous dinner party vignette, such as a centerpiece in rosy shades and plush seating: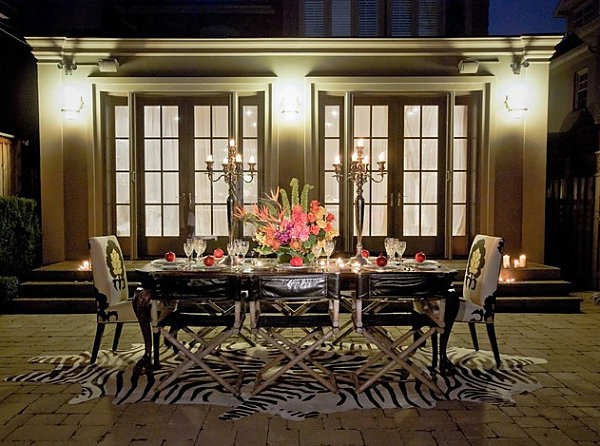 Simple statements can make all the difference. Do you need a tent or a chandelier to create the perfect spring party? Absolutely not! For example, a vibrant flag banner can be a stylish signal of festivity. Add a few potted plants and some outdoor seating, and an impromptu party can quickly take shape! [from Ninainvorm]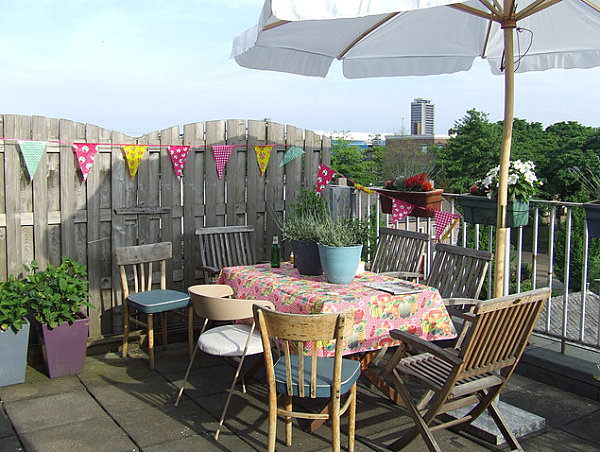 For a fun and unexpected party idea, why not project a film on the side of your house? Put some blankets on the ground, whip up some delicious snacks, and invite your friends to watch a classic movie on a beautiful spring evening! [from Belzberg Architects]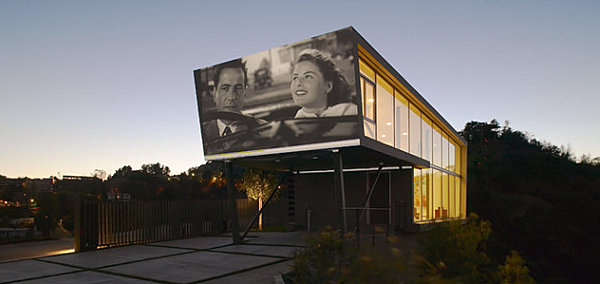 Kid-Friendly Spring Party Ideas
We end by turning our attention to children's party ideas for spring! After all, nobody gets excited about a change in the weather quite like the kiddos! Celebrate the fresh air by placing a series of teepees in the yard. When your child invites friends over, there will be plenty of outdoor fun, especially as day turns to evening and the flashlights come out! For a extra dose of color, make sure teepees feature vivid hues and patterns. [from Annette Tatum]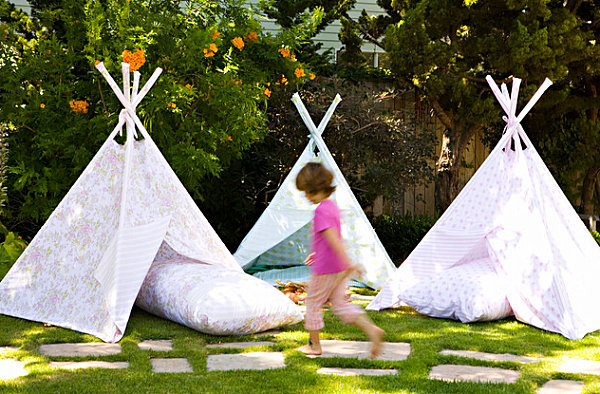 Make sure you have plenty of kid-friendly treats on hand. One clever idea is to fill ice cube trays with an assortment of snacks, from fresh fruit and veggies to crackers. With this colorful method, party eating is both healthy and fun! [from Jennifer Bishop Design]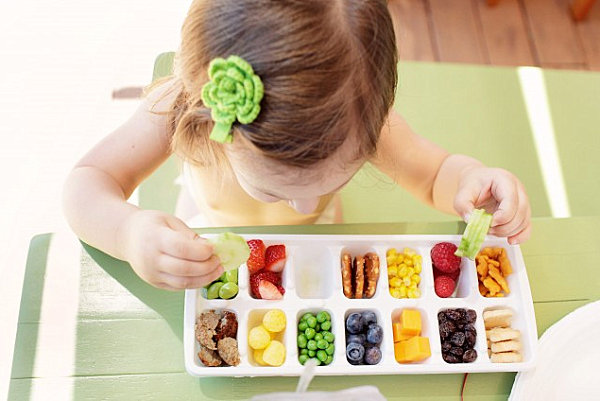 For a wiggly treat that is part watermelon, part jello-y snack, check out this recipe from Gourmet Mom on the Go. Note: this innovative party food idea was served at the same gathering featured above–a Russian doll-themed event!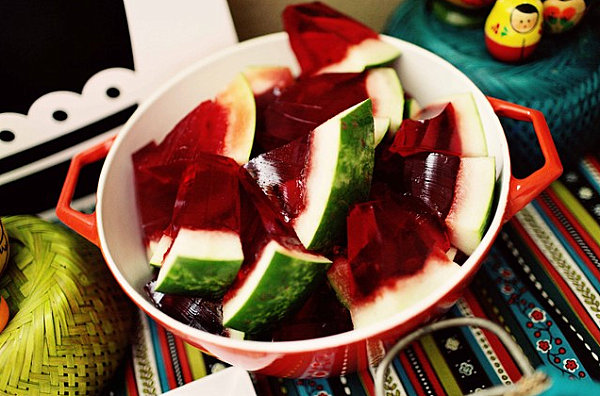 We end with some twinkle lights and an open fire. Of course, this idea is most appropriate for kids who are slightly older, and even then, it's still a good idea to supervise the area. A perfect end to a perfect night: s'mores! [from Urban Jobe Architecture]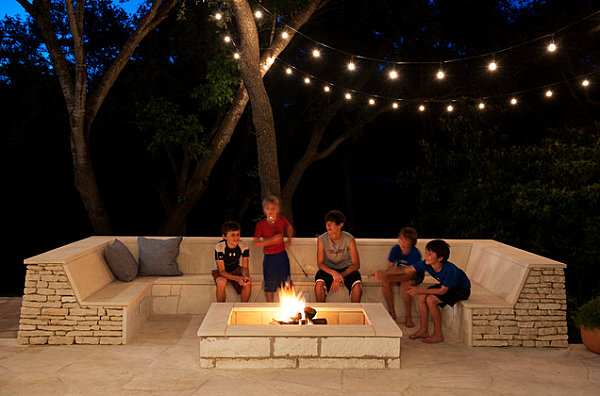 When you entertain this spring, will your gathering take place indoors or outdoors? Maybe both?! Share a spring party tip by leaving a comment below…