There are many reasons to love glass shelving. One of our favorites: its "there but not there" quality. Since glass shelves are transparent, they seamlessly blend into their environment, creating a light and airy feel in any room they inhabit. Two of the most popular reasons to use glass shelving are the way they reinforce the brightness in crisp, white spaces and the way they keep dark rooms from being too heavy.
Remember last week's post on stunning glass staircases? Today we continue our love affair with glass by presenting 20 rooms that use glass shelving to their advantage. We've grouped the lovely images below by room, beginning with living areas and ending with unexpected spaces such as closets and home offices. After viewing the interiors that follow, one thing will be crystal clear: glass shelves are a versatile option that maximizes function and style!
Living Rooms with Glass Shelves 
We begin with living rooms featuring glass shelving. One thing to note: these shelves are frequently custom-designed, but you can also purchase your own glass shelves and hang them with brackets, as shown below. Check out the striking coral collection, especially the way it pops against the dark brown wall. [from Pleasant Living]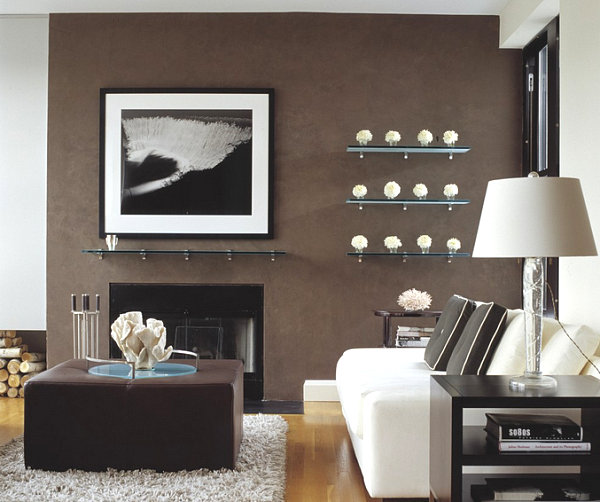 When the shelving is subtle, the items that rest on each surface can take center stage. No wonder so many shops choose glass shelving! If you don't have wall-mounted shelves, you can always buy the freestanding variety, as shown in this next living room (which also features a beautiful coral collection). [from Lonny]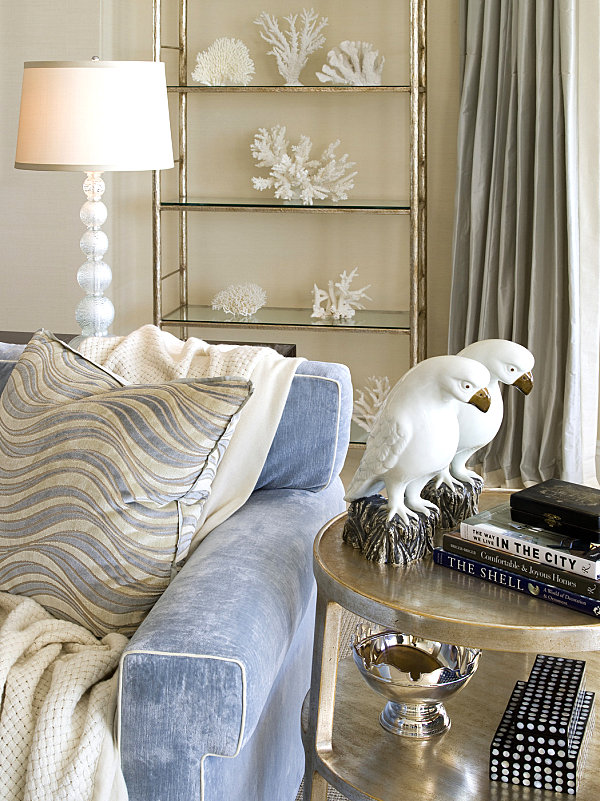 But sometimes it's fun when the shelving can make a statement of its own, as shown in the next featured space. A chrome frame is the perfect complement to this bar area. Interested in purchasing the item? It's the Tesso Wall-Mounted Bookcase from CB2. [from Frisson]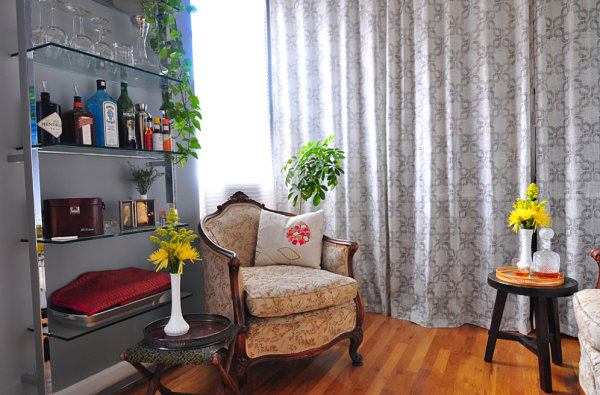 Don't be afraid to go bold! There's something sculptural about this Foulard shelf from Fiam. Maybe it's the way curved transparent glass creates true design perfection. Or perhaps it's the small touches, like the chromed metal brackets…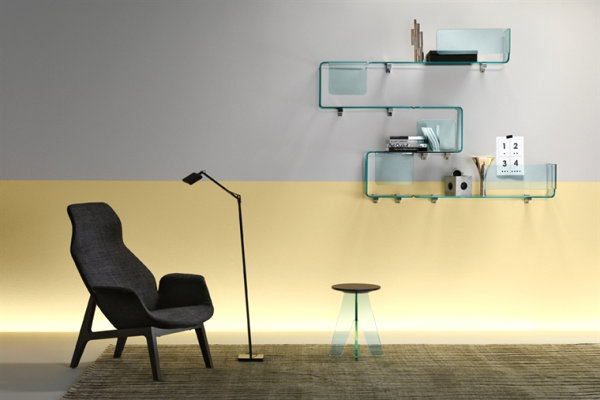 Glass Shelving in the Kitchen
Glass shelving is ideal for kitchens with a light and airy feel. Below we see a space with french doors from Workshop/apd. Note the way the transparent cabinets and shelving provide plenty of storage without blocking the beautiful view: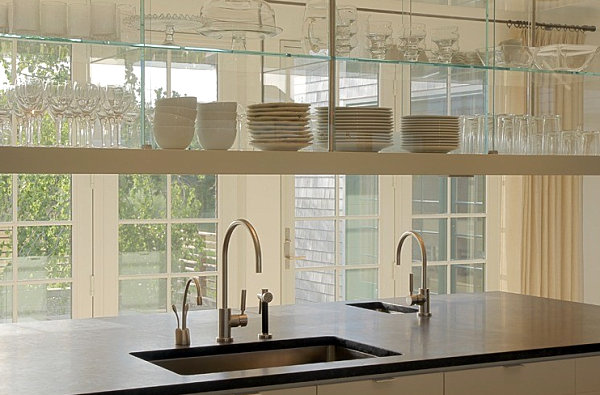 A similar effect is created by the glass cabinetry and shelving in the next featured space. When incorporating see-through shelving, even in front of a window with a view, try scattering a few pops of color that make a bright statement. [from Chicoco Design]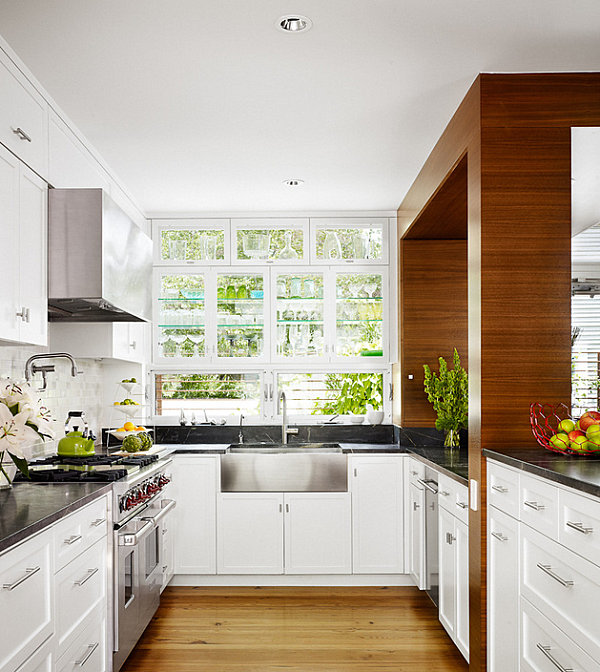 Glass shelving provides an ideal way to create a partition while maintaining a sense of openness. The wraparound cabinet below adds privacy to the kitchen and the dining room, but glass shelving ensures there's a window into each space. As well as a great place to display decor! [from Cary Bernstein Architect]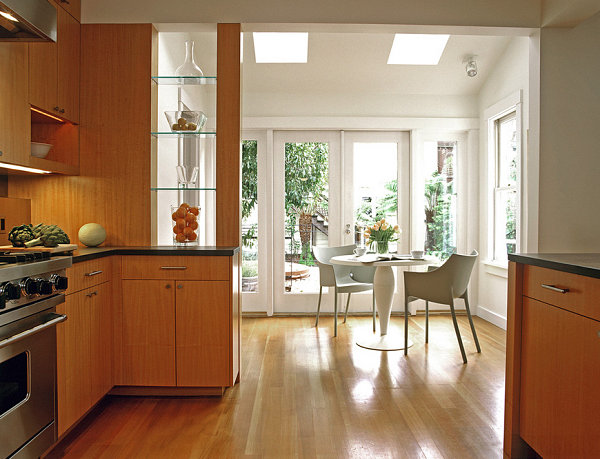 These hanging glass shelves add a swanky-meets-industrial touch to the culinary space in the next featured image. Once again, we see how shelving constructed from glass provides an opportunity to add storage in front of windows. [from National Woodwork]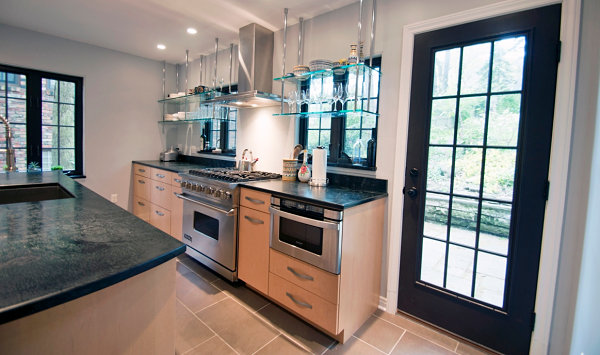 Don't forget about the fabulous display possibilities offered by glass shelving in the kitchen. After all, this is a space filled with dishes, serving pieces and interesting collectibles. While it may be tempting to show everything off, remember that the clean look of glass shelving complements uncluttered arrangements, as shown below. Less is more! [from Lonny]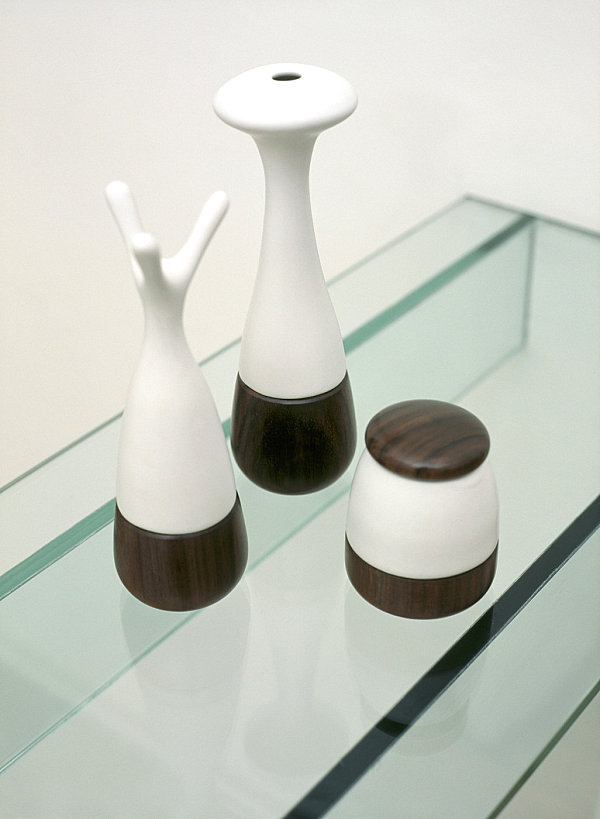 Powder Rooms with Glass Shelves
The powder room is by far the most popular location for glass shelving in the home. In fact, bathroom shelves provide a clean, fresh look that works well in a space that's all about bathing (and creating a spa-like setting)! [from Ellen Grasso & Sons]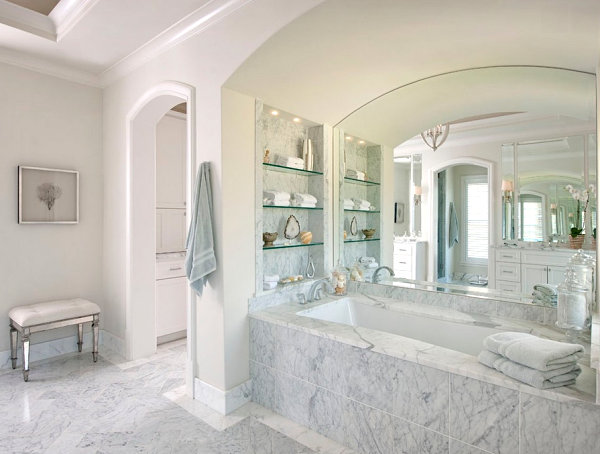 As always, glass shelving works particularly well in crisp, bright spaces, such as the gorgeous powder room below. [from Wettling Architects]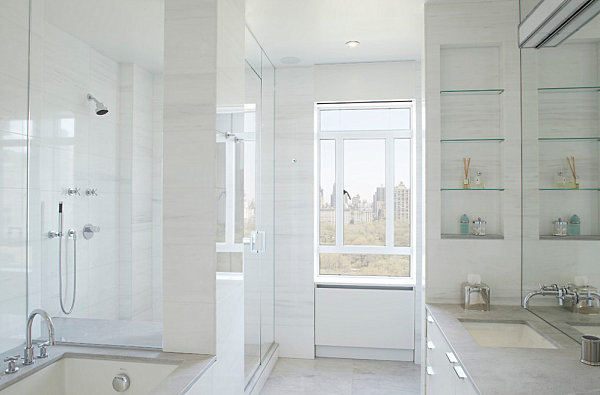 Glass shelving can also help achieve symmetry, especially when placed on either side of a door, window or shower. Note how the repetition of decor and folded towels on each side of the shower below creates a sense of serenity. [from Famosa]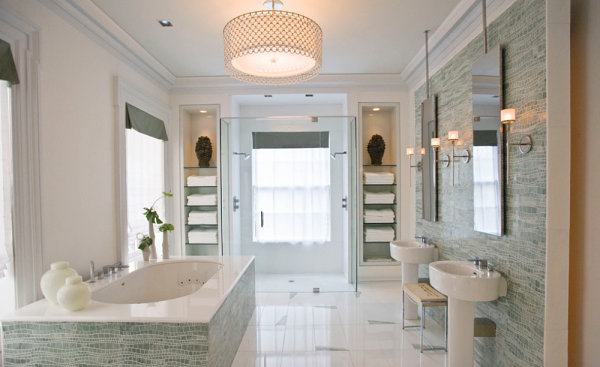 Darker bathrooms can also benefit from glass shelves. When surfaces in brown, grey and other rich neutrals are contrasted with the clarity of transparent shelving, the result is a clean look (that's not too heavy). [from RemodelWest]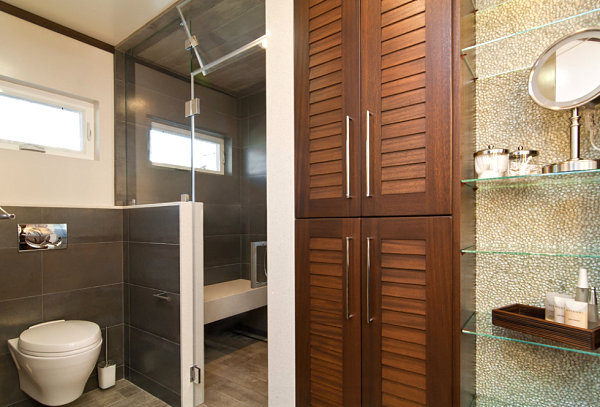 A similar effect is achieved below, as glass shelves beautifuly complement a glass shower in a powder room featuring dark brown wood. [from Cathers Home]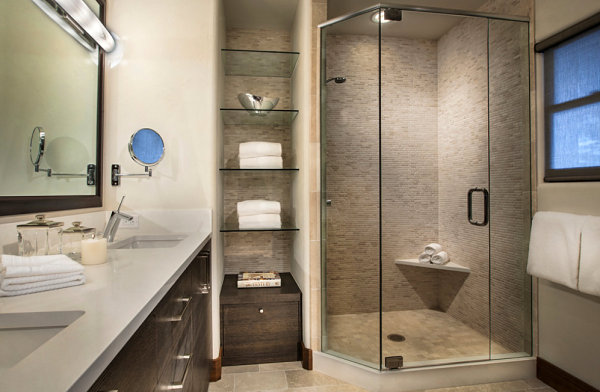 Using an interesting color in your bathroom? Consider glass shelving! Below we see a lavender and white powder room that's enhanced by a glass shelf above the sink. Adding wooden shelving might interfere with the delicate balance of light purple and bright white. Glass and chrome are the perfect choice for this space. [from Lonny]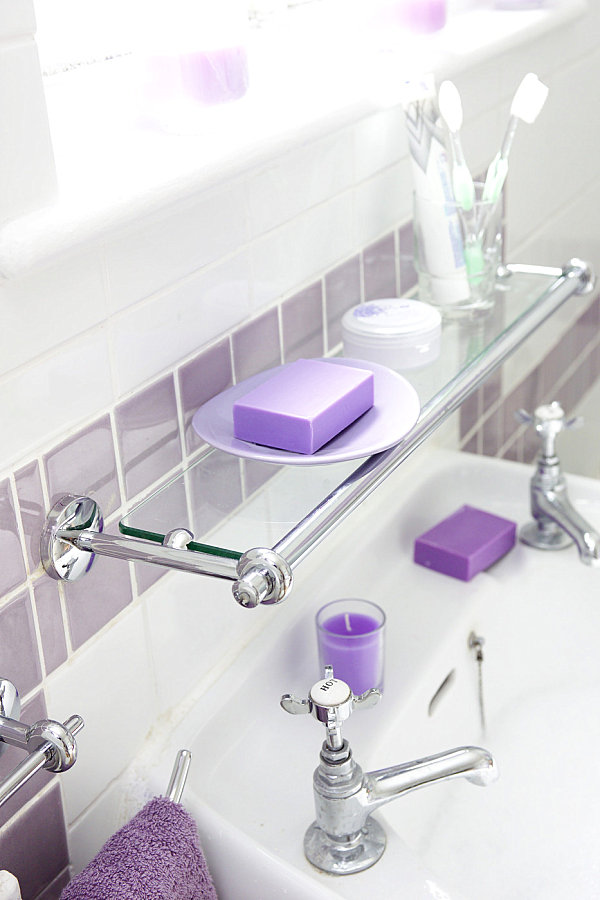 The Versatility of Glass Shelving
We end today's post with a reminder to look beyond the obvious. Consider the other areas of your home that could benefit from glass shelving. Such as the dining room! Like the kitchen, this space often holds dishware, glassware and serving pieces. Give them an elegant platform, as shown below with the stunning shelving on either side of the window. Light and refreshing, don't you think?! [from Morgante Wilson Architects]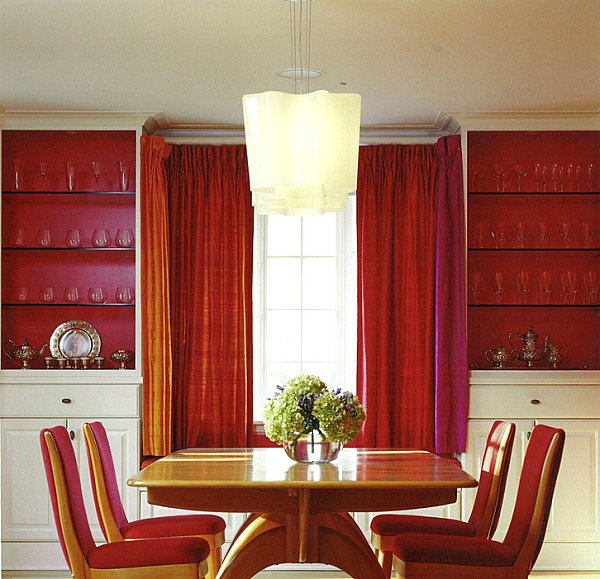 The bedroom is another interesting location for glass shelves. They make the perfect stage for collections of glassware, pottery and other artifacts, as shown in our next featured space. [from John Lum Architecture]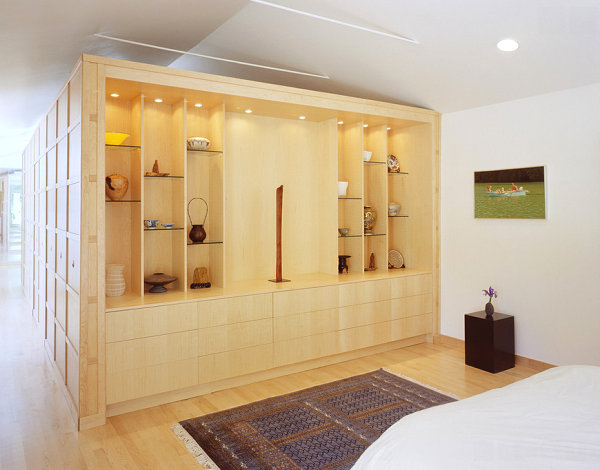 Glass shelving in the home office? Why not?! Books and other heavy items can appear cluttered on office shelving. But when sturdy glass is involved, a touch of elegance is added to the room without weighing it down. [from Butler Armsden]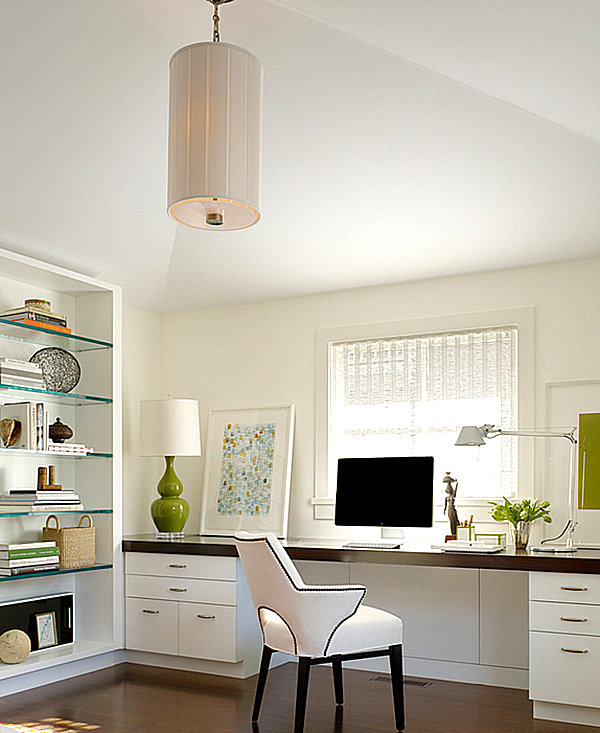 Glass shelving also adds style to walk-in closets, where large numbers of shoes, bags and accessories often line the walls. Another hint: when displaying items on see-through glass shelving, it becomes pretty obvious when things get out of order. Which just might inspire you to clean and organize on a regular basis! [from Marin Perri Interiors]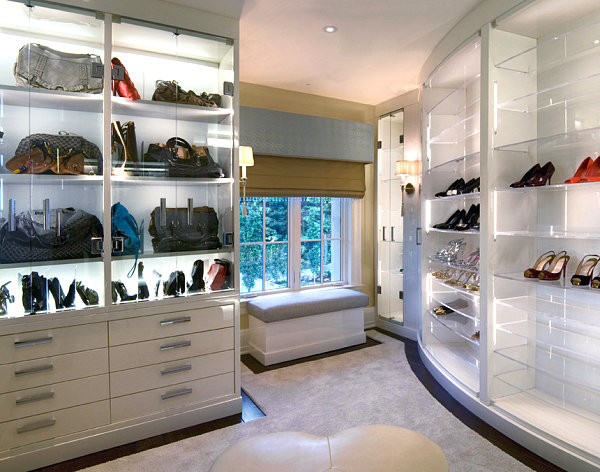 Don't forget that not all glass shelving is transparent. Try brushed glass for a translucent look that's equally elegant and stylish! [from AFF Furniture & Door Hardware]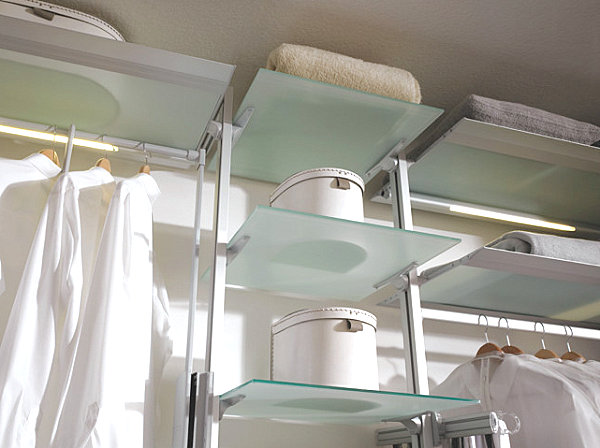 If you had a wall of glass shelves, what would you use them to display? Mineral specimens? Unique vases? Bar supplies? Share your thoughts in the comments section below…
Liked the story? Share it with friends.