When you imagine your perfect bathroom, is it a modern space featuring a few interesting details? Or perhaps it's a spa-like haven where you can enjoy life's luxuries, such as plush towels and indulgent bath products. When turning your dream powder room into a reality, practicality and style come into play. One essential element that helps you stay organized and gives you a place to express your personal style: shelving. [from Wanda Ely Architect Inc.]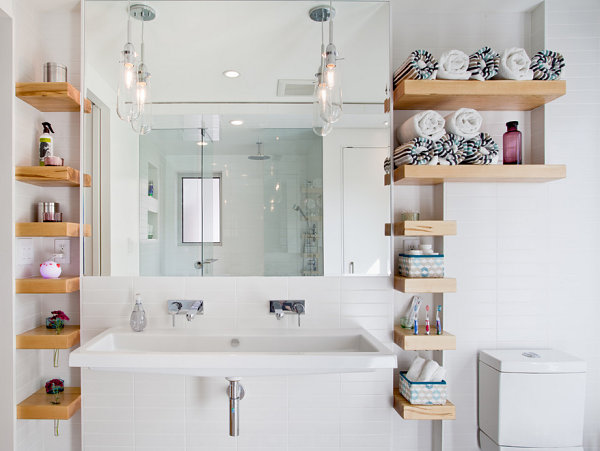 Today's post is dedicated to bathroom wall shelves that make a big impact. We'll explore different shelving options, show you where you can purchase wall shelves of your own, and then give you a few ideas for filling your shelving with flair. The key is to put those shelves to good use without cluttering them. Your shelving can be used to get just the look you want for your powder room, regardless of your preferred style. Read on for all the details…
Types of Bathroom Wall Shelves
Many powder rooms feature built-in shelving. If you're lucky enough to live in a space that includes recessed shelves, count your blessings. You can store and display items without taking up too much space! Towels and products are neatly tucked into the wall for a clean, crisp look. [from Dekora]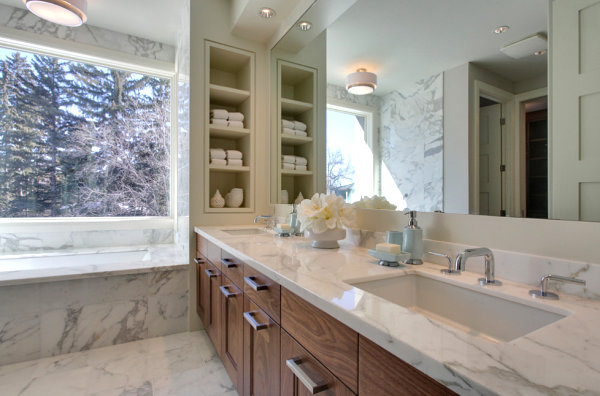 Other bathrooms feature open shelving. Sometimes this shelving is added after the fact, and sometimes it's custom-built to fit the space. If you have the luxury of designing your bathroom, consider including some custom shelves to maximize room and style. [from Clockwork Architecture + Design]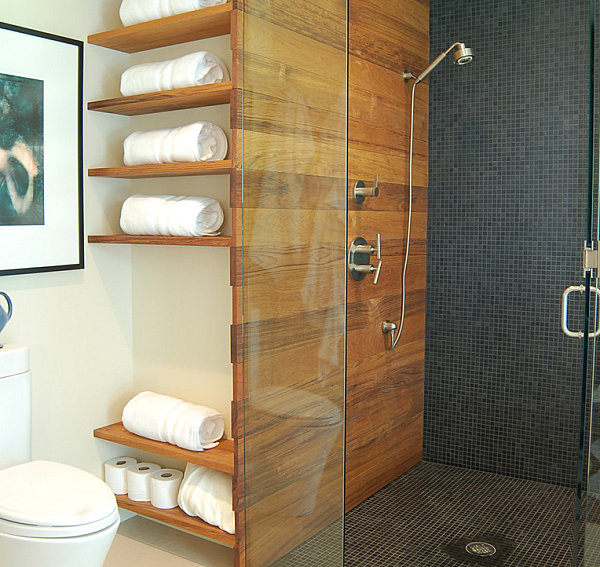 No custom or built-in shelving in your powder room? No problem! There are some amazing items you can purchase with ease, including transparent glass shelves that give your space a clean, crystal clear look. [from Rethink Design Studio]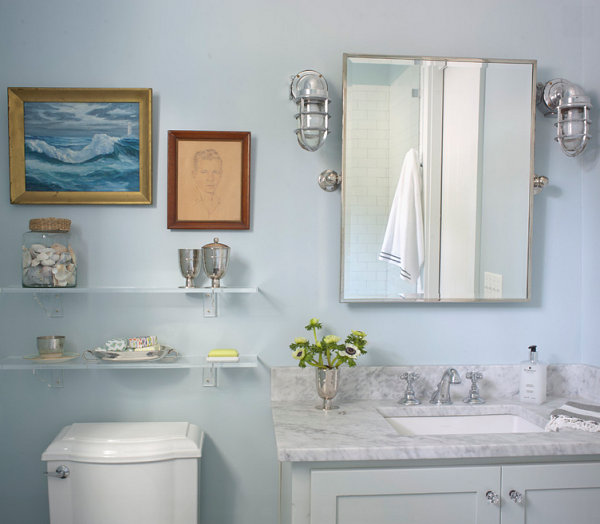 Purchasing Bathroom Shelves
Purchasing wall-mounted bathroom shelving is a snap, thanks to a range of options at a variety of price points. This affordable Neu Home Metro Collection 2 Tier Wall Mounting Rack from ::kitchensource.com features a clean-lined designed and a chrome finish. Two upper thin wire shelves provide plenty of room for storage and display, while two lower towel bars add even more function to this piece.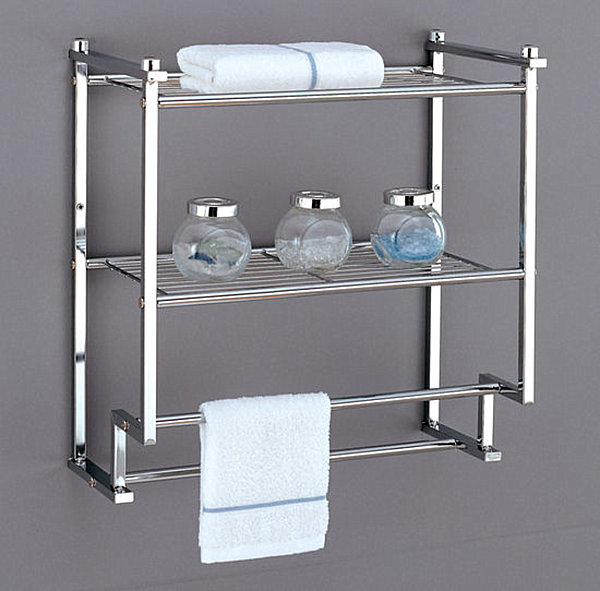 Say hello to Brick #5090 from Lacava, a sleek shelving option that features concealed installation hardware for a stunning modern look. No brackets or bolts visible here!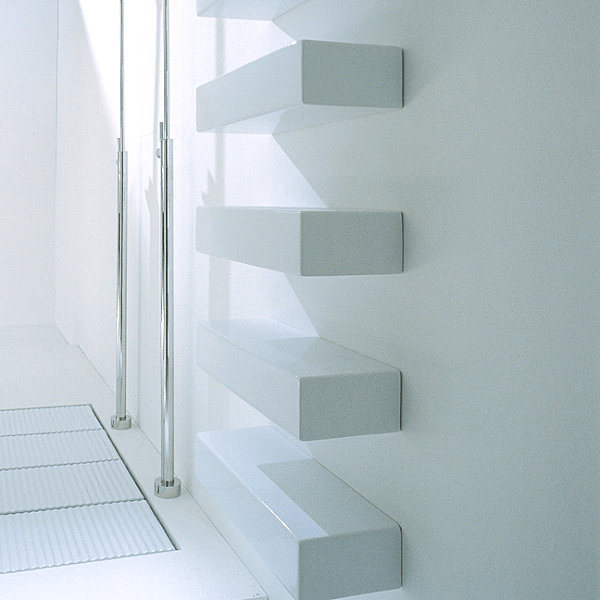 For shelving that you can scoot right up to the wall, check out this Hudson Small Etagere from Restoration Hardware. The simplicity of this piece makes it extremely versatile. Purchase the item in a polished nickel finish for a glamorous look, or go with aged steel for an industrial vibe.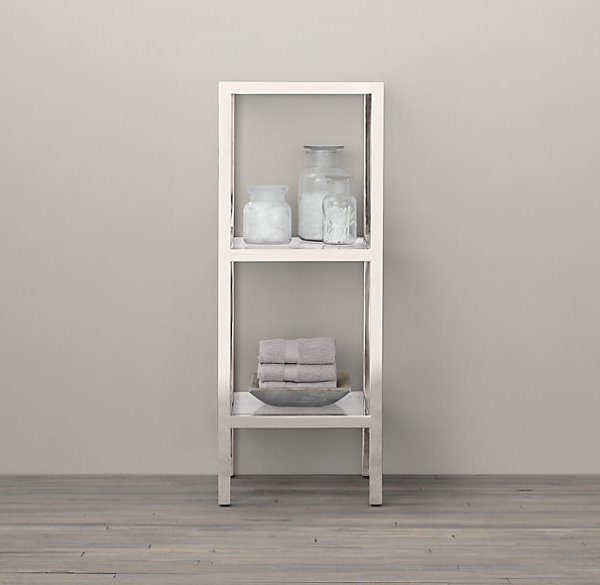 Display Ideas for Bathroom Shelving
There's no hard and fast rule for what to display on your bathroom shelves. For some, shelving is a necessity, and every square inch will be used for practical items. For others, shelves become platforms for artful vignettes. Check out the amazing powder room below, complete with corner shelving that holds an array of reading materials. [from Lonny]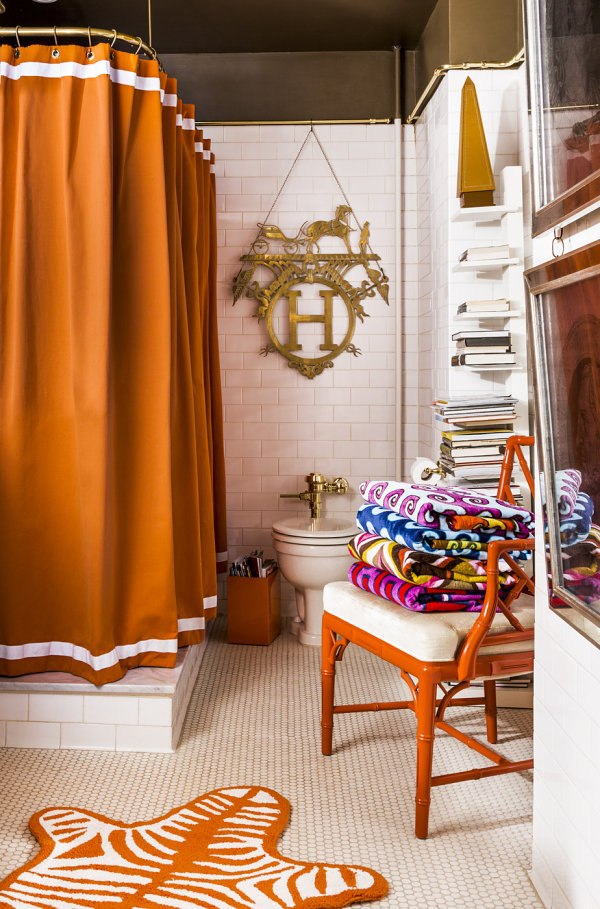 The next image features below-counter shelving rather than wall-mounted shelves, but we can learn a lot from the items on display. Note the luxury bath products in clean-lined packaging, the plush towels and the lovely box at the center of it all. Also pay attention to the neutral color palette, accented with hints of soothing blue. [from Lonny]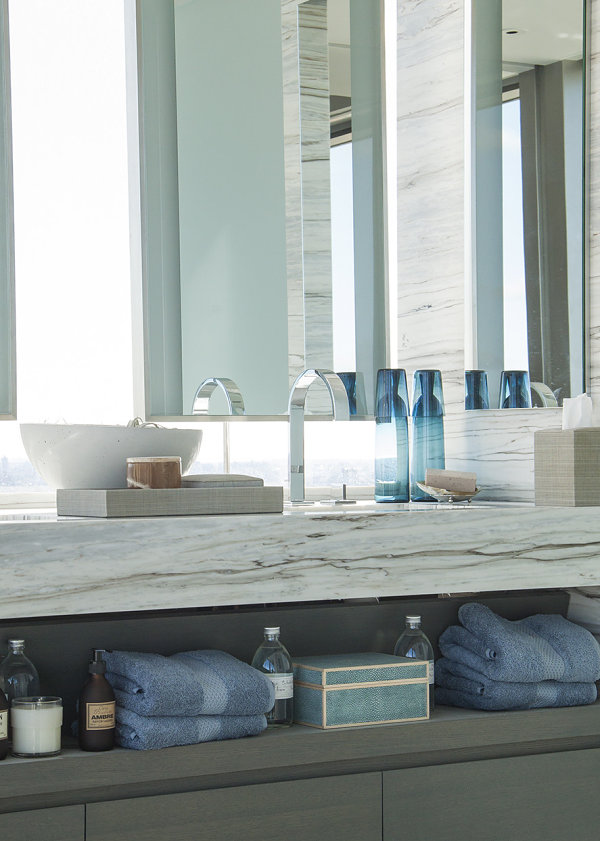 The last featured bathroom is proof that even when you're short on wall space, you can get creative with your shelving. The sink is sleek and modern, but the best part is the storage! Decorative accents are kept to a minimum, because it's all about the towels! Now look a little closer… Do you see the wall-mounted glass shelf above the sink? It's the perfect size for this powder room, and it holds bath products that beautifully complement the space. [from Lonny]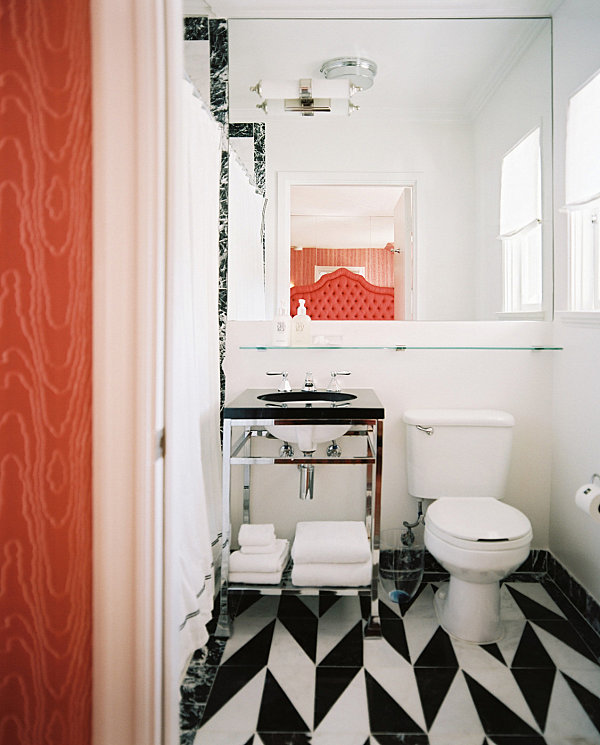 When it comes to displaying items on bathroom shelves, strive for a nice blend of the practical and the decorative. Opt for uncluttered packaging, or transfer grooming products to beautiful bottles that enhance your space. Wall shelves can be crucial in organizing your powder room. If you don't have built-in shelving, purchase a wall-mounted option that complements your bathroom. There are many possibilities!