Absolute classicism is how Scavolini describes the beautiful and elegant Baltimora bathroom. With the design world being overwhelmed by a wide variety of contemporary and even semi-minimal bathrooms in the last decade or two, Baltimora offers a different direction for those who appreciate refined artistry and sleek sophistication. Another reason why we love this contemporary classic is the way it uses several hot design trends that are currently dominating the interior design and fashion world. Exceptional and timeless, the bathroom boasts an innate charm that does not go unnoticed.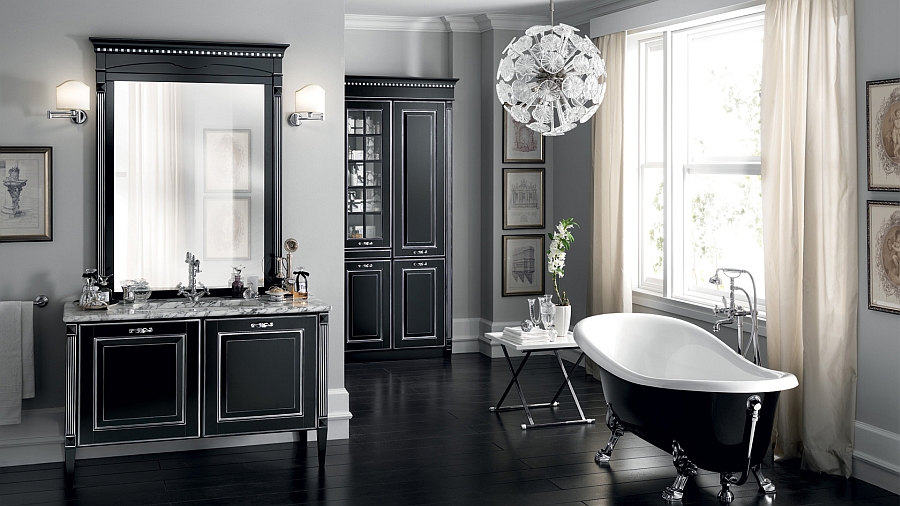 Moving away from the unassuming and yet giving the ornate a more trendy revamp, this designer bathroom extends the theme of your master bedroom with ease. Doors with matte White Lacquer finish and gold handles, a retro standalone bathtub with faucets and fixtures that also carry a golden metallic glint, and a herringbone pattern on the bathroom floor combine to define this audacious and serene space. Incorporating several elements of neoclassic design, Baltimora seems to transport you into a world of comfort that borders on sheer indulgence.
The affluence of this amazing bathroom is undeniable, and it can be custom-fitted to suit the specific needs of your own home. Floating vanities and shelves are available in palette oak, antique walnut and Nimbus oak, among other hot finishes. Each composition offers a delicate balance between contemporary and traditional, making the Baltimora one of our favorite bathrooms of the year so far!