Greetings, all you city-dwellers! And for those of you who don't live in an area where tall buildings take center stage, this post is for you too. In fact, today's image roundup is as much about escaping into the elegance of high-rise living as it is about actually decorating a big-city apartment. Kate here, and some of my favorite inspirational design pics feature interiors with a city view. They relax me. They make me dream of my next design project. And lately they've got me wondering: What are some key features of rooms with a view of the skyline?
Whether you're looking to decorate your apartment with a city view or you're hoping to add some chic urban style to your home in the hills, check out the images that follow and see what piques your interest. To research today's post, I studied MANY photos of beautifully appointed city apartments, and several trends began to emerge. I highlight each one below, as well as suggestions for creating a home that channels a stunning urban look. Enjoy!
Simple and Modern
When floor-to-ceiling windows are involved and the view outside is epic, all eyes are out the window. And why wouldn't they be? Sometimes the best way to show off a stellar city view is to keep the focus on the skyline. In other words, don't fill your interior with needless distractions. After all, less is more. [from Jeff Green Photography]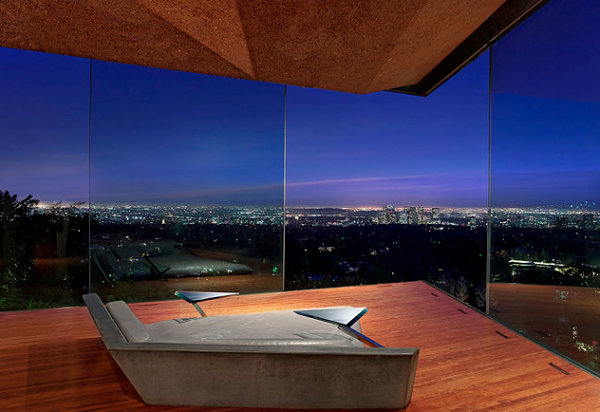 Clean-lined furniture and minimal accessories create a sense of spaciousness that mirrors the expansive view. Carefully choosing items such as houseplants and vases results in a thoughtfully designed interior that uses decor to complement the buildings on the other side of the glass. [from Studio Pali Fekete Architects]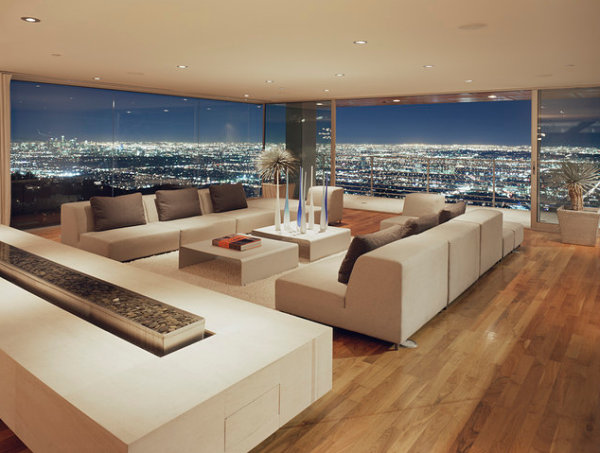 Many urban interiors feature rooms that celebrate materials such as wood and concrete, rather than ornate details. Note the flooring and the bed in the Vancouver sleeping space below. [from Lucas Finlay Photography for Capsule Designs]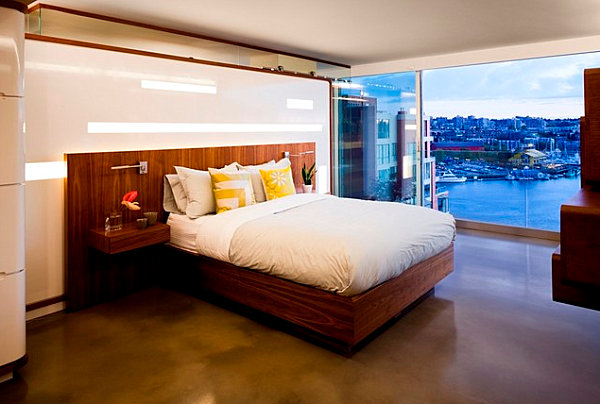 In the bathroom from the same Vancouver residence, we see a plethora of right angles and gridded patterns, from rectangular shelving and sleek sinks to tiled flooring and modern windows.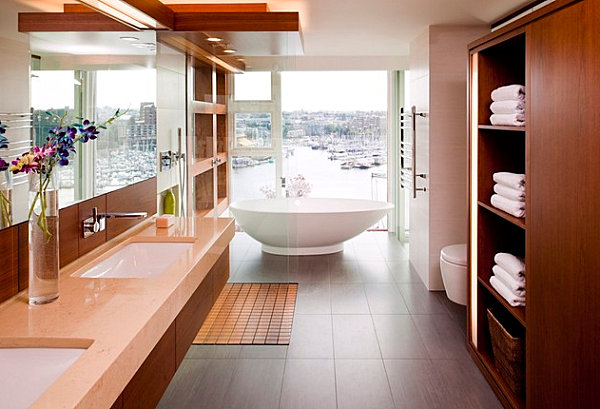 A monochromatic color scheme is the perfect way to create an inviting interior that doesn't fight the cityscape outside. This Boca Raton, Florida apartment is definitely modern, yet warm touches such as tropical greenery enliven the interior. Speaking of tropical statements… [from Barry Grossman Photography for Interiors by Steven G]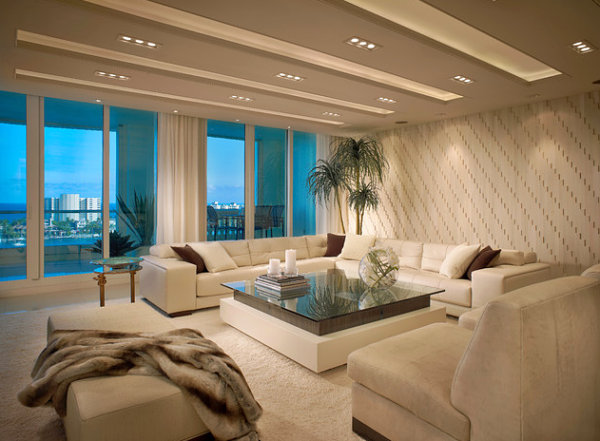 Tropical Style
Many interiors in urban settings go a bit tropical. One possible reason: tropical plants and accents remind us of warm weather and sunny memories. Minimalist interiors run the risk of appearing stark, yet the simple addition of a few tropical leaves can personalize a room while maintaining a modern look. Tropical greenery is design gold! Next we see a bedroom from the same Boca Raton residence featured above: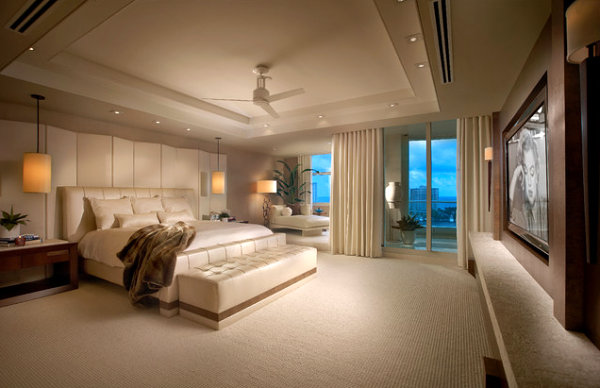 I couldn't talk about tropical touches without featuring an outdoor space with a city view. This contemporary pool is nothing short of opulent, yet the glamour comes from the sleek shine of marble and the breezy vibe created by palm trees. Gorgeous! [from Aquatech Pools]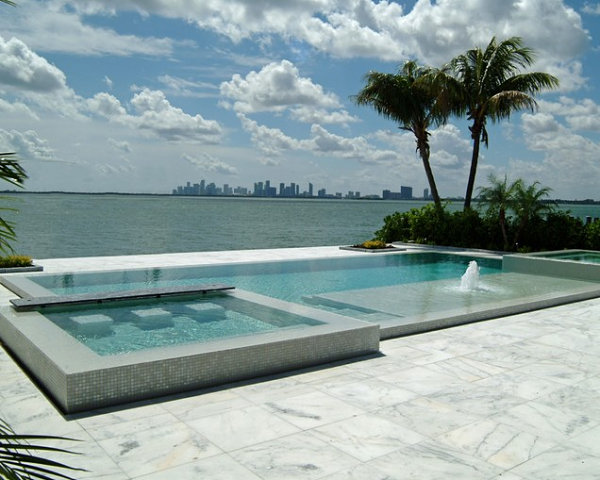 A few ways to add tropical touches to a city apartment? Try potted trees and plants for the floor, as well as tropical leaves in a vase for a tabletop centerpiece. [from Moment Design and Productions]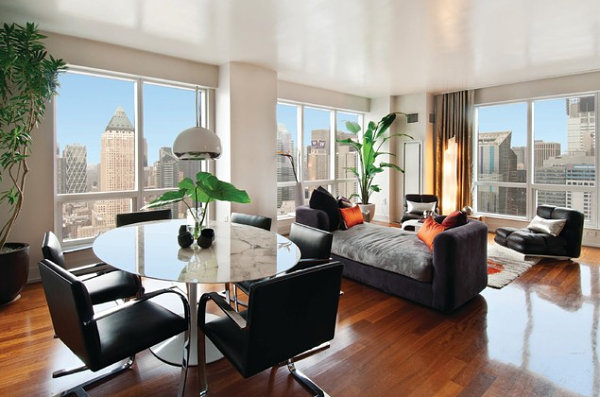 Don't underestimate the power of furniture with a tropical vibe, such as rattan tables. By choosing rattan pieces with strong lines and curves, you can keep the look modern–perfect for rooms that feature a skyline view. [from Philpotts]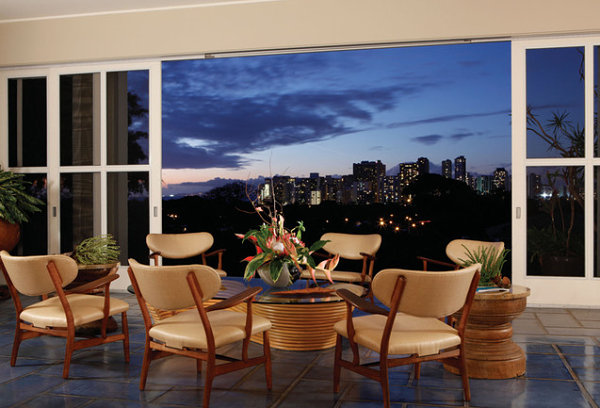 Tropical accents can create a spa-like feel in the powder room. They have the power to add instant decadence and glamour to the most modern of bathrooms. Speaking of glamour… [from Peter A. Sellar – Photographer]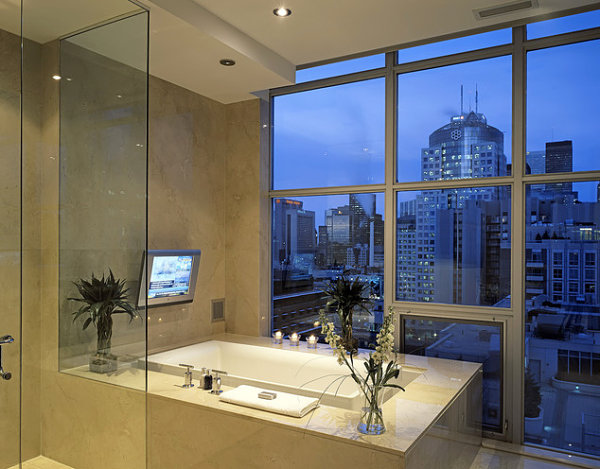 Going Glam
What is it about big-city apartments that inspire their inhabitants to go glam?! Maybe it's the allure of living a glamorous life in the big city… No wonder so many urban interiors are mirrored after the sleek city skylines and twinkling lights on the other side of the window. [photo by Paul Dyer for Holmes Culley]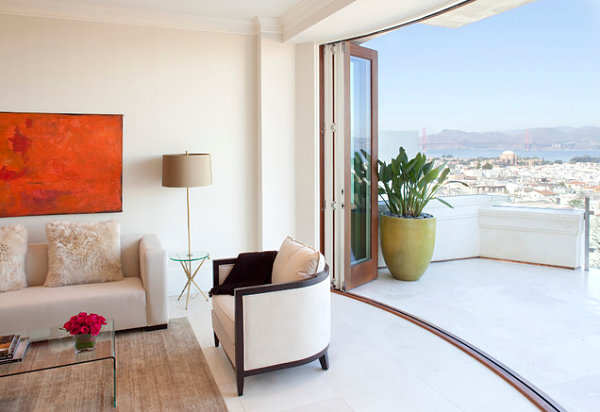 What's as elegant as the lights of the city at night? An interior decked out in rich colors, such as gray, black and deep purple. [design by Mark Cunningham, photo by Robert Granoff – Photographer]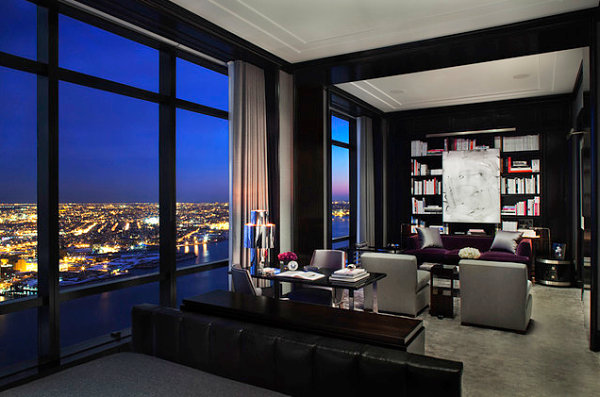 Plush fabrics, mood lighting, crystalline accents and the glow of candlelight are other popular design choices for glamorous rooms with a view. The bedroom and bathroom below are inviting with their soothing tones and decadent touches. [from R3 Design]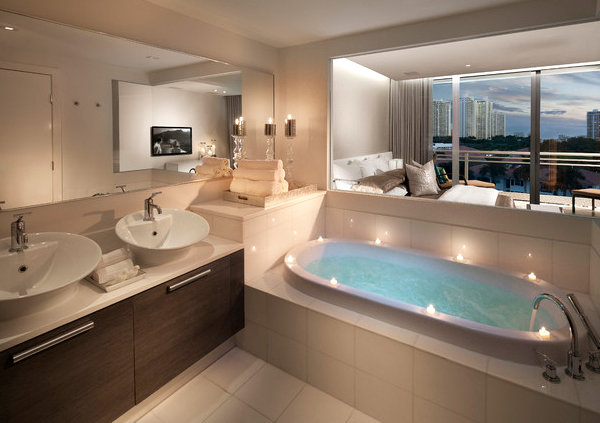 Glamour can also come from soft details, such as flowing draperies and fresh flowers in a glass vase. Note how the next featured bathroom is cool and crisp, yet warm and inviting. [from Digital Properties]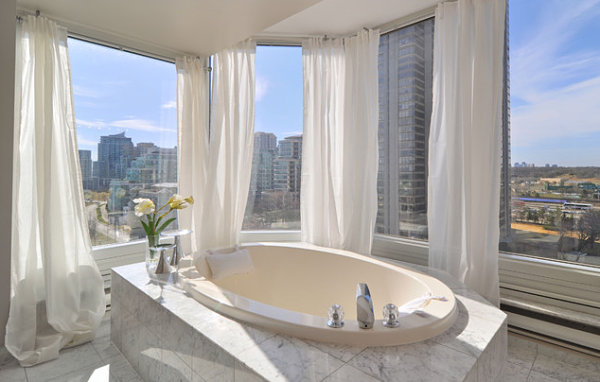 A True Original
Last but not least, I've included a selection of urban residences that march to the beat of their own drummers. Just as a skyline view is truly special, the interior of a home that features such a view can also be filled with unforgettable details. We're not talking over-the-top. But keeping the design interesting is one sure-fire way to honor a space with a view. [from Cravotta Interiors]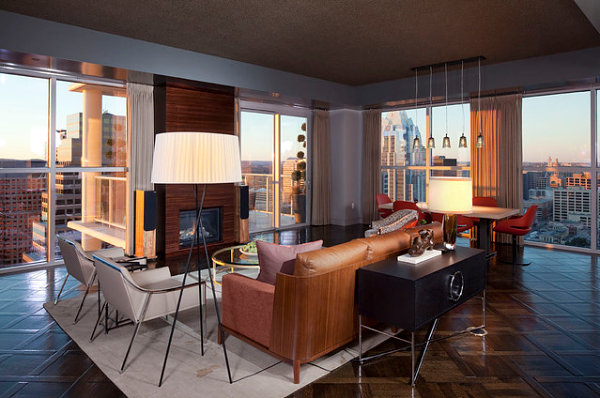 Some unique surprises in the room below? A geometric ceiling, a spiny coffee table sculpture, and abstract wall art. And let's not forget that white-on white color scheme. All of these thoughtful details make this space truly special. [from BBH Design Studio]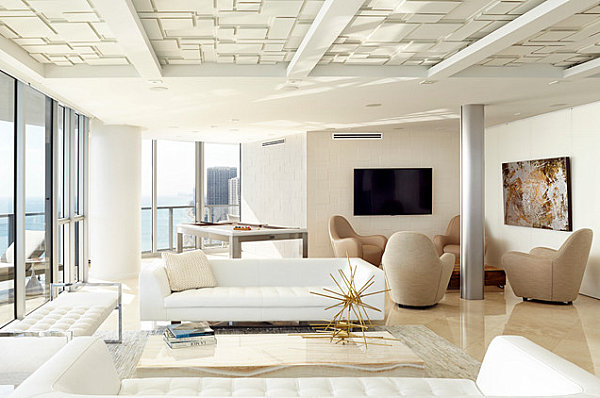 A domed pendant light, a textured rug and truly unforgettable wall art embellish this urban dining room. Note how these features add depth to the space, emphasizing the fact that it's a carefully curated interior. [from JamesThomas]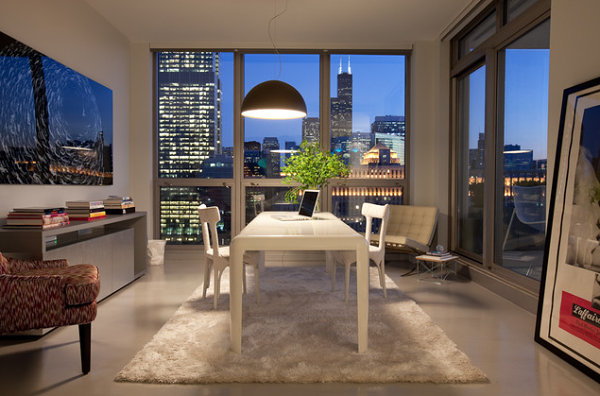 All too often, modern interiors with city views are limited to matchy-matchy furnishings, pillows and accessories. Yet when you create a space that's full of surprises, you end up with a room that's as exceptional as the view outside. I love that this last featured space includes two shelves filled with spectacular mineral specimens! [from DSI Entertainment Systems]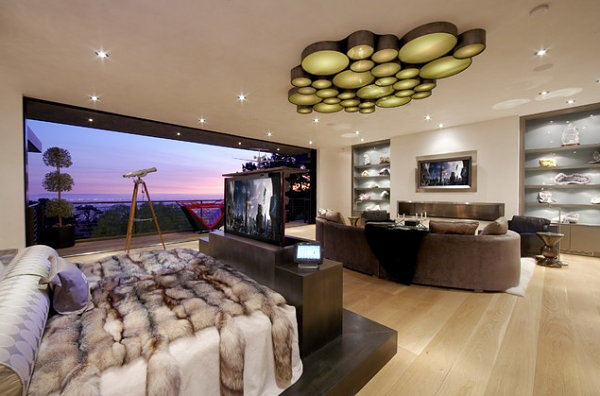 When it comes to city views and urban style, what's your look of choice? Do you prefer a minimalist, clean-lined home? Or perhaps you enjoy the warmth created by tropical accents. Or maybe you want to go glam, or design a space that's as unique as the view outside. I hope today's post pointed out some key strategies for creating a chic urban interior!