I love interior design. I love blogging. And I LOVE reading design blogs, especially when I stumble upon vignettes featuring interesting items, from brass bowls and lacquered trays to metallic planters and other natural wonders. Among these natural treasures is an increasingly growing number of rocks and minerals. Some popular selections: quartz crystals, amethyst, agate, malachite and more.

It's been awhile since I've explored the wonder of decorating with minerals here at Decoist. For today's post, I've rounded up a gorgeous collection of images featuring rocks and minerals. Whether they're displayed on modern shelving, included in a succulent planter or arranged with care in a collection, they are sure to add an element of intrigue to your interior. In fact, they bring out the scientist in all of us. After all, decorating is a science, as well as an art! Enjoy…
Enchanting Ideas for Rock and Mineral Decor
Let's start with the strategy of making rocks and minerals a key part of our decor. One such technique: displaying a large mineral specimen as the centerpiece of your room. Below we see a stunning turquoise-hued selection in an image previously featured in this Decoist post. [from M. Design Interiors Inc.]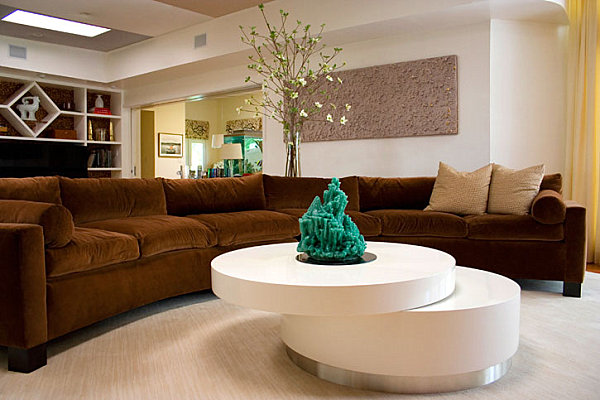 Even if your rock or mineral sample isn't the sole item on your coffee table, it can play an integral part in the decor, as shown below. Note how the lavender sofa pillows come to life, thanks to the shimmering crystals of the nearby amethyst. [from The Lennoxx]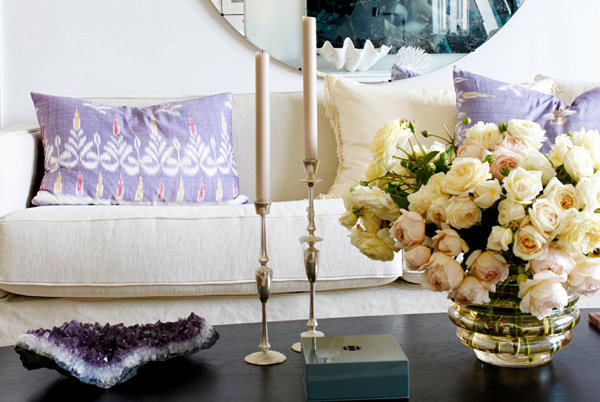 To set the stage for your mineral sample, try creating a platform for the piece, as shown below with a selection of rose quartz placed on a thrifted silver coaster. Which is then layered on a silver tray! Check out more great tips on decorating with crystals at Mr. Kate: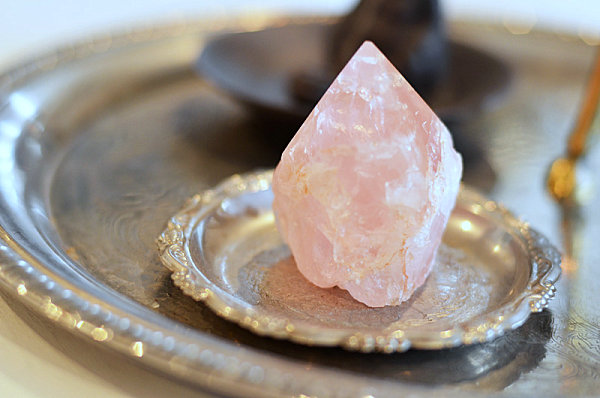 There's just something about a rock and mineral collection! I have a display case filled with rock and mineral samples in my home. I love the powerful look that results from the grouping. A similar design strategy: placing your mineral samples in display boxes. Below we see Amethyst Crystal Druzy Specimens from Restoration Hardware. Note the varying shades, ranging from greyish purple to rosy lavender: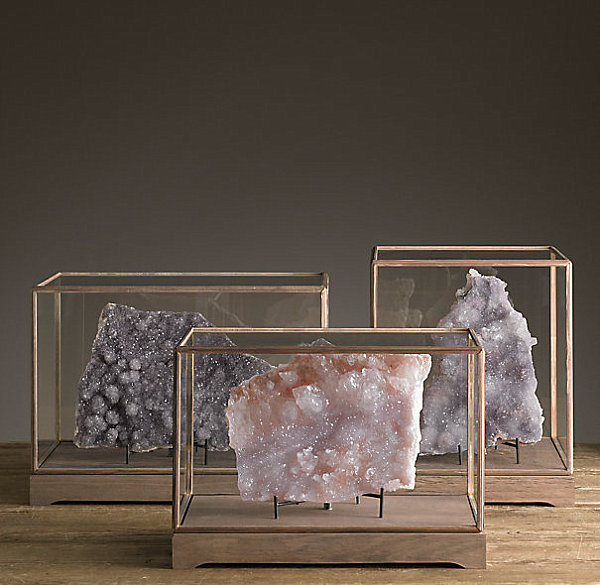 When I came across this image of gemstones from the Urban Outfitters blog, I was instantly struck by the radiant look of the collection. While amassing a group of jewels may not be a realistic option for budget-conscious design-lovers, you can create a similar look by substituting crystals and cut glass stones for the rare gems!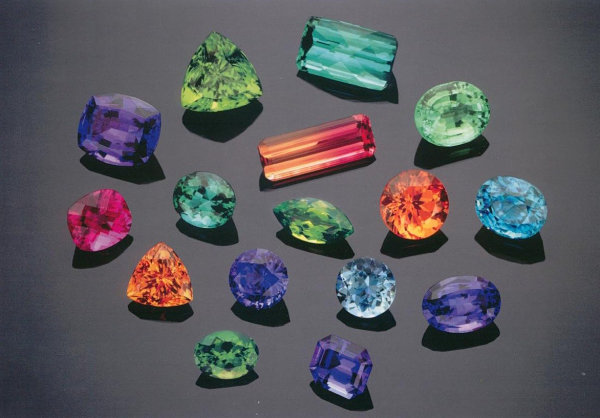 We see a lot of rock and mineral bookends in today's design world. They are striking, they serve a practical purpose, and they can even be affordable, especially if you know where to look. Below we see geode bookends from HomeGoods, featured in a colorful room via Kiki's List: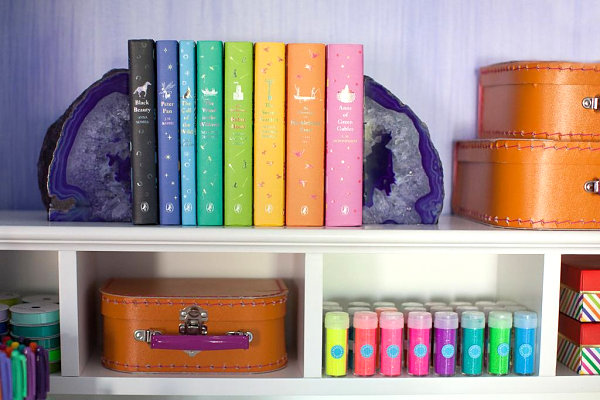 Here's one more clever idea for incorporating rocks and minerals into your decor: try integrating these pieces into your place settings! Note the unique look in the next featured image, created by layering crystal samples onto grid-patterned plates, white plates and DIY dip dye placemats. Check out all the creative details at Design Love Fest.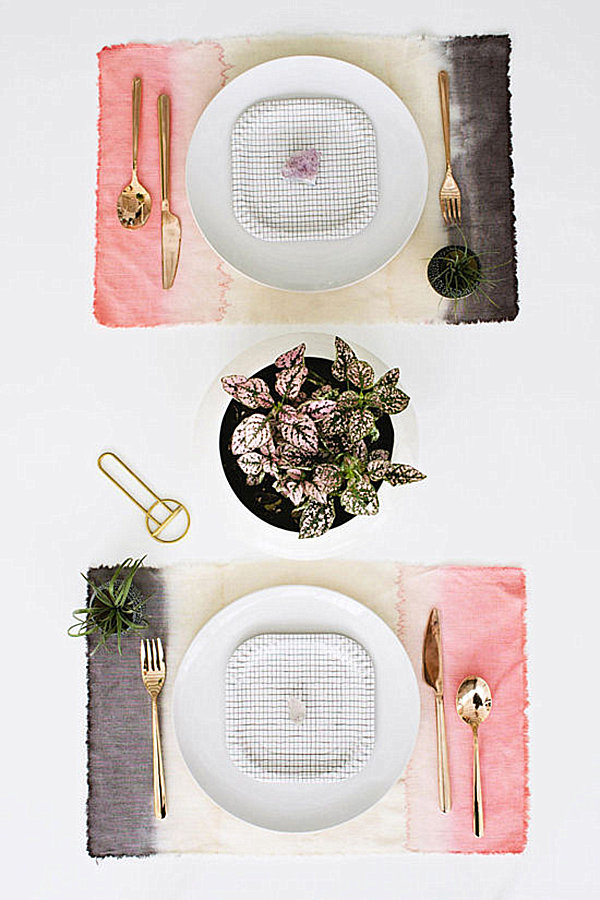 Rocks and Minerals in Planter Arrangements
Next we shine the spotlight on rocks and minerals that enhance arrangements of greenery. In fact, below we see the interesting look that results when the crystal IS the planter! This Air Plant Amethyst Crystal Planter comes from Etsy shop Twisted Acres: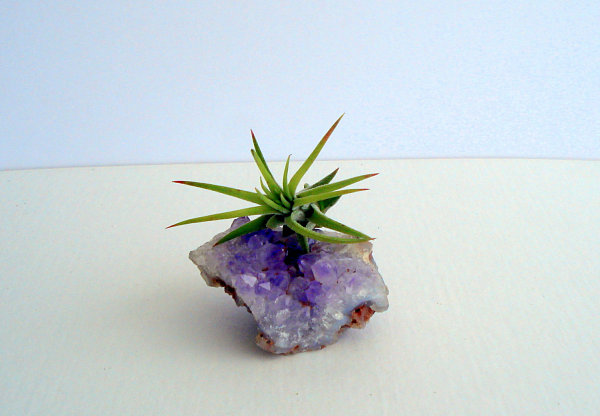 Rocks, glass chunks and minerals are ideal additions to large planter vignettes, as shown in this succulent arrangement designed by Big Red Sun: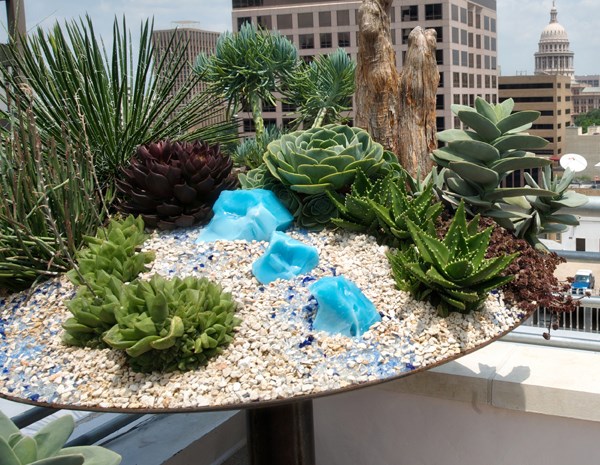 In fact, you can go all out with glassy pebbles that create an other-worldly feel. Choosing interesting shades such as rosy peach and sage green keeps the look modern, while adding larger polished pebbles in hues such as mint and lavender kicks each arrangement up a notch. Once again, air plants are the perfect selection, especially since they require no soil. [from Big Red Sun]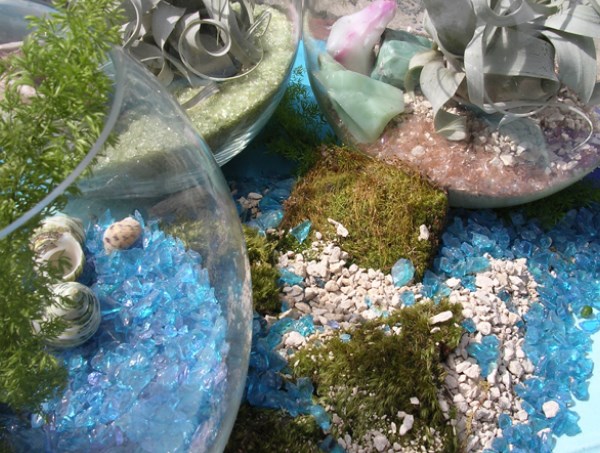 Don't be afraid to use distinct specimens in your gardening efforts, as shown by the agate and rose quartz below. These pieces are included as part of a Mother's Day Terrarium idea from Nicole Balch of Making It Lovely. [via West Elm]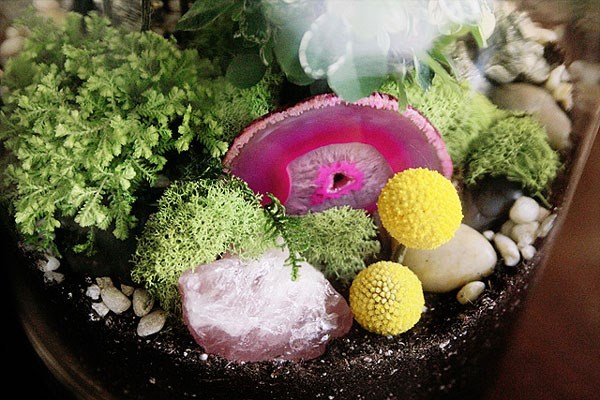 Then again, sometimes a small addition or two can do the trick. Check out the placement of quartz crystals in our latest DIY planter project involving a repurposed votive candle holder. Displaying a couple of interesting rock and mineral selections beside the planter is another easy way to add a creative touch: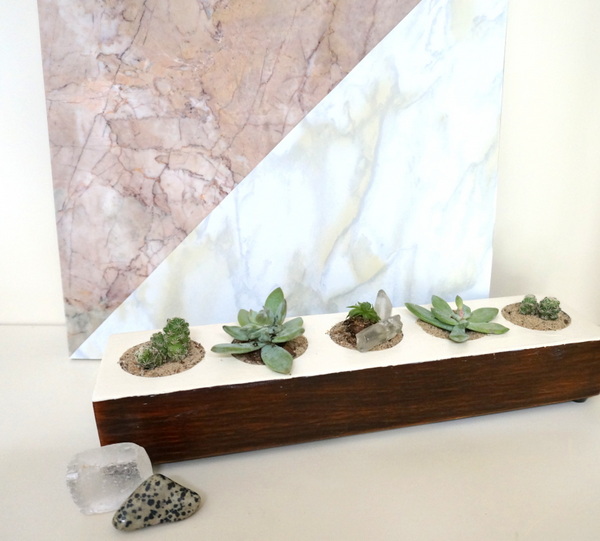 Mineral Crafts
To end today's post, I've included a collection of crafts that celebrate minerals. They are perfect for embellishing your home or passing on to friends as gifts. These Mineral Wine Toppers from A Beautiful Mess are easy to create, and their unique, sophisticated look will jazz up any bar cart!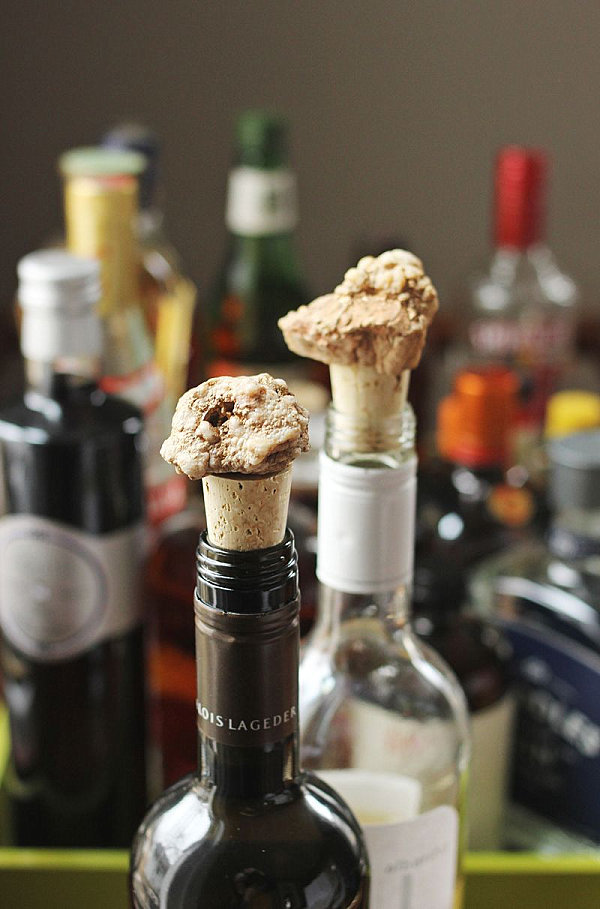 With a little patience and a lot of crystals, you can create the fabulous amethyst mirror below. The project involves a wooden clock face, a round mirror, amethysts, glue, spray paint and a couple of other key supplies. For a full tutorial, head on over to Design Love Fest.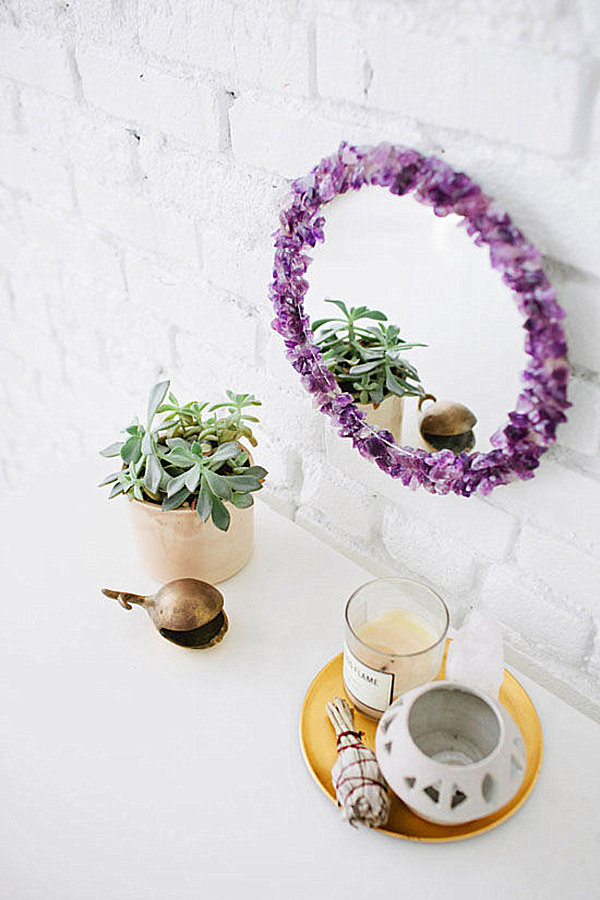 Looking for an easy way to craft a planter with luxe crystalline style? Cover a cement or ceramic planter with clear sea glass crystals. This Crystal-Encrusted Planter is designed by Shane Powers via Etsy: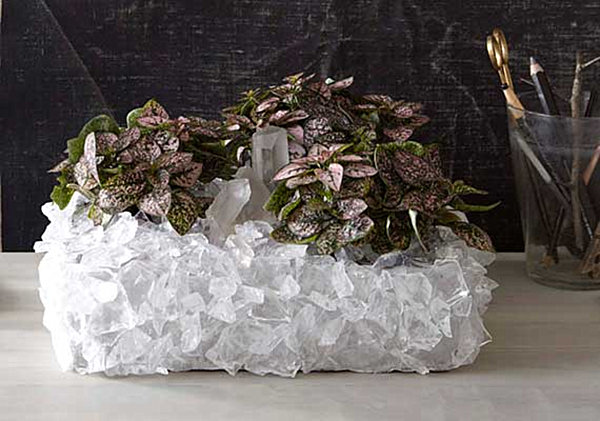 I spotted these gold-dipped quartz bookends at Mr. Kate. They look expensive, and they can easily be recreated with the help of the right gilding supplies. And your bookends of choice, of course!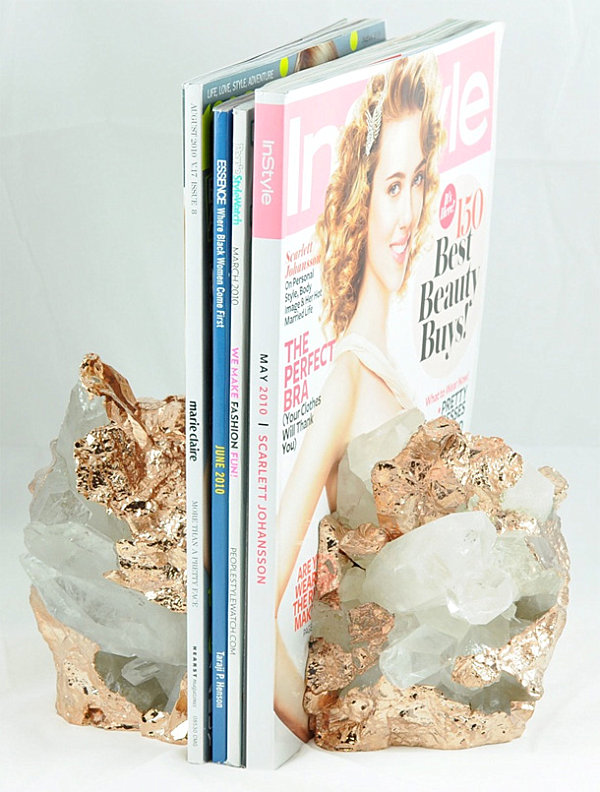 I don't know about you, but I can't wait to incorporate rocks and minerals into my home decor. For me, it's time to move this chic look into the powder room, where a few key accents can make a big difference. I'll keep you posted on the results, and I wish you lots of crystal clear design inspiration in your home as well!