As the weather begins to warm, I find myself increasingly enjoying creative projects, entertaining and hosting out-of-town guests. Do you ever look at your home with a new set of eyes when company will soon arrive? Sometimes it takes throwing a dinner party or having a friend come stay for a few nights to give us the gumption to make some positive changes at home.
I love refreshing my interior with new ideas and new decor. While I dream big, my budget keeps me down to earth! Today's post is dedicated to the easy (and affordable) spring decor update. Many of the ideas below reflect current projects I'm working on for my interior, and others are steps I hope to take in the next month or two. Enjoy, and be sure to check out the helpful links in each description if you'd like more information, such as purchasing details.
1. Complete an Easy DIY Project
I love a good DIY project, and I've enjoyed quite a few of them in 2014! My next project will involve contact paper, which is a budget-friendly way to embellish a wall, a canvas, or the back of a shelf. Below we see DIY Shelf Accents from Hello Lidy. Wood-patterned contact paper cut into bold triangles gives this project its unique look: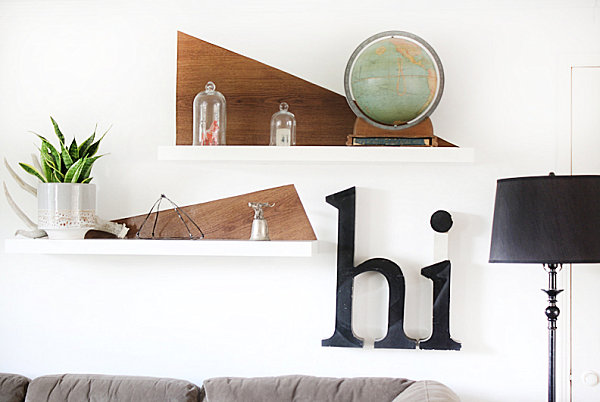 I also love the contemporary feel of this DIY Wall Decoration from Ohoh Blog. By drilling holes in wooden sticks, then binding them together with a needle and thread, you can create a sturdy piece of art that adds dimension to your wall of choice.
2. Purchase a New Piece of Wall Art
Thanks to websites such as Etsy and Society6, it's easy to find amazing, affordable pieces from skilled artists. While I love to make my own wall art on a regular basis, there's nothing like purchasing a piece that speaks to your soul. Lately I've been into geometric forms and abstract designs, such as these art prints from the Society6 shop of R.O. Both pieces have an '80s look, especially the Memphis-Milano-style print on the left (below), titled Milano01. Beside it is Minimal: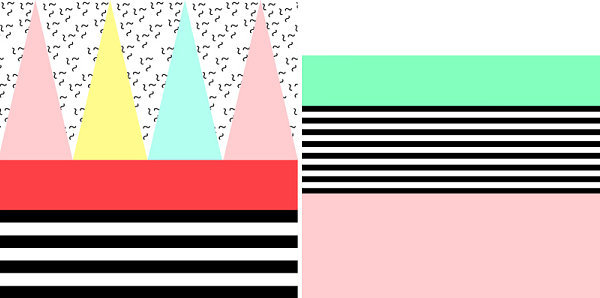 I also love the clean, geometric look of pieces with bold forms against a marble backdrop. Which is why I'm crazy about these art prints from the Society6 shop of Simona Sacchi. Below, left we see a piece titled O to the eXagon. Beside it is wire gOld triangle, which features a luxe combination of gold and white: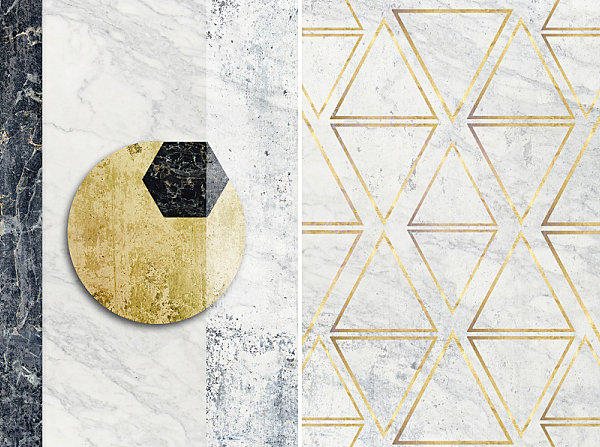 3. Enhance Your Interior with Plants
Lately I've been thinking a lot about plants. Perhaps you've seen my recent DIY planter project, or maybe you've read my post on choosing the best indoor plants for your interior. I'm still looking for ways to introduce new plants into my home, and I've had my eye on these Marbleized Cylinder Planters from West Elm for quite some time. Today I finally took the plunge and ordered two of them. These planters are currently on sale for $9.99 apiece–it's hard to beat a bargain like this:
I'm also a big fan of the metallic planter, especially since it reminds me of the hotel lobbies I loved as a kid in the '80s! These Small Round Stainless Steel Blumentopf Planters from Hayneedle.com are constructed of durable metal with a natural stainless finish. I like filling my metal planters with tropical greenery, but flowering plants are also a fun choice.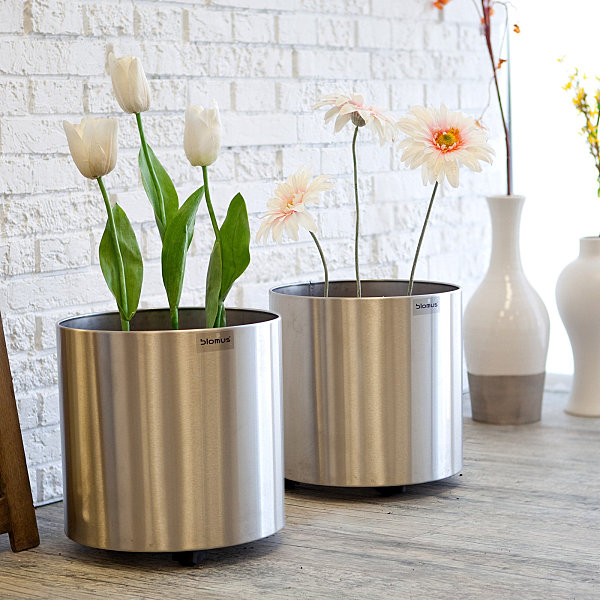 4. Add to Your Serveware
If you're hosting company this spring or throwing a party, updating your serveware is a step in the right direction. I recently found some fabulous geometric coffee cups and saucers at a local thrift shop. I've been on the hunt for some candy-colored bowls to create a "set" with a fun pastel look. The Roundish Mini Bowls from CB2 (shown below in salmon and pink) were the perfect choice for me!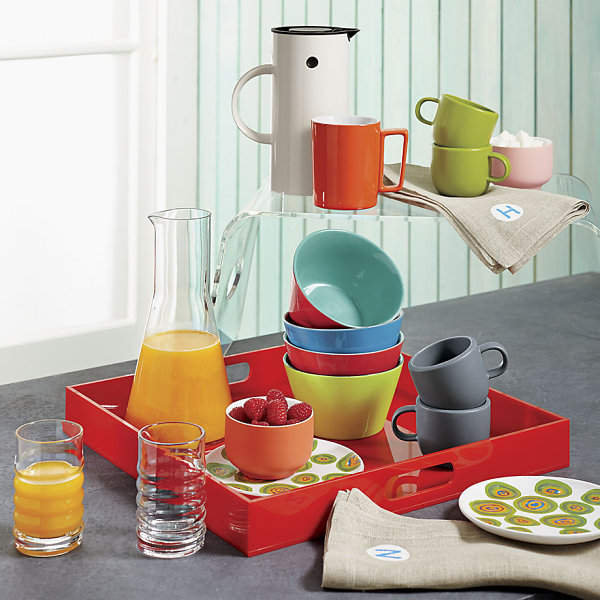 I've also been interested in finally setting up a "bar area" at home. I prefer placing my supplies on a countertop rather than purchasing a bar cart, and these Small Rectangle Lacquer Trays from West Elm are ideal for stylishly reigning in bar supplies such as sparkling water, lemons, straws and bottles of tasty sips.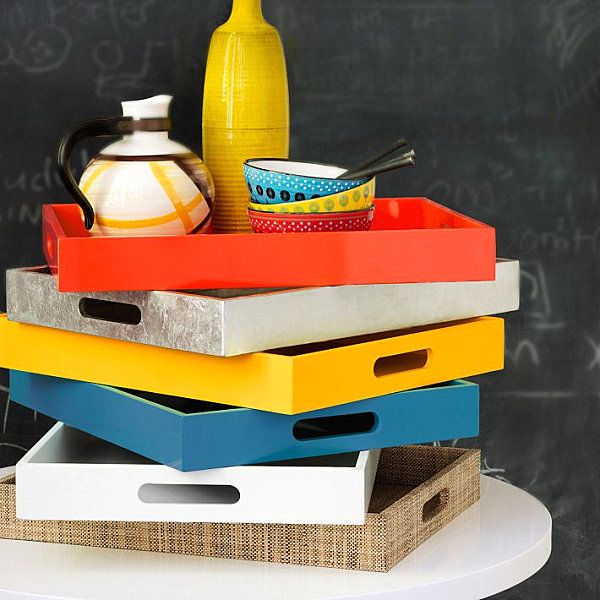 5. Purchase New Bedding
Spring is a fabulous time to refresh your bedding. I've been searching for the perfect duvet cover, and I think I'm close to making my selection! The walls in my bedroom are a greenish-blue color, and I'm convinced that crisp white bedding will create a gorgeous contrast. [from Bia WOW]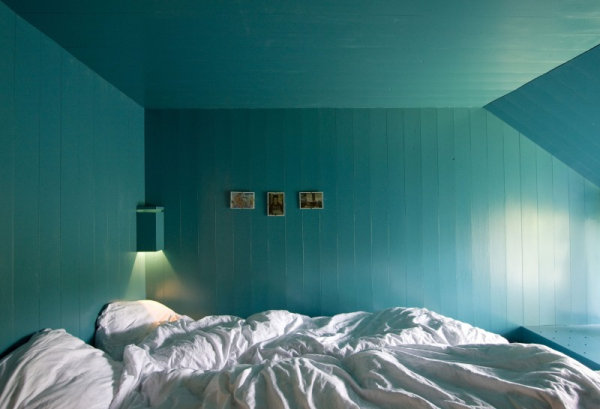 No matter which bedding you choose, sometimes a new set of sheets, a fresh throw pillow, or an updated duvet cover can set a bedroom makeover in motion, giving you that push you need to take a look at the surrounding decor. Below we see a Mid-century bedroom idea from West Elm: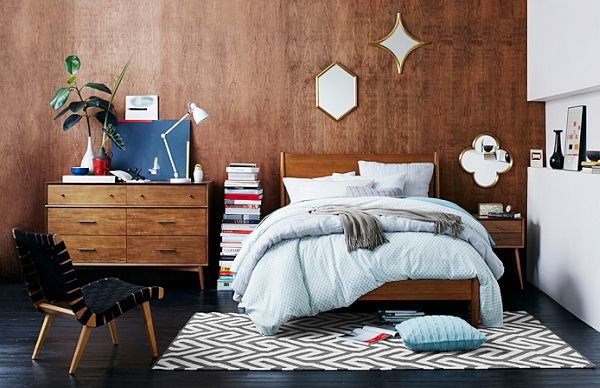 It's funny how a new season can inspire new changes to our interiors. Perhaps it's the spring collections or the warmer weather, but I feel a burst of DIY energy each March. Hopefully this year I can use it to my advantage. I wish you a spring filled with decor delights at home! Thanks for reading!