Just as a new piece of art makes a creative statement on your wall, a new throw pillow makes a creative statement on your sofa, chair or bed. Have you noticed the amazing selection of artistic throw pillows this season?! There have been so many unique colors and patterns, it's hard not to get excited about the design possibilities. We at Decoist want to share our passion for pillows with you today by showcasing some of today's most unique finds. Not only do throw pillows provide an affordable option for giving your space a makeover, they can change the tone of your interior with one small pop of color and pattern. Enjoy browsing our featured finds below…
Geometric Pillows
Today it's all about geo style. Which brings us to our first featured image… One word: yummy! Isn't the photo below delicious?! It certainly illustrates the power of black and white, especially against a backdrop featuring candy colors. Or shall we say ice cream colors! These geometric pillows from ferm LIVING are powerful in their simplicity. For example, the Black Mini Stick Cushion (displayed vertically below) boasts a look that is modern…and a little bit '80s in all the right ways.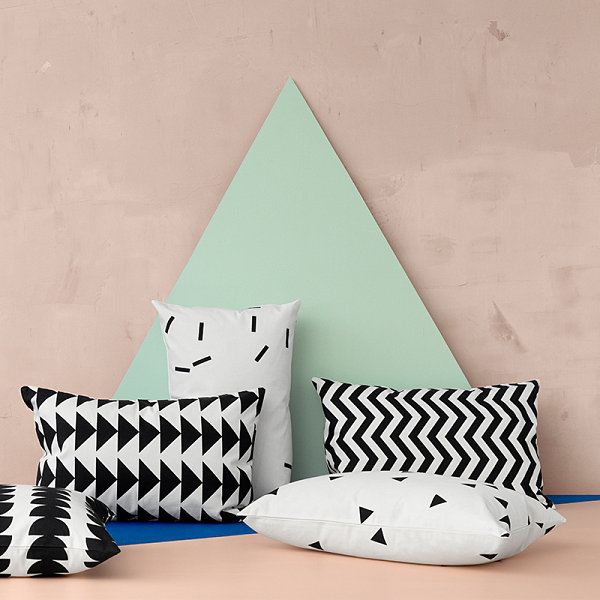 Also in ferm LIVING's latest collection is the Maya Cushion, pictured second from the left in the image below. In fact, this series of geometric pillows celebrates color as well as geometric form. Not able to wallpaper or get a new throw rug at this time? This pillow will wake up your space!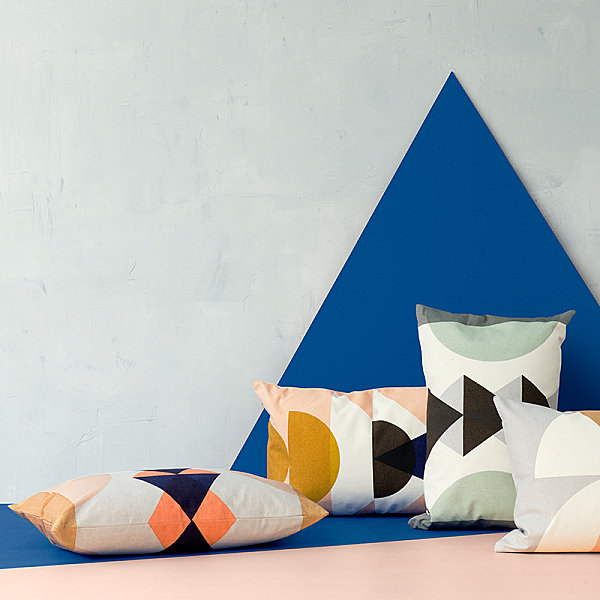 Tribal style is still alive and well over at CB2, where selections like the Janey Pillow (pictured second from the top) are a nice contrast to the minimalist geo patterns we've seen so much of lately. Perhaps making a sculpture from pillows isn't a bad way to change up the look of your space ; – )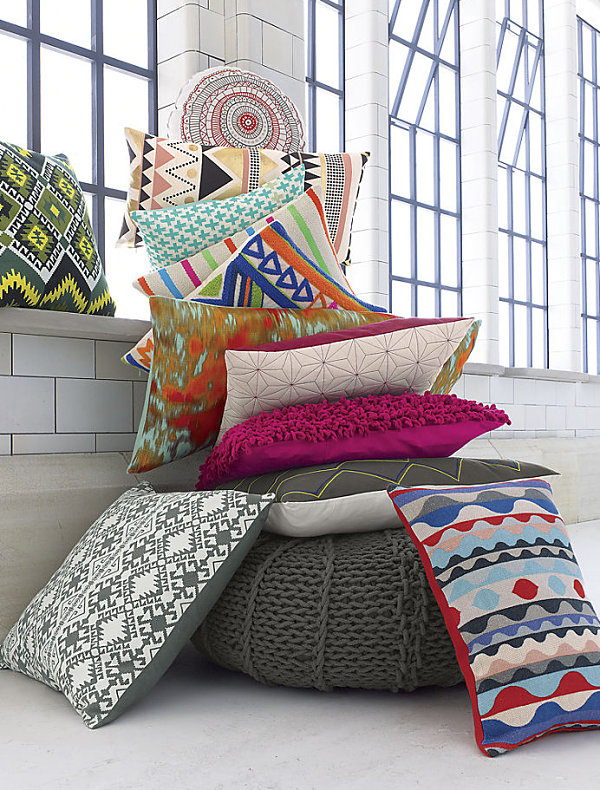 These Steven Allen Hand-Blocked Triangle Pillow Covers from West Elm combine stripes and geometry in three user-friendly palettes. Choose from color schemes such as Golden Gate, Deep Coral and Midnight: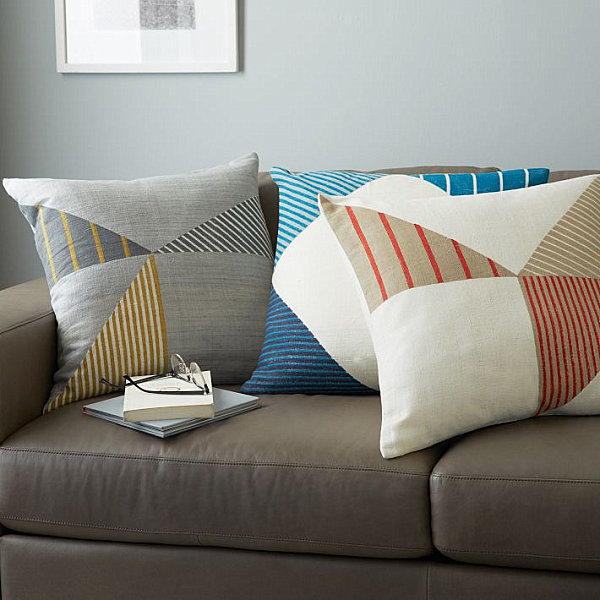 Striped Pillows
Speaking of stripes, it's hard to ignore CB2's new line of neon striped pillows. Yes, neon is still alive and well! Earthy meets day-glo in the Division series, which offers pillows in shades such as neon pink, red-orange and green…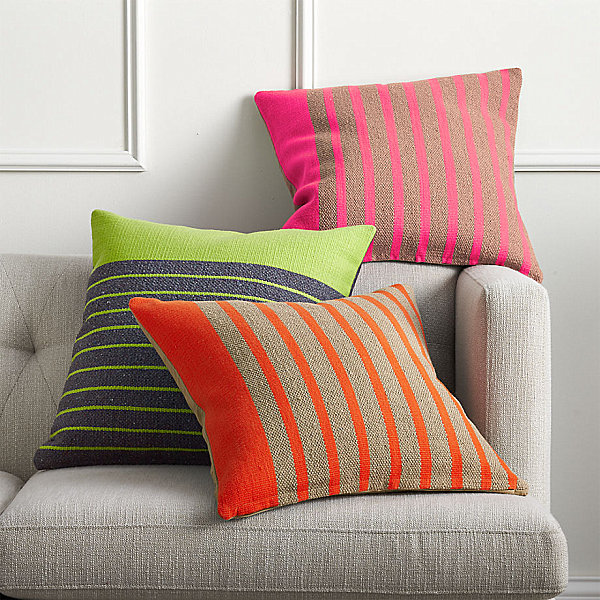 We're loving the festive look of this Embroidered Ikat Stripe Pillow from Urban Outfitters. The textured stripes add another dimension to the design, don't you think?! And don't be afraid to mix and match your stripes, as shown in the room below: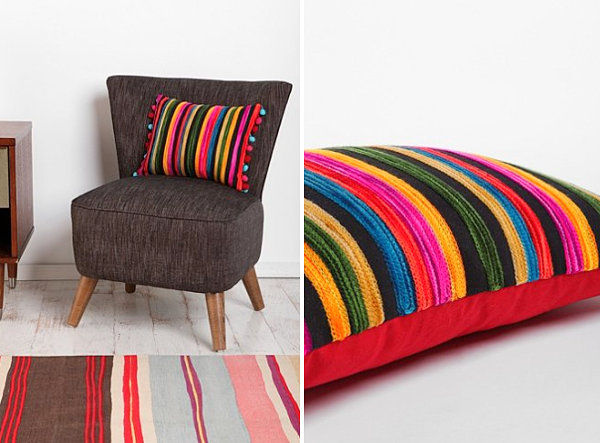 Stripes meet geometry in these Crewel Stripes Pillows from West Elm. It's double the design fun, a motif that really kicks your decor up a notch. Once again, three color palettes give you triple the options for your space…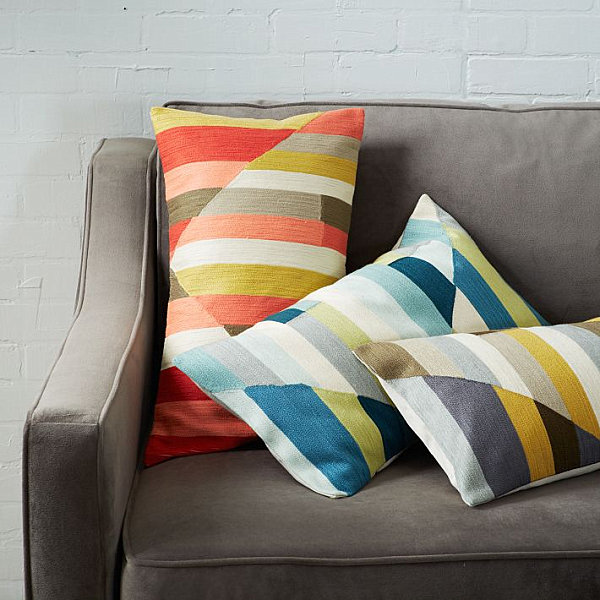 Marble-Patterned Pillows
We know–marble is super trendy these days. But for those of us who've loved marble for years, the pillows in this last section will transcend the current fad. For example, these Marble Cushions from ferm LIVING celebrate the current marble revival while adding an unexpected dose of color. Choose from shades such as Rose, Curry and Dusty Blue to get just the right hue for your space: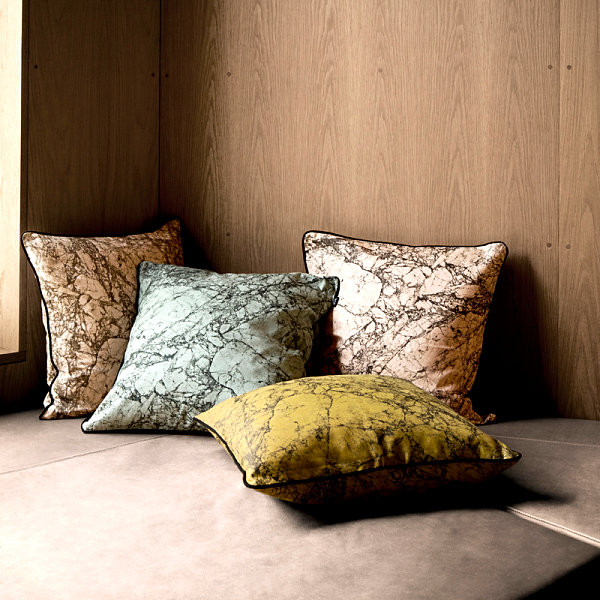 Remember these Marble Print Silk Pillow Covers from West Elm? We've featured them on more than one occasion… The agate-style banding evokes the thrill of curating your very own mineral collection! The Green Tea pillow (pictured on the floor in the image below) is currently on sale for $10.99. Yes, we said $10.99. What a bargain–this is silk, people!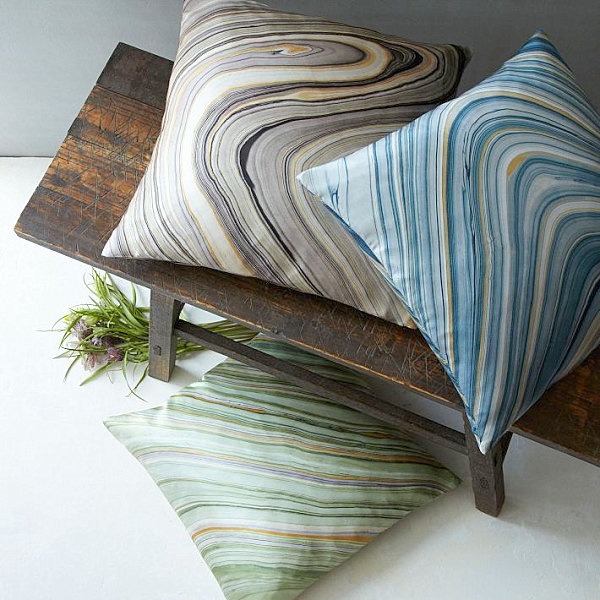 If you haven't yet found Society6, you're in for a treat. Artists submit their designs, and you get to order the best of them in print, pillow, mug, phone case and t-shirt form. Affordable and absolutely cutting-edge, Society6 has given many budget-conscious design enthusiasts a way to celebrate the latest in art and decor. Here's an assortment of pillows from artist Simona Sacchi. From her artist's page, click on the print you like, then scroll down for pillow purchasing options!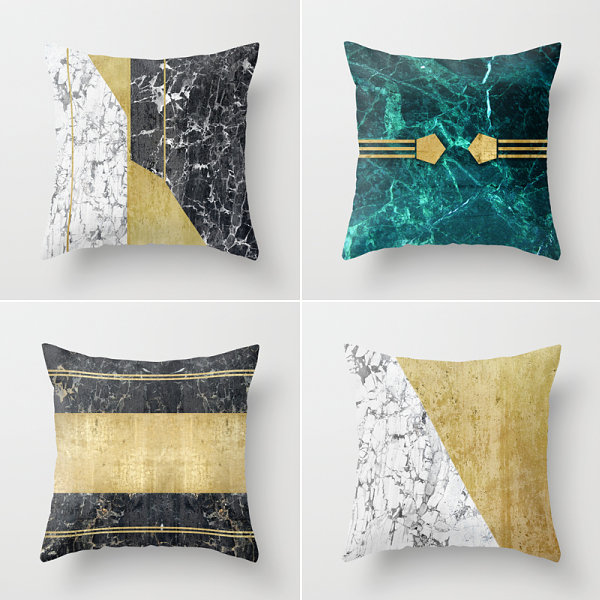 Any of today's featured pillows grab your attention? I'm still swooning over Simona Sacchi's marble-pattern designs. So decadent! Tell about your favorites by leaving a comment below…