It's a new year, and many of us are starting to incorporate new items into our homes. Perhaps it's an updated centerpiece for the dining room table. Or a new piece of wall art for the bedroom. One possible change for your living room: the addition of a new sofa! In that spirit, today we present 15 modern sofas for 2014.
Sleek Modern Sofas
They're clean-lined. They're sleek. And they complement a range of styles, from contemporary to eclectic. Check out the sofas below–it's fun to see the latest in interior design, and the spring collections are here. Be on the lookout for exciting new colors, a host of pieces inspired by Mid-Century design, and some unexpected patterns. Happy sofa hunting…
Club Spray Sofa
We begin with a large collection of modern sofas that give new meaning to the phrase "clean-lined". The Club Spray Sofa from CB2 features a fresh minty shade, as well as a boxy design. Right angles rule in this piece that combines the best of comfort and style…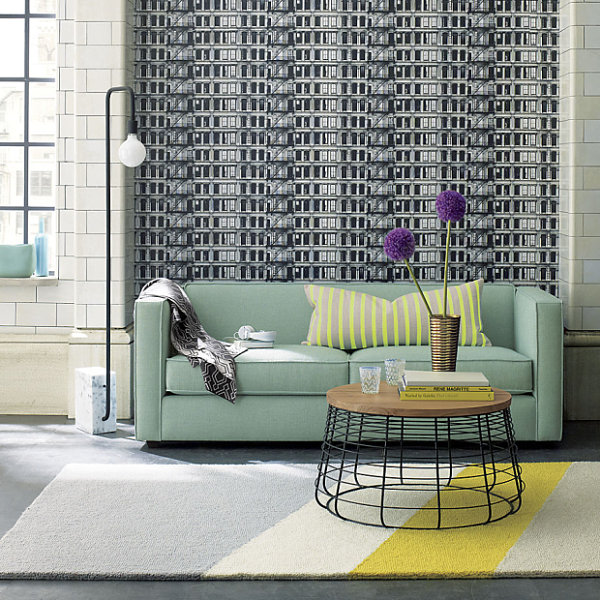 Modern Club Loveseat
There's just something about navy… Good thing the Modern Club Loveseat from West Elm is covered in this classy color! A streamlined look is another highlight of this elegant piece: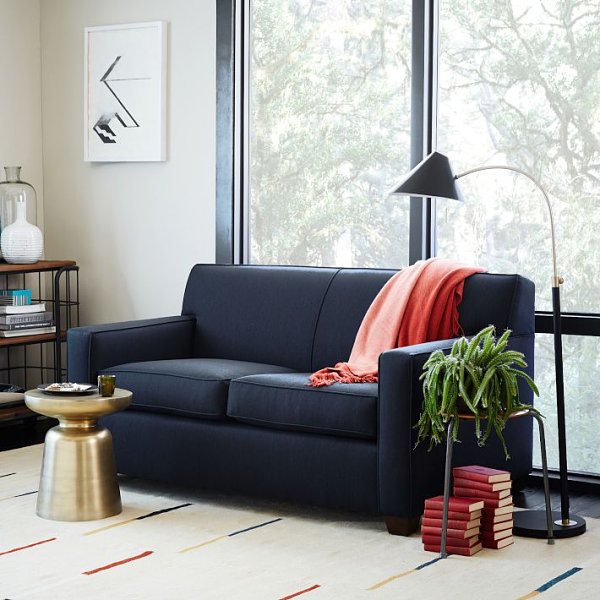 Walton Sofa
Bring on the pillows! The Walton Sofa from West Elm has plenty of them. The result: a cozy, casual look. In fact, wide arms and five pillow-style cushions will make you want to jump right in…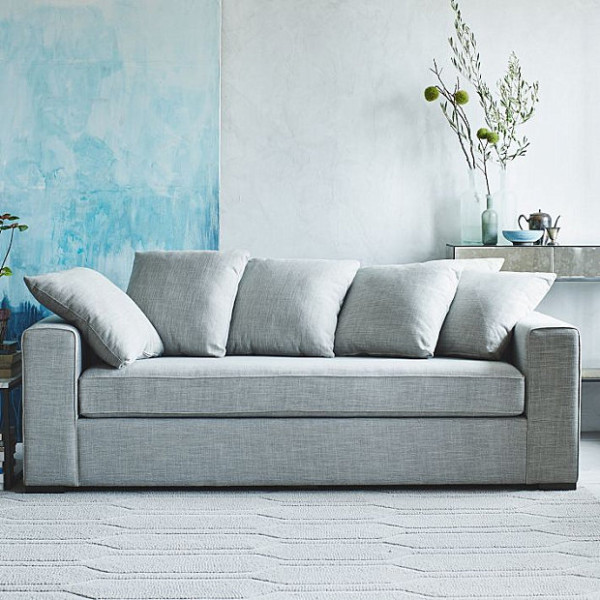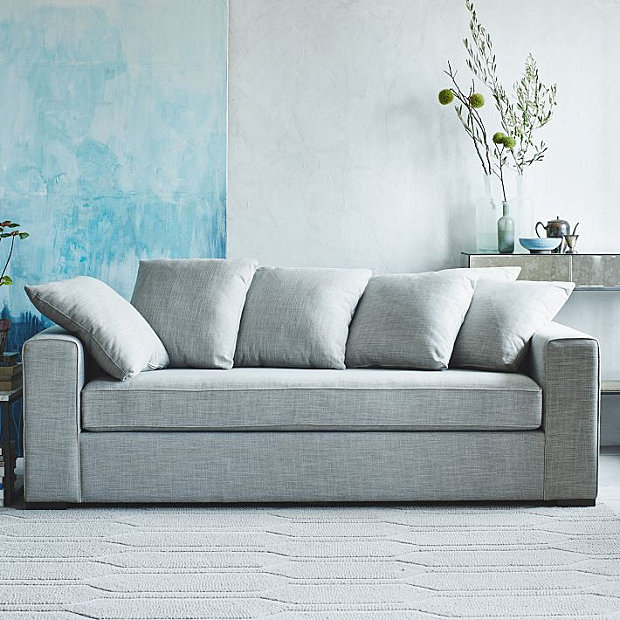 Slipcovered Sofa
For another selection with abundant pillows, check out the Serene Slipcovered Sofa from Crate & Barrel. It's a modern lounge sofa that's white and puffy like a cloud. This piece is named for its cotton-linen slipcover in a creamy shade that will blend with any interior: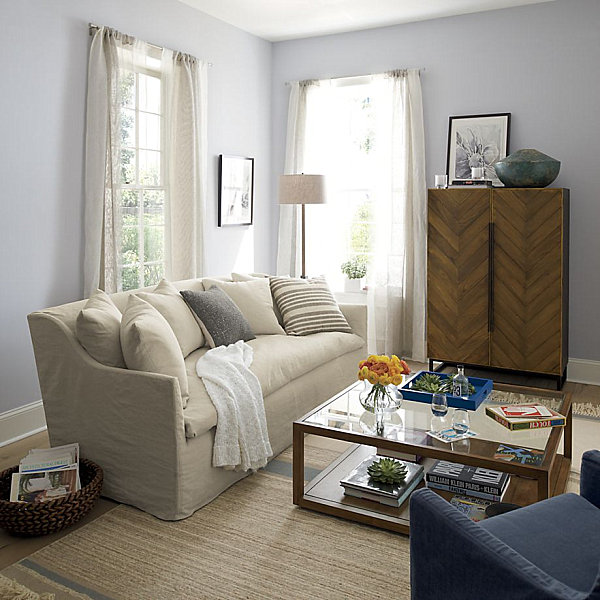 Pennie Sofa
Ready for some curves? Designed by Bethan Gray, the Pennie Sofa from Crate & Barrel features a rounded back, as well as a soothing shade of cornflower blue. Two long pillows accompany this piece, and we can't stop admiring those tapered legs!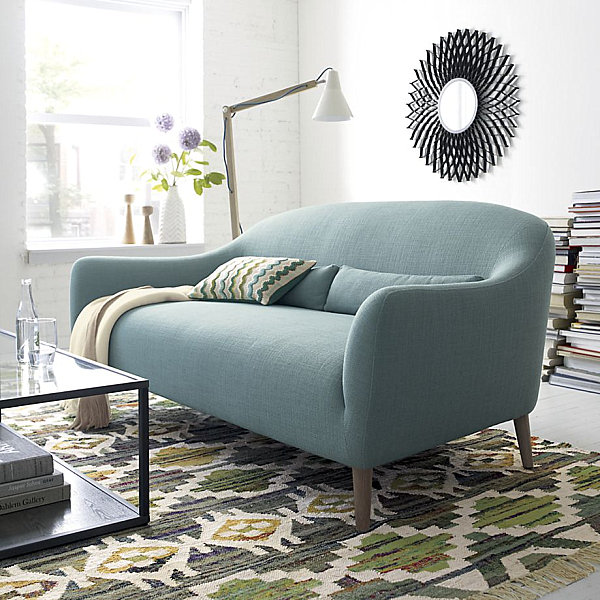 Modern Club Sofa
Notice how we've gradually transitioned from 2-seater sofas to 3-seater selections?! This Modern Club Sofa from West Elm offers the best in streamlined seating. In fact, it's the long version of the Modern Club Loveseat above. Note how the warm shade of gray is distinguished without being standoffish.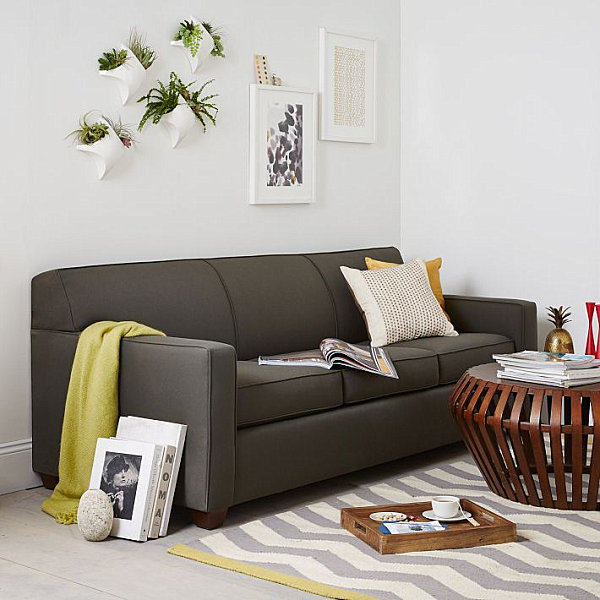 Murphy 80″ Sofa
Oh, how we love emerald green! OK, so this isn't quite the same blue-tinted shade of emerald that was Pantone's Color of the Year for 2014. It's more of a rich, jewel-toned version that veers into forest green territory. And it's the color of choice for the Murphy 80″ Sofa from Room & Board. With low arms and a sculptural frame, it's sure to be the centerpiece of any room…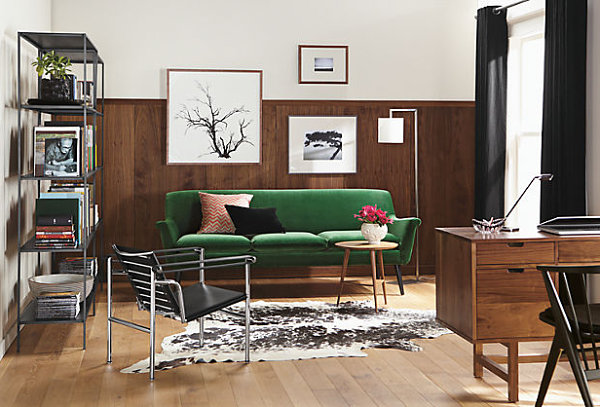 Piazza Snow Sofa
Ever since we got a glimpse of the Piazza Snow Sofa from CB2, we've been mesmerized. And why wouldn't we be?! The lounge-y look, the creamy color, and the chic unicushion make for a stunning silhouette that's simply fabulous.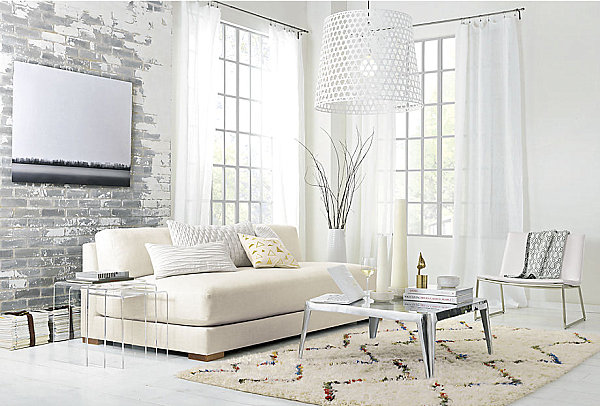 Movie Persimmon Sofa
For a fiery accent to your living space, try the Movie Persimmon Sofa from CB2. A red-orange shade, Mid-Century legs and comfy 100% cotton upholstery make this piece truly unforgettable: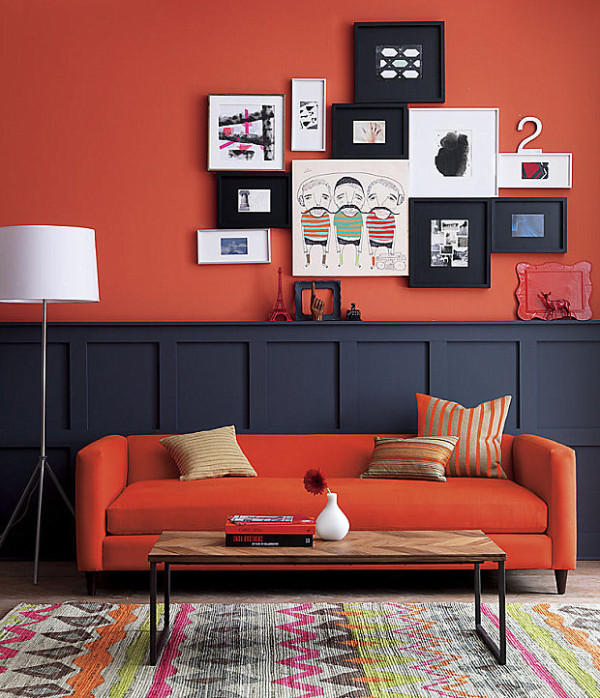 Tufted Sofas
Livingston Sofa
We now move into the tufted zone. Because who doesn't love a little bit of buttoned-up style?! The Livingston Sofa from West Elm combines neutral tones with a '50s/'60s aesthetic. A wingback profile is another standout feature of this piece…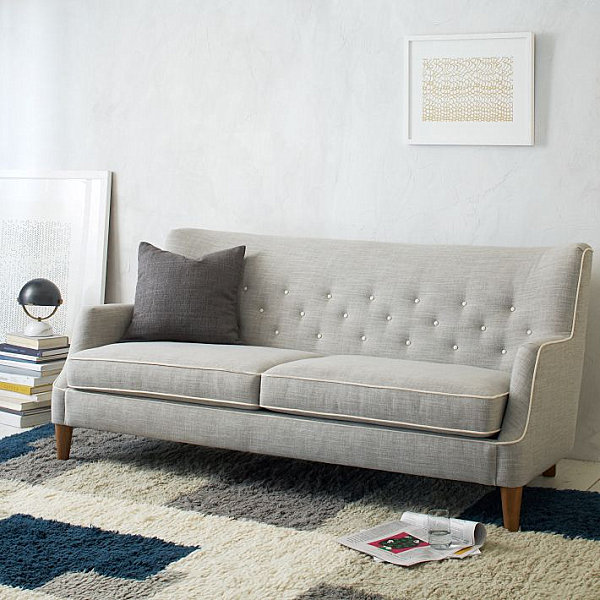 Ava Velvet Tufted Sleeper Sofa
How yummy is the Ava Velvet Tufted Sleeper Sofa from Urban Outfitters?! Could it be the striking curves? Maybe it's the spindle legs… Or perhaps it's the tasty vintage colors, such as deep rose and chartreuse. Did we mention that this piece features a back that folds down, making this sofa a sleeper?!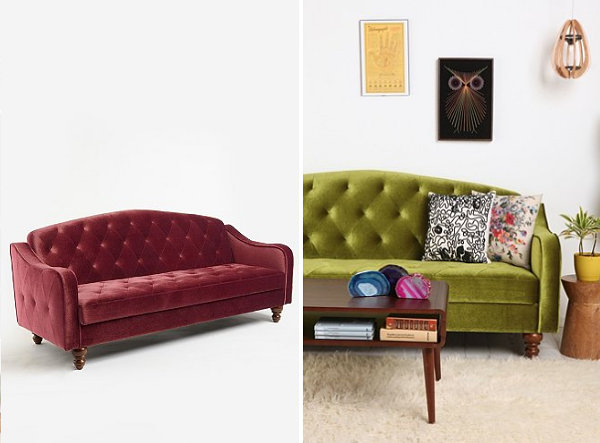 Camilla 2-Seat Sofa
Look a little closer at the yellow sofa below… Yep, it's tufted! A series of five buttonless tufts graces the back of this sunny piece! It's the Camilla 2-Seat Sofa from Crate & Barrel, complete with chenille upholstery and plenty of English armchair style: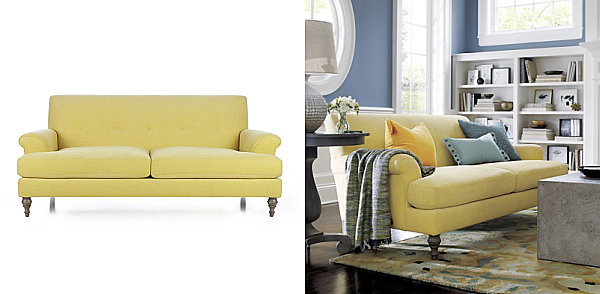 Clara Apartment Sofa
By contrast, the Clara Apartment Sofa from Pottery Barn features oodles of tufts. Comfy yet compact, this piece is ideal for small spaces. Not to mention, the sofa's roll arms are set back into the design of the sofa, creating plenty of room for relaxed seating. Or shall we say lounging!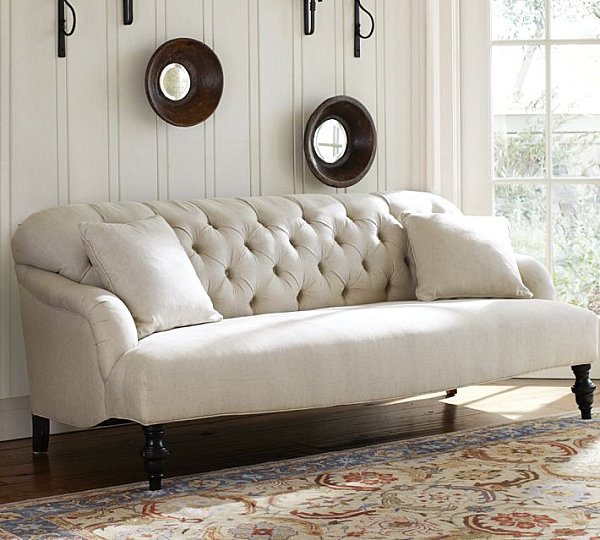 Sectional Sofas
Chaise Sectional
We end with a pair of sectionals that boast striking features. Like faux fur upholstery! Say hello to the Chaise Sectional with Reversible Moonrock Dense Phur / Moonboot Cracked Microleather Covers from Lovesac. While this "phur" is long and thick, it's definitely fake! Plus, a dark gray color makes it easy to pair with decor in a variety of hues. The non-phur portions of this piece are Moonboot Cracked Microleather, which has the look of leather but the feel of velvet. While the piece appears to be sold out at this time, you can order one of the other models with this finish, such as the Loveseat.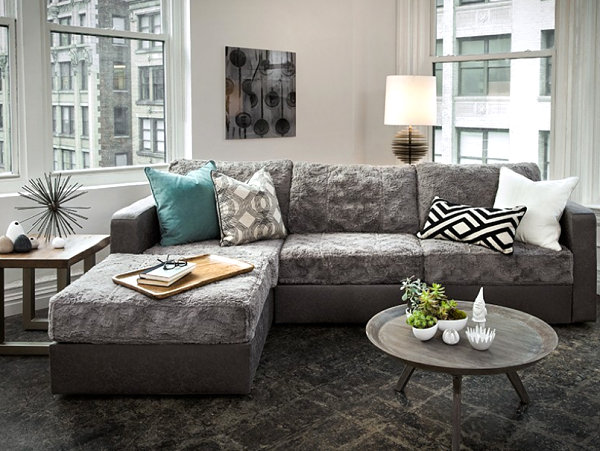 Ditto Peacock Sectional
How gorgeous is the shade of blue that covers the Ditto Peacock Sectional from CB2?! Stylish tufting and square stainless steel legs add unforgettable style to this sofa…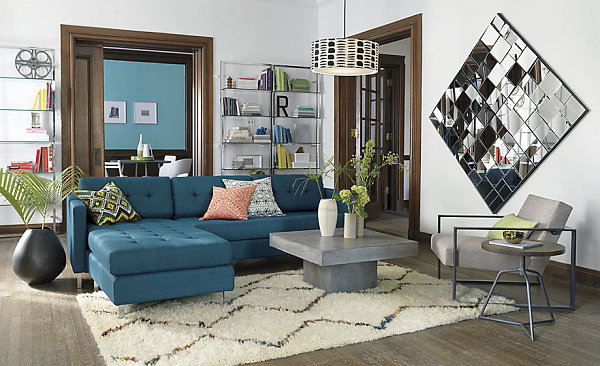 We hope you've enjoyed browsing some of this season's hottest finds. The links above will guide you to purchasing information for today's featured pieces. Whether you're looking for a compact two-seater or a sectional that's perfect for lounging, this group of featured sofas ranks high in both comfort and style. Happy shopping!