I have a confession to make: my closet doesn't have a scarf storage solution (gasp)! In fact, the few scarves I own are suspended from hangers, mixed in with the clothes in my closet, and all but forgotten. Which is why I researched today's post with extra enthusiasm! I need a scarf storage solution of my own. I actually thought several possible options would involve packing the scarves away in lovely boxes. Boy, was I mistaken…
Yes, folks–it's often about putting those scarves on display so you can truly see what you have. And today I've rounded up a slew of ideas, from built-in storage to DIY possibilities. These scarf storage solutions reflect a range of options for every closet size and budget. Read on for more details, and then tell us about your favorites at the end of the post.
Drape Them, Tie Them
In my hunt for scarf storage solutions, by far the most popular method I came across was the hanging display. Why not have your scarves out in the open where you can see them?! Many of these displays involve rods, like this built-in solution from LA Closet Design: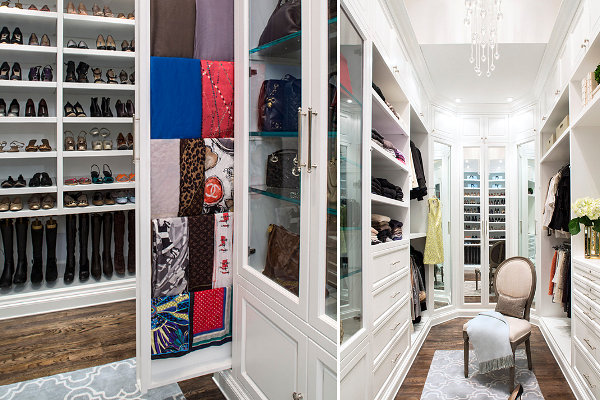 Some prefer to drape their scarves, while others tie them in knots, which allows many items to fit on one rod… [from Niki Landry]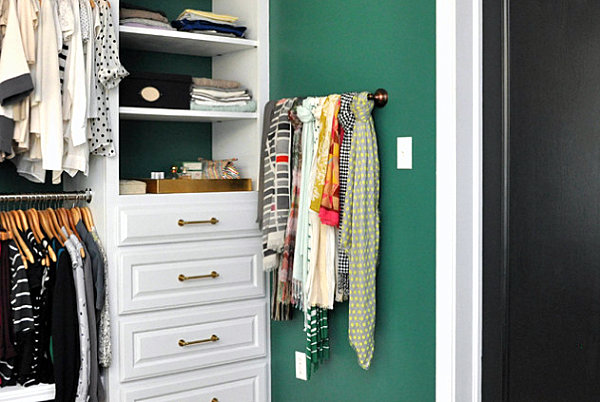 Say hello to KOMPLEMENT from IKEA! This hanging scarf storage solution features many loops–perfect for draping a multitude of scarves. [from Be Beautiful]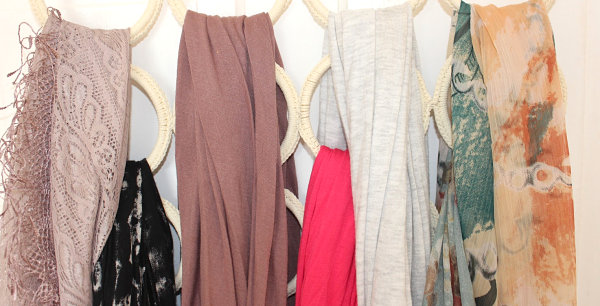 I know I said that my scarves were getting lost on hangers in my closet. But there's a difference between randomly mixing your scarves in with other items on hangers and cleverly consolidating them on one hanger, as shown below. In fact, this easy scarf organizer can be crafted with a hanger and some shower curtain rings. Check out a full tutorial at Cornflower Blue Studio: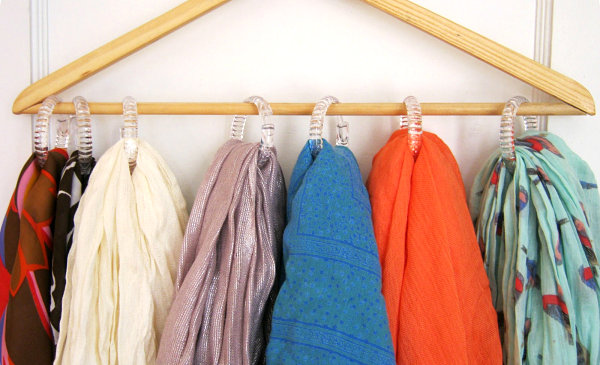 I absolutely love this ladder scarf storage DIY from Almost Stylish. Not only does it provide plenty of room to tie or drape your scarves, it doubles as an unforgettable work of art!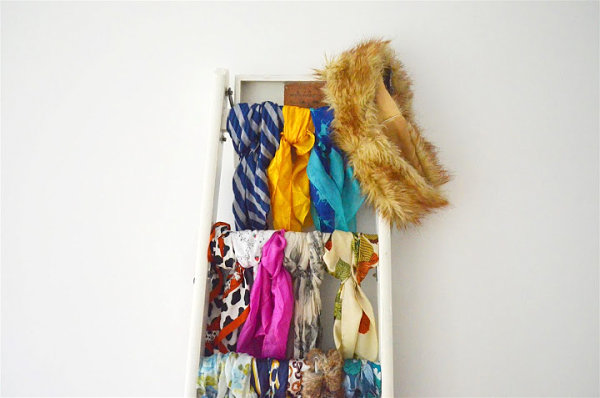 Did someone say "work of art"? Here's an other one… It's a ribbon and clothespin scarf organizer tutorial from Cedarglen Homes! Add some wooden spools and craft paint to your list of supplies, and you have everything you need to create a wall art installation starring your very own scarf collection!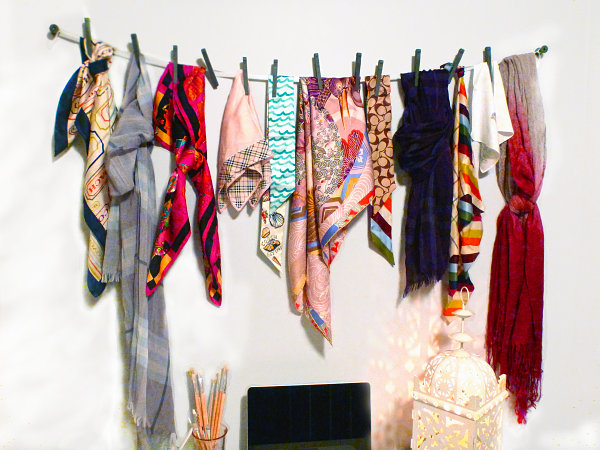 Hook Them
Drape them, tie them…hook them! This next collection of scarf storage solutions involves the use of hooks. This sliding scarf hanger from Closet America handily tucks away when not in use. Note the series of hooks that provide two levels of storage possibilities: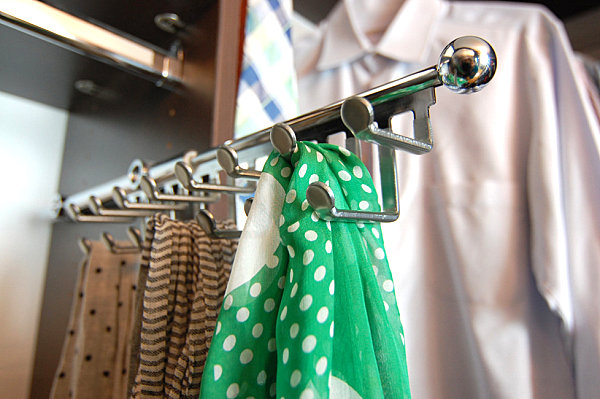 Or you can build your own scarf holder using picture ledges, rails and hooks from IKEA. Then pick up some S-hooks and clip rings, and you're ready to follow this easy scarf organizer tutorial from How to D.I.Y. Right: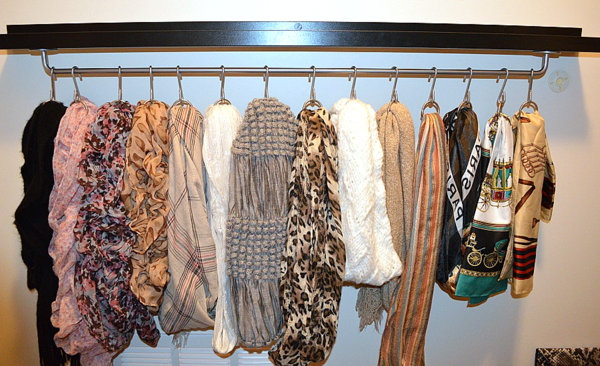 Sometimes one hook is all you need… In the form of a hanger that "hooks" onto your closet rod! Yet dangling from that hook is a series of loops that are perfect for keeping your scarves in check. It's the InterDesign Classico Closet Over Road 8 Loop Scarf Holder in Chrome, available at Kitchen Stuff Plus. And yes, there are options with additional loops if your collection is on the large side!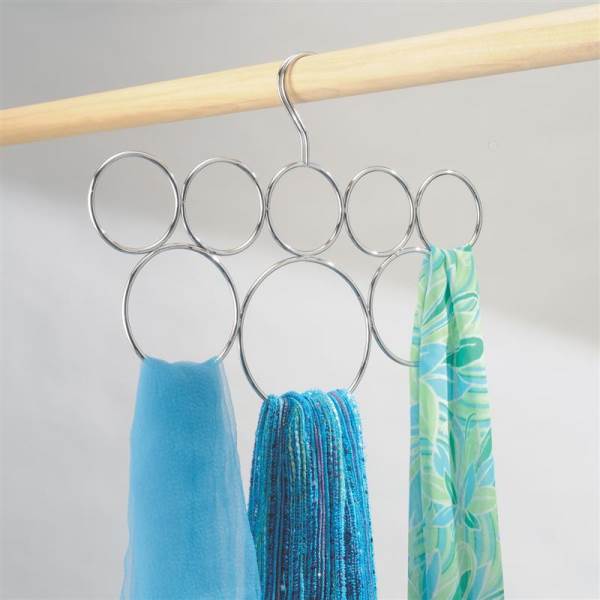 The hook storage systems above involve rods, but you can also utilize a grid for maximum storage. Below we see two different scarf storage systems centered around a metal grid. This method is extremely practical, and I must say, I've always loved the look of grids. Must be my love of '80s design… [from OK Closets and Scarf It Up]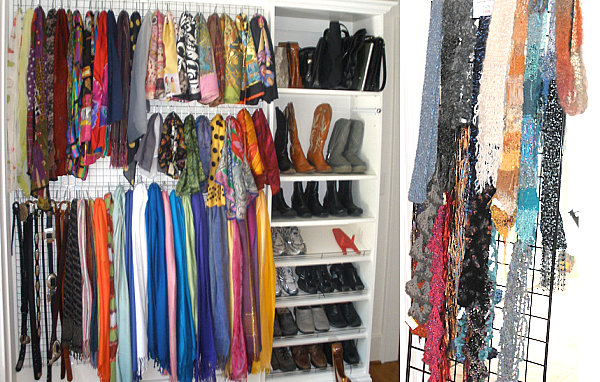 Fold Them
While the most popular scarf storage solutions seem to involve hanging scarves out in the open, there's always the option of stashing your scarves behind closed drawers. As long as the drawers are easily accessible, you'll be able to grab your scarves at a moment's notice. Below we see a partitioned drawer from Cabinet Innovations: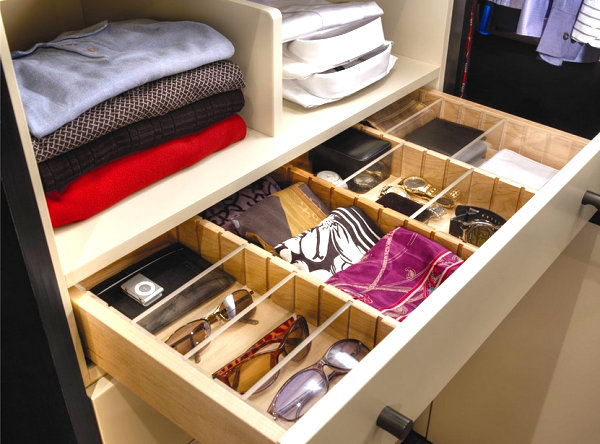 Got long scarves? No problem! Before placing them in the drawer, fold them into long rectangles so they wrinkle as little as possible. [from The Couture Closet]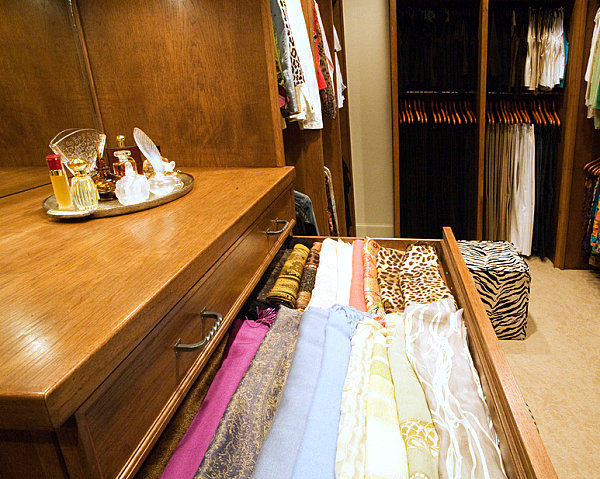 And you can always fold and display your scarves on closet shelving, whether the shelves are built-ins or freestanding. Just be sure to keep those scarves neatly folded to avoid a cluttered look! [from The Ranch Mine]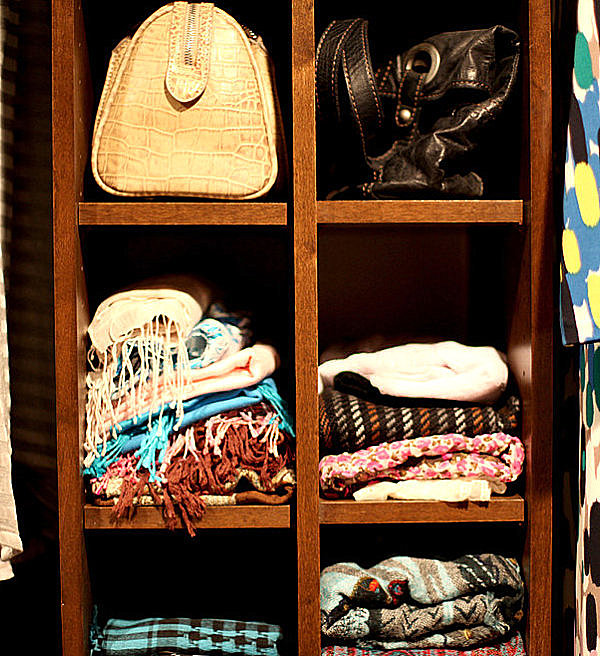 The scarf storage solutions above prove that there's an answer for every budget and every closet. Whether you utilize one hanger and a few shower curtain rods or you have the space to enjoy a built-in scarf display system, there's nothing stopping you from organizing your beloved scarf collection in style! Tell us about your favorite scarf storage ideas by leaving a comment below…