Dare to be bold with your interior design? Concrete walls may be a good solution. While they may seem like unfinished business for your home decor, concrete walls break up the form and accentuate a room with their sheer elegance and their unique personality. The raw, unfinished look of concrete is inimitable, while the trendy industrial style of having it adorn your walls — though hard to believe — is nothing but inviting.
1. Whistler Residence, British Columbia
A beautiful house that manages to capture your attention with its architecture will most like catch your eye with its interior design as well. This is true for the Whistler Residence in a growing neighborhood of posh homes in Whistler, British Columbia. What gets our attention are these cool exposed concrete walls, and their love affair with the quality wood that adorns the playful open space of the villa.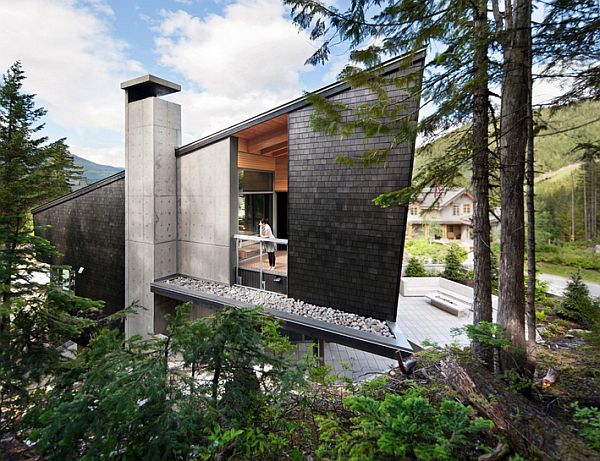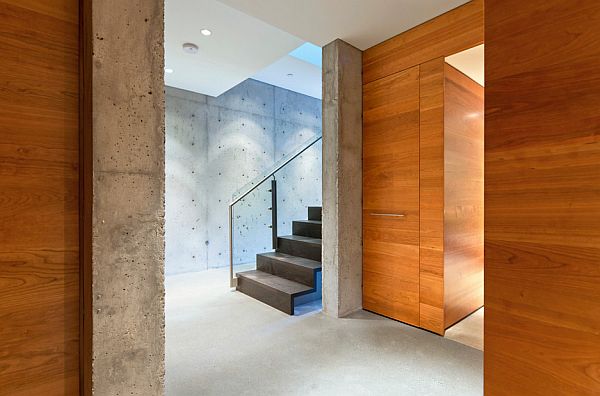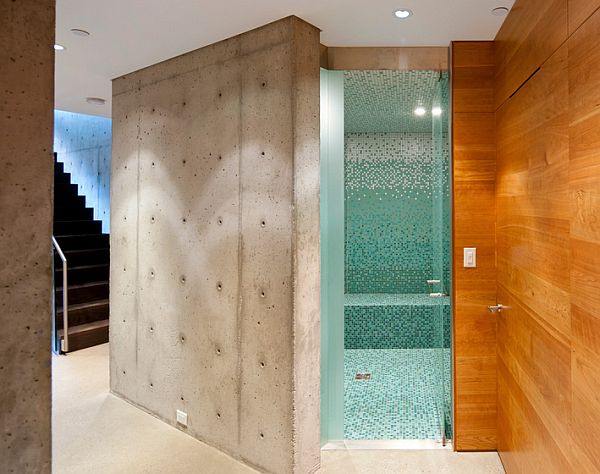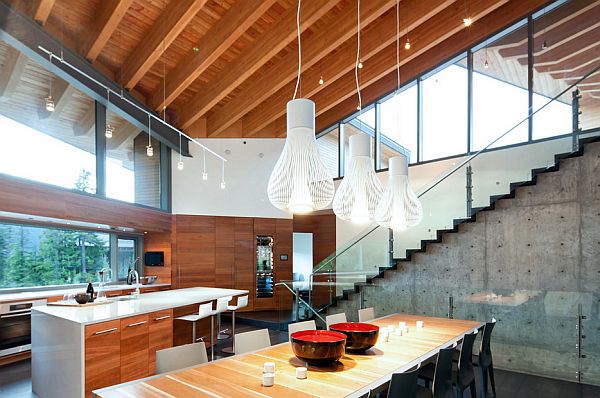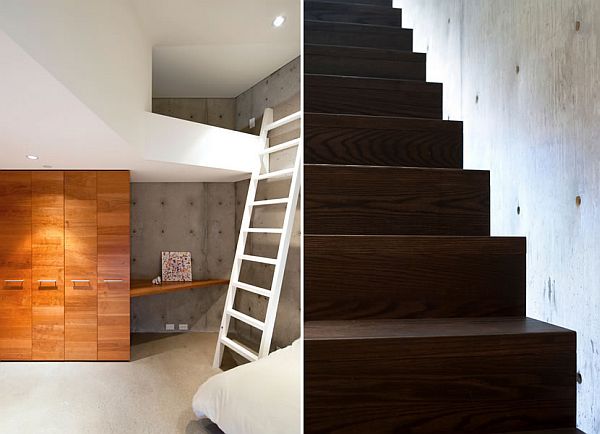 Architect & Designers: BattersbyHowat Architects
Photographed by Sama J. Canzian
2. Concrete and Steel, Buenos Aires
It might be the Atlantic Ocean and its windy breeze that inspired this home. But it could also be the enthralling creativity of a young and talented team of Argentinian designers who wanted a break from stereotypes in order to create a home with a distinct character. Were they successful in their goal? We'll let you be the judge of that…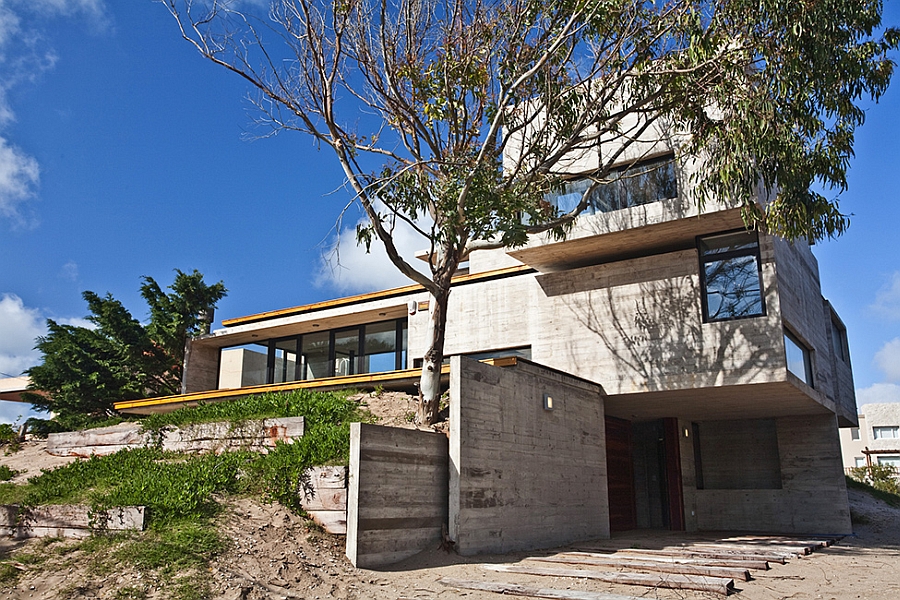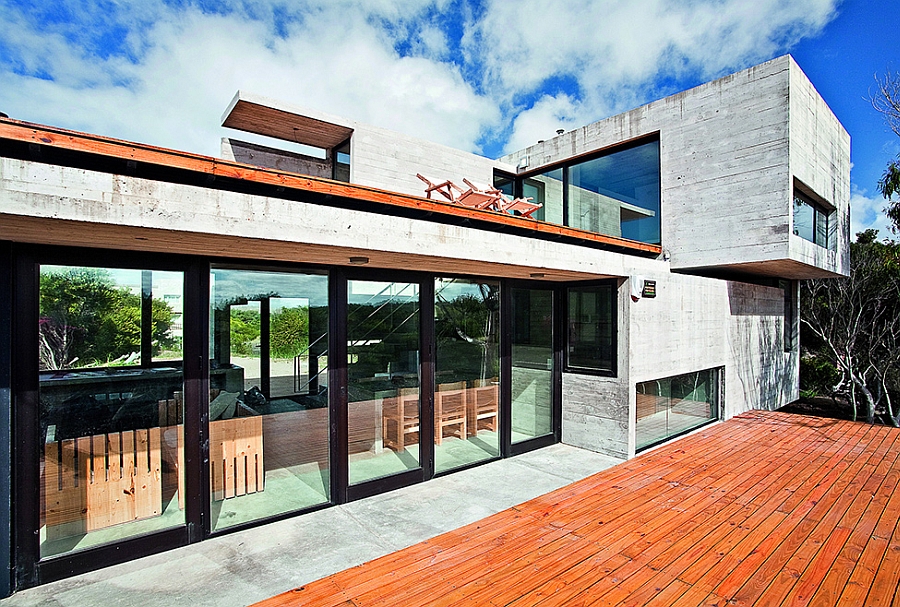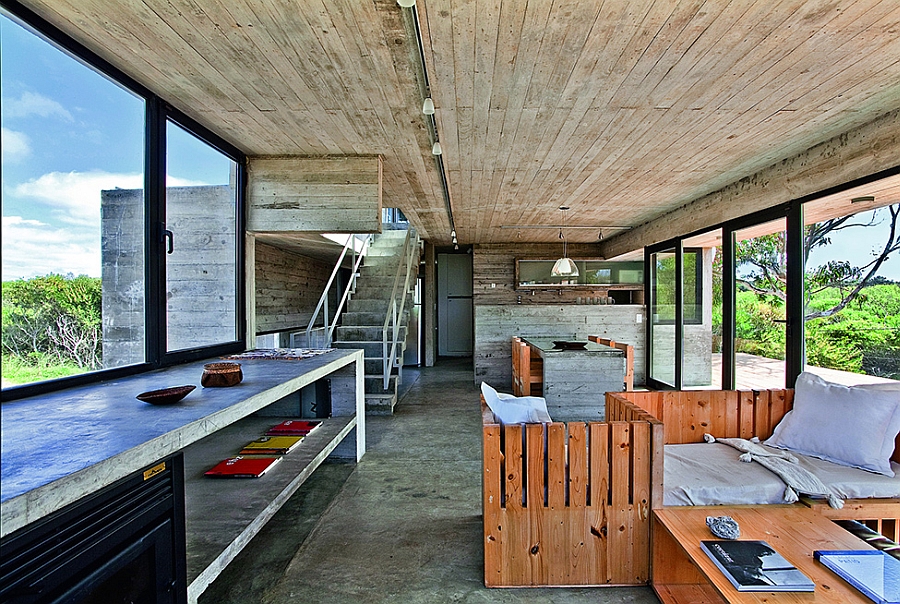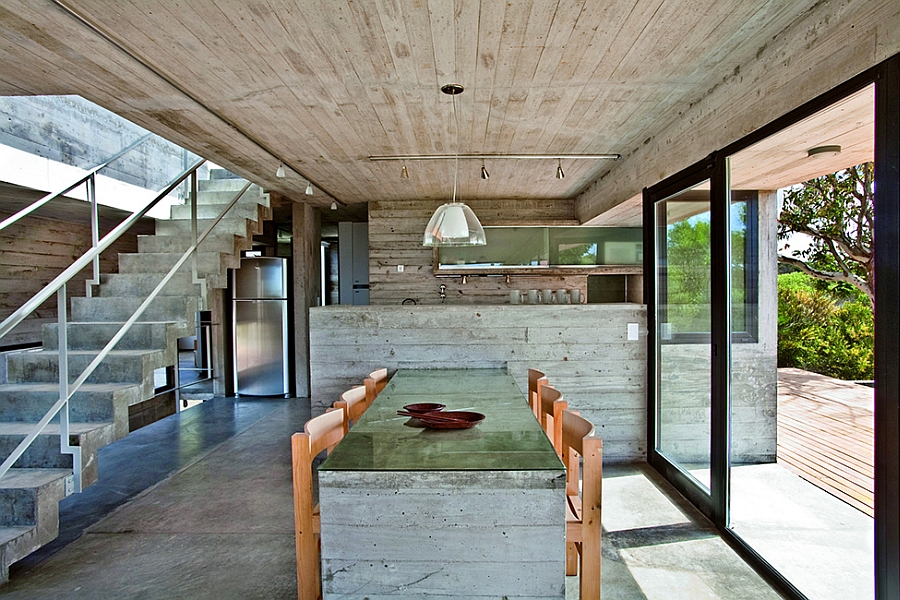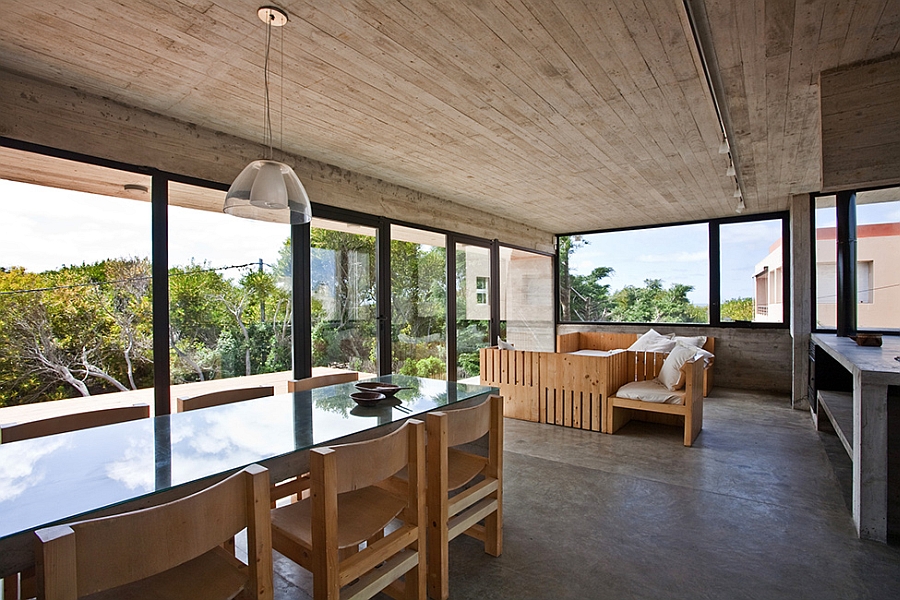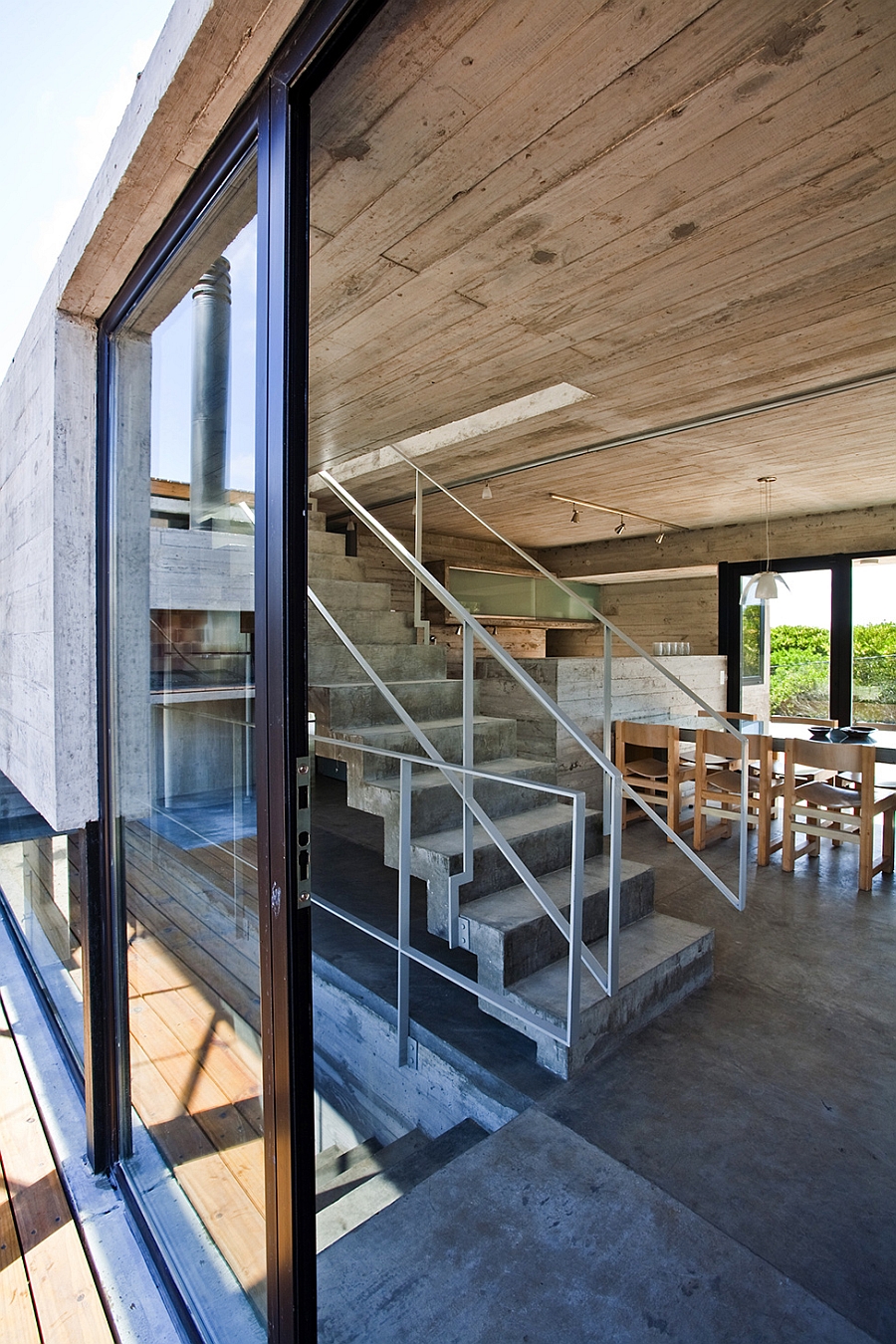 Built by BAK Architects
3. Byrnes Residence, Phoenix
Architects from TheConstructionZone have undertaken the renovation of a house built in 1998 in Phoenix, AZ. What do we like most about this new home? The amazing strategy of using concrete as an accent wall, together with quality wood and fancy furniture that will surely catch your eye. I mean, honestly, look at this patio setup with the fireplace and the concrete wall above. Or this modern home office, or the way the concrete reflects in these mirrors.
Not sure about you, but I'm totally sold on this …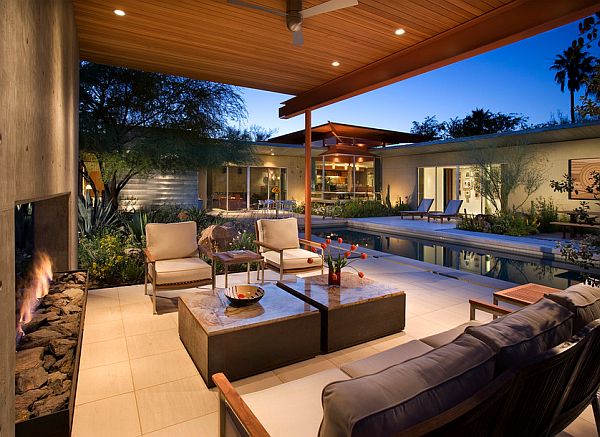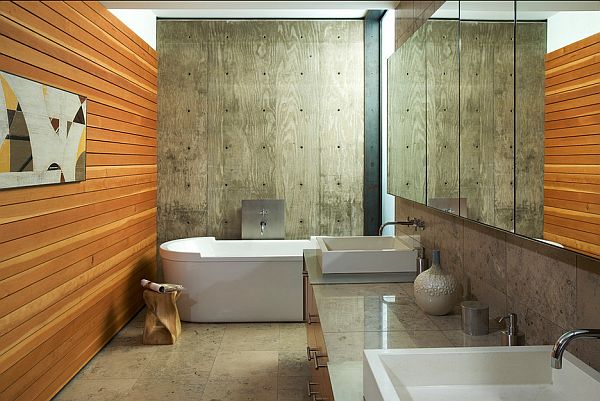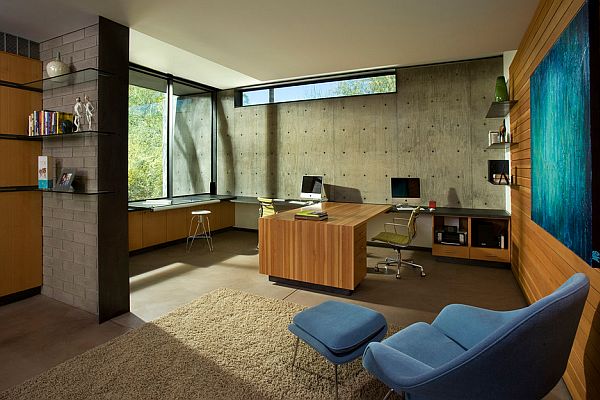 4. Echo Beach, Vancouver
A young family with a young vision–these are the people who live in the Echo Beach house in Vancouver. Seen as a sustainable building, the house allows for a green wall install if the owners will ever fancy it, and is solar ready. But the feature that strikes us most is the expansive use of concrete, not only to strengthen the whole structure of the house, but also for its ease of maintenance and the overall wow factor it gives the whole interior.
These walls … they look spectacular with uplighting. Definitely a cool lifestyle.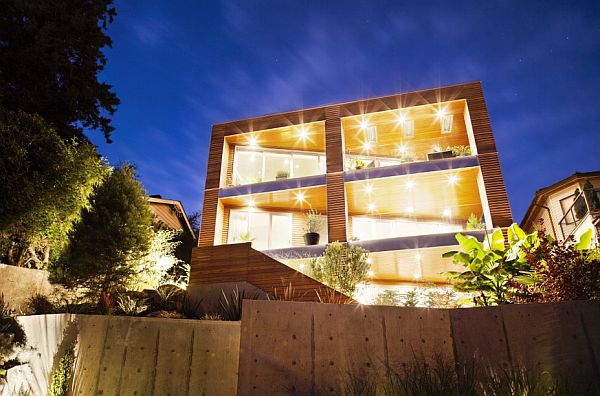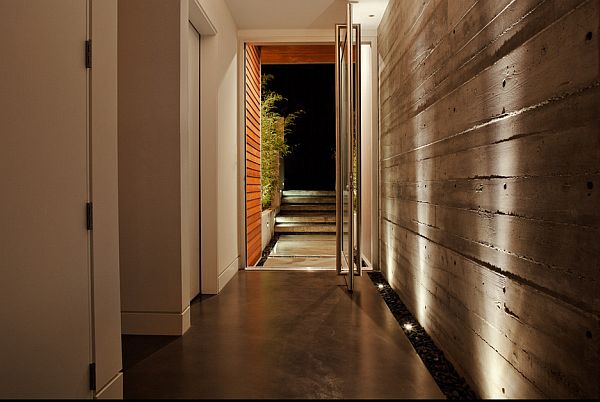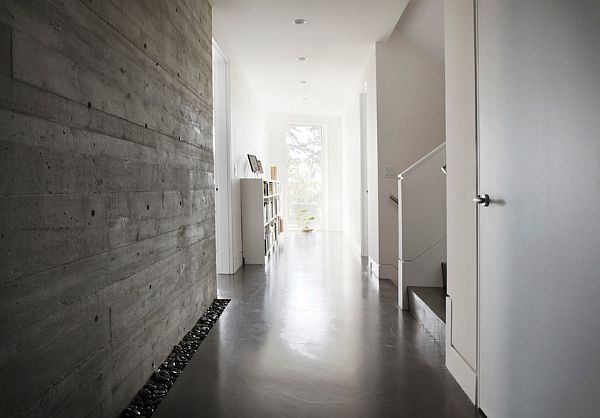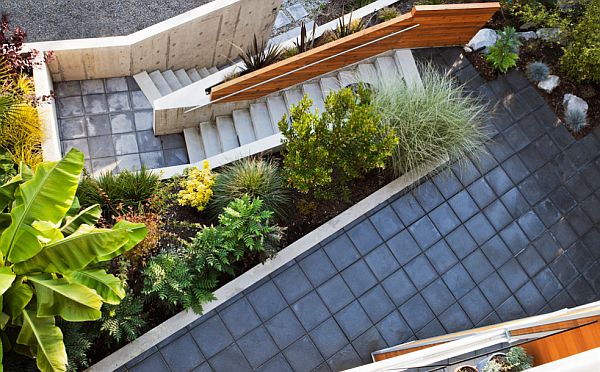 Built by KBC Developments
Photography by www.robcampbellphotography.com
5. Mountain Homestyle, Capitol Creek
What better place to feature concrete walls than a posh mountain retreat in Aspen's fanciest?! Despite the popular belief that concrete walls are sterile and cold, this stylish reinvention of the mountain lodge proves how a creek-side Old Snowmass home converts from hippie to contemporary, while being cozy at the same time. Add plenty of glass to the whole recipe and call it "perfection".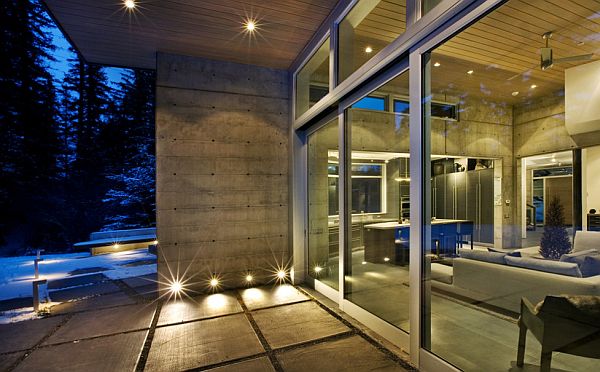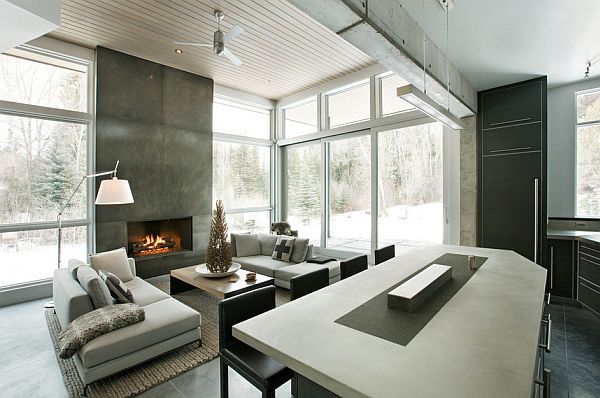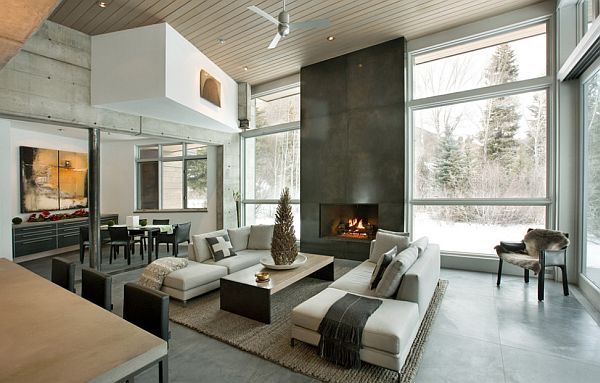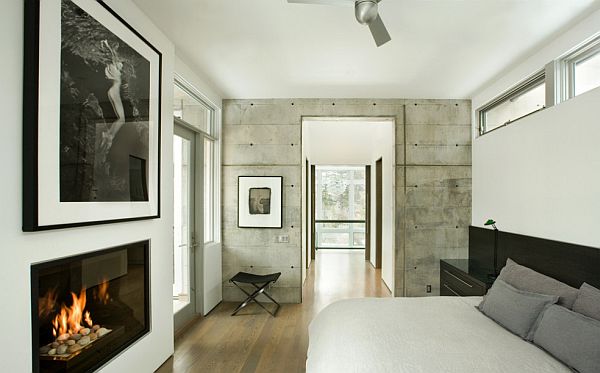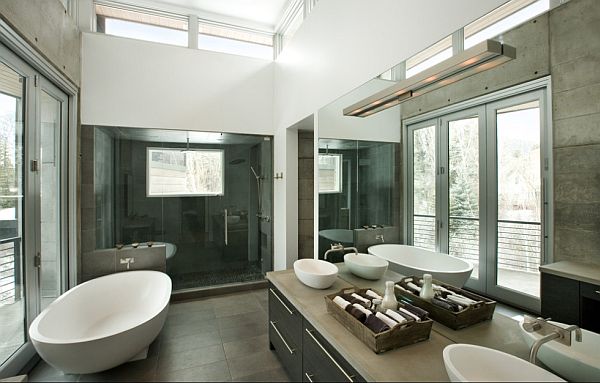 Home by Kaegebein Fine Homebuilding
6. Dorsey Residence, Seattle
Folks in Seattle from Coates Design Architects have a sweet tooth for concrete (so do we, but I guess you got the idea already). The home they built, the Dorsey Residence, was designed as a structure that maximizes footprint by the use of vertical space. From afar it does look like an anonymous, austere, monumental concrete two-story building on the waterfront. Upon entering, a new world opens up in front of you; it's warm, light, and open.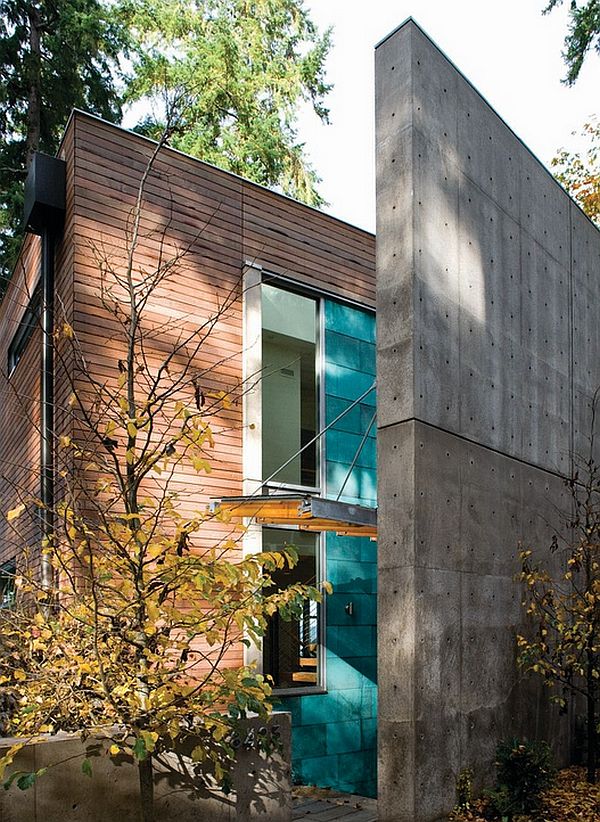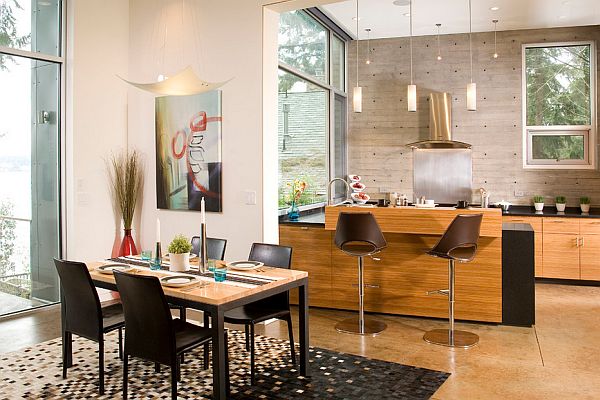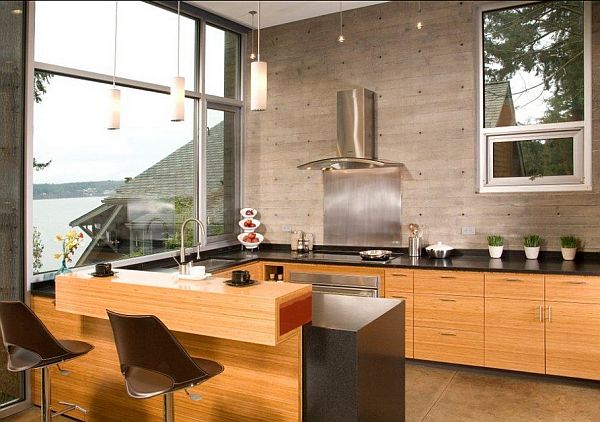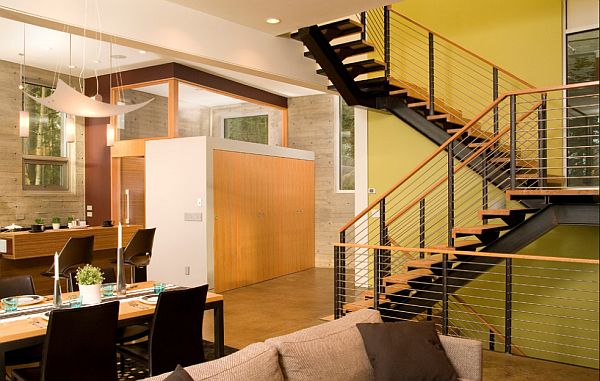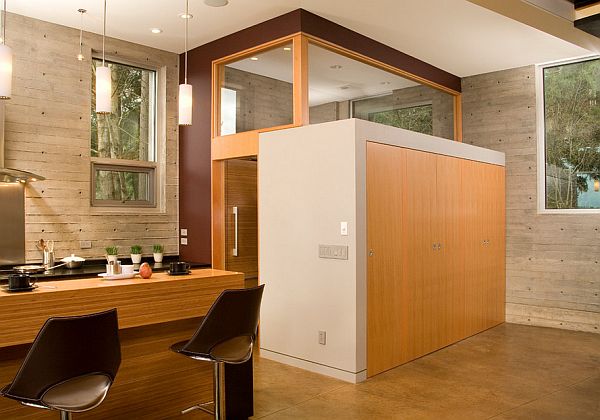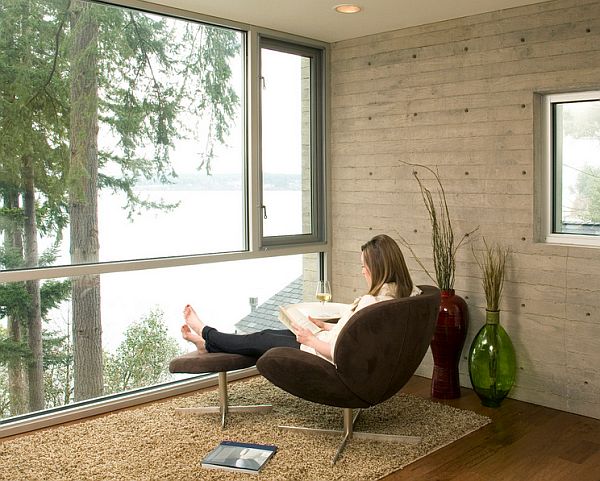 Exterior – photos by Andrew Waits
Interior – photos by Roger Turk – Northlight Photography
7. Lima Residence, Los Angeles
Luxury is not always about big brands and contemporary Italian furniture. Luxury is in the details! Like the Lima Residence in Los Angeles, by Abramson Teiger Architects. Simple modern clean lines adorned by beautifully crafted concrete accent walls, expansive spaces and lovely colors are the elements that caught our attention this time. Talk about bringing the outdoors inside … right?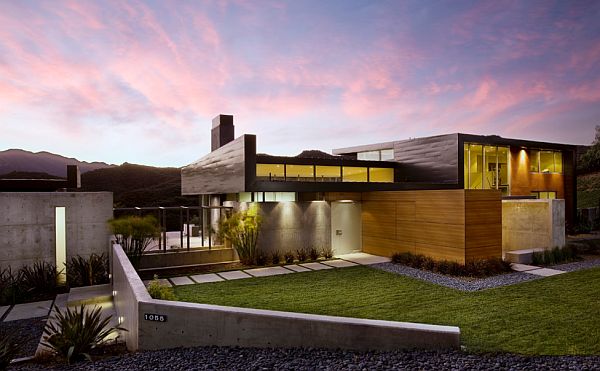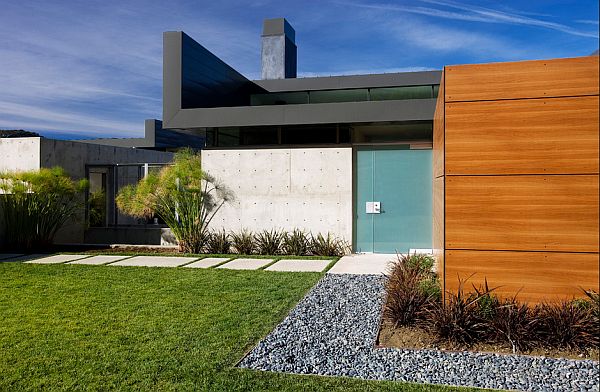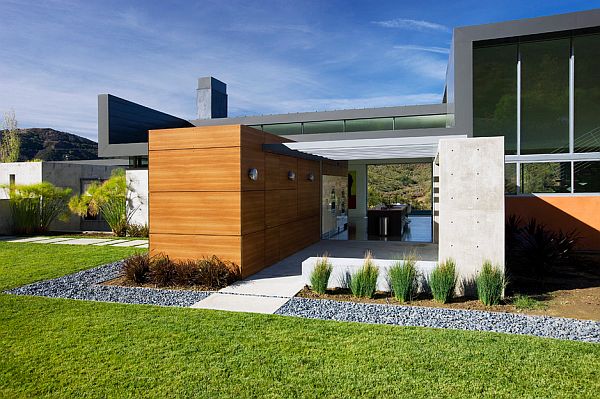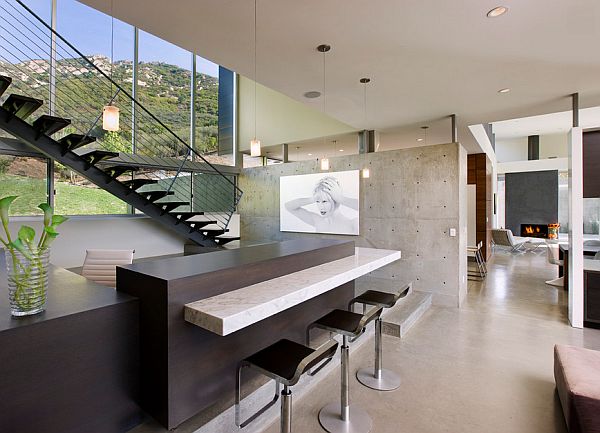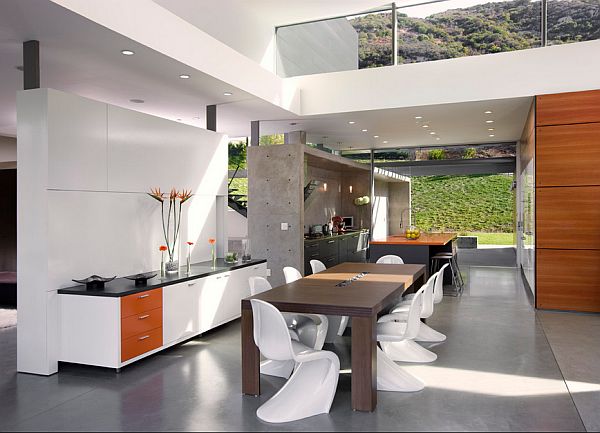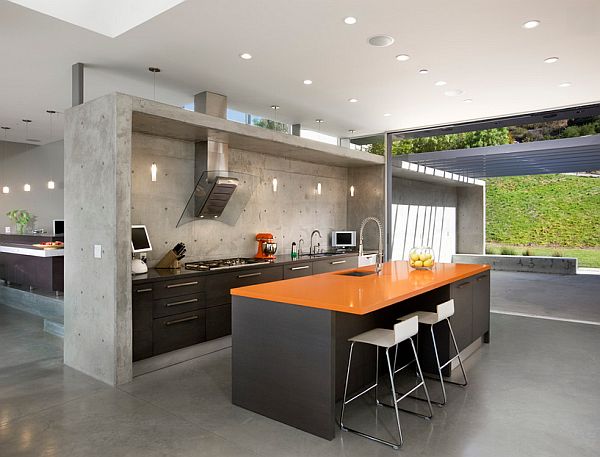 Jim Bartsch Photography
8. Graham Residence, Mercer Island
Designers at E. Cobb Architects have outdone themselves with this luxurious Graham Residence. A consistent grey pattern — rather stylish I must say — broken with warm shades of wood and bold colors beautifully complements the amazing ocean views that are only enhanced by the huge floor-to-ceiling windows. Windows which actually define it as a … .glass house. Funny how a strong, powerful material like concrete can mix ever so nicely with glass, don't you think?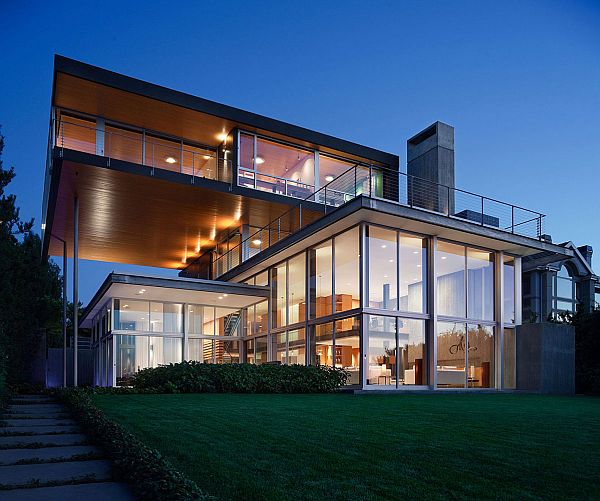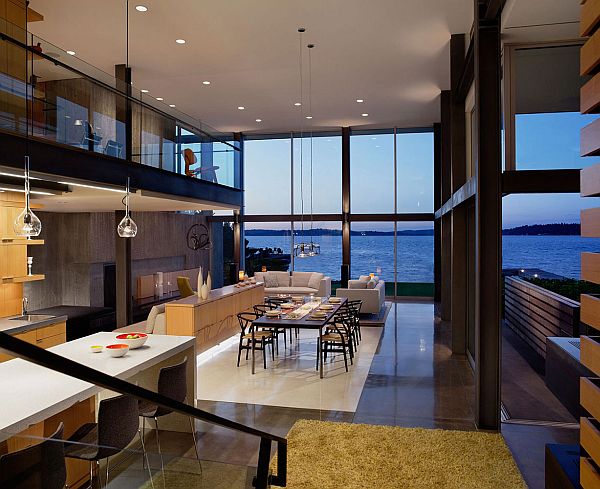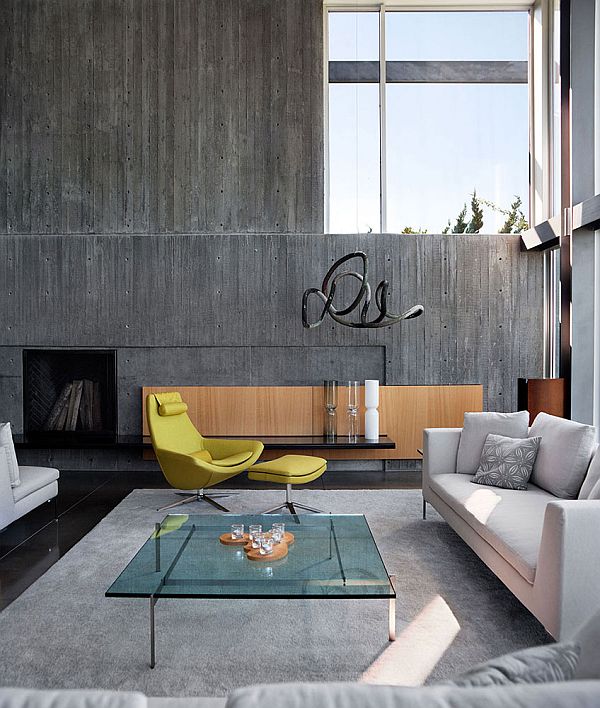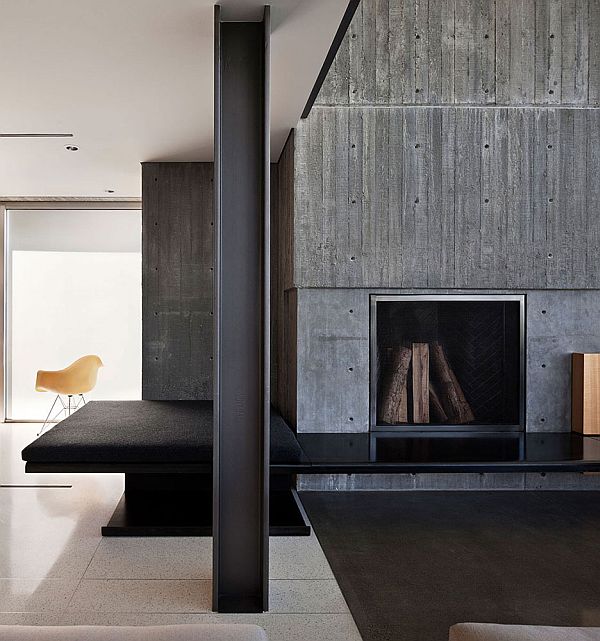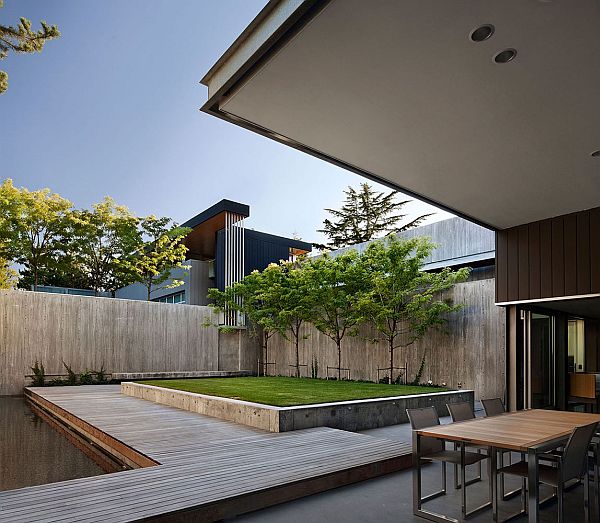 9. Kurth Residence, Santa Barbara
If you were thinking of a more conventional, rectilinear contemporary home, who are we to say no?! But wait till you see what Neumann Mendro Andrulaitis Architects came up with in Santa Barbara — an atypical home with curvilinear forms and exposed concrete that defines it in the most astounding manner. Words just won't do justice to the Kurth Residence …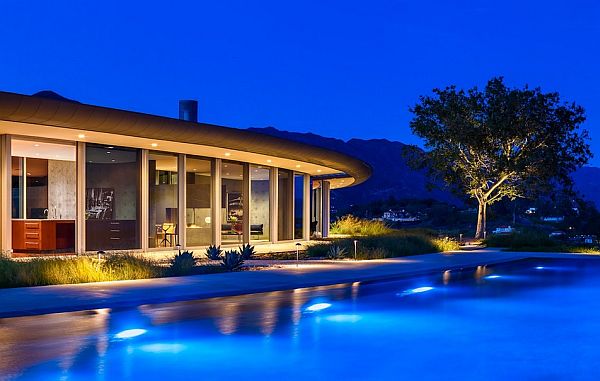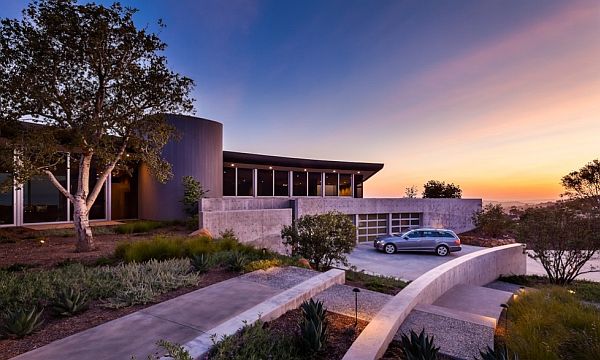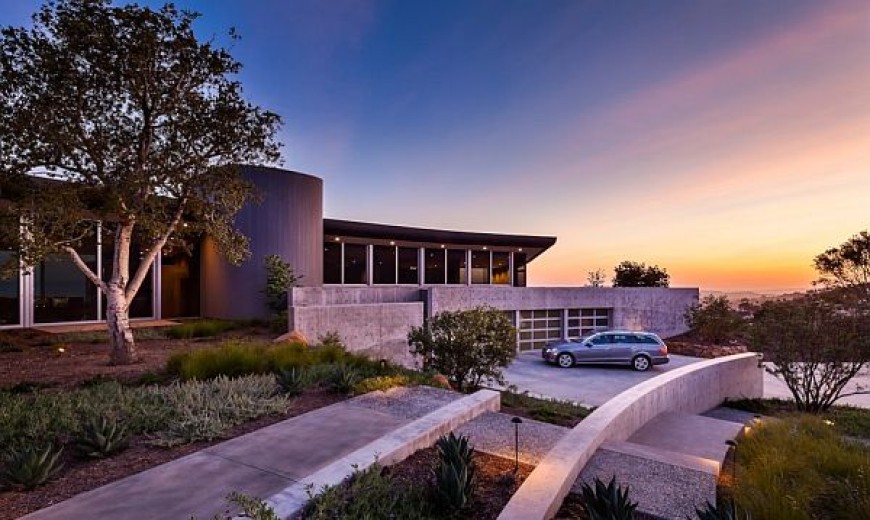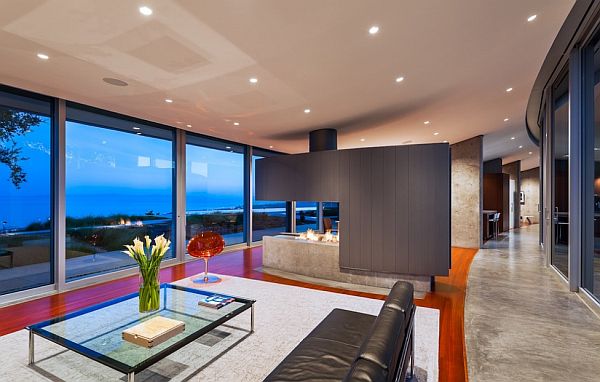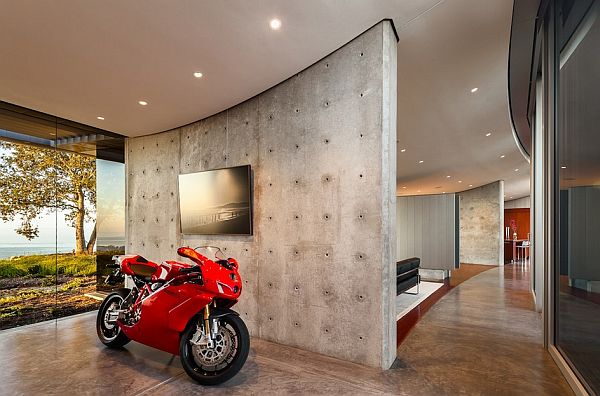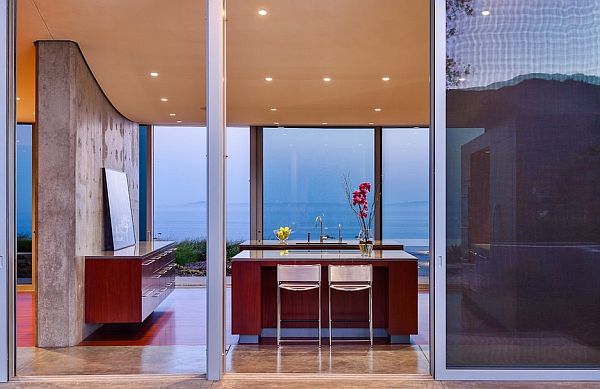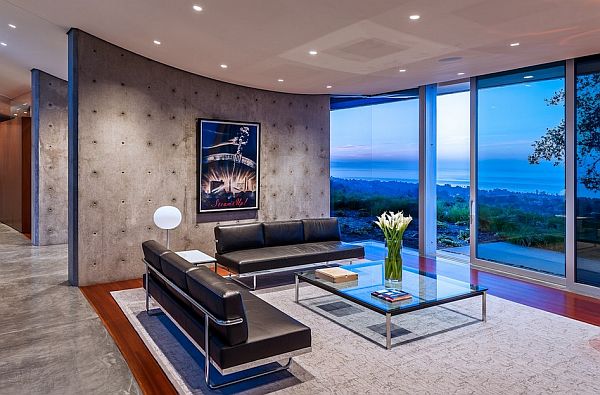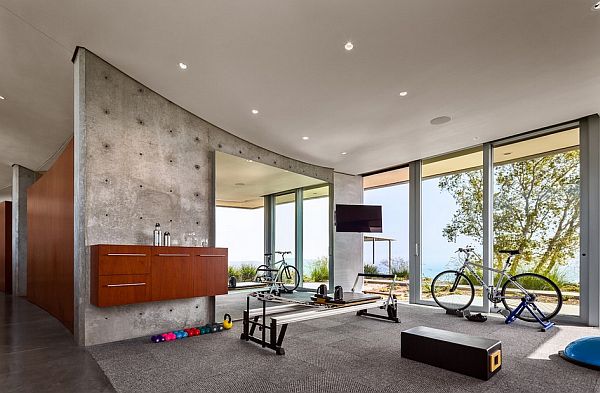 Ciro Coelho Photography
10. Beach House on Long Island
There must be something about sandy beaches and the use of concrete, I hear you saying. You're right. It's something that we've been saying for awhile now. It's a trend to bring the outdoors in; and it seems to be a trend to opt for exposed concrete walls that are good insulators (keeps you colder in summer, and warmer in winter) and amazing eye-catchers. As with other properties before, this Beach House on Long Island is majestic, warm and inviting, all at once. Not to mention, the house has a little bit of zaniness that makes it even more appealing.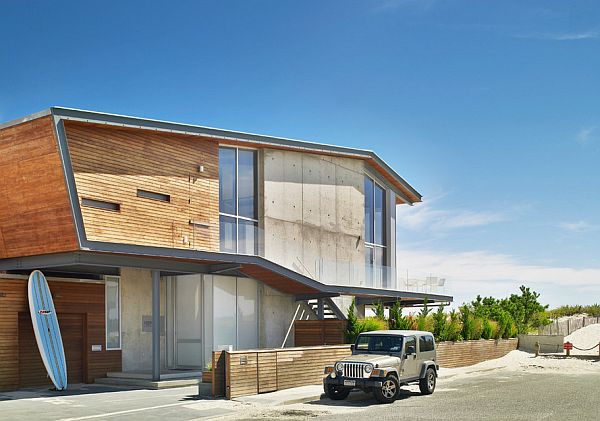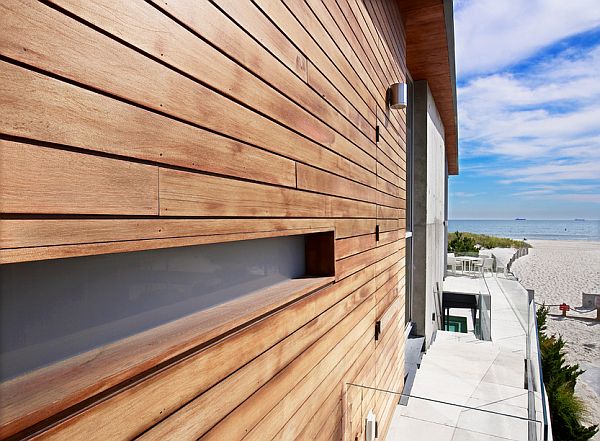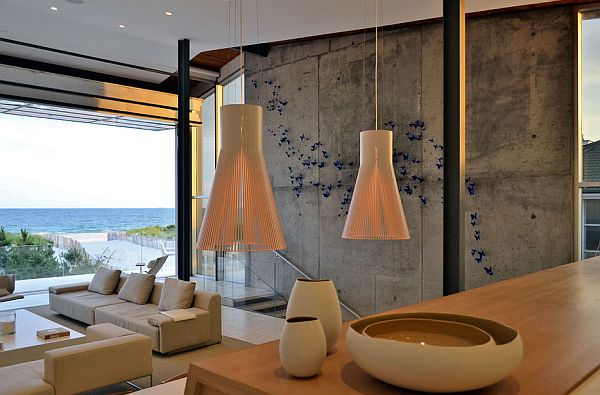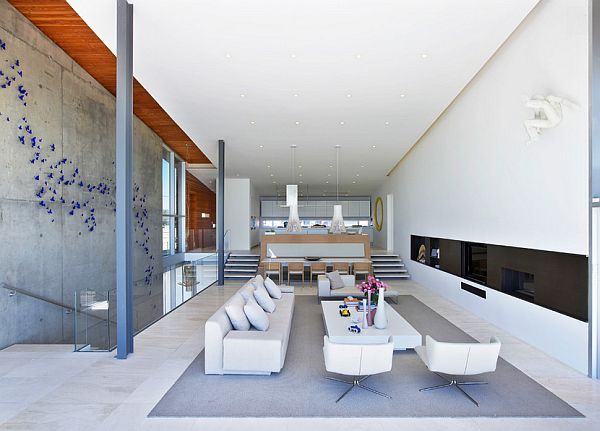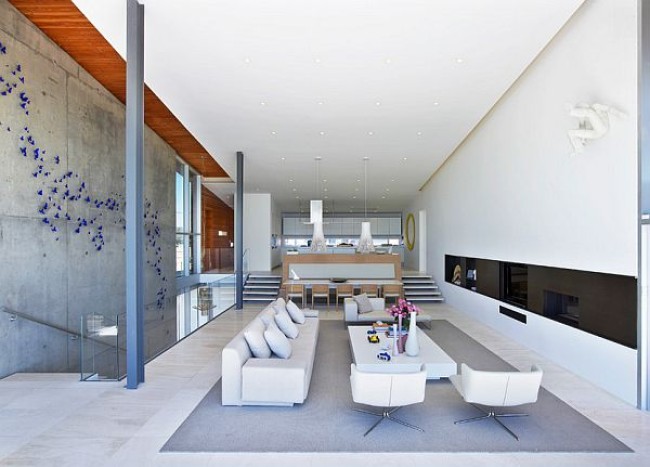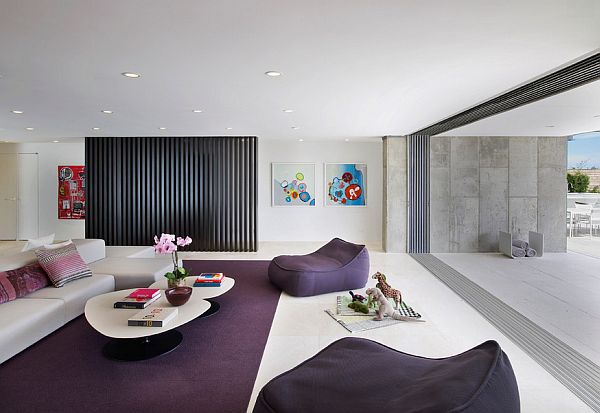 Design by West Chin Architects
11. Box House, Brasil – bachelor lifestyle
There's a reason why they call it the Box House — it's really as small as a box. But there's also a reason why we're left drooling — its design makes the most of the space while remaining uncluttered and elegant at all times. To balance the textures of concrete, the house incorporates plenty of glass, which also serves to create a visually spacious and well-ventilated interior. Concrete and glass, a winner, again!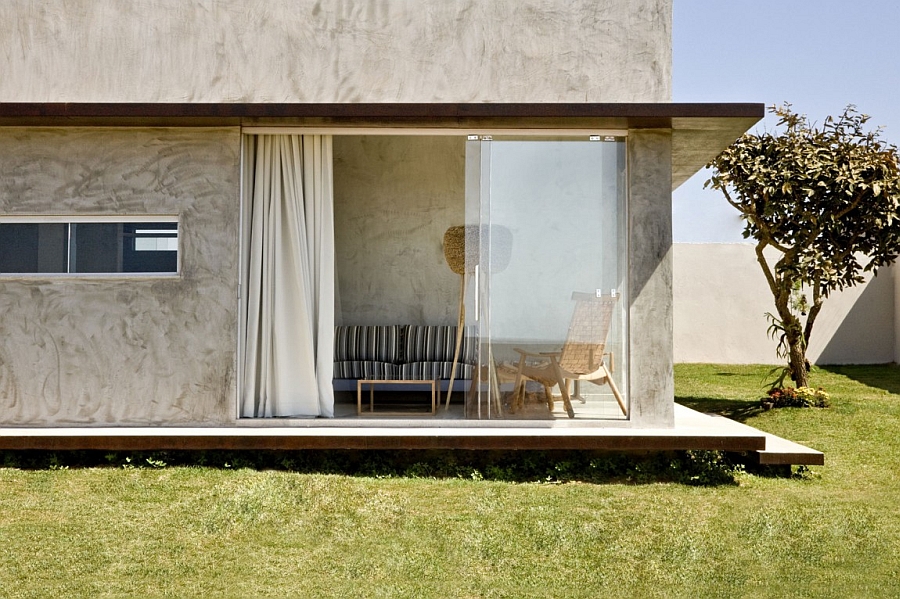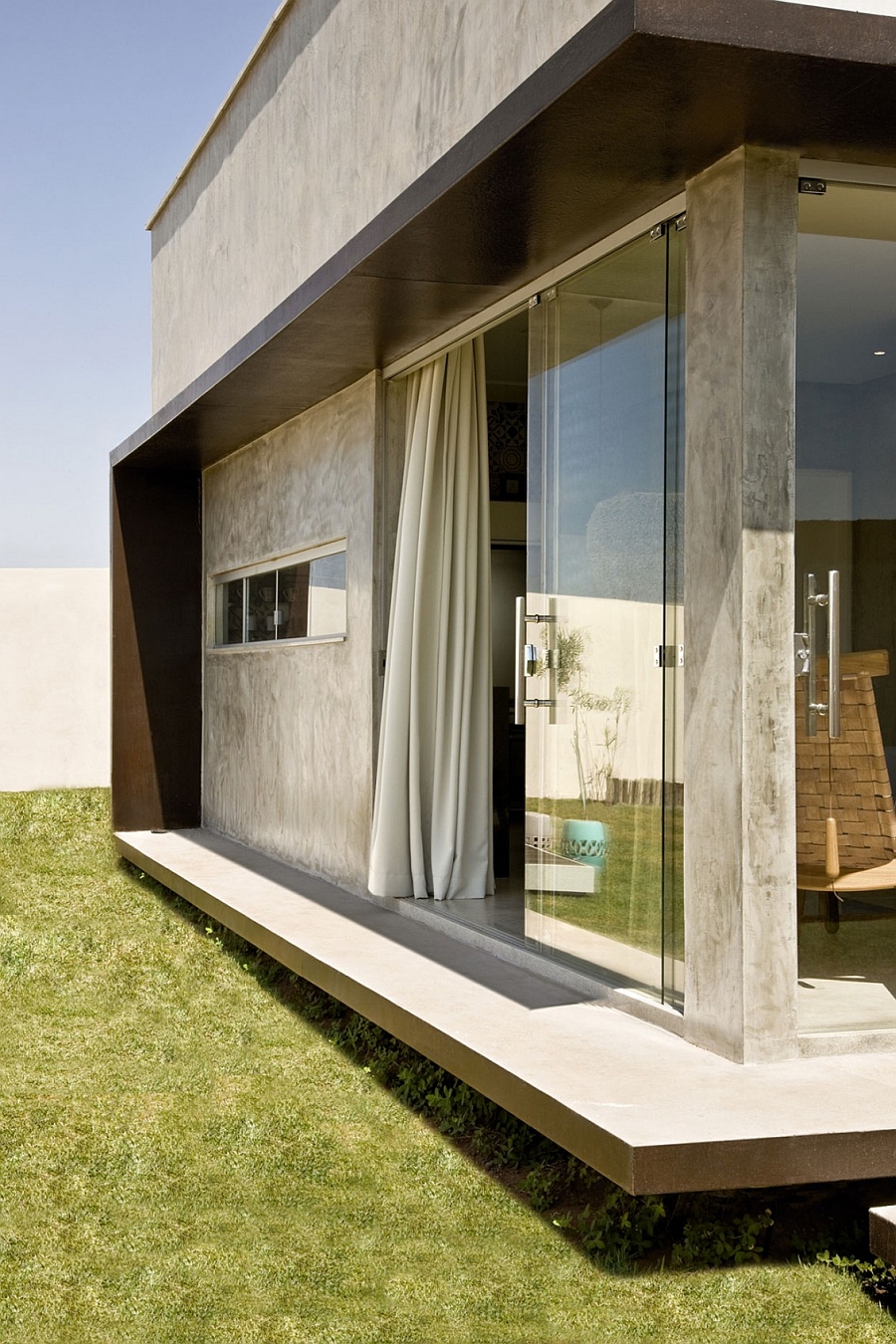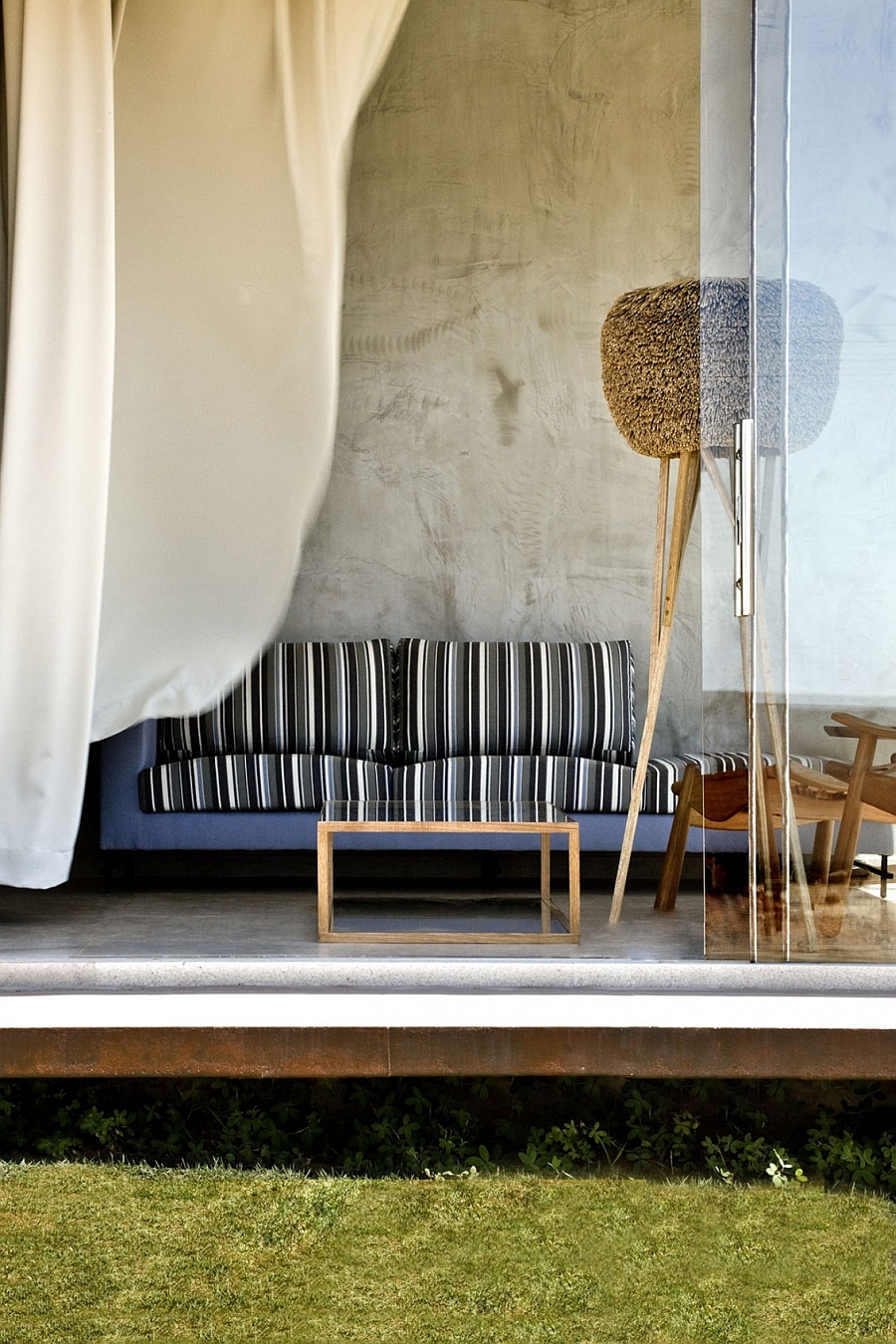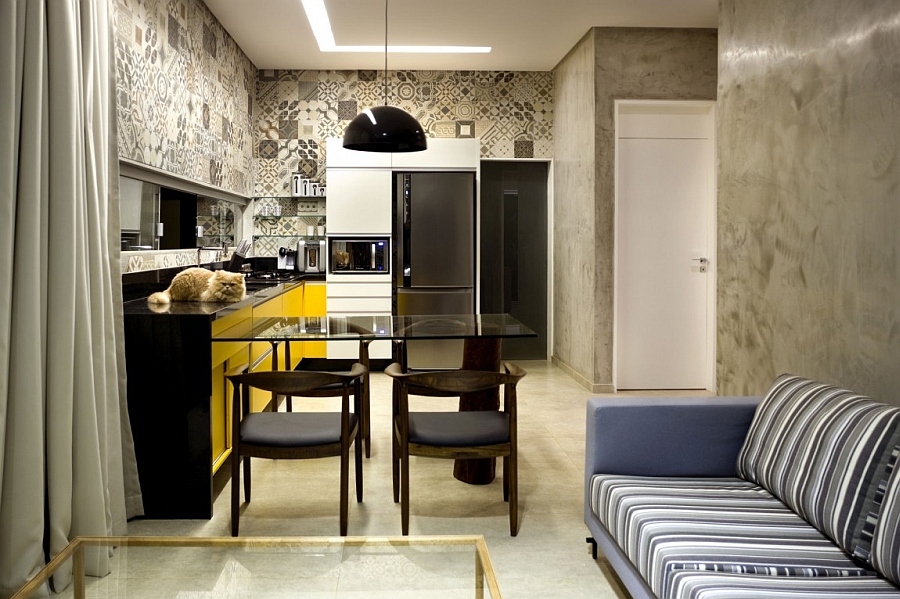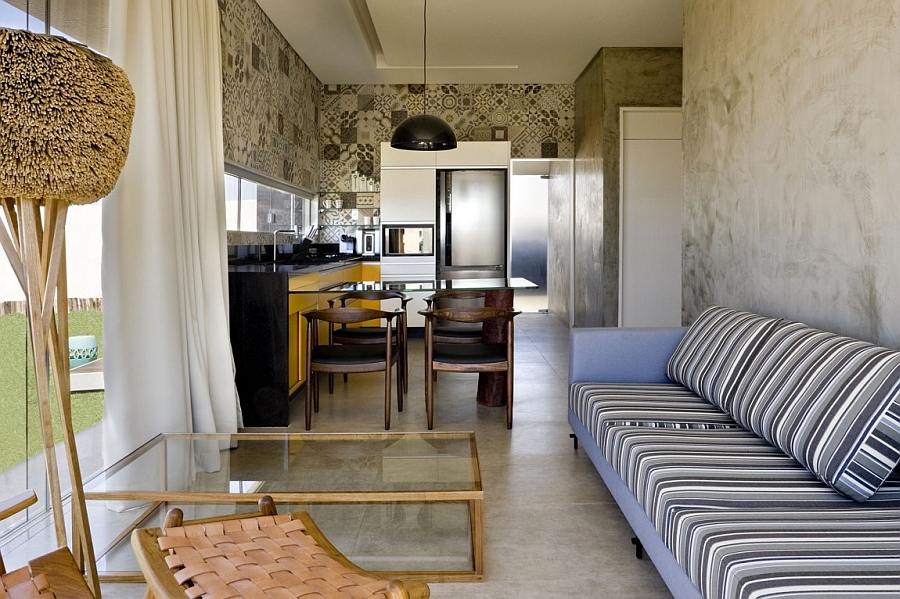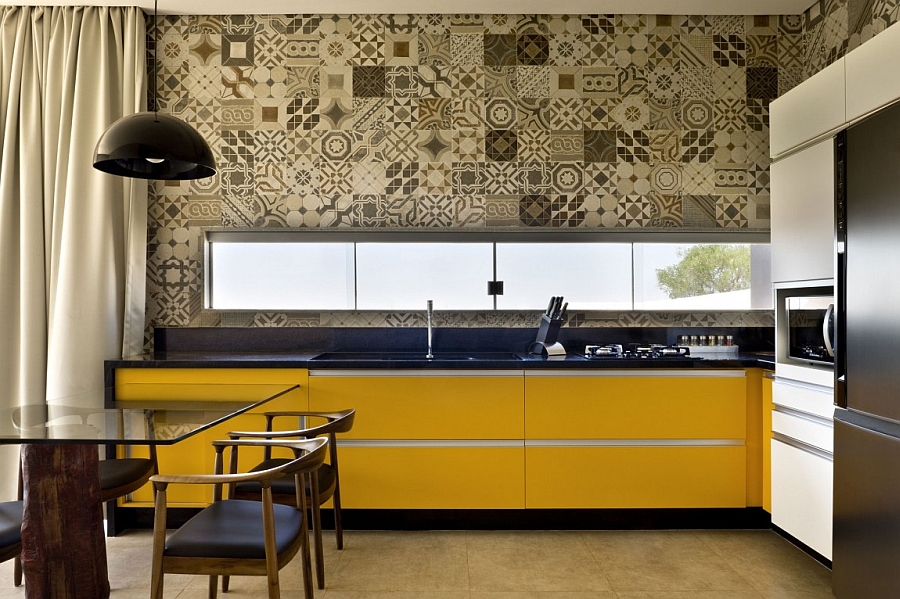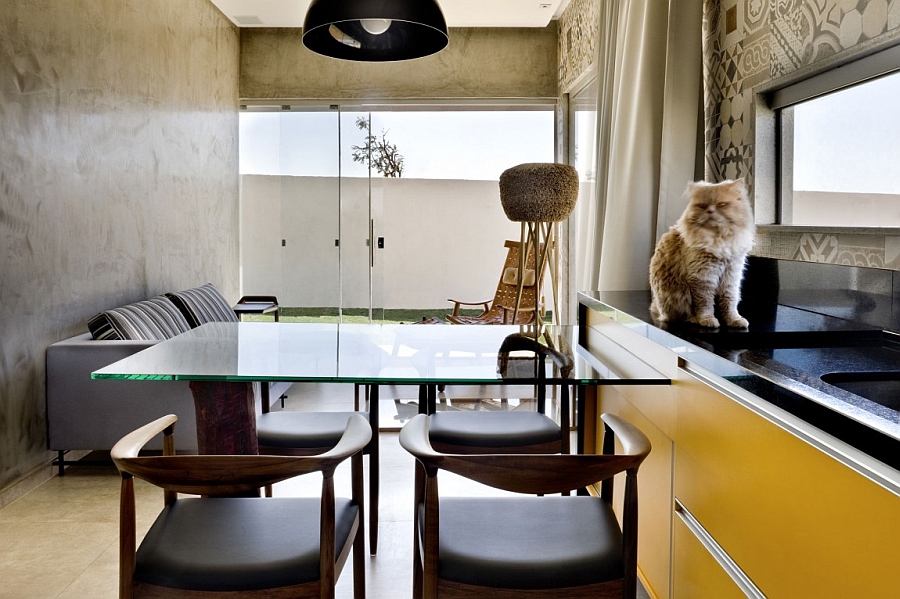 Architects at 1:1 arquitetura:design
12. The Cresta, California
An unconventional structure brought to life by Jonathan Segal FAIA, the luxurious Cresta residence in California pushes the boundaries of creativity to a whole new level. With a touch of industrial style thanks to its exposed concrete walls and the use of high quality materials and furniture, Cresta embraces indoor-outdoor living with ease. And did we mention the recessed lighting that takes over the house after sunset? It looks stellar directly on concrete.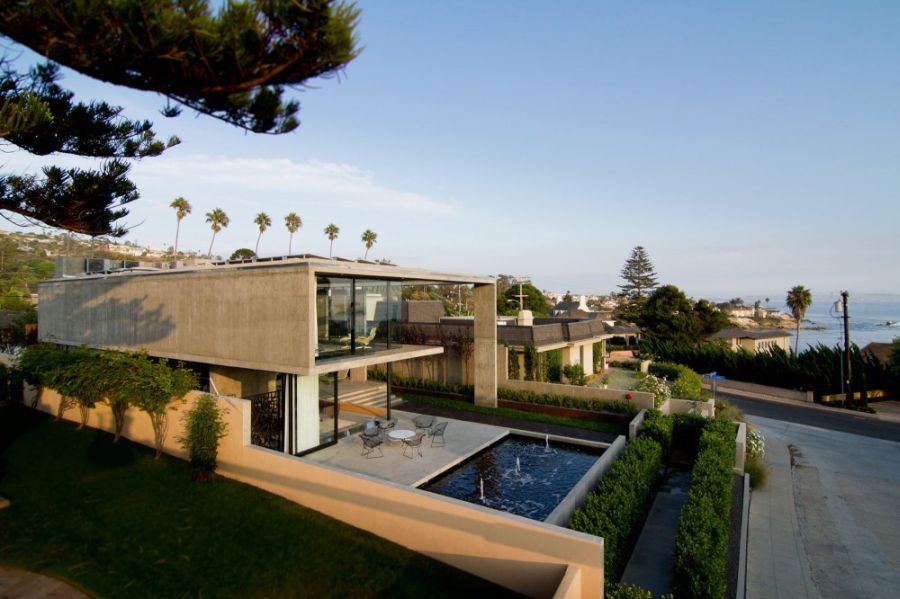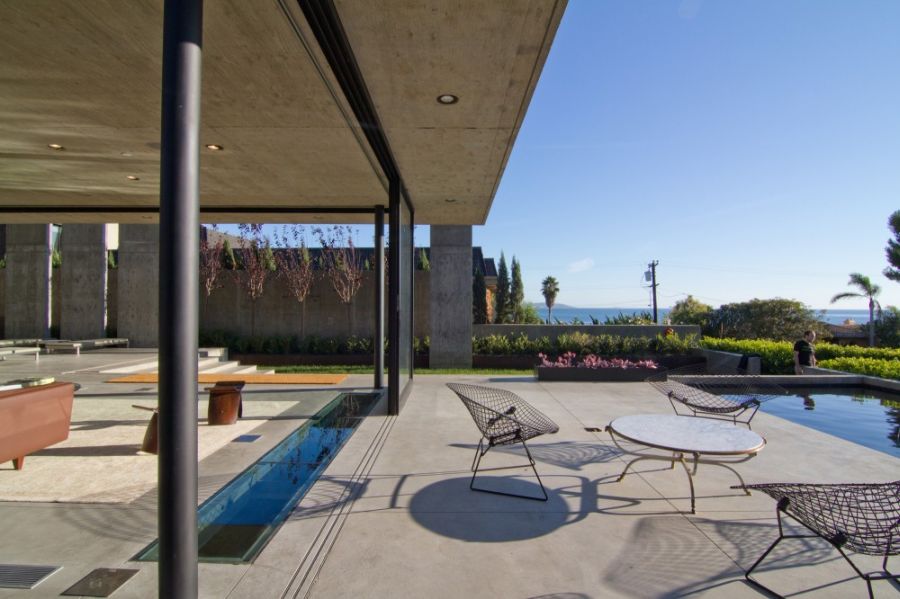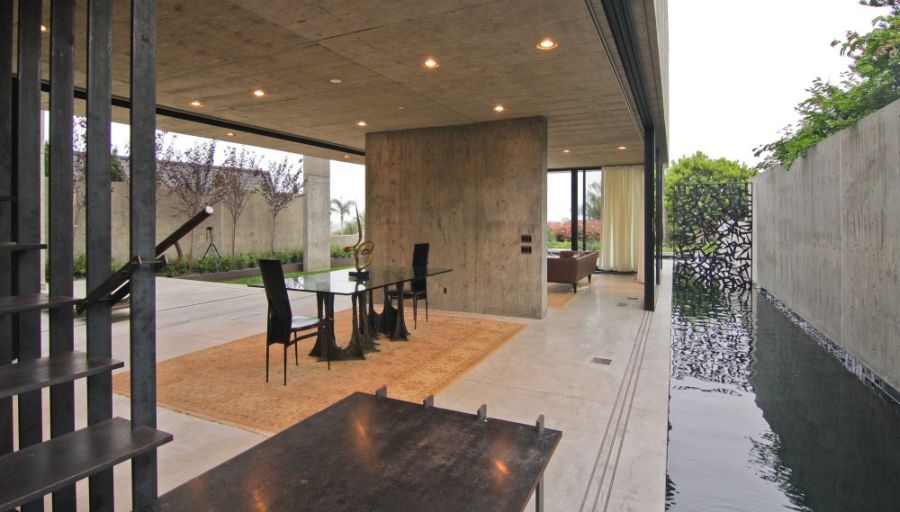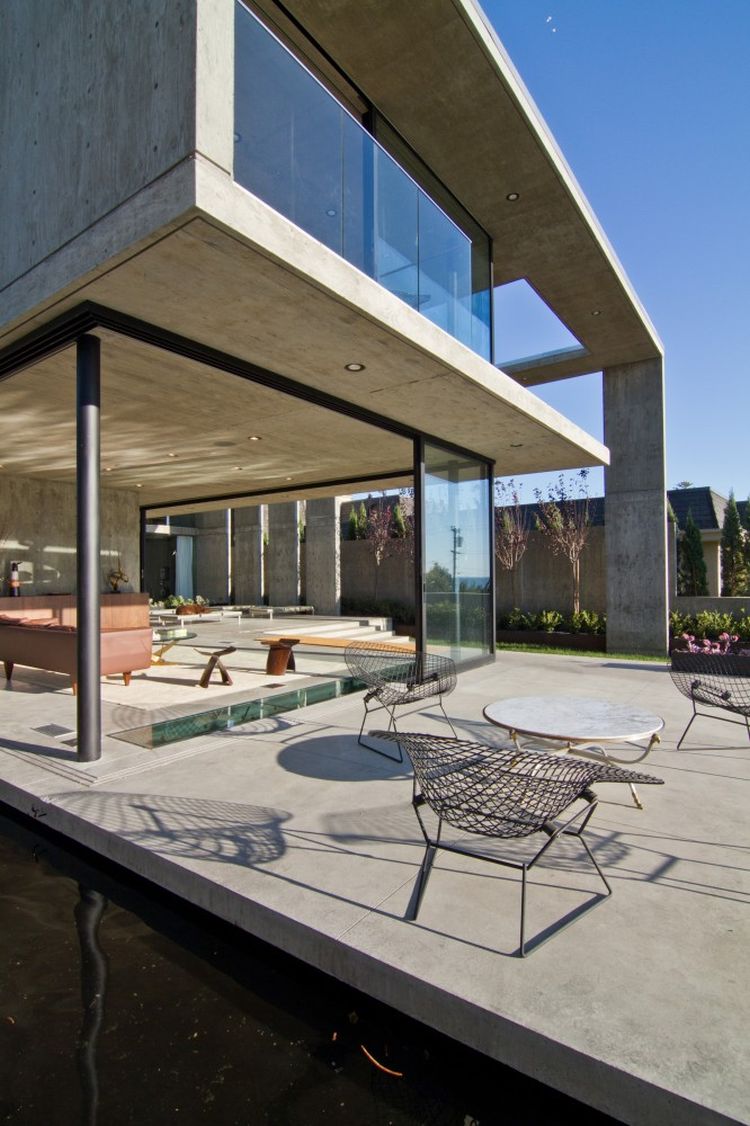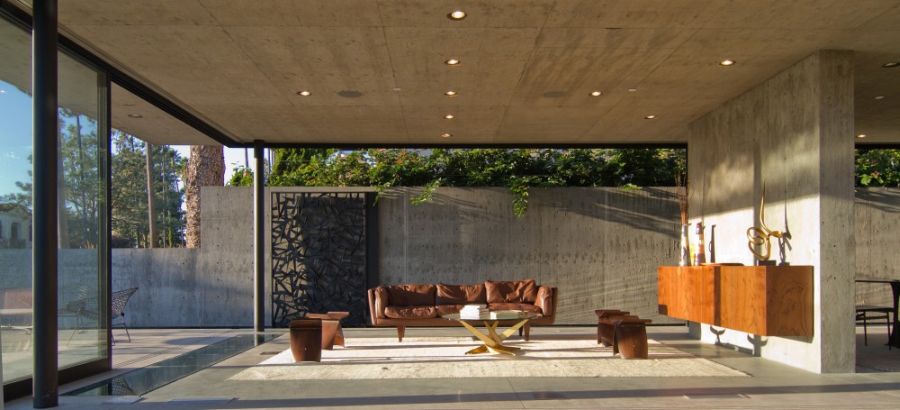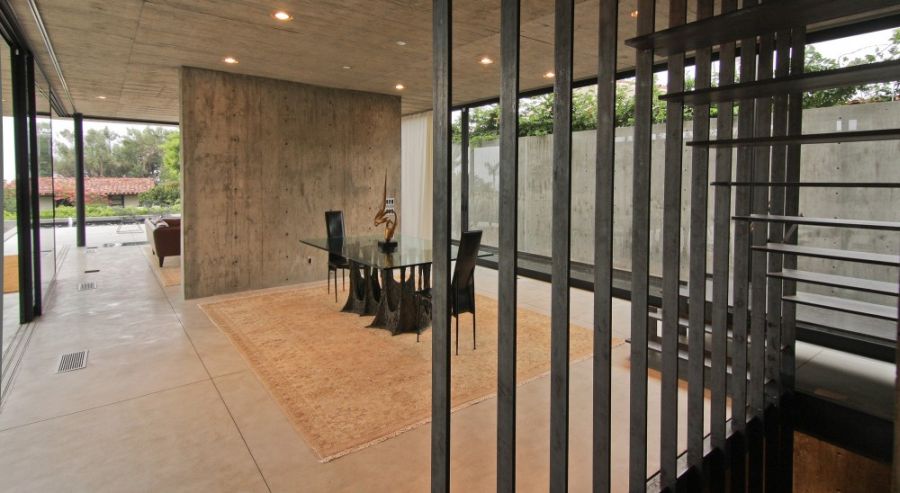 13. Czech Republic
As if you'd need another example of "concrete creativity", here's a house that's extensively using concrete to define its sophisticated interiors. Built by the folks at Oooox, the home features subtle textures mixed with wood and white lacquered furniture, which helps steer it away from the roots of industrial design — the design style from which concrete walls draw their inspiration.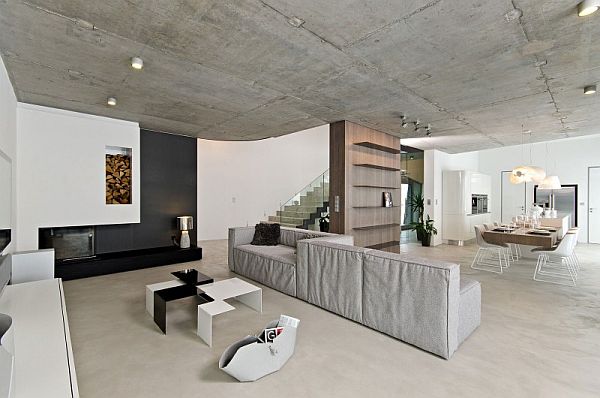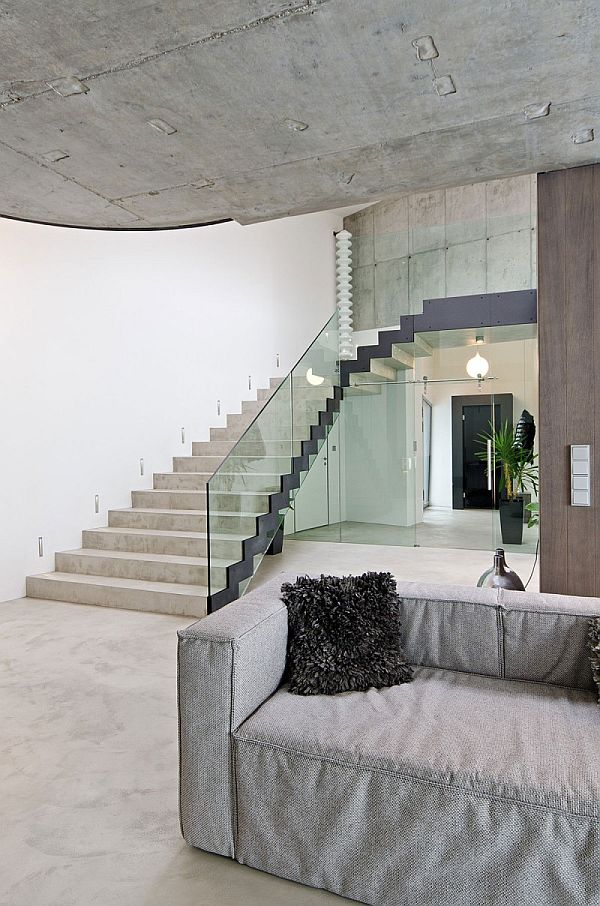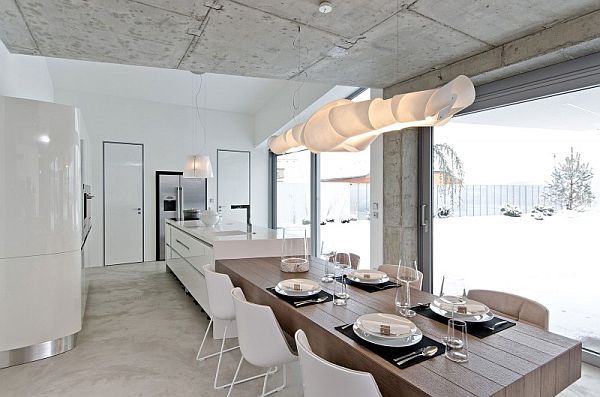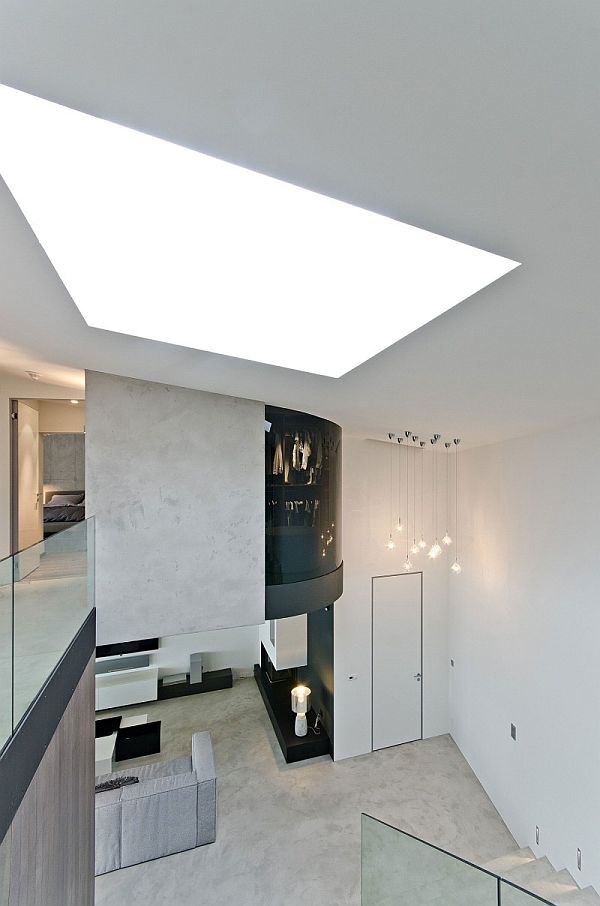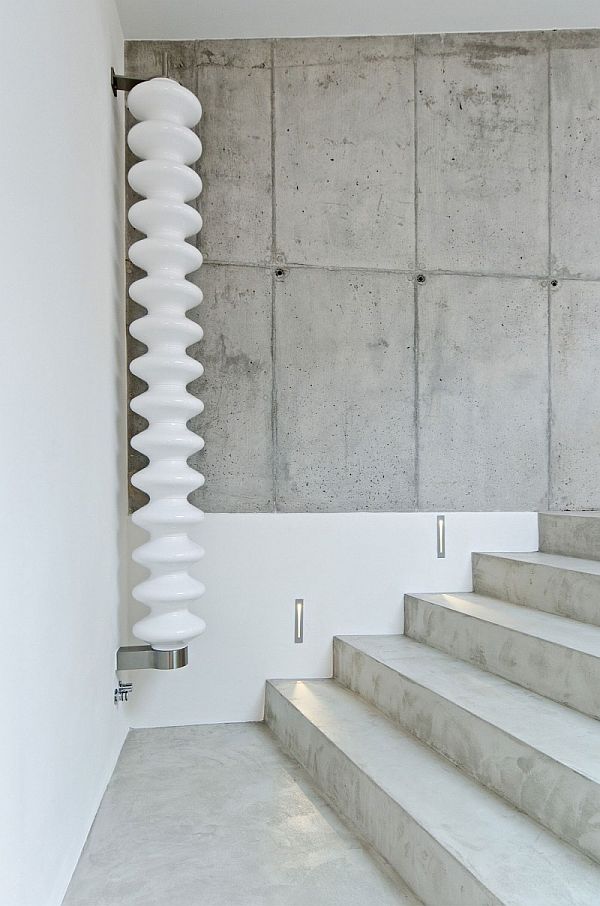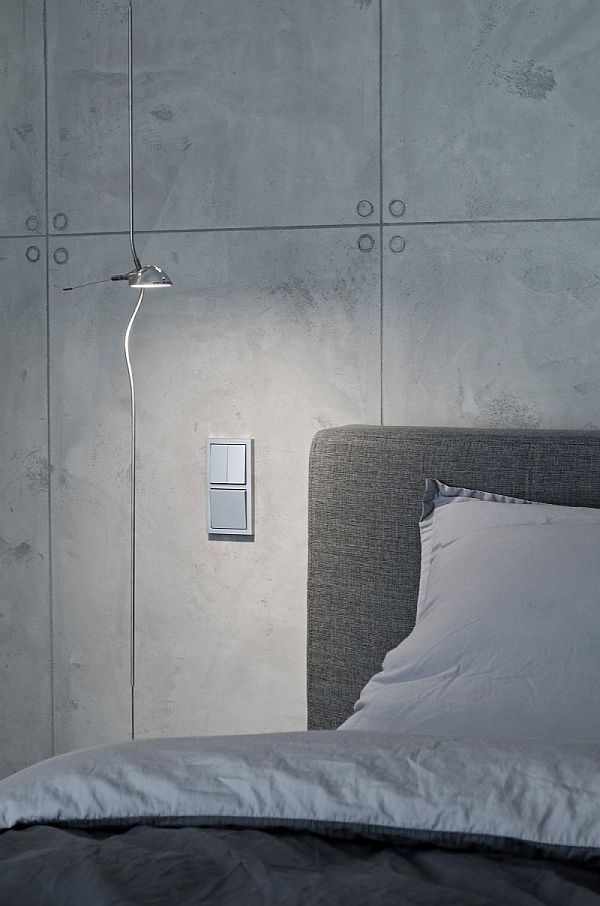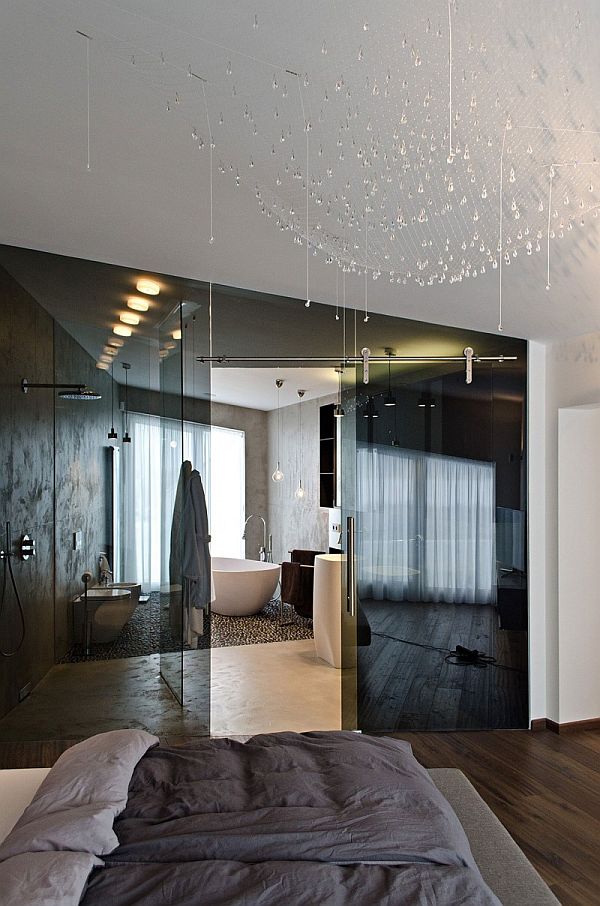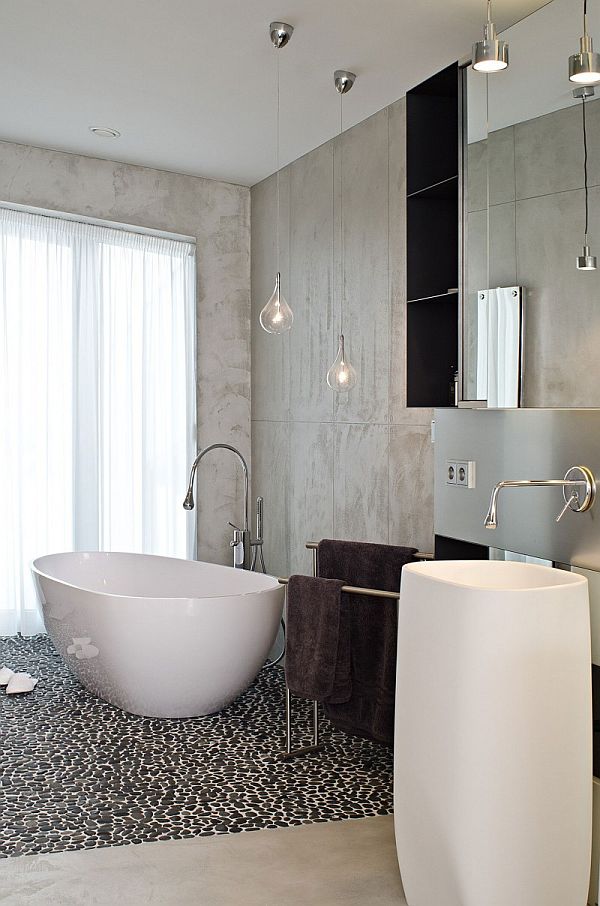 14. T-House, Kyoto
A great example of modern minimalism and Japanese design, the T-House in Kyoto has been put together by the creative minds from Atelier Boronski. The house favors an interior based mostly on black and white, with concrete walls that are beautifully finished, turning this vast space into a real spectacle.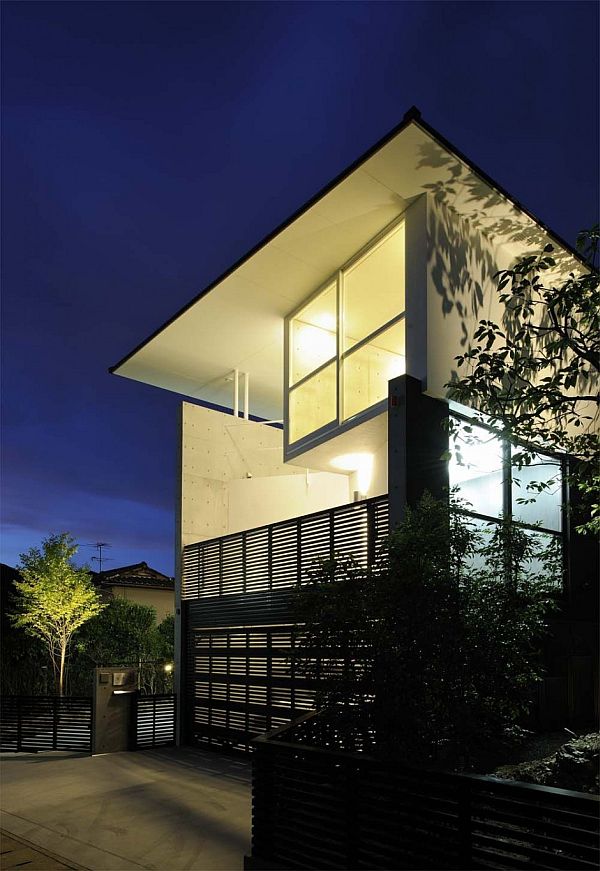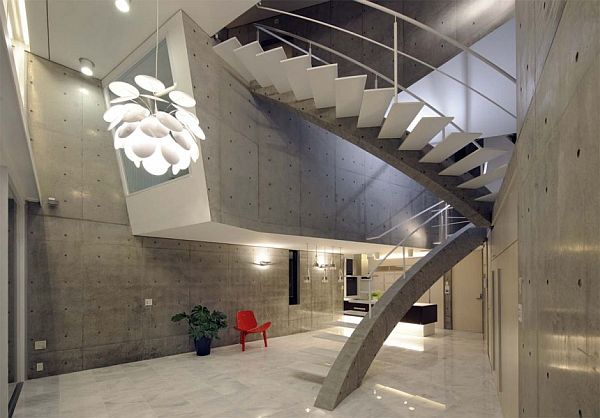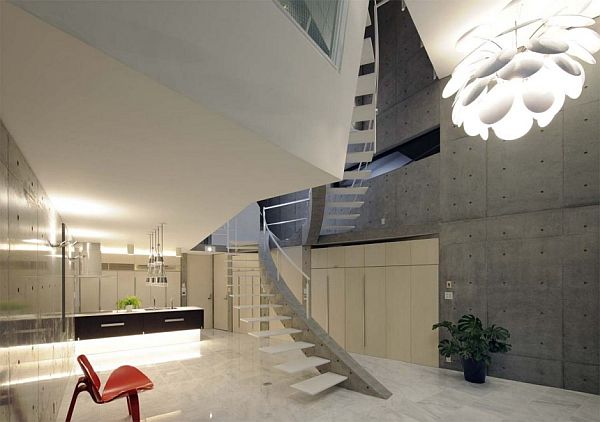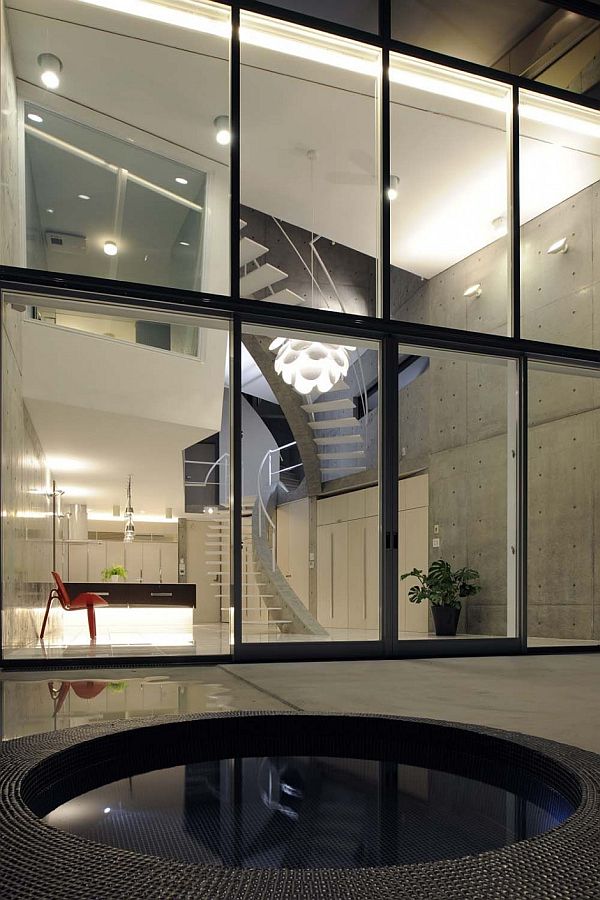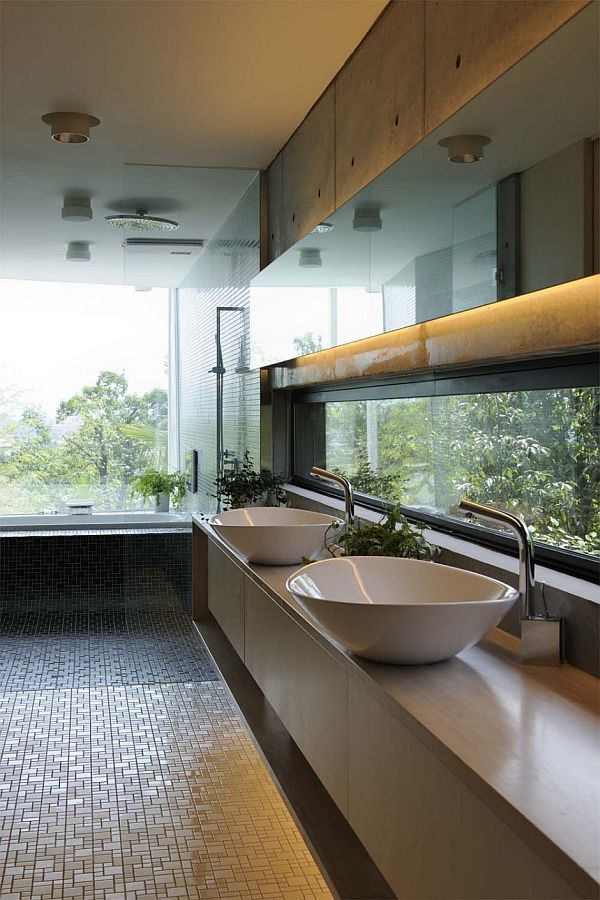 So what do you think of concrete walls now?
Are you ready to give them a try?