Are you looking to add shelving to your laundry room? Kate here, and if you read Decoist on a regular basis, you probably know that I've been a bit laundry room-obsessed lately! In fact, I'm in the middle of a laundry room makeover at my place.
It all started when I wrote a post on organizing the laundry room in style, which coincided with one of my laundry room projects at home. Even my posts on painting cabinets and geometric design inspiration were inspired by my own DIY project in the works–embellishing my laundry room cabinets with a geometric design. And yes, when I wrote about storage boxes and baskets, I was motivated by my own hunt for these items. For the laundry room! [from Visbeen Architects]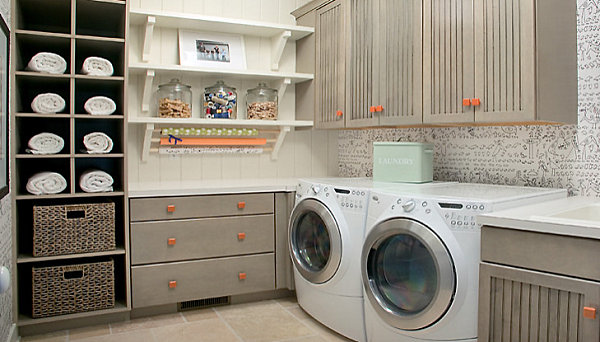 Now that I've come clean, I'll share another secret: I'm putting the finishing touches on my laundry room by making my shelving for this space both functional and stylish. Hopefully the images below will help you do the same. Whether you're in the process of building a home and are looking for custom shelving ideas or you're having to make the most of what you've got, check out the laundry room shelving ideas that follow. When my laundry room makeover is complete, I'll share the results here on Decoist. Share your ideas as well by leaving a comment at the end of the post…
Built-In Laundry Room Shelving
Built-in shelving is a customizable way to add storage to your interior. It seamlessly blends with your space, and in the laundry room, it provides a place to put necessities such as detergent, clothespins and other cleaning products. [from Well-Designed Interiors]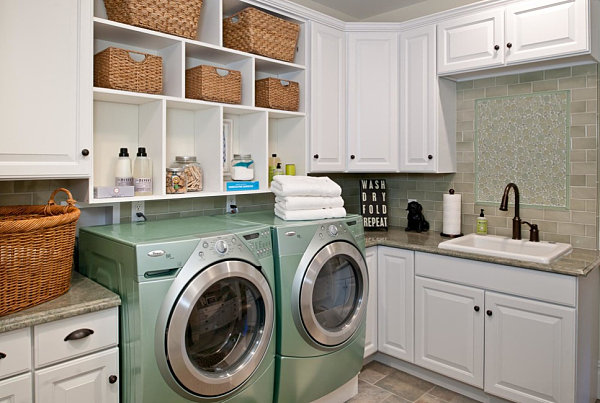 If you're able to add built-in shelving to your laundry room, consider the location where the shelving would be the most helpful. This decision will likely depend on the layout of the room, as well as the available space. One ideal spot: above the washer and dryer. Many laundry rooms also feature shelving under the countertops. The laundry room below incorporates handy wire pull-out drawers. [from transFORM]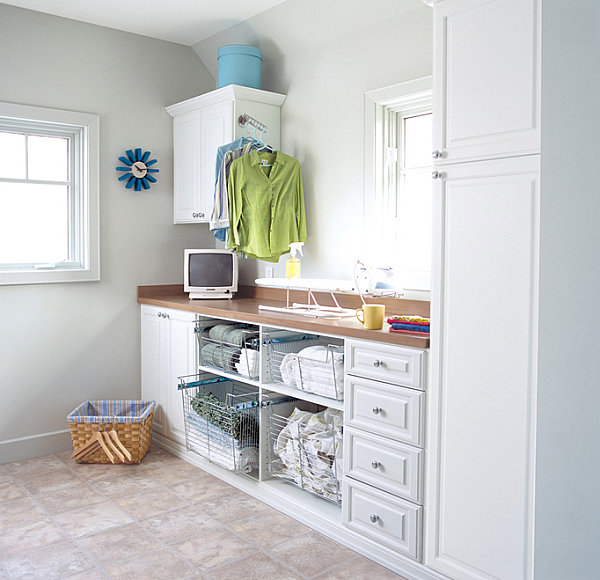 Another popular location for laundry room shelving: inside cabinets and closets! That's right–sometimes it's nice to conceal cleaning products behind closed doors. Also note the island laundry room shelving in the image below. [from Canny]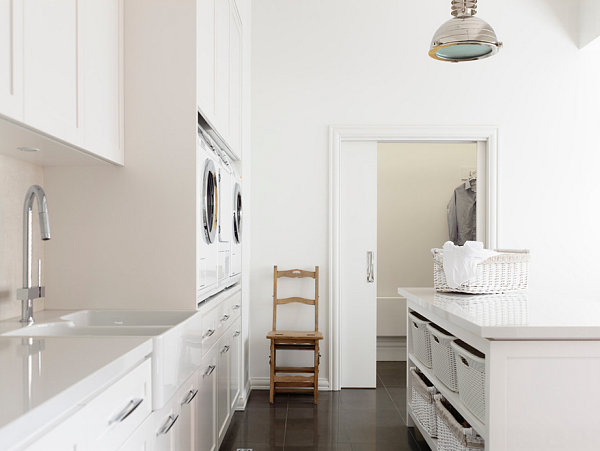 Many laundry rooms feature a combination of built-in cabinet and open shelving. [from Witt Construction]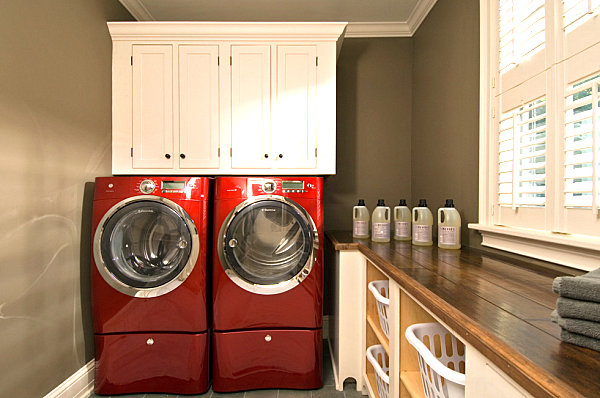 Open, Wall-Mounted Laundry Room Shelving
Open shelving in the laundry room puts everything on display. Which is helpful when needing to quickly grab items such as detergent and dryer sheets. But open shelving also makes organization all the more necessary… [from Georgia Coast Design & Construction]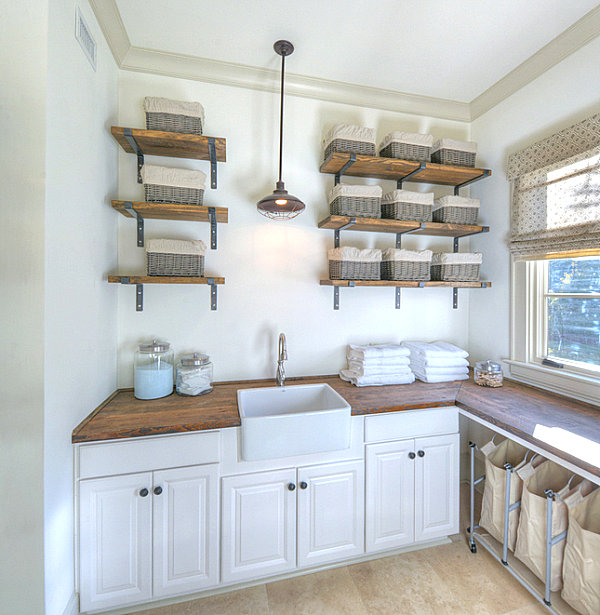 The laundry room below features shelving from IKEA, which is beautifully appointed with items that are both practical and eye-catching. Notice how the metal construction of the shelves creates an industrial modern look that's perfect for a practical space aiming to be stylish. [from KitchenLab]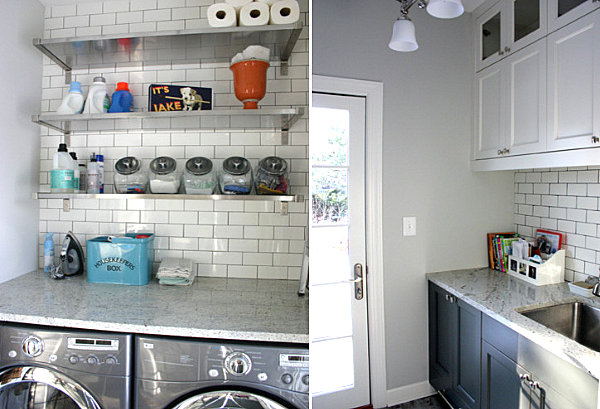 For a customizable way to add open shelving, check out the Platinum elfa Laundry Center from The Container Store, which is adjustable to fit the needs of your space. The Container Store offers a slew of easy-t0-customize elfa shelving products that are ideal for the laundry room. There's even a clothing rod in the shelving system below, providing the perfect spot for hanging not-quite-dry items.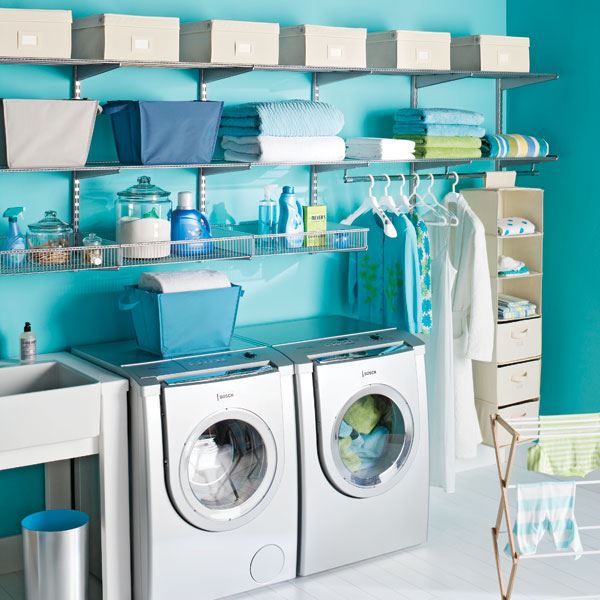 Don't forget that in addition to shelving, you can create your own wall-mounted organizational systems in the laundry room, as shown by the pegboard below. Hang wire baskets and other supplies from the hooks in the pegboard, and you're set! It appears that this laundry room is also a gift-wrapping center… [from Jalin Design]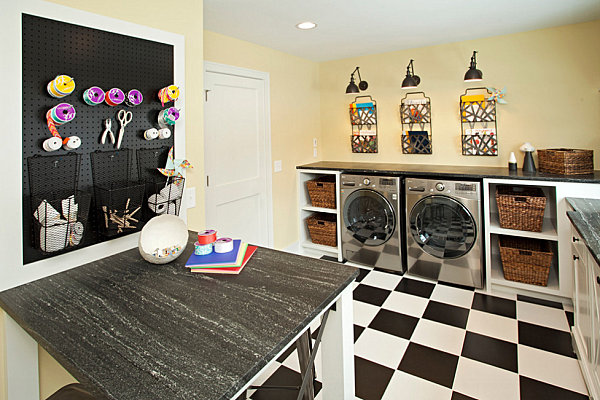 Laundry Room Shelving Storage and Decor Options
Deciding on the type of shelving and where to install it is just the beginning. Now comes the important task of putting your shelving to good use. How much of the space will be decorative and how much will be purely practical? The open shelving below houses a range of items, from detergent to paper towels. There are also a few special touches, such as artwork and sculptural coral. [from Redbud Construction Services via Houzz]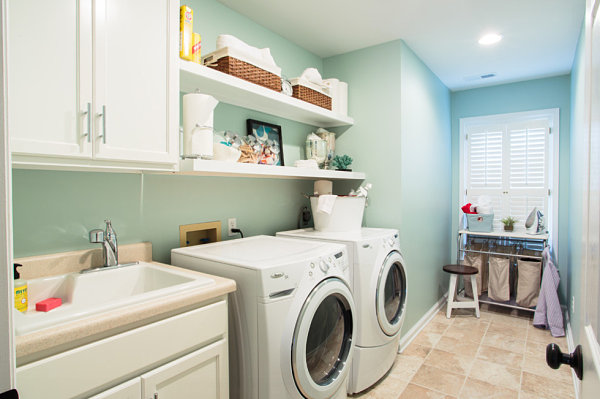 Loose items should be contained in baskets, bins and canisters. However, you want to keep much-used items within arm's reach…. [from Mascord House Plans]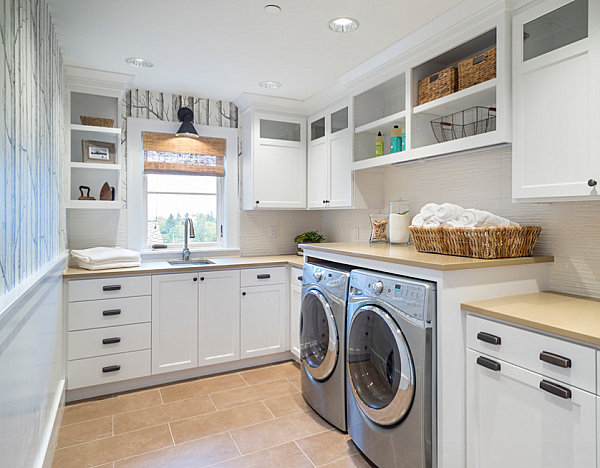 One increasingly popular laundry room trend: storing laundry detergent and other necessities in penny candy jars, as shown below. [from New Every Morning]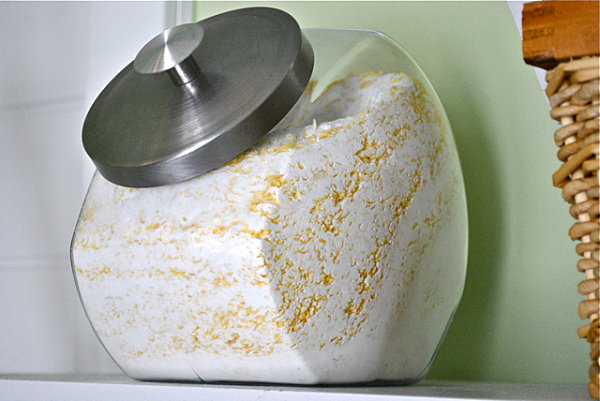 Glass canisters are another effective choice. Use them to hold handy items, such as cleaning brushes and safety pins. They can even contain decorative items for a special touch. Below we see a Set of 3 Glass Canisters from Crate & Barrel: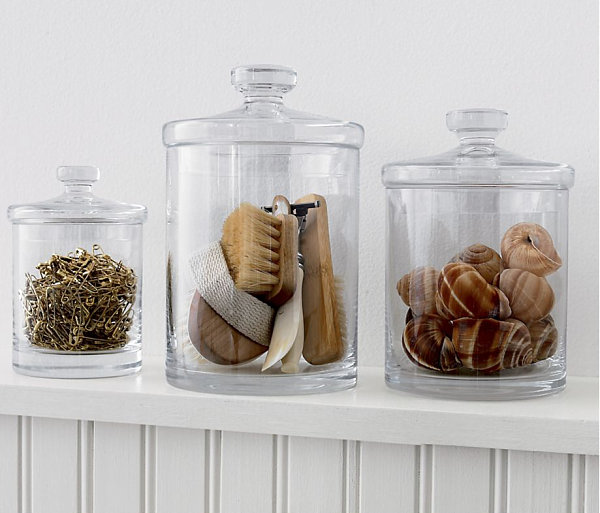 Don't forget that your laundry room storage solutions can add a healthy dose of color to your interior. For example, the under-counter baskets below are a hot shade of red, the perfect accent color for a black and white space. [from Smithouse Construction]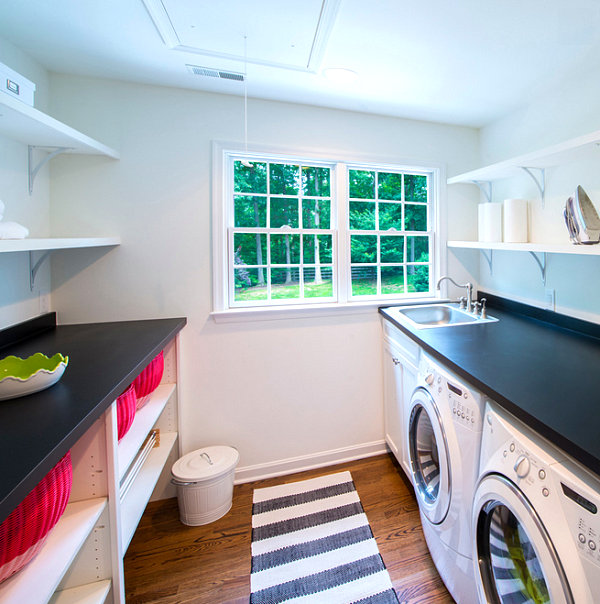 We end with a reminder that you can decorate your laundry room just like you'd decorate any other room in the house. Yes, it's a practical space, but you will likely be spending lots of time here. If it makes you smile, you will be empowered in your chores and home improvement endeavors. [from Lucy Interior Design]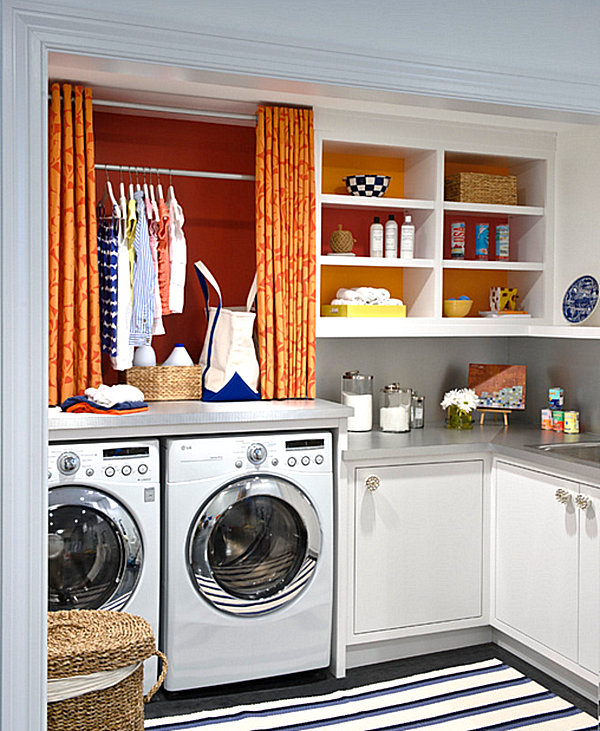 Paint your shelves for an added pop of color. You can paint the inside of your open shelving, as shown above, or you can paint the entire surface of cabinets and shelves, as shown below. On a side note, refreshing shades of green seem to be a popular choice for laundry rooms time and again! [from Designs by BSB]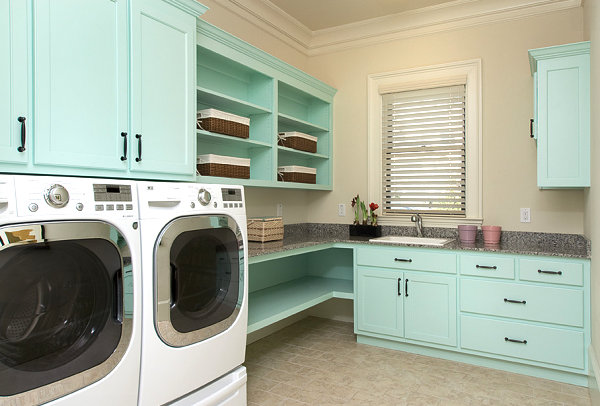 Don't forget the plants! In the laundry room of lifestyle and entertaining guru Camille Styles, we see an accent of potted greenery, as well as a vase of radiant flowers: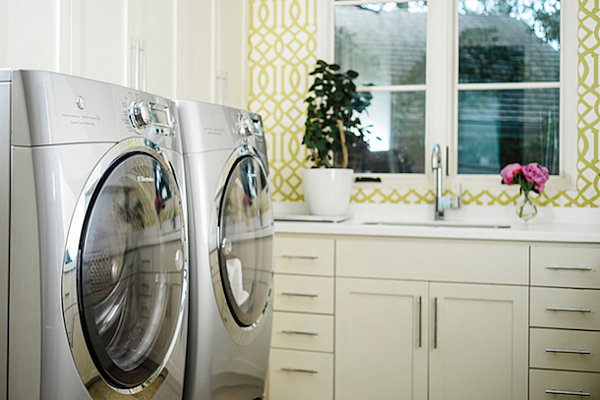 I'm officially inspired to finish my laundry room makeover! Still needed: storage baskets, containers and a plant. I'll keep you posted on my progress. Feel free to share your laundry room makeover ideas below…
Liked the story? Share it with friends.