If you love to entertain, consider adding a bar cart to your space. There's almost nothing better than a mobile bar! For cocktail parties, it is a drink station, and for dinner parties it can be your serving trolley. Bar carts are totally in style and look great with any decor. Your bar cart is not only functional, but it is a fashionable way to display your gorgeous bar accessories.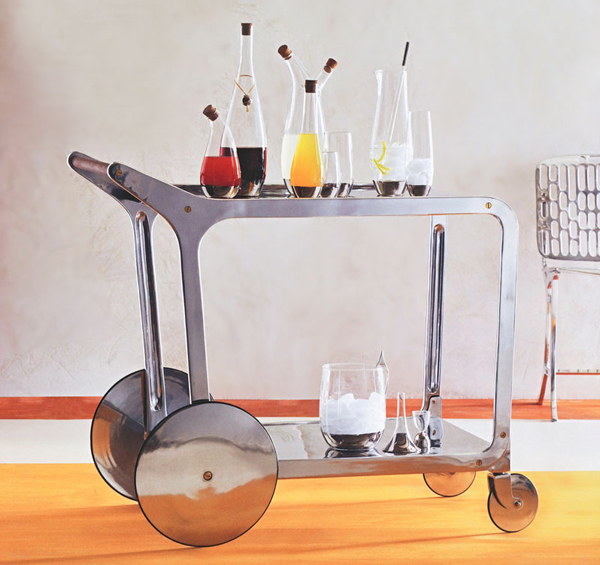 Your bar is a place to have fun and show off your sense of style. So consider what style best suits you and your décor. You can go glam with a vintage brass cart, rustic with a wood cart, modern in stainless steel . . . the options are endless. When picking out your cart, don't forget to evaluate the functionality. Do you need two shelves or three? If you are going to be wheeling your bar around frequently, a fixed-shelved cart is advised for added stability. Once you've found the perfect cart, it's time for styling! [above is the Circa model from Nova68, which goes for $1,250]
Give Your Bar an Identity
When choosing how to style your bar cart, sometimes it is easiest to first find the language to describe its style. Is your bar a saloon, a cantina, a nightclub, or a swanky lounge? All of these places have very different styles. If you want to convey a saloon, consider incorporating a lot of wood, a horseshoe, an antler bottle opener, and some strong whiskey. A cantina? Get a cactus, a bowl of limes, and definitely margarita glasses. A nightclub? Find shot glasses, sexy bottles, and please don't forget the disco ball! Okay, those are a bit extreme, but you get the idea – give your bar an identity and style it with that vision in mind. [from Domino, HGTV]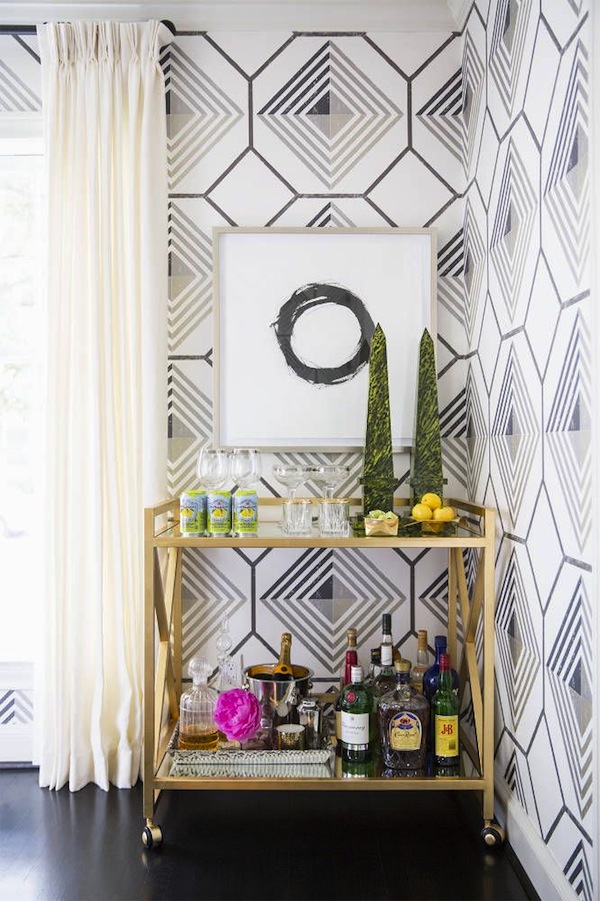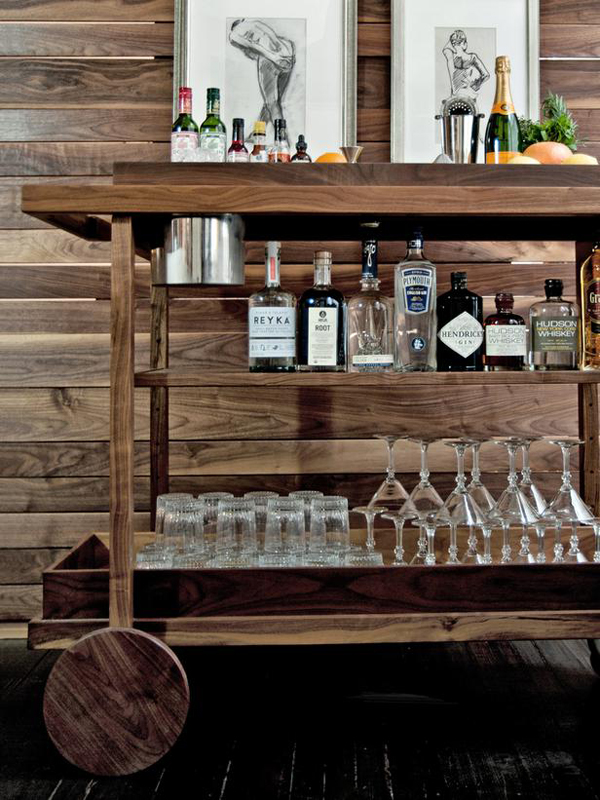 Find Beautiful Bottles
On your bar cart, you want to show off the best of the best. When you are shopping for your drink of choice, get something that's stylish and satisfies your taste buds alike. That rule goes for all of the containers on your bar. Your glasses, ice bucket, and shaker should all be worthy of display. Be careful not to overdo it. You do not have to display all of your bar accessories, just a carefully curated selection of the best. [from At the Picket Fence]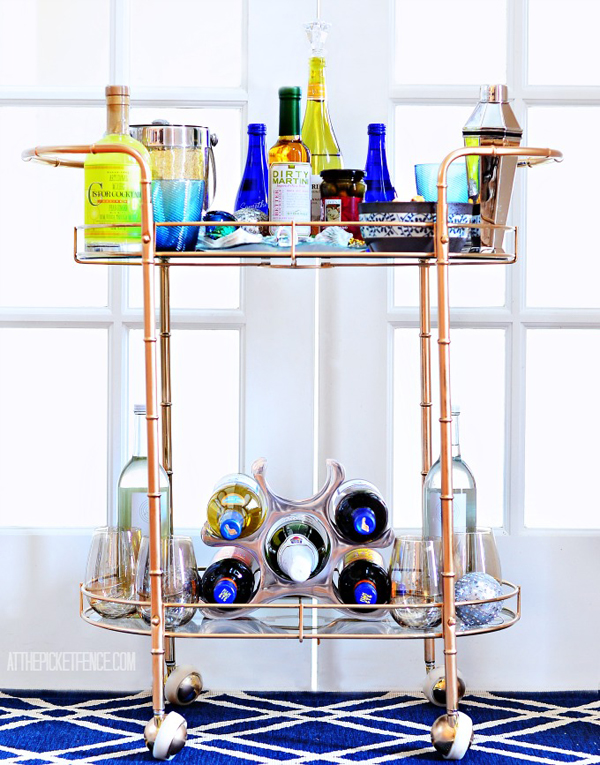 For a more consistent look, use decanters to display your spirits. For added function, I like to adorn my bottles with metal decanter labels – they look like jewelry for your bottles. [from Restoration Hardware]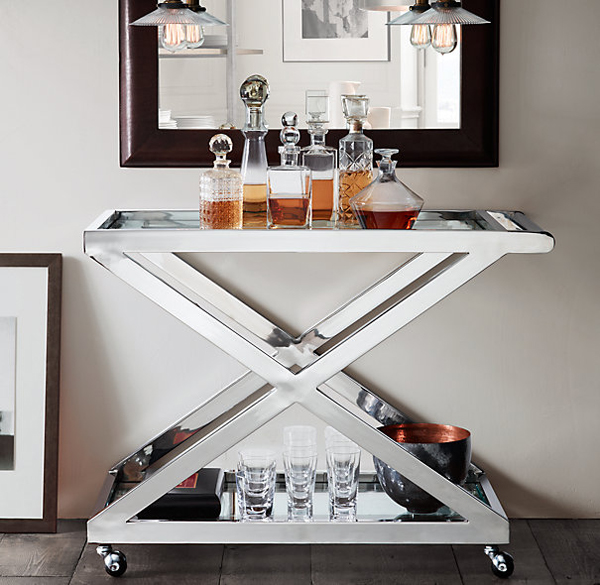 Organize with a Tray
Use one or multiple trays to section off areas of your bar cart. You can arrange all of your bottles or glasses on separate trays for an organized look. [from Lemon Stripes]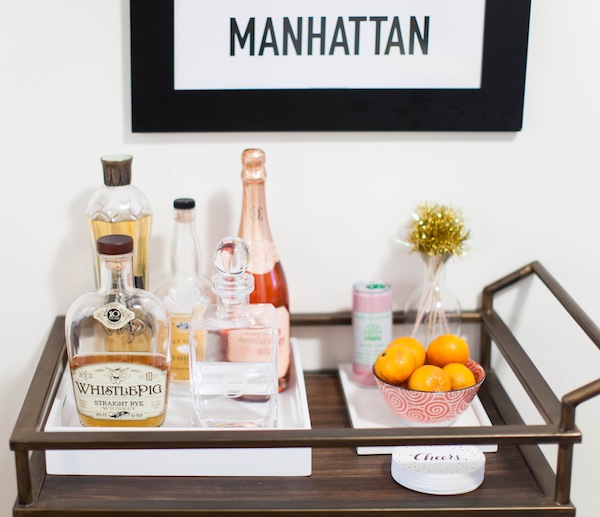 Add Personal Touches
Not everything on your bar cart has to be bar related. Some items should be there just for style. While your personal touches will all be unique, below are a couple of examples.
This cart is styled with a quirky brass unicorn figurine, feminine artwork, matchsticks, and books. Over anything else on the bar, these are the interesting elements that give it a sense of style. [from Shop Society Social]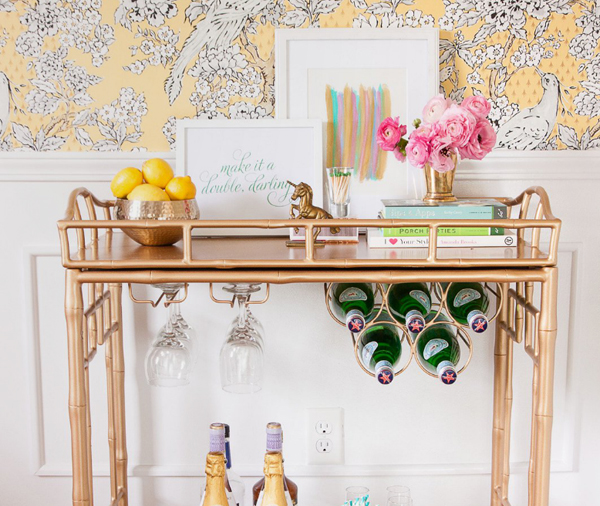 This bar cart is certainly eccentric! Those tropical accents are undeniably FULL of personality. [from Shop Society Social]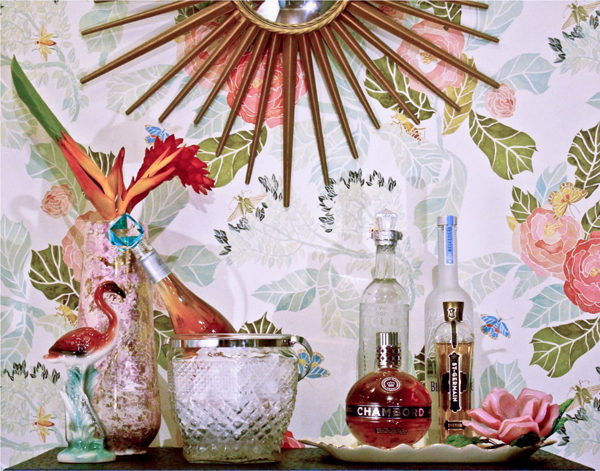 Choose Fruit or Flowers
Fresh fruit or flowers add a nice touch of color to your bar while you are entertaining. You can also decorate with other fresh drink garnishes such as twisted orange peel, mint leaves, or cherries. [from Amy Lau Design, Hillary Thomas]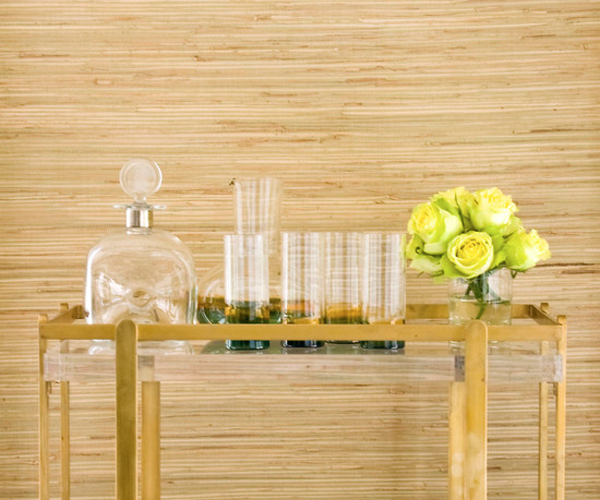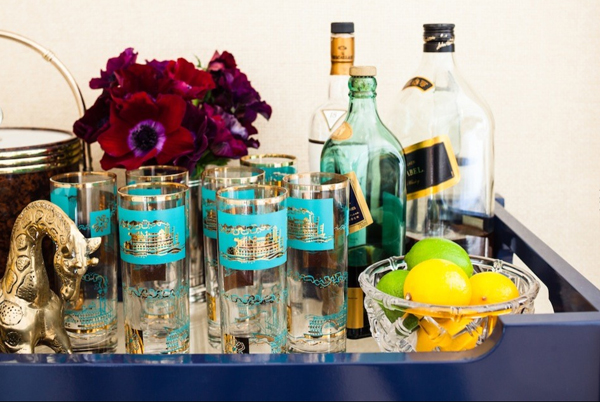 Consider Where You Park Your Cart
Though your cart is mobile, it will spend majority of the time parked in one spot. So do not forget to style the area surrounding your bar cart. You can embellish the walls above your bar by hanging art salon-style as Kyle DeWoody has done in her New York City apartment. [from Vogue]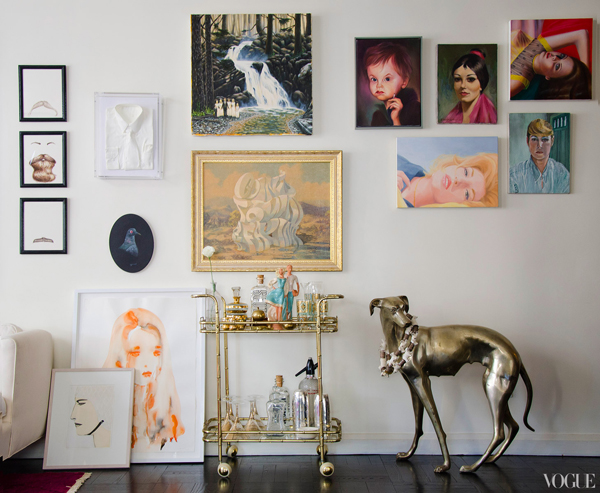 You can also hang more bar storage above your cart. Consider a cabinet or open shelving. [from Amy Lau Design]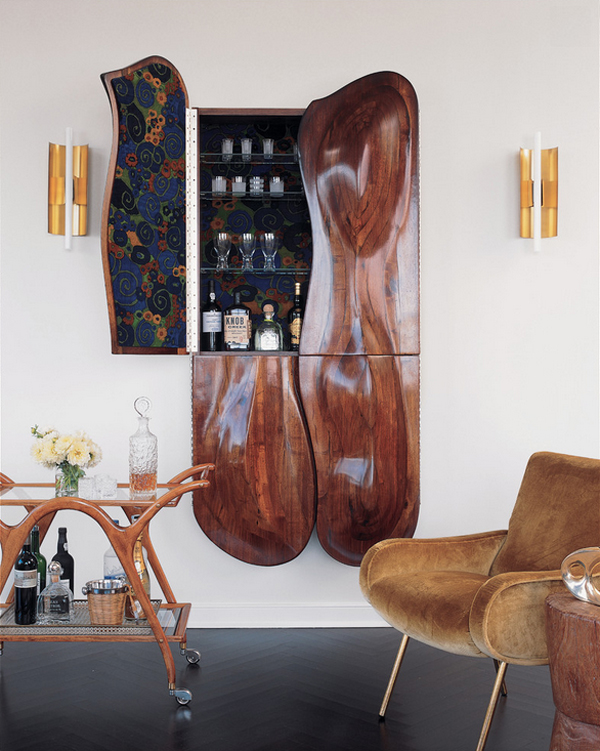 I hope you're inspired to start styling your bar cart. Make it a party on wheels! Do you have any more styling tips for bar carts? We'd love to hear from you below.