If you saw my recent post on how to welcome your guests in style, you know that a home bar area can do wonders for providing your company with delicious beverages. And we're not just talking alcoholic beverages! Some sparkling water with a twist of lemon is a tasty way to soothe the parched throats of your guests. Whether you have a bar area built into the design of your home or you set out a simple tray of bar essentials, keeping a few beverages and accessories in stock is well worth the time, especially if you're a person who enjoys entertaining. Today we show you the basics…
Bar Trays
Let's start with an idea that everyone can get on board with: the bar tray. When it comes to displaying beverages, how much you set out is totally up to you. Some people prefer to show off their glasses while keeping the alcohol behind closed doors. Similarly, some enjoy placing sparkling water and citrus fruit where guests can see it, then selecting only one or two special bottles of liquor for display. What you set out will depend on your space, as well as your personal preferences. [from Lonny]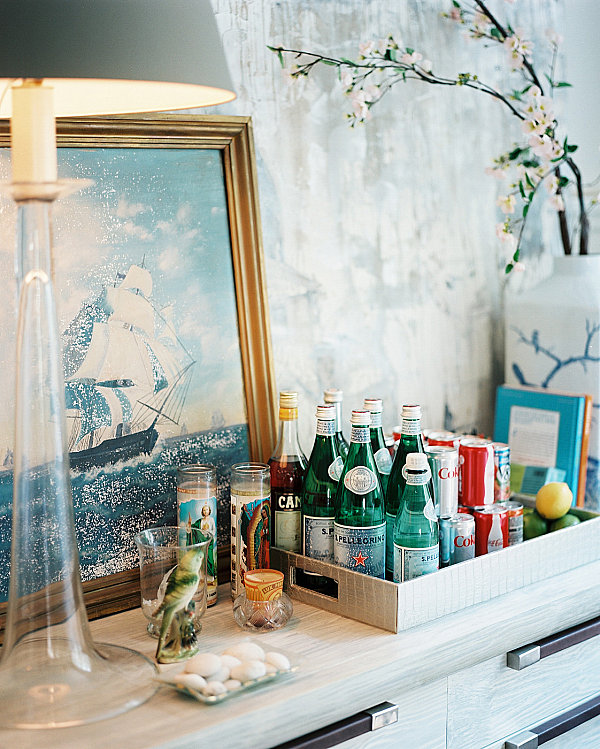 Don't forget that your bar tray can be a starting point… Overflow is okay! The bar tray below holds favorite liquor essentials, as well as a vase of greenery. Drinking glasses are kept to the side, becoming a part of this tabletop's decor. [from Lonny]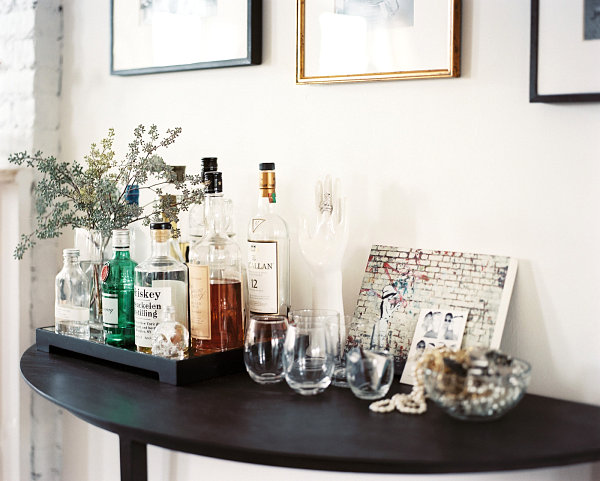 Of course, when entertaining, your bar tray may become a "bar spread," taking over a surface-top, as shown below in this collection of beverage-themed goods from Crate & Barrel. Ample space is key, so designate a space in your home as a serving area for gatherings. You can even encourage guests to mix their own drinks!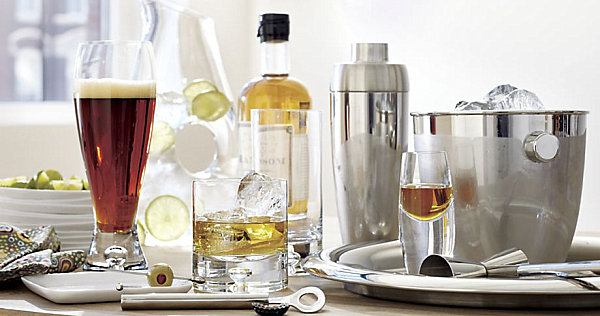 Now is not the time to be shy! Let your bar area reflect the decor of your space. This elegant spread features beautiful bottles, silver barware, decadent nibbles and interesting artifacts. Your bar space has the power to set the mood for your gathering. We'd say this one ranks high in the class department! [from Lonny]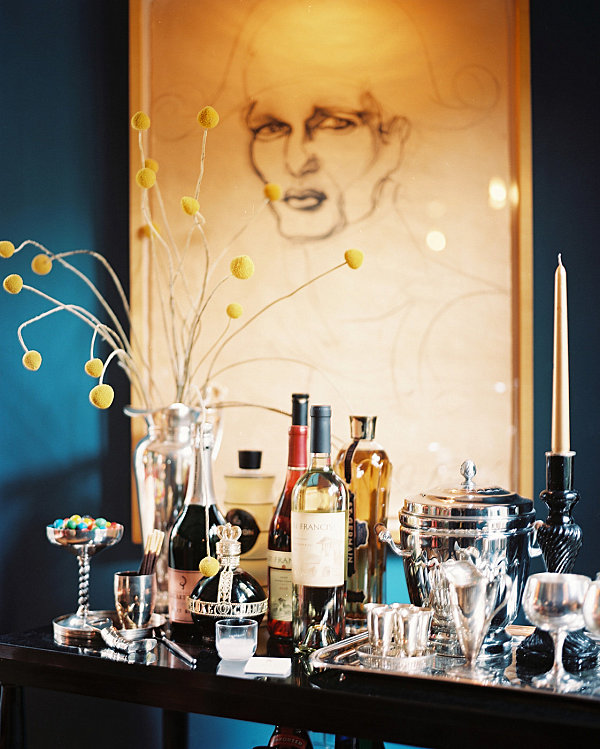 Bar Carts
Bar carts provide more storage space than bar trays, and most of the time they're mobile (which can be handy for parties)! Let's take a look at the goodies on the Porter Bar Cart from CB2, shown below. Hmmm…. We see glasses filled with delicious beverages, a pitcher holding a cocktail, an ice bucket, fresh fruit, a wine bucket, snacks and more. How do you know what to display? It depends on what you need access to most. For example, when it's party time, keep the drinks you're serving on the top shelf, along with ice so guests can take care of their own refills…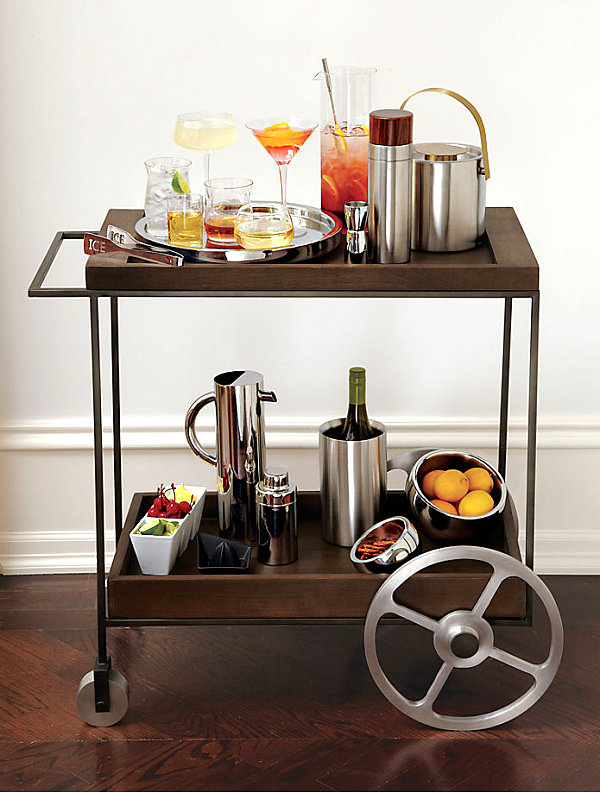 Of course, what you display on your bar cart will depend on whether or not you're entertaining… Below we see the Libations Bar Cart from Crate & Barrel. Note how the top shelf is used for serving, and it perfectly holds items such as ice, lime garnishes, a bottle opener, glasses and a decanter. When guests leave, you may choose to place other items here, from rows of glassware to a vase of flowers.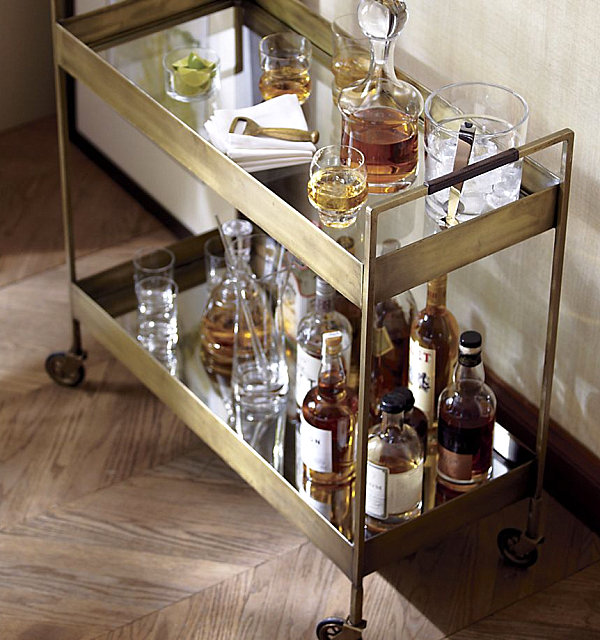 Don't forget that your bar cart can reflect your design style! Choosing a piece that you love is important. We're long-time fans of the Ernest Chrome Bar Cart from CB2. The Deco-style curves and the shiny metal evoke an earlier time. And a stylish one at that!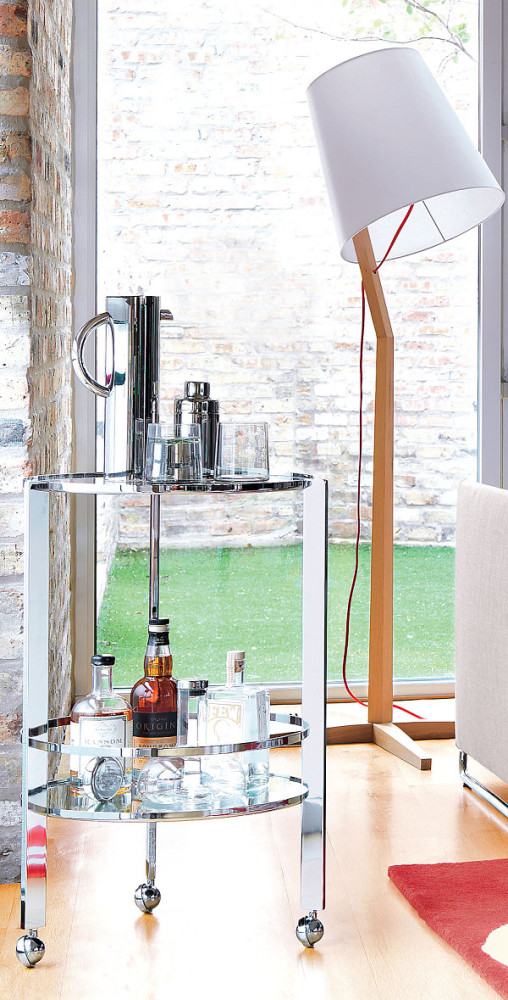 Built-in Bars
If you're lucky enough to live in a space with a built-in bar, this section is for you! We love how the space below takes advantage of open shelving, filling the area with strategically placed liquor bottles, as well as a collection of glasses overhead. [from S.I.D. Ltd. via Houzz]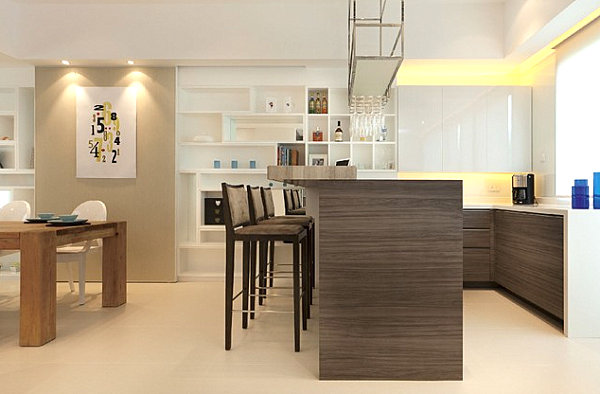 This modern rustic bar featured on Lonny includes a range of glasses, as well as a collection of artwork. After all, if your built-in bar has plenty of shelving, you have a great decorating opportunity on your hands…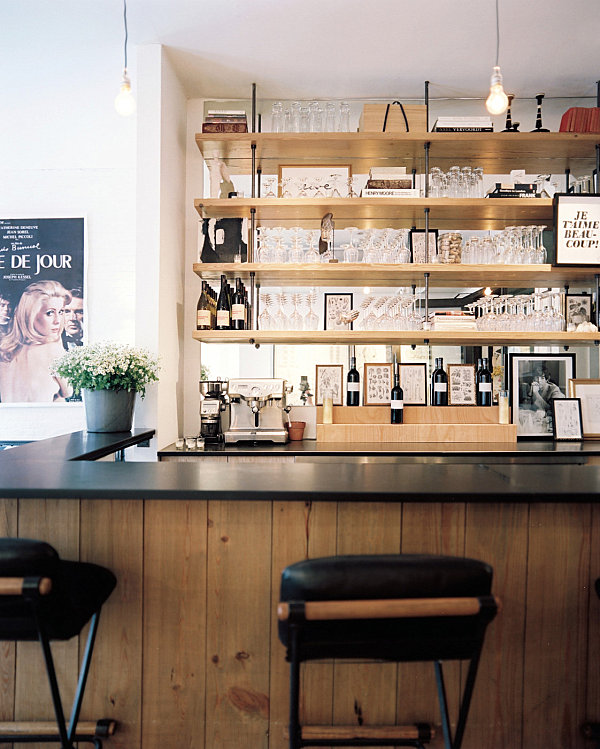 We end with a real showstopper–a back-lit bar featuring a range of beverages. In fact, when it comes to blending bar items with backlighting, there's no better way to let your beverages become the decor. Not to mention, when it's party time, we imagine that guests will surround this space without fail. [from Specht Harpman]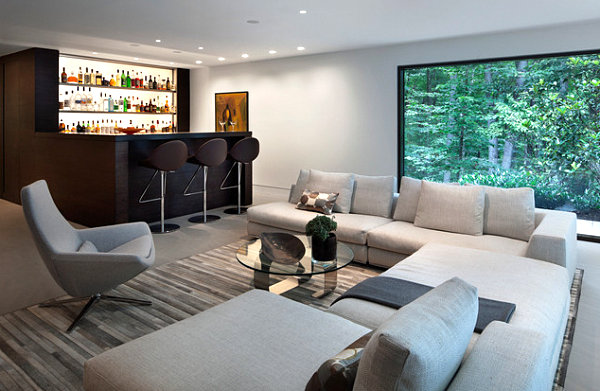 Do you entertain with the help of a bar tray, a bar cart or a built-in bar? Tell us about your beverage-themed hints and tips by sharing your thoughts below…