I remember being a very young adult and watching an episode of the always-chic Everyday Elegance with Colin Cowie, a show that explored ways to infuse your lifestyle with that extra special something… It was the hospitality episode, and it covered everything from guest room design to how to be a good host. And I was hooked. Sure, I didn't even have a guest room, but it was clear to me that the little things mattered. A vase of flowers by the bed. A friendly note. A special beverage to welcome your company. [from Lonny]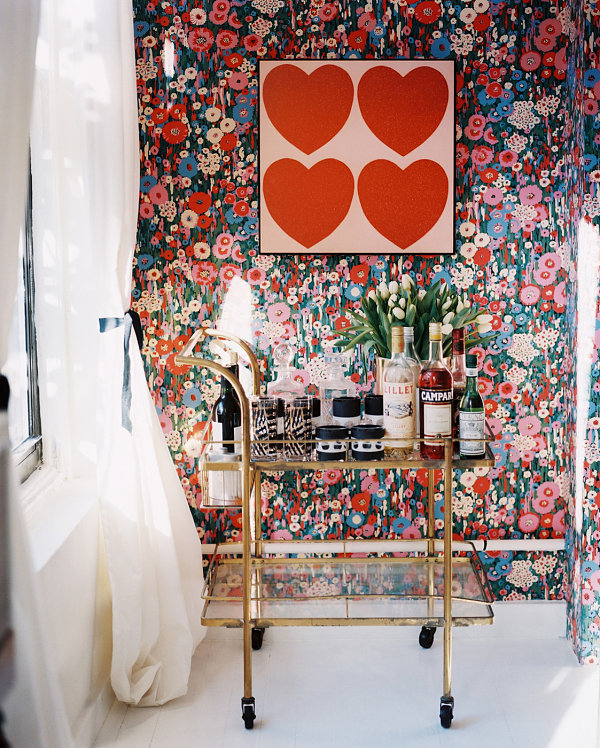 Whether you live in a mansion or a studio apartment, chances are you will have a friend or relative come and stay with you from time to time. You may offer them their own suite or you may offer them your couch, but the same idea applies: Let them know you're glad to have them, and spoil them a little. Yes, spoil them! Today we show you how…
A Special Arrival
From the moment guests enter your home, make it clear that their presence means the world to you. OK, so you may not be thrilled that Aunt Edna will be with you for five days and four nights, but now is the time to set the tone for her stay. Smile, and give your most sincere open-armed "hello." If you're feeling extra ambitious, you can tackle this Front Step Greeting DIY, which will personalize the entryway of your home. Hint: Stencils are involved… check out all the details at Wind and Willow at Home: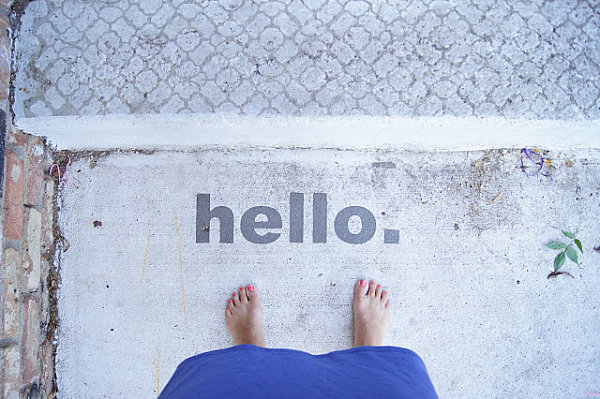 As Colin Cowie reminds us, have some special beverages on hand. Freshly steeped tea or a delicious juice will do wonders. So will some lemon- and mint-infused water! You don't have to spend a lot of money to make things elegant. [from OliveAndCocoa.com via Colin Cowie Weddings]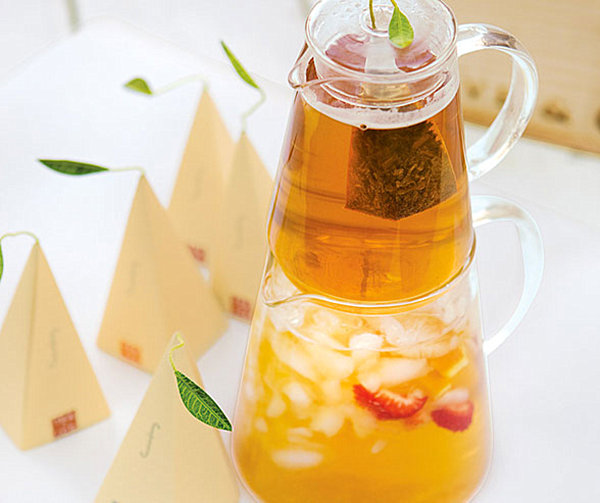 If you will be enjoying a meal with your guests when they arrive, make things simple by setting up a couple of serving stations. Set out drinks on one table and food on another. Guests can fix their refreshments, and they'll know where to return for another bite if they need to get settled in between nibbles. [from Patrick J. Baglino, Jr. Interior Design]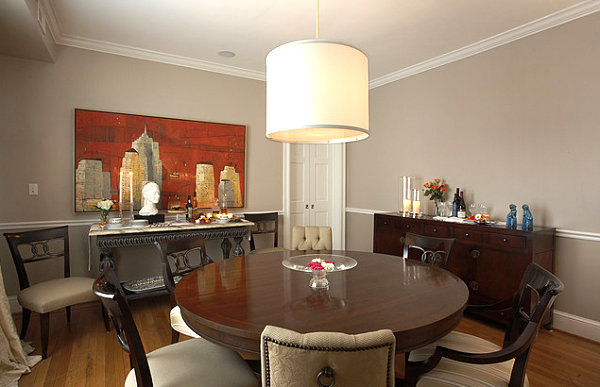 A well-stocked bar cart is a great way to set a hospitable standard. Make sure there are clean glasses ready to go, and use this space as a place to show a little bit of your style as well! [from Old Brand New via Houzz]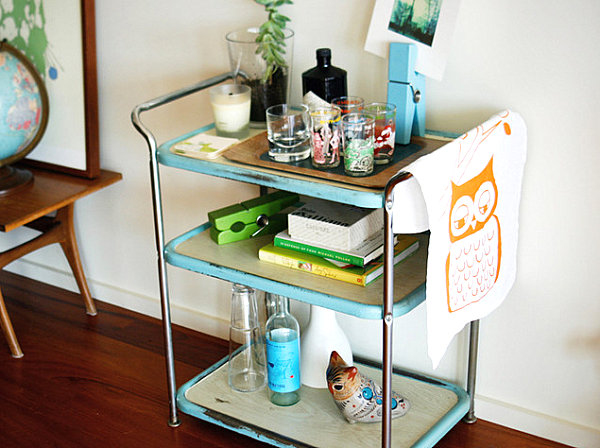 In fact, you can even keep some beverage staples in this space, including a few bottles of sparkling water. It's always nice to have something festive and nonalcoholic for company that chooses not to drink the strong stuff. Let guests know that they're welcome to revisit the cart when they're parched during their visit. A beautiful flower in a vase dresses up this space and shows your company that you've made things special for them! [from Lonny]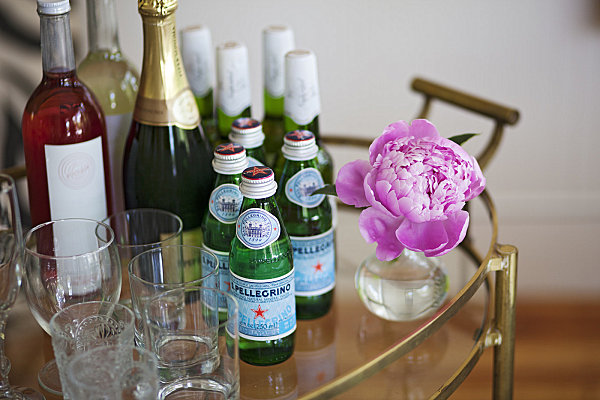 No bar cart? No problem! A lacquered tray filled with bar essentials gets the job done! Place it on an accessible table and show guests where they can go for drinks as they arrive. A beautiful piece of artwork and a bowl of fresh fruit are lovely accents for this beverage-filled area. [from Lonny]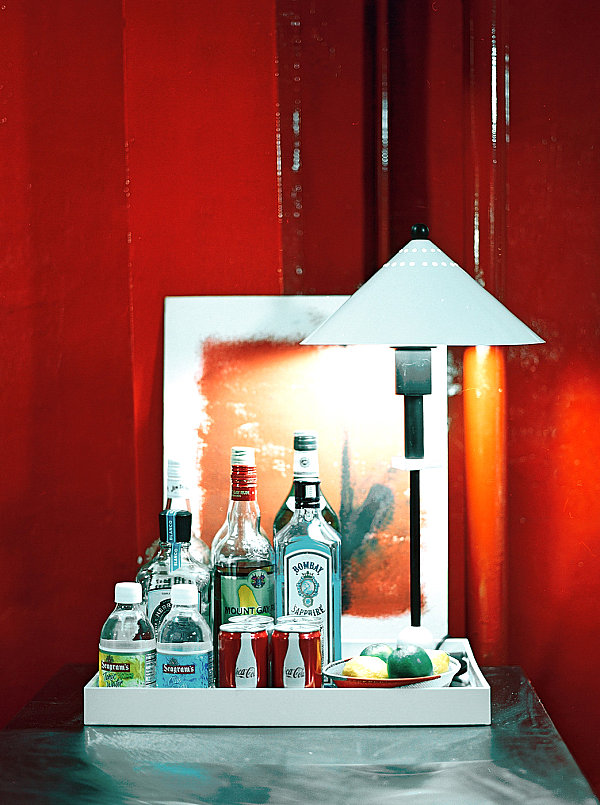 The Guest Room
The guest room. It will be your company's home away from home. And let's not forget that for many folks, the guest room is actually a "guest couch," which I can relate to since I lived in a studio apartment for six years. Actually, I often took the couch and gave guests my bed. Any way you spin it, make sure this space has a few special touches. A reading lamp, a vase of flowers on a nearby table, and a great magazine or book will get you started… [from Brennan + Company Architects]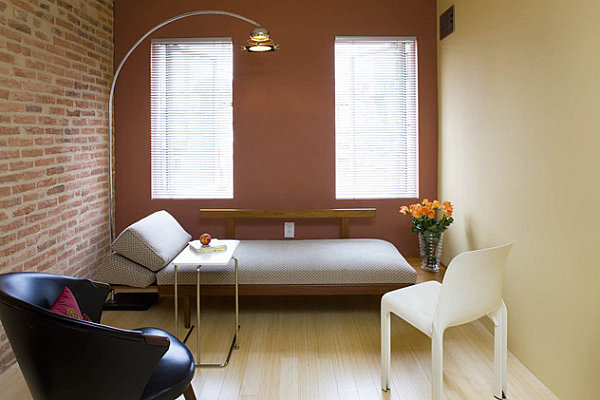 If your guest room sleeps two, consider putting lamps on either side of the bed so everyone can benefit from the reading light before sleepy time… [from Beckwith Interiors]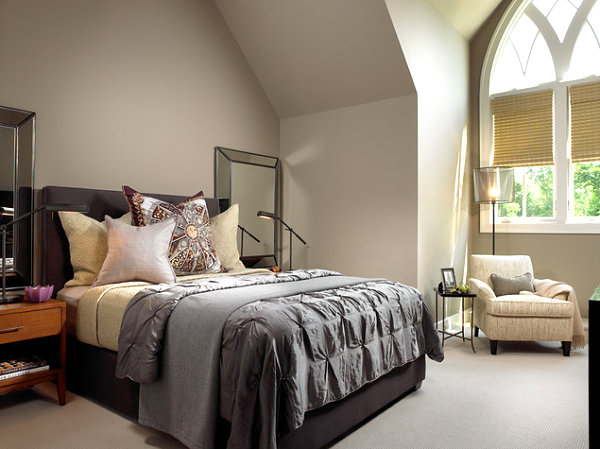 And speaking of the bed… There's nothing more inviting than crisp, refreshing linens and an assortment of fluffy pillows. An extra blanket is also nice for those chilly evenings. Your guest bed should make company want to dive in and get the best night's sleep they've had in weeks. After all, the better they sleep, they better you sleep while they stay with you! [from Atmosphere Interior Design]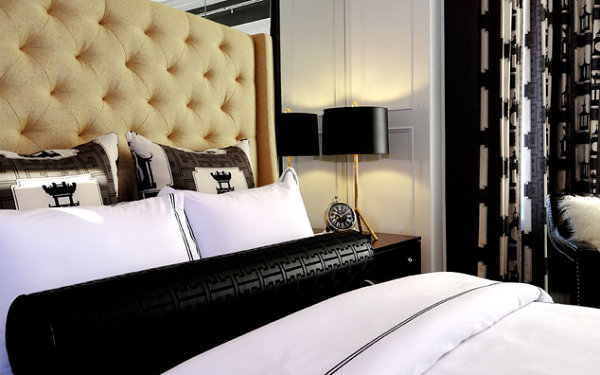 Does your guest room have a couple of twin beds? Consider making this space extra special by infusing it with elegant matching details. This next space includes black and white linens and a pair of rope-themed pendant lights. Blogger Cristina Cleveland shows you how to get this look at home at Camille Styles. [by Sarah Dorio for Lonny]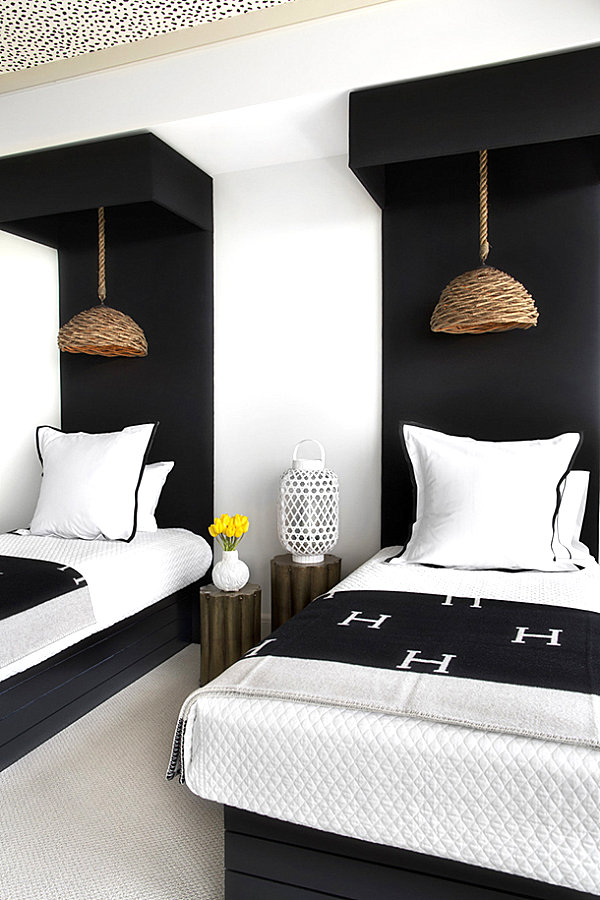 In fact, adding symmetry to your space is a great way to create a sense of serenity! Matching bedside tables with lamps, dual sets of pillows, and two interesting pictures hanging over the bed get the job done in the lovely space below. [from Studio D]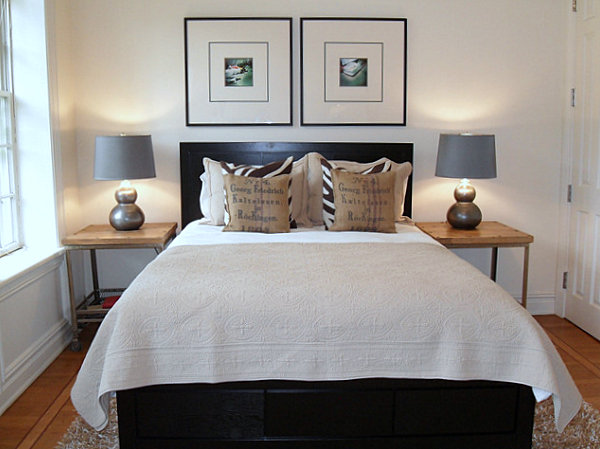 If your guests don't bring a laptop with them, give them a space where they can stay connected. If possible, set a laptop on a table in the guest room, or at the very least, if you're comfortable, show them your home office and make it clear that they are welcome to use your desk chair any time! [from Nicole Lanteri On My Agenda]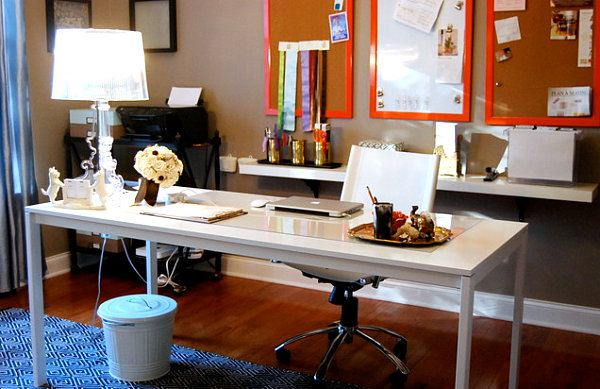 Included in the "guest room" umbrella is the guest bath. Even if guests are sharing the bathroom with you, make this space feel as special as their sleeping quarters. As Colin Cowie once again reminds us, a beautiful orchid and a few rolled towels will add luxury to the powder room. In fact, you may want to keep these details once guests leave! [from Getty Images for Colin Cowie Weddings]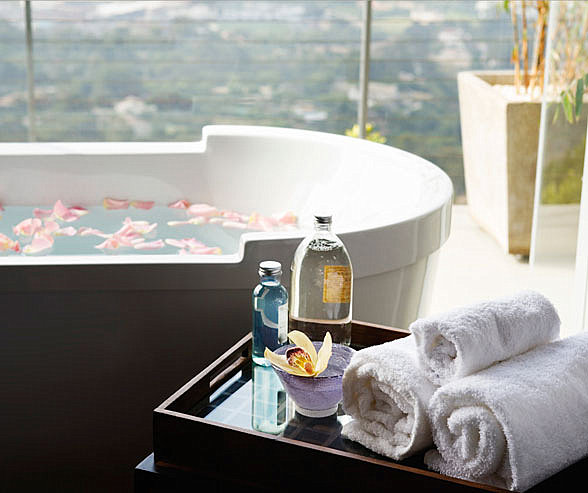 Potted greenery, a canopy-style shower curtain and a little lamp for a warm glow are a few other ways to add elegant, comforting details to the guest bath, as shown below… [from Rosewood Custom Builders]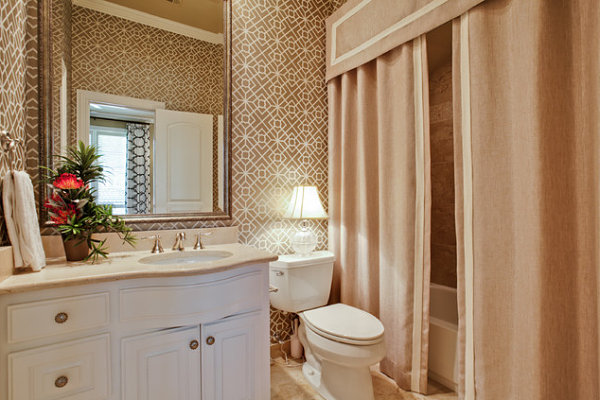 The Great Outdoors
If it's beautiful weather during the visit, chances are you and your company will be spending a lot of time outside. In fact, at my last place, I could always tell when the neighbors had company, because they practically lived outside with their guests. And I was always invited over to take part in the fun! Make sure you have an inviting outdoor space… [from Building Lab]
Now is a great time to bring out those comfy pillows and throws! Below we see the Catalina Sofa with Casters from Crate & Barrel: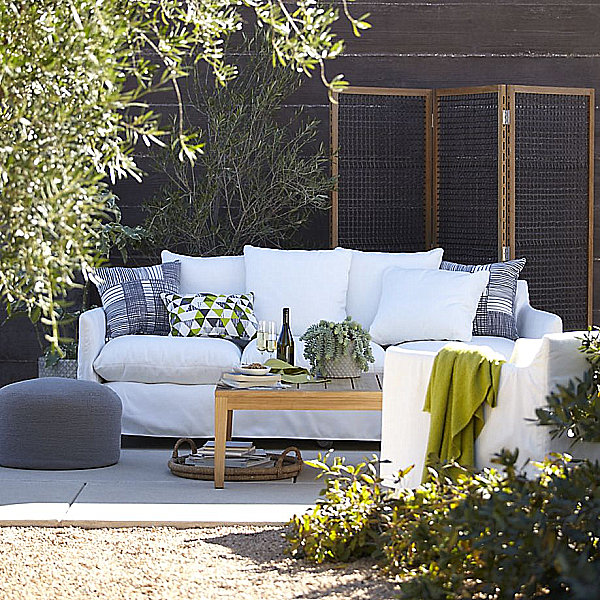 Whether you have fancy chairs or folding chairs, buy or borrow what you need to make sure that everyone has a seat. Of course, company is a great excuse to purchase that nice outdoor seating you've always wanted, like the Vista Adirondack Chair from Crate & Barrel: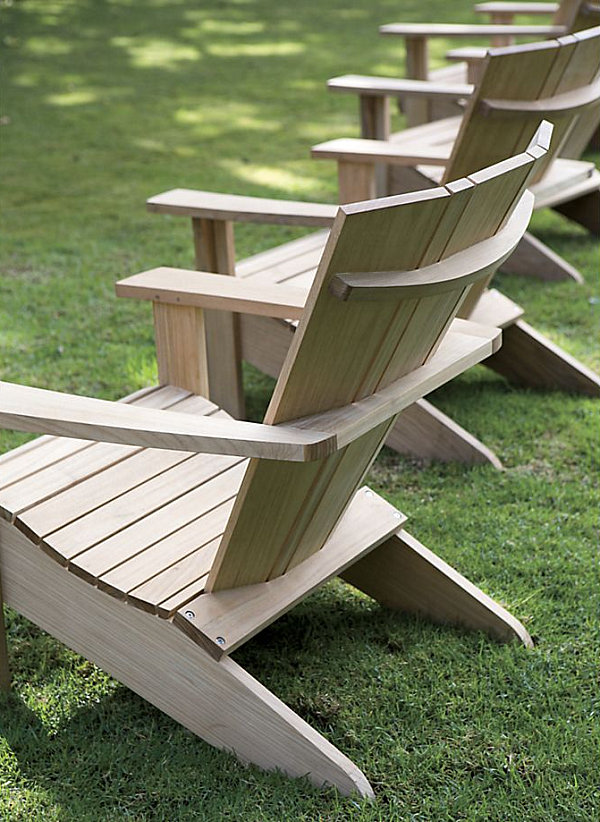 Most importantly, enjoy your time with your guests. It's not about making everything perfect. It's about making your company feel welcome. Do you have any tips for hosting guests? Share your thoughts by leaving a comment below…
Liked the story? Share it with friends.