Anyone else on a home improvement kick in 2014? For some reason, as soon as I packed away the Christmas decorations this year, it became undeniably clear that certain areas of my home were in need of a little attention. I've been paying extra attention to this season's top interior design trends, hunting for living room makeover ideas, and bargain shopping for affordable furniture and decor finds. Speaking of affordable, there's nothing like a budget-friendly DIY project to transform your space…
That's why today we feature 10 DIY projects that will inspire you to start the new year in style. For this post, I tried to spotlight some of today's most popular motifs. In fact, several themes continue to pop up, including ultra-bright colors, geometric shapes and metallic shades. And boy do these DIY projects incorporate the top trends in style. Check out the images and ideas below, then tell us what you think at the end of the post!
DIY Projects for Doors, Ceilings and Walls
Let's start with those projects that help set the stage for style in your home. I'm talking about DIY endeavors that embellish doors, ceilings and walls… If you aren't familiar with the phrase "toe kick," it's time to learn more about this subtle strip found in kitchens and bathrooms. A toe kick is that often-overlooked space underneath your cabinet. In this first project from Emily Henderson, we see how contact paper, gaffers tape and washi tape in shades such as gold, mint and pink can transform a toe kick into a clever, colorful statement… [photo by Zeke Ruelas]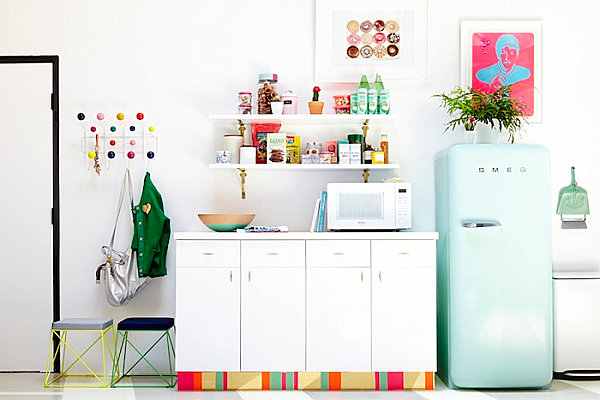 In fact, the project above helped embellish the studio of blogger Joy (of Oh Joy!). What did she do with the leftover gold contact paper? She used it to create an eye-catching entrance via the Metallic Stripe Door DIY showcased in the next image. Check out the full tutorial at Oh Joy!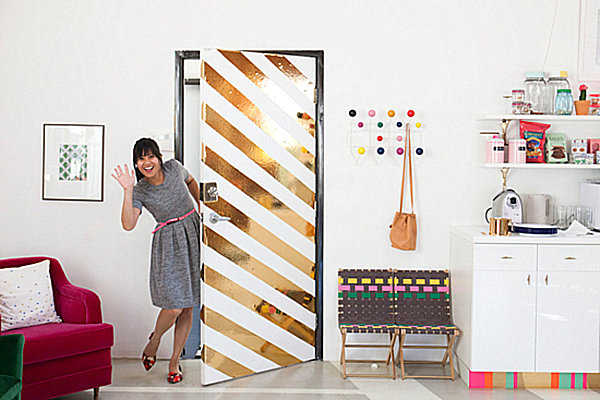 This next project hangs from the ceiling. Perfect for parties, we think it works year-round for whimsical spaces such as children's rooms. Not to mention, this Mini Cone Party Decor from Oh Happy Day is easily made from paper, string, scissors and a stapler. Plus, thanks to the cone shapes involved, it's easy to store in a stackable fashion…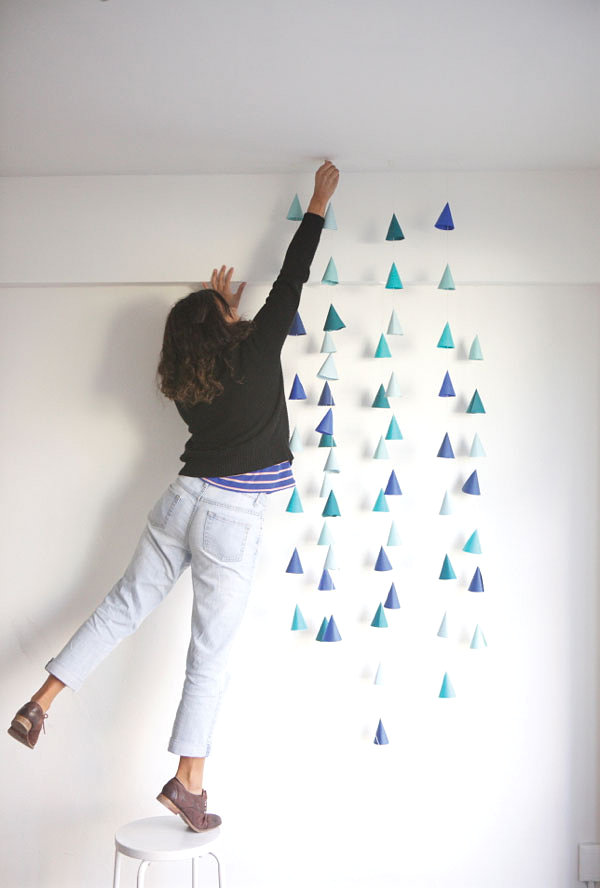 For another hanging DIY project, check out this Beaded Pendant DIY created by Camille Styles blogger Claire Zinnecker. Inspired by the lighting of Camp Provisions, this pendant light boasts a creative look, thanks to an eye-catching combination of geometric shapes and wooden beads. Modern meets earthy, don't you think?! [photo by Chelsea Fullerton]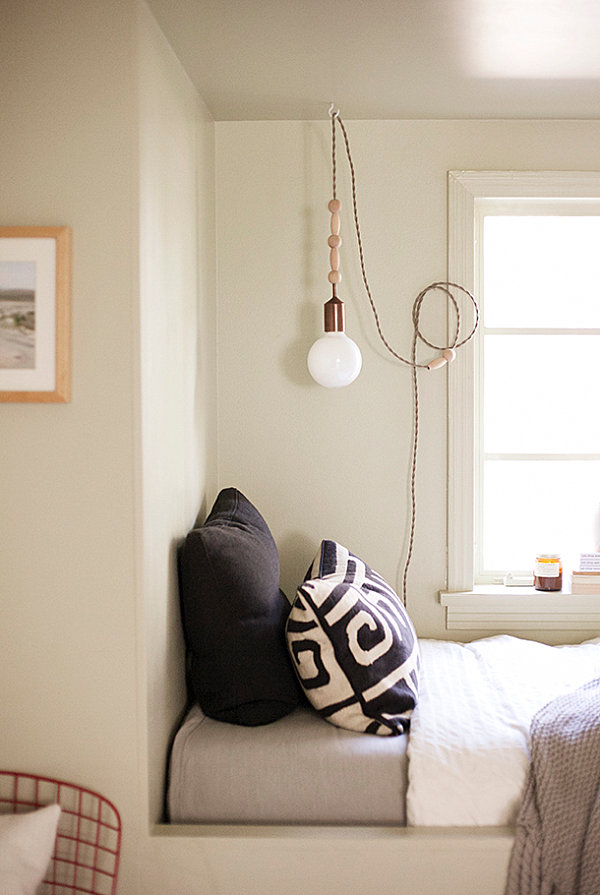 Staring at blank wall space that you hope to put to good use? Try building this adjustable DIY Corner Shelving System! Making use of materials such as poplar wood, this helpful DIY tutorial can be found at A Beautiful Mess. Or you can simply use the awesome photo below to inspire you as you organize the bookshelves in your home. Love the color coding and use of vintage-meets-modern accessories!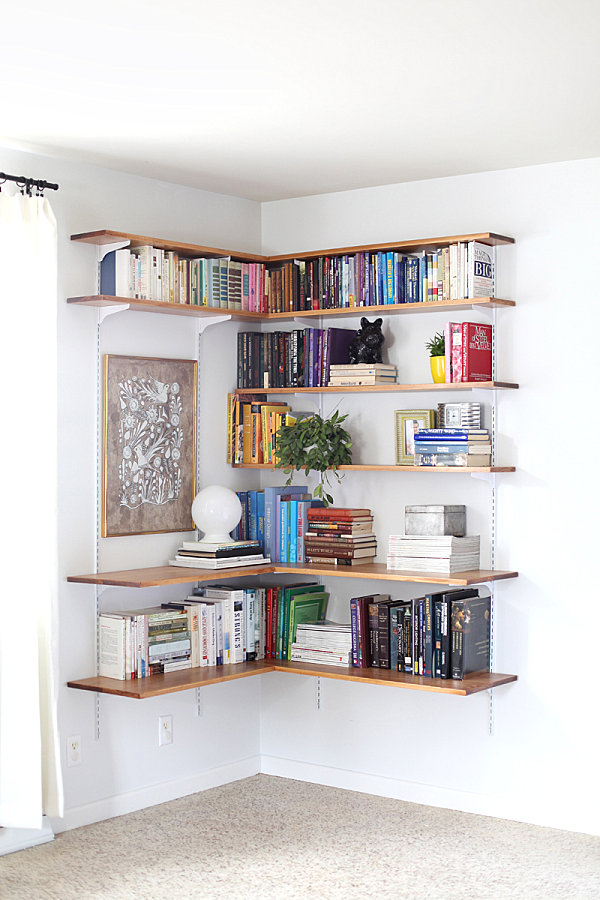 DIY Furniture Projects
We now shine the spotlight on two DIY furniture projects that are sure to add budget-friendly flair to your home! Once again we admire the DIY genius of Claire Zinnecker, who has created this Gilded-Edge Desk DIY. What's involved? IKEA legs, whitewood boards, gold carpet trim and more… Check out the full tutorial at Camille Styles.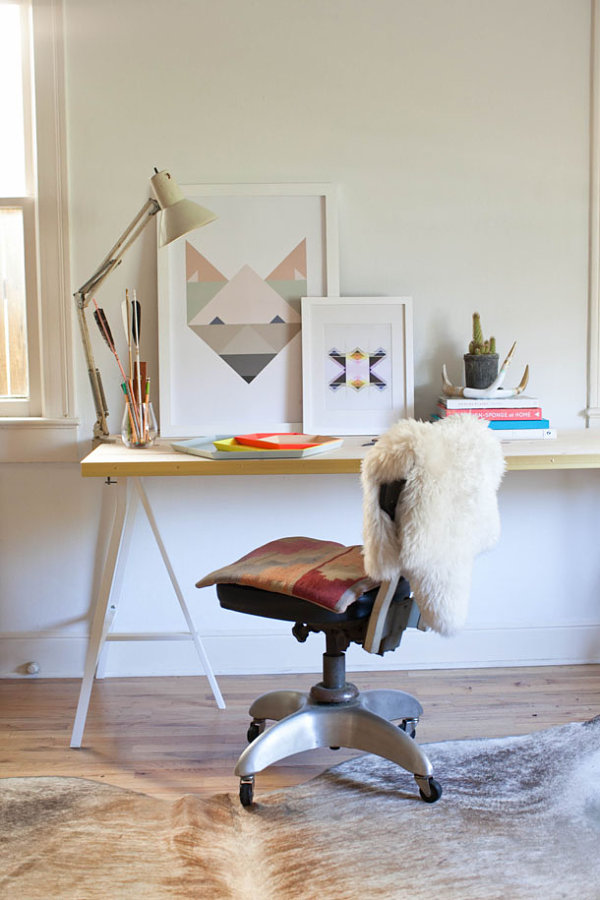 If you spot a vintage furniture find but are tempted to cast it aside due to its less-than-perfect condition, consider taking on the makeover yourself! In fact, this Vintage Chair Makeover from DIY Life just might inspire you! Created using a vintage Drexel chair spotted at the curb, the project is a testament to the power of reupholstering, a creative vision and a little bit of patience: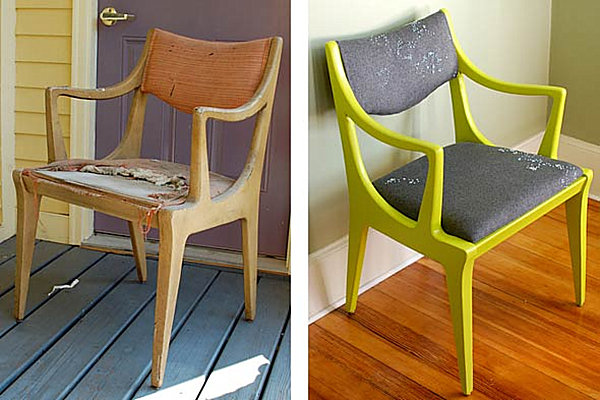 DIY Decor
We end with a trio of DIY decor projects that showcase the appeal of metallics, particularly gold! This Paint Dipped Balsa Wood Candle Holder makes use of gold and pink craft paint, masking or painter's tape, and a few other handy supplies. For a great first foray into making your own wood products, check out the full tutorial at A Beautiful Mess: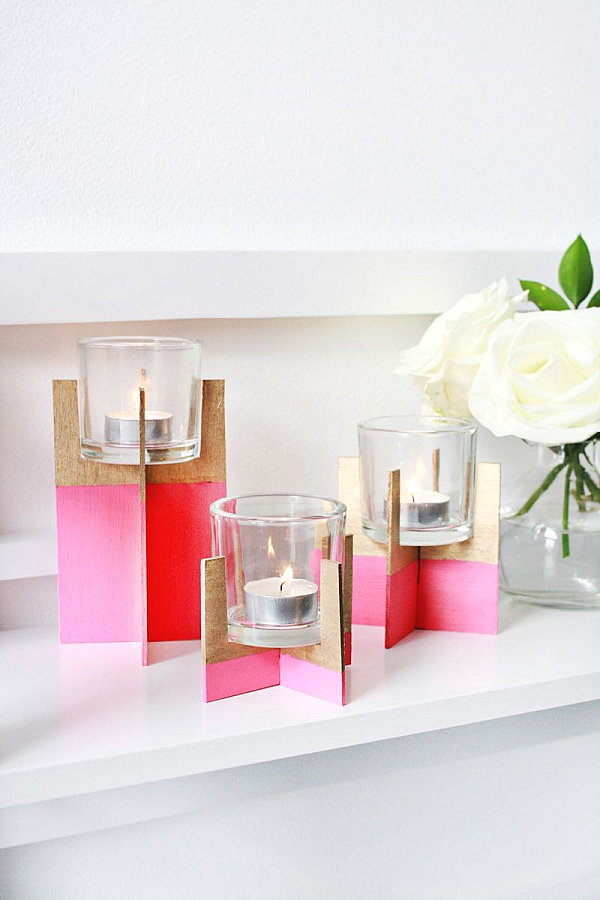 Like succulents? What's not to love?! Especially when they're displayed in these Gold Leaf Cement Pots from Ruffled. To make your own, you'll need containers for molds, a gold leaf kit and a few other supplies. Incorporate your love of geometric shapes to create a final product that is sturdy, substantial and undeniably stylish!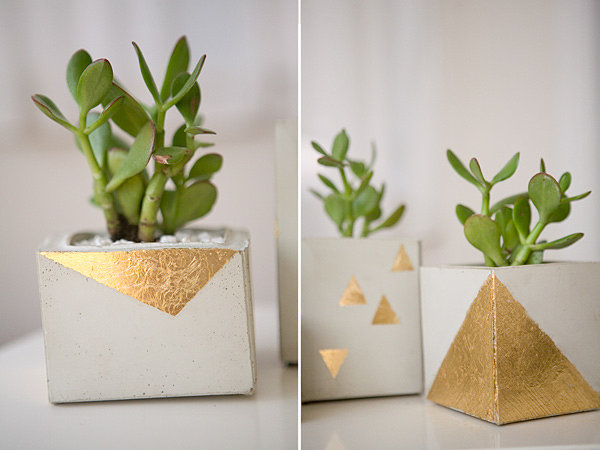 This Gold Confetti Dish tutorial from Vitamin Handmade has glamorous end results. With some affordable ceramic bowls and a gold leaf pen kit, you're well on your way to creating gorgeous decorative accents that also make great gifts!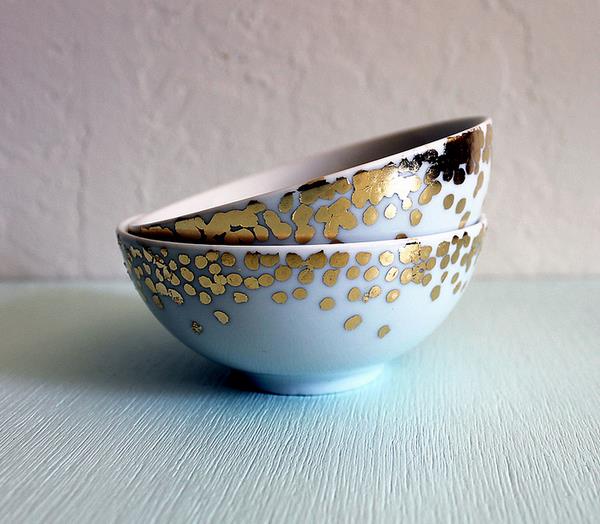 Do any of these projects inspire you to take interior design into your own hands in 2014? I know I've been inspired to dress up the toe kick under my kitchen cabinets! What about you? Share your favorite projects by leaving a comment below…