Considering the amount of time that we spend in the kitchen and how it is the perfect gathering spot for the entire family, it is imperative that you get the seating options spot on. Picking the right bar stool or counter stool can not only alter the ergonomics of your modern kitchen, but also add to the visual aesthetics as well. Considering the wide range of choice that is out there, we have brought together 10 kitchen stool designs that promise to steal the show. While some are timeless classics, others are contemporary delights that elevate the style quotient of your kitchen to a whole new level!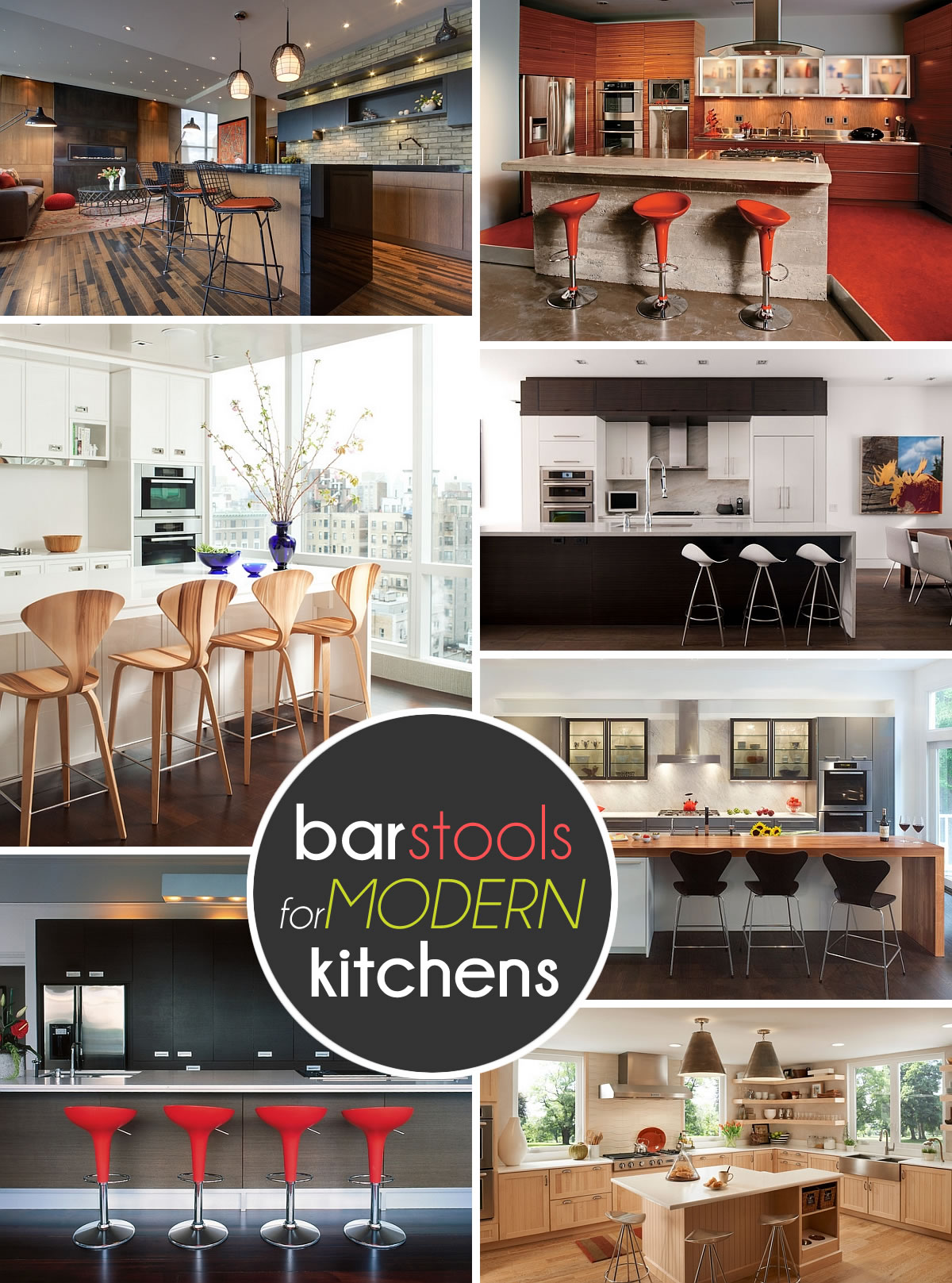 It is important to remember, though, that the standard height for counter stools is around 24 inches, while bar stools come in at 30 inches. Swapping one for another might not always be a smart choice. With that in mind, browse though these fabulous inspirations to find the bar or counter stool that is perfect for your kitchen –
1. Series 7 Stool
We kick-start our collection with the gorgeous Series 7 designed by Arne Jacobsen in 1955. The stylish curves of the seat are still as captivating as they were nearly six decades ago. An ideal choice for cool contemporary kitchens, the stool's minimalist form along with the chromed steel legs blend in with nearly any setting. Offered in a wide range of colorful hues and finishes, the Series 7 kitchen stool can also add accent color to a neutral space with ease. Available both as a bar and a counter stool, this fabulous find can be yours for $811 from Design Within Reach.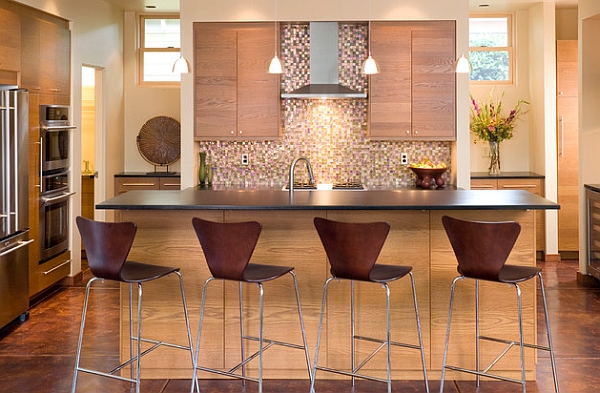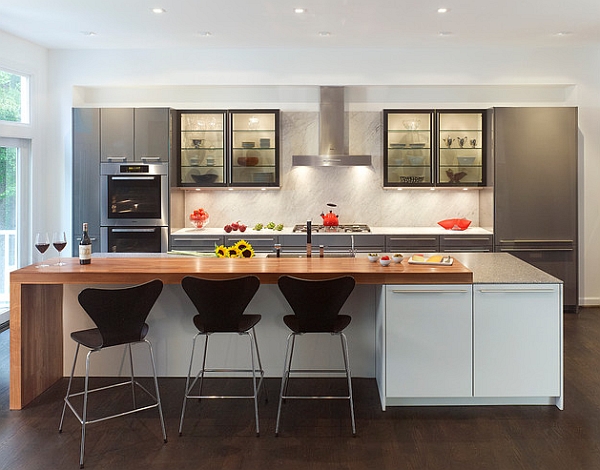 by KONST SieMatic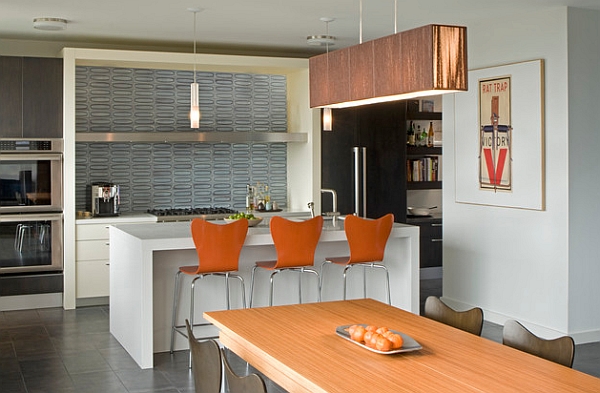 by Barker O'Donoghue Master Builders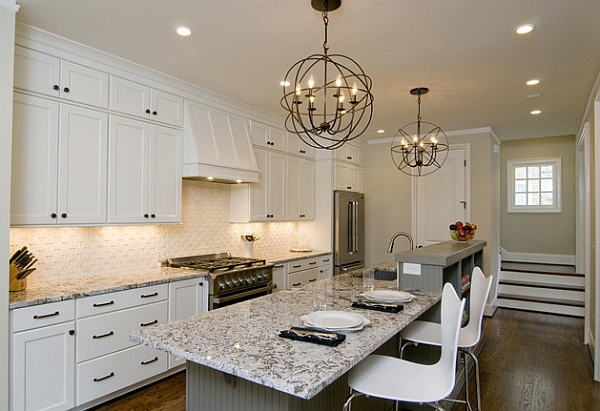 by 1st Choice Cabinetry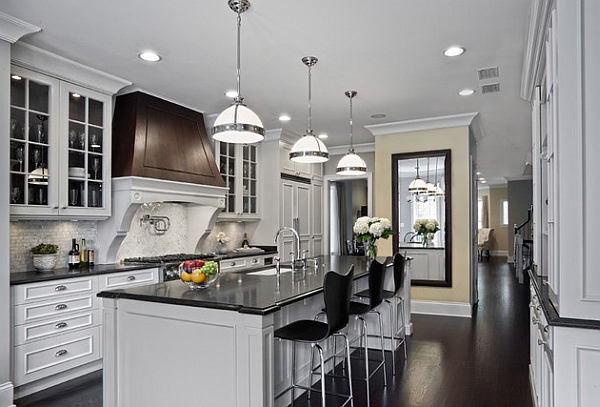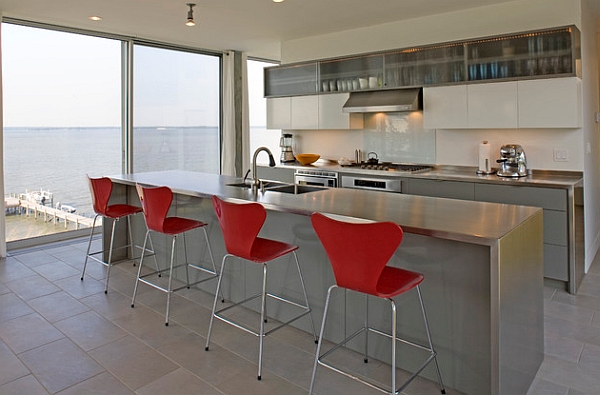 by Ziger/Snead Architects
2. Onda Stool
The tantalizing Spanish flavor that the Onda stools bring is unmistakable and apparent! Designed with a sense of flair by Jesús Gasca in 2006, it is quickly gaining popularity as one of the hottest kitchen stools on the planet. Its wave-like form brings geometric contrast to the modern kitchen that is filled with clean and well-defined lines. Bold yet minimal, this bar stool is all about bringing in a trendy modern look. Starting at a price of $344, the Onda counter stool oozes sleek sophistication!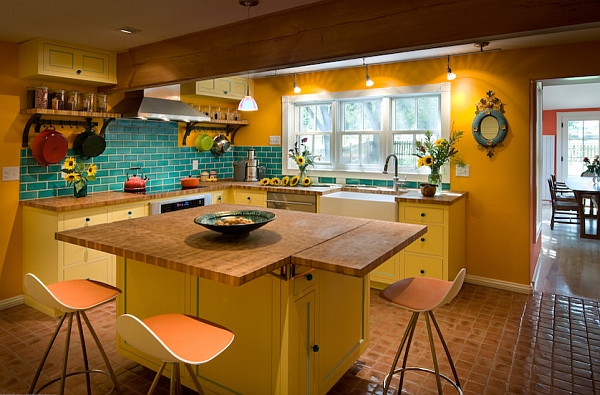 by Fieldwork Architecture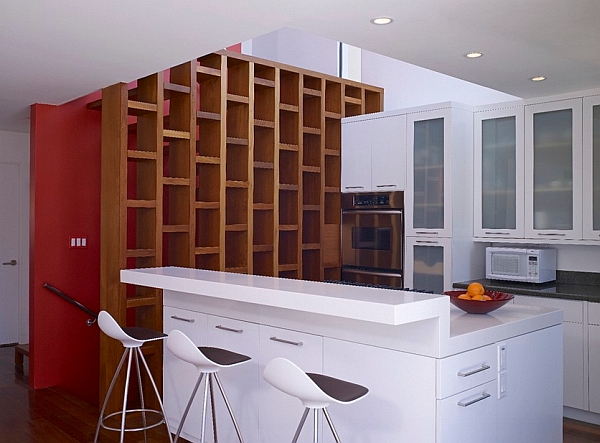 by Make Architecture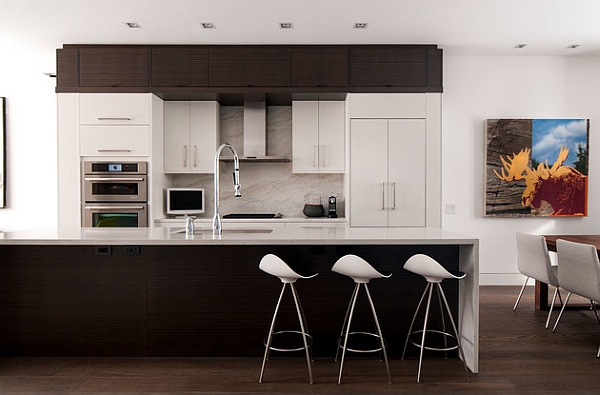 by Shirley Meisels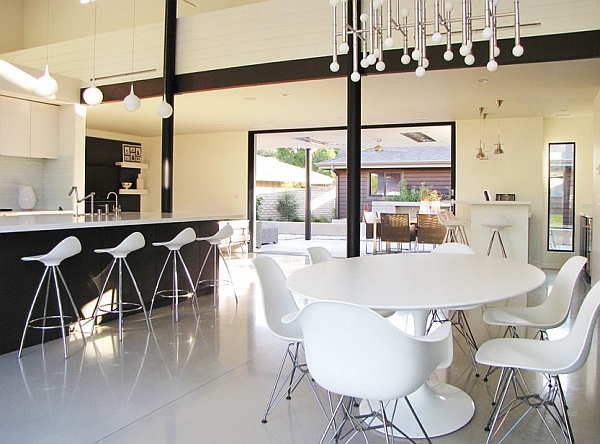 by Tara Bussema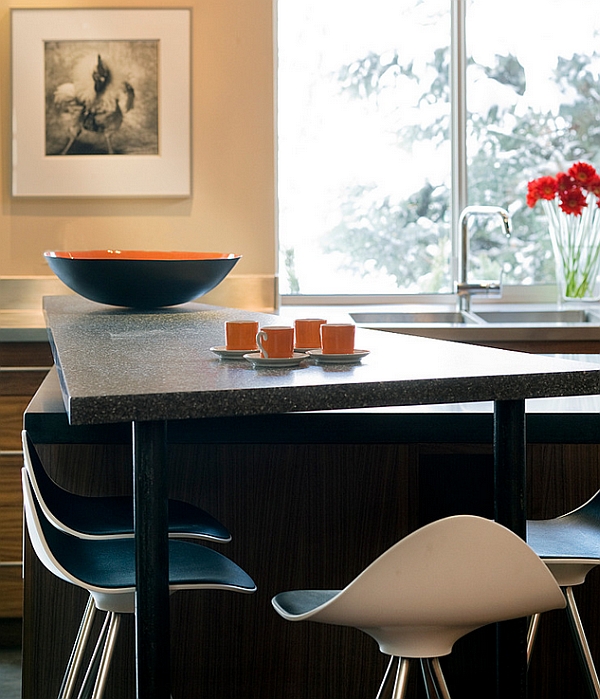 by Short Street House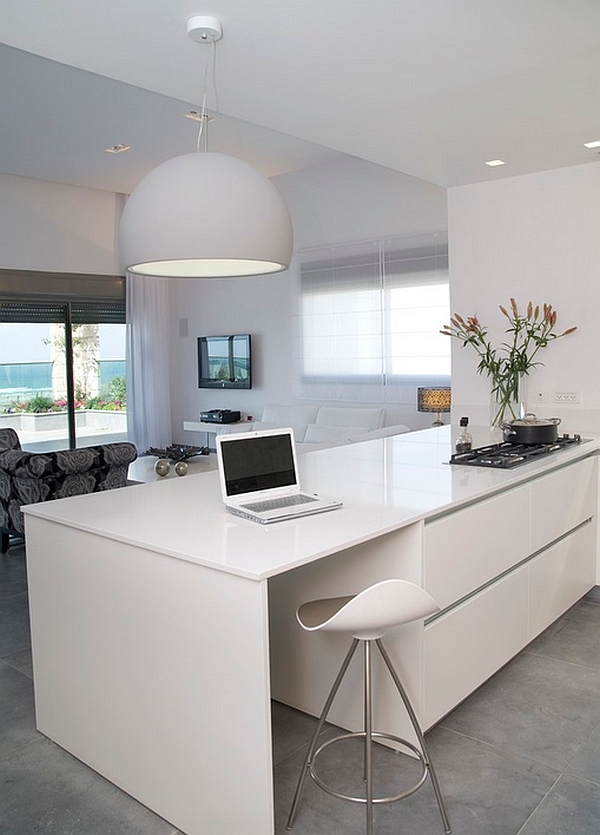 3. LEM Piston Stool
The popularity of stainless steel kitchen countertops and utensils obviously means that a kitchen stool with a solid, trendy stainless steel base will always be popular. The ravishing LEM Piston Stools seem to draw most of their charm from their unique silhouette. Bought to life by the Japanese team of Shin and Tomoko Azumi, these kitchen stools with luxurious leathers seats ($865) have quickly become a staple among many high-end modern kitchens and restaurants.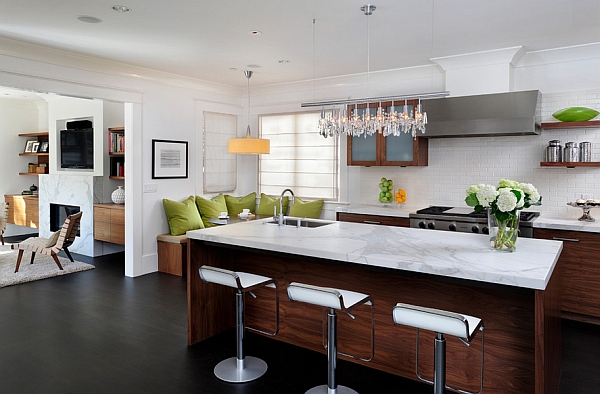 by Sullivan Design Studio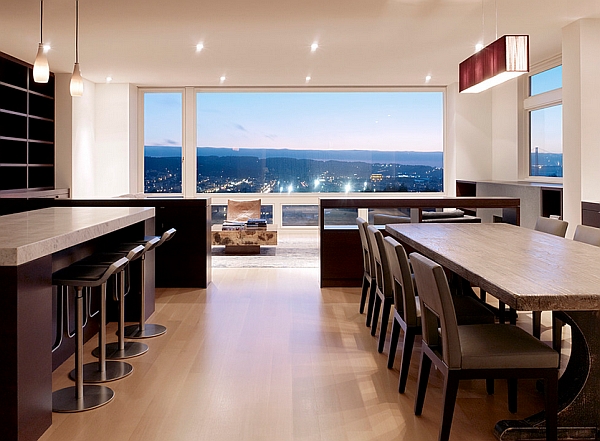 The highlight of the LEM stools is obviously the piston base that also allows them to go from a counter stool height to a bar stool height with ease. You can even opt for a steel or wood seat version of the stool, and starting at $725, it is a decor investment worth making…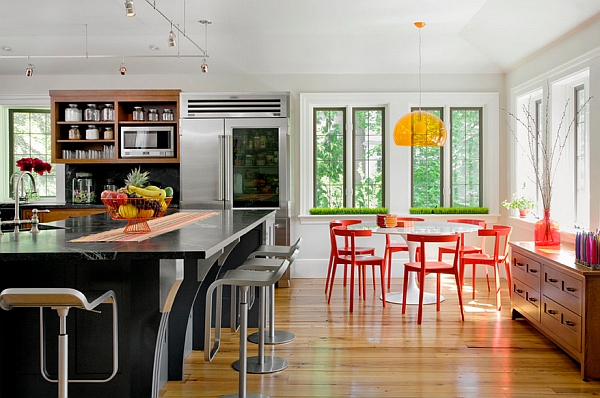 by LDa Architecture & Interiors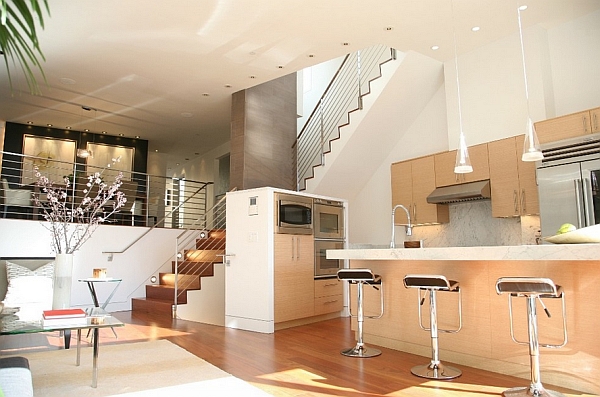 by DNM Architect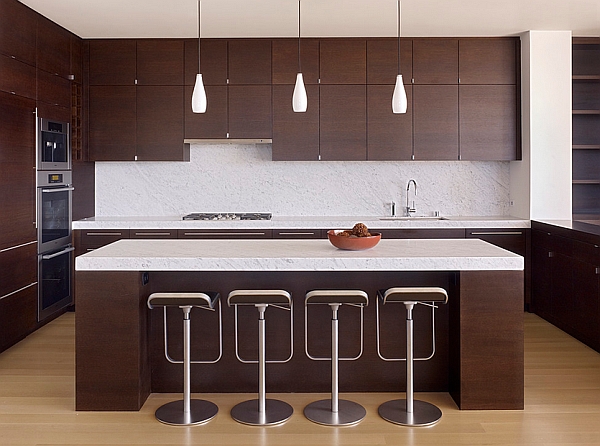 by John Maniscalco Architecture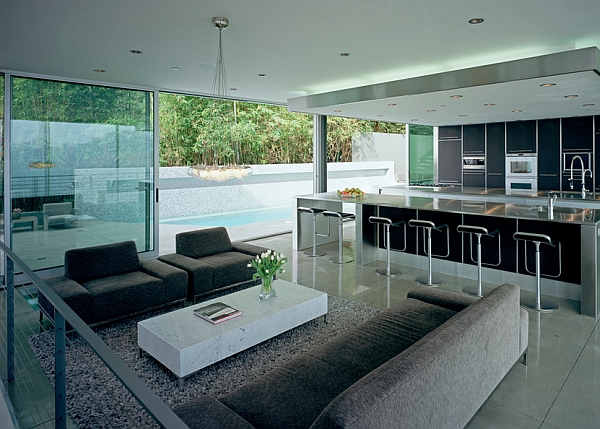 4. Bertoia Stool
Classic and timeless, the beautiful Bertoia bar stool adds a hint of industrial charm to your kitchen while ushering in the Mid-Century modern vibe. The wiry frame of this is popular chair and barstool was described by its maker Harry Bertoia as a sculpture that is mainly made of air! It definitely adds textural contrast to a kitchen that is dominated by stone and glass and complements your kitchenware perfectly. Do make sure you get one of these with the right seat pad to avoid that chilling metal on cold mornings!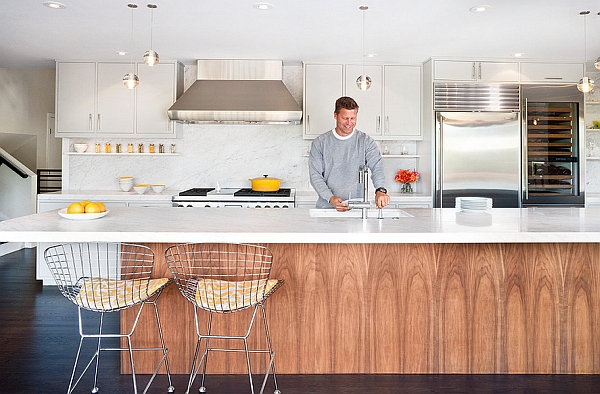 by Jennifer Weiss Architecture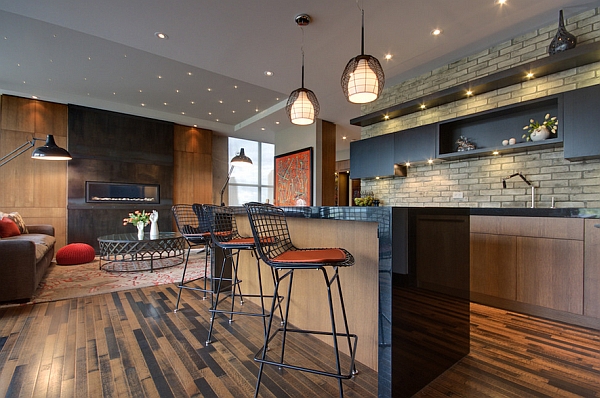 by Avalon Interiors
You can get one of these stools with a colorful seat pad of your choice for $1140 at the Knoll Store. Available as both a bar and counter stool, this amazing piece will beautifully complement your space, especially if you purchase the model with the right height for your kitchen counter.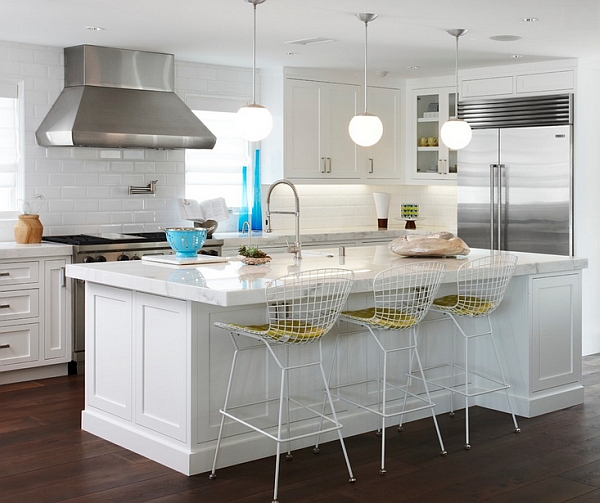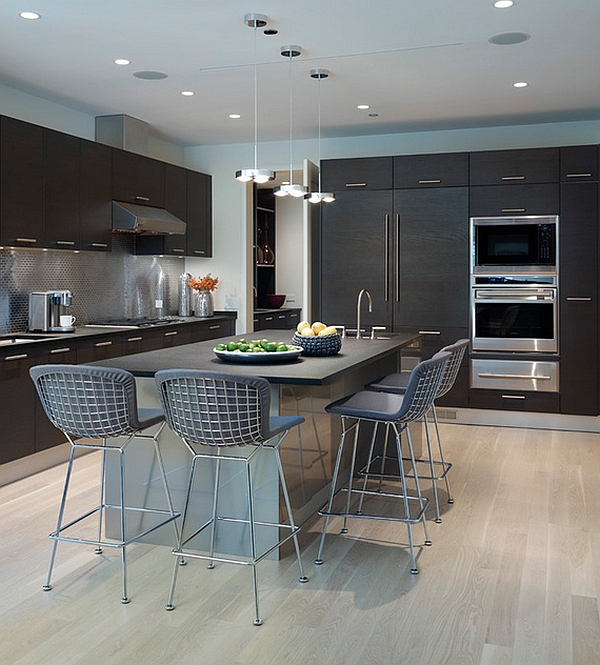 by Jessica Lagrange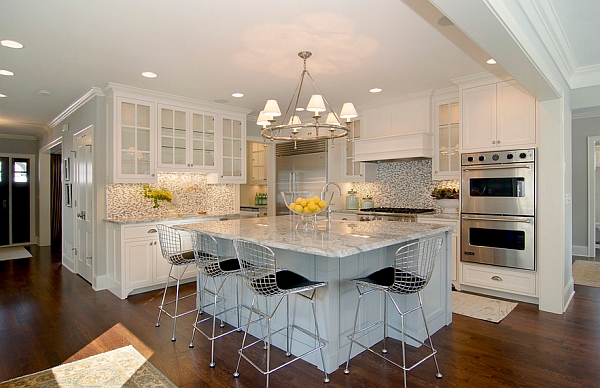 by Great Neighborhood Homes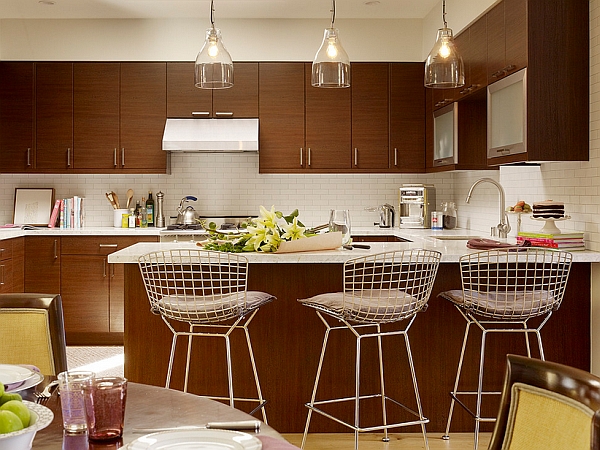 by Jute Interior Design
5. Bombo Bar Stool
Another bar stool that instantly puts a smile on your face and rolls in the good times is the vivacious Bombo. Designed by Stefano Giovannoni in 1997, this luxurious swivel bar stool showcases sleek Italian design coupled with chic refinement. Almost awaiting your presence, these colorful bar stools are great for those looking to add a hint of retro or industrial charm to their kitchens. At $750 a pop, Bombo in white or black adds a lavish urbane vibe to your kitchen without appearing mundane.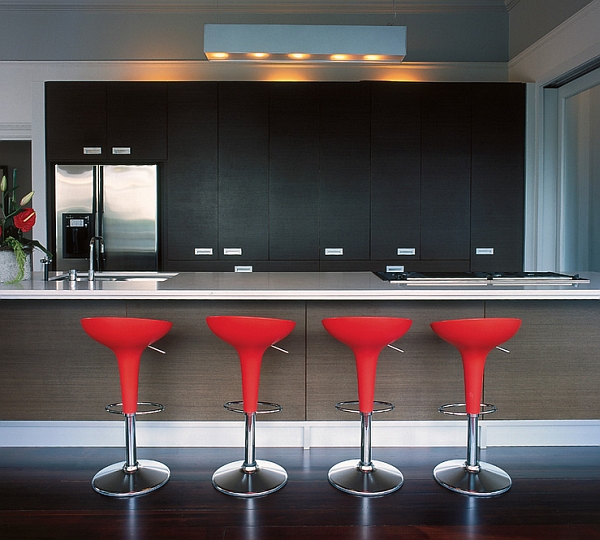 by jessop architects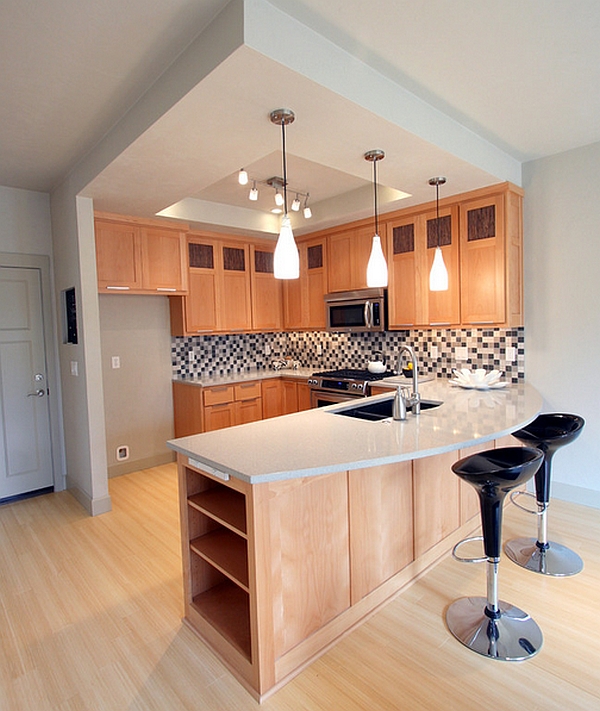 by Jordan Iverson Signature Homes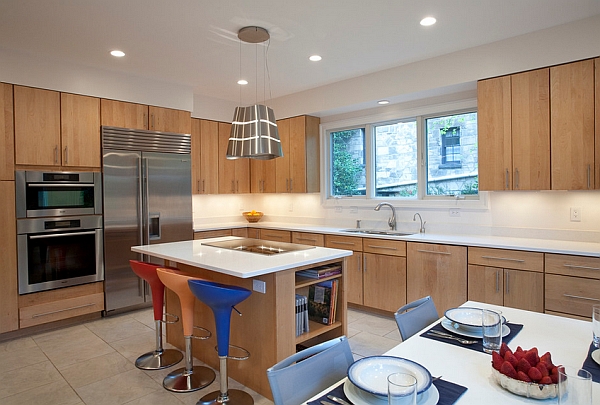 by Grossmueller's Design Consultants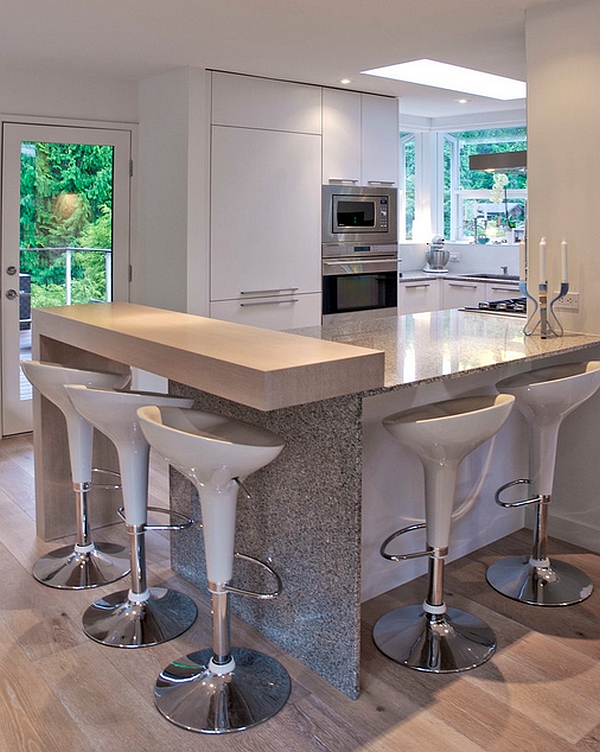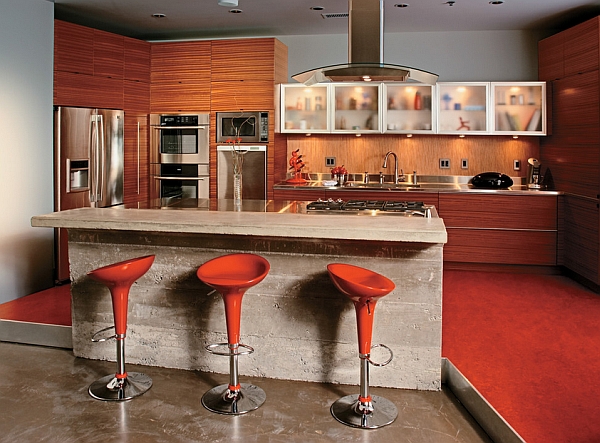 by Seifer Kitchen Design Center
6. Cherner Stool
Here is another remarkable Mid-Century classic that simply never goes out of style. The flowing curves of the Cherner stools ($749) is bound to complement pretty much any theme or color scheme that you have going in the kitchen. Lightweight and sturdy, this creation of Norman Cherner comes with an hourglass design that is distinct and graceful. Universally loved, it can be combined with the iconic Cherner Chair at the dining table to create a classy vibe.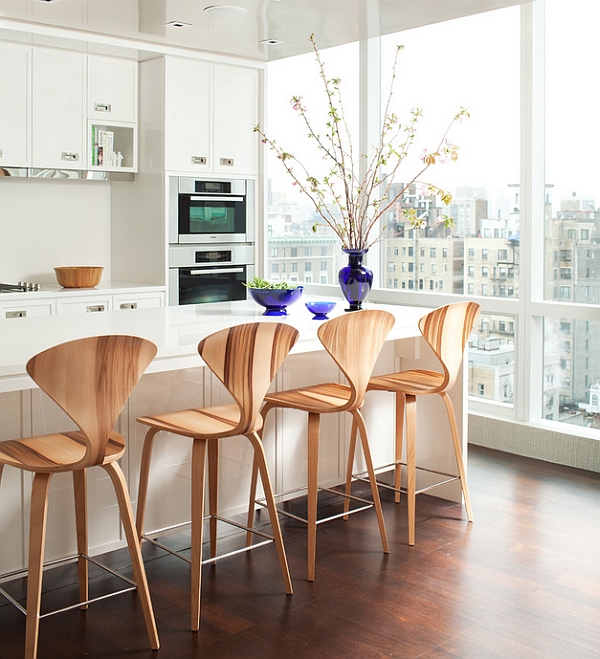 by amanda nisbet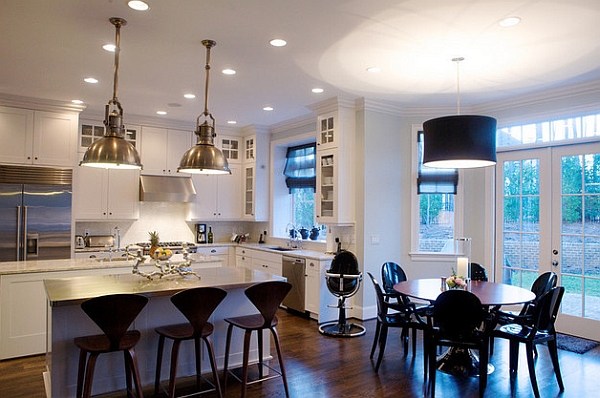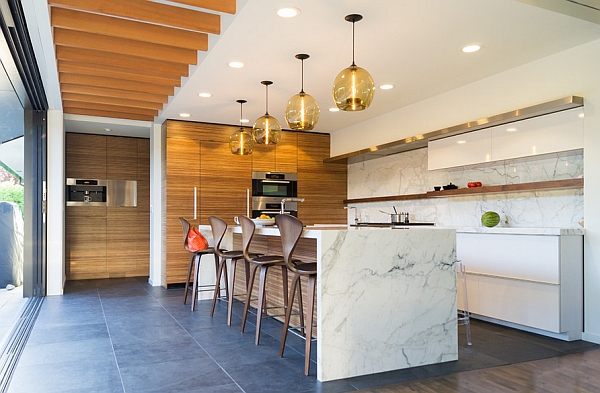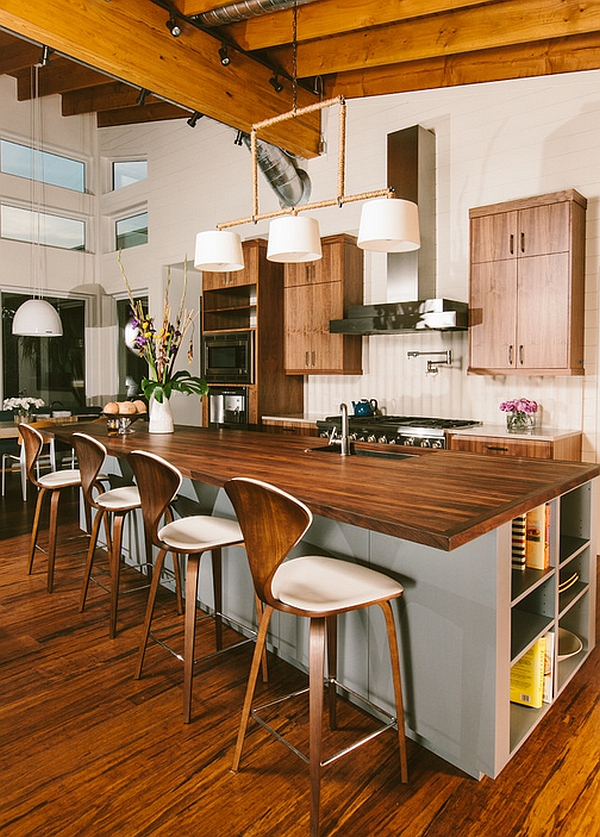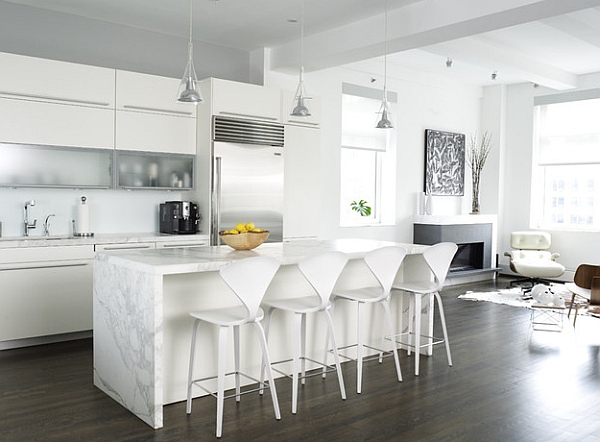 by Chelsea Atelier Architect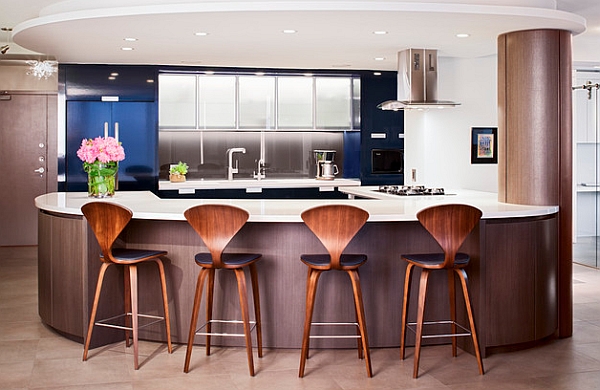 by Natural Balance Home Builders
7. Emeco Navy Stool
Is "going green" a priority for you? Looking to make your kitchen a lot more eco-friendly and sustainable? Well, we have a kitchen that is just for you. And not only does it come with a little green tinge attached, it also carries with the patriotic colors of red, white and blue! Crafted specifically for the US Navy in 1944, the Emeco Navy Stools can withstand pretty much any punishment that you dish out. Guaranteed to last a good 150 years (Yup, that is what we call real warranty!), the stool offers adequate back support and adds an industrial element to your kitchen.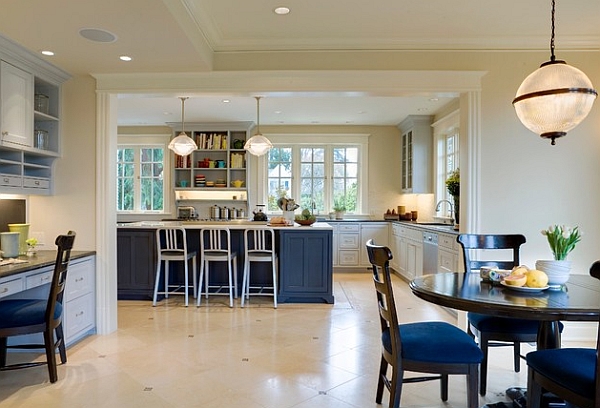 by Menter Architects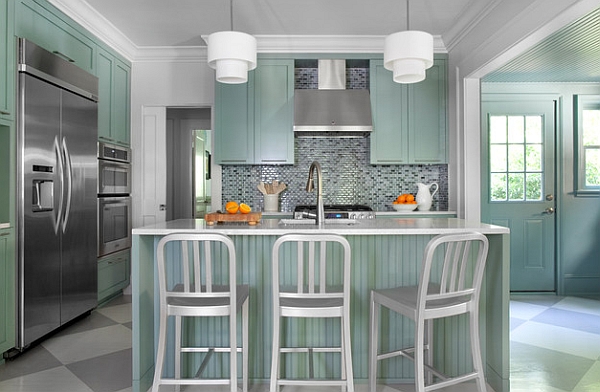 by Mark Williams Design Associates
Crafted from 80% recycled aluminum, this kitchen stool is obviously a boon for the planet's health as well. Considering its long lifespan, the $730 that you shell out for one of these is definitely money well spent…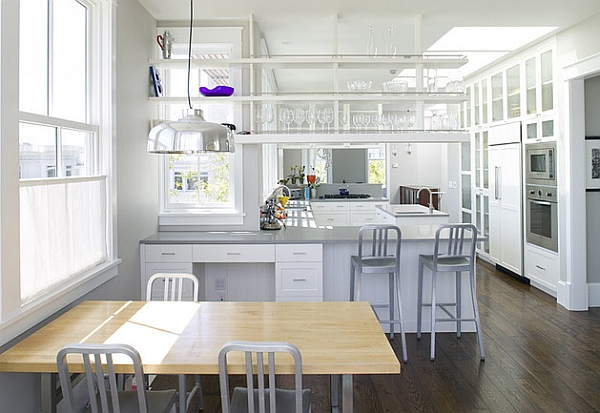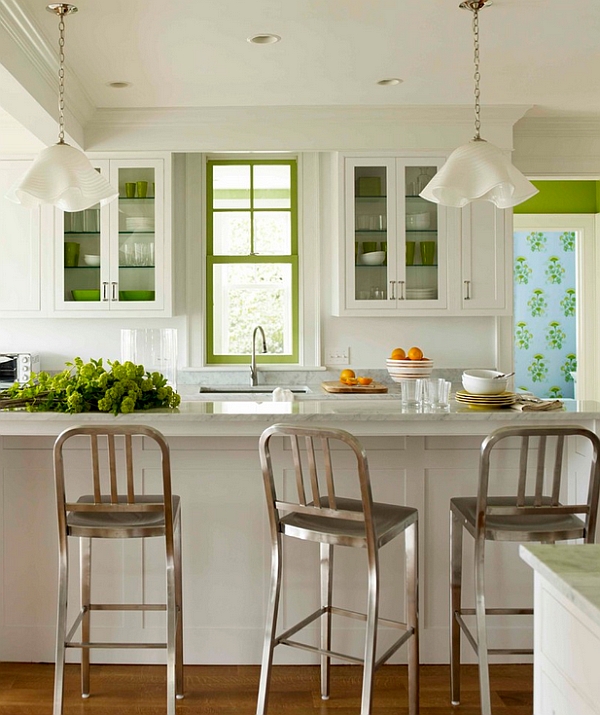 by Vendome Press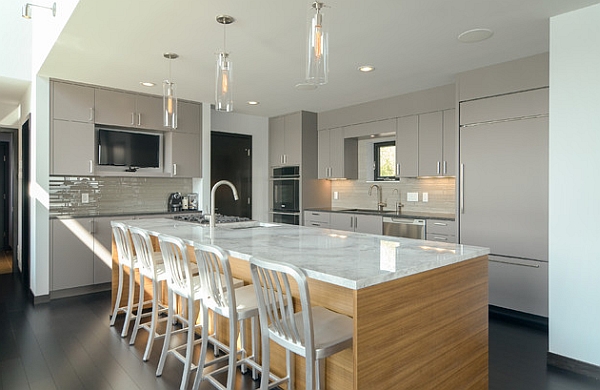 by Rosenow – Peterson Design
8. Jamaica Stool
There are plenty of design and fashion trends from the nightclubs of the early '90s that can be best described as 'forgettable'. But the uber-cool and hip Jamaica Stool ($861) is an exception that has withstood the test of time. Created by Spanish designer Pepe Cortés in 1991 for the Big Ben Discotheque, the hip bar stool has made a smooth transition into contemporary kitchens over the last two decades. Its chrome-plated tubular structure and polished seat blends balance and poise with a fun and playful appeal.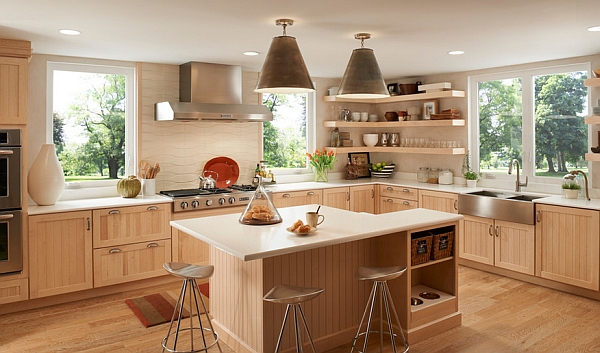 by Milgard Windows & Doors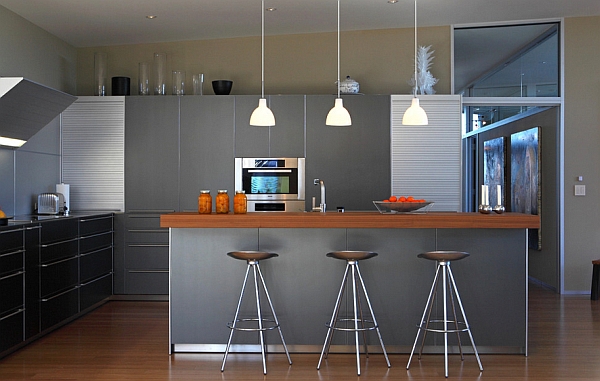 by Webber + Studio, Architects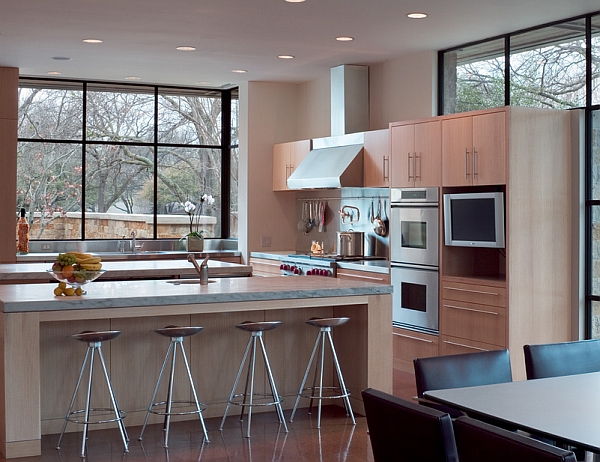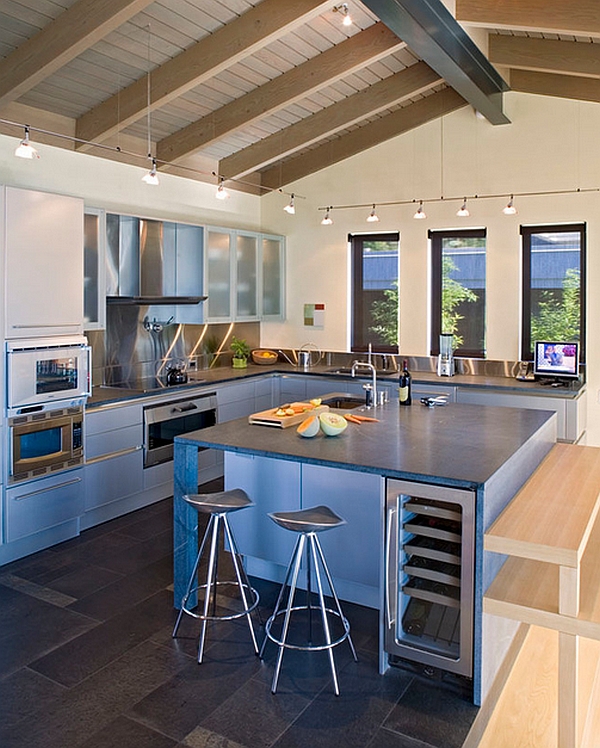 by Steven Alvarez General Contractor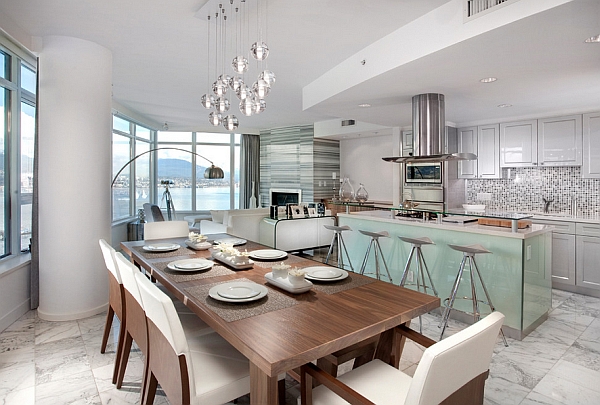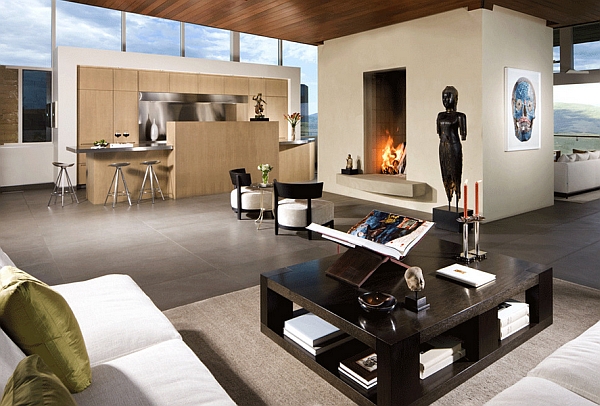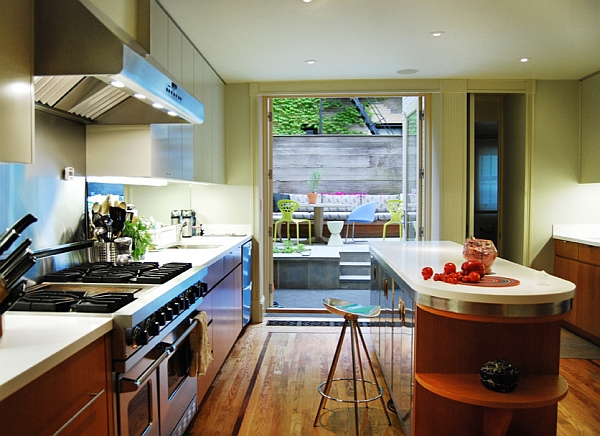 by ZMK Group
9. Fjord Stool
Indulgent and exquisite, the Fjord High Bar Stool is for those who wish to pamper themselves with the very best. The lightweight stainless steel frame and the comfy leather seat of the Fjord Stool promise opulence that is only topped by its sculptural form and visual appeal. Clad in vivacious and rich colors, this fascinating bar stool by Moroso will set you back by good $1875… Yup, that is a real hard tug on those purse strings, but one look at the Fjord stool and you will realize that it is well worth the splurge.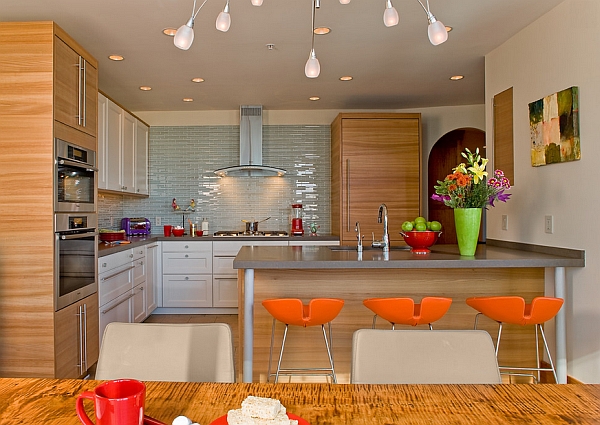 by David Sharff Architect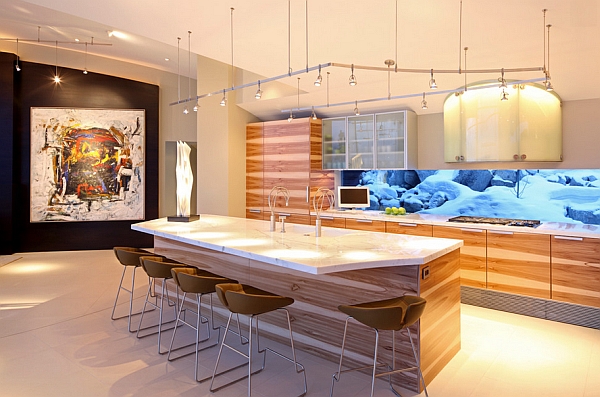 by Curtis Laney & Laney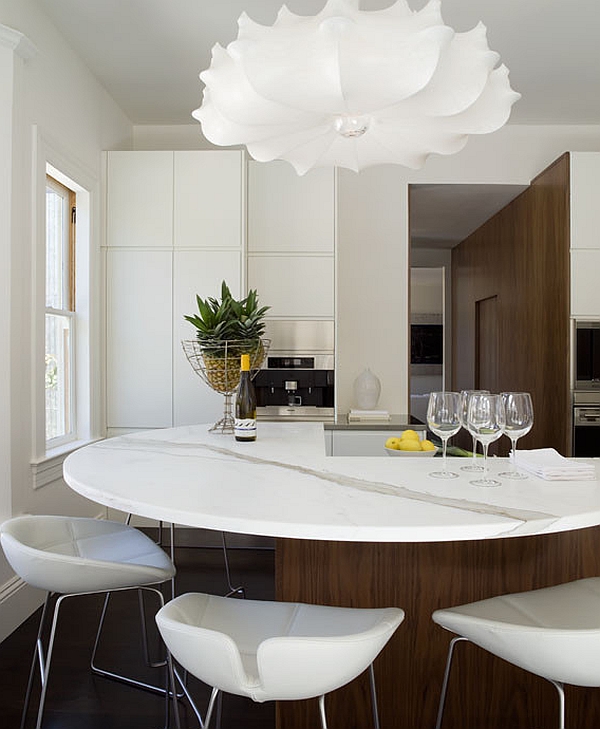 by David Duncan Livingston
10. Radius Stool
If you are looking for a kitchen stool that adds modern Scandinavian elegance along with warm wooden tones, this lovely stool is for you. Its innately elegant curves and minimal form effortlessly combine class with comfort. Crafted from maple, walnut or cherry veneer, it takes up very little space and can easily be tucked away when not in use. Unlike some of the other models on display here, Radius is an absolute steal with the bar stool version priced at $199 and the counter stool costing $179 at Room&Board.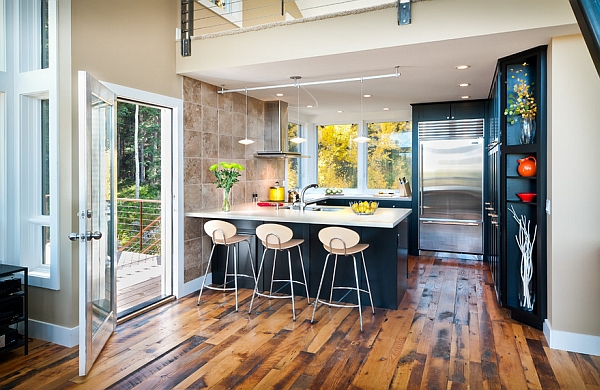 by HMH Architecture + Interiors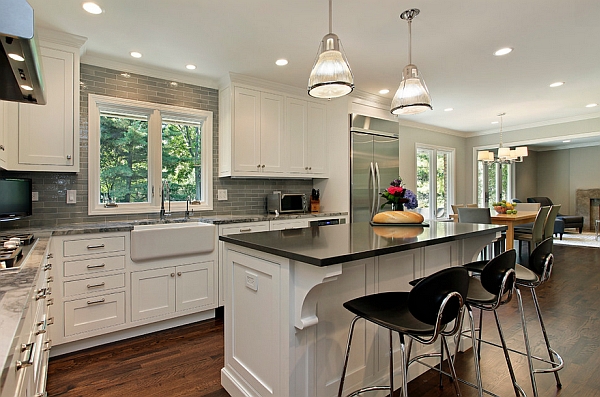 by 2 Design Group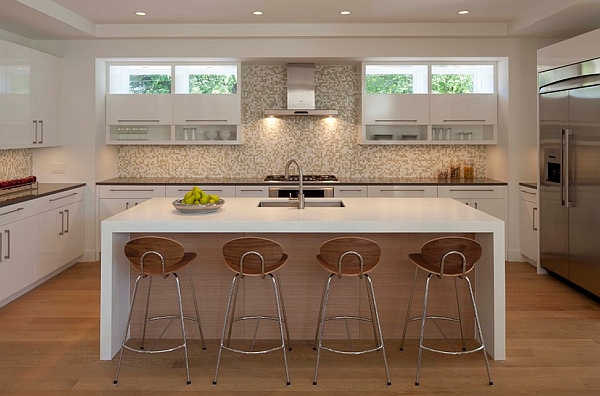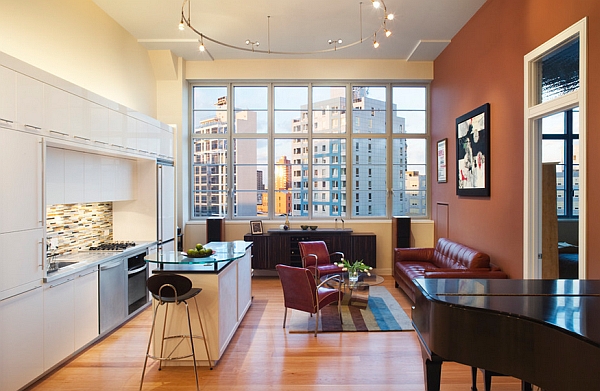 by Prestige Custom Building & Construction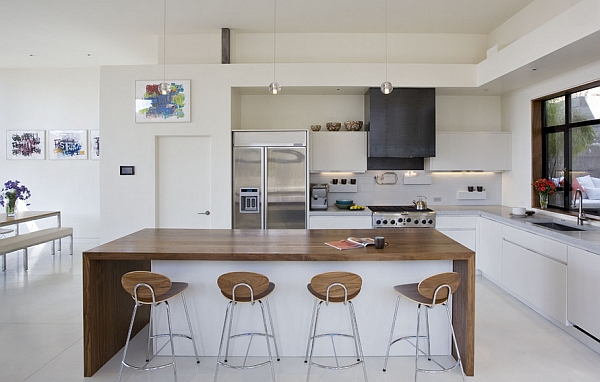 by Concreteworks
If you are willing to splurge and bring home one of the more expensive bar stools, then think twice before settling on the model and the color. Keep in mind the height of your kitchen counter and also account for the legroom that you need. Picking the right kitchen stool is all about finding that ideal balance between aesthetics and ergonomics. So, which among the fabulous ten showcased here fits your kitchen best?