Planning your Christmas table design? Isn't it fun?! Once you've decorated your tree and put the finishing touches on your holiday mantel, it's time to turn your attention to entertaining. Whether you're hosting Christmas at your house or having a special holiday dinner before the big day, your table is another arena for the expression of creativity! What's your Christmas table style? Check out the gorgeous holiday table settings from our roundup below, then share your thoughts by leaving a comment at the end of the post…
Red and Green…
We begin with holiday table settings in traditional Christmas colors. But just because you're sticking with traditional hues doesn't mean your table setting can't be a bit unexpected! This gorgeous Christmas table from Courtney Out Loud definitely caught our eye! Originally created for the now-cancelled Nate Berkus Show (we miss you, Nate), it still packs a stylish punch. Wicker lanterns, paper flowers, shadow boxes and a range of other flourishes create a "Chinoiserie Chic" look. Love it!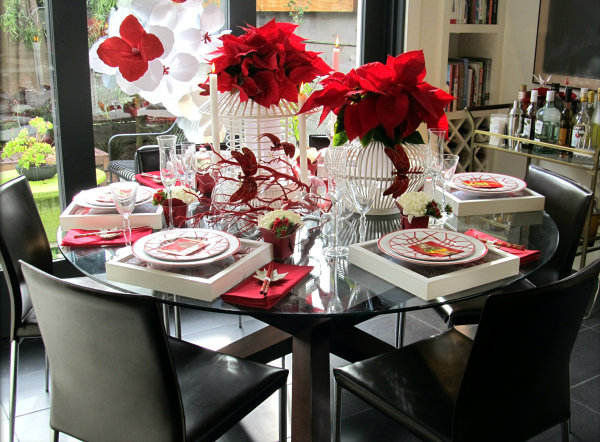 Opulent is the word for the table below, which boasts a gorgeous palette of cream, green and other earth tones. Overflowing vases and the placement of flowers on everything from chairs to a cake stand enhances the "cup runneth over" vibe… [from Ellermann via Home Journal]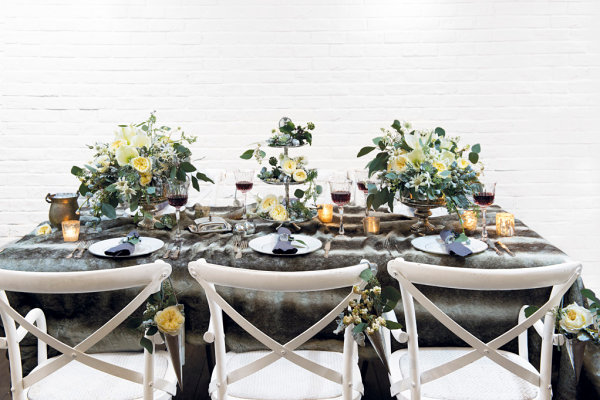 This red and white Christmas table from Eddie Ross was created back in 2009. But we just can't seem to forget about it! Maybe it's our love for milk glass, or perhaps it's the timeless, good-enough-to-eat look that underscores the design. The idea: let the peppermint candy be your guide! Offset vintage milk glass tableware with bright red accents, from goblets and ribbons to delicious goodies. Your guests will thank you!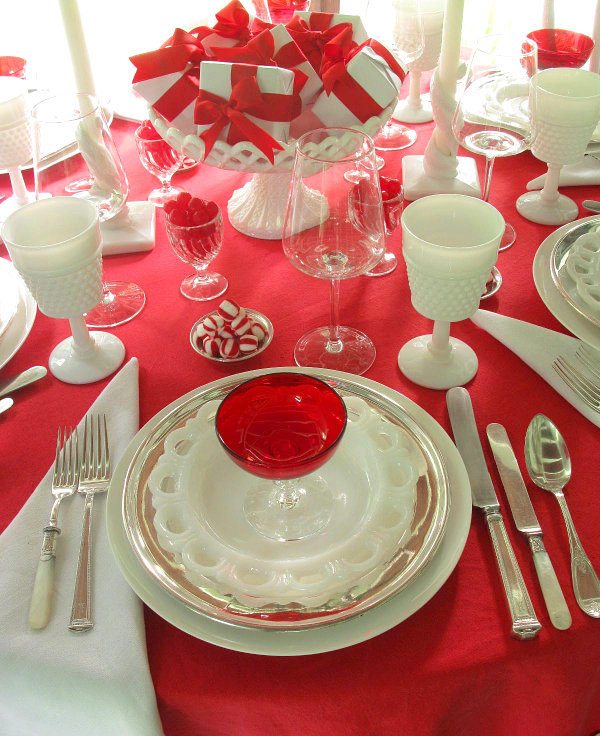 Crisp green and white with a dash of silver makes an elegant statement in this festive table by Camille Styles. Featuring flatware, dishes and accessories from Kate Spade, this gorgeous spread is a modern twist on traditional style. And there's even a fabulous video that shows you how to put it all together!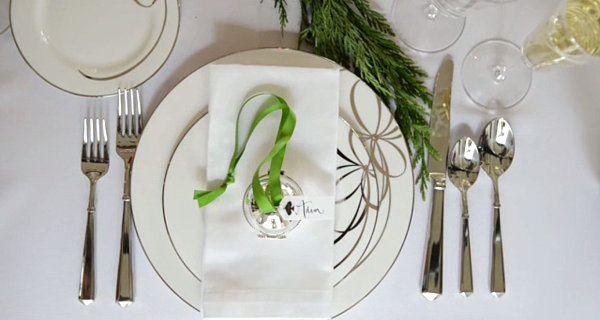 Entertaining a group? You can't miss this fresh, earthy table styled by Jenn Elliott Blake. A salvaged denim garland hangs overhead, while the table features plants, candles, napkins, plates, silverware, glasses and menus. And you've gotta love those tree stump stools! For more details (plus a video), head on over to The Fresh Exchange…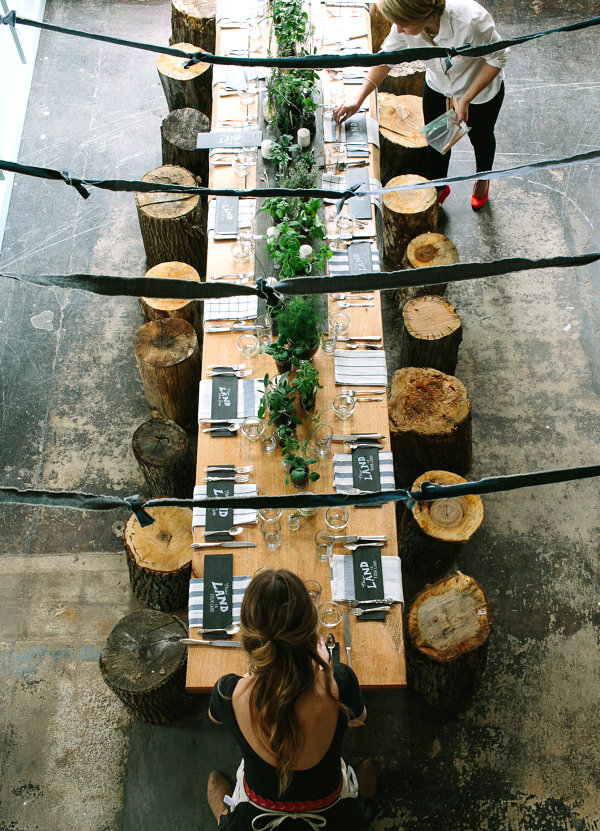 A snowy winter scene is the backdrop for the classic yet refreshing Christmas table below. Let's hear it for plaid, boxwood and red flatware from Target! Don't forget about earthy touches such as twigs and pine cones… [from Sweet Something Designs]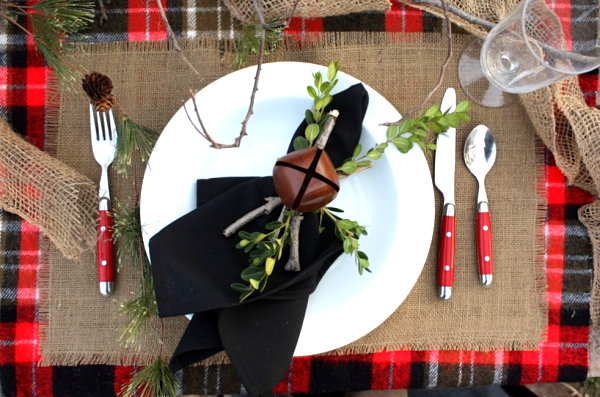 …And Everything in Between
We've showcased holiday table designs in red and green…and now it's time to hit everything in between! Sometimes the most unforgettable Christmas tables defy expectation. That's why we love this next table styled by Eddie Ross. There's something about the peach and gold palette that is undeniably festive. And we love that we never would have thought of it ourselves! Original and dreamy, don't you think?!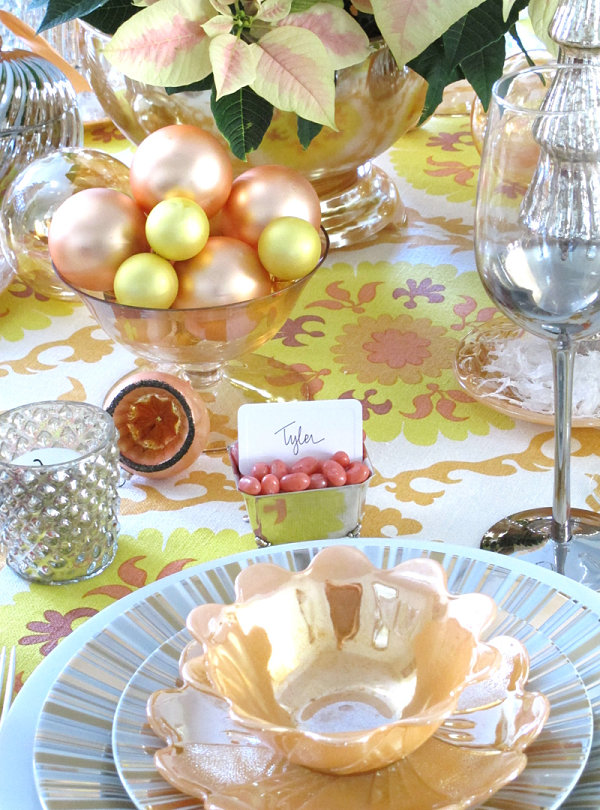 While the majority of today's featured holiday tables are dining vignettes, we wanted to add a quick reminder… Don't forget about the other tables in your home. Such as the cocktail table that holds your bar supplies. Or the coffee table where you'll serve appetizers! These silver and gold selections from Crate & Barrel are sure to complement any holiday palette. So chic!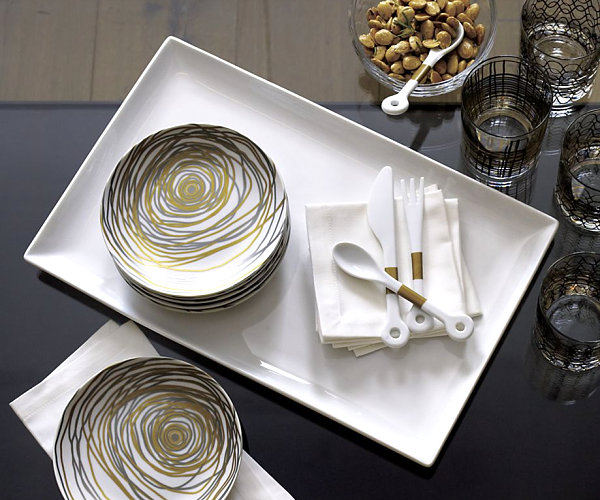 Shades of blue punctuate this glorious holiday table from House to Home. However, the true focal point is the sleek, ornament-filled centerpiece that hangs overhead. Definitely unexpected…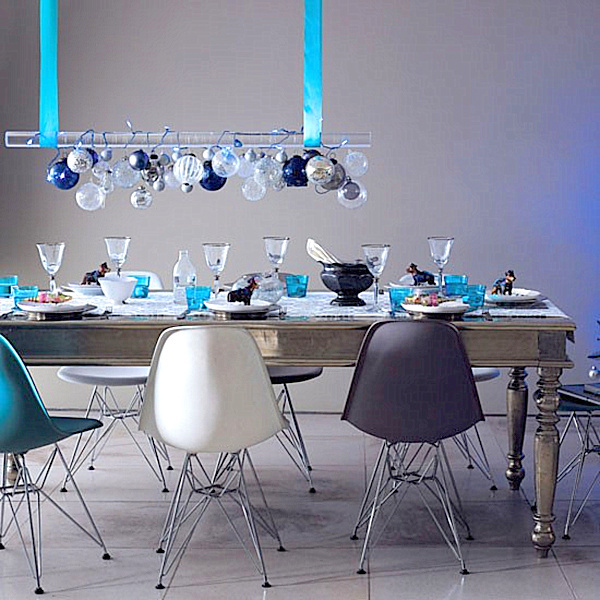 We end with a delicious spread featuring black, white, red and a bit of blush. And we can't forget the use of gold, which showcases one of this year's top interior design trends! Undeniably modern yet undeniably elegant, this table takes holiday glamour to the next level. [from Lonny via So Chic]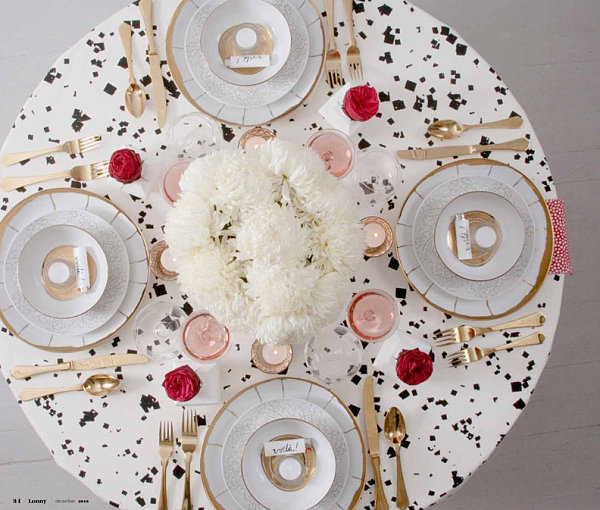 Which table above is your favorite? Let us know in the comments below...