It seems like everywhere I look, I see flashes of gold. No, I don't need to make an appointment with an optometrist. What I'm seeing is a glimpse of one of today's biggest interior design trends, not to mention the hottest color option for the new iPhone 5S! And why shouldn't it be? For years, materials such as brass were cast aside and labeled as inferior to silver tones. Even gold wedding bands were snubbed and seen as outdated. My prediction: they'll be making a comeback as well! But for today, our focus is gold-toned decor. Would you add a dash of gold to your interior? Check out the images that follow, then tell us what you think at the end of the post…
Gold Decor for the Kitchen and Dining Room
We begin with the kitchen and dining room, as these spaces are perfect for flirting with gold before introducing into the rest of your home on a larger scale. In fact, a wide range of amazing culinary products are available for your perusal! Take the Eileen Gold Coffee Press from Bodum, named after renowned designer Eileen Gray. Shown here as an 8-cup coffee press with a gold-toned finish, this piece has taken the blogosphere by storm. We can see why… [via Starbucks]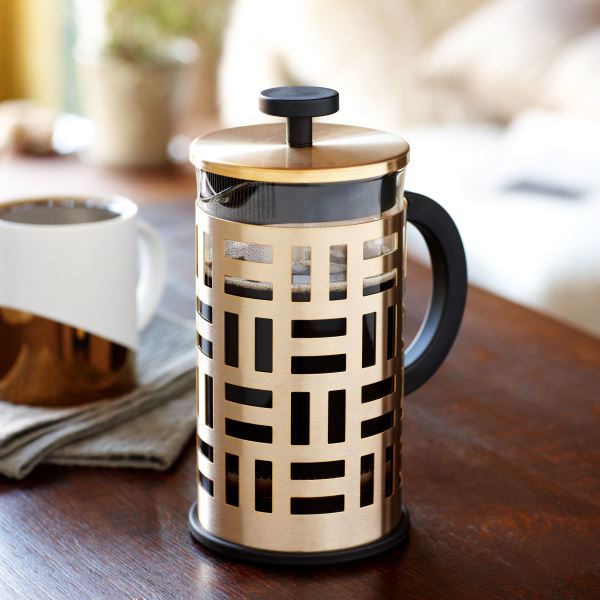 Go with a band of gold on the dining table. Or a square of gold. How about a triangle or a hexagon? This Gold Napkin Ring Set from West Elm features four different shapes, as well as a construction of brass in a gold finish. We love the way the rings warm up even the brightest of white napkins!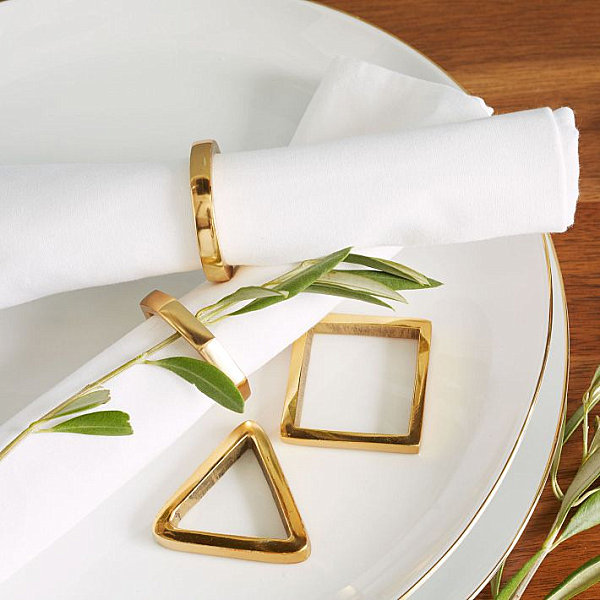 This Porcelain Gold Band Flatware from Crate & Barrel is perfect for holiday entertaining. Gold-banded white porcelain is striking, unusual, and oh so festive, don't you think?!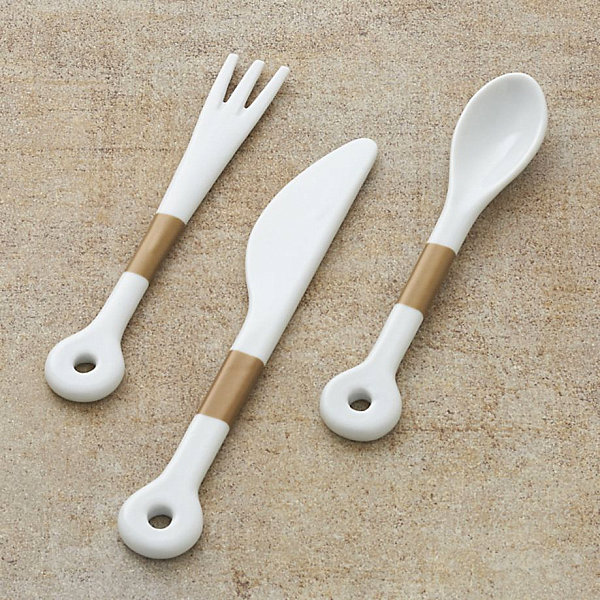 On a similar note, check out this Gold Cheese Knives Set from West Elm, crafted of gold electroplated stainless steel. Perfect for spreading, spearing or slicing, they are also particularly fetching when contrasted with darker surfaces, such as the gray of a slate cheese board. Not to mention, their elegance will take your foodie display up a notch…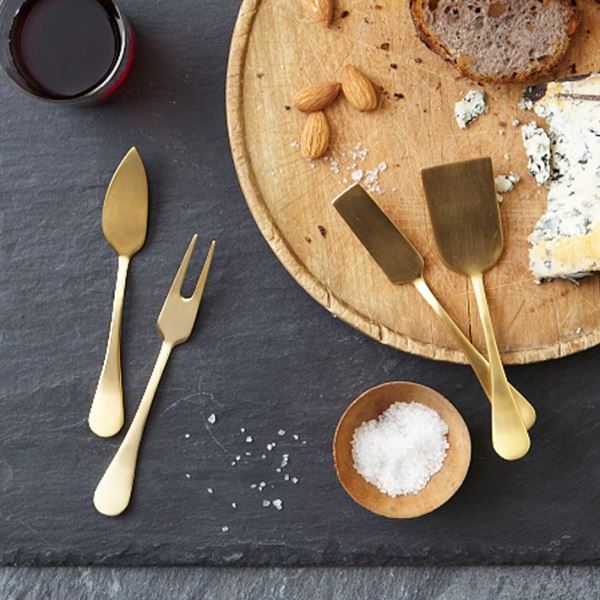 Gold-Toned Lighting
Gold has really put its stamp on the lighting world. The Calyx Pendant from Atelier Areti features a construction of solid cast brass. A dainty form is contrasted with the geometric glow of a large round bulb. Did we mention that these lights were handmade in Germany?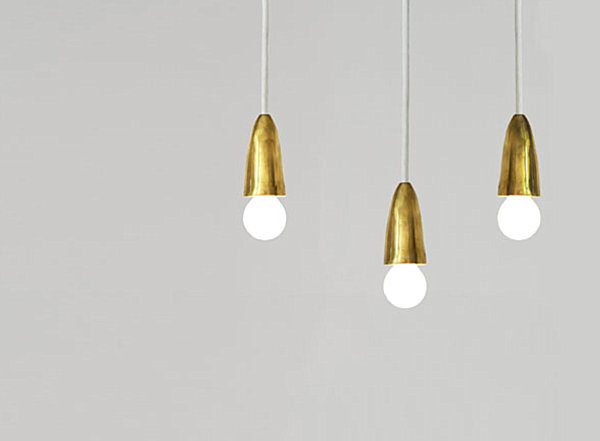 Many of today's featured finds are chic, classy and upscale in appearance. Which is why we love the contrasting industrial look of the Emmett Pendant Brass from Crate & Barrel. Exposed hardware creates a casual look, while a white-coated interior enhances the glow of the bulb: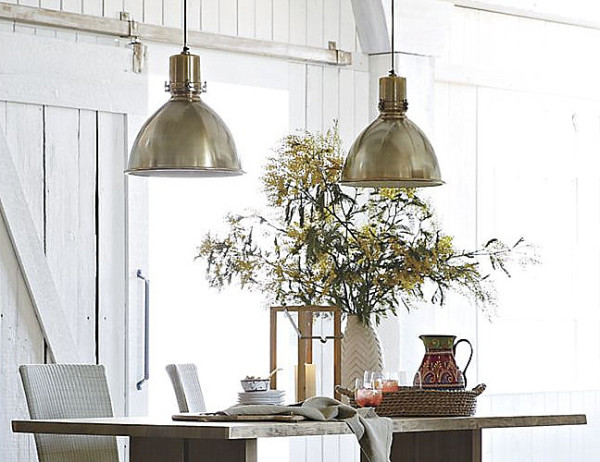 We're such big fans of the Perch Table Lamp in Rose Gold from West Elm, we featured it in our recent post on winter decor. The piece's unique shape is matched only by its Mid-Century style. Not to mention, the lamp's size makes it perfect for nightstands and console tables.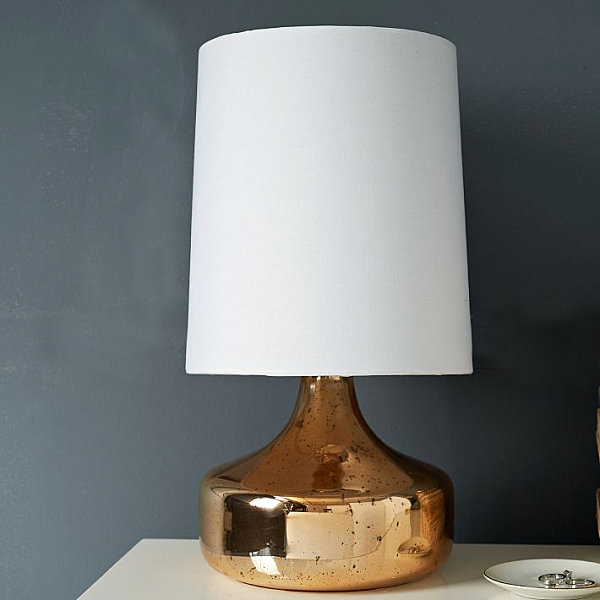 Ready for a real showstopper?! The Solange Table Lamp from Jonathan Adler is sand cast from solid brass and finished by hand. A ceramic prototype is used to create the brassy mold. The result: a geode-like shape that sparkles with mineral flair. A mixed metal base and tortoiseshell paper shade make this piece a true work of art!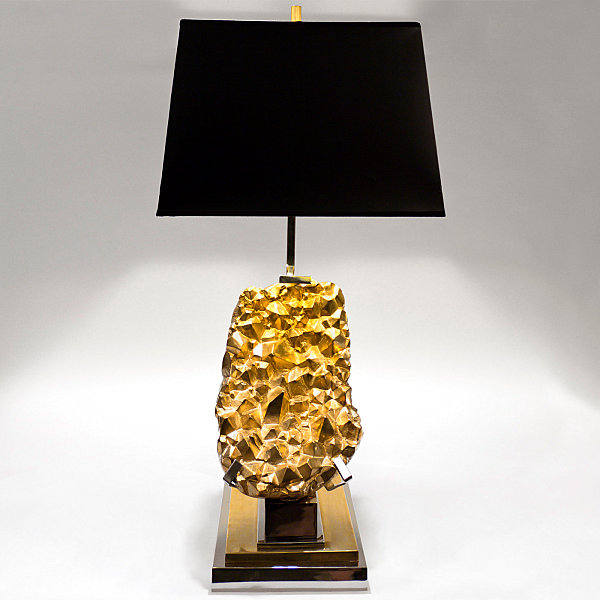 Unexpected Golden Accents
We end with a few golden accents that add a dash of unexpected style to your interior. We were blown away by the chic simplicity of this DIY Gold + Acrylic Clipboard tutorial from Design Sponge. You need little more than cut acrylic (which can be special ordered or purchased at a big box hardware store), as well as spray painted extra-large binder clips. A little effort yields a big payoff. And an elegant one at that!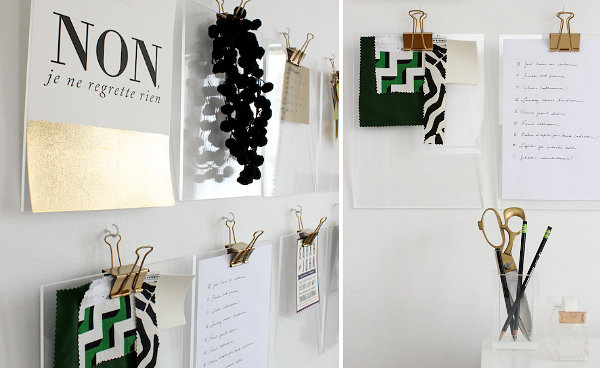 Below we see the Solid Pillow with Metallic Gold Pillow Cover from Williams-Sonoma, a selection that features a luxurious take on earthy style. A gold leaf effect is created by metallic gold accents on Brazilian cowhide: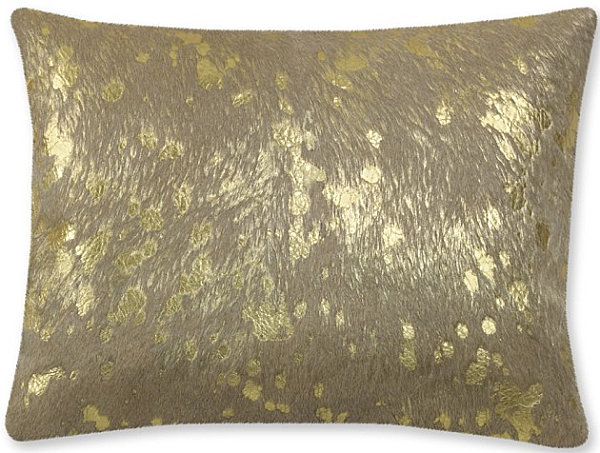 We can't take our eyes off these Shimmer Jaqcquard Bath Towels from Pottery Barn. Made from woven Turkish cotton, these super plush towels seem to sparkle with veins of gold. Which makes them ideal for upscale bathrooms that channel the glamorous allure of fine minerals…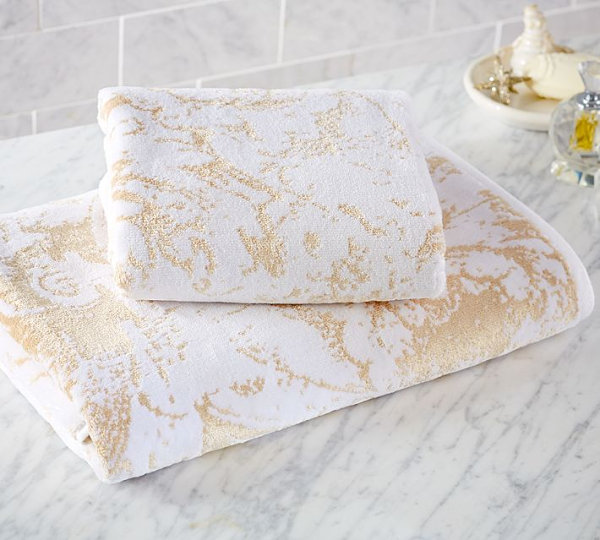 We end with a piece as unusual as it is powerful. It's the Giant Brass Horn from Jonathan Adler, sand cast in solid brass then hand polished for a shiny effect. Make it the centerpiece of your table–the sculptural style can't be denied. Who says brass is traditional?!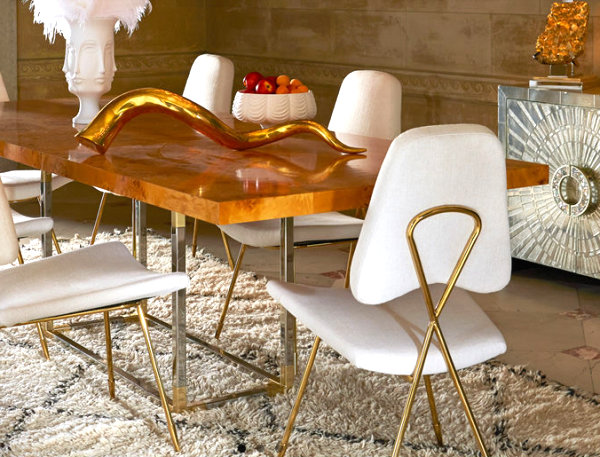 Feeling the warm glow of the gold-toned images above? So are we! Tell us about your favorite selections from today's roundup by leaving a comment below…