Ever had a tiny bathroom? Chances are at some point in your life, you will! My tiniest powder room was a space inside my studio apartment, a residence I truly loved and happily lived in for six years. But even if we graduate to larger spaces, compact bathrooms are a way of life. I know plenty of people with large master baths but tiny guest baths. Or that under-the-stairs powder room space that's charming yet super small.
Good news: There are plenty of clever solutions for making the most of a tiny bathroom. One of today's most popular design choices involves a clean, fresh approach with modern lines and minimal clutter. Another option is to make a bold choice, such as the use of a striking paint color or vibrant wallpaper. And you can't deny the power of effective storage solutions! The key is maximizing space, and we've got some decorating answers to share with you. Today we round up some of our favorite compact powder rooms and take a look at what makes them work…
Clean Lines Create a Sense of Space
Let's start with clean lines. One tactic for making the most of a compact space involves the use of uncluttered, refreshing design. Modern fixtures, cool-toned tile and glass shower doors create a contemporary clutter-free statement, as shown in the powder room below. [from Design Line Construction, Inc.]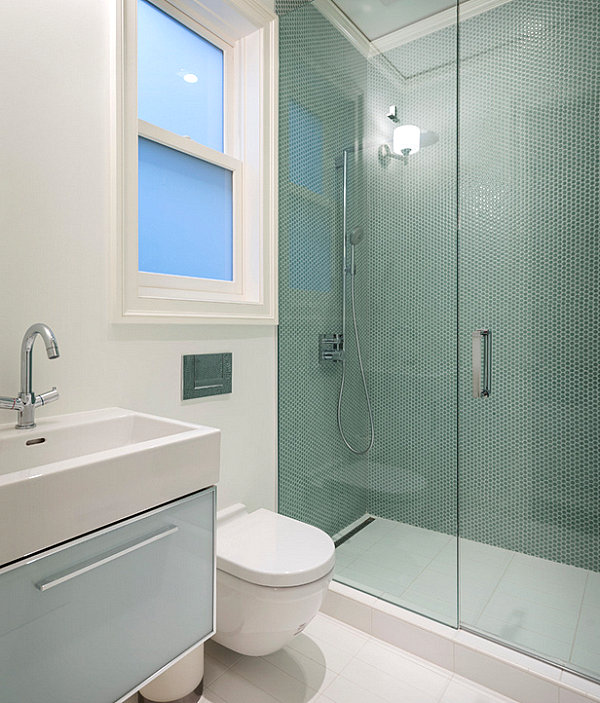 Another popular design choice: neutral tones. From crisp white to warm taupe, colors that are soothing rather than jarring can create a spa-like atmosphere in a small bath, as shown in this next custom space… [from Christine White Design]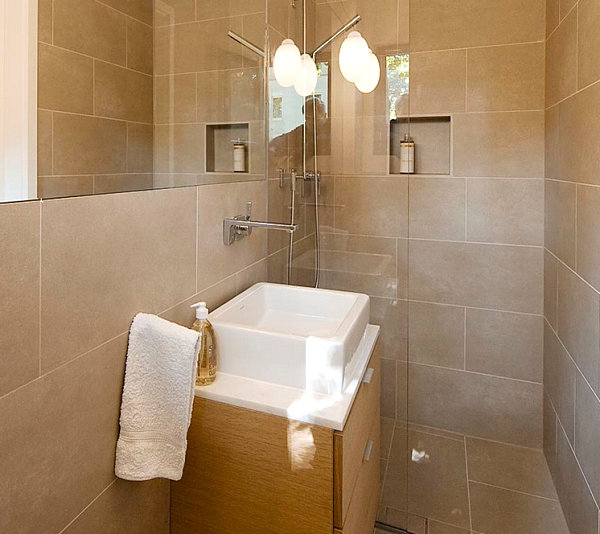 Speaking of spa-like details, below we see a bowl of bath salts next to an inviting tub. While this image is actually from a Napa Valley hotel spa, it's a great reminder that little details can make a big difference. No-frills decor is beautifully embellished with decadent accents such as fresh greenery and gorgeous bath products. [from Lonny]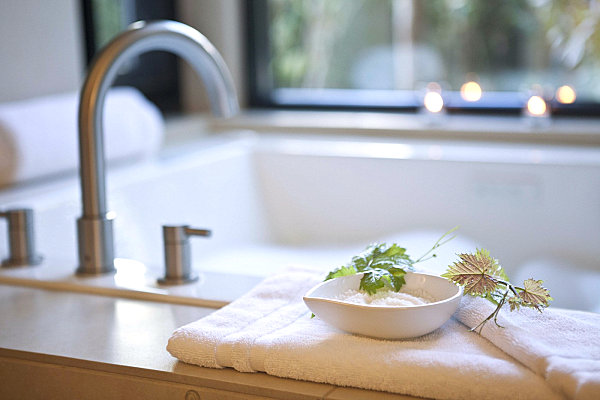 I won't deny that I'm a huge fan of greenery in the powder room. My bathrooms are filled with cream tile and white walls, and while I love the simplicity of the palette, I enjoy jazzing it up with a vase of flowers or tropical leaves. Below we see a similar approach in this compact space from Nurit Geffen-Batim Studio: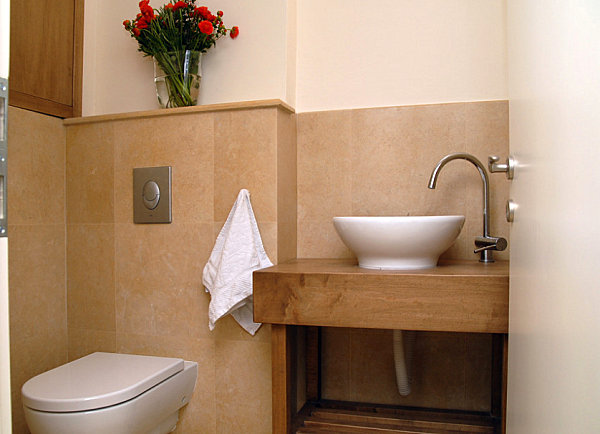 When space is tight, it never hurts to showcase premium materials, such as marble. The compact bathroom below stylishly incorporates marble into the design. We're also loving the curved double sink and small hexagonal tile. The result: a space that combines the best of vintage and modern design. [from Lonny]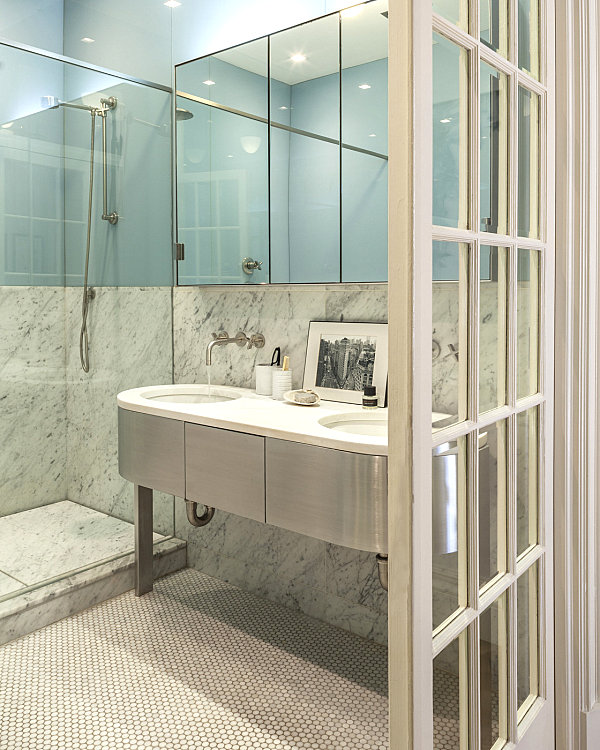 Bold Choices Add Flair
From crisp and neutral to bold and eye-catching… Another approach to tiny bathroom design is the use of standout features that make every square inch count. In this Hope Alexander custom bathroom featuring Granada Tile, we see the eco-friendly Alhambra pattern, which creates a lacy effect on the floor and walls… [photo by Elizabeth Daniels Photography]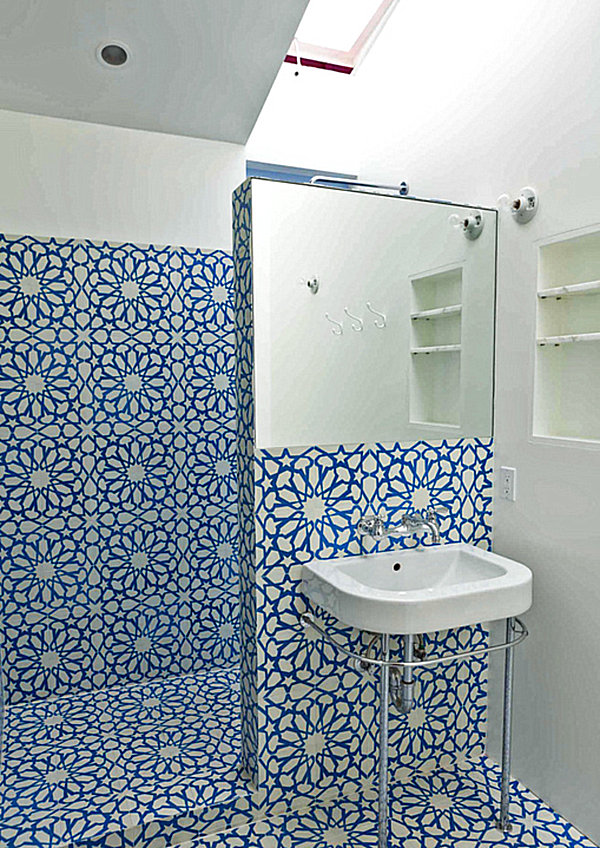 This splatter wallpaper is modern and fabulous without overpowering the space. Plus, it's the perfect backdrop for bold red lamp-style wall sconces! [from Lonny]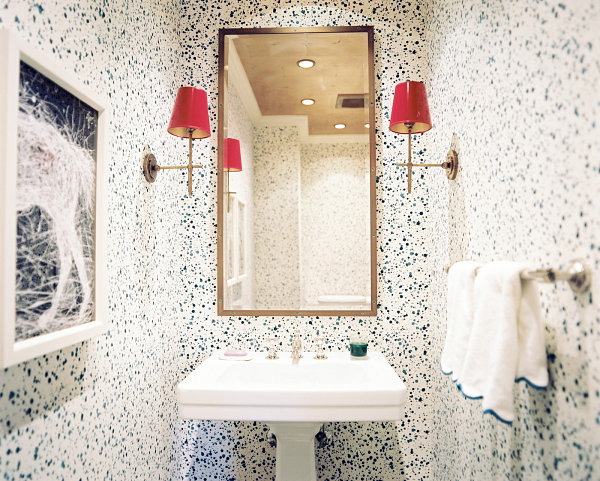 Another option for a tiny space is the use of wallpaper on an accent wall, such as the wall behind the sink. Below we see frame-motif wallpaper that creates a charming yet modern look. [from Lonny]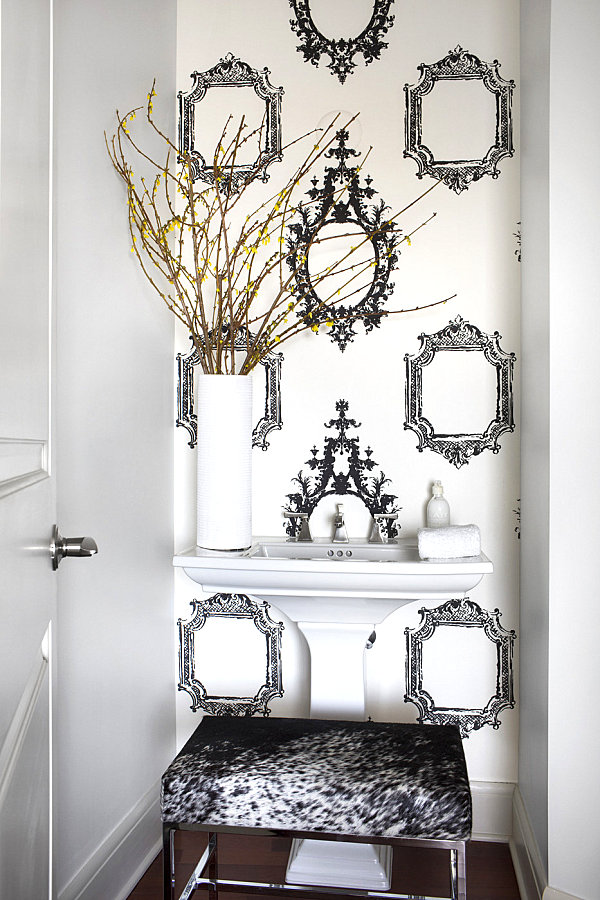 Floor space may be scarce in a compact bathroom, but that doesn't mean you can't make the most of your wall space. Choosing materials such as bamboo and glossy tile in ocean hues really makes a statement, as does stylized lighting, as shown below. [from Works Photography for The Sky Is the Limit Design]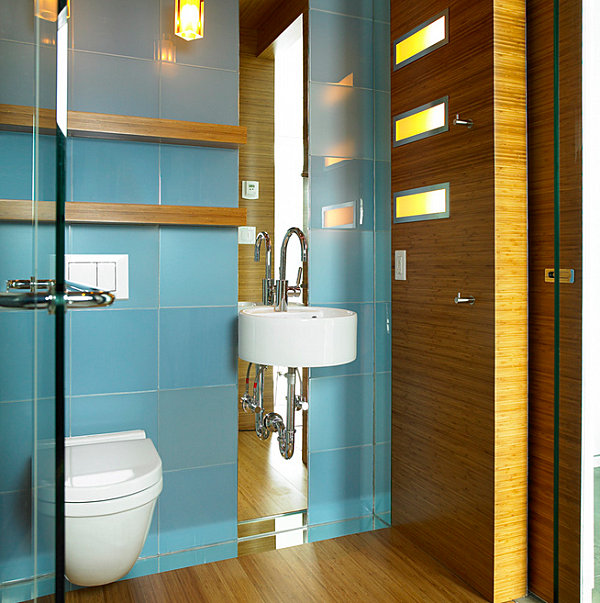 Some folks are afraid of bold colors in small spaces, but others see a compact room as the perfect place to try out a hue or pattern they would never feature in a larger area. Not only are we a fan of the bold red color in the bathroom below, we love the use of overhead storage as a space-saving solution for towels. [photo by Becki Peckham via Adventures of the Uncommon Common Law]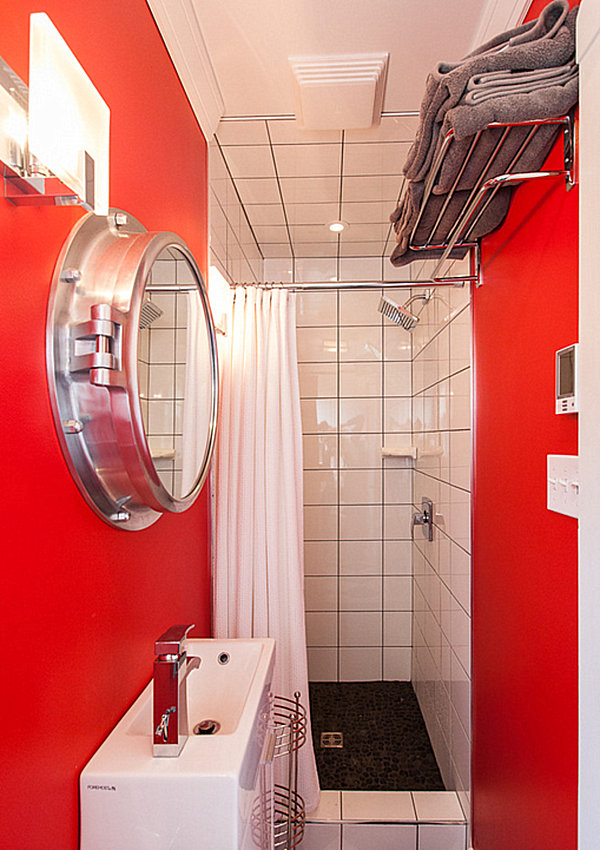 Space-Saving Solutions
…And speaking of space-saving solutions, they are an absolute necessity for tiny bathrooms! Recessed shelving is a popular choice, as it allows for wall storage without infringing on the room's square footage. If your shelving is open, make sure you neatly arrange items so your compact bathroom doesn't look cluttered from floor to ceiling. [from PMK+Designers]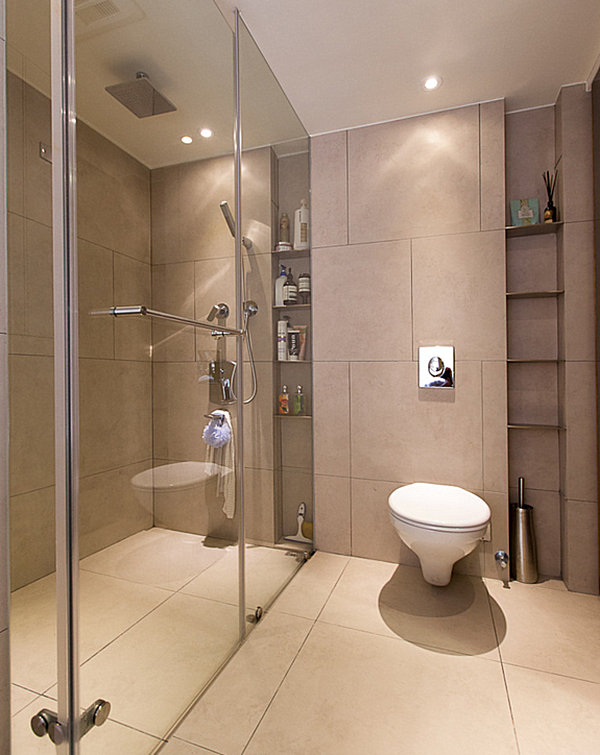 If recessed storage isn't an option, there are some amazing solutions that you can purchase for your small space. The Grid Tower from CB2 features five levels of open shelving (six if you count the top). It's stylish, minimal and perfect for modern powder rooms…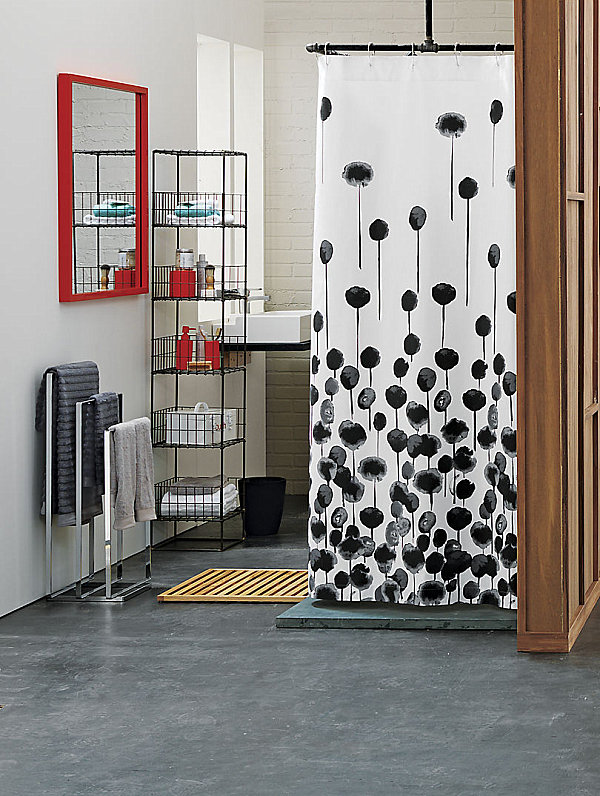 Isn't the horizontal window shelving below a clever use of space? In a small bathroom without much room for decor, this is one way to keep functional areas clutter-free while adding a dash of green design! [from The Red Jet]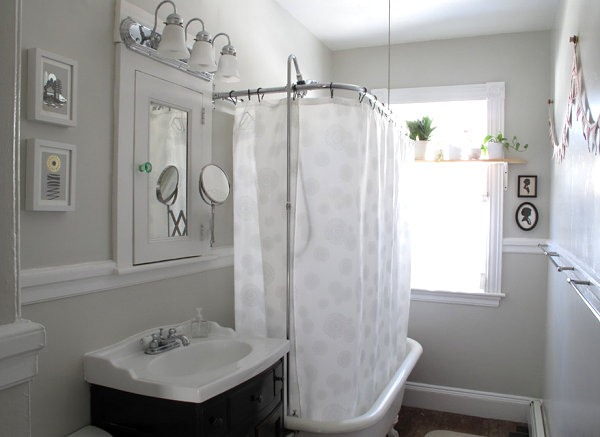 While it's nice to think that all grooming products can easily be stored behind cabinet doors, some bathrooms simply don't allow that option. What's a design enthusiast to do? How about using a glossy tray to contain loose items or display beautiful toiletries?! [from Lonny]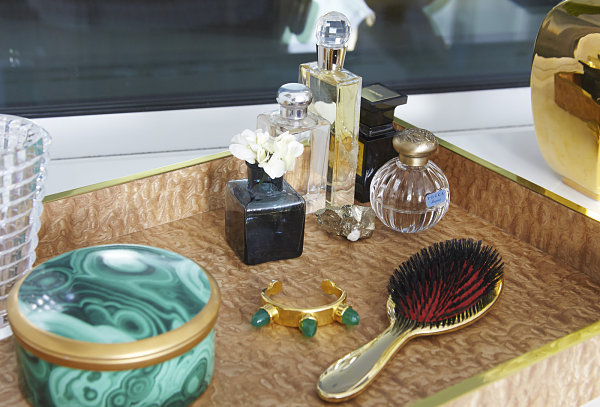 Choosing tidy bathroom organization products can make a big difference. I'm a huge fan of apothecary jars and clean-lined canisters, such as the selections below from CB2. This modern retailer also has a wonderful selection of solid and metallic bathroom containers, including affordable modern soap dispensers.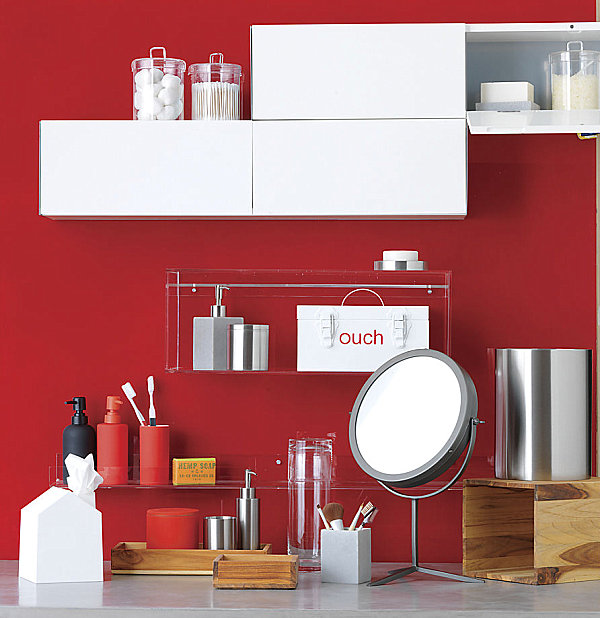 Another space-maximizing solution? Unifying your flooring for an open feel. For example, the small bathroom below features flooring in an earthy shade of brown. While the tile differs from bathroom floor to shower floor, a unifying color ties it all together. [from Designing Richmond]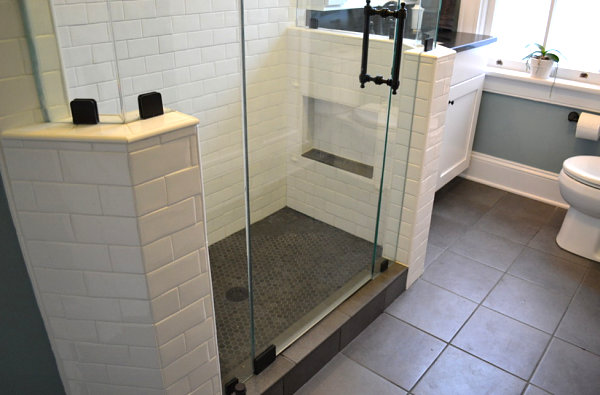 We end with one of our all-time favorite bathroom accessories: the Chrome Towel Rack from CB2. Not only does this product create a chic way to store towels when cabinet space is scarce, its chrome-polished metal construction is the ultimate in modern style!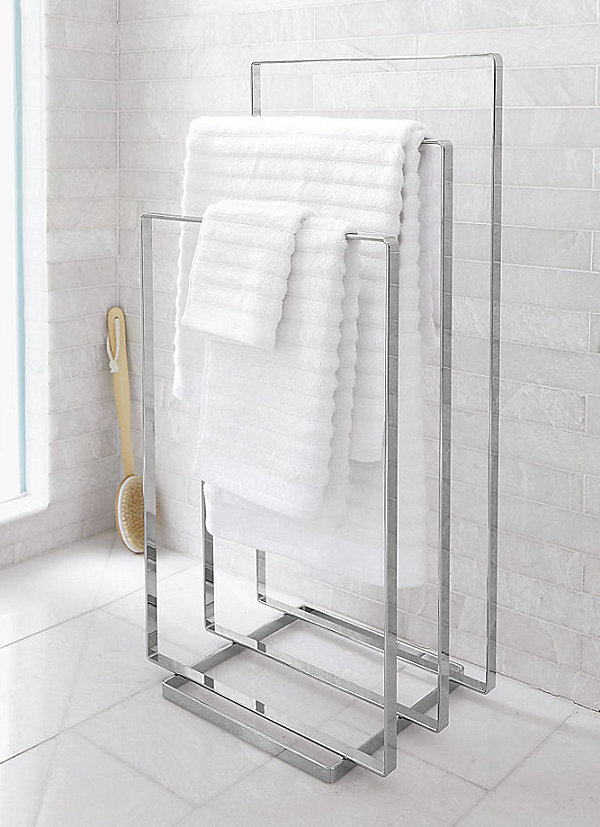 From recessed cabinets to compact freestanding shelving, there are plenty of ways to make a small powder room functional. And the design possibilities are endless. Would you paint your bathroom a radiant shade, such as red? Would you wallpaper a compact powder room to make it stand out in your home? We'd love to hear your design ideas…