Does your bathroom look like the one below, complete with ample storage surrounding the double vanity? If so, it's possible you still feel like you don't have enough space. Why? Because we often house a variety of items in the powder room, from towels and extra sheets to tissue and grooming products. And if you're sharing the space with another person, the situation gets even trickier! [from Kitchens & Baths Unlimited, Inc.]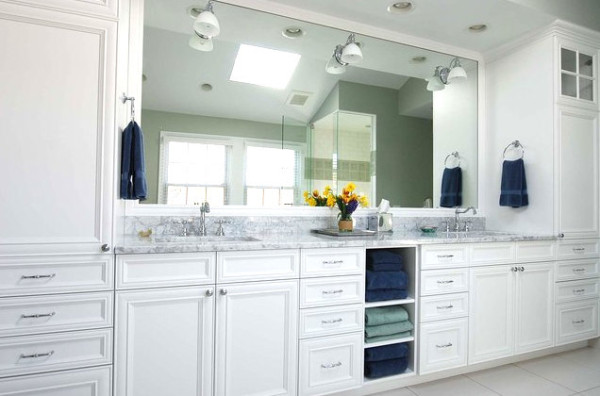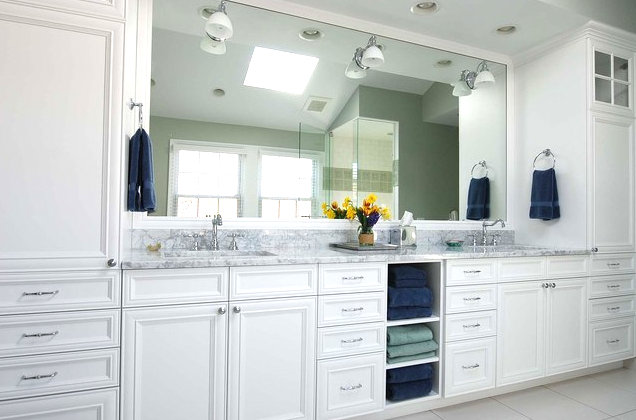 If your bathroom is particularly small, storage is an even bigger challenge. Storing as much as a stack of towels can seem like a huge feat in the tiniest of powder room spaces, but don't give up. Today we present a range of options for maximizing bathroom storage. Whether you have the luxury of custom designing a closet or you're hoping that a few earthy baskets will do the trick, we've got you covered! Check out the storage solutions below, then tell us what you think at the end of the post…
Built-In Storage Solutions
Our first group of storage options involves built-in solutions. And by that, we mean storage that's a permanent part of larger areas, such as the vanity or the closets. In fact, if you're in the market for a vanity, you can make a good storage decision from the start. Choose a piece with under-sink storage, such as the Hutton Extra-Wide Single Vanity from Restoration Hardware. If you're looking for darker tones, note that this piece has several options for wood finishes, such as charcoal and obsidian…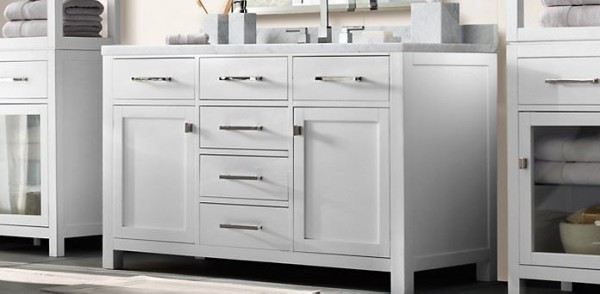 This next bathroom featured in an issue of Lonny includes open shelving under the sink. Note how earthy baskets are the perfect way to store and conceal items in this relaxed setting!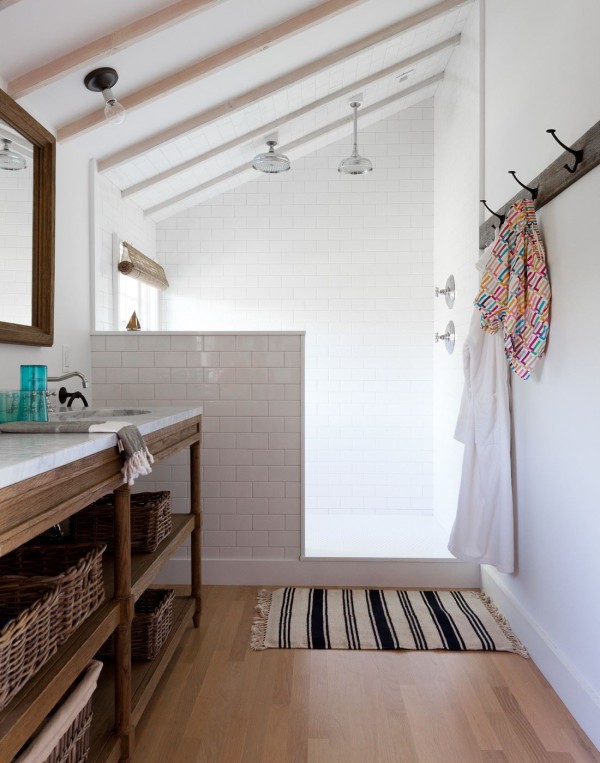 Another popular idea involves built-in drawers that make plenty of room for items such as hair styling products. Say goodbye to tangled cords and disorganized cabinets. When you have a purposeful drawer like the one below from The Furniture Guild, every item has its place. And that's one smart way to ensure your powder room is tidy!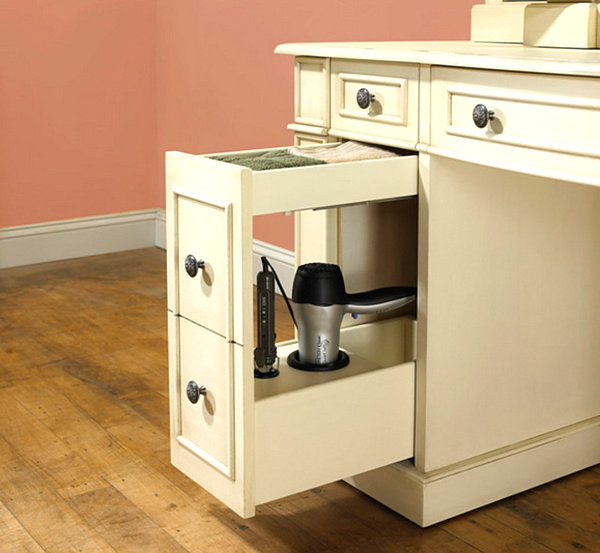 We see a similar drawer below from Robin Hiken Interiors. However, instead of each opening perfectly accommodating a specific styling item (like a hairdryer), this option involves two cylinders that can hold a variety of products, from straightening irons to brushes and combs. Definite possibilities here…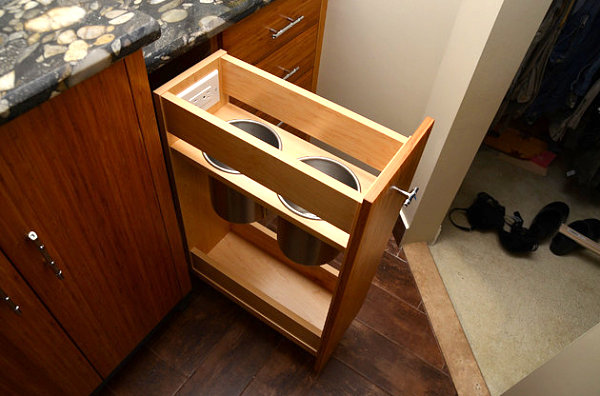 Who says mirrored panel are outdated?! This bathroom from Ian Moore Architects is full of them. We're assuming there's some good storage behind that top row of mirrored rectangles. This is not your traditional medicine cabinet…and that's exactly the point!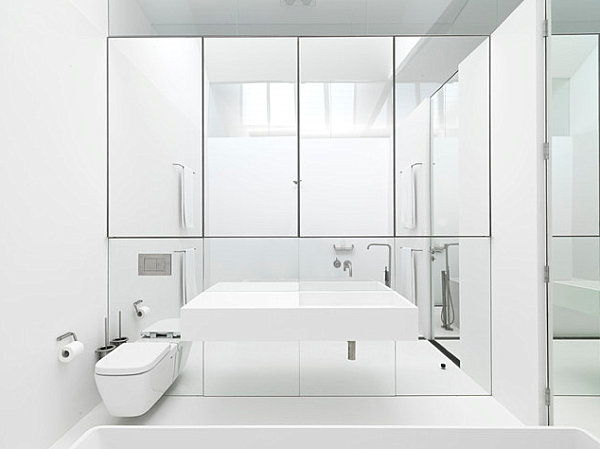 Another amazing option for your closet space is the use of a custom storage system, such as the one below from Capital Closets. Towels, tissue, bath products and other items are neatly stashed in size-appropriate shelves that maximize storage space: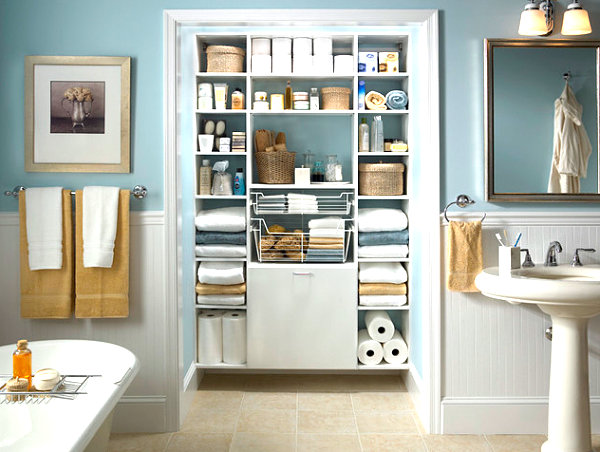 If ample closet space isn't available, don't forget about the option of open shelving that extends from the wall. This next featured powder room makes the most of its wall space, thanks to a series of wooden shelves that house everything from rolled towels to decorative items. [from Wanda Ely Architect Inc.]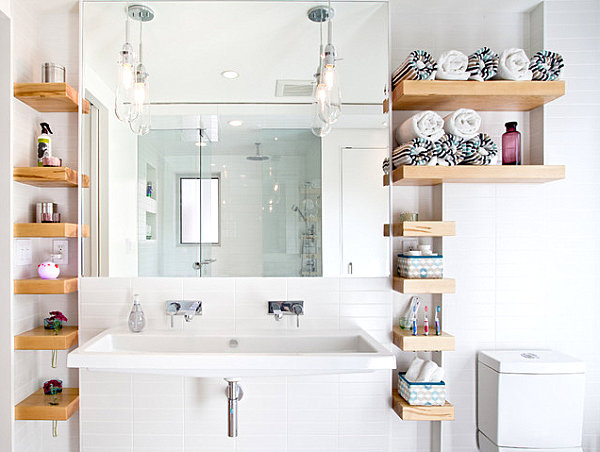 Simple Yet Effective Bathroom Storage Ideas
We now move on to some simple storage solutions that should work in most powder rooms. You shouldn't need the help of a professional to add these space-saving flourishes to your bathroom! We were very drawn to this image from Lonny, which features a mirror with a protruding wooden frame. Two ledges are created, perfect for displaying decorative smalls, as well as holding grooming products: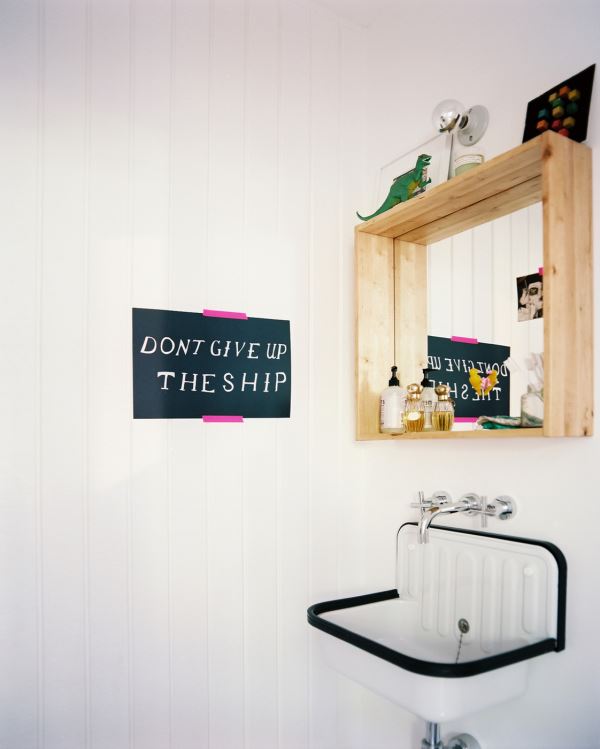 And we can't forget the helpful addition of a towel rack. This Brushed Steel Wall Mount Towel Rack from Crate & Barrel boasts a chic contemporary look, as well as a compact form that's perfect for snug spaces: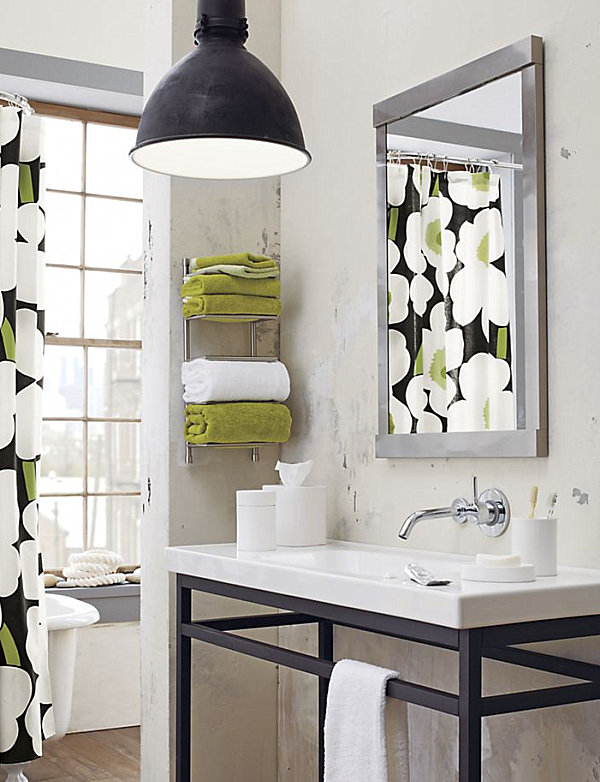 If you need a hefty dose of storage and closet space is scarce, don't forget that you can always add a substantial furnishing, such as a hutch. Not only do these pieces add character to a powder room, they are perfect for storing items such as towels, cotton balls, soaps and decor. [photo by Corynne Pless]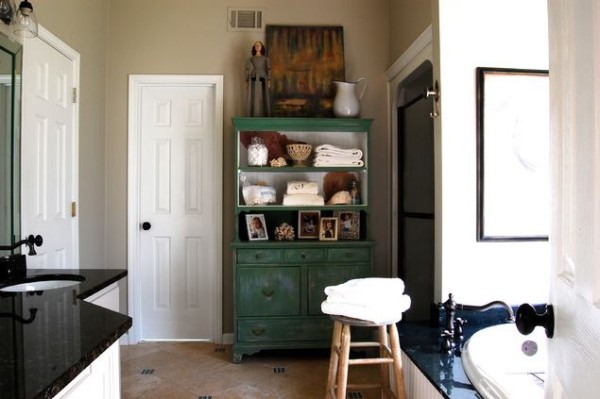 We see another sturdy piece in the space below. Glass doors create a curiosity cabinet feel, especially since the items inside are artfully arranged. Anyone else inspired to relax by the luxurious items in this bathroom? [from Your Home Architect]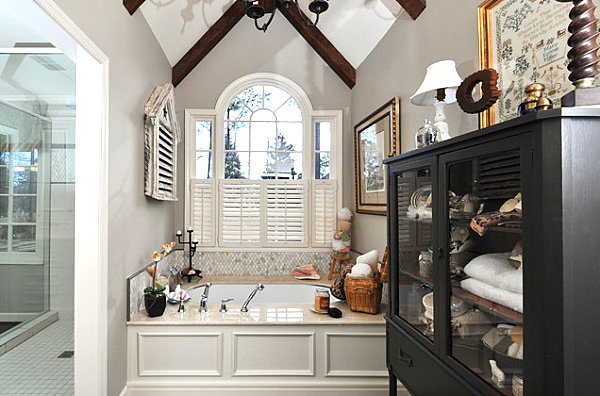 Our next featured space includes a Hollywood Regency-style lacquered chest. Everything is completely concealed, except for some stylish adornments that rest on top of the piece. How perfect is that Kelly green lacquered tray, filled with a lovely vase of flowers and a trio of paper napkin sets!? [from Lonny]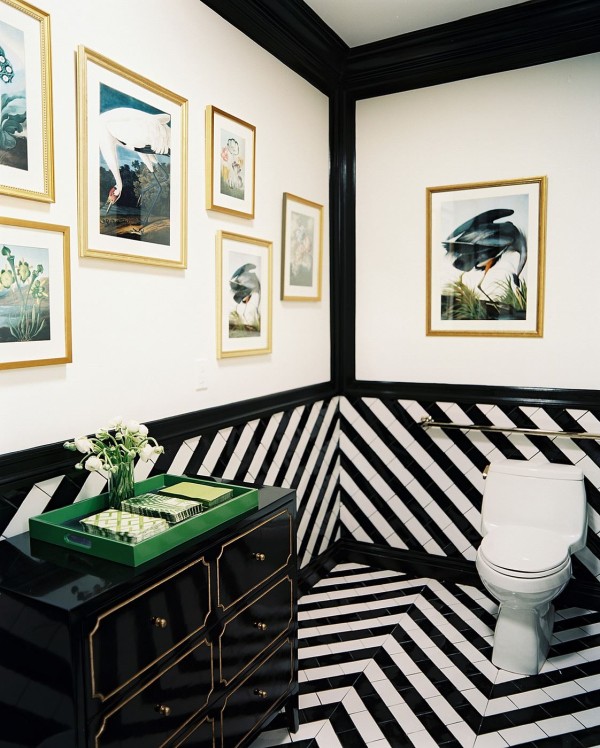 If you're searching for a less formal look, check out the Dutch Industrial Collection from Restoration Hardware, complete with a "pipe chic" vibe and wheels that make these storage units mobile. Plus, the pieces come in a variety of sizes so you can find a good fit for your space: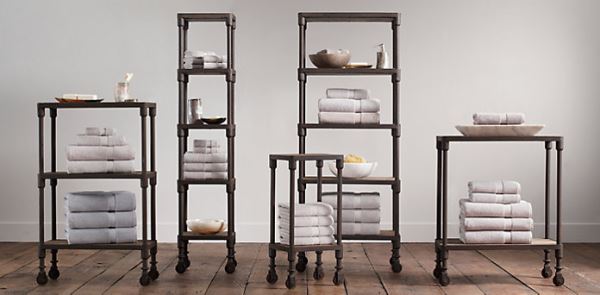 We're crazy about the small mirrored storage piece in the next image from Lonny. A perfect solution for a small bathroom, it adds a touch of glimmering style while making room for the products that keep you stylish: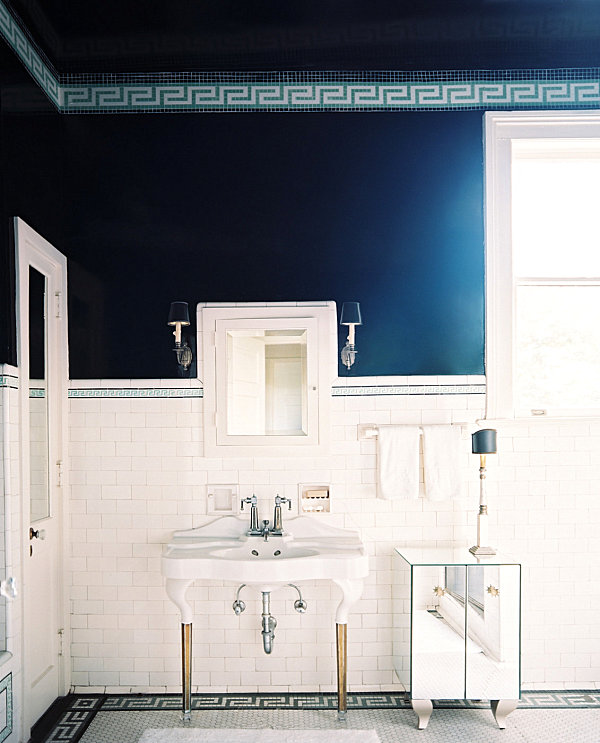 Don't forget about the small items you can buy to organize the space you already have. In fact, how many of us have cabinets that hold products half their height? Think of all that wasted space! What if you doubled your storage options by adding some shelving so you could stack items in an efficient arrangement? This Small Cabinet Organizer with Drawer from Crate & Barrel is the perfect solution. Now if only the inside of our cabinets looked that tidy…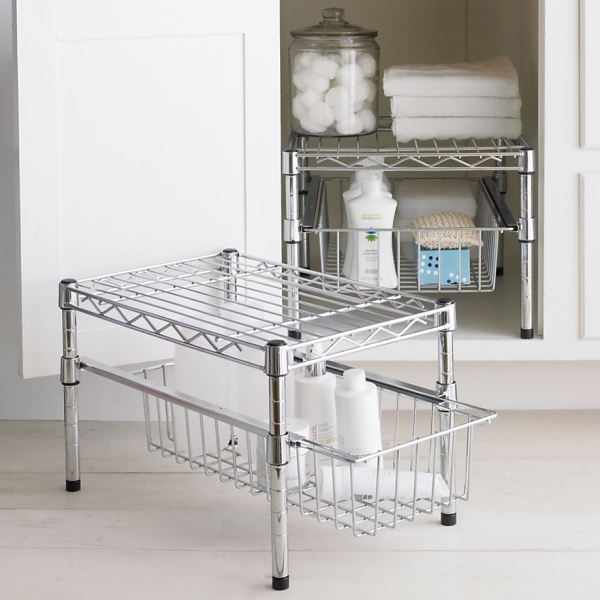 And if storage isn't hidden and you're wanting to conceal the contents of each compartment, you can always go with Eucalyptus Storage Boxes from CB2. Eucalyptus planks and a slatted design make these pieces earthy yet modern.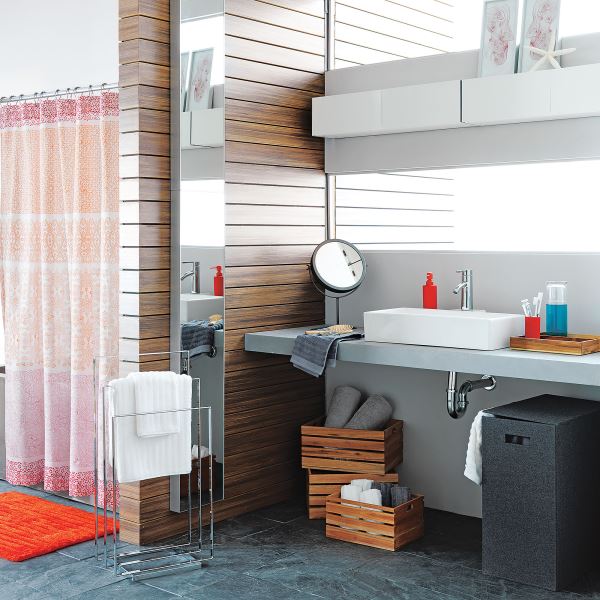 Did any of the storage solutions from today's post catch your eye? Or perhaps you have a storage solution of your own that you want to share! Leave a comment below…