We know that photos can be an amazing source of design inspiration, so this article may contain affiliate links that will direct you to a particular decor item. Clicking on a link may result in a portion of proceeds being paid to www.decoist.com
Sharing a home office sounds like a great idea at first glance. It saves up plenty of space and instead of having to create two different rooms; you can combine the workstations to create one flowing space. But shared workspace designs involve plenty of planning and often a hint of compromise here and there. From couples who work from home to a shared bachelor crib, they are perfect, space-saving solutions available to us. Yet, it is important to keep in mind the diverse and individual needs of each occupant while designing a twin workstation.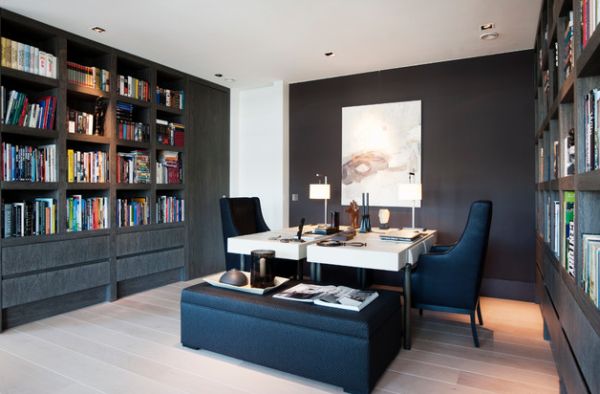 by LEICHT New York
Shared workspaces can be loads of fun when done right and if you are young couple immersed in work, it is the perfect way to spend some time together even while sharing a few light moments in-between.
Before you look at some unique room designs, we also curated a collection of everything you'll need if you're still figuring out your shared workspace.
Shared office must-haves: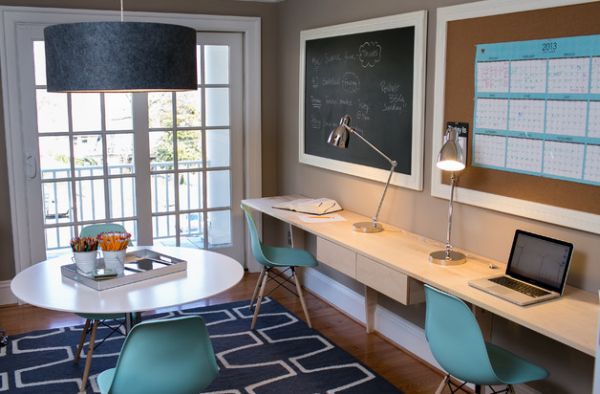 by Residents Understood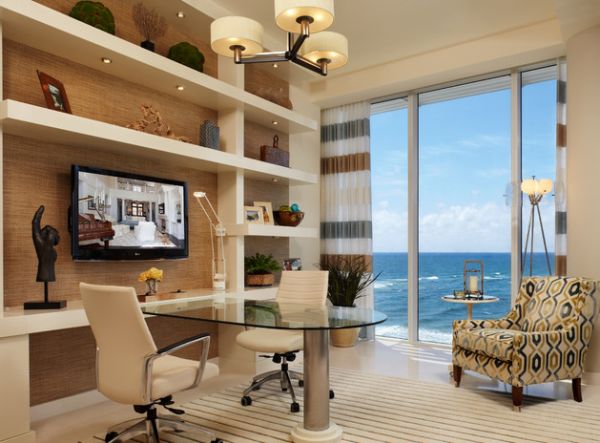 by The Decorators Unlimited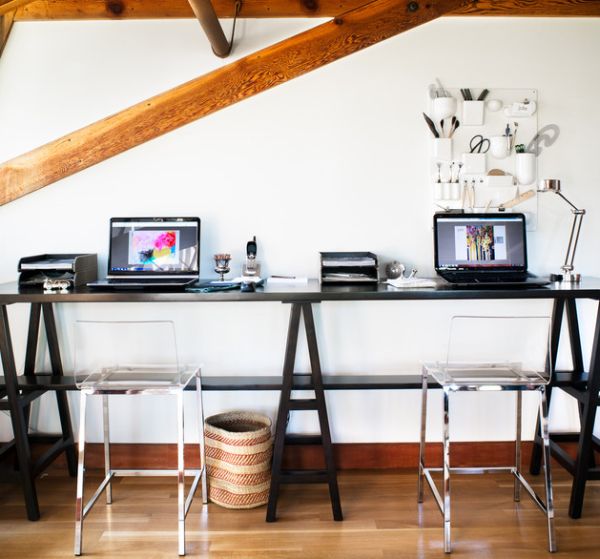 by Jute Interior Design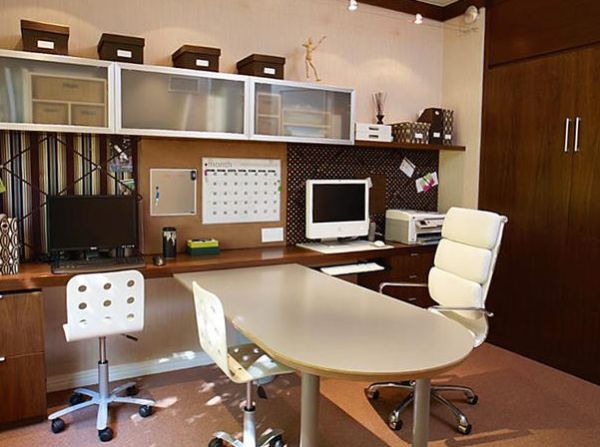 by Derrick Tamara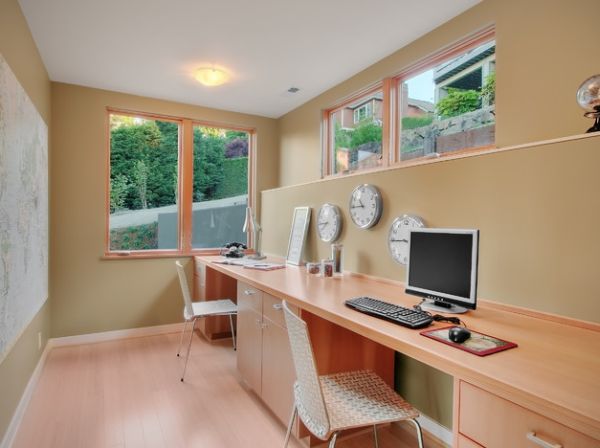 by David Neiman Architects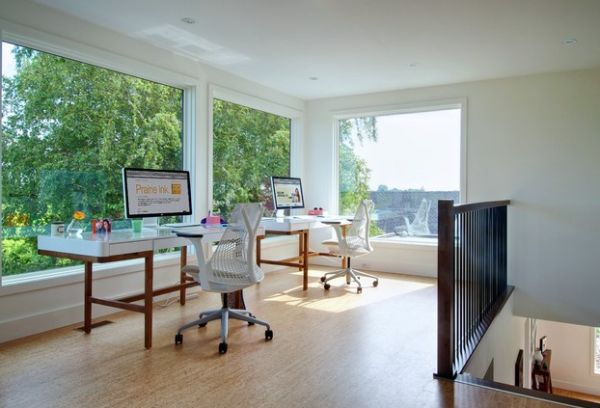 by Andrew Snow Photography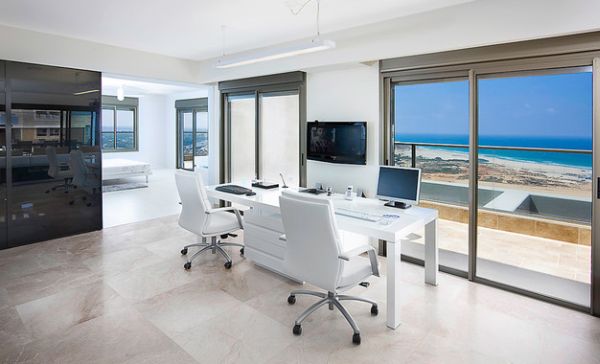 Space and Lighting
Space is an absolute premium in many of the modern homes and sharing a workspace helps immensely in this regard. You need not have a spacious and exclusive room for your home office. In fact, many of the designs on display here make smart use of whatever little nook they can find. Attics and lofts make for lovely home office setups and their isolation creates a wonderful work environment. Add to this a window with a view and you have natural light streaming through all day long.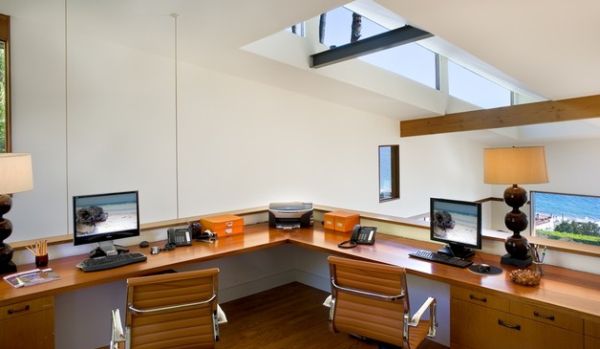 by Tracy Murdock Allied ASID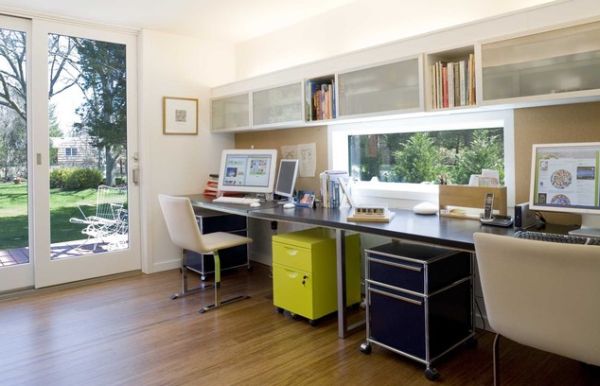 by ASAP House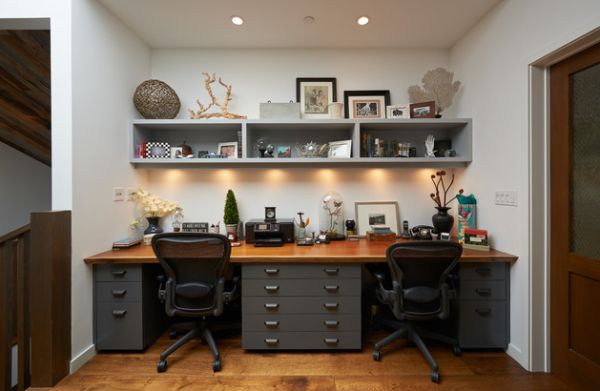 by Dixon Construction
Shared workstations can be arranged in various forms. If you are someone who is distracted all too easily, then it is best to have desks that face away from each other. Te amount of interaction with your partner in the room also defines the way in which the work area is set up. You can also choose different lighting installations (focused or recessed lights) depending on your personal choices.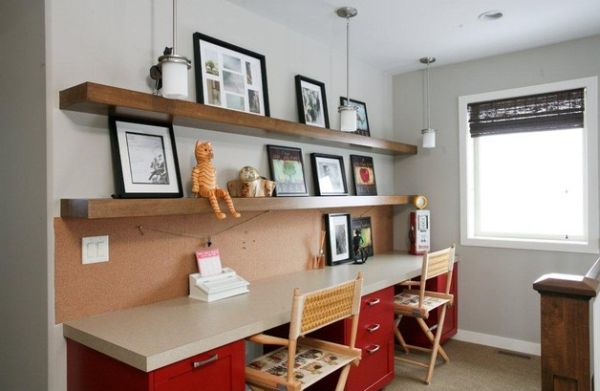 by Jennifer McCarthy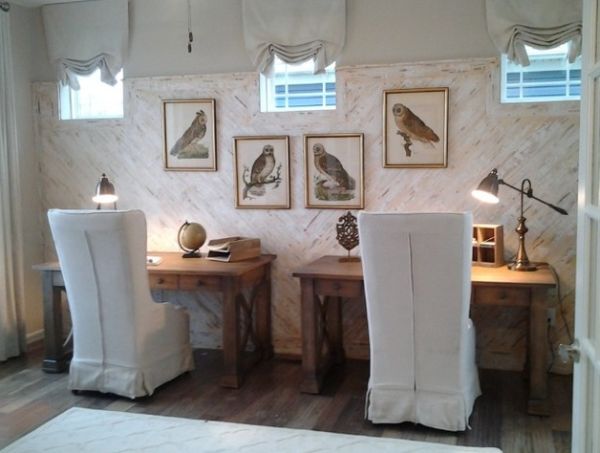 by Anita Roll Murals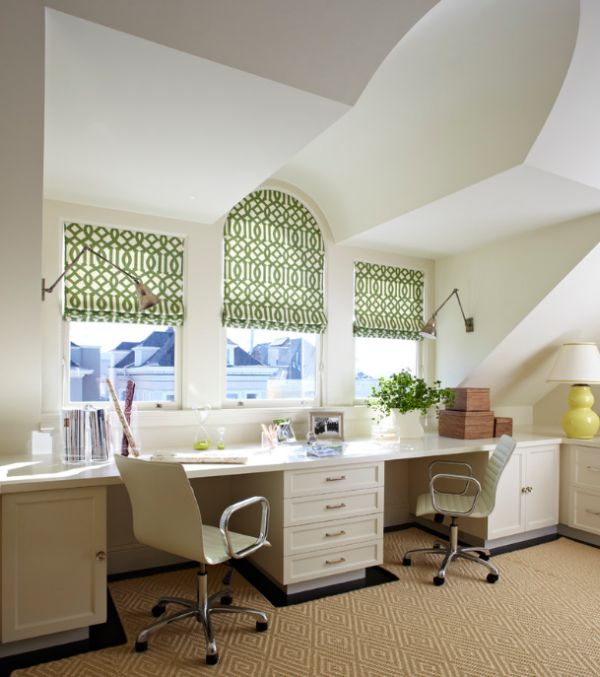 by Charlie Barnett Associates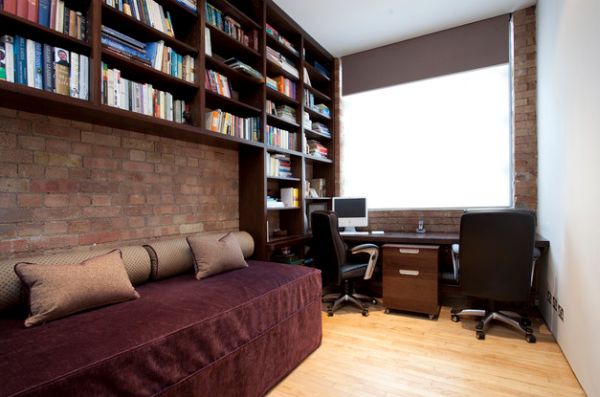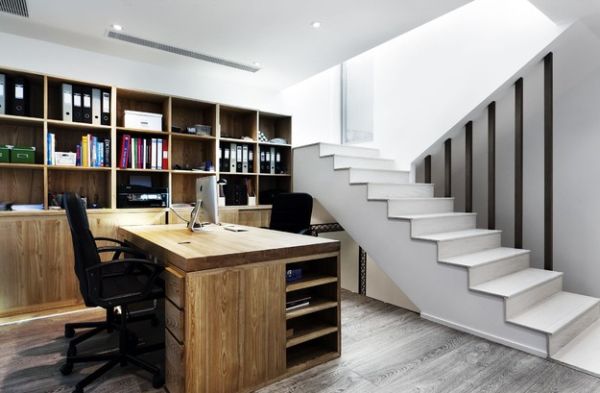 by S.I.D. Ltd.
Different Strokes for Different Folk!
We all work in different ways and there is no one-fit-all solution when it comes to shared workstation designs. This is probably the reason why so many of the modern offices are also moving away from the old and repetitive cubicle style. Twin workstations do not mean creating two desks with laptops and identical table lamps. While one might prefer to work at a desk, the other could be more comfortable with a relaxed chair. Remember that form always precedes function and creating a comfortable work environment is always the priority.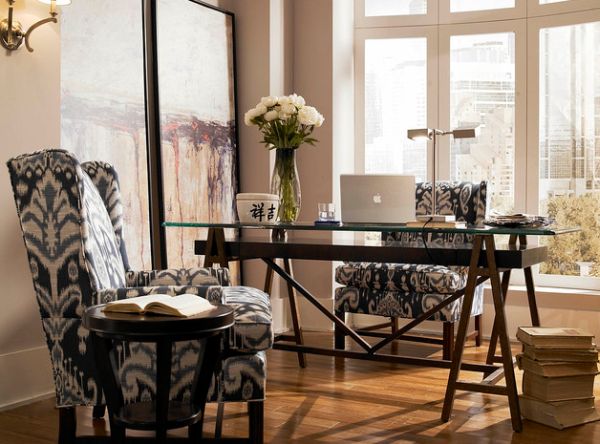 by Laura Hardin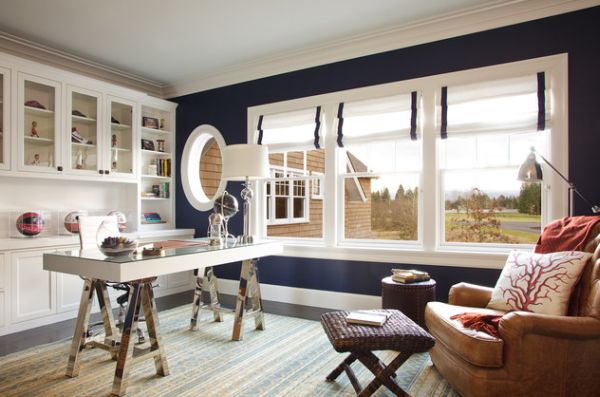 by Garrison Hullinger Interior Design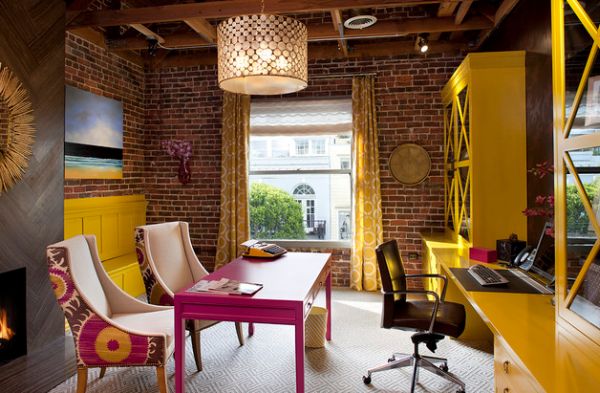 by Artistic Designs for Living, Tineke Triggs
A shared planning desk is a great addition to the room if you are a couple of designers working in tandem. An additional couch or a small table with chairs that allow you to grab a quick bite, make the shared home office all the more fun.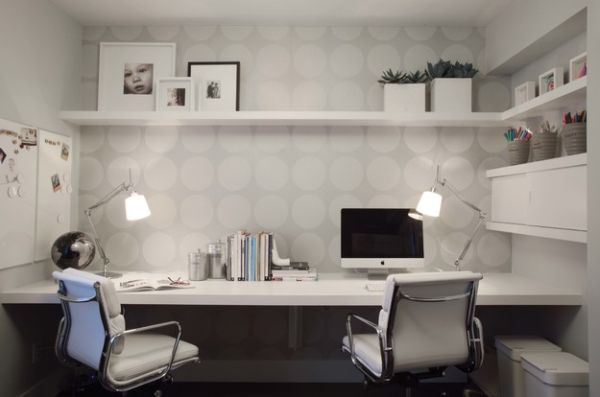 by After Design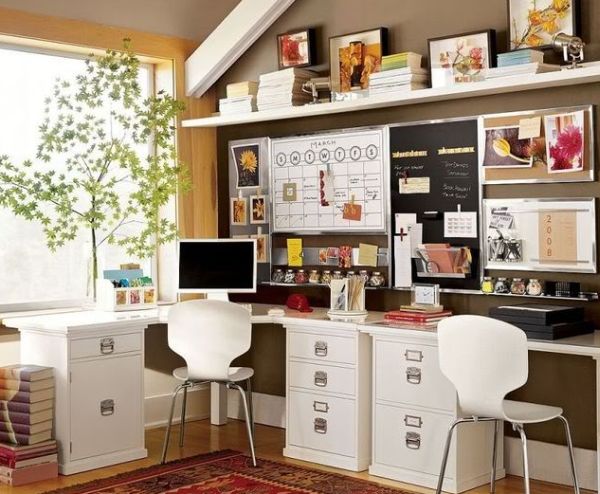 by Graceful Vintage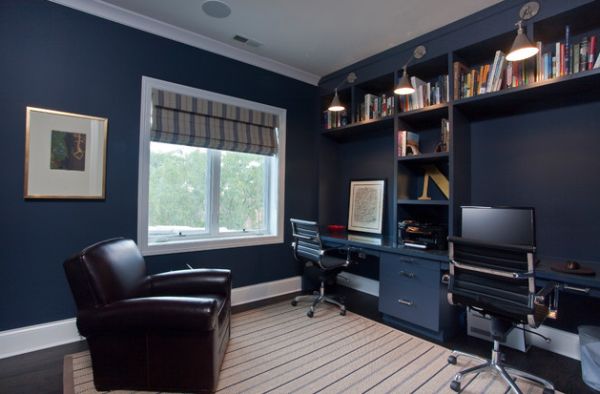 by Michael Abrams Limited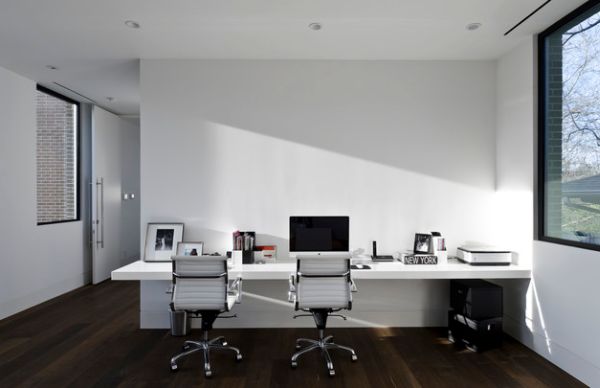 by CONTENT Architecture
Learning to Share
An important aspect of sharing the home office is well… Sharing! And that is a lot harder than it sounds if your planning is not spot on. It is best to have some ground rules in place if you wish to enjoy a shared work area. Storage is often a big concern for those who share a home office and it pays to have clearly demarcated individual shelves. This way, you can avoid all the hassle of having to silt through the piles of unsorted mess of the lazier one! Storage shelves placed between the two workstations also make for a great buffer area.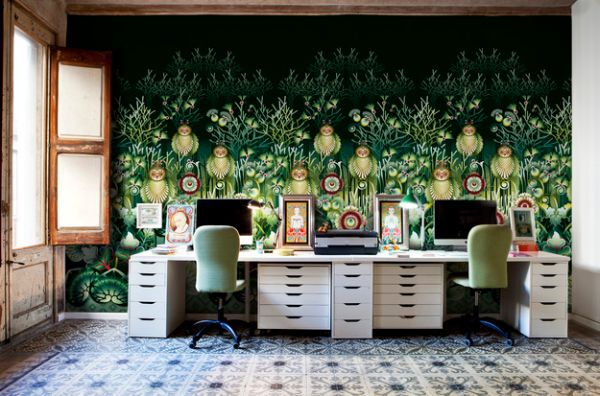 by Catalina Estrada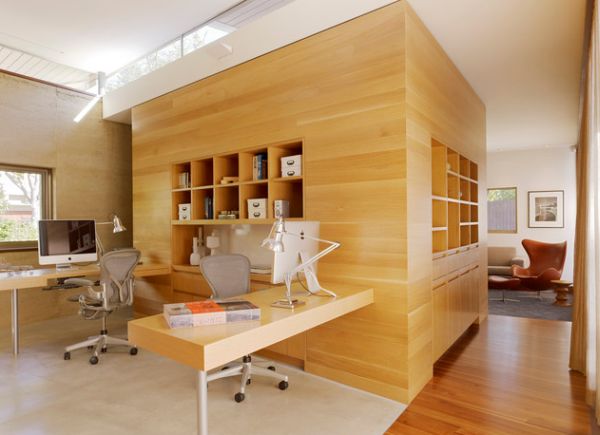 by CCS Architecture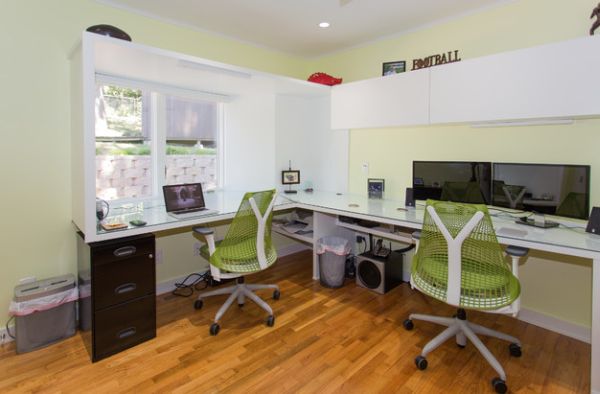 by GB Group Construction
Always keep your side of the work area clean and try to take calls in an adjacent room so as to not disturb your work buddy. While some love their music, others prefer complete silence. Keep a pair of headsets handy and always respect the personal space of your partner. Shared work spaces are always a lot more lively and fun than isolated home office designs. The best part is obviously the company that it promises!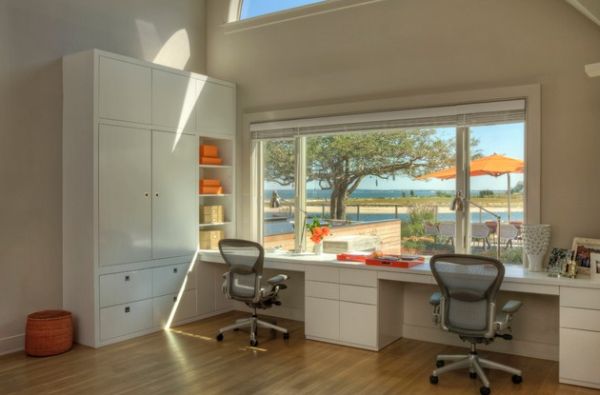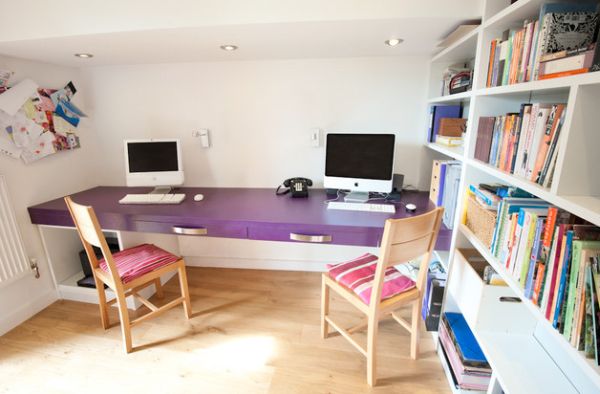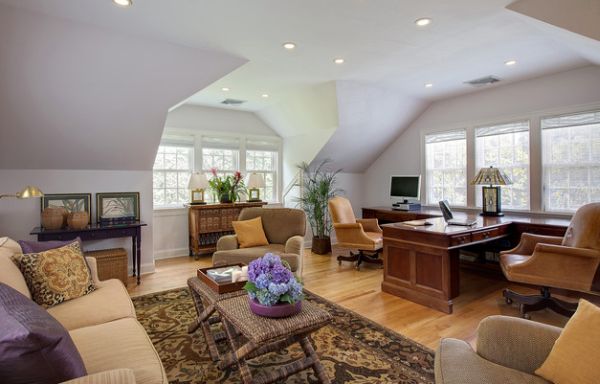 by B Fein Interior Design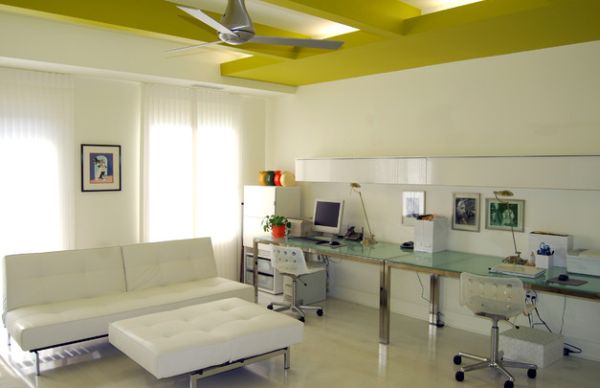 by NOA Architecture Planning Interiors