It's time to get sunny! That's right–today we feature warm shades of yellow that will brighten your interior. We've been on a bit of a color kick here at Decoist. From bold shades of red to soothing shades of blue and verdant green hues, an array of colors have had their moment in the spotlight. Today it's all about yellow. Hint: two of our featured hues include "lemon" as part of the title!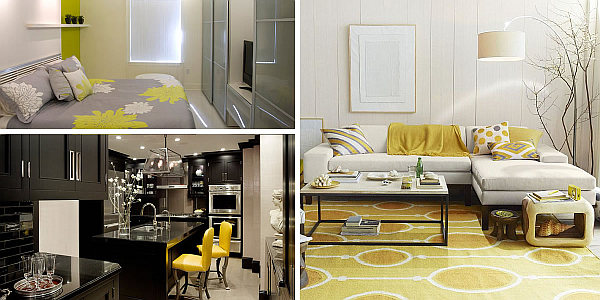 Yellow is a happy, energetic color. It captures our attention and inspires feelings of cheerfulness. It's no wonder this hue is such a popular one in the realm of interiors! Bright yellow makes a big statement, so use it wisely. Which shade of yellow is your favorite? Maybe the images below will help you decide…
Lemon Yellow
We begin with a sunny shade of yellow: lemon! Not sure just how yellow this hue really is? We've got an easy way to tell… in fact, it's as easy as reacquainting yourself with a bowl of lemons. Nothing pops like a container of this citrus fruit, especially when placed in front of a black and white tiled wall in a modern kitchen. [from Atmosphere Interior Design]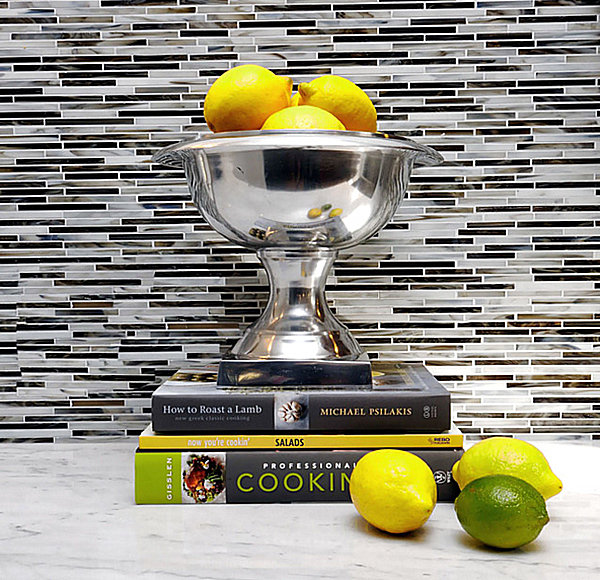 In fact, this shade of yellow is often used as an accent color, as shown in the next image. The lemon yellow upholstered bar stools truly wake up the black and white kitchen pictured. [from Design Line Construction, Inc.]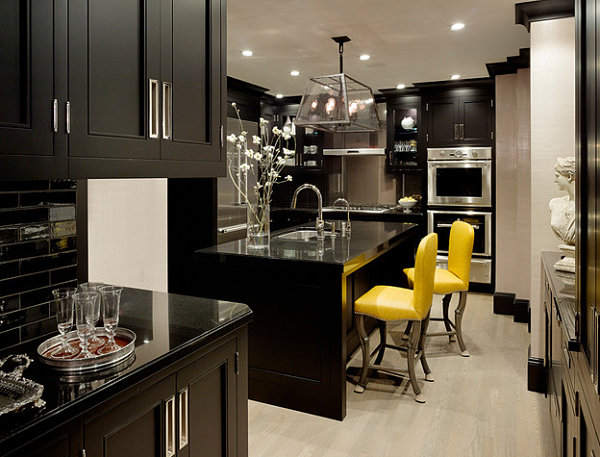 At the same time, painting an entire room lemon yellow can up the "wow factor" of your interior, as shown in the light and airy space below. Once again, we see how shades of black and white complement this citrusy hue. There must be something powerful about this color combination… [from Alisha Gwen Interior Design]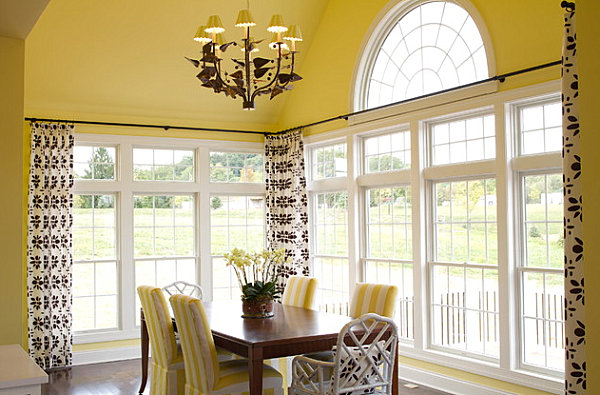 Lemon Chiffon
Next we move to a softer a shade, yet one no less lemony. In fact, lemon chiffon is the pastel version of lemon yellow. Did you know there's a Sherwin- Williams paint color called "Lemon Chiffon"? This hue evokes soft candy-colored shades and baked goods with pastel frosting. Which is probably why it's absolutely delightful in the kitchen. [from Ventana Construction]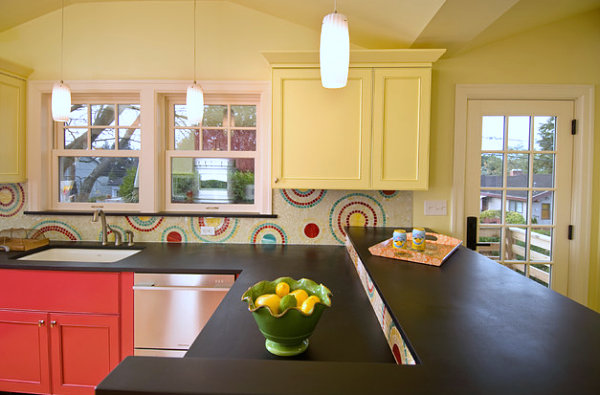 There's something about lemon chiffon that's good enough to eat! In the next featured image, we see the color on cabinetry in a bistro-style kitchen. The interplay of dark and light is quite striking, don't you think?! [from Bluebell Kitchens]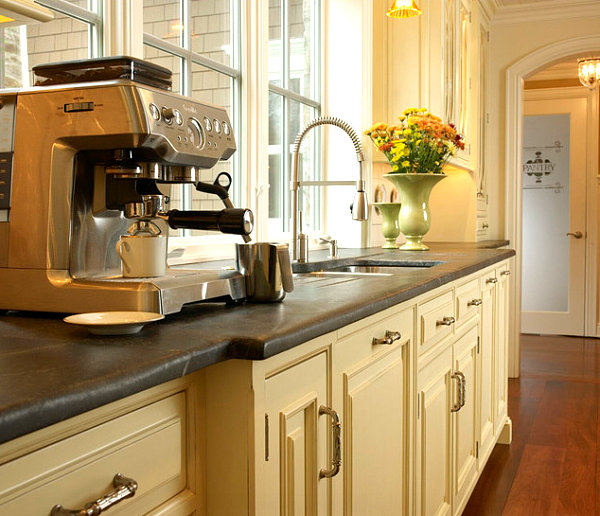 Lemon chiffon can even go tropical. Yes, in the living room below, the color is a soothing backdrop to earthy tones and lush greenery. And it nicely complements the ocean view outside… [from JMA Interior Decoration]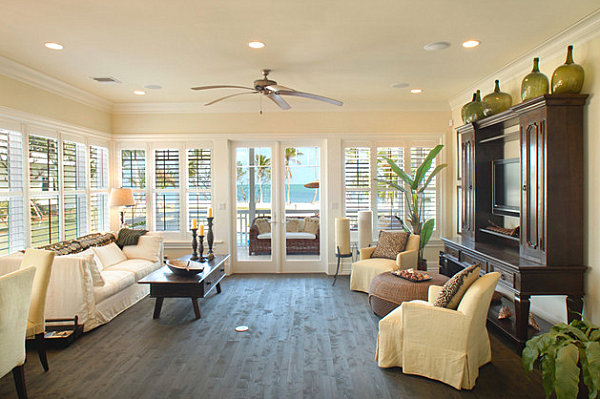 Yellow Green
Yellow green is edgy, yet there's something natural about this hue. Perhaps that's because so much of the plant life outside of our windows is in the yellow green family. Why shouldn't your interior celebrate it?! In this next image from NOA Architects, we see a yellow green accent wall and recessed display areas in a modern kitchen.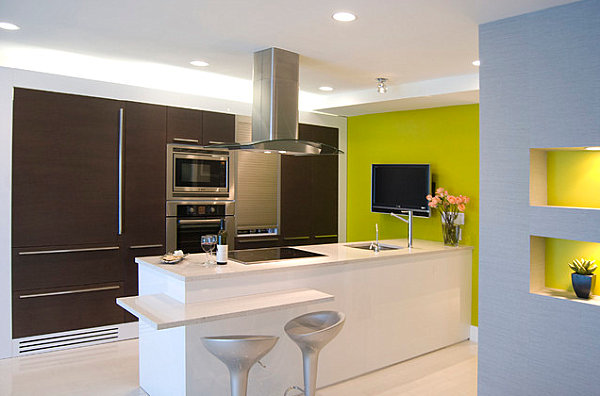 What's a fabulous accent color for yellow green? How about plum?! In fact, this hip combo can be seen below in a bedroom for a teen girl, designed by Ashleigh Farrar & Deidre Glore. Note how the color of the beside lamps matches the shade of the wall behind them. [photo by Bill LaFevor, from Beckwith Interiors]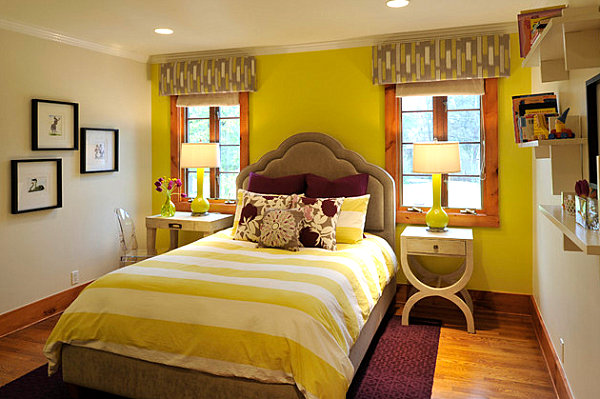 Sometimes a little yellow green goes a long way. In the space below, we see how a portion of one wall in this vibrant shade is all it takes to make a powerful statement, especially when combined with bedding featuring the hue. In fact, yellow green is often combined with gray to create a modern feel. And given that this room has a subtle plant motif, it's safe to say that the color thrives in spaces with organic style. [from NOA Architects]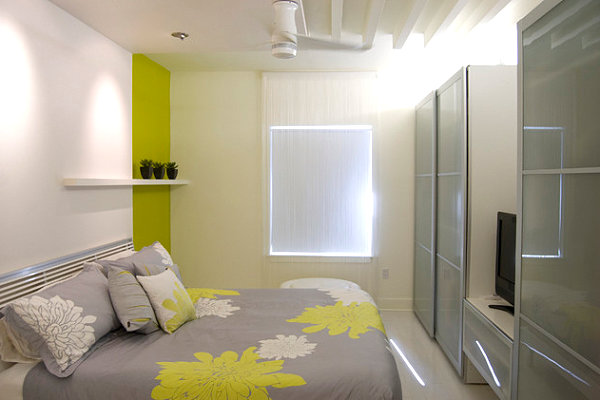 Golden Yellow
We end today's post with a trio of rooms that celebrate golden yellow. Gold is distinguished, and it creates a rich feel in any room it inhabits. Below we see the shade on both the curtain and wallpaper. Throw in some golden yellow furniture, then contrast it with bright white, and you have a room that makes a big statement. [from Housetohome]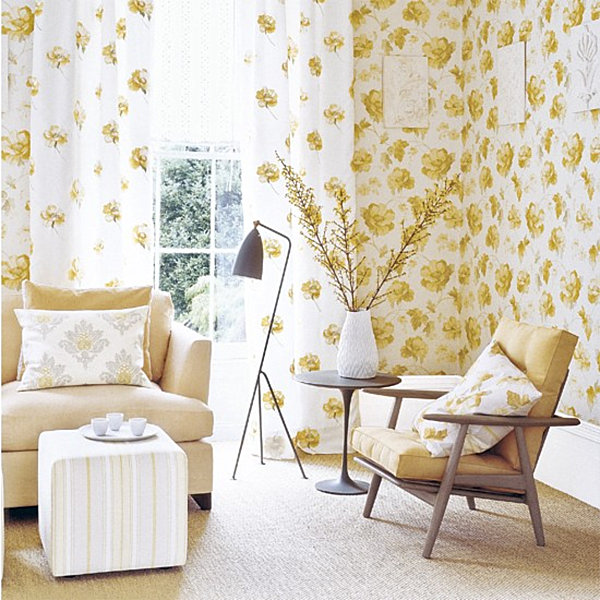 Speaking of gold and white, we now see this dynamic duo on the Organic Ikat Ogee Duvet Cover + Shams in Horseradish from West Elm. Made of 100% organic cotton, this bedding is a modern take on ikat. Note how the duvet and shams truly stand out when combined with other gray bedding.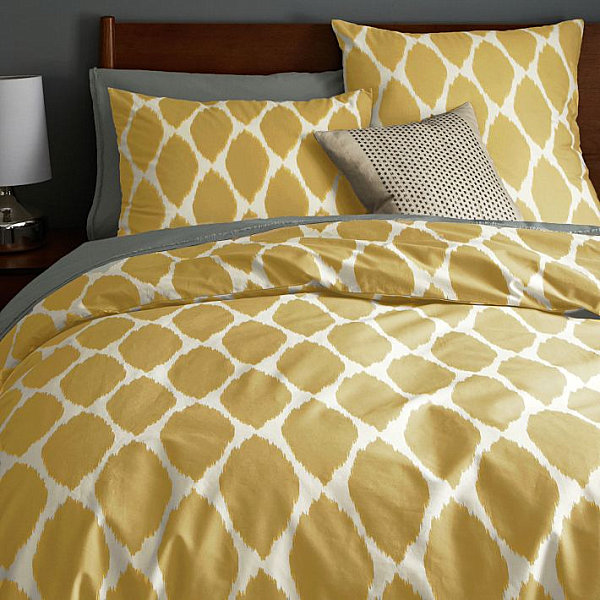 The Abacus Wool Dhurrie in Sand Dune anchors the space below, establishing a true golden color palette with mod-style linked ovals. Handwoven of yarn, this 80% wool/20% cotton piece is perfect for sunny spaces, especially when combined with other golden yellow accents, such as throw pillows.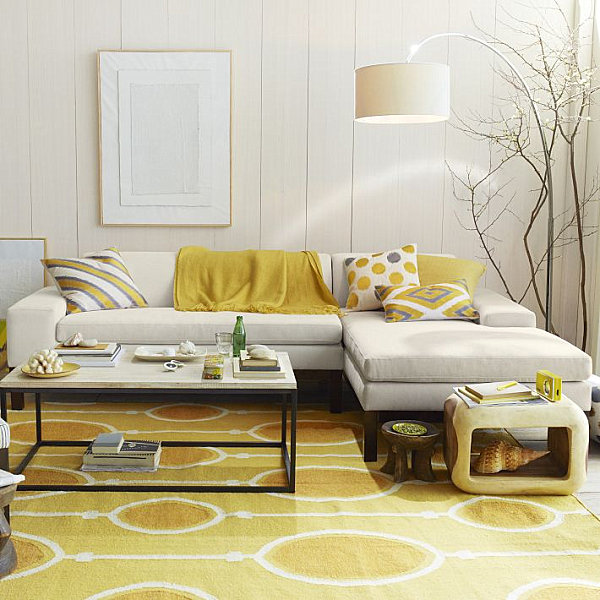 Have you decorated a room using shades of yellow? How did you incorporate the color into your space? Perhaps you painted the walls, or maybe you chose to accent the room with one or two bright pieces. Share your thoughts by leaving a comment below…