I have to admit… Lately I've thoroughly enjoyed collecting pictures of vividly colorful interiors! Remember our recent post on how to decorate a space with white walls? Yes, portions of that piece were born out of this same color-heavy obsession. In fact, many of today's featured rooms showcase the power of white walls. After all, pops of color are absolutely radiant against a background of crisp white!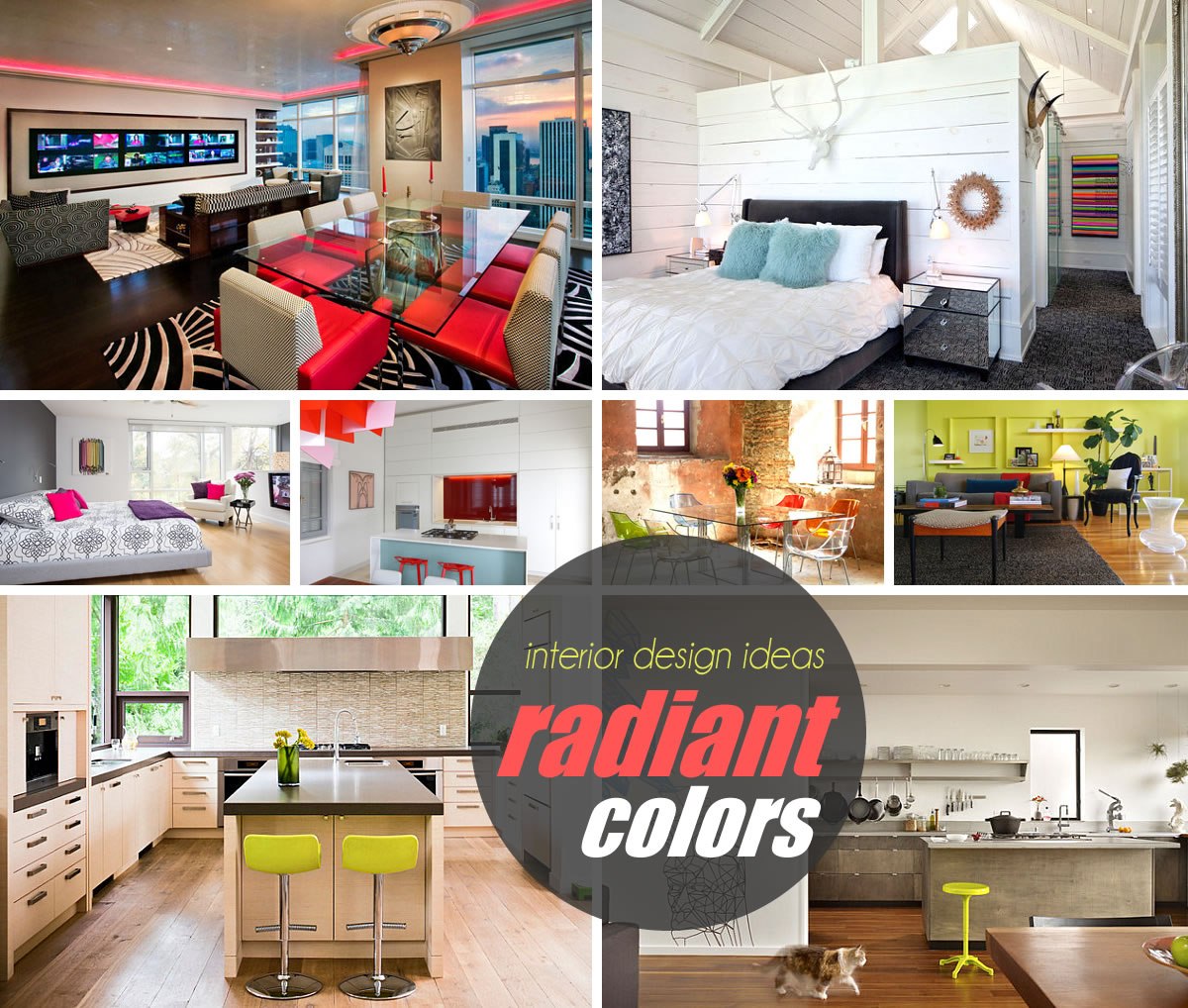 The great thing about making a conscious choice to add color to your interior is that it's a sure-fire way to enliven your space, whether you're a homeowner who can paint the walls any shade you want or you're a renter without that same flexibility. White walls? No problem!
And for that matter, we think you'll truly enjoy seeing the big impact that one vibrant accent can make. Whether it's a neon bench or an artistic pillow, sometimes the smallest of statements can be the biggest of showstoppers. Thanks for indulging me in my latest design obsession. My hope is that the pics below will inspire you as much as they've inspired me–enjoy!
The Impact of Colorful Paint
Let's face it–sometimes a bit of painting is in order when it comes to adding color to your interior. This can involve painting furniture or decorative smalls. If you're in a space that you can customize freely, you can always get creative with a project like the one below. It's homemade wallpaper, completed by tracing a design onto contact paper, then filling it in haphazardly with paint for a stylized effect. Check out all the details at A Subtle Revery…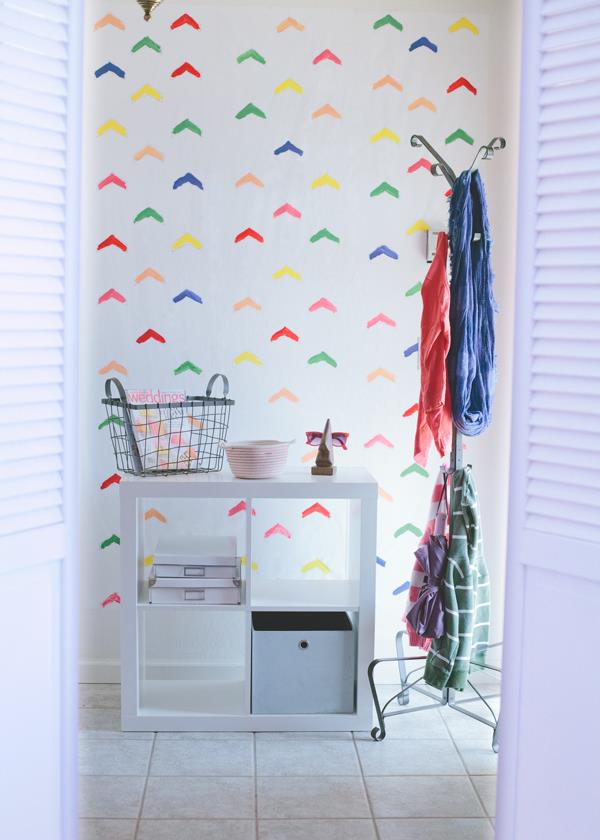 You can always go with an accent wall! And boy what a difference one colorful wall can make! It's hard to deny the appeal of the bright orange wall below, especially since it happens to be the wall with the mirror. A great contrast, don't you think?! [from Bertram Architects]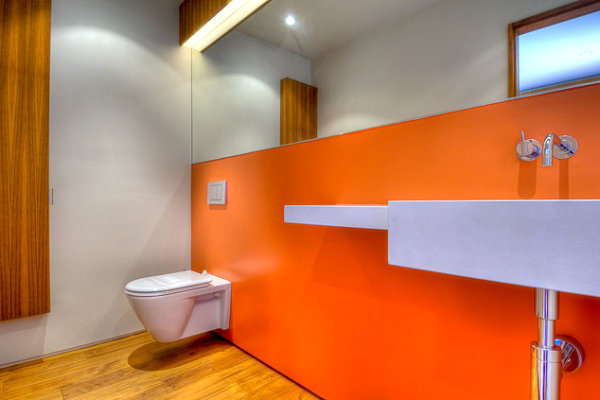 Yellow is the color of choice in the space below. And it's a soft yet radiant yellow rather than a deep golden one. We're loving the use of deep teal and rusty red as accent colors. There's no rule saying that every hue in your colorful room has to be neon! [from M.J. Lanphier Interior Design]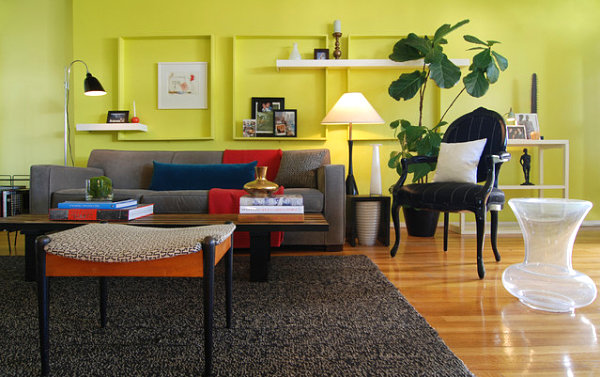 Peg board, oh how we love thee! Especially when painted… It's hard to imagine the children's art center below without the peg board. Not only does it provide an industrial look and add a much-needed dose of color, it offers the practical function of wall storage. [from The Vintage Glitter House]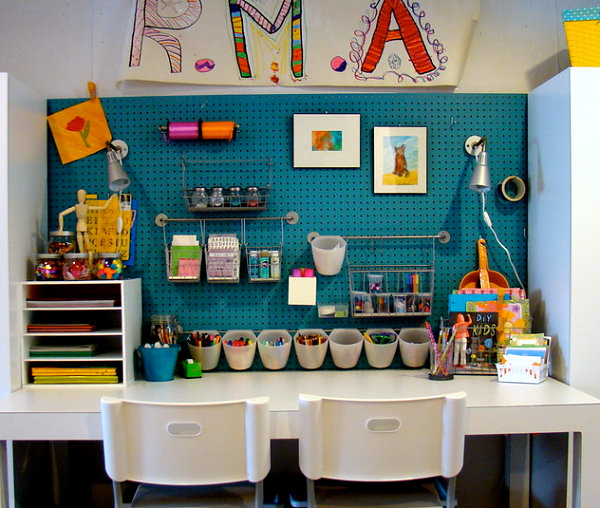 Who says the ceiling is off limits?! We love how the beams below are painted a rich shade of chartreuse-y yellow. Doesn't this color look fabulous with the retro hues of the pitchers on top of the cabinet (which appear to be Fiestaware)? [from NOA Architecture Planning Interiors]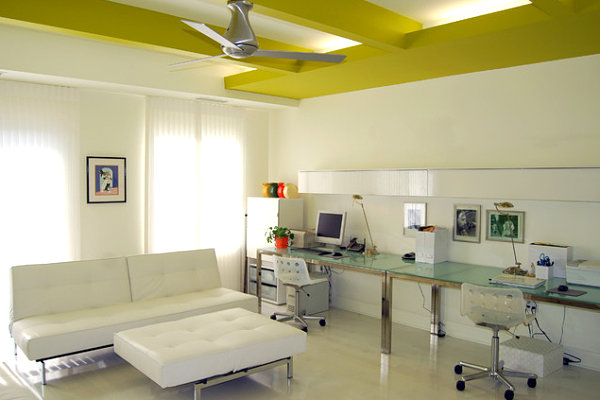 The Power of Colorful Furnishings
Let's talk furniture. Adding vivid pieces like neon chairs is one popular way to introduce some bright color to your interior. And hey, if you can play them up by throwing in some neon lighting around the top of the room, more power to you… [from Electronics Design Group, Inc.]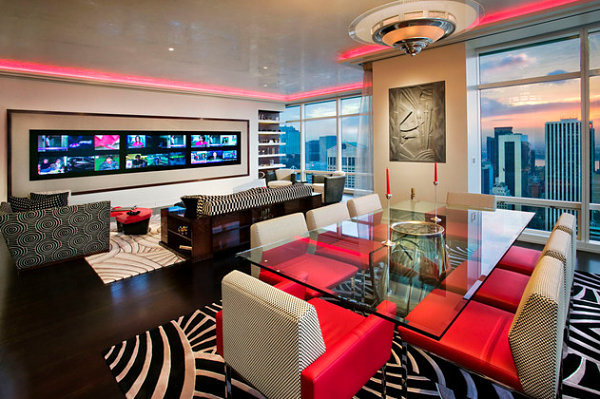 Don't be afraid of contrast! Note how the weathered look of the converted warehouse below stands out when juxtaposed with the ultra-modern look of the plastic chairs. Modern meets rustic. Design perfection! [from Imagine Living]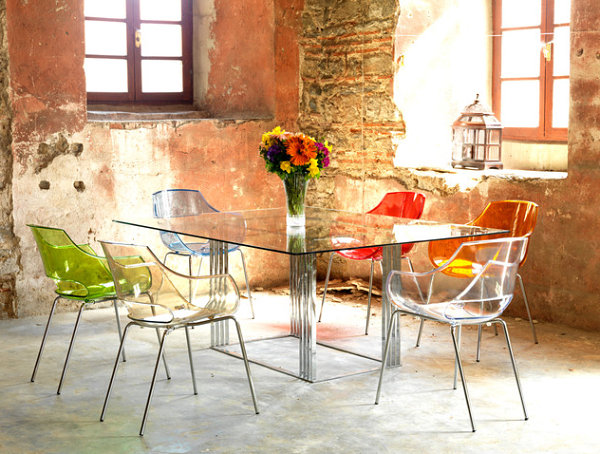 Sometimes all it takes is a couple of bar stools complemented by an additional feature, such as a vase of flowers in a similar shade. Yellow-green really makes this modern kitchen pop! [from Heffel Balagno Design Consultants]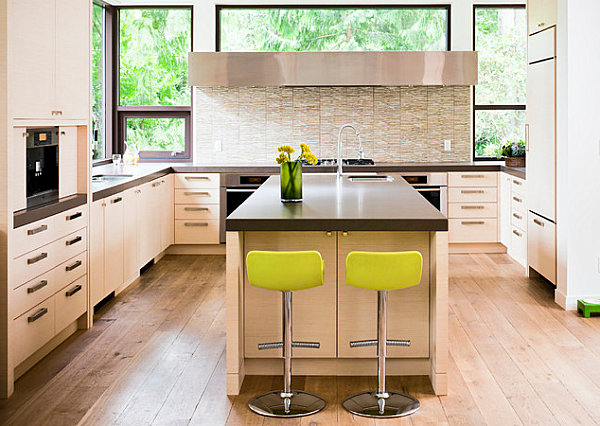 Speaking of coordinating stools with another statement piece, how fabulous is the Big Bang Chandelier by Foscarini, available at YLighting? Below we see this piece in all of its glory, perfectly complemented by a pair of bright kitchen stools. The combination of stark white, powerful red and soothing blue is quite enchanting… [from Amitzi Architects]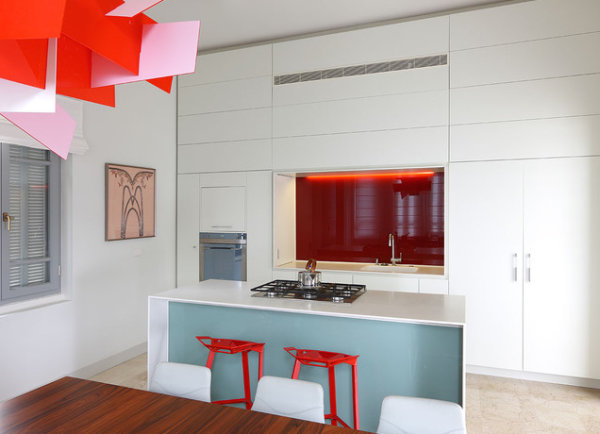 Hey, we're on a roll! Except this time the stool is paired with a wall mural in contrasting colors. Neon and geo forms–two of today's most popular trends! Don't they look great together?… [photo by Benjamin Benschneider for Chadbourne & Doss Architects]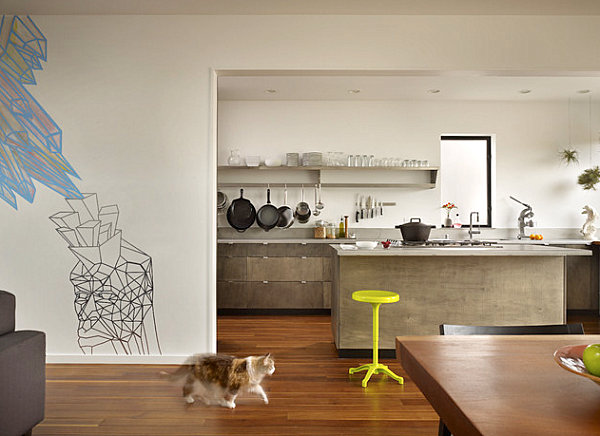 But don't think that every bright accent must have a companion. Sometimes the most striking of spaces feature one vivid item among a sea of neutrals. The black and white palette of this room is the perfect backdrop for a neon orange bench. And we mean NEON ORANGE! [from Door Sixteen]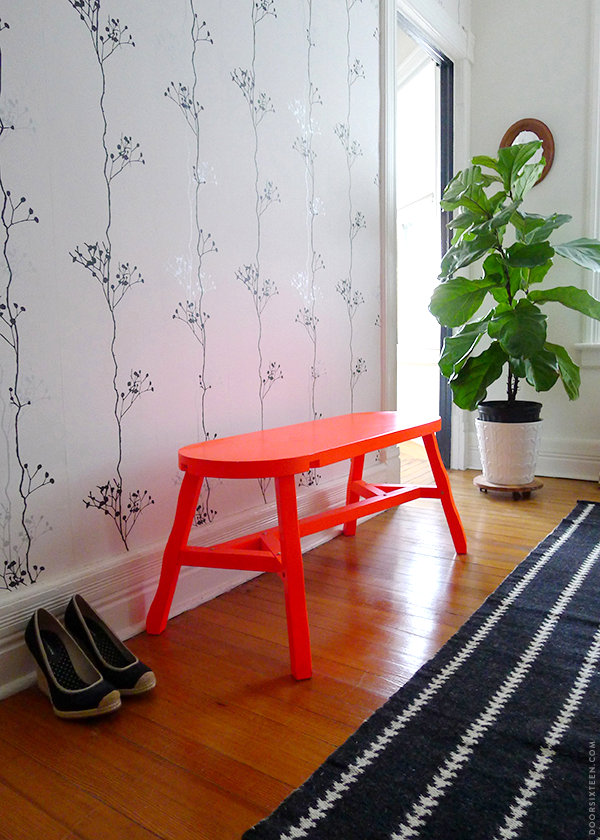 The Allure of Colorful Accents
We now move on to the beauty of accent pieces in colorful interiors. No, radiant furniture is not required in every case! Sometimes all you need is vivid artwork, as shown by the gallery-style wall in the image below. Note the use of bright frames, stunning motifs and undeniably eye-catching artwork. [from The Decorista]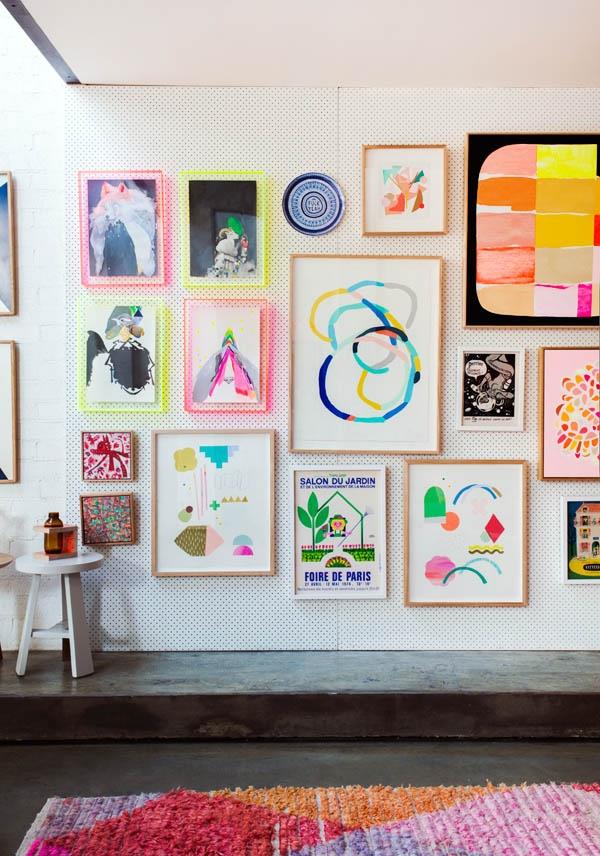 Sometime the accents are a bit more subtle. For example, this next featured kitchen showcases a few blue glassware pieces, as well as an assortment of colorful fruit. A vase of magenta blossoms introduces yet another color into the space. Divine without being overbearing! [from Threshold Interiors]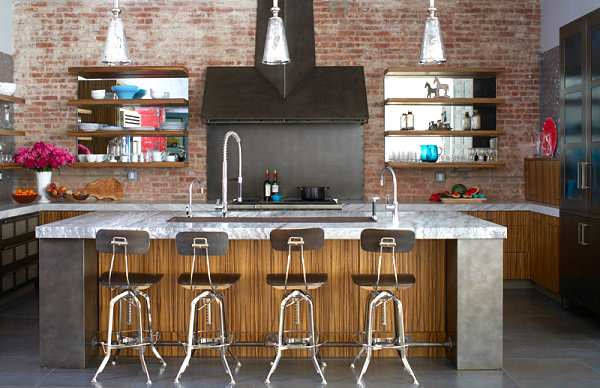 Let's head into the living room, where a couple of vivid pillows can put a unique spin on a space. In fact, this room from Threshold Interiors features pillows the designer sourced on a trip to Sweden. Aren't they colorful and interesting?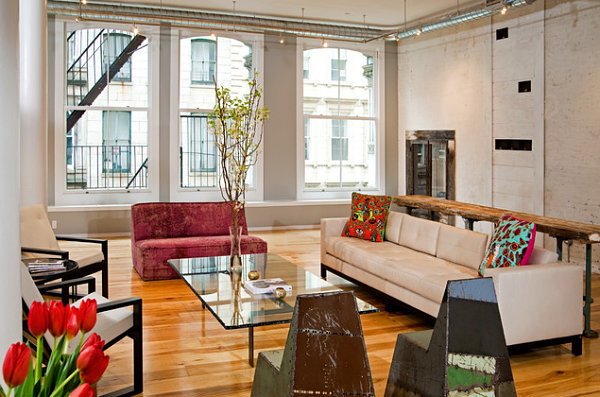 Radiant pillows + radiant artwork = one unforgettable interior! The Union Jack meets The Beatles in this British-themed bedroom that somehow manages to avoid being theme-y. Don't the colors glow against the dark wall paint?! [from Made by Girl]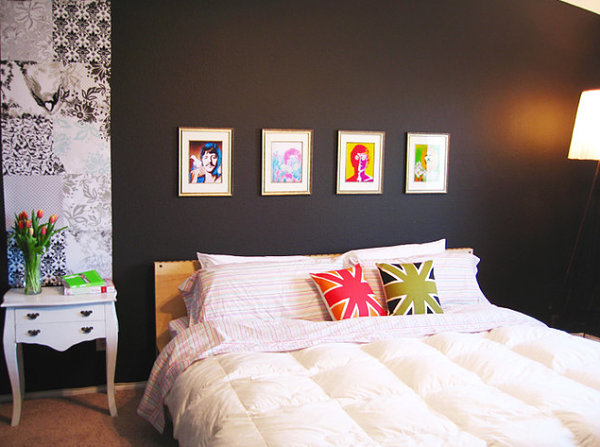 I'm a sucker for modern art that features neon lines against a white backdrop. And don't get me started on the beauty of neon tubing… But for today, we'll stick with 2-D creations, like this artwork that proudly hangs in a modern bedroom featuring pink and purple accents. [from Jason Hartog Photography]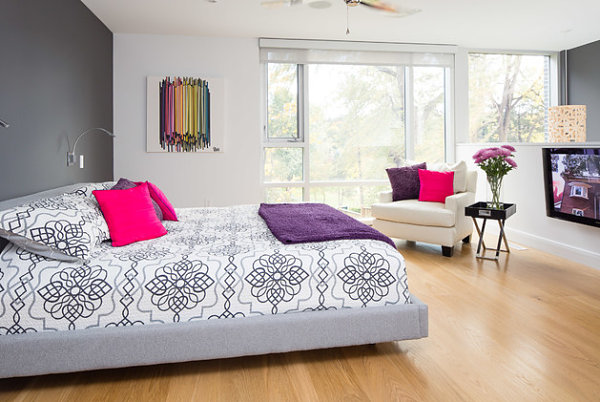 More neon lines–yay! The bedroom below features modern neon artwork in an otherwise rustic space. Note how the vivid painting is a stark contrast to the white planks of the walls. Note to self: colorful artwork can be the centerpiece of a room! [from Peter A. Sellar – Architectural Photographer]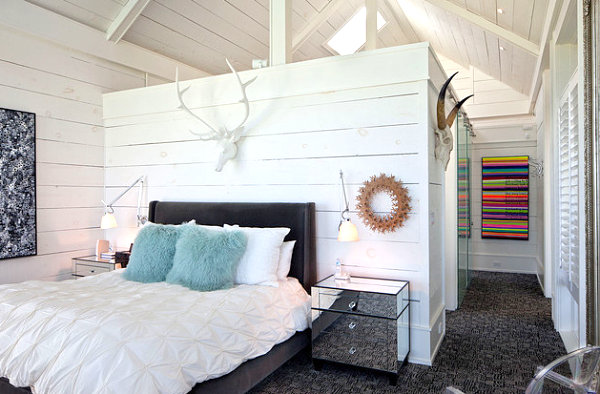 A colorful pillow can also take center stage, as shown in this eclectic space featuring details like a taxicab yellow task lamp and an earthy canoe shelf: [from Natsumi Photography]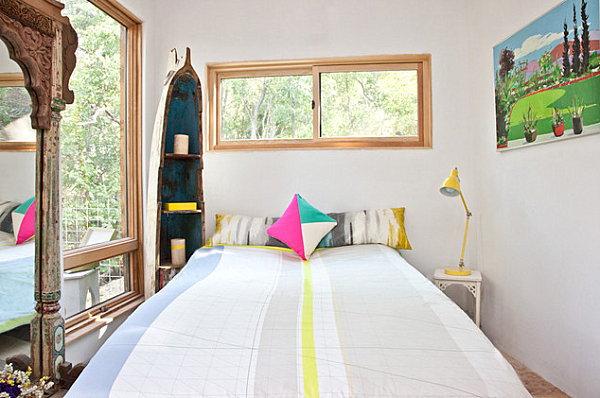 We end with two images from the home office. Yes, a home office is a wonderful place to boldly introduce color! Use colorful tape to designate a bulletin board space on your wall, then fill the inside with inspirational images, important reminders and brilliant ideas. [from Saus Design]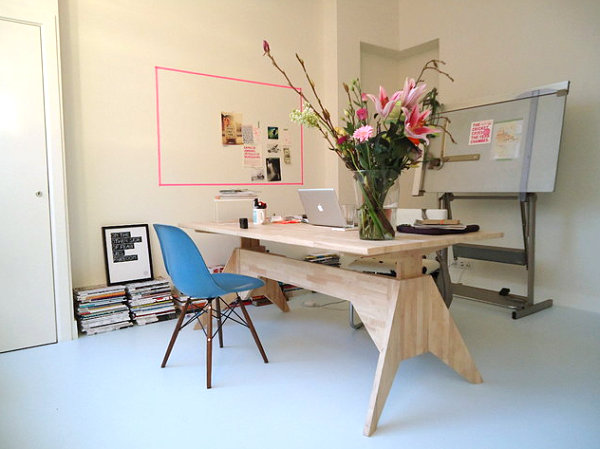 Who says the bulletin board has to be in the shape of a rectangle? Get creative! Oh, how we love neon borders. Remember that you can incorporate a range of quirky details into your bulletin board space, as well as the interior at large. The more colorful and artistic the details, the better. [from Corynne Pless]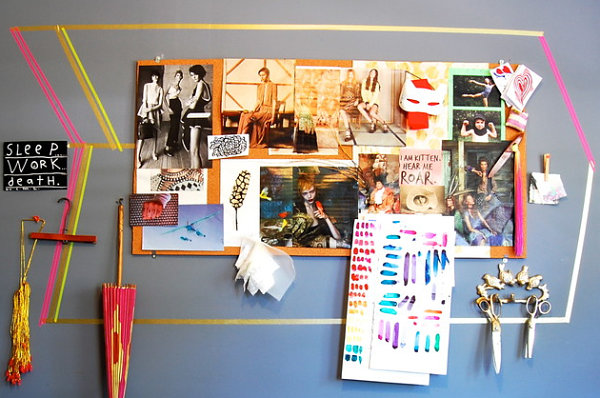 Now it's your turn… How have you added color to your interior? Was paint involved? Does a vibrant furnishing make just the statement you needed? Are there unique accents that serve as focal points in your space? Share your thoughts by leaving a comment below…